Long gone are the days when photographers had to carry huge, unwieldy DSLRs. Camera technology has developed in amazing ways, and manufacturers such as Sony, Nikon, and Canon offer impressively small camera bodies that also boast full-frame sensors.
If you love travel photography, enjoy snapping people on the streets, or just don't want to carry around a heavy and bulky device, we have selected 11 of the smallest full-frame cameras currently available – enjoy!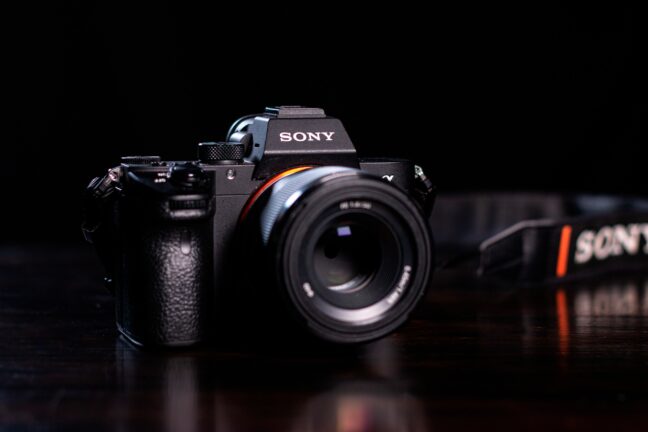 1. Sony Alpha 7C
Our favorite compact full-frame camera is the Sony Alpha 7C. This is a versatile model that has some great features for travel photography and video recording.
It has a powerful 24.2 MP full-frame sensor, which means you can expect sharp images with excellent colors and contrast. It also has an impressive autofocus system that features 693 detection points and a range of tracking modes. The Sony a7C even has advanced in-body image stabilization to help keep your images sharp when shooting handheld.
Compared to other compact cameras, the Sony a7C has a pretty decent battery life. A single charge should get you up to 740 images, which is great for travel shooters who want to photograph for hours on end. The camera can also be charged via a USB connection. Lastly, we like the fully articulating touchscreen display and the EVF, which are great for composing beautiful images in the field.
2. SIGMA fp
The SIGMA fp is an impressive compact full-frame camera that weighs only 0.9 lb/422 g. It can essentially fit in your pocket, and it almost looks like a traditional point-and-shoot camera.
The fp features an excellent 24.6 MP sensor. It can take incredibly sharp photos and also has a decent autofocus system. We like the functionality of this camera: It has a fixed-position LCD touchscreen and in-body image stabilization. And it's weather sealed, splashproof, and dustproof.
It's also important to note that this full-frame camera has an L-mount. This is a collaborative Leica, SIGMA, and Panasonic mount, and it gives you access to some SIGMA lenses and a range of Leica and Panasonic lenses, too.
The SIGMA fp can also record in 4K at 30 FPS. Some folks might be wary about using a camera body designed by such an untested camera manufacturer, but the fp is an impressively portable model that's held up under scrutiny. If you want a compact, affordable, full-frame camera for on-the-go photography, vlogging, or general videography, it's a good option.
3. Canon EOS R8
Canon continues to develop superb full-frame mirrorless cameras, and the latest addition to the lineup is the Canon EOS R8. This is their smallest and lightest full-frame mirrorless camera (it's on par with the older EOS RP), which is why we highly recommend it for beginners seeking a mix of image quality and portability.
The R8 looks fantastic and is one of the most accessible EOS R cameras yet thanks to the (relatively) affordable price tag. If you want a professional-grade camera that will help you capture consistently sharp images but won't break the bank, then it's a top choice.
The 24.2 MP sensor offers superb image quality and ensures that your photos have great contrast, excellent colors, and a fantastic dynamic range. You also get amazing autofocusing capabilities thanks to the advanced Dual Pixel CMOS AF II system.
In terms of usability and ergonomics, the camera looks and feels great. It has a relatively simple layout but still allows you to make quick settings changes as needed. The touchscreen is fully rotatable so you can easily take selfies and monitor your vlog footage while filming, and there is a high-quality EVF that is perfectly positioned above the LCD.
4. Sony RX1R II
The Sony RX1R II is an incredibly compact full-frame camera that has a fixed Zeiss lens and excellent shooting capabilities. This is a unique camera and could be an excellent choice for high-end travel photography as well as more casual walkaround shooting.
It weighs 1 lb/480 g, so it's reasonably light; it's also compact, measuring just 4.5×2.6×2.8 in/11×6.6×7 cm. As a result, it fits easily in the palm of your hand and can be carried around in a pocket or bag.
The RX1R II is a fixed-lens camera and sports a 35mm f/2 lens that is great for multiple types of photography. The only thing that it lacks is any kind of telephoto capabilities.
We love the sensor, which boasts 42.4 MP and is capable of capturing fantastic images. The Sony RX1R II also has a hybrid AF system with 399 phase-detection points, so it'll help you produce nice sports and action shots, too. If you don't like using the screen to compose, you can always use the pop-up EVF instead (which is a great extra touch).
5. Leica Q2
Leica is famous for creating some of the most expensive cameras of all time. The best portable full-frame camera from this premium manufacturer is the Leica Q2, a lightweight and compact model that looks fantastic and is built to last.
There is something special about owning a handcrafted Leica, and the camera offers amazing capabilities, too. It has a 47.3 MP full-frame sensor, and you can expect consistently outstanding sharpness. The camera also has a decent ISO range of 100-50,000 to give you solid control in low-light situations.
The Leica Q2 is a fixed-lens full-frame camera. Some may find this limiting; the included 28mm f/1.7 wide-angle lens cannot capture telephoto shots. But others will appreciate the creativity required to use such a lens, and it's certainly ideal for dedicated scenic shooters.
Regardless, the Leica Q2 is a great camera that is highly portable. You just need a huge budget to buy it!
6. Nikon Z6 II
Nikon also has a couple of small full-frame cameras that are a major improvement over the company's relatively large and heavy DSLRs. The first of these is the Nikon Z6 II.
The camera body weighs 1.36 lb/616 g, which makes it noticeably lighter than the Z7 II featured below. It also has a simple but ergonomic design, and in most instances, your attached Z lenses will be larger than the camera itself. We also like that it is weather sealed and built for outdoor use.
The Nikon Z6 II has a 24.5 MP sensor that is great for low-light photography. It is also capable of recording 4K video at 60 FPS. Combine this with the excellent autofocus system, and you have a capable camera for vlogging and video recording.
The Z6 II also has some useful shooting modes, including a multiple-exposure mode where you can compose and combine up to 10 images with different exposures. It also offers focus-shift shooting and 4K time lapses.
7. Nikon Z7 II
Another great compact model from Nikon is the Nikon Z7 II. This is the second iteration of the popular Z7 full-frame mirrorless camera and offers many improvements over its predecessor.
The Z7 II is not as compact as the SIGMA fp, Sony a7C, or Leica Q2, but it's considerably smaller and lighter than traditional Nikon full-frame DSLRs. it weighs only 1.5 lb/675 g and is comfortable to hold due to the large handgrip.
It has an outstanding 45.7 MP sensor and dual EXPEED 6 image processors. It also has an advanced AF system with 493 points. We like that it has 5-axis in-body image stabilization, which makes it great for handheld shooting. Thanks to the Z7 II's IBIS, you can capture sharp photos consistently, even in low light.
The camera does have dual card slots, but the touchscreen isn't fully articulating. In our opinion, for such an advanced camera, this is a big oversight, but the Nikon Z7 II's breathtaking image quality and handy additional features make up for it.
8. Sony Alpha 7R V
The Sony Alpha 7R V is the newest model in the popular Alpha 7R series and has numerous improvements over the a7R IV, which was long considered one of the best Sony mirrorless cameras. The a7R V is still compact, and in most instances, you will find that your lenses are larger and heavier than the camera body itself.
The camera contains an impressive 61 MP full-frame sensor that offers the highest resolution of any camera on this list. That means you can create huge prints, or you can do lots of cropping without losing much detail.
When you want to track subjects or focus quickly in low-light situations, the improved AF should really help. The camera also uses AI as well as a range of tracking features that allow you to focus on wildlife and sports competitors with ease.
The design features various dials and buttons so you can make quick changes to settings like the exposure, the aperture, and the ISO. We also like that you can do both photography and video recording thanks to the rotatable LCD touchscreen and the fact that the camera can record 8K/24p video. You also gain access to the fantastic range of Sony lenses, which includes plenty of amazing options.
9. Canon EOS R6 Mark II
The Canon EOS R6 Mark II remains a top option from Canon, and it could be a great choice if you want lots of control, flexibility, and advanced features. The R6 Mark II has a great selection of controls, including the directional joystick that allows you to work the autofocus system seamlessly.
Speaking of autofocus, the R6 Mark II uses the Dual Pixel CMOS AF II system that offers an ever-increasing range of tracking features. You should find focusing on moving objects a breeze due to the options to track trains, airplanes, horses, animals, and eyes. You can even have your camera select the tracking subject automatically so you don't have to go through multiple menus.
For portrait photography, this camera also excels due to the advanced head, face, and eye detection. You can make sure that you are always focusing on the right part of a person, and you can make video recording easier, too, especially if you're recording a presenter.
This camera just makes photography easier and takes away much of the hassle that comes with shooting. For example, it has in-body 5-axis image stabilization, which allows you to work handheld in virtually any situation. The high-powered continuous shooting modes also give you versatility when photographing events and sports scenes – that way, you'll never miss any of the action!
10. Canon EOS R5
The Canon EOS R5 is currently the only full-frame camera offering Canon's 45 MP sensor (other models only have 24 MP or less). This gives you better RAW image quality and means you can capture plenty of subject detail no matter the lighting conditions.
If you regularly take low-light photos, this camera is especially ideal thanks to the fantastic ISO range of 100-51,200 (expandable to 102,400). Even when working at dusk or in a shadowy room, your photos should turn out with minimal background noise!
The autofocus system is perhaps the best feature of this full-frame camera. It boasts 100% AF coverage with 1053 detection points. Combine this with a myriad of advanced tracking modes, and you should never have any issues focusing, even in low-contrast scenarios where older AF systems might struggle.
The camera is only slightly larger than the EOS R6 Mark II, and compared to the older full-frame Canon DSLRs, it is certainly much smaller and lighter. When you have compact lenses like the RF 16mm attached, it almost feels like a compact camera.
Speaking of lenses, the Canon EOS R5 gives you access to an incredible range of RF lenses like the Canon RF 24-70mm f/2.8L IS USM (one of the best standard zooms currently available). And if you have a collection of EF lenses already, you can still use them with an adapter.
11. Sony Alpha ZV-E1
The Sony Alpha ZV-E1 is a full-frame alternative to the Sony Alpha ZV-E10, and it's a fantastic option for video recording and vlogging. Let me be clear: This camera isn't ideal for photography as it has a 12 MP sensor. However, it's optimized for 4K video recording and gives you 10-bit 4:2:2 recording with a direct pixel readout.
As a result, it is an incredible device for cinematography, and it's perfect for vlogging, too. If you want a highly portable travel camera that you can set up instantly and carry with you at all times, it's an amazing pick.
Everything about the ZV-E1 is geared toward video, and you should be able to get high-quality footage without difficulty. For example, when you are doing handheld shots, you can switch on the 5-axis in-body image stabilization to help keep things stable and smooth.
The touchscreen can be fully rotated and flipped out, so you get a nice live preview when vlogging. And if you're looking to change the focal length and create smooth zoom transitions while recording, the zoom lever on the top of the camera makes a huge difference. While you may want to eventually invest in a nice lavalier mic, the camera has an intelligent built-in mic that provides impressively clear audio.
Grab a Portable Full-Frame Camera!
As you can see, you certainly don't need a bulky DSLR to capture high-quality photos and videos. But which of our favorite compact full-frame camera bodies is best for you?
For those looking to upgrade from a point-and-shoot device, beginner and intermediate models like the Sony Alpha 7C, the Canon EOS R8, and the SIGMA fp are outstanding picks.
On the other hand, if you intend to use your camera professionally and need excellent RAW image quality, models like the Nikon Z7 II, the Sony Alpha 7R V, and the Canon EOS R5 are all excellent choices.
---
Disclosure/Disclaimer: As an Amazon Associate, we earn from qualifying purchases. Certain content was provided "as is" from Amazon and is subject to change or removal at any time. Product prices and availability: Amazon prices are updated daily or are accurate as of the date/time indicated and are subject to change. Any price and availability information displayed on Amazon.com at the time of purchase will apply to the purchase of this product.