If you're just delving into photography with a Canon mirrorless or DSLR camera, choosing the perfect starter lens can be daunting. The lens can dramatically impact the quality of your images – in fact, some photographers claim it matters more than the camera – but there are so many different options with various focal lengths, features, and price tags that it's easy to get overwhelmed.
Fortunately, I've been exactly where you are, and I've spent dozens of hours researching Canon's top lenses. To help you out, I've handpicked 10 of the best Canon lenses for beginners, including options for mirrorless and DSLR cameras (both full frame and APS-C). All of the models featured below are capable of capturing tack-sharp images, and they won't break the bank, either!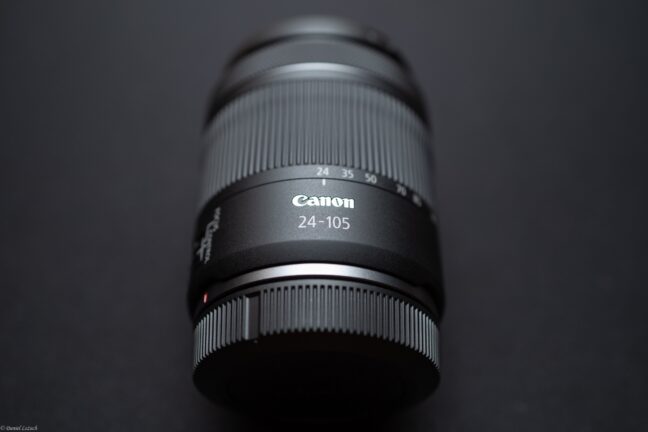 10 Best Beginner Canon Lenses in 2023:
When you buy through links on our site, we may earn a commission at no cost to you. We evaluate products independently. Commissions do not affect our evaluations.
1. Canon RF 24-105mm f/4-7.1 IS STM
Our Pick
Great as a starter lens for EOS R cameras
The Canon RF 24-105mm f/4-7.1 IS STM is the best budget kit lens for EOS R cameras and allows you to capture a wide range of images.
*At the time of publishing, the price was $399.00.
Pros
Versatile focal length for various photography types
Control ring to make settings changes easier
Optical image stabilization
Compact design
Cons
Not great in low light situations at 105mm
The Canon RF 24-105mm f/4-7.1 IS STM is my favorite lens for owners of a Canon full-frame mirrorless camera. It's a versatile unit that can serve as your do-everything pick and is especially great if you don't want to carry multiple heavy lenses.
The 24-105mm focal length really is flexible, and you can cover everything: landscape shots, street scenes, portraits, architecture, and more. The image quality is consistently impressive despite the large zoom range, so you can expect great sharpness and minimal distortion.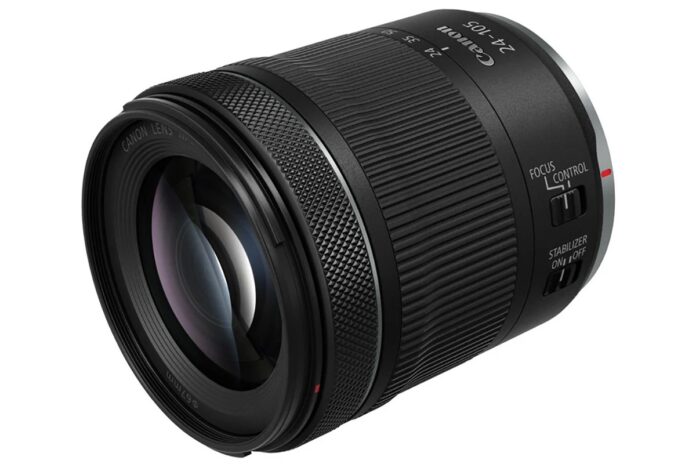 I love how easy this lens is to use, even for beginners just getting used to advanced camera controls. Plus, the image stabilization will help you capture sharp handheld shots no matter the lighting. I can't get enough of the control ring, either; I typically set it to control the aperture so I can stay focused on my compositions.
2. Canon RF 15-30mm f/4.5-6.3 IS STM
Also Great
A great wide-angle option
The RF 15-30mm is great for exploring cities and landscapes due to the beautiful wide-angle perspective.
*At the time of publishing, the price was $499.00.
Pros
Compact and lightweight
Optical image stabilization
Great optics
Cons
Doesn't include an AF/MF switch
No lens hood included
In my experience, a nice wide-angle zoom can actually work beautifully as a starter kit lens, and the Canon RF 15-30mm f/4.5-6.3 IS STM is certainly a standout option. Thanks to the 15-30mm range of focal lengths, you can capture portraits, street photography, landscapes, and more. I really think it does a great job as a generalist lens for all situations.
If you use it on an APS-C camera like the EOS R50 or the EOS R10, it'll have an effective focal length of 24-48mm, which is very desirable. I like the consistent sharpness this lens provides, and the various aspheric and UD elements really help reduce distortion (which in turn decreases the time you need to spend making corrections in post-processing).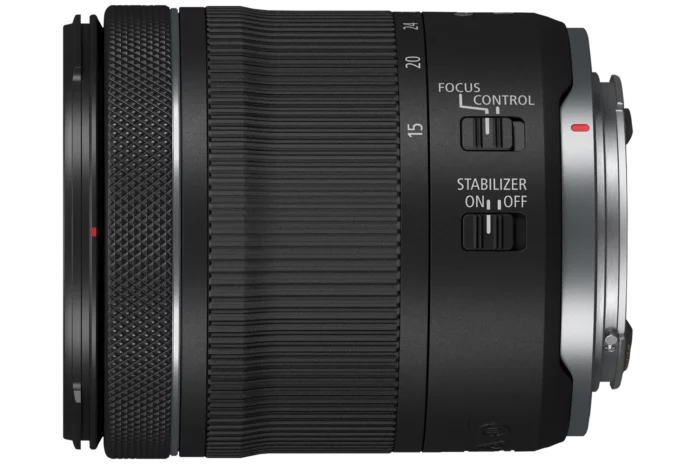 The maximum aperture range of f/4.5-6.3 is decent, too. No, it's not as good as the L-series version of this lens – which widens all the way to f/4 across the entire zoom range – but you still get decent low-light capabilities. The image stabilization also makes a big difference and means you can comfortably handhold this Canon wide-angle lens in most scenarios.
3. Canon RF 100-400mm f/5.6-8 IS USM
Great for wildlife photography
This 100-400mm lens is perfect for shooting skittish wildlife subjects thanks to the super-telephoto reach on the long end.
Pros
Durable construction
Programmable control ring
Special element to reduce chromatic aberration
400mm on the long end
Cons
Not the greatest low-light performance
Somewhat bulky
If you want to delve into wildlife and sports photography, you need a suitable telephoto lens, and the Canon RF 100-400mm f/5.6-8 IS USM is one of the best beginner Canon lenses in this category. It can't compete with the company's L lenses, but the price and features certainly make it an outstanding budget choice.
This lens offers the focal lengths you need to capture wildlife, cropped portraits, and players at sporting events when you're far from the action. For me, the image stabilization is also essential because I find it difficult to get sharp handheld photos at longer focal lengths.
Although the RF 100-400mm lens is larger and heavier than the other RF lenses on this list, it's not difficult to handle and is more forgiving compared to some of Canon's older telephoto units. I do wish the lens packed a larger maximum aperture, but f/5.6-8 is okay. It still gives you decent low-light performance, even if you might start to struggle when capturing images at 400mm f/8.
4. Canon RF 50mm f/1.8 STM
Great for portraits
The Canon RF 50mm f/1.8 STM is an ideal starter lens for portrait photography enthusiasts.
Pros
Light and compact build
Fast maximum aperture
Control ring for quick settings changes
Good optics
Cons
No image stabilization
The Canon RF 50mm f/1.8 STM is a fantastic starter lens for Canon RF-mount mirrorless users who plan to get into portrait and nature photography. I love the versatility of the amazing 50mm focal length, and for less than $175, you really can't go wrong with this budget option.
It looks fantastic and verges on a pancake lens in size. Despite this, Canon has still managed to pack in a control ring, which I love. Honestly, I can't emphasize the utility of the control ring enough! You can program it to change settings like aperture and exposure compensation, and it makes it so easy to apply quick changes as you work.
The quality of this Canon 50mm lens is also great, and the various special elements and coatings mean you won't have to do much corrective work in editing software afterward. Plus, low-light performance is top-notch due to the f/1.8 aperture, so whether you're shooting indoors or at night, you'll be capable of excellent images.
5. Canon RF 16mm f/2.8 STM
Great for landscape photography beginners
The Canon RF 16mm f/2.8 STM is amazing for wide-angle landscape shots that feature plenty of detail.
*At the time of publishing, the price was $249.00.
Pros
Extremely light and compact
Fast and accurate autofocus
Beautiful wide-angle focal length for landscapes
Fast maximum aperture of f/2.8
Cons
There can be barrel distortion
Not great for videos
If you love photographing the beauty of the landscape, then the Canon RF 16mm f/2.8 STM is a must-have lens. Not only does it provide an amazing wide-angle focal length, but the optics are also stunningly sharp.
With such an expansive field of view, you can capture lots of detail in your landscape shots. I also like to experiment with unique angles and compositions, and 16mm really is a great perspective. There is some barrel distortion, but it's easy to fix and software like Lightroom can take care of such issues automatically.
The maximum f/2.8 aperture makes the lens perfect for nighttime landscape and cityscape photography; that way, you can shoot without worrying too much about blurry stars. And thanks to the impressively cheap price, this 16mm f/2.8 lens is perfect for Canon RF-mount users of all budgets.
6. Canon EF 50mm f/1.8 STM
A top budget option for DSLR photographers
The Canon EF 50mm f/1.8 STM is a compact lens that is great for portraits, street shots, and more. It's also one of the cheapest options on the market!
Pros
Excellent low-light performance
Fast maximum aperture
Quiet and accurate autofocus
Lightweight construction
Cons
Has no image stabilization
Everyone needs a nifty fifty in their arsenal, which is why I'm a huge fan of the Canon EF 50mm f/1.8 STM. I don't think any other manufacturer offers a lens with this level of quality and features for under $150, so it's a great budget pick.
Unlike the RF 50mm f/1.8 model featured above, this lens is designed to work with Canon's APS-C and full-frame DSLR lineup. It's an absolute steal, and it's perfect for portraits, street photography, and many other scenarios. The focal length sits nicely between wide angle and telephoto and therefore gives you a nice perspective to work with. I love how compact and lightweight the lens is, and I think it's a great pick for travel photography.
The f/1.8 maximum aperture also really sets this budget lens apart, and you can expect solid low-light performance. Although the EF 50mm f/1.8 doesn't have any image stabilization, the wide maximum aperture will allow you to use fast shutter speeds in dimly lit areas while keeping the ISO low.
7. Canon EF 70-300mm f/4-5.6 IS II USM
Great for wildlife photography with a DSLR
This telephoto lens is a good option for DSLR wildlife photographers, and it'll help you capture nice portraits, too.
Pros
Decent maximum apertures
Image stabilization
Durable construction
Useful lens info display
Cons
Quite heavy and bulky
Maximum aperture could be more impressive
I like to use zooms rather than primes for the added flexibility, and the Canon EF 70-300mm f/4-5.6 IS II USM really is an outstanding zoom option. It offers plenty of versatility, very nice optics, and a reasonable price, making it a great budget buy.
The 70-300mm focal-length range is excellent, and you can use it to shoot plenty of subjects, including wildlife, portraits, and a whole lot more. I often carry a lens like this together with my kit lens and bring it out whenever I'm looking to capture images of more distant subjects. The image quality is great, and the maximum aperture range of f/4-5.6 is okay for low-light shooting, even if it's not as good as some of Canon's L-series lenses.
The image stabilization is invaluable – it really helps to prevent blur when handholding. If you like to shoot moving subjects, you'll appreciate the Nano USM autofocus, which is both fast and accurate. Although this lens is heavier and bulkier than most of the other options on this list, it's still a great option for budding DSLR wildlife photographers.
8. Canon EF 85mm f/1.8 USM
Great for portraits
The Canon EF 85mm f/1.8 USM is an excellent portrait lens that is consistently sharp and produces beautiful background bokeh.
Pros
Large maximum aperture of f/1.8
Quiet and accurate USM autofocus
Compact design
Rounded aperture blades to create circular bokeh
Cons
No image stabilization
Not the lightest of lenses
The Canon EF 85mm f/1.8 USM might be on the older side, but it remains a top prime lens for beginners seeking to create beautiful portraits. In particular, the maximum aperture of f/1.8 offers excellent control over the depth of field and will elevate your shots with amazing background blur.
The 85mm focal length is perfect for a mix of half-body portraits and headshots, and the lens is compact enough that you can carry it on your camera for hours without issue. I do wish it had image stabilization, but since portraits are generally done at wider apertures, you should still be able to shoot at fast shutter speeds and reduce the chance of motion blur.
Your images will look sharp from corner to corner, and the rounded aperture design means you can create that desirable professional bokeh effect behind your subject. The USM autofocus is quite snappy, too, which is perfect for photographing moving subjects at weddings and other events.
9. Canon RF-S 18-150mm f/3.5-6.3 IS STM
Great as an APS-C kit lens
The Canon RF-S 18-150mm f/3.5-6.3 IS STM is the current best kit lens option for EOS R APS-C cameras thanks to its impressive versatility.
Pros
Flexible range of focal lengths
Image stabilization
Smooth zoom transitions
Short minimum focusing distance
Cons
Can be soft at the edges
Superzoom lenses are often known for being soft, yet the Canon RF-S 18-150mm f/3.5-6.3 IS STM goes against the grain. It's very sharp, especially compared to the RF-S 18-45mm kit lens; in my view, the 18-150mm is clearly the better option if you've invested in one of the new Canon APS-C EOS R cameras like the Canon EOS R50.
I love the versatility this lens provides. At 18mm, you can capture beautiful landscapes; at 50mm, you can create amazing portraits; and at 150mm, you can photograph sports, cars, and even tame wildlife. Until Canon releases more RF-S lenses, this one should definitely be your first pick. (And if you can afford a second lens, consider purchasing the 18-150mm together with the 55-210mm featured below.)
Despite the low price, the features are pretty decent. You get image stabilization, which allows you to do comfortable handheld photography at any focal length. I like how smooth and quiet the STM autofocus is, and combined with the advanced AF features of Canon RF-mount cameras, it makes tracking wildlife and sports subjects a breeze.
10. Canon RF-S 55-210mm f/5-7.1 IS STM
Great for versatility
The Canon RF-S 55-210mm f/5-7.1 IS STM is the perfect midrange telephoto zoom for RF-mount beginners and will help you photograph plenty of subjects.
Pros
Built-in image stabilization
Lens elements to reduce ghosting and flare
Compact and lightweight design
Cons
Aperture range is limiting
There may be softening at the extreme edges
If you have an EOS R APS-C camera and a suitable kit lens, the next logical choice is the fantastic Canon RF-S 55-210mm f/5-7.1 IS STM.
With the standard-to-telephoto range covered, you can capture a range of photos, including portraits, events photography, and wildlife shots. I like the compact lens design, and while I get that some people may find the zoom extension ugly, it really does make the lens portable compared to many other Canon budget telephoto.
You can expect consistent image quality across the different focal lengths, and although there is a little softening at the edges, the lens works amazingly well. Plus, the image stabilization allows you to handhold with no issues. And while it doesn't get mentioned often, the minimum focusing distance is impressively short, which gives you greater flexibility for portraits and even close-up shots.
Grab the Perfect Starter Lens for a Canon Camera!
These beginner Canon lenses are just what you need: inexpensive, easy to use, and capable of consistent results. But which one should you buy? The first step is to consider your camera and find the appropriate lens mount – you can then determine if you need an EF, RF, or RF-S lens.
After that, consider what you want to do with your photography. If you want a general kit lens that's great in various situations, models like the Canon RF 24-105mm f/4-7.1 IS STM, the Canon RF-S 18-150mm f/3.5-6.3 IS STM, or the Canon RF 15-30mm f/4.5-6.3 IS STM are especially versatile.
Do you love landscape and wide-angle photography? If so, a prime lens like the Canon RF 16mm f/2.8 STM will be fantastic. If you're into wildlife and sports photography, however, you'll require telephoto capabilities, in which case options like the Canon RF 100-400mm f/5.6-8 IS USM, the Canon EF 70-300mm f/4-5.6 IS II USM, and the Canon RF-S 55-210mm f/5-7.1 IS STM are ideal!
---
Disclosure/Disclaimer: As an Amazon Associate, we earn from qualifying purchases. Certain content was provided "as is" from Amazon and is subject to change or removal at any time.