Today's iPhone cameras pack a serious punch. The latest models come equipped with high-resolution cameras, amazing features, and razor-sharp lenses. Therefore, diving into photography doesn't mean you have to splurge on a mirrorless or DSLR camera – your smartphone will do just fine!
But despite the incredible camera tech, many folks haven't quite grasped how to maximize their iPhone's potential. And it's such a missed opportunity because the versatility of the iPhone camera is unbelievable; with the right approach, you really can use your phone to snap professional-grade photos.
So if you own an iPhone and want to harness its photographic power, you'll love my rundown of the 10 best iPhone photography courses available in 2023. All of these courses are online and they cover a wide range of topics. You can pick from general iPhone photography introductions, in-depth courses on niche topics like lifestyle shooting, and even iPhone editing masterclasses.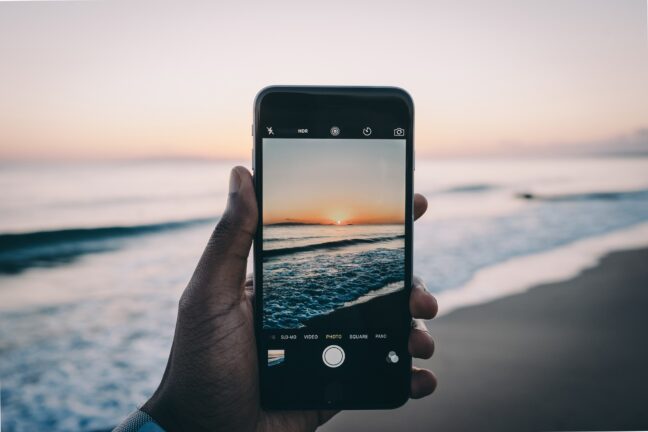 The Best Online Courses on iPhone Photography:
When you buy through links on our site, we may earn a commission at no cost to you. We evaluate products independently. Commissions do not affect our evaluations.
1. iPhone Photography School
Our Pick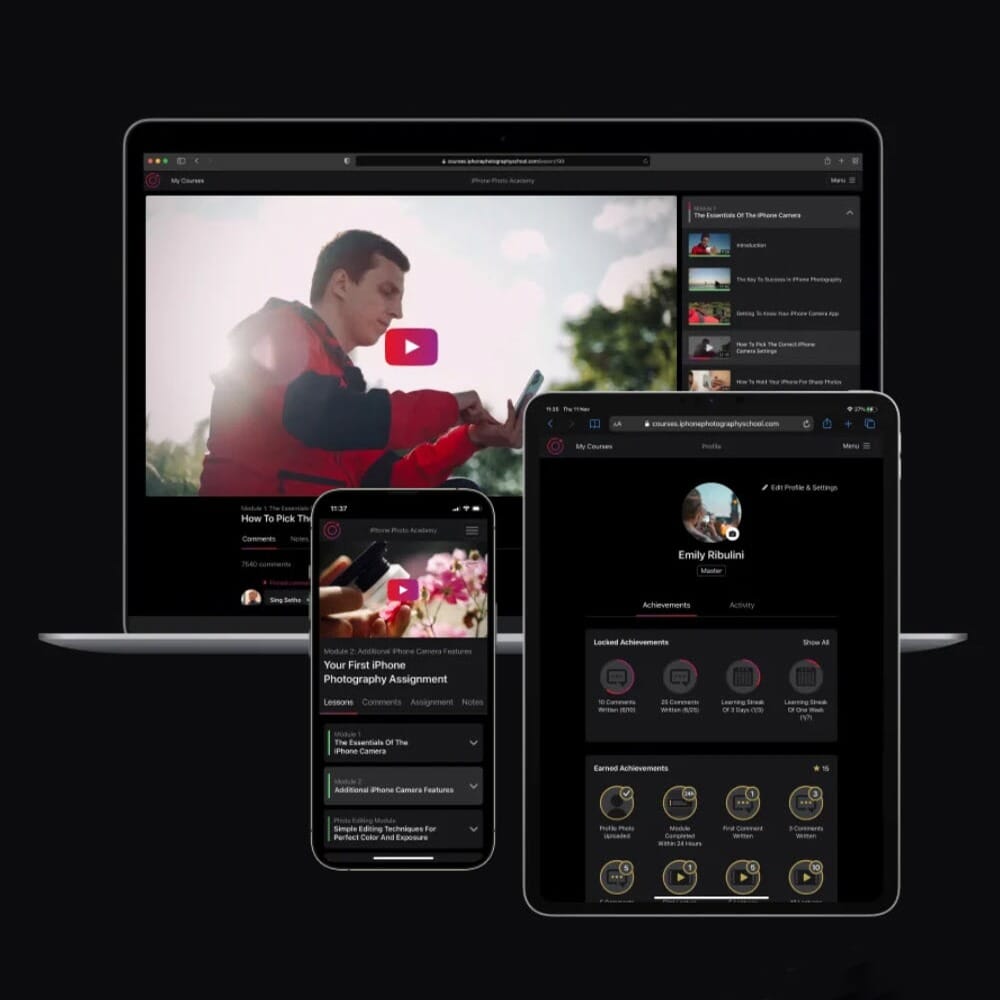 Great for everyone
iPhone Photography School offers a range of fantastic courses for photographers at every level. Whether you're just getting started or you want to delve into landscape or food photography, you're bound to be impressed.
Pros
Excellent production quality and presentation
The specialist courses are really detailed
Easy-to-follow lessons and instructors
Very popular
Cons
The website is heavy on the sales speak
More expensive than other options
My top pick is iPhone Photography School, and while it's technically a company rather than a single product, the array of courses is so impressive that I couldn't pick just one. Recognized for its excellence, IPS has garnered rave reviews and has even snagged a few awards for its products. Here's a peek into what the platform offers:
iPhone Photo Academy (a general introduction with handy tips)
iPhone Editing Academy (all about post-processing with an iPhone)
Capture It All (a primer on mastering the different iPhone camera features)
iPhone Landscape Mastery
Urban iPhone Photography
iPhone Food Photography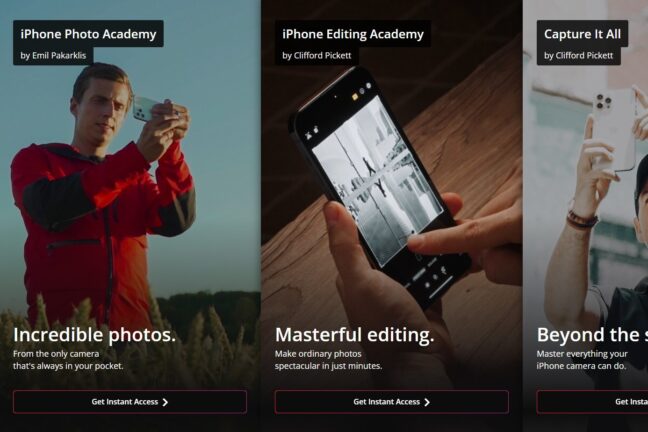 All of the courses are high quality and the presentation is top-notch. As someone who adores travel and landscape photography, I personally found immense value in the iPhone Landscape Mastery course, and the cinematography is simply breathtaking.
While the pricing is on the higher side compared to other courses on this list, the amount of content, live demos, and deep dives into specific subjects more than justify the cost. For an in-depth look at the platform's many offerings, do check out my hands-on review of iPhone Photography School.
2. iPhone Photography: Take Professional Photos On Your iPhone
Also Great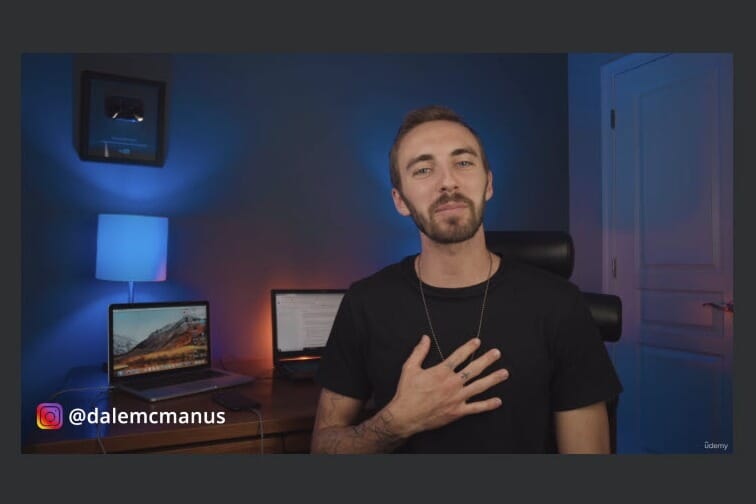 Great for production value
Dale McManus's iPhone Photography course is a standout, as he delivers tips and lessons in a fun, easy-to-follow manner that's sure to keep you hooked.
Pros
Polished videos
Plenty of useful composition tips
Great value with over an hour of lessons
Excellent presentation
Knowledgeable instructor
Cons
Some of the lessons are a little short
iPhone Photography is presented by Dale McManus through Udemy, and it's a fantastic choice if you're keen to explore a variety of topics and haven't yet zeroed in on your photographic niche. From mastering iPhone camera settings and exploring various smartphone composition techniques to delving deep into specific photography styles like macro and long exposure, this course has it all.
Although some modules might be brief, they provide a solid overview of each topic. In total, this iPhone photo course packs in 1 hour and 22 minutes of content and spans 27 individual videos.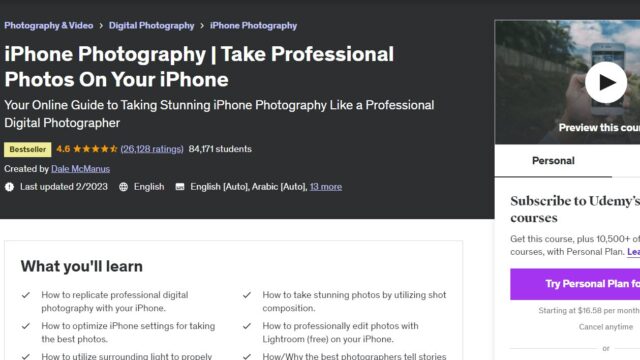 Dale brings a fun and assured presence to the course. He breaks down the basics in a super digestible way. I was particularly impressed with the engaging background music, clear text overlays, and hands-on demonstrations. If you're looking to kickstart your iPhone photography journey, this handy course is a stellar place to begin.
3. iPhone Photography Crash Course
Great for any iPhone model
The iPhone Photography Crash Course provides tailored tips for a range of iPhones, from the iPhone 14 all the way down to the older XS and XS Max models.
Pros
Huge amount of content
Logical flow
Good use of live demonstrations, text, and photo examples
Cons
Doesn't cover much in terms of editing
If you want a simple introduction to the different settings and features of your iPhone camera, then Udemy's iPhone Photography Crash Course is an excellent starting point. It's perfect for beginners or anyone looking to maximize their camera's capabilities.
You receive 2 hours and 24 minutes of content that's neatly divided into four sections. The lessons progress logically, starting with camera features, advancing to specialized tools, and concluding with compositional techniques.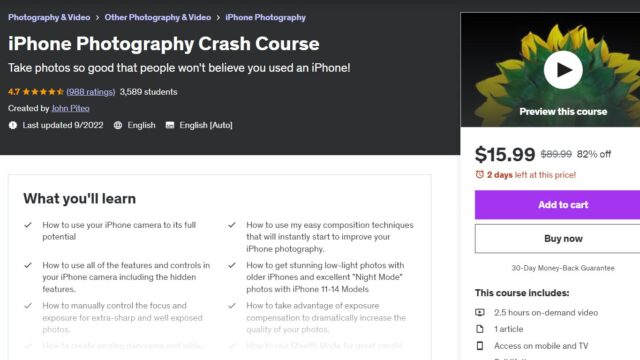 John Piteo offers engaging presentations, and the production quality doesn't disappoint. I love how the course offers a balanced mix of real-time demonstrations, photo examples, and explanatory text (all accompanied by some catchy background tunes!). And don't worry about your iPhone model; John provides advice for working with newer phones like the iPhone 14 as well as older models such as the iPhone XS and XS Max.
4. iPhone Photography: A Masterclass on Taking Awesome Photos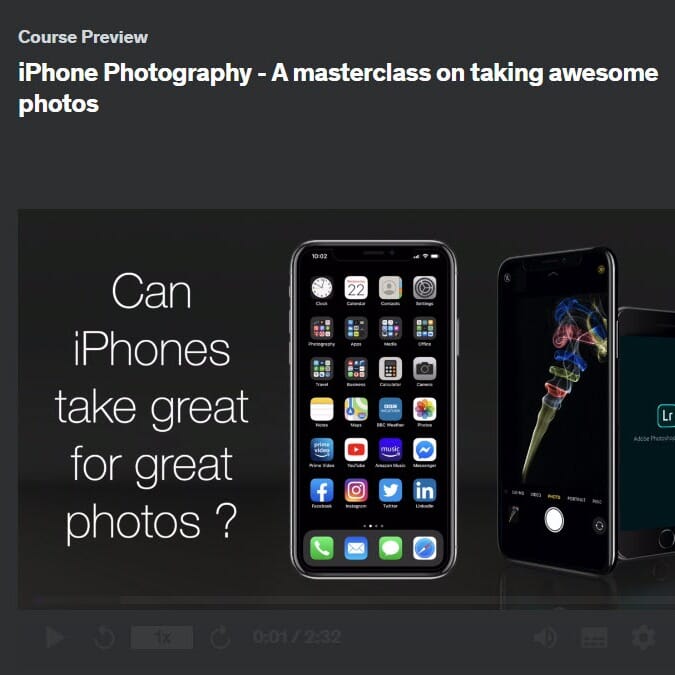 Great for learning iPhone settings
This iPhone photography masterclass sure is expansive! It delves into everything from the perks of using an iPhone for photography to the nuances of composition, settings, and editing.
Pros
Extensive class covering multiple iPhone photo topics
Helps you understand iPhone settings
2+ hours of course material
Great price
Cons
Doesn't have any in-depth lessons
iPhone Photography: A Masterclass on Taking Awesome Photos offers an impressive 2 hours and 12 minutes of instruction across a whopping 43 lectures. The course's depth and variety are amazing, and the instructor, Kit Fanner, touches on everything from camera settings and modes to editing and composition.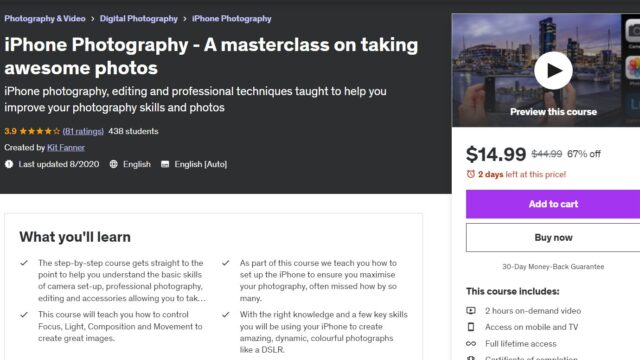 One standout section discusses the strengths and weaknesses of iPhones for photography relative to other smartphone cameras. It grants you a clear view of what your iPhone can realistically achieve.
The segments on camera settings are particularly thorough. You get 17 distinct lessons, and each dissects a specific setting. Beyond just snapping photos, the classes address often-neglected topics like iCloud management and photo storage. Plus, I really appreciate how the one-time payment grants you lifetime access to all course materials.
5. iPhone Photography: Capturing and Editing RAW Photos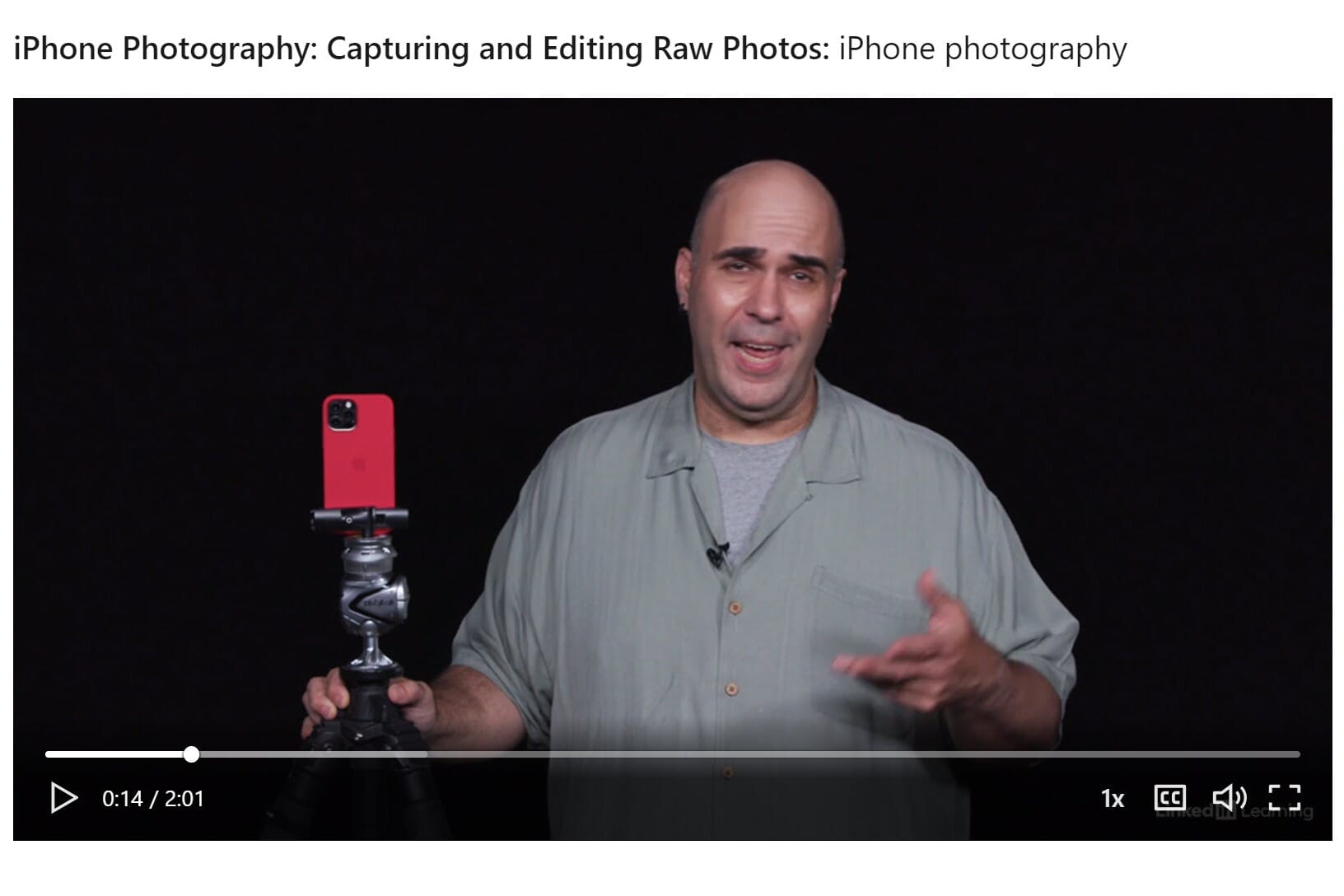 Great for learning about RAW files
To really take your iPhone shots to the next level, you must understand RAW files, and this course offers a great starting point.
Pros
Detailed explanation of RAW files
Editing tips and techniques for different platforms
Great information on the Apple ProRAW feature
Cons
Doesn't give many compositional tips
If you're a beginner, the term "RAW photos" might not mean much, and that's okay; I was once right where you are! But understanding what RAW images are and what they can do is worthwhile, and a course like iPhone Photography: Capturing and Editing RAW Photos is a great introduction.
The course delves deep into RAW files, explaining their significance in photography and their role in editing. It offers a slew of iPhone-specific details, like how you can use the Apple ProRAW feature and advice for adjusting camera settings to optimize the ProRAW mode.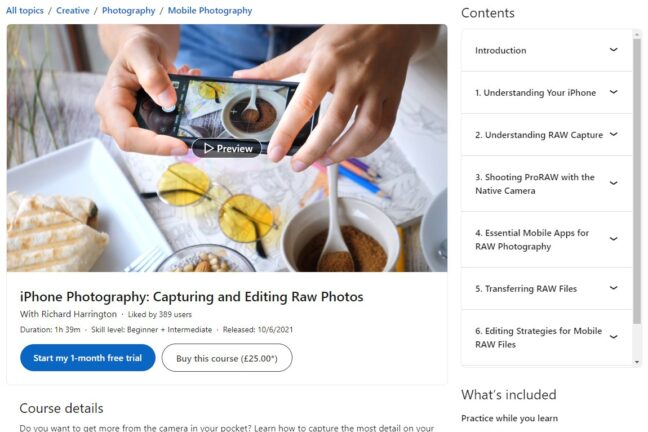 I'm a big fan of Richard's comprehensive approach. Not only does he share techniques for editing RAW files on your iPhone, but he also delves into exporting your files for a more detailed edit on desktop computers. The course spans 1 hour and 39 minutes and is divided into six coherent lessons to make it especially digestible. It also comes with lots of downloadable resources, including sample photos, to help you get the most from the content.
6. iPhone Photography: Make Your Pictures Stand Out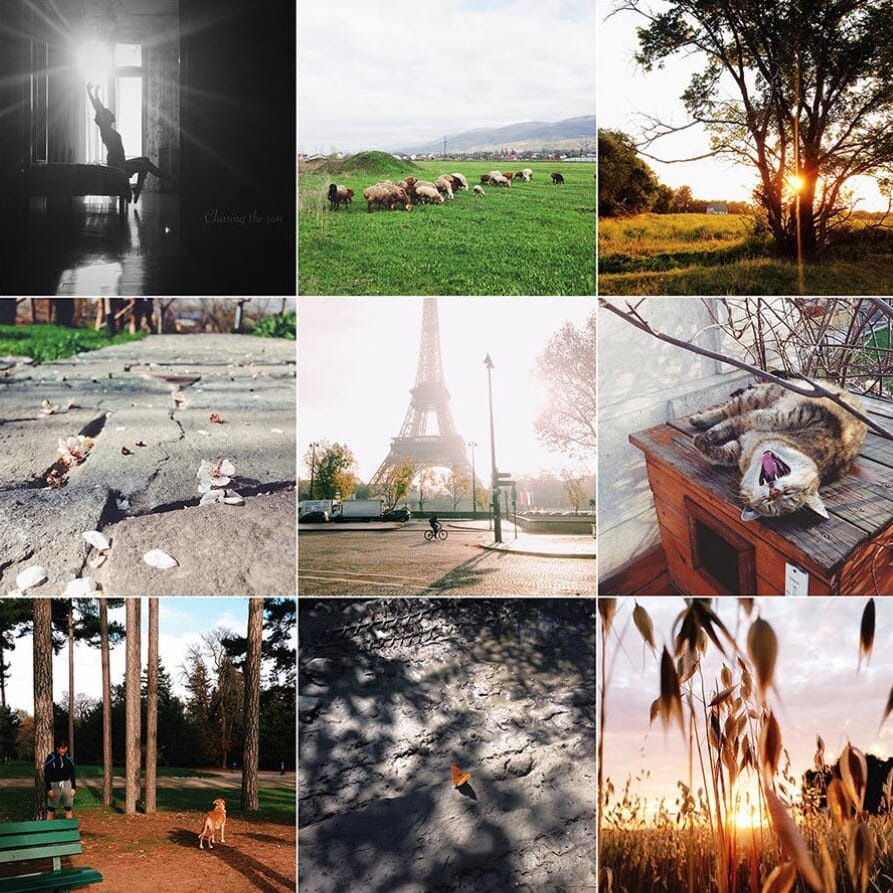 Great for Instagram photos
Looking to elevate your Instagram feed? This course offers plenty of insights so you can transform mundane subjects into captivating masterpieces.
Pros
Plenty of creative tips and ideas
Explains how to use your iPhone camera properly
Short video lessons that are easy to follow
Good mix of photo examples and text
Cons
The sound quality of the voiceovers could be improved
Given the huge number of smartphone photographers on Instagram, it's understandable if you're struggling to get noticed and develop a following. That's where the course iPhone Photography: Make Your Pictures Stand Out can help.
What I appreciate most about this course is its deep dive into the artistic side of things. Sure, there's a section covering the basics and your fundamental iPhone camera settings, but the majority of the lessons are about composition techniques. The course boasts tons of creative insights and discusses how you can add movement, play with silhouettes, experiment with B&W, and seek out patterns for gorgeous shots.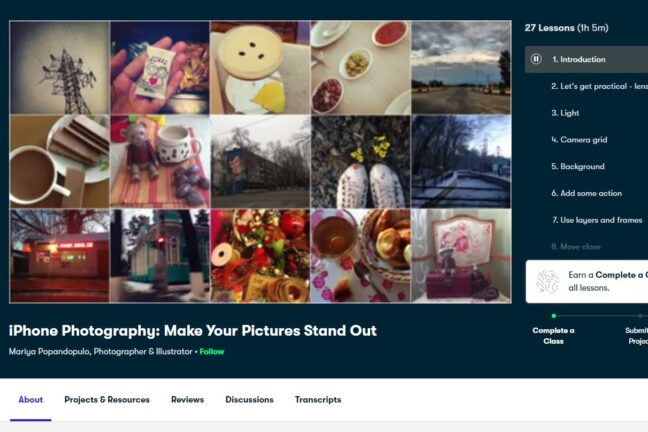 All in all, it's a solid course that's bound to nurture your creativity. With 1 hour and 5 minutes of instruction split into easily digestible segments, it's also easy to revisit whenever you need a refresher. For avid Instagrammers, this is undoubtedly one of the top iPhone photography courses out there.
7. iPhone Photography: How to Take Pro Lifestyle Photos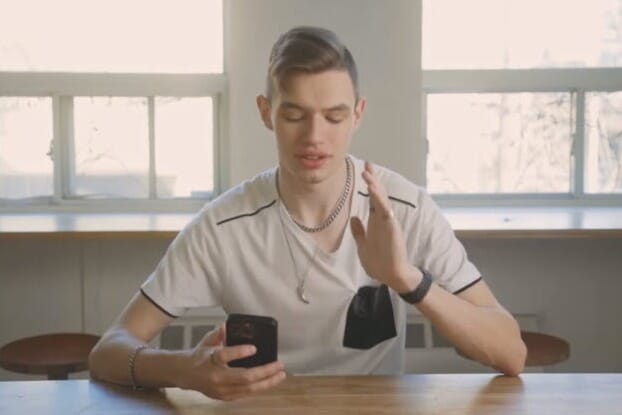 Great for lifestyle portraits
If you're into lifestyle photography, this course is amazing! You'll learn how to improve your shots by adjusting lighting, engaging with your subject, and much more.
Pros
Plenty of useful tips for lifestyle portrait shots
Great presentation and use of live demonstrations
Short lessons that are easy to digest
Cons
It does concentrate more on portrait photography
If lifestyle photography is your thing, then you should definitely give iPhone Photography: How to Take Pro Lifestyle Photos a whirl. Hosted by Skillshare and presented by Fynn Badgley, this course offers 1 hour and 22 minutes of content spread across 24 well-organized videos. While most lessons are brief, a few in-depth sections do delve deep into their respective topics.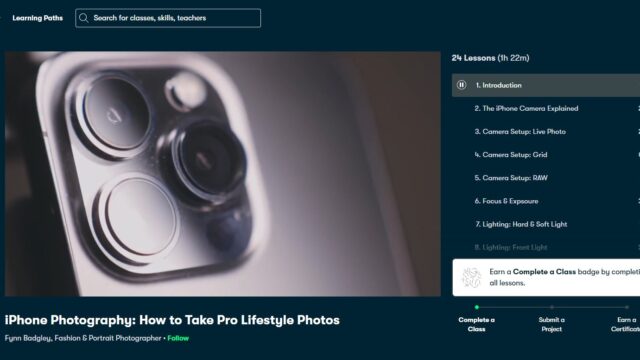 The course is enriched by a blend of live demos, text, and photo examples. Fynn isn't just easy to follow; he exudes expertise and arms you with dozens of pointers so you can capture stunning lifestyle shots with an iPhone.
Beginners will appreciate the content exploring foundational concepts like the rule of thirds and perspective, while more advanced lifestyle photographers will love the lessons on lighting. You'll learn to work with various lighting types and angles so your photos look incredibly professional. This course's impressive set of videos – coupled with the focus on lifestyle portrait photography – make it especially great for Instagrammers and anyone in the lifestyle niche.
8. How to Take the Perfect Selfie: iPhone Portrait Photography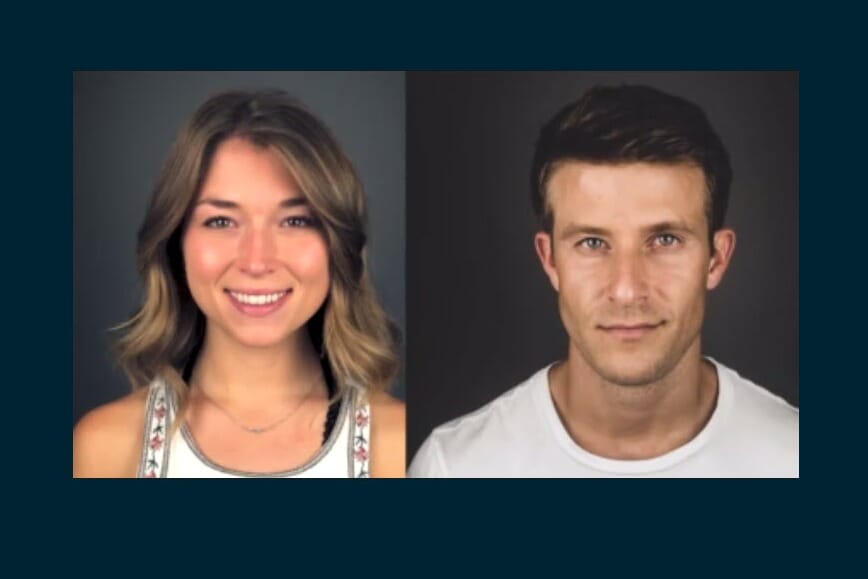 Great for learning portraiture
If you're new to selfies and portraits, this course offers a solid introduction to the genre and is complete with live demos, example photos, and helpful text overlays.
Pros
Fun and engaging lessons
Great selfie tips
In-depth look at portrait photo settings
Short videos that are easy to digest
Cons
Doesn't really contain any tips on exporting and sharing images
Selfies can be tricky for plenty of photographers. For instance, I'm very passionate about photography and have been shooting for years, yet I'm a mess when it comes to capturing good self-portraits. That's why I enjoyed How to Take the Perfect Selfie so much; it showed me how I can capture better photos of myself!
But this course isn't just about nailing the selfie game. It also touches on the broader aspects of iPhone portrait photography, making it an ideal entry point for anyone looking to create beautiful portraits using the camera they have in their pocket.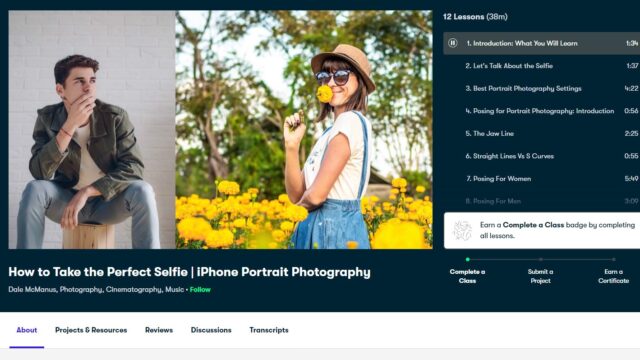 The course unfolds logically, so while it starts with the selfie basics, it eventually delves into portrait settings and even offers a myriad of pose suggestions for both men and women.
The course layout is intuitive, blending text with photographic illustrations. The instructor's relaxed demeanor makes learning breezy, and to top it off, you'll even pick up some Lightroom editing tips and a variety of handy lighting insights along the way!
9. Lightroom Mobile: How to Edit Your iPhone Photography Like a Professional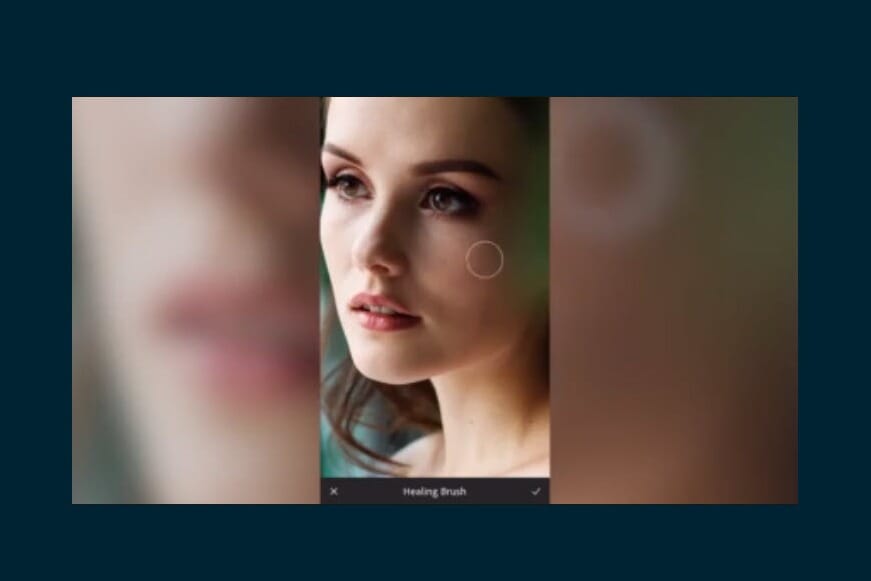 Great for iPhone photo editing
Eager to process your iPhone photos? This Lightroom Mobile editing course explains how you can enhance your files in a variety of ways.
Pros
Great explanations of different editing options
Short and segmented lesson structure
Live demonstrations that are easy to follow
Cons
Only covers a couple of advanced techniques
Doesn't discuss other editing apps
One of the amazing things about iPhones nowadays is the slew of incredible editing apps. These allow you to achieve professional-looking results during post-processing and even salvage photos that would be otherwise ruined due to poor lighting or exposure issues.
However, editing an image requires a whole new set of skills, and that's why Lightroom Mobile: How to Edit Your iPhone Photography Like a Professional is such a superb course. Lightroom is my favorite editing app, and this iPhone photography class delves into its features and tools so you can learn all the editing essentials. For instance, it shows you how to import your iPhone snaps into the Lightroom app, how you can make adjustments to exposure and color, and how you can make the little details and textures really pop.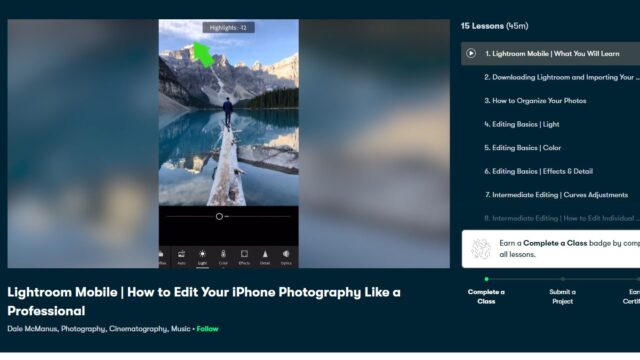 Additionally, the course delves into the world of presets so you can learn how to edit multiple photos with just one click. And when it comes to the tutorials on topics like adjusting white balance, I appreciate that the instructor not only offers live demos but also takes the time to clarify the purpose and impact of each tool.
10. Mastering Your iPhone Cameras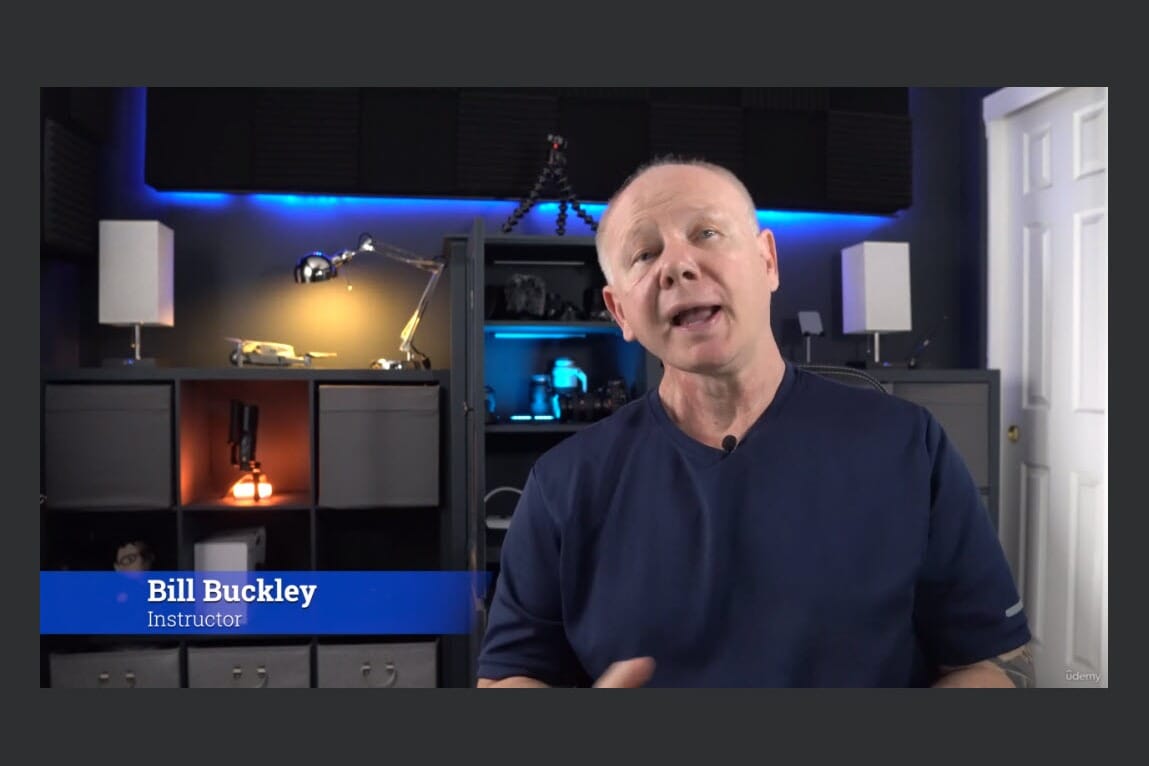 Great for learning iPhone settings
Mastering Your iPhone Cameras is an ideal introductory course; it breaks down over a dozen different iPhone camera settings and functions including exposure, time-lapse, and Night mode.
Pros
Excellent for beginners
Short and straightforward videos
Video demonstrations are excellent
Cons
Doesn't delve into composition
Given the huge number of settings and features offered on smartphone cameras, I often find myself overwhelmed – and that's why Mastering Your iPhone Cameras is perfect for folks like me. Thanks to the course's careful instruction, you'll learn to harness the true potential of iPhone photography and move beyond the restrictions of Auto mode.
Mastering Your iPhone Cameras is concise but thorough. It demystifies all the essential features and settings so you can shift your focus to other key photographic elements (such as refining your smartphone composition skills).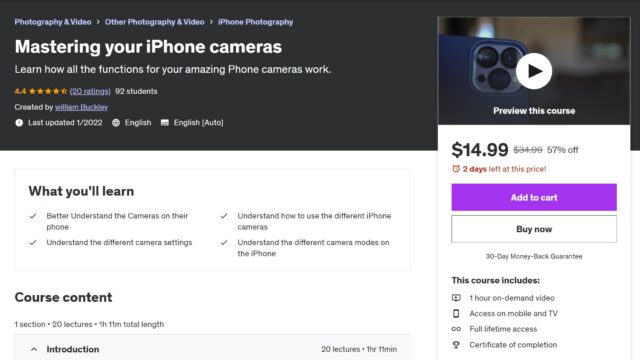 The course provides 1 hour and 11 minutes of content over 20 videos, and I love that each setting and function gets a dedicated video. Here are just a few of the topics that are covered: focus lock, quick shots, exposure, timer function, Night mode, Cinematic mode, time-lapses, and aspect ratios. The video presentations are sleek, straightforward, and enhanced by helpful clips.
Start Capturing Amazing iPhone Photos!
My recommended iPhone photography courses are all guaranteed to improve your images, but where should you start? I'm a fan of iPhone Photography School's beginner courses, though if the prices are too steep, I'd suggest purchasing either the iPhone Photography course or the iPhone Photography Crash Course (both from Udemy). All of those options will help you master your iPhone so you can start taking better photos right away.
But don't forget about editing! Courses like Lightroom Mobile: How to Edit Your iPhone Photography Like a Professional and iPhone Photography: Capturing and Editing RAW Photos will help you transform your files into masterpieces for sharing on Instagram or display on a portfolio website.
Finally, whatever course you decide to enroll in, remember to have fun and enjoy the process of capturing gorgeous images with only an iPhone!