Filmmaking can be incredibly fun and incredibly rewarding. If you want to delve into the field or advance your skills and techniques, you can gain a ton of knowledge from the best online filmmaking courses.
In this article, we have hand-picked 10 of the best courses out there for every filmmaker.
Whether you're already experienced, a complete beginner, or you're hoping for a budget production – there's definitely a course to suit your needs.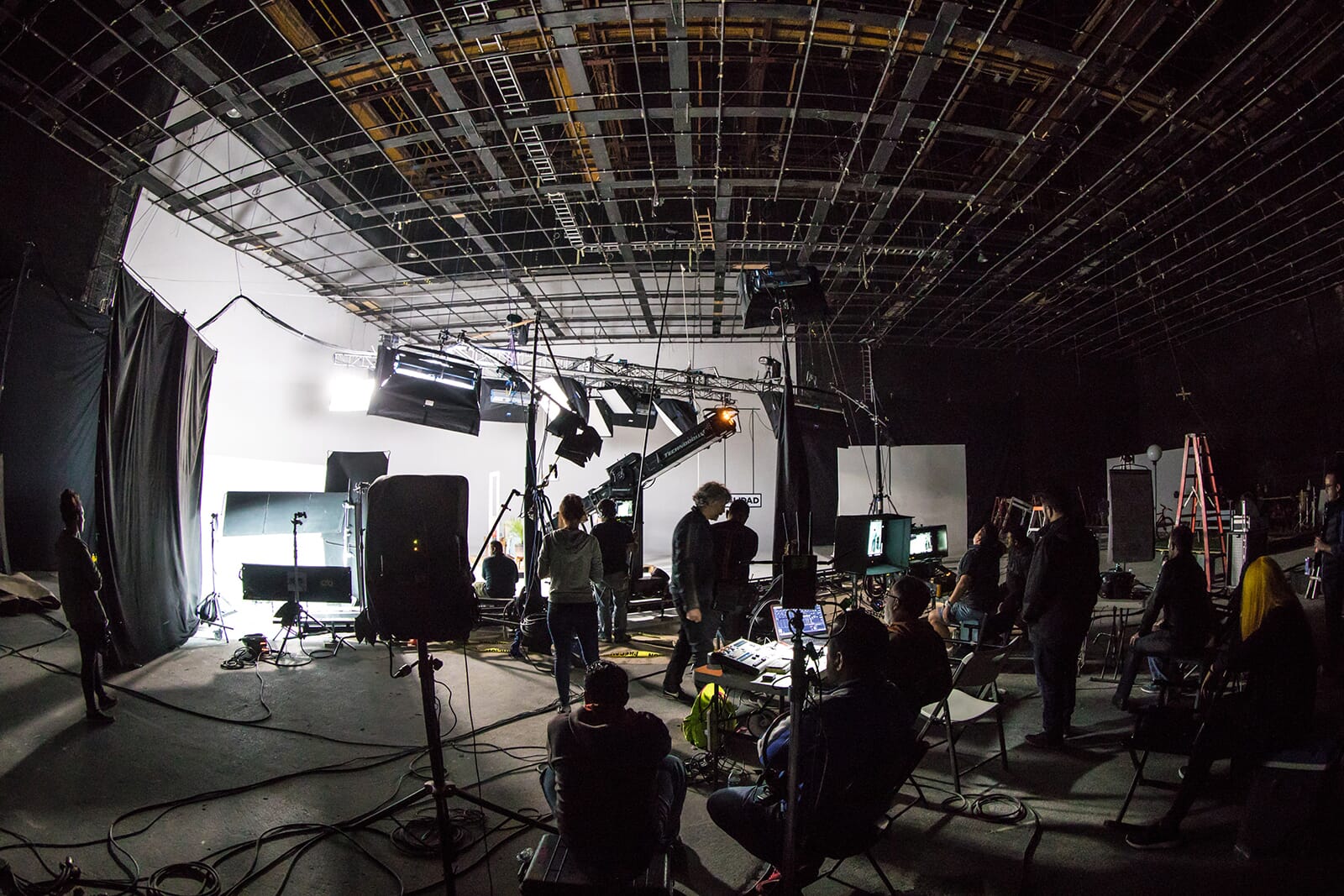 When you buy through links on our site, we may earn a commission at no cost to you. We evaluate products independently. Commissions do not affect our evaluations.
Best Online Filmmaking Courses
1. Full-Time Filmmaker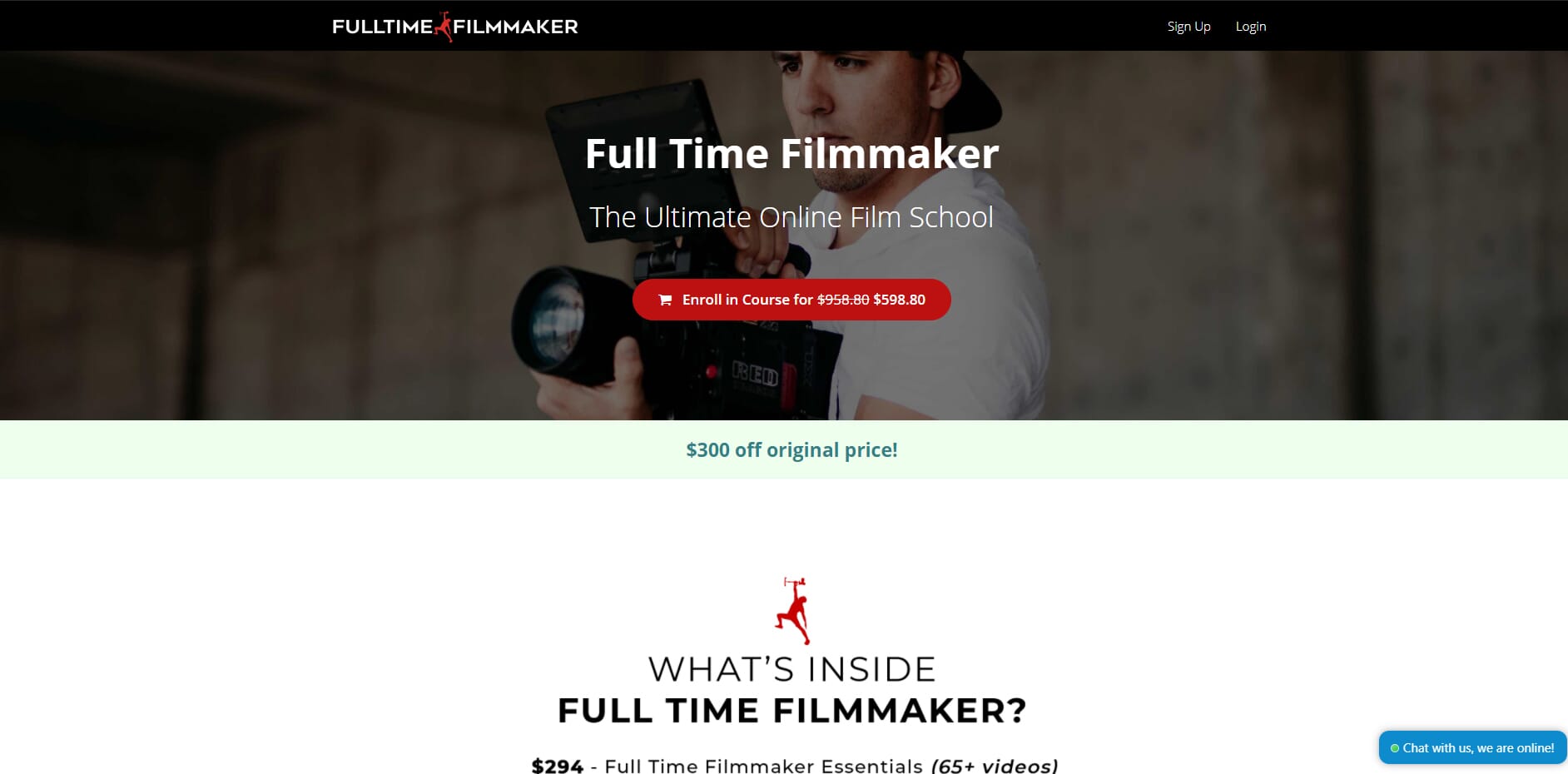 Full Time Filmmaker is a dedicated platform that provides a range of filmmaking and cinematography courses. It has a range of individual courses as well as a comprehensive package – The Ultimate Online Film School. This course effectively combines all of their learning material into one masterclass.
If you purchase this course, you get access to 400+ videos and receive various discounts on video editing software. We also like that the package is broken into separate courses. For example, there are the Full Time Filmmaker Essentials, Travel Video Pro, and Cinematic Lighting Pro. You can learn at your own pace and only take the lessons you feel are relevant.
In the essentials course, you start from the very basics and work your way up, covering aspects such as equipment and settings. You also have access to lessons on popular video editing software including Adobe Premiere Pro, DaVinci Resolve, and Final Cut Pro X.
If you are hoping to get your hands on a thoroughly comprehensive course, this is the best online filmmaking course available.
Pros
Caters for different video editing software
Hours of informative video
Provides product discounts for some software
Cons
May be a little overwhelming to start
2. James Cameron – Masterclass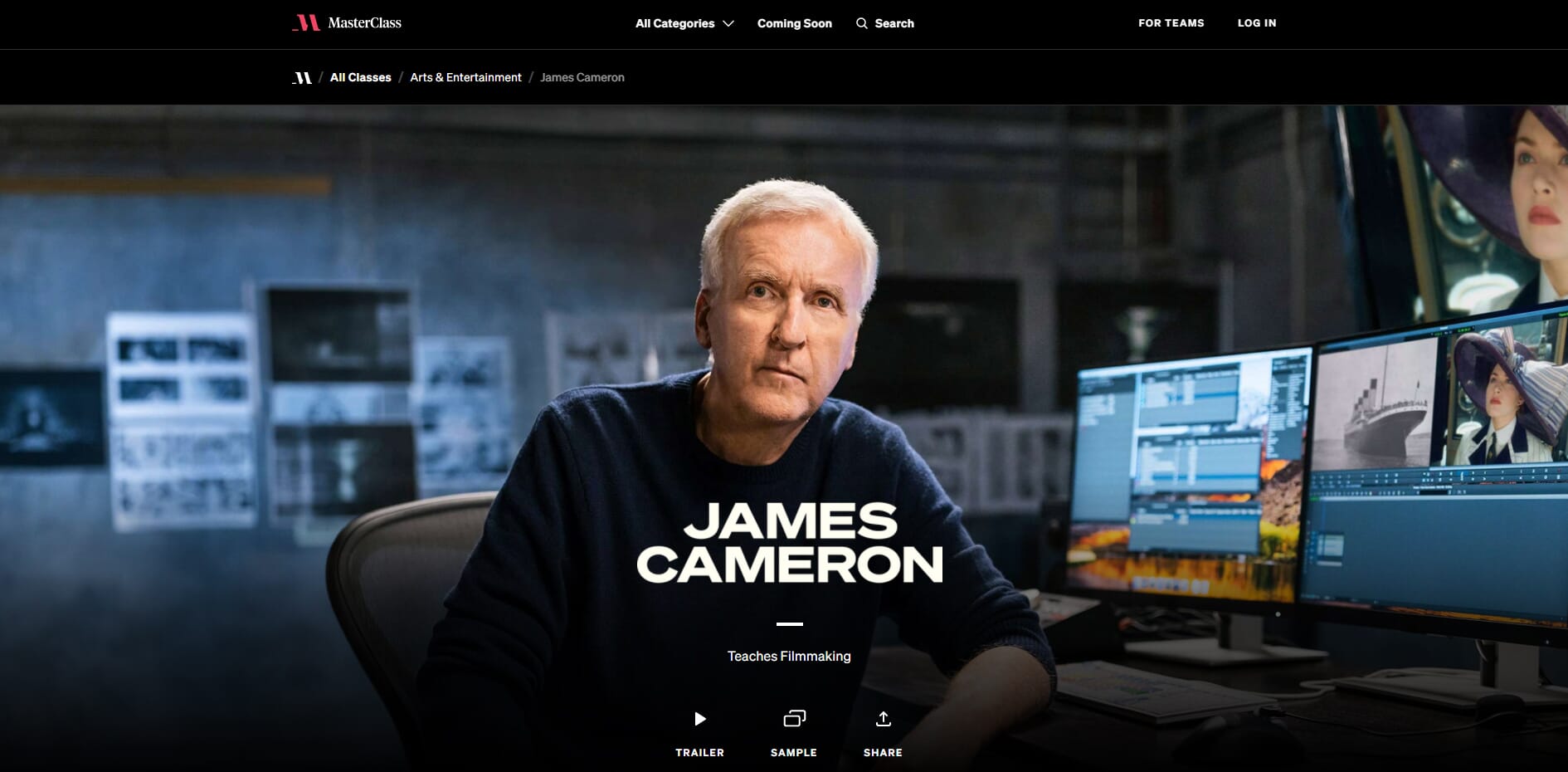 Chances are, you've seen a Masterclass ad or two, or you're at least familiar with what they offer! With the opportunity to get professional insight and instruction from someone who is truly skilled in their field, Masterclass is a great option!
One of their best filmmaking courses is from the legendary director and producer, James Cameron. Cameron is known for numerous blockbuster films including Avatar, Titanic, and The Terminator. Who better to learn the art of filmmaking from?
This Masterclass course includes 15 video lessons that have a total runtime of around 3.5 hours. Yes, this does seem somewhat short in comparison to other filmmaking course offerings, but your subscription gets you access to tons of other courses from industry leaders too!
In this course, Cameron will teach you important aspects of filmmaking such as developing ideas, building tension, toying with the audience, and introducing characters. Throughout, you will see snippets from some of his most famous films, and he will give insight into the rationale and thought process behind the scenes. This Masterclass course is brilliant if you want inspiration rather than an in-depth dive into the technical components of filmmaking.
Pros
Covers some important filmmaking aspects
Includes breakdowns of iconic film scenes
Real insight from a filmmaking legend
Cons
Not the most extensive course
3. Cinematography Basics: Understanding Filmmaking Style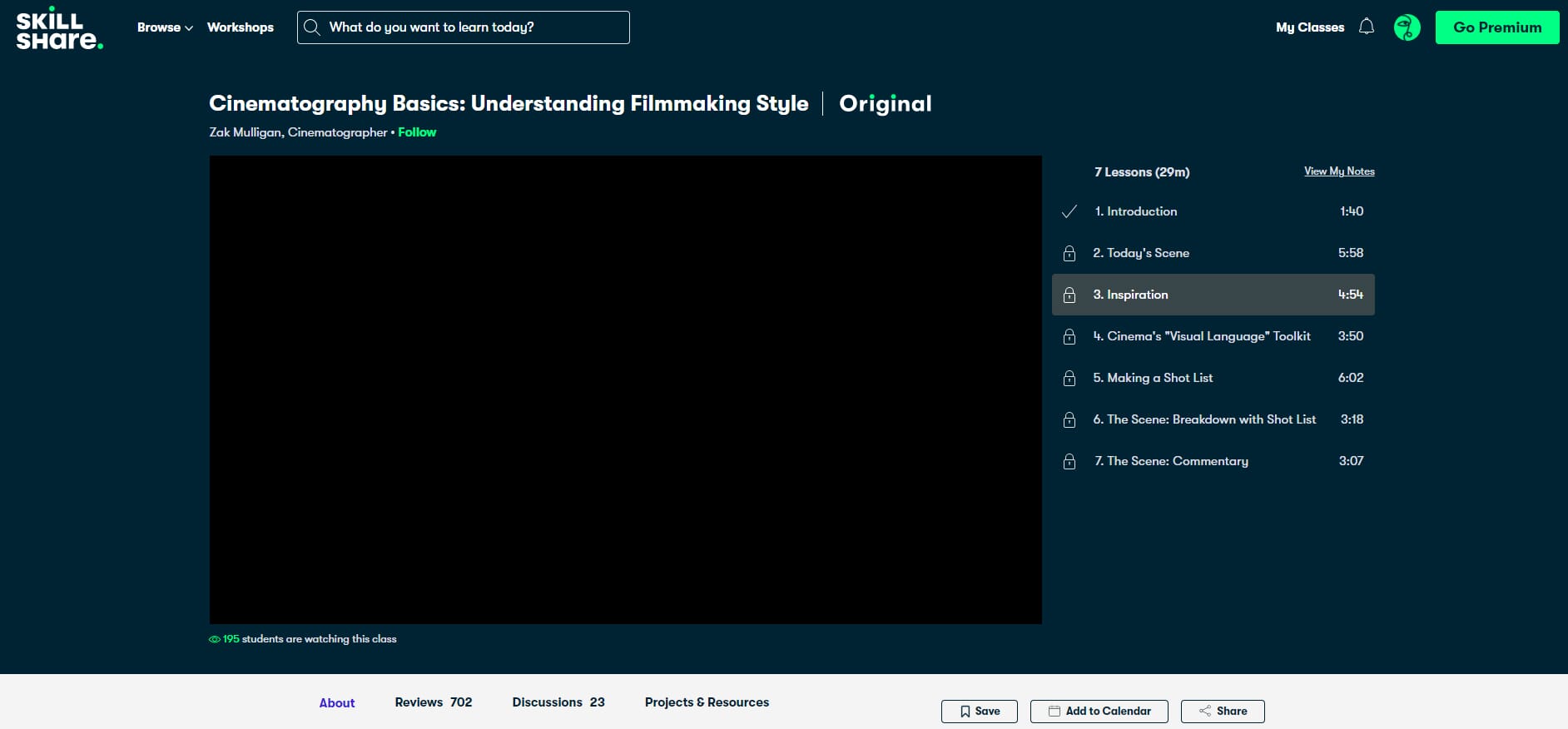 Skillshare has an amazing selection of filmmaking courses. One of their best introductory courses is Cinematography Basics: Understanding Filmmaking Style.
This course was created by cinematographer Zak Mulligan who has an impressive career portfolio. Zak has produced films and worked for big broadcasting companies like HBO for various popular TV series including The Outsider and House of Cards. It goes without saying, Mulligan's varied experience and industry knowledge mean you're going to get some great insight from this course.
Cinematography Basics is a brilliant and quick introduction to filmmaking. The course might only be 30 minutes long but it is packed with detail. There's a tone of useful information that you can actually take away and benefit from. For example, it includes information on how to create a shot list, together with an example created in Excel. You'll even learn to hone in on the necessary creative factors to make a good cinematographic scene!
To get started and ensure you have a solid foundation, this is definitely a course worth considering!
Pros
Gives a commentary to a real film scene
Explains how to create a shot list
No filler material
Cons
Not a comprehensive course
4. DIY Cinematography: Make Your Video Look Like a Movie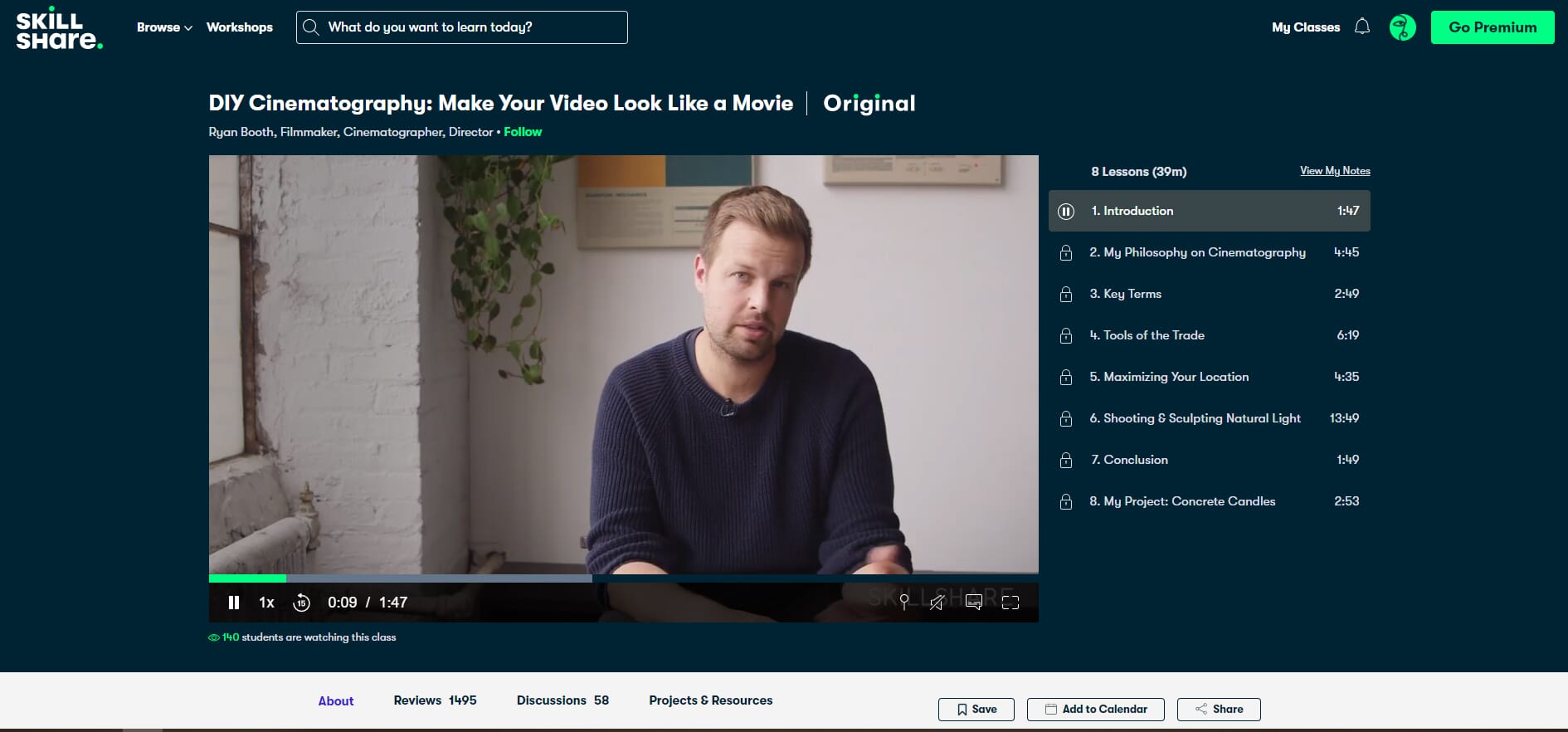 DIY Cinematography: Make Your Video Look Like a Movie is another fantastic Skillshare filmmaking course. This is another short but easy-to-digest class that has 40 minutes of informative content.
The course is created by Ryan Booth who is a filmmaker from Texas. One of his most notable features is his documentary on The Revenant, where he takes a behind-the-scenes and into the minds of the creators' approach to examining the hit film. Ryan's journey into filmmaking is quite an interesting one, with his first opportunities taking a photographic approach.
During this course, you will learn about Ryan's filmmaking philosophy and how you can use this in your own creations. Booth will explain a range of important cinematography terms that you should become familiar with and start to incorporate into your own work.
As the name suggests, he covers a range of simple DIY tools that you can use for lighting and scene setup too.
This is an important course for those who do not have access to the most expensive equipment. It will help you understand how to create magic using the minimal tools you have.
Pros
Demonstrates simple DIY lighting techniques
Shows how to maximise your shooting location
Shows you how to make a video look like a film
Cons
Not the longest of courses available
5. Become a Cinematographer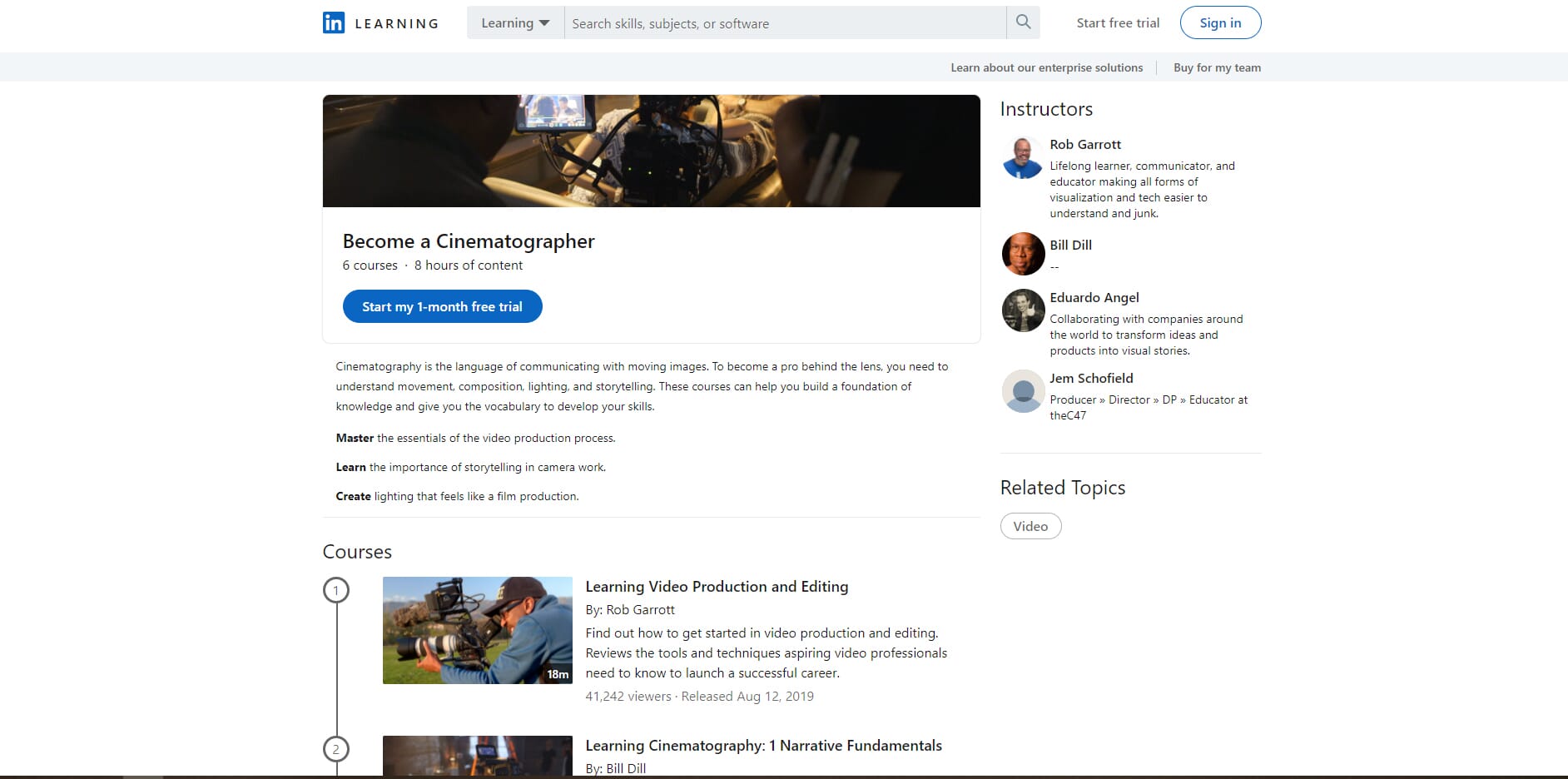 LinkedIn Learning is a fantastic online learning platform that has some very useful courses. One of the best online filmmaking courses is Become a Cinematographer. This course is actually composed of six individual courses from different teachers. The different courses include Learning Video Production and Editing, Narrative Fundamentals, Working on Set, and Hands-on Techniques.
In total, you get a whopping eight hours of content. This makes it one of the most extensive courses available. We also like that it is split into stages. You can work your way through each stage and progress at your own pace.
In terms of content, you will learn what it takes to become a cinematographer. This includes basic video production and editing techniques. You will then learn how to create powerful and interesting narratives, and what to expect on set.
If you really want to delve into the world of filmmaking, this is a fantastic course to take.
Pros
Over 8 hours of insightful content
Covers important filmmaking topics
Teaches camera movements and lighting techniques
Cons
Free but only for a 1-month LinkedIn Learning trial
6. A Photographer's Guide to Shooting Wedding Videos Like a Pro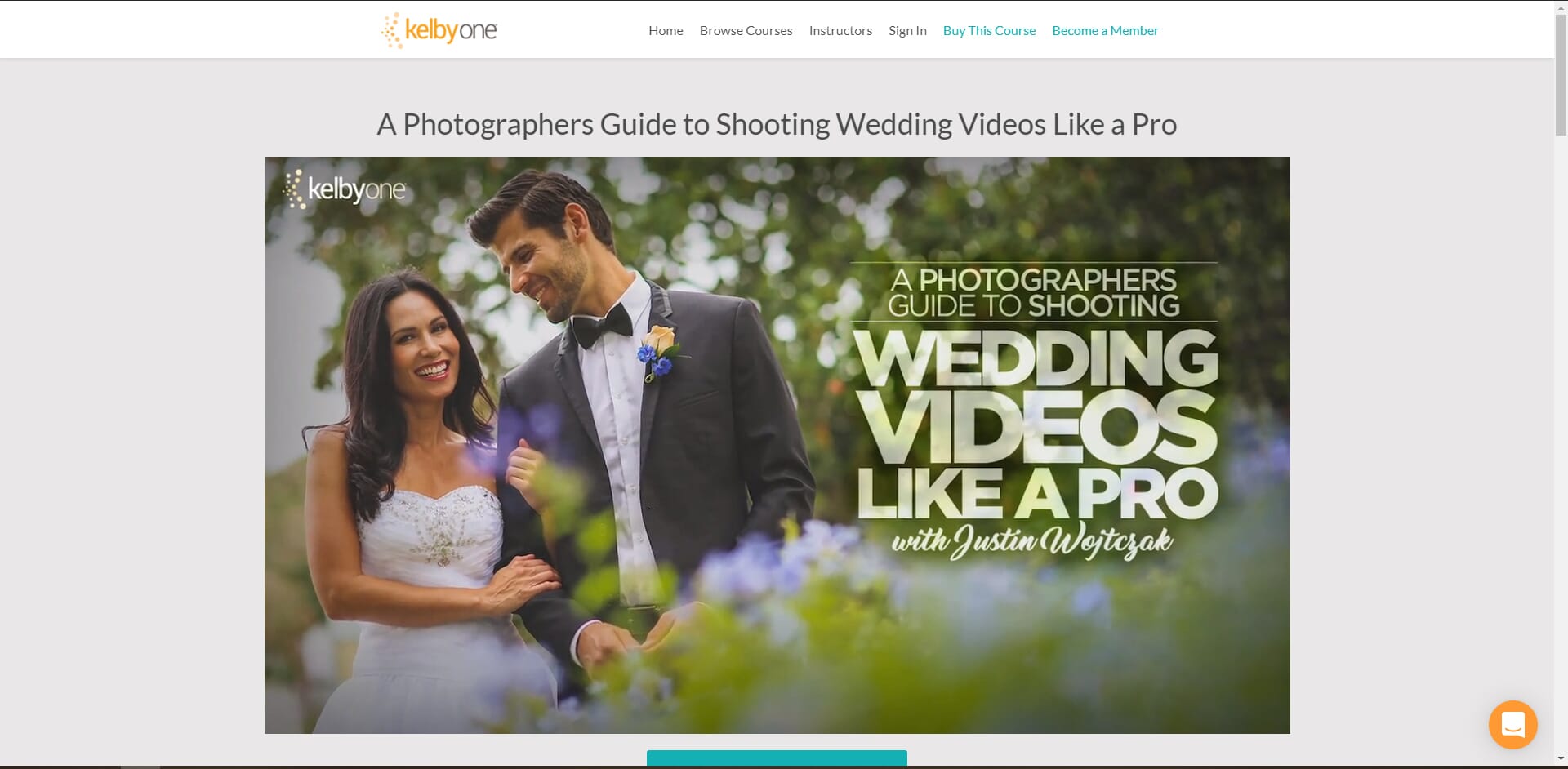 KelbyOne specializes in online photography courses; however, it also has a great range of video and filmmaking courses too.
We have chosen a specialist course here for those who want to get into wedding filmmaking. Perhaps you are already a wedding photographer, but you would like to expand your repertoire and offer professional wedding films too?
If so, this is the perfect course. A Photographers Guide to Shooting Wedding Videos takes you through the process step-by-step. It is easy to follow and the course is split into eight easy-to-digest lessons. Lessons include video fundamentals, planning your shoot, exporting, and video editing. You can learn some great techniques and understand how to plan a wedding film effectively.
Pros
A great intro for wedding films
Teaches editing and video fundamentals
Relatively inexpensive
Cons
May not be suitable for advanced filmmakers
7. DSLR Filmmaking: Video Basics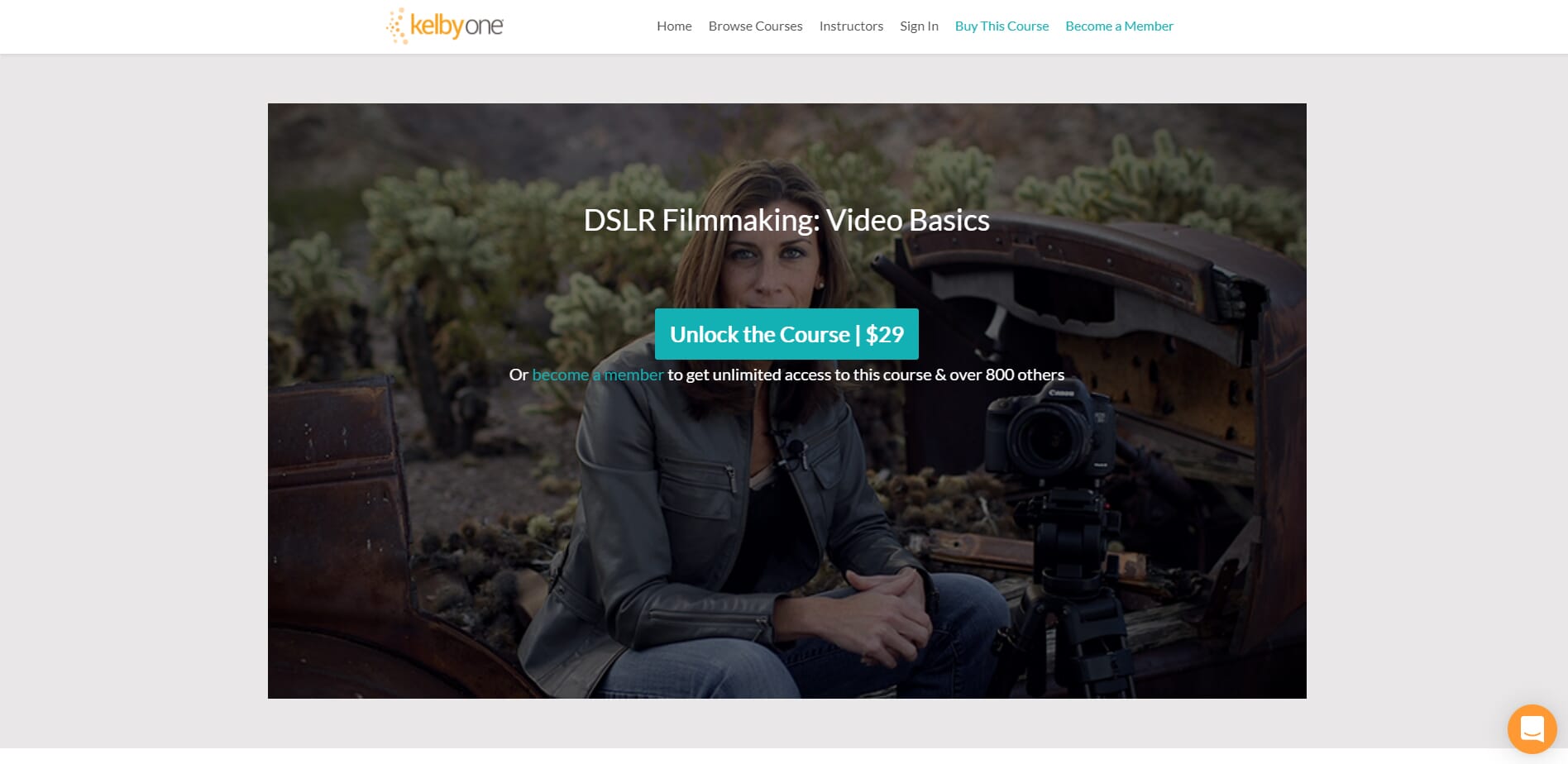 In today's modern world of filmmaking, it is more common to use a DSLR camera as opposed to a camcorder or expensive video rig. DSLR cameras have made filmmaking accessible to a larger audience.
This is why DSLR Filmmaking: Video Basics is such a useful course. This is another class from the KelbyOne platform. You can either purchase this course for a reasonable one-off price, or you can become a member for access to more courses.

This class is created by Mia McCormick who is an expert on video technology, GoPro cameras, and Drones.
It is broken into 11 useful lessons, each of which covers an important aspect of DSLR filmmaking. These include frame rates, shutter speeds, lens considerations, and DSLR video tips. You will also look at how to use ND filters and a range of equipment such as tripods and monopods. If you want to start learning filmmaking with your DSLR, this is a great introduction.
Pros
Split into easy-to-digest lessons
Teaches important basics for DSLR videography
Also teaches important aspects like framerates
Cons
May not be suitable for professionals
8. Real Estate Video Pro from Full-Time Filmmaker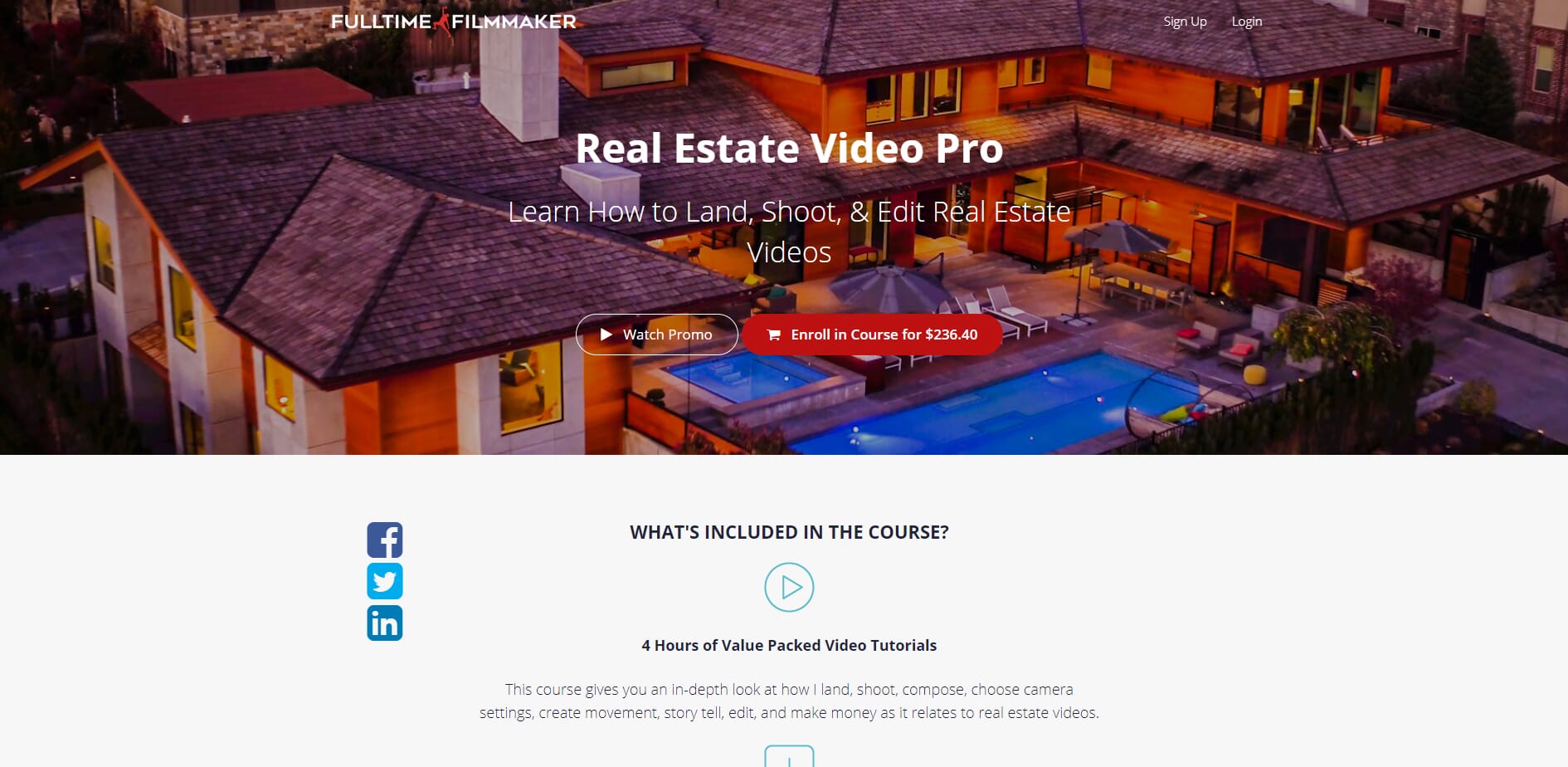 Price: $236.40
Provider: Full-Time Filmmaker
Main Subject: Real Estate videos
Great For: Diversifying your video skills
Link: Real Estate Video Pro
If you do not want to pay the full price of the ultimate Full-Time Filmmaker course, you could opt for one of their individual courses. These are decent value and allow you to specialize in certain areas of filmmaking. This course is all about real estate videos. Whether you're looking to get started in the real estate world, expand your services, or meet clients' ever-changing needs, this could be the perfect course.
It includes over four hours of informative video, a host of useful downloads, and some great advice. The course is broken into different lessons and videos including some amazing top 10 tip sections. These give quick and accessible advice that anyone can understand.
As you learn, you will see common mistakes that real estate videographers make, and how to avoid them.
You will also look at editing real estate videos. The course even covers an entire section on drone footage and drone settings for real estate films. And since it talks about drones, it even goes as far as to equip you with all the necessary legal and technical information in this department.
Pros
Easy-to-digest videos and content
Covers important aspects of real estate videos
Includes a host of useful downloads
Cons
May be considered a little expensive
9. Low-Budget Filmmaking – Tips and Tricks for an Indie Look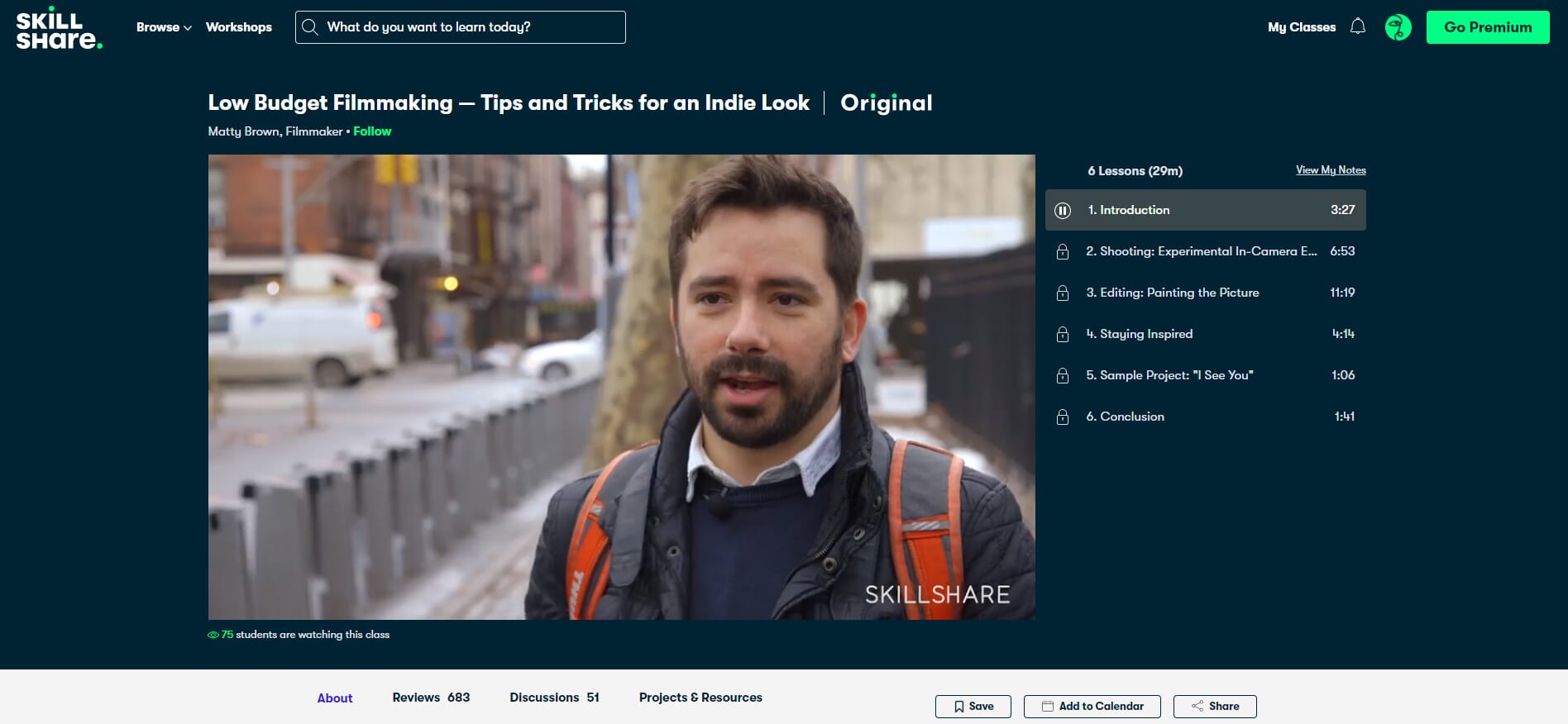 Not everyone has access to expensive equipment for filmmaking. Oftentimes, expensive equipment isn't needed. Matty Brown demonstrates this in his interesting and insightful course, Low Budget Filmmaking. If you want to get into filmmaking but don't have the tools, this course is perfect!
Matty will teach you in a fun and interesting way. With details on how to create films on a budget and even add your own stylistic touches for a more "indie" look.
This course covers a wide range of film types including documentaries, music videos, and travel videos. You will watch 30 minutes of content broken into 6 clear sections. This includes video editing, how to use basic equipment to your advantage, and how to gain inspiration.
If you're hoping for a basic course that doesn't demand extensive purchases, this is a great filmmaking course for you!
Pros
Great for those working on a budget
Simple and fun content
Great as an introduction to Indie film
Cons
Does not really teach any professional techniques
10. Film Cinematographer Fundamentals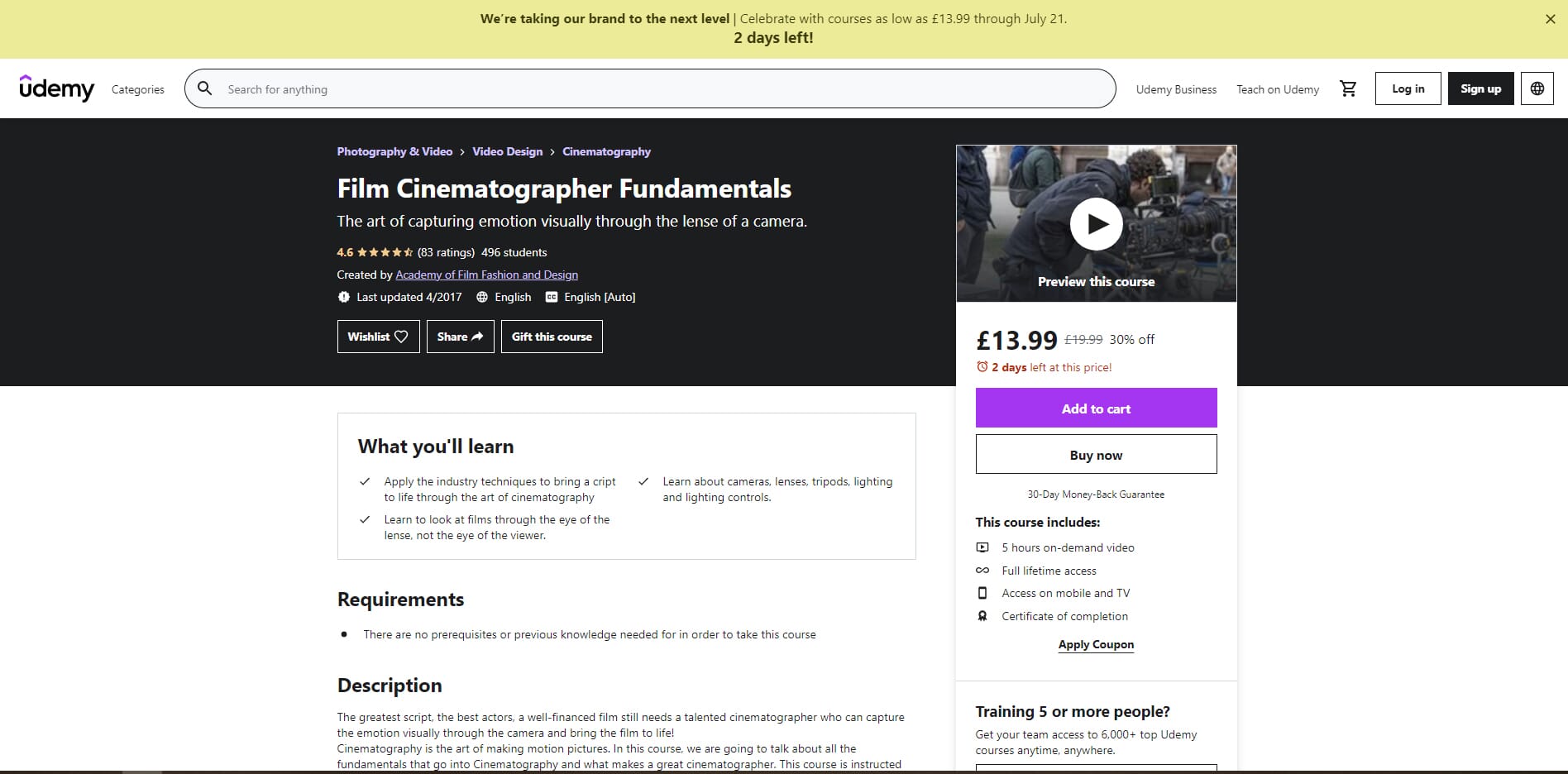 Lastly, we have Film Cinematographer Fundamentals. This is an exciting and affordable course on the Udemy platform. The course was created by the Academy of Film Fashion and Design and has some valuable information for beginners.

For a budget price, you get five hours of on-demand video content and can access the material on any of your devices. In terms of content, the course shows important industry techniques that help bring subjects and scripts to life. You will also learn to look at film through your camera – not the eye of the viewer.
This course also has a comprehensive section on lenses, tripods, lighting, and suitable cameras. This is one of the best online filmmaking courses available if you want great value for money.
Pros
Covers in great detail about cameras and accessories
Has 5+ hours of informative video
A great budget price
Cons
May be too generic for some people looking to specialize
Start Your Filmmaking Journey Today and Enrol in one of These Courses
Filmmaking is incredibly fun and there is so much potential. Whether you want to make documentaries, push into blockbuster production, or simply make amazing YouTube videos. The 10 online courses we have listed will give you a push in the right direction and help you enter the world of filmmaking!