Smartphones are often overlooked by photographers, and photo-education businesses tend to concentrate on DSLRs and mirrorless cameras. However, iPhones come with pocketable cameras that you always have with you, and as iPhone Photography School shows, they're capable of capturing great photos!
iPhone Photography School specializes in online learning and has a great selection of courses dedicated to iPhone photography, including iPhone Photo Academy, iPhone Editing Academy, and iPhone Landscape Mastery. If you want to develop your skills without spending a fortune on a digital camera, these courses could be the perfect starting point.
For this iPhone Photography School review, I enrolled in several of the company's classes, and I carefully evaluate them below. I discuss the overall quality of the instruction and what you can expect to learn, and I also give my thoughts on a few specific courses.
When you buy through links on our site, we may earn a commission at no cost to you. We evaluate products independently. Commissions do not affect our evaluations.
iPhonePhotographySchool.com: Overview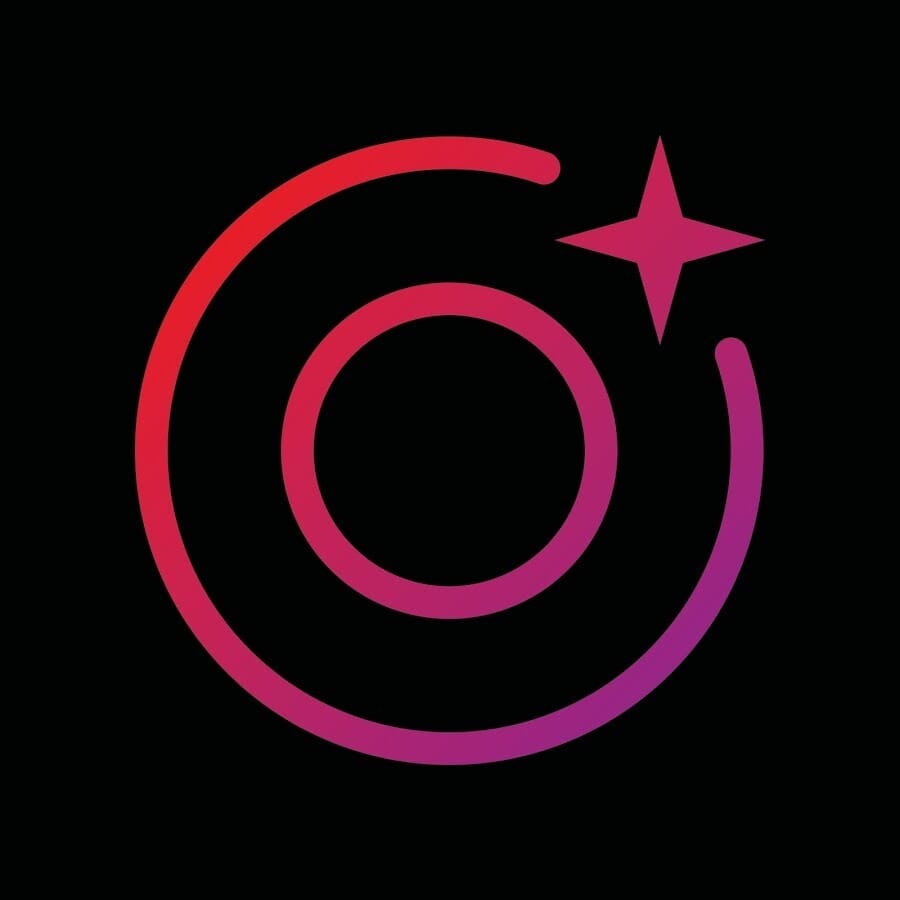 Great for novice smartphone camera users
The courses offer a solid starting point for those wanting to develop their iPhone camera skills and progress to more advanced types of photography.
Pros
Courses are reasonably priced
Course content is informative
Simple and easy-to-use interface
Great teachers with fun video content
Cons
The course buying pages are difficult to navigate
Sales tactics are aggressive
iPhone Photography School (iPS Media LLC) provides a host of online courses focused mainly on smartphone photography using iPhone cameras. The classes are composed of individual modules, each of which has a variety of video tutorials presented by photography professionals.
You can purchase individual courses for a one-off fee, and this grants you lifetime access to the course material so you can rewatch it as many times as you want. The company has eight different classes available, covering topics such as editing, landscape photography, and general iPhone photography.
To learn more about iPhone Photography School, make sure to check out their Facebook and Instagram pages using the links provided below:
iPhonePhotographySchool.com: Detailed Review
I've spent time testing out the course experience and reviewing the course material to give you an accurate evaluation of iPhone Photography School. For easier reading, I've split the review into different sections and included my thoughts on some of the individual courses.
The Website Experience
Let's start with the basics: the website and how you can gain access to the courses. The site, for the most part, looks great. It has a modern scrolling design, video backgrounds, and a relatively simplistic and sleek look.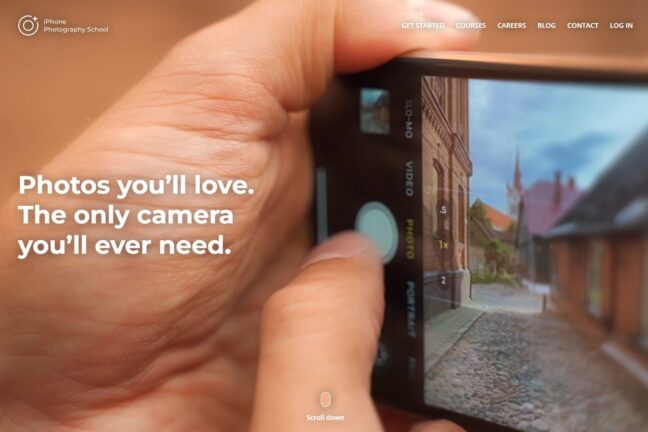 It's quite easy to see the different available courses. Just scroll down or click on the "courses" link, and you can see what's offered.
The only parts I don't like about the website and operation of the company are the course sales pages. These pages have a poor layout, can be confusing, and have a huge amount of pushy sales language and questionable sales techniques.
I get that the company wants to sell its courses; that's fine. But the sales pages try to make the reader feel like the iPhone Photography School products are the best things in the world. Of course, as you will see below, the course content is good. But perhaps the pushy language could be toned down a little.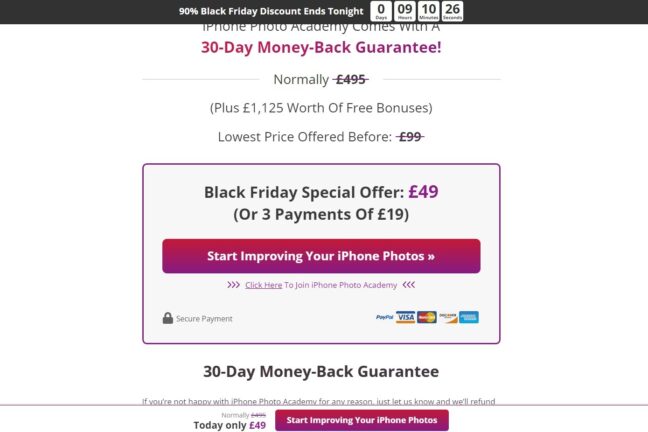 If you want to take a course, I advise ignoring 90% of the text on the sales page. Just look for the summary of what's in the course, and use the link to buy it!
On a related note, I'm not too sure about the authenticity of the price boxes. For example, the iPhone Photo Academy course has a "normal" price of $495. It's then stated that the "previous reduced price" is $99, but that you can get the course for a $49 "Black Friday special." Is this true? Or is this just a tried-and-tested sales technique? I am skeptical! But that doesn't detract from the fact that the price is pretty good, reduced or not.
Current Available Courses
So what can you actually learn at the iPhone Photography School? The company currently has eight courses:
iPhone Photo Academy
iPhone Editing Academy
Capture It All
iPhone Landscape Mastery
iPhone Food Photography
Digital Camera Mastery
Photo Shortcuts
Lightroom Editing Mastery
As you can see, they cover a nice range of photography material. For the most part, the courses concentrate on smartphone photography; however, Digital Camera Mastery, Photo Shortcuts, and Lightroom Editing Mastery are more geared toward higher-end camera users.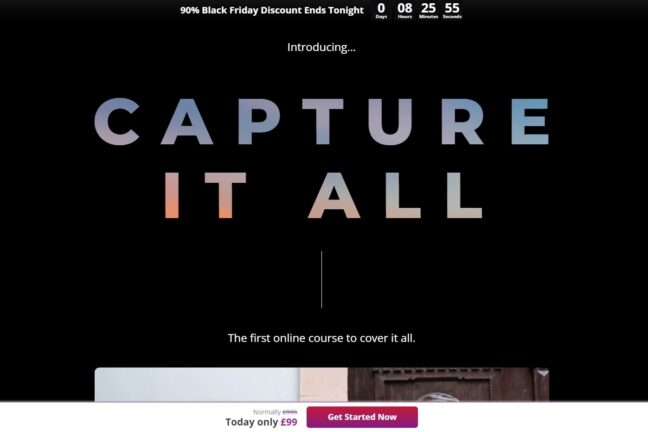 The iPhone Photo Academy course is essential for those who have limited photography knowledge. It teaches you the basics – such as smartphone photography lighting and smartphone composition – and from there, you can learn specialist techniques through the other courses (such as the landscape and food photography offerings).
In truth, there isn't a huge amount of course variety. There are still plenty of specialist areas of smartphone photography that could be explored in more detail, such as portraits and street photography. However, the existing courses offer an amazing starting point, and the specialist courses are detailed and carefully constructed.
Course Layout and Usability
Regardless of what you can learn, if the courses themselves aren't appealing and easy to use, then they probably aren't worth buying.
But this is one area where iPhone Photography School shines. I think the layout and ease of use are excellent! Once you've purchased a course and have your account details, it's really simple to get started.
As you can see below, there is a nice and uncluttered dashboard that shows all the available courses. All you have to do is click on one, and it opens the individual course page. No fuss, no confusing menus – just a list of courses.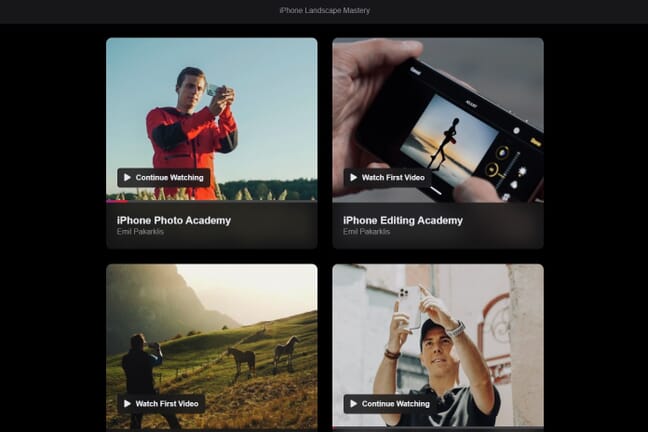 The layout and usability of each course are straightforward, too. On the left-hand side is the video player, and that's where the course material is shown. On the right-hand side, you'll encounter a simple menu containing the different course modules. Just click on one of the modules, and you'll see a list of its videos. I also like that there's a progress bar so you can identify which videos you've already watched.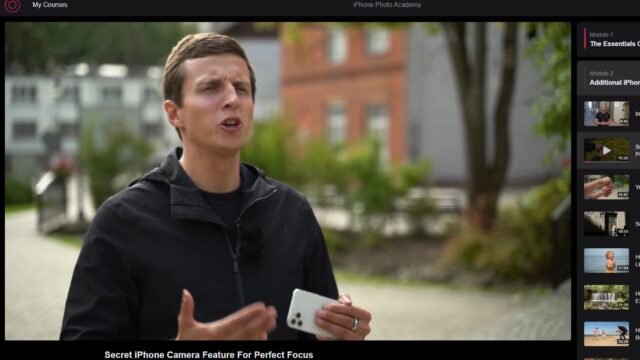 As with the dashboard layout, it's all incredibly simple. No one should have any problems accessing their courses or viewing the learning material. It's a really strong point of the company, and it's clear a lot of thought has gone into the design.
Individual Course Reviews
For this review, I went through some of the courses and watched the content. It was an enjoyable experience overall. The learning material is engaging, easy to follow, and – most of all – accurate and useful.
I think the courses are well crafted, easy to follow, and well presented. The background music fits nicely, the graphics don't detract too much from the video content, and the teachers speak clearly.
There are some neat features, too. For example, most of the modules have a short introductory video so you know exactly what to expect. Also, each video has skip points on the playback bar. As you can see below, these are nestled at logical breaks in the video so you can easily find specific tips.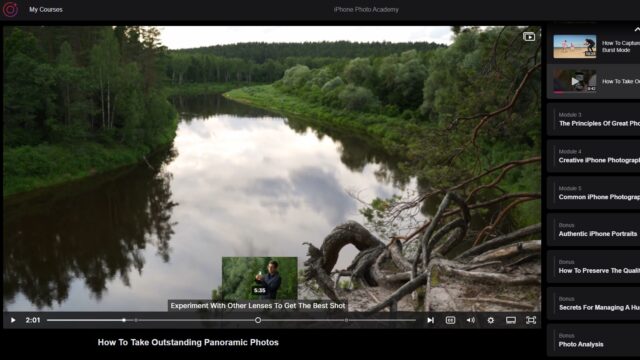 If you have literally no photography experience, this course is a great starting point. It has five modules that walk you through the basics, including things that may seem insignificant but actually make a huge difference, like how to hold your iPhone and how to open the camera app.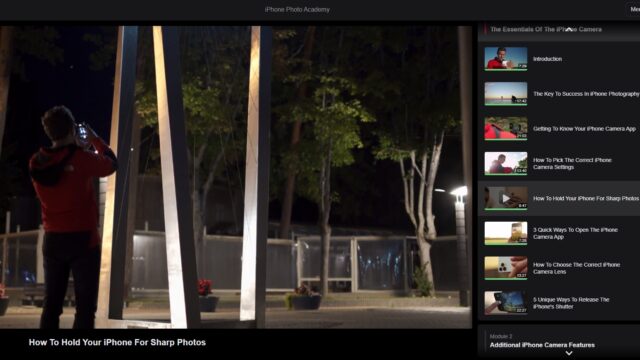 I consider myself to be a fairly competent photographer, but there were some tips I found useful! Emil is a great instructor, and I found his teaching style easy to follow. The different modules within this course include:
The Essentials of the iPhone Camera
Additional iPhone Camera Features
The Principles of Great Photography
Creative iPhone Photography Techniques
Common iPhone Photography Scenarios
The first and third modules, in particular, are excellent and have everything you need to get started with iPhone photography. It's a comprehensive intro and is great value for the price.
There are some bonus learning materials, too. I particularly liked the photo-analysis videos. Emil shows a range of photos and talks you through what makes them good or bad, and watching this kind of dissection of actual photos is a simple and effective way to refine your techniques.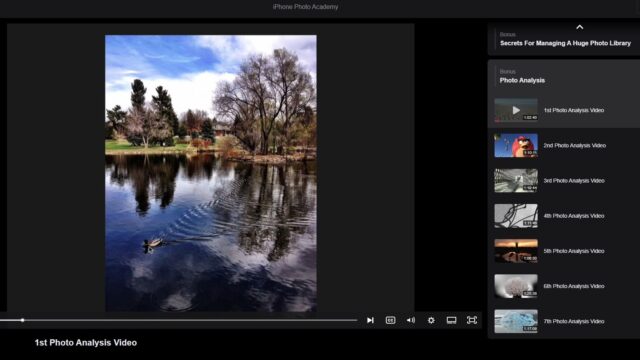 Once you've learned the basics from the iPhone Photo Academy course, you may want to tackle a more specialist topic. Landscape photography is a great place to start as there are so many opportunities to take this type of photo.
If so, the iPhone Landscape Mastery course is a great option. It's split into seven modules, each of which deals with a specific type of landscape photography:
Fields
Villages
Mountains
Rivers & Waterfalls
Lakes
Forests
Sunsets
The course is presented by Clifford Pickett, and he has a slightly different style from Emil, but I like his enthusiasm and the way he explains things. The different modules include some important landscape photography tips on composition, light, and more.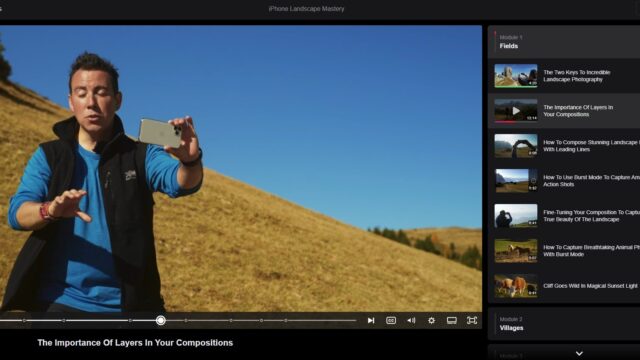 I really enjoyed the Sunset module; it contains really useful information, and the actual locations used in the footage are sublime. In fact, the seven landscape photography modules all feature beautiful scenery for those wanting some travel inspiration.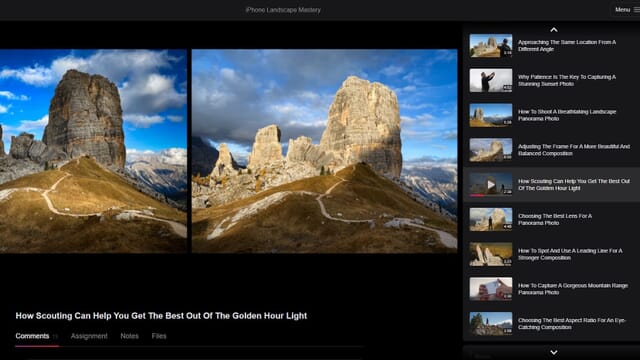 If you want to get the most out of your iPhone camera, then I recommend the Editing Academy course. It shows you how to take your newly acquired photography skills and refine your photos using Snapseed.
The course has five different modules, each of which covers a different aspect of editing photos on your phone, including color and exposure editing, removing imperfections, selective editing, and working with layers.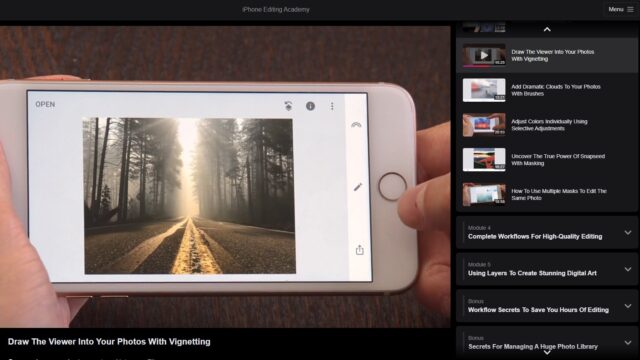 Emil does a great job once again of making things simple and easy to understand. The videos include plenty of live demonstrations where you can see him using an editing app and explaining what is happening. This is far more helpful than looking at diagrams or static photos.
Some interesting bonus materials include videos on managing photo libraries using photo-management software and exporting and saving photos without reducing their quality.
The iPhone Photo Academy course and the iPhone Editing Academy course give you all the tools you need to drastically improve the quality of your smartphone photography. You can essentially learn everything, from how to take sharp smartphone photos to powerful image-enhancement techniques.
Pricing
The pricing structure is really simple: There is a flat fee for each individual course, which means you won't need to deal with subscriptions and recurring payments.
As you can buy each course separately, you don't have to worry about waste. If you only want to learn iPhone landscape photography, you can just buy the relevant course.
I feel that for the content and learning material you get, each course is reasonably priced. These are the current costs:
iPhone Photo Academy: $49
iPhone Editing Academy: $149.00
Capture It All: $99.00
iPhone Landscape Mastery: $99.00
iPhone Food Photography: $49.00
Digital Camera Mastery: $49.00
Photo Shortcuts: $99.00
Lightroom Editing Mastery: $149.00
The iPhone Photo Academy course, for instance, is just $49.00. For this, you get hours of high-quality video tutorials that cover a broad range of smartphone photography techniques. Not only that, but the courses usually have bonus material, too; the Photo Academy course has a range of photo-analysis videos that are really useful. This course is what we feel is the best iPhone photography course available on the Internet.
Even the expensive courses feel worth it. I like this segmented approach where you can essentially pay for what you want to learn instead of paying a subscription fee.
Learn How to Use Your iPhone Camera!
iPhone Photography School Review
Name: iPhone Photography School
Description: iPhone Photography School offers a series of courses covering beginner and intermediate smartphone photography topics.
Provider: iPhone Photography School
Provider Logo: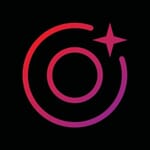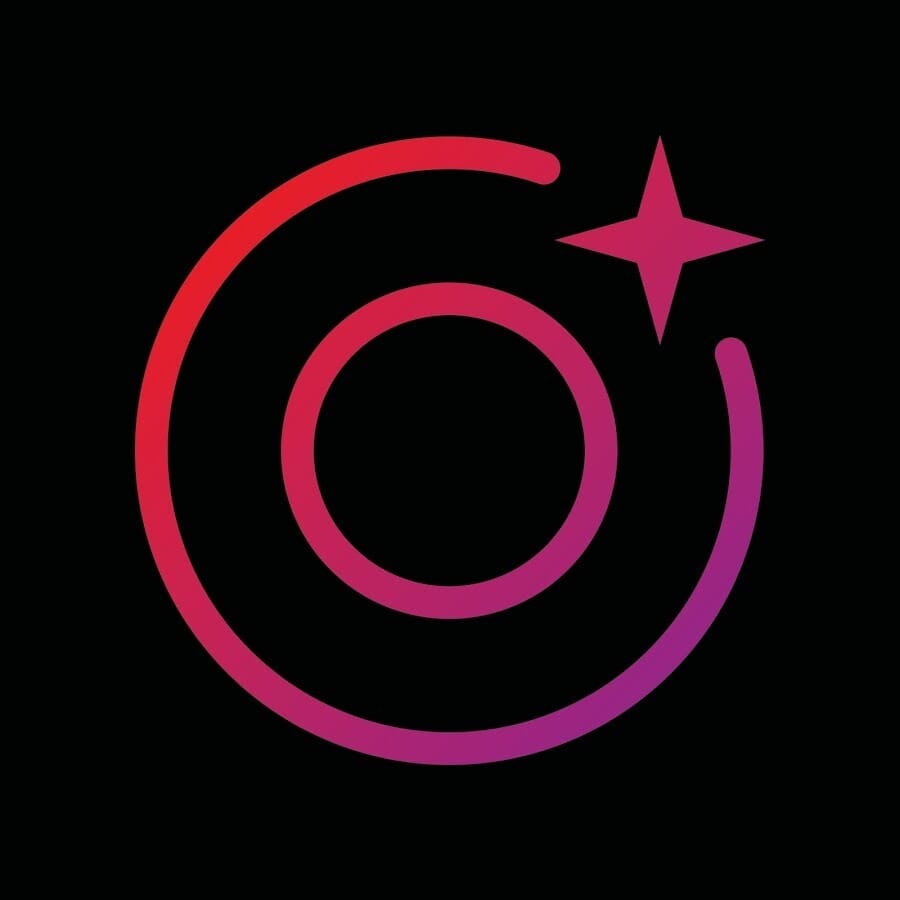 Price

Usability

Course Content

Course Variety
iPhone Photography School Review
iPhone Photography School offers a decent range of online classes that primarily explore smartphone photography. The courses are reasonably priced, and despite some aggressive sales techniques, the overall experience, value for money, and course content are excellent.
Pros
One-off course payments
Great course material for those wanting to develop their iPhone photography skills
Relatively inexpensive courses
Cons
Poor layout on course buying pages
Pushy sales language
Potentially fake price reductions
I hope you've found this iPhone Photography School review useful. I certainly enjoyed watching the tutorials and exploring the online content. But can you benefit from purchasing the courses?
Certainly! If you're a beginner who wants to get into photography but doesn't want to spend money on an expensive digital camera, these courses allow you to get the most out of your smartphone. Today, iPhone cameras are incredibly powerful, and the courses iPhone Photography School offers will help you learn the basics and even progress to more advanced and professional work.