Are you looking to discover the best photography courses out there?
Don't worry.
Because if you're a beginner photographer, an advanced photographer, or if you're simply looking to increase your photo editing and retouching skills, then this article has something for you.
Below, you'll find a breakdown of the best photography courses in 2020 for beginning photographers, expert photographers, and so much more.
If you're a beginner, the courses below will teach you everything you need to know to take your photography to the next level.
Our Pick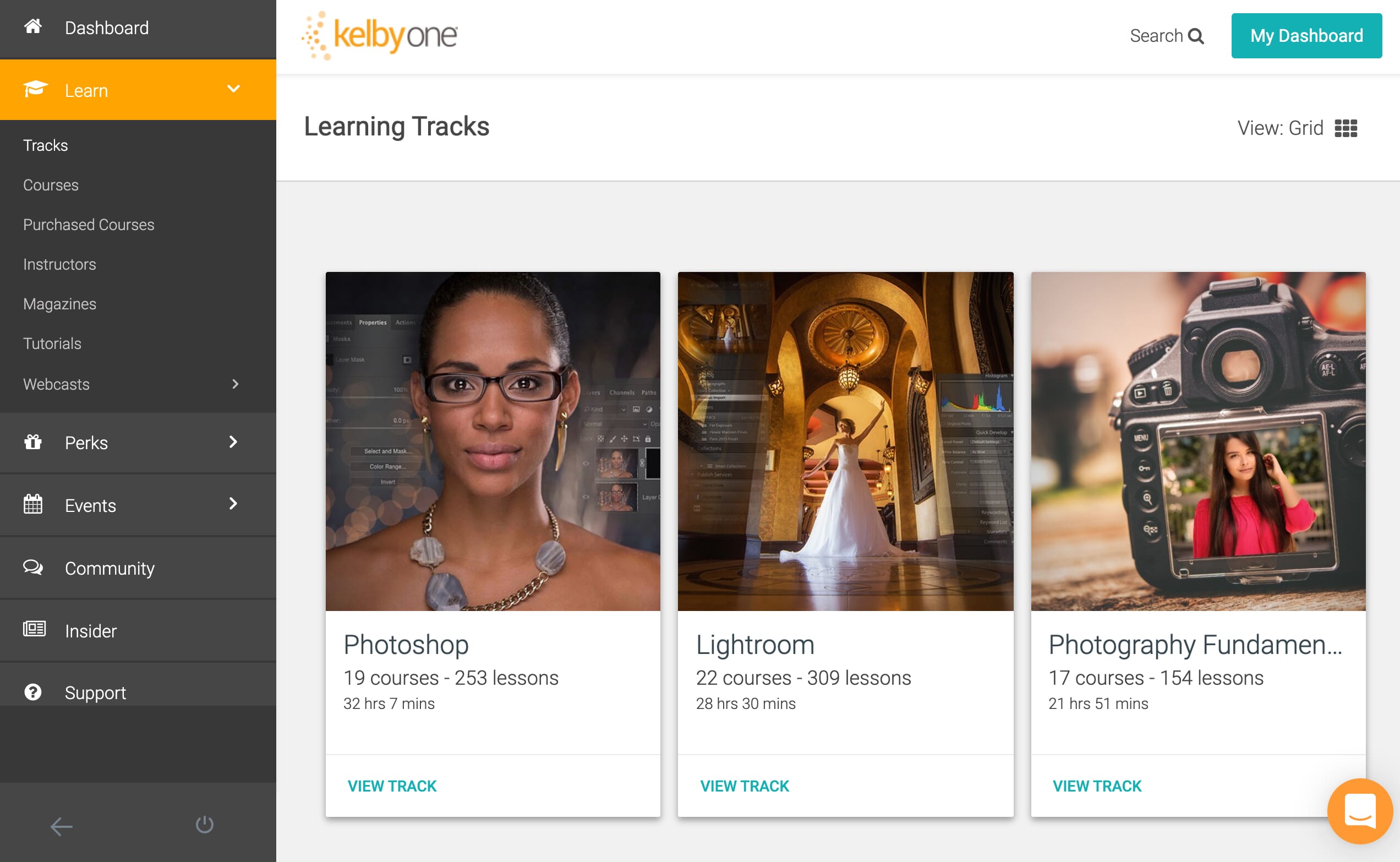 Amazing Value for Money
Learn from over 100 trusted photography experts. Learn everything from photography fundamentals to career development: Over 26 tracks, with 100 of courses and over 1,000 lessons. Plus magazines, tutorial, webinars…
100% Money-Back Guarantee, cancel anytime
If you're already an experienced photographer, then these courses will ensure you put the perfect finishing touches on your work.
Also Great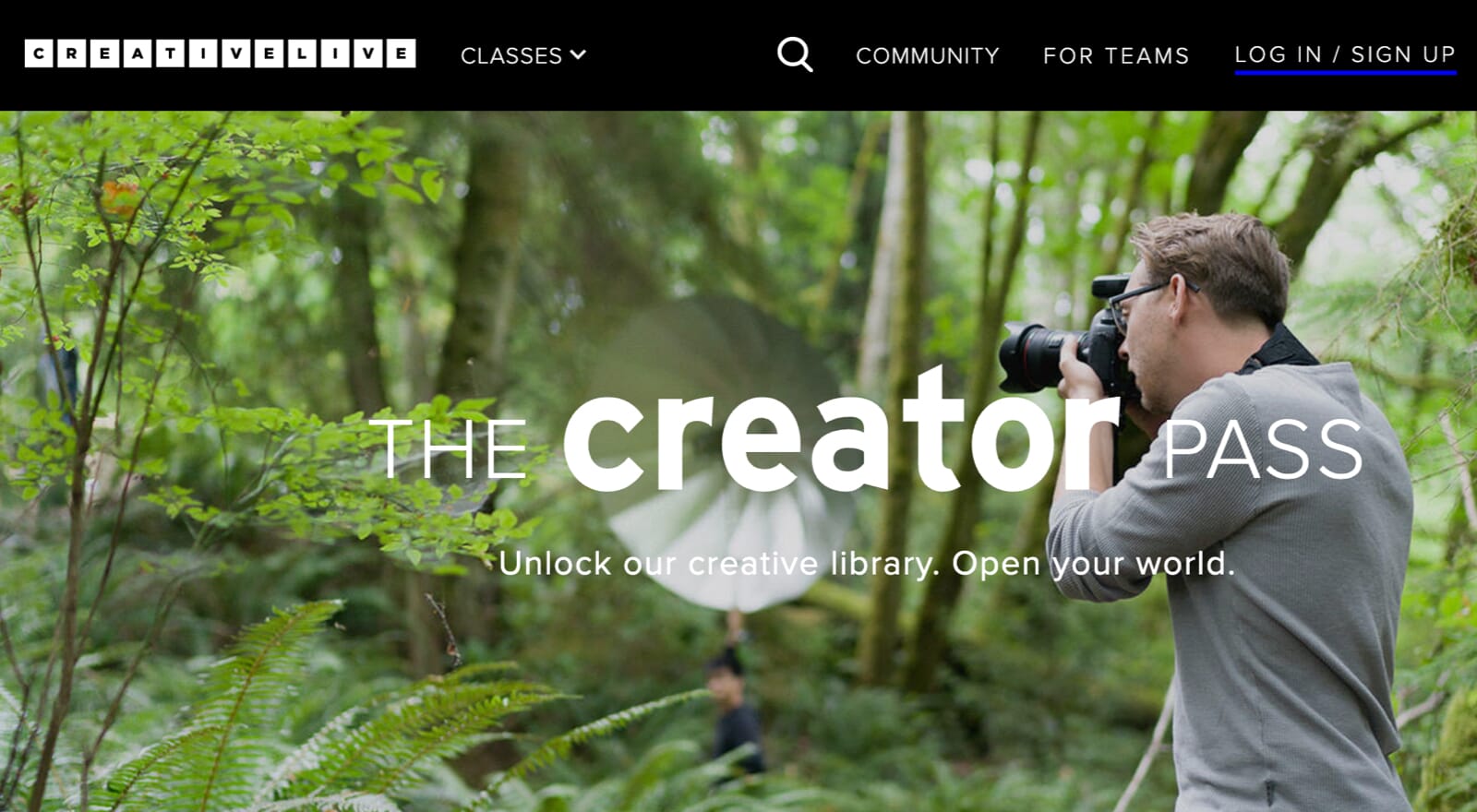 Set a Goal and Track Your Progress
With the new CreativeLive creator pass you can stream or download 1,500+ classes, anytime, anywhere. Learn from the best like Nigel Barker or Lindsay Adler. Get access to 940 photography classes with over 12,000+ lessons.
Current Offer: 50% Off on Annual Pass Subscription
And if you're looking to become a post-processing master, then look no further than the sections on Lightroom and Photoshop courses. You'll be doing amazing edits in no time.
Are you ready to discover the best online photography courses you can buy?
Let's get started.
Best Photography Courses (Our Top Picks):
Best Photo Editing Courses (Our Top Picks):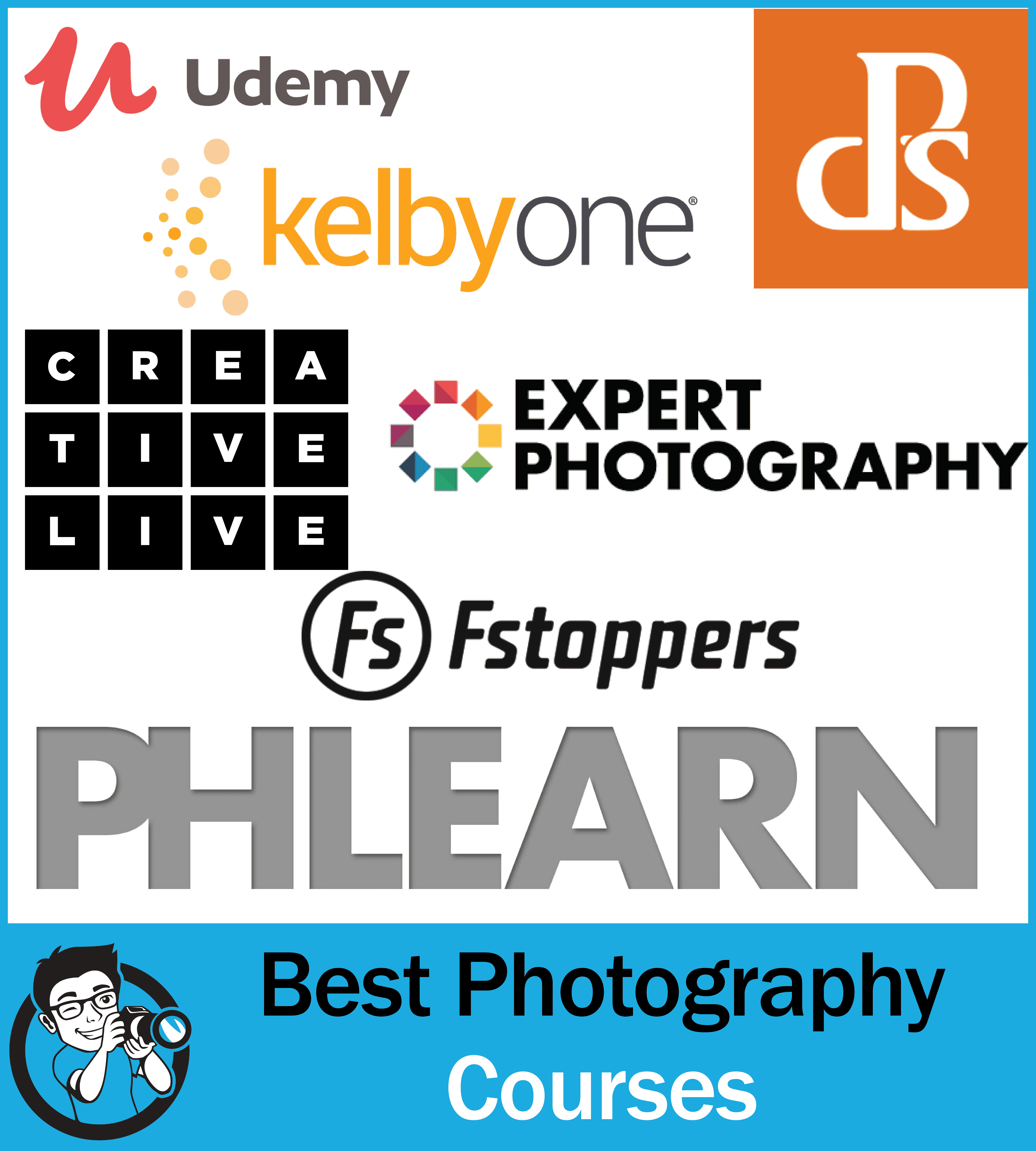 If you're looking for the best courses for beginner photographers, you're in the right place.
The courses listed below will give you a fantastic foundation for improving your photography. They're full of lessons, tips, and tricks from the masters, ranging from Scott Kelby to Trey Ratcliff.
Once you've taken a course from this list, your photography will never look the same again.
Guaranteed.
Let's explore the 16 best online photography courses you can take in 2020:

Beginners Start Here is an online course brought to you by KelbyOne.
And it's the best beginner photography course out there.
It's taught by Scott Kelby, founder of KelbyOne. Scott is an excellent teacher, and this course is no exception; his style is clear, informative, and to the point. Throughout the videos, you'll learn all sorts of interesting tidbits about photography–useful little pieces of information that Scott has picked up after decades as a professional photographer.
Beginners Start Here covers all the photography basics, but it works hard to stay concise. The course is about two hours long, consisting of nine video lessons.
It takes you through:
Camera settings
Exposure
Color
Capturing sharp photos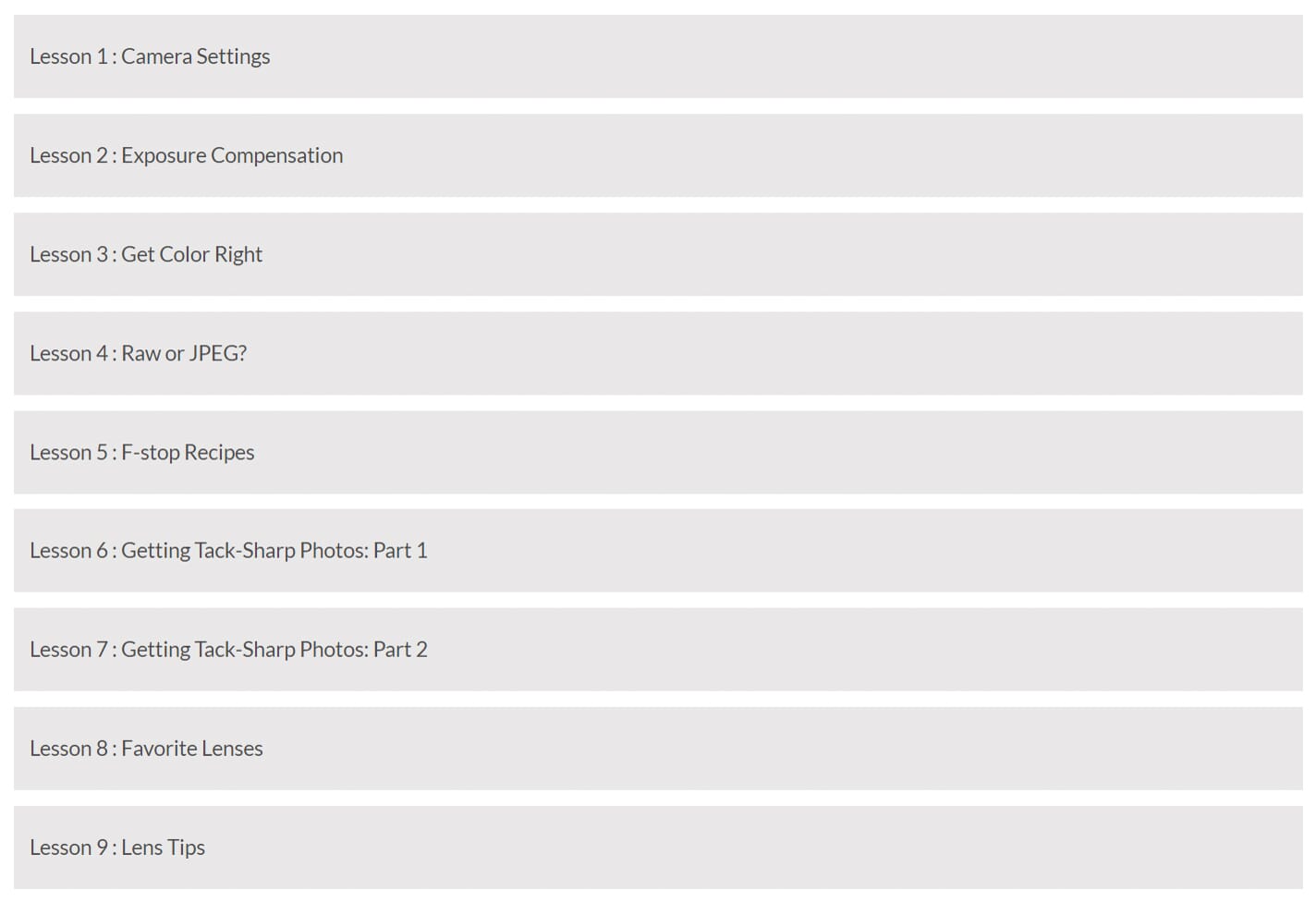 And lots more.
You'll discover enough information to jumpstart your photography, guaranteed.
Note that one of the great things about KelbyOne courses is that they come on a subscription basis. Rather than a one-time purchase, you pay a monthly fee for access to the KelbyOne database.
Related Post: KelbyOne Photography Membership Review
So once you've finished Beginners Start Here, you'll be free to watch dozens of other excellent courses, all taught by world-class photographers (including many taught by Scott Kelby himself).
Grab Beginners Start Here for free, or with a $9.99 USD per month subscription for access to the KelbyOne Plus library.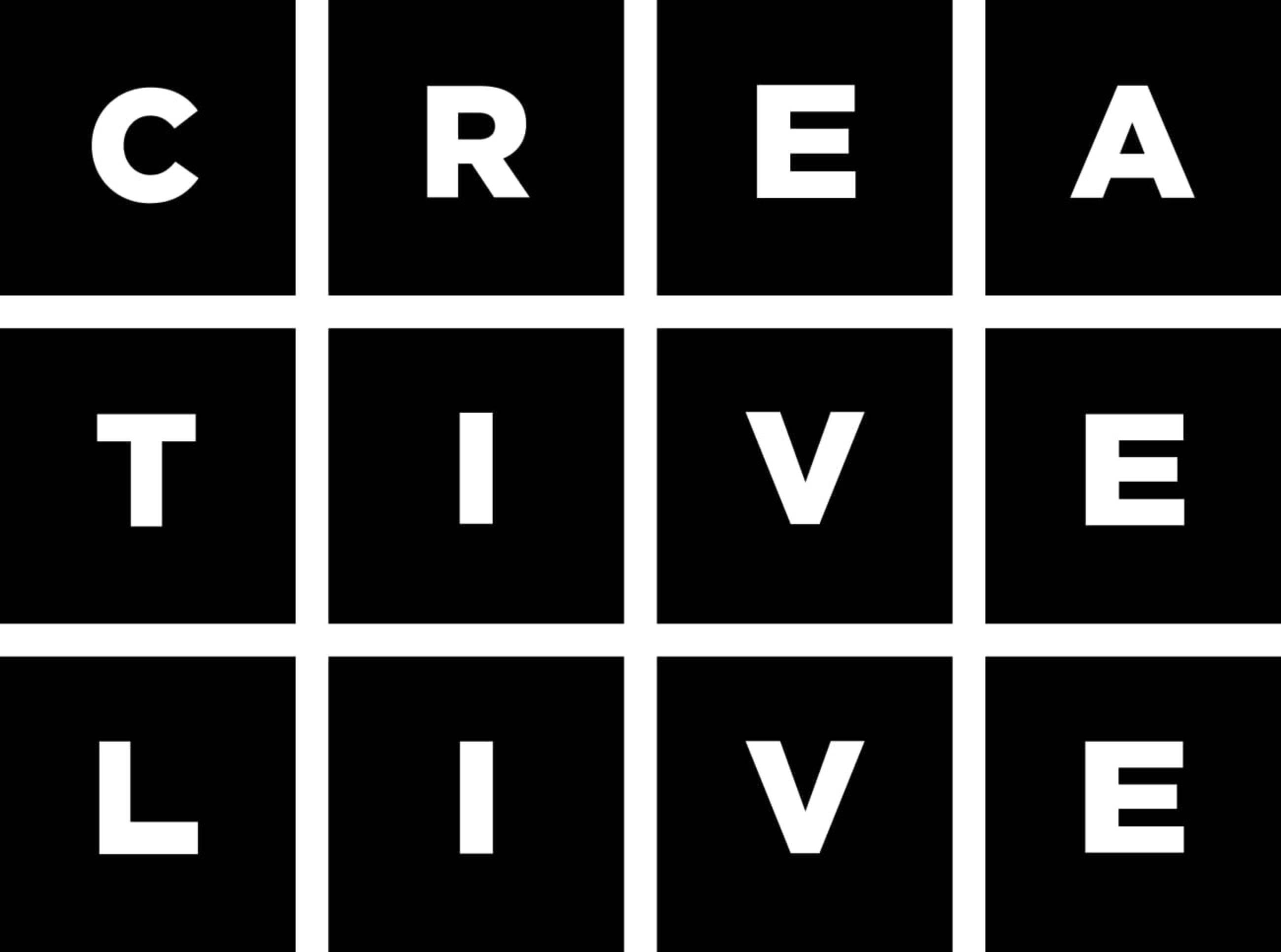 CreativeLive's platform hosts hundreds of courses, many of them great, some of them not.
Fortunately, Fundamentals of Photography, taught by John Greengo, is in the great category. It's a course that every beginner photographer should check out.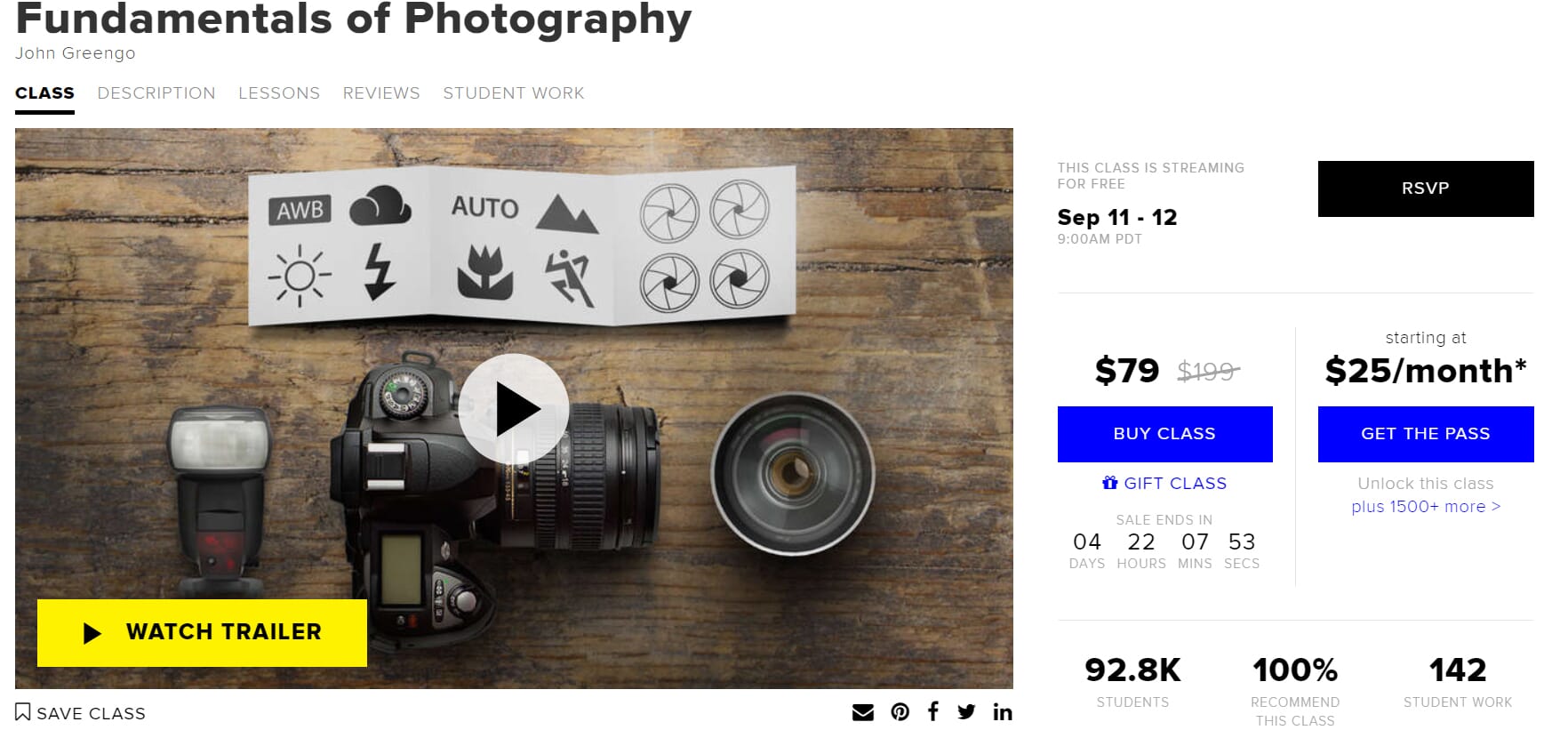 Fundamentals of Photography consists of 107 video lessons, each averaging around 10 minutes in length. As the course title promises, Greengo takes you through all of the photographic fundamentals, from shutter speeds to lenses to exposure to autofocus to composition to lighting and more.
At points, Greengo isn't afraid to get a bit deeper than your average course–such as in his extended discussion of sensor sizes. If you're looking for a quick solution to your photography problems, Fundamentals of Photography is best avoided.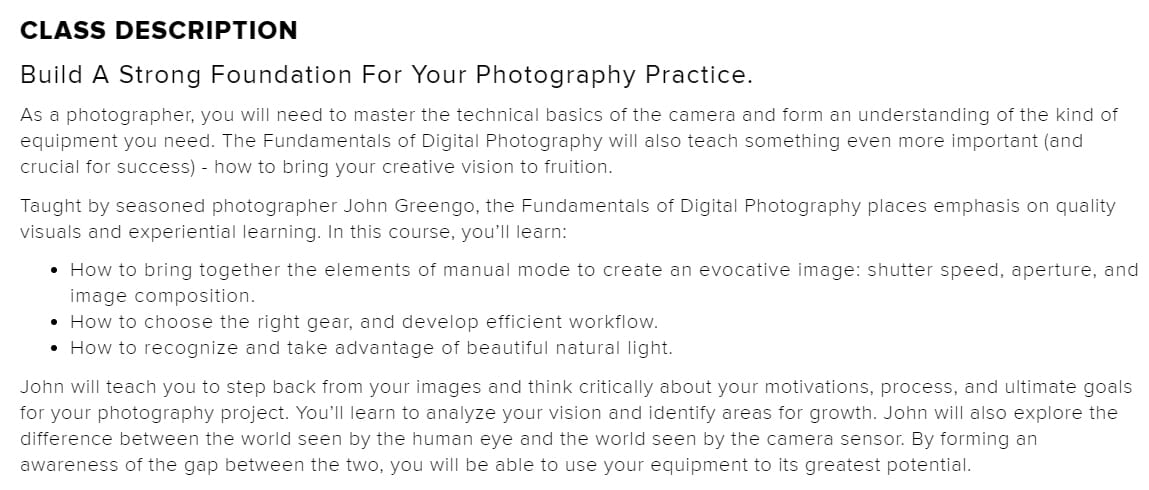 But if you're looking to really dig down deep into the nature of photography, then Fundamentals of Photography is an excellent option.
You can get Fundamentals of Photography for a one-time payment of $149 USD, or you can purchase a CreativeLive pass starting at $25 USD per month (with annual billing), which gives you access to Fundamentals of Photography and hundreds of additional courses.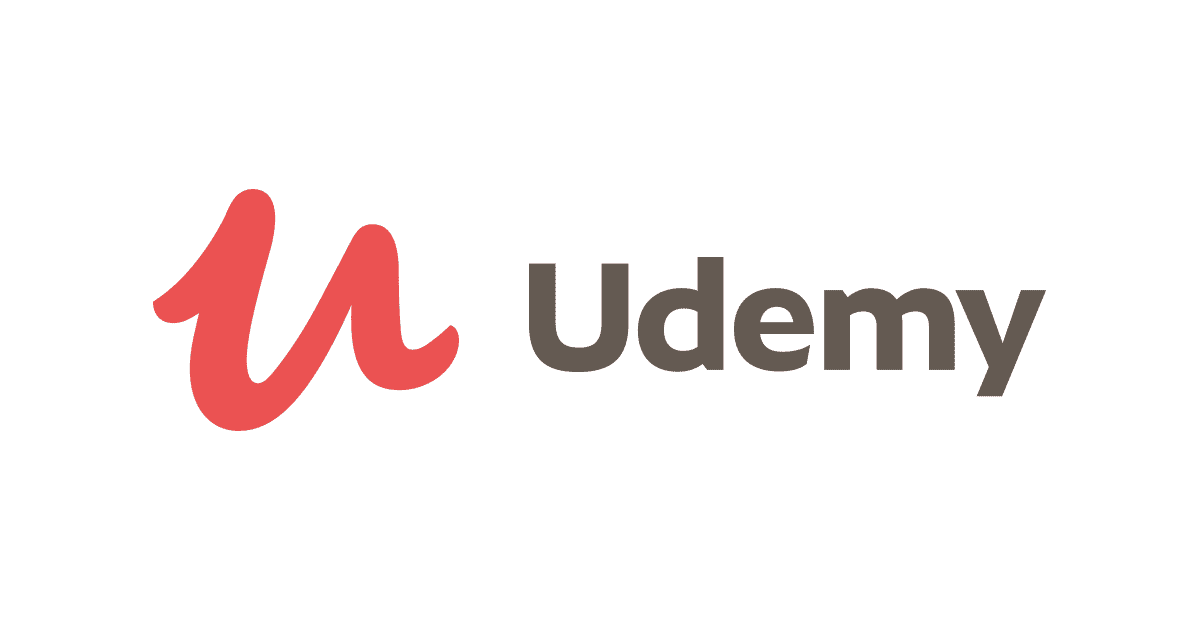 Udemy isn't necessarily known for its high-quality courses. And yet Digital Photography for Beginners With DSLR Cameras is worth a look because it offers strong instruction for a reasonable price.

The course is taught by Villiers Stein, who offers 2 hours of video instruction that manages to hit on everything beginner photographers need to know. In a series of videos averaging around 3 minutes in length, Stein touches on equipment, settings, lighting, and more.
Do you struggle to capture sharp photos? Stein takes you through all of the key techniques for taking tack-sharp images every time, including the best way to hold your camera, autofocus selection, depth of field, and shutter speed.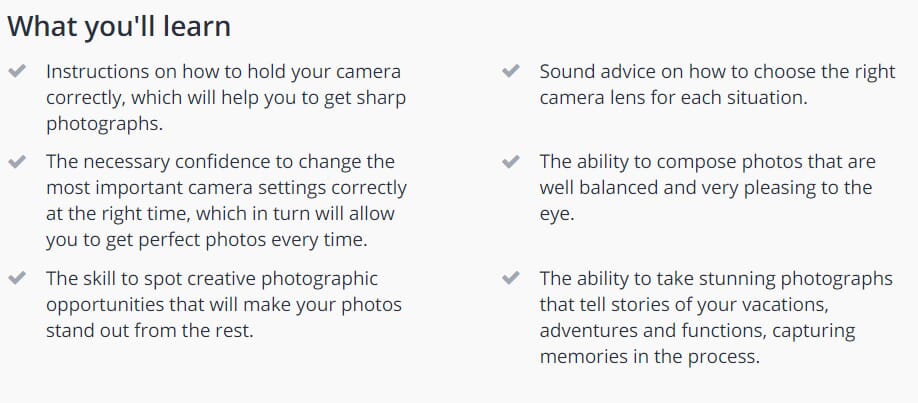 And do you think your sense of composition could use some work (or perhaps get off the ground for the first time)?
Don't worry. Because Stein touches on a series of excellent composition tips, including camera orientations, the rule of thirds, leading lines, and the importance of choosing the correct angle for your scene.
Note that the course is aimed at beginner photographers with a DSLR, though mirrorless users will undoubtedly get much out of the course, as well.
Grab Digital Photography for Beginners With DSLR Cameras here (which includes a 30-day money-back guarantee, for those who aren't entirely sure it's the right choice).
Related Post: Mirrorless vs DSLR Cameras for Beginners

Expert Photography is one of the most popular photography tutorial companies on the internet, so it's no wonder that Photography for Beginners stands out among a group of competitors.
But what does the course offer?
Josh Dunlop, the founder of Expert Photography and a skilled photography instructor, takes you through a carefully structured journey for beginner photographers. Josh is a good teacher, and understands his audience well; he keeps the lessons relevant and informative, without getting so in-depth that you become frustrated.
Photography for Beginners can be broken down into four modules:
Understanding Exposure
Your Camera's Settings
Complete Composition
Shoot This Scene
The first of these modules, Understanding Exposure, makes sure you're well-equipped to work with the three photography fundamentals: shutter speed, aperture, and ISO.
Then, in Your Camera's Settings, you get a more thorough lesson on camera settings, as Josh covers focus modes, depth of field, and keeping your photos sharp.
Complete Composition is a series of videos that will really hone your sense of composition. You discover the secrets of professional photographers, such as visual weight, the rule of thirds, and the importance of triangles.
Finally, Shoot This Scene takes you through different genres of photography, from landscape photography to night photography to black and white photography, and explains exactly how to produce stunning photos.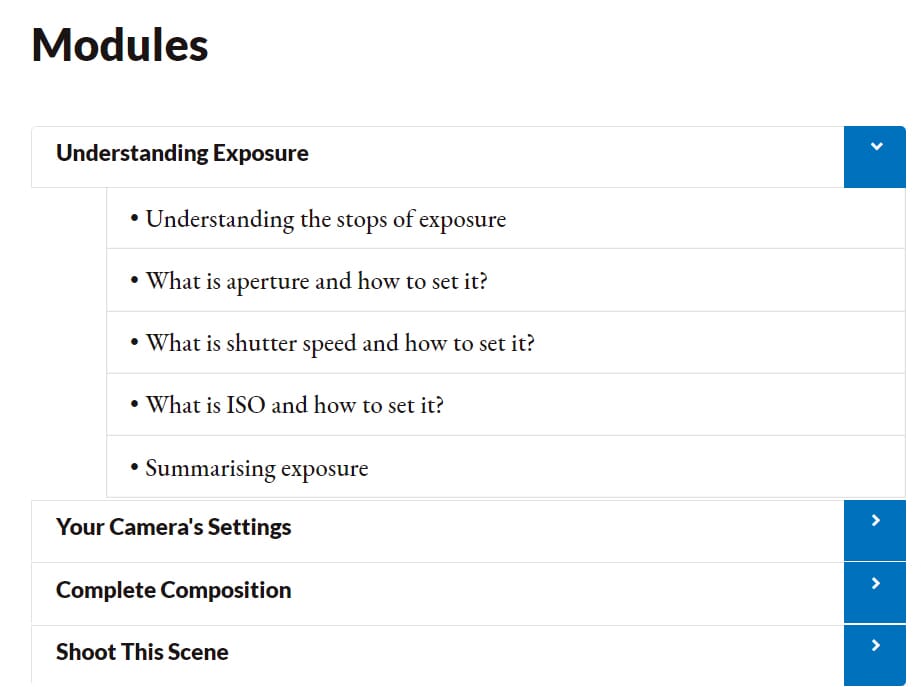 The main downside to Photography for Beginners is its price, which currently sits at $297 USD. However, in return, you receive 4.5 hours of expert instruction from Josh and lifetime access to the course.
Grab it here to start improving your photography, today.

Fstoppers' Photography 101 course is geared toward beginner photographers looking to really master their camera and all things photography.
The course is taught by the ultra-talented Lee Morris, who expertly explains photography basics, advanced photography concepts, and everything in between. And one of the great things about Photography 101 is that goes beyond taking photos and includes several lessons on photo editing–a skill that's extremely important in today's digital world.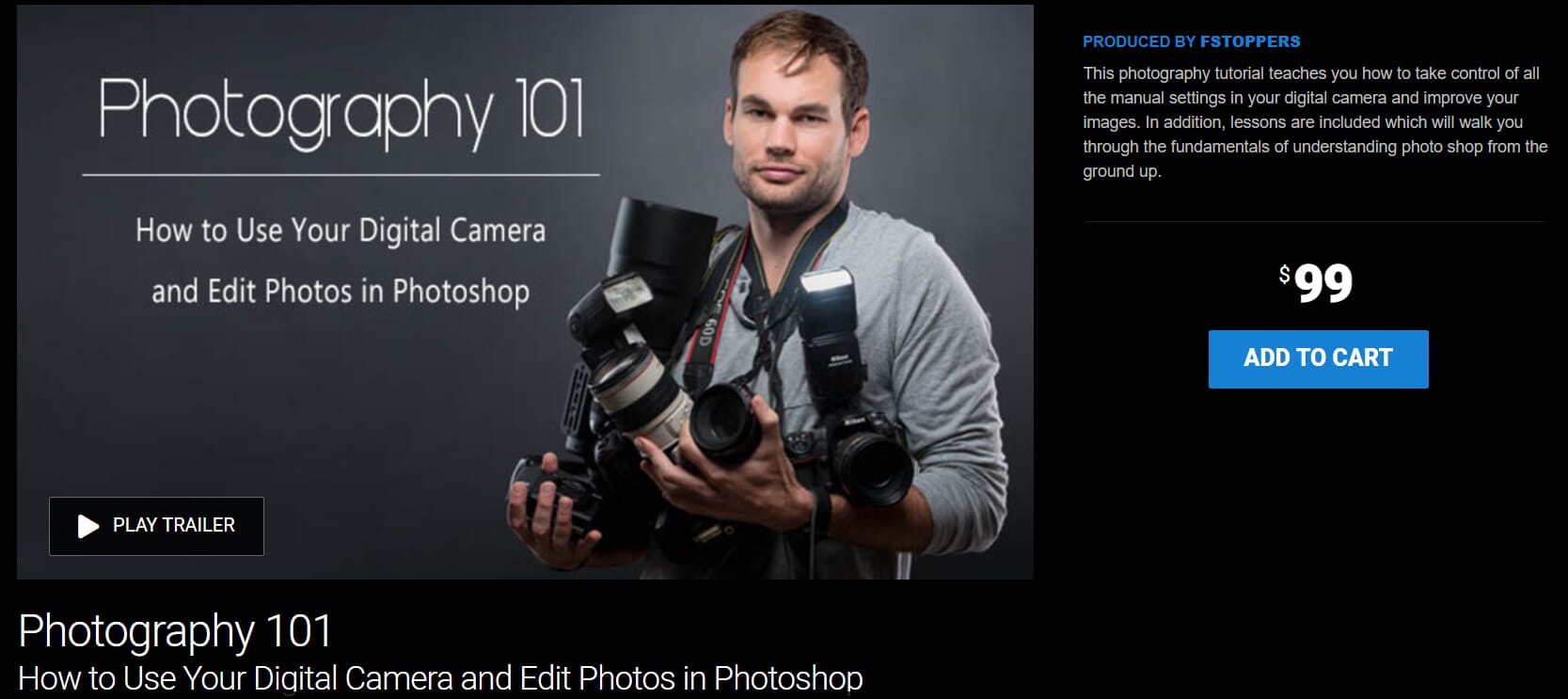 What does Fstoppers Photography 101 course include?
Exposure
Manual mode
Metering modes
RAW vs JPEG
Lighting
Lenses
Cameras
Photoshop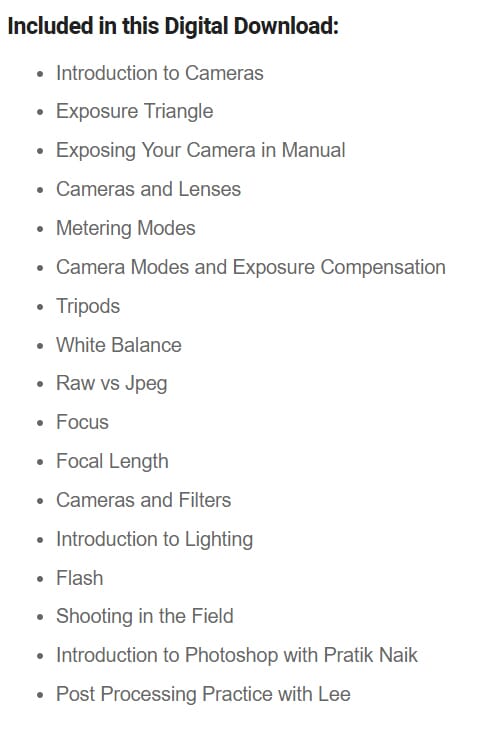 If all that sounds like something you'd be interested in, then don't hold back. Lee is an excellent photography course instructor, and you'll come away with lots of useful tips, tricks, and techniques.
Grab Photography 101 for just $99 USD, which includes a money-back guarantee for those who are unsatisfied.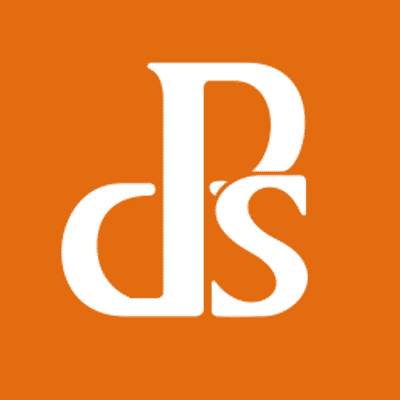 Photo Nuts and Shots isn't a new photography course by any stretch of the imagination. Yet it's still highly relevant to beginning photographers in 2020, full of valuable information and high-quality instruction.

The course is taught by photography instructor veteran, Neil Creek, who does an excellent job of teaching the nuts and bolts of photography to even the most inexperienced of photographers.
The course is 10 lessons long, reaching around the 100-minute mark, and covers all the topics you'd expect, and then some:
Working with light
Achieving stunning compositions
Determining the best possible exposure
Capture amazingly sharp photos
And lots more.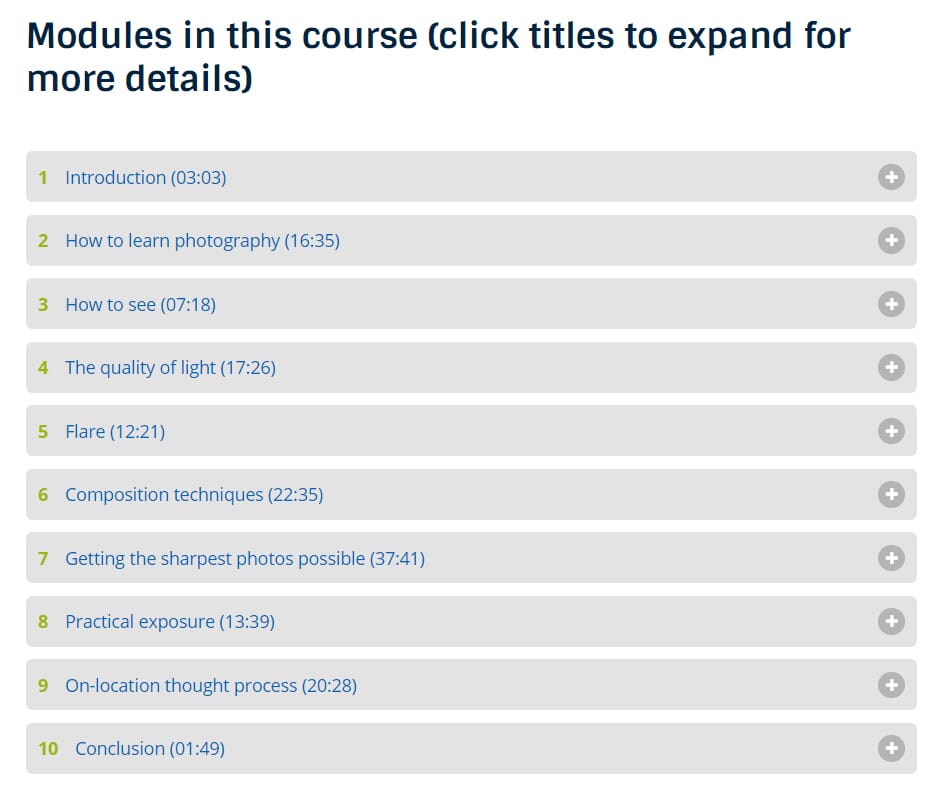 For just $99 USD, the Photo Nuts and Shots course is a bit of a bargain–so check it out!
Best Advanced Photography Courses
Are you a photographer with a few years of experience, looking to take your images to the next level?
That's what these courses are all about.
In each of these three best advanced photography courses, you'll learn all about photography techniques for the serious photographer.
Starting with my first choice: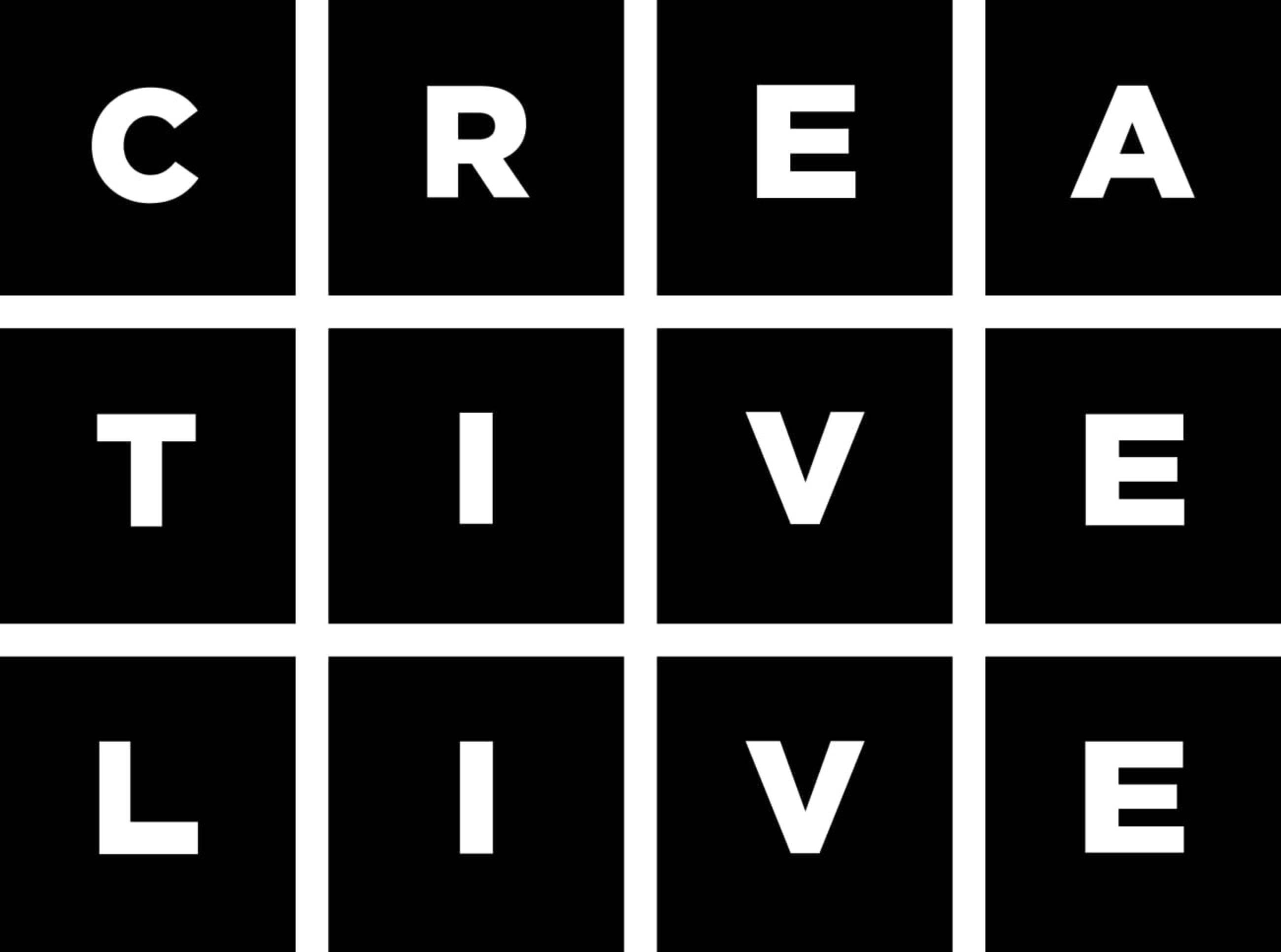 If you're interested in advanced photography techniques, look no further than Fine Art Photography: The Complete Guide.
Traditionally, fine art photography has been seen as the domain of more serious photographers, and this course ensures that you can break into the fine art genre, and impress everyone with your artistic masterpieces.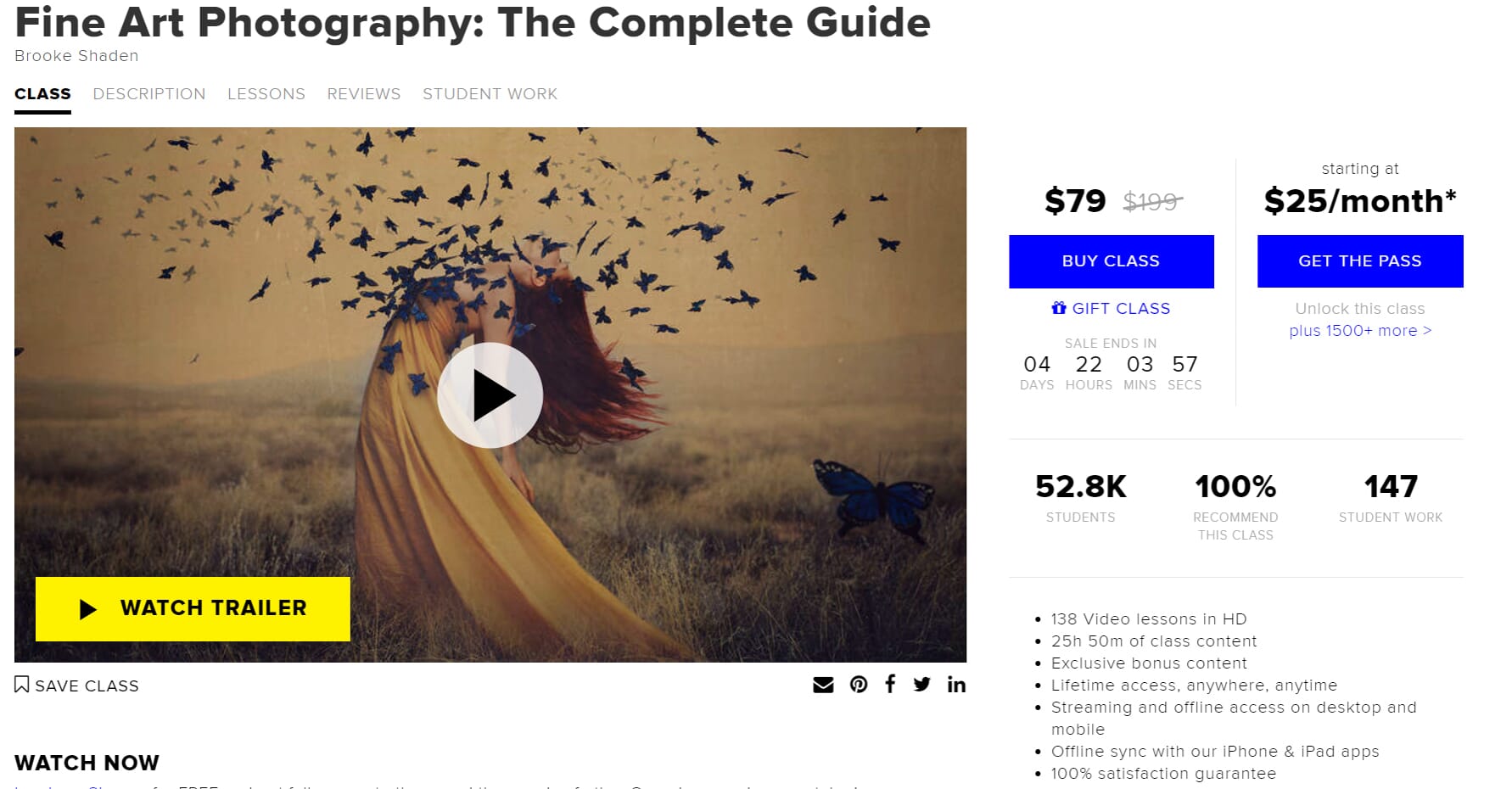 Fine Art Photography is taught by Brooke Shaden, a skilled fine art photographer in her own right. Brooke offers 138 HD video lessons, and all of them are full of advanced photography tips, techniques, exercises, and ideas.
For instance, Brooke dedicates one of her lessons to costumes and props. Another lesson covers set design arrangement. A third discusses using smoke. And a whole series of videos takes you through Brooke's shooting process, as she captures images of particular subjects.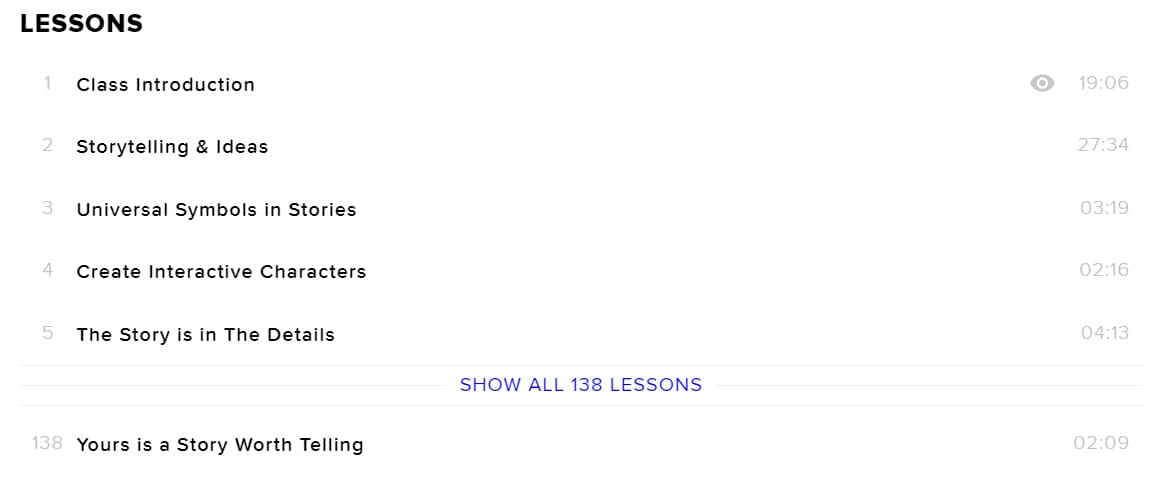 Fine Art Photography even goes beyond photography techniques, and explores topics such as pricing your work, finding galleries to display your photos, and how to choose paper for printing.
In other words, Brooke Shaden's course is chock-full of useful tips for any photographer, no matter how skilled. Grab it here for $159 USD, or purchase the CreativeLive pass for $25 USD per month (paid annually).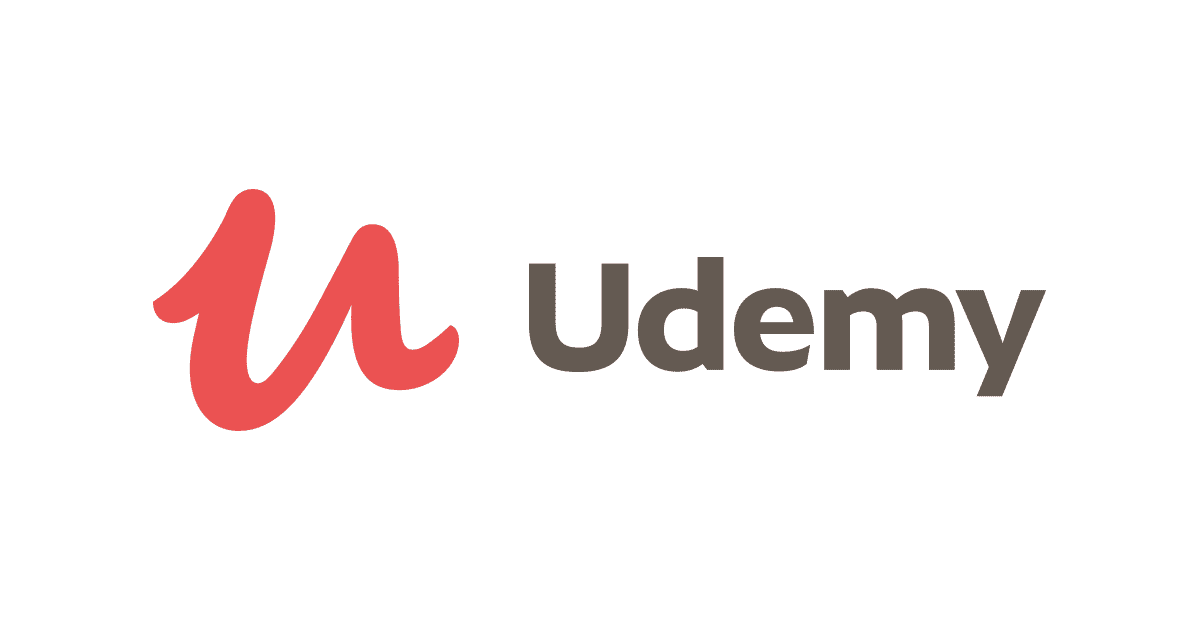 Photography Masterclass: A Complete Guide to Photography lives up to its name.
Because it really is an ultimate guide, covering material for beginners and more advanced photographers alike.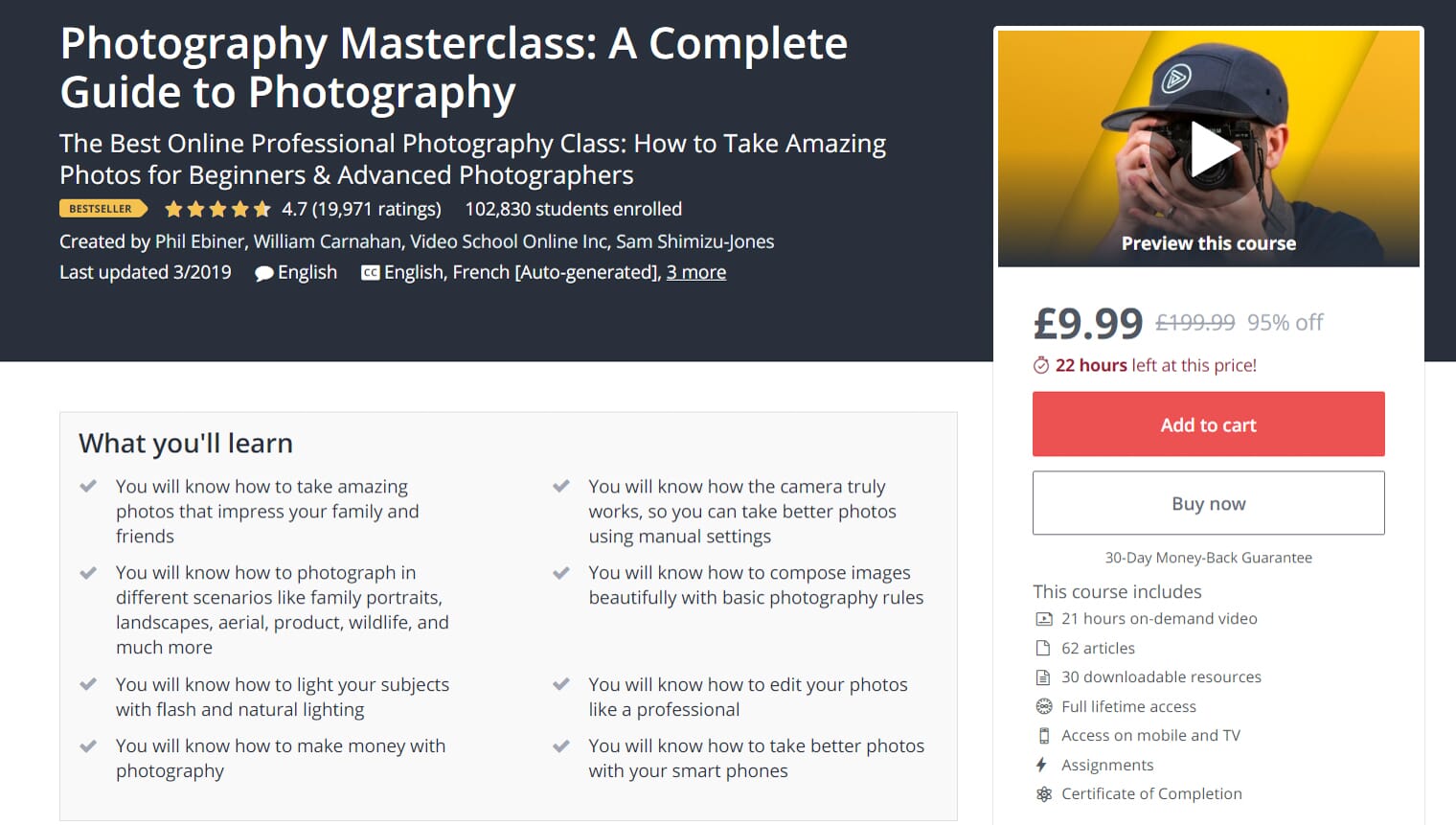 In fact, the course utilizes three instructors to great effect, letting Phil Ebiner, Sam Shimizu-Jones, and Will Carnahan bring you a series of passionate, informative videos that any photographer will enjoy.
If you're an advanced photographer, you may want to skip some of the more basic topics, such as shooting in manual mode and choosing your equipment. But you'll appreciate some of the deeper topics, such as photography business tips and advice on turning your hobby into a real profession.
So go ahead and grab Photography Masterclass: A Complete Guide to Photography. You won't regret it!

Are you looking to enhance your studio photography skills?
That's what this KelbyOne course is all about. 10 Essential Studio Techniques is taught by Scott Kelby, a real talent in both the photography and photography instructor business. Scott is an expert at studio photography, and it shows, as he takes you through topics such as studio lighting, reflectors, tethered shooting, and more.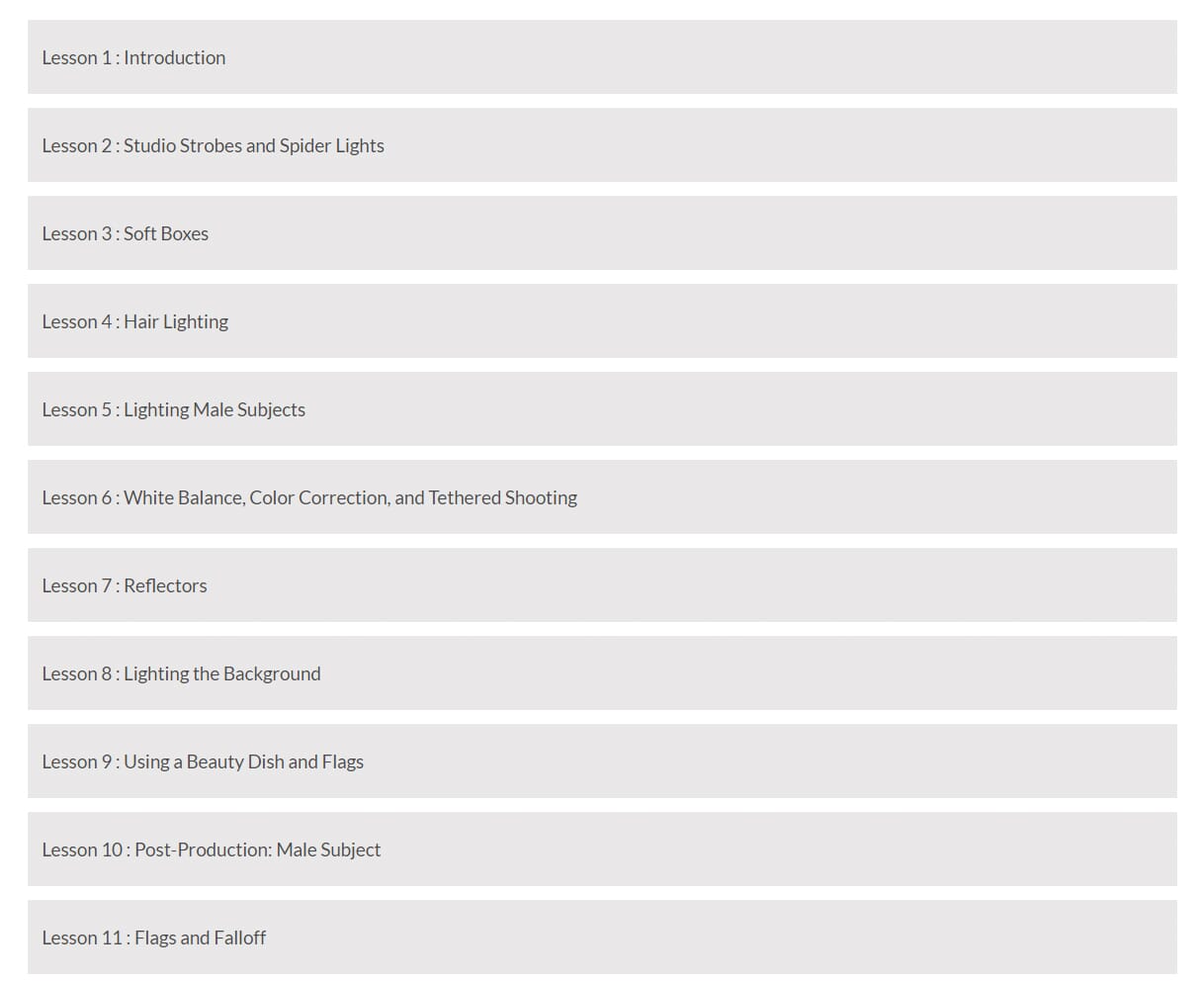 The course is only just over two hours, but it's jam-packed with information. So if you're an experienced photographer and want to get into studio work, then 10 Essential Studio Techniques is the right move.
To gain access to 10 Essential Studio Techniques (as well as hundreds of other KelbyOne courses), you can take out a KelbyOne subscription at just $9.99 USD per month.
Related Post: How to Set Up a Home Photography Studio and Sell Your Work
Best Lightroom Courses
Do you want to become an Adobe Lightroom master?
You've come to the right place.
Each of these courses will teach you the techniques you need to create amazing Lightroom edits.
And once you're finished, your post-processing will never be the same again.
Let's dive right in, starting with the absolute best Lightroom course out there:

You'll notice a lot of KelbyOne courses on this best photography courses list, and for good reason:
Scott Kelby's company simply produces some of the greatest courses out there, for beginners and experienced photographers alike.
Scott Kelby's 7-Point System for Lightroom Classic is technically geared toward amateurs, but even advanced photographers will learn something from his Lightroom system.
As Scott Kelby explains in the course, while writing a guide to Lightroom, he realized he uses most of the same edits on each of his photos.
In fact, Scott uses the same seven steps, in the same order, whenever he goes to process his images. And he recommends you do, too.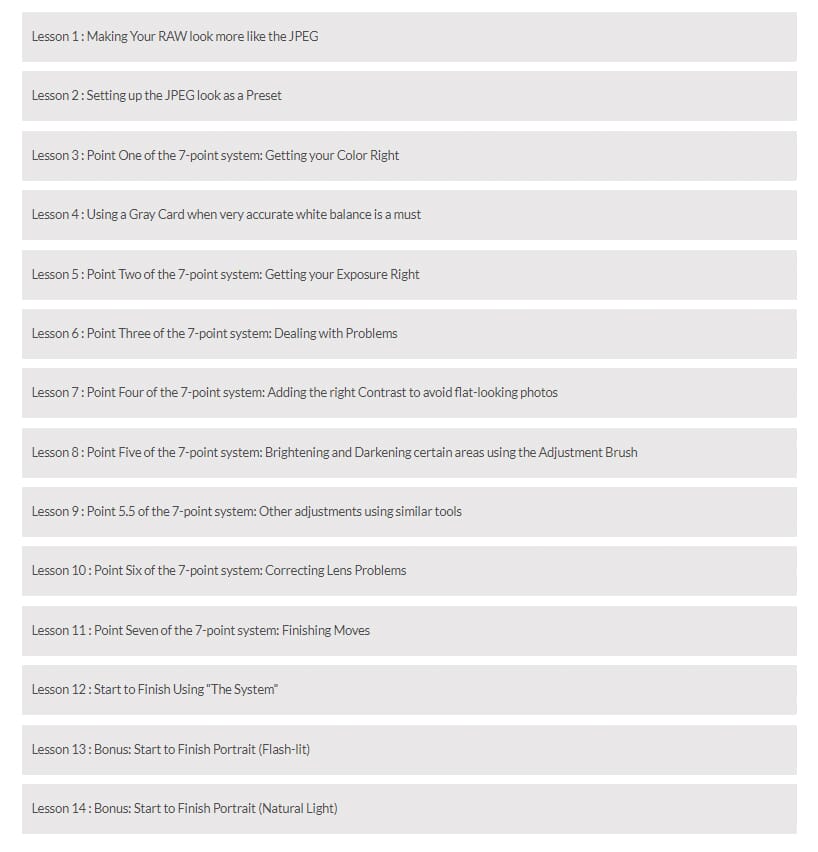 Fortunately, Scott's system is a breath of fresh air among the chaos of photo editing. It's easy to get overwhelmed when working within a program such as Lightroom, but with Scott, you're in good hands. He explains his editing process and, more importantly, why he edits the way he does. And he keeps things easy to follow and wonderfully concise.
By the time you've finished the course, you'll have a step-by-step workflow for creating stunning photos, consistently.
Get Scott Kelby's 7-Point System for Lightroom Classic, along with a KelbyOne subscription, for just $9.99 USD.
Related Post: How to Edit Photos Like a Professional in Lightroom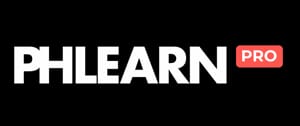 Scott Kelby's 7-Point System may take first prize among a group of high-quality Lightroom courses, but Phlearn's The Ultimate Guide to Lightroom is an impressive second option.
The Ultimate Guide to Lightroom is taught by Phlearn's founder, Aaron Nace, an expert photographer who specializes in photo editing programs.
Aaron's teaching style is both simple and informative. He takes the time to explain but doesn't overdo it with technical details. And with Aaron, you can be sure you're getting the most useful information out there.
The course is around four hours long, spanning a total of five chapters:
Introduction
Getting Started in Lightroom for Desktops
Editing in Lightroom for Desktops
Lightroom Mobile on Tablet
Lightroom Mobile on Phone
Notice that the course emphasizes using Lightroom CC on multiple devices. So if you're the type that likes to switch between your phone, tablet, and PC for editing, this is the course for you.
Aaron does a fantastic job of explaining both the basic and more advanced features of Lightroom. You'll discover how to tweak the exposure, remove objects, enhance your photos with the adjustment brush, and much more.
You can grab The Ultimate Guide to Lightroom as part of Phlearn's subscription deal. This gives you access to The Ultimate Guide to Lightroom, as well as a number of other excellent courses covering all your post-processing needs.

Josh Dunlop is back in Expert Photography's Effortless Editing With Lightroom course, which covers all things Lightroom and promises to get you creating "magazine-quality images."
Effortless Editing With Lightroom covers a number of Lightroom workflows, starting with the basics and working its way up. If you're a Lightroom beginner, this course is for you–though slightly more advanced Lightroom users will probably appreciate the information, as well.
The course is full of practical nuggets, such as producing a beautiful background blur, using adjustment brushes, and the value of split toning.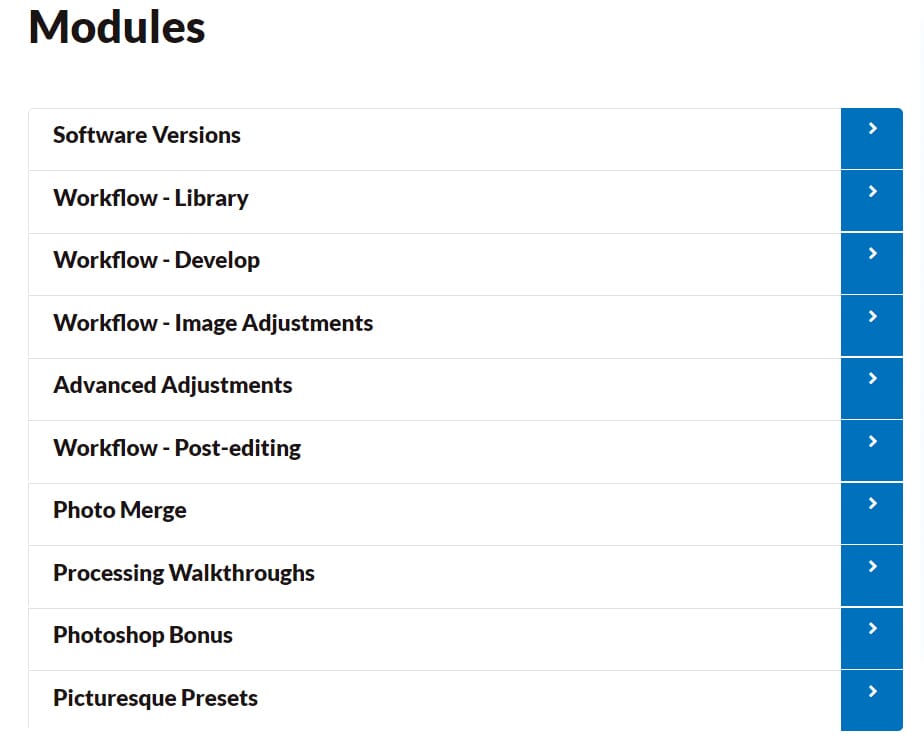 Is it worth the hefty $297 cost?
That's your call. But it's a good course with a lot of useful information.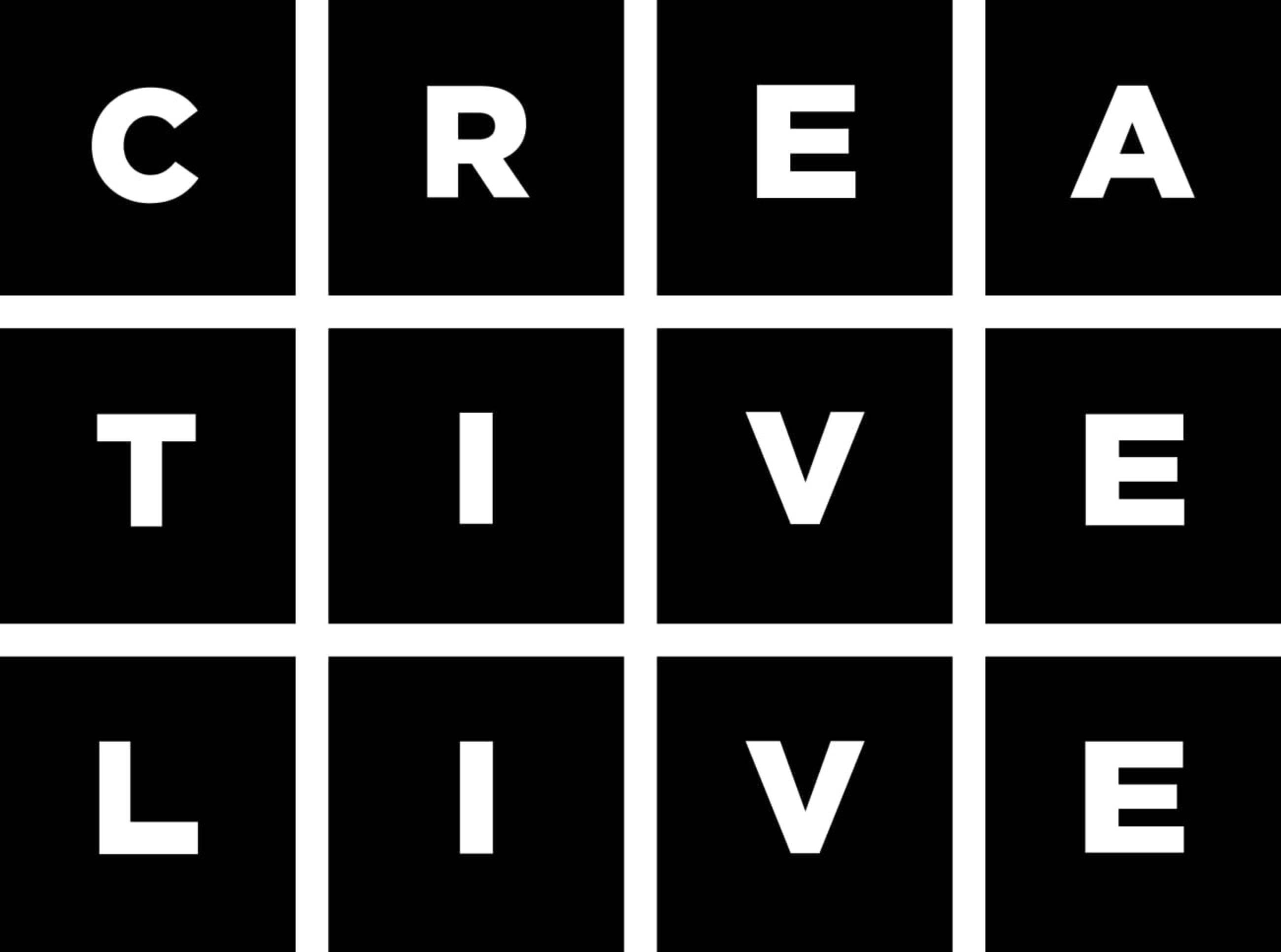 You can always count on CreativeLive to have good photography courses.
And Adobe Lightroom Classic CC: The Complete Guide certainly fits the bill.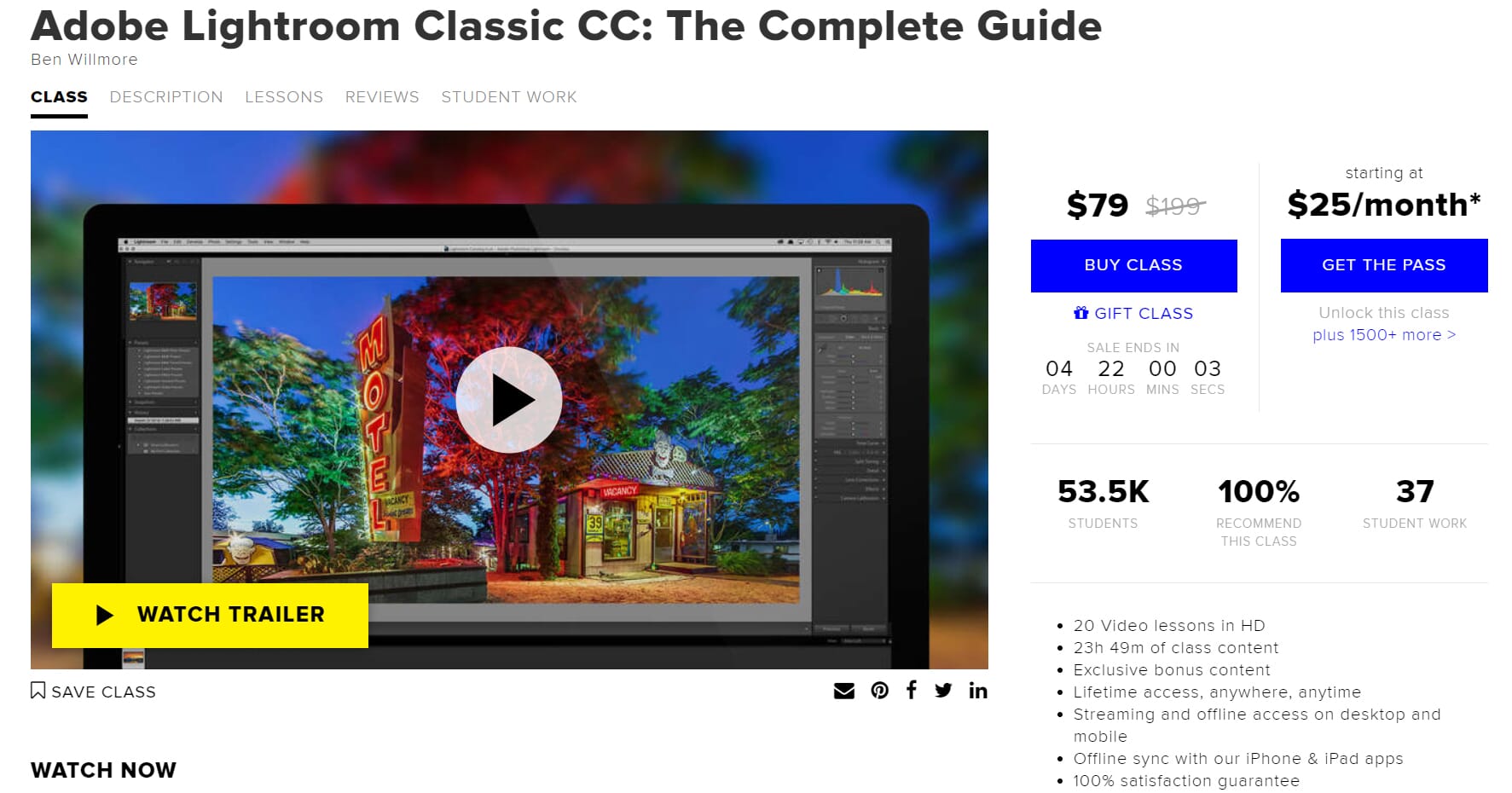 The course is taught by Ben Willmore, and his instruction spans 20 videos, where he smoothly covers everything a beginner needs to know about Lightroom to get their post-processing rolling. In fact, it truly is a complete guide; the course begins with a discussion of importing images and doing proper file management, but it soon gets into topics such as facial recognition, keywording, and creating books.
Note that this course is hardly short. It clocks in at around 20 hours of instruction, so if you're looking for a quick way to increase your Lightroom skills, this isn't for you.
But if you're looking to learn everything there is to know about Lightroom, and how you can use Lightroom's tools to your own advantage, then Adobe Lightroom Classic CC is a great choice.
Grab Adobe Lightroom Classic CC: The Complete Guide on CreativeLive for $159 USD, or for $25 USD per month (paid annually).
Best Photoshop Courses
Are you hoping to become an Adobe Photoshop master?
Photoshop is an extremely powerful piece of software, especially for photographers looking to do some high-level image work. With Photoshop, you can composite multiple photos, create gorgeous graphics, and so much more.
And that's exactly what you'll discover in these best photoshop courses in 2020. You'll learn the secrets to amazing Photoshop skills.
And your photos will become so much stronger.
Sound good?
Let's get started.
Related Post: 20 Simple Photoshop Tips That Will Make Your Pics Look Amazing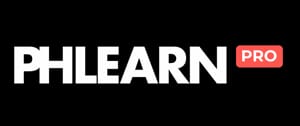 When it comes to the best Photoshop courses out there in 2020, it's a close call between Phlearn's more in-depth offering and KelbyOne's concise tutorial, but Phlearn takes the prize.
Phlearn's The Beginner's Guide to Photoshop is precisely what every Photoshop beginner needs: a clear, well-explained, thoughtful, information-rich, comprehensive introduction to one of the most useful post-processing programs on the market.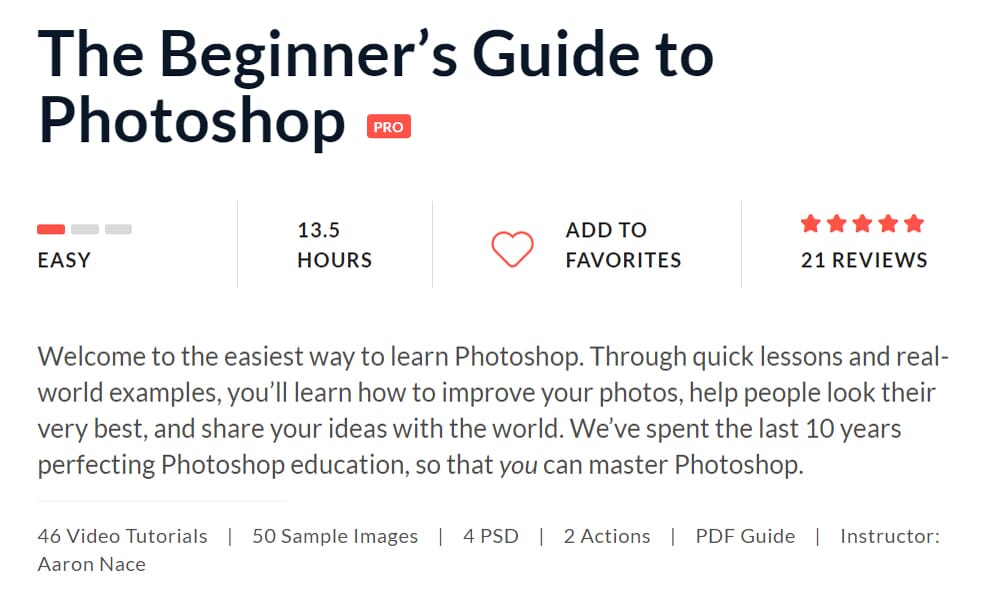 The course includes 46 videos, which give you step-by-step instructions for using Photoshop to your advantage.
No, it's not a short course (in total, the Phlearn course spans 13.5 hours). But it's extremely high-quality, and definitely worth the time if you're serious about your Photoshop education.
What do you learn in The Beginner's Guide to Photoshop?
First, you're given some necessary technical information about file formats and keyboard shortcuts. Then you're given a rundown of the basic tools you have at your disposal (and they are powerful, indeed!).
Next, you learn how to use layers, masks, and adjustment layers, which is followed by several lessons on selecting parts of an image. The course closes with a discussion of photo retouching and compositing.
So for the beginner who wants to really level up their Photoshop game, this course is the way to go.
You can grab The Beginner's Guide to Photoshop as part of Phlearn's subscription program, which will also offer you access to dozens of ultra-valuable Phlearn courses on post-processing.

Photoshop CC Basics for Photographers is a KelbyOne course, though it's taught by Matt Kloskowski, a KelbyOne veteran and an excellent instructor.
Like most KelbyOne courses, Photoshop CC Basics is short and sweet. The course consists of 17 video lessons which add up to around 2.5 hours–enough to complete in an afternoon, if you're motivated.
Yet while Photoshop CC Basics is short, it manages to cover a lot of ground. After a brief discussion of the Photoshop interface, you find yourself working with some of Photoshop's most powerful tools: layers, layer masks, and more.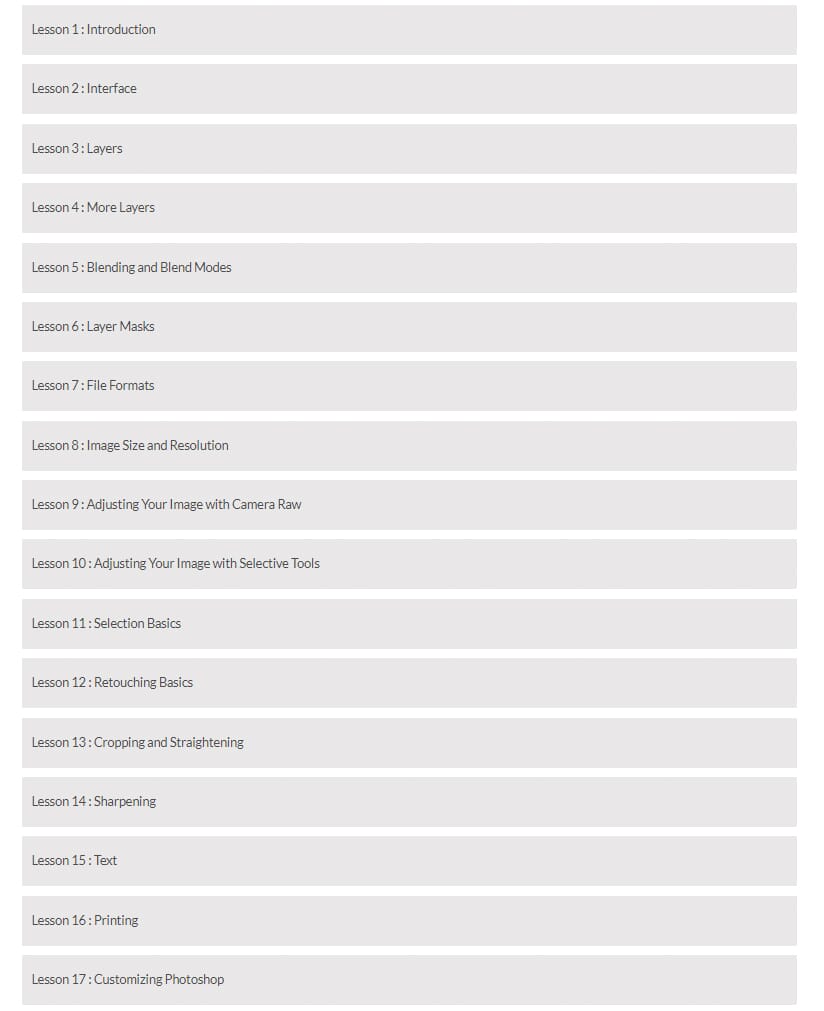 The course also covers retouching, creating selections in an image, printing, and more.
If you want a quick introduction to Photoshop CC, then check out this KelbyOne offering, at just $9.99 USD per month.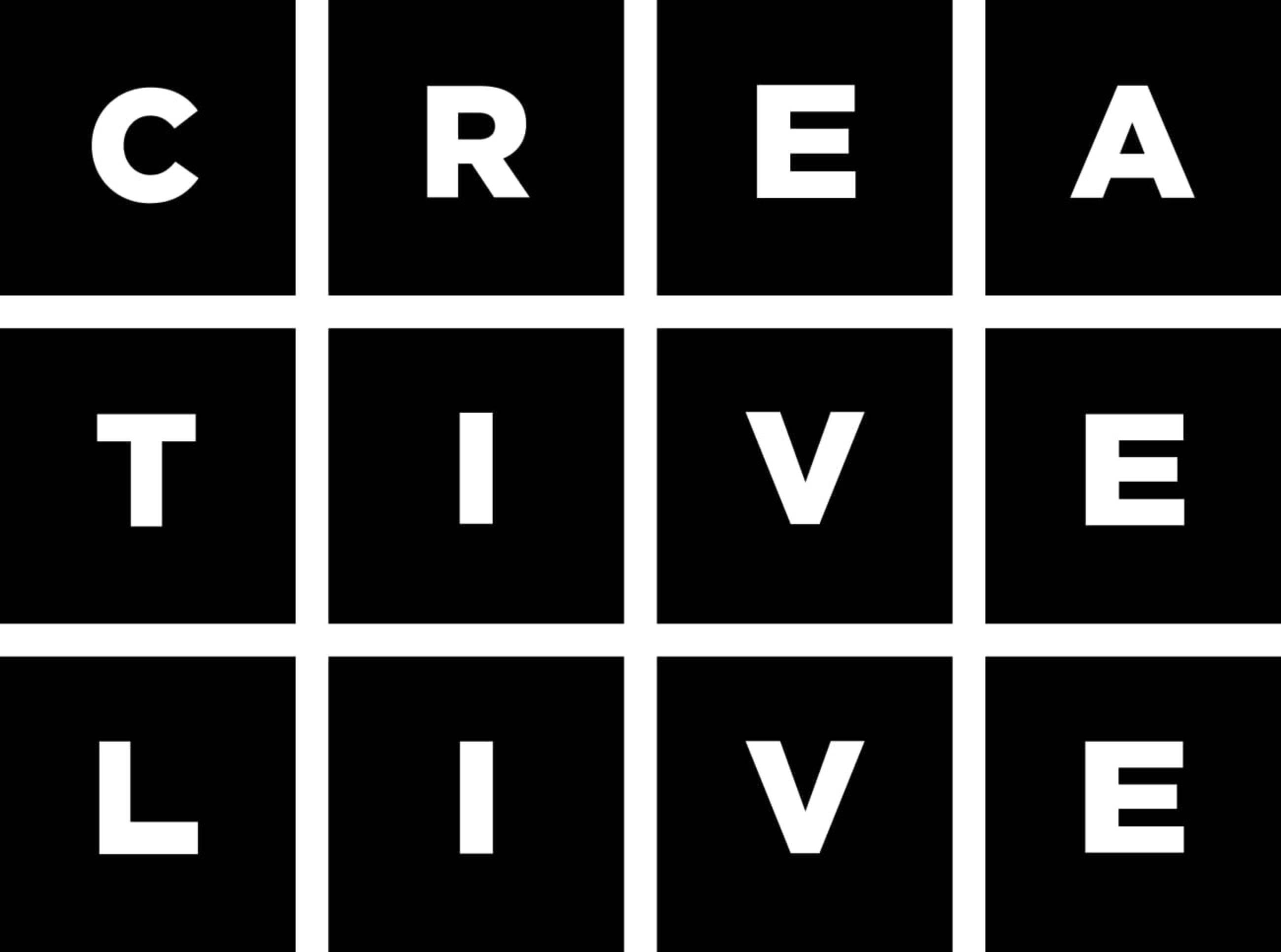 Ben Willmore is back in Adobe Photoshop CC: The Complete Guide, which promises to help you master Photoshop.
Fortunately, it lives up to its promise.
Adobe Photoshop CC: The Complete Guide is typical of CreativeLive courses. It's in-depth, it's long, and it's fairly expensive–but, for the photographer who's serious about learning Photoshop, it might be the way to go.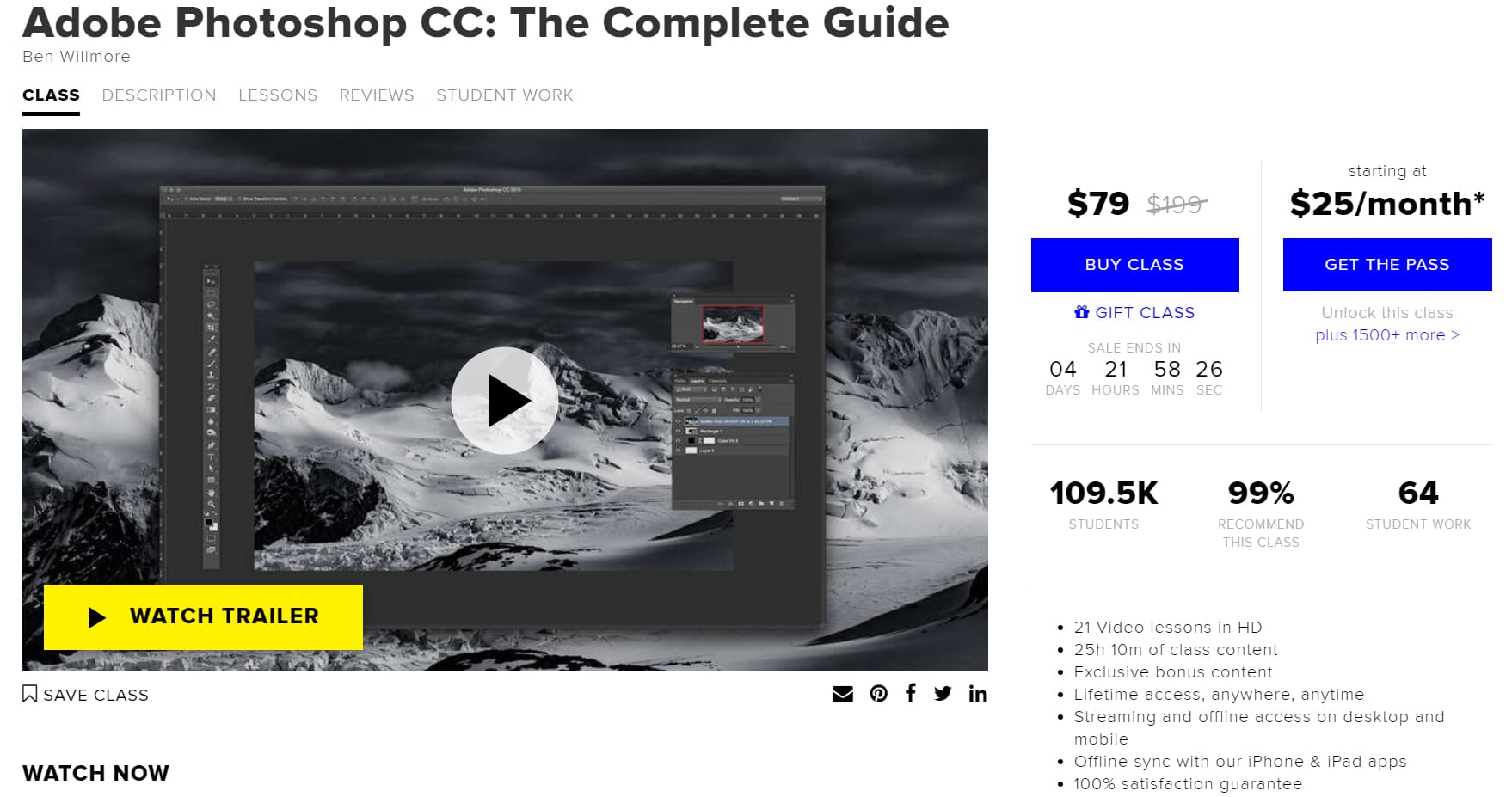 Note that the course is 21 lessons and that it's close to 20 hours in length. In other words, it's not for the faint of heart. The course covers:
Selections
Layers
Color adjustments
Masking
Retouching
Liquifying
Troubleshooting in Photoshop
If you want to know all about Photoshop and its capabilities, then Adobe Photoshop CC: The Complete Guide is an excellent option.
Grab it on CreativeLive for $159 USD, or at $25 USD per month (paid annually).
The Best Photography Courses in 2020: Conclusion
You should now have a sense of the best photography courses out there.
And you should have a sense of the best photography courses for your needs.
Now it's time to purchase the course, start learning, and start practicing.
If you can turn photography from a hobby into a habit, then you'll improve faster than you'd ever have believed!
What's the best photography course in 2020?
The best photography course depends on your needs. If you're looking for a beginner photography course, then I recommend KelbyOne's Beginners Start Here.
What's the best Lightroom course in 2020?
The best Lightroom course is KelbyOne's 7-Point Workflow, which gives you a great step-by-step process for creating magical images.