Photography is an art form that can be learned.
It is true that to become a successful photographer, you must have a keen eye, great attention to detail and creative flair; however there are many aspects of photography that you can be taught: – what equipment to use for example, how to use your camera, how to take photos in different light conditions or even how to use post-processing software to improve your images.
You can't be taught how to create a beautiful composition, but you can be taught many skills to take your photography to the next level.
If you are serious about photography and want to improve your craft then you are in luck – we have gathered three of the top online photography classes for your benefit. These classes are based entirely online – there is no need to travel; you can simply learn from the comfort of your own home.
Each class provider offers something slightly different but all three courses provide the opportunity to learn – you will be amazed at the techniques and skills you can pick up and we are certain you will benefit from either of these three educational programs.
💡 PhotoWorkout.com is reader-supported. When you buy through links on our site, we may earn an affiliate commission. Learn more.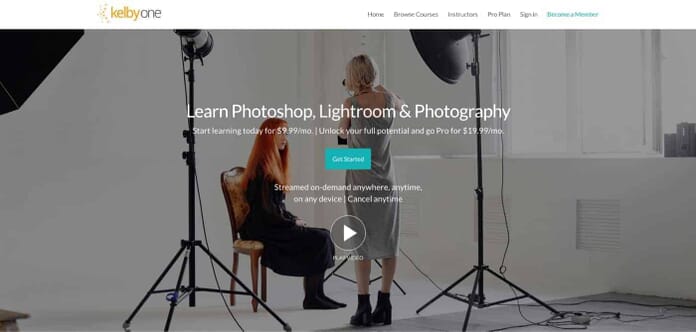 Website: Kelbyone.com
Classes offered: Photoshop, Lightroom, Portraits, Sports, Business, etc.
Class format: Online, videos & demonstrations / guides
Price range: $19.99 for the Pro Plan ($199 if paid annually) – if you are on a tight budget you can subscribe to the KelbyOne Plus Plan for $9.99 (a slimmed down version with fewer courses, no community, and no partner coupons).
Special Offer: For our readers who subscribe to the annual plan $20 off (use coupon code "pw20" after you create a free account and are ready to upgrade – note: only works for the annual plan, not for the monthly plan). Read more about the KelbyOne Coupon Codes.
Payment format: Monthly or Yearly subscription (with 7 days 100% money back guarantee)
Misc Information
KelbyOne is a premier online photography school created and founded by Scott Kelby. This gentleman has taught for many years and has published best-selling books on photography and Lightroom. Since 1993, Kelby has been involved in photography classes and KelbyOne was created in 2014. The website itself is easy to use and intuitive and examples of world-class photography are shown in abundance – not only is the site informative, but it is also a feast for the eyes.
To whet your appetite there is a fantastic introductory video that shows snippets of the courses and what you can expect. To browse through the range of classes available, simply click on the "browse courses" link – you will then be presented with the full list of classes which you can filter by various parameters such as category, type, and instructor. Once you have signed up, you can then benefit from the full range of classes and also have access to the community forum where members share ideas and their work.
The Classes
KelbyOne offers a huge range of classes, each of which is taught by a professional instructor. The classes are split down into several different categories including Business, Design, Equipment, Lightroom, Photoshop, Video, Get Inspired to name a few.
For those who are just starting out in the world of photography, there is a range of "basic" classes such as "Camera focus techniques", "Beginners start here", and a whole host of camera model specific guides. These are superb classes if you know virtually nothing about the art and want to jump straight in and start learning.
Of course, if you already know the basics, there is a multitude of advanced classes to further your skills and help you develop a new set of photography techniques such as "Capturing the wild: safari photography" or "Shooting travel photos like a pro".
Each class is split into a number of individual lessons and it is only possible to proceed to the next lesson, once you have completed the current one. Each lesson takes the format of a video and can range from a few minutes up to 20 minutes long – the presentation and style of the videos are excellent and you can watch them at your own leisure which makes learning that much easier. For $19.99 a month, KelbyOne does provide great value for money and an aspiring photographer can learn a huge and varied amount from these classes.

Website: Udemy.com
Classes offered: Plenty! To get started have a look at Photography Masterclass: A Complete Guide to Photography
Class format: Articles, video, supplements & resources
Price range: $10.99 upwards
Payment format: Single fee per class
Notable features: 100+ different classes to choose from covering many subjects
Special offers: Ongoing, make sure to check out their photography section for new courses and offers.
Misc Information
Udemy is a well-known and popular online teaching marketplace providing classes in a myriad of different subjects. Originating in Turkey, this business developed from practically nothing to become one of the leading online learning resources. This online learning platform currently hosts 60,000 different classes in areas such as business, IT & software, marketing, music, academics and of course photography.
The photography section of Udemy is a trove of information and contains some magnificent courses. The main course we have reviewed is "Photography Masterclass: Your complete guide to photography", but there are many more to choose from too.
Photography class categories include video design, digital photography, photography fundamentals, photography tools, commercial photography, and portraits.
The fundamentals section is the perfect place to start as a beginner and you can enjoy such classes as "Photography Beginners: DSLR Photography Camera Settings" and "Photography – Become a Better Photographer – Part I". Alternatively, for seasoned veterans, there is a range of specific courses to boost your knowledge such as "Master color in Photoshop CC" and "Night Photography: You Can Shoot Stunning Night Photos" – there is something for everyone!
The Classes
The specific class we have chosen is "Photography Masterclass: Your complete guide to photography" which is rated as a best seller with over 13,000 ratings and 170,000 students enrolled. For just $10.99 this courses provides a staggering amount of information with over 13 hours of video, 26 articles, and 7 supplement resources. If you are just starting your photographic journey then this is a brilliant place to start and will certainly help improve your skill in a short period of time.
In terms of actual content, the course covers such subjects as basic camera settings, composition, photography rules, post-processing, lighting and even smartphone photography. Furthermore, this course delves into the history of photography and also looks at how you can monetize your work and start earning through your photography. Each video provides a full transcript and content bursting with hands-on demonstrations – they are easy to follow and fun too.
If you are looking for a compressive photography course then this is undoubtedly one of the best options available – you will be hard-pressed to find a course that offers such a varied and all-encompassing array of information and learning opportunities.

Misc Information
CreativeLive is a community of creative types who have combined together to provide a fantastic online learning platform. Originally developed by legendary photographer Chase Jarvis, CreativeLive has become a staple of online learning for the creative industry and boasts a large array of classes. Their website is easy to use and contains clear links to the different categories of classes provided – you can easily find what you are looking for.
Aside from the classes, there is also an interesting blog section that contains a plethora of cool articles such as "6 Everyday Objects You Can Use As Props For Newborn And Baby Photography" and "The Stories Behind The World's Most Famous Photographs".
In terms of photography, CreativeLive features over 900 different classes for all skill levels. Although the prices are generally higher than other online learning centers, you benefit from the knowledge of some of the best photographers in the world.
Photography categories include fundamentals, lighting, wedding, portraits, camera guides, outdoor, Lightroom, and fine art to name a few examples. The fundamentals section is a great place to start for beginners and contains some awesome lessons on Photoshop, Lightroom and getting to know your camera.
The Classes
Whilst CreativeLive offers a myriad of different photography course, one of the best and most comprehensive has to be "Fundamentals of Photography by John Greengo". This course is jam-packed with everything you could ever need to start your photography venture. If you sign up for this class, you can work your way through a total of 107 videos, each of which covers a different area of photography. Examples of areas covered include camera types, shutter system, camera settings overview, aperture, exposure, focusing basics, and flash & lighting. Each section contains some awesome videos and a series of quizzes to test your knowledge as you progress.
Aside from the videos and quizzes, there is also a series of complementary PDF files containing keynotes and learning projects. If you read the various student reviews, you can see just how amazing this class is. John Greengo has certainly delivered and it is clear that a great deal of effort has been put into this photography fundamental course.
We hope you have found these reviews useful – there are many different online photography classes available, but not all offer substance and value for money.
We feel wholehearted that KelbyOne, Udemy, and CreativeLive are three standout choices, and their classes will truly help transform your photography and provide you with a greater understanding of this art form. If you have used any of these classes, or know of any of your own then feel free to leave a comment and share your experience!