Is The School of Photography a valuable resource? What does it offer? And is it worth the price? In this hands-on The School of Photography review, I share my experiences with this photography education platform.
Specifically, I'll discuss:
The quality of The School of Photography courses
Whether it offers good value for the money
How The School of Photography compares to alternative photography resources
Much more!
So if you're ready to determine whether The School of Photography is the right learning resource for you, then let's get started.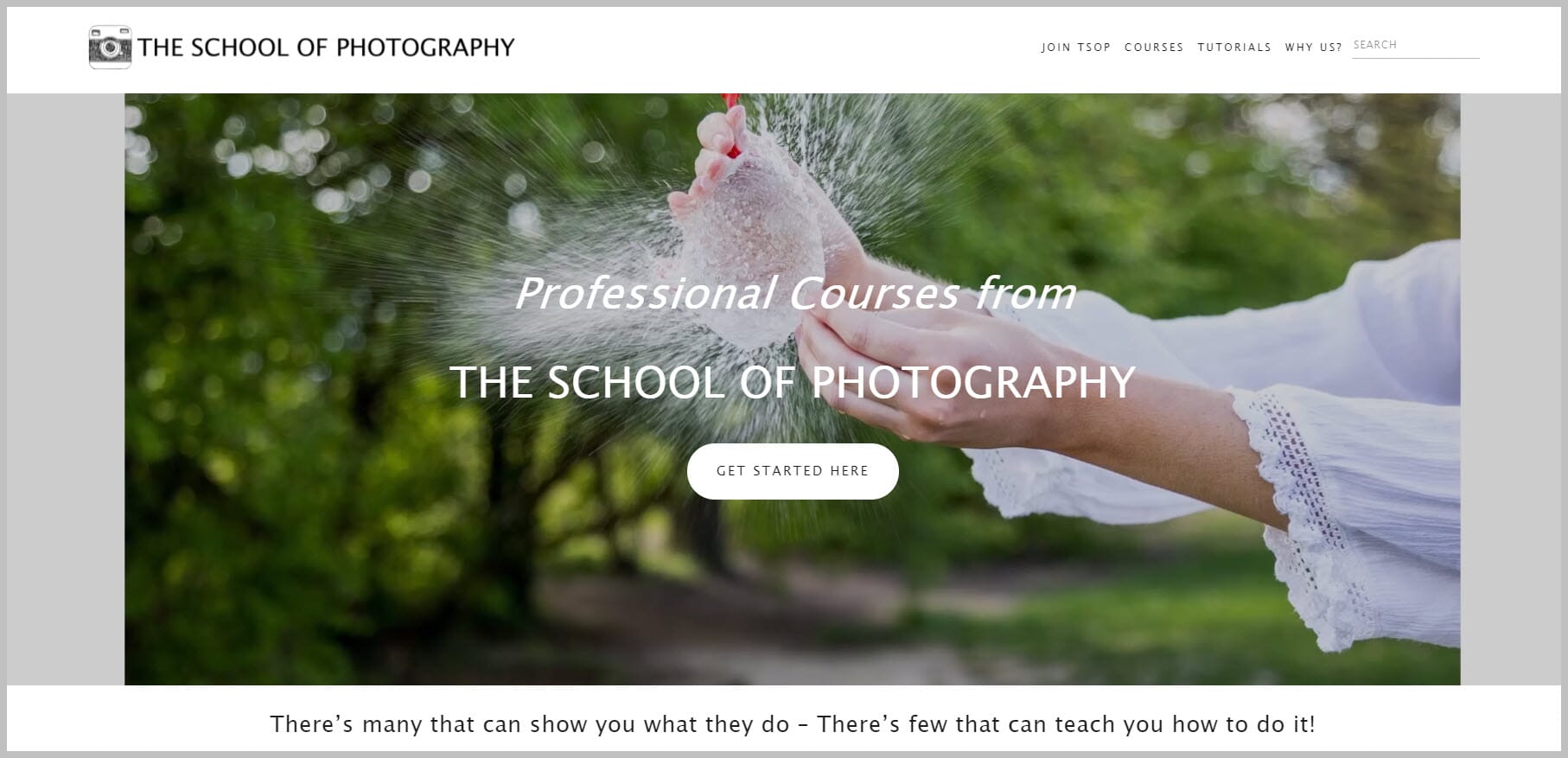 When you buy through links on our site, we may earn a commission at no cost to you. We evaluate products independently. Commissions do not affect our evaluations.
The School of Photography: Overview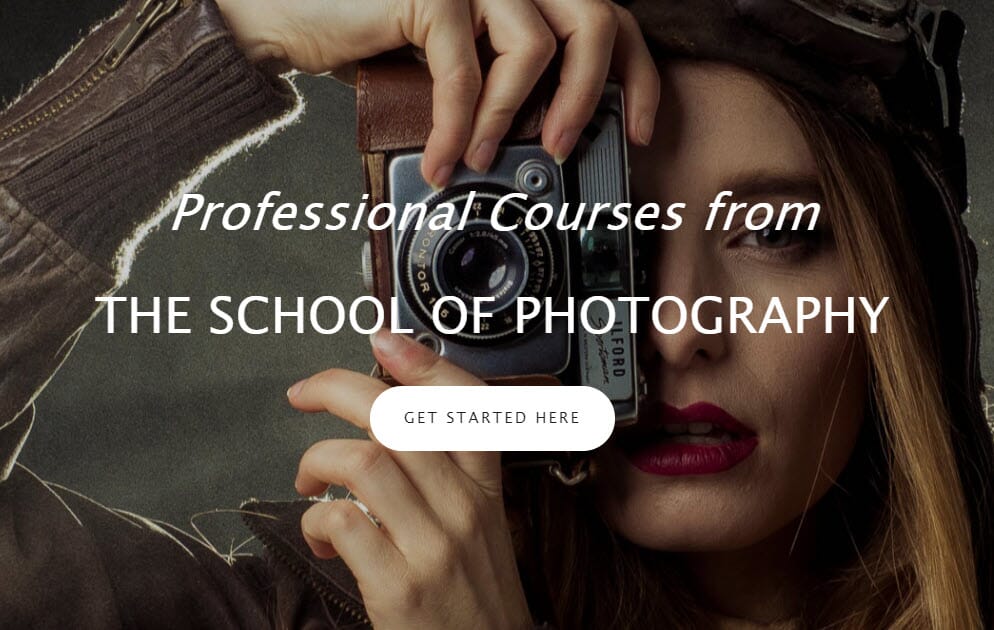 The best photography education for beginners
The School of Photography offers carefully designed, well-taught courses for photography beginners and enthusiasts. If you want to get started with photography – or improve your existing skills – it's a great purchase.
The School of Photography (TSOP) is an online learning platform run by Marc Newton, a professional photographer and certified photography instructor.
Currently, TSOP offers seven photography courses; each consists of video tutorials, assignments, and (occasionally) quizzes, all designed to make you a better photographer, fast. Courses range from the beginner-friendly Complete Guide to Photography to the more advanced Portrait Retouching Course, and while TSOP is designed to appeal to photographers of all stripes, topics and examples are heavily skewed toward portrait and landscape photography.
Later on in this review, I'll discuss the different pricing options in greater detail, but note that each TSOP course comes with two routes of access:
You can either purchase the course individually, or you can purchase a TSOP membership (which provides access to all existing and future TSOP offerings).
Layout and Ease of Use
The School of Photography is simple to use and understand, even for those unfamiliar with online course platforms.
You can browse course options on the Courses page. And you can access high-quality, sample (free!) content on TSOP's Free Tutorials page, as well as Marc's YouTube channel. (That way, if you're on the fence, you can get a sense of Marc's style of teaching and overall video quality before buying.)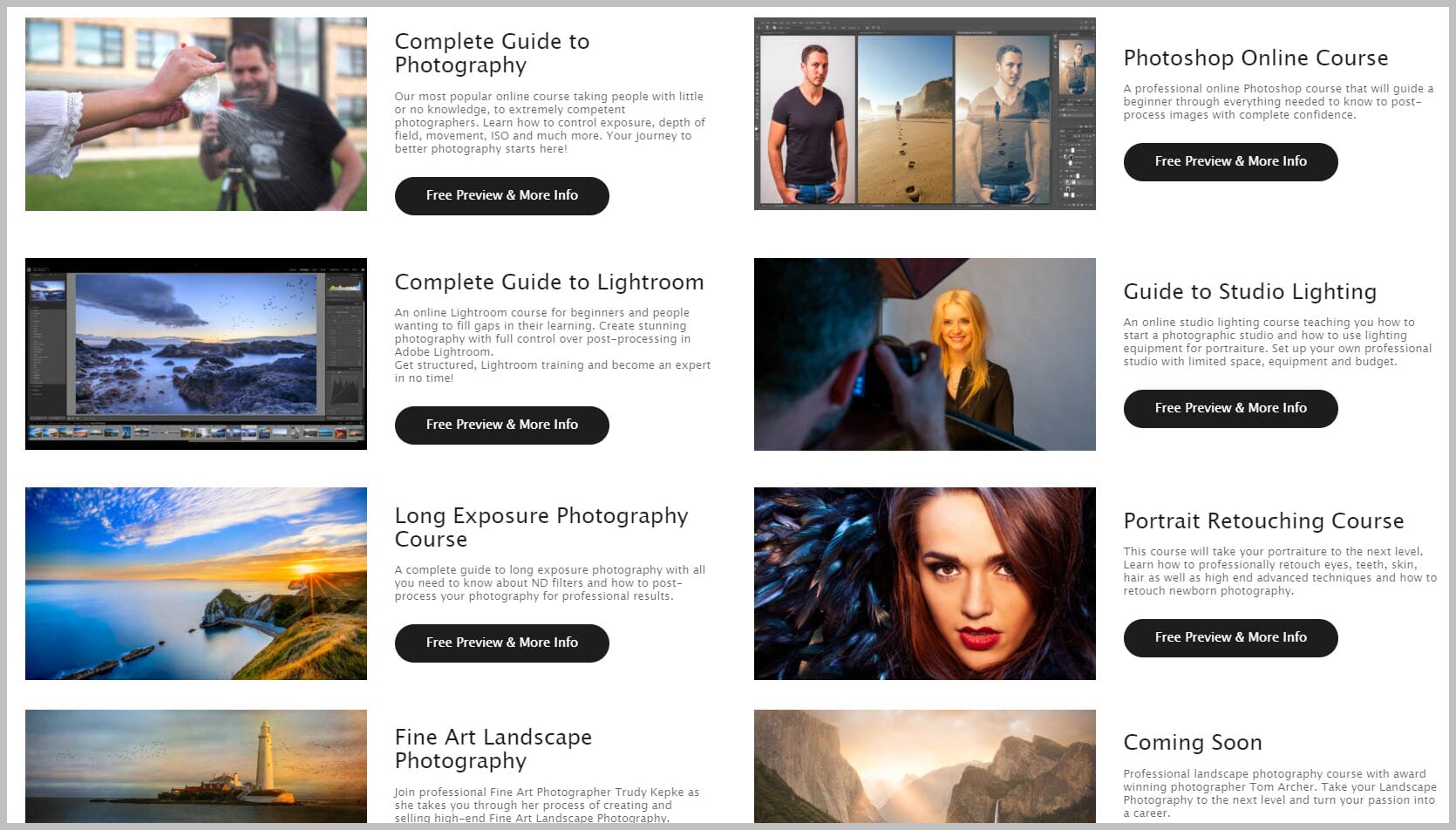 Then, once you've paid for your TSOP course or subscription, you'll gain access to a personal Dashboard, which lists your courses: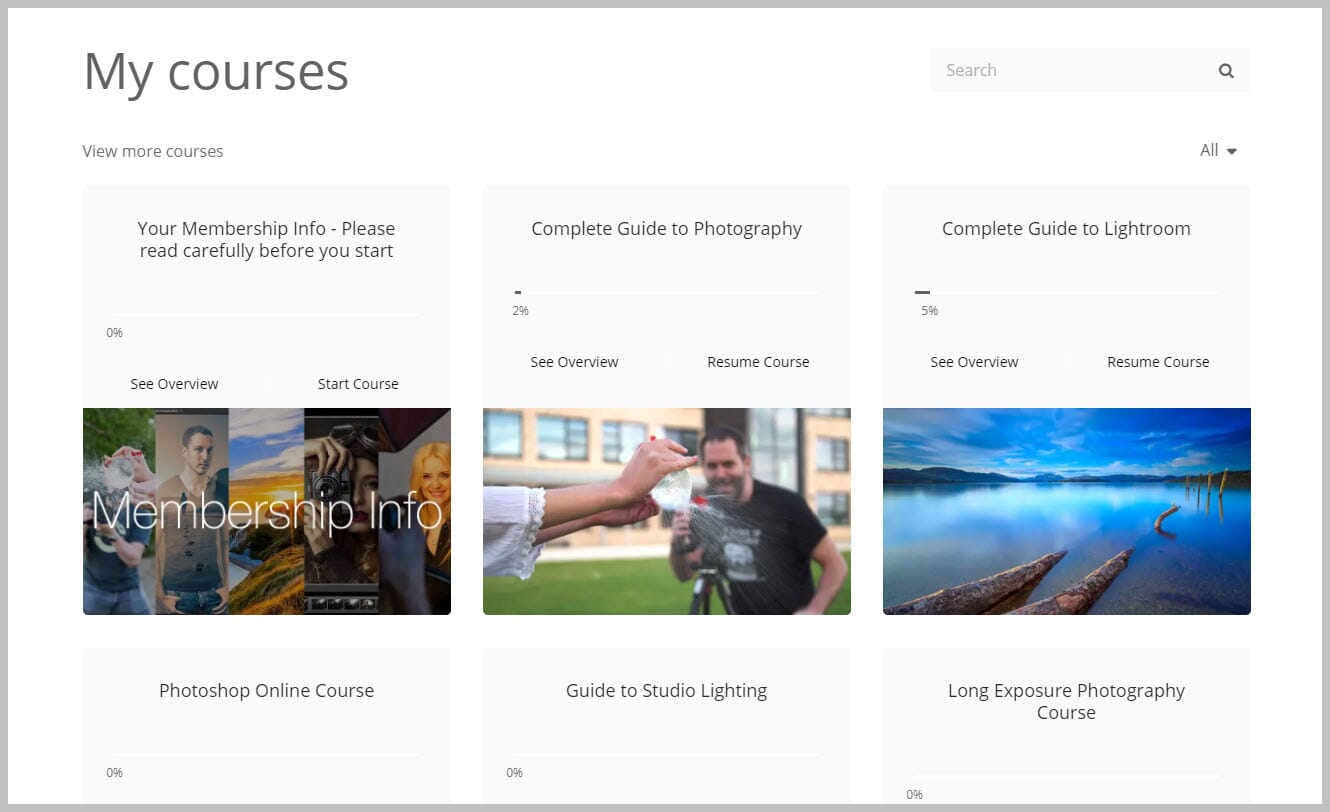 For those with a full membership, all seven TSOP courses will appear.
To complete a course, simply open the course page, then watch all the videos. Along the way, you'll run into PDF assignments, but these are optional – you're always free to skip the assignments, or you can complete the entire course, then go back and work on assignments if you prefer.
As you go through the course videos, you can mark topics as Complete; that way, even if you come back to the course months later, you can remember your progress and instantly determine the next video to watch. (It might seem trivial, but I'm a huge fan of this feature, and whenever I run into a photography course without a progress tracker, I find myself missing it.)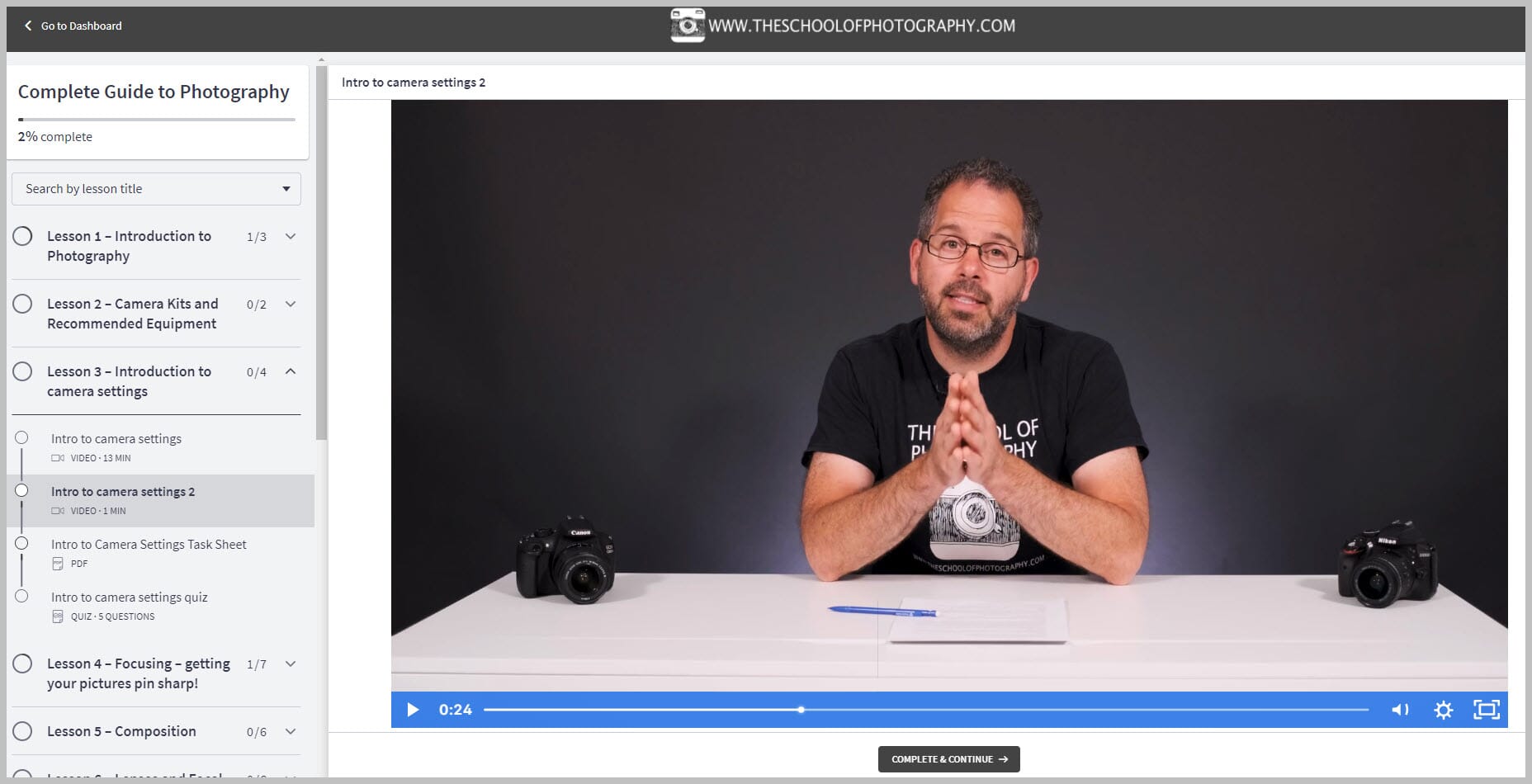 Videos are HD (though not 4K), and you have the option to adjust the quality and speed like you would any YouTube video. If you're finding course content a bit tricky, you can easily slow Marc down to 0.75x speed, and if you're just looking for a photography refresher or you're rewatching a course, 1.5x works great.
Unfortunately, videos don't include subtitles or transcripts, though the topic PDFs do rehash a lot of the key information for those who like to learn by reading.
Overall, I was pleased with The School of Photography's simplicity and layout, though the PDFs are a bit clunky and the lack of subtitles is frustrating. Whether you're a course beginner or experienced online photography student, you'll find TSOP easy to navigate.
Course Quality
I spent hours watching The School of Photography courses for this review, going through each course – from the basic photography, Lightroom, and Photoshop guides all the way down to the long exposure and fine art landscape courses.
Here's what I discovered:
Teaching Style
Within a few minutes of hitting the first "Play" button, it was clear that:
Marc really knows his stuff
He's an excellent teacher with a penchant for simple, easy-to-understand explanations
In fact, I was immediately surprised by how polished each course seemed. Marc's delivery is impeccable, and he takes difficult concepts – such as metering, Photoshop masking, and studio lighting – and turns them into something even a beginner can understand. He also does a great job organizing course videos and topics for easy learning, especially in his introductory photography, Lightroom, and Photoshop courses.
Most of the lessons take place behind the studio desk, though Marc does a good job of keeping things interesting with props, diagrams, and other graphics. And he does venture throughout the studio to demonstrate concepts.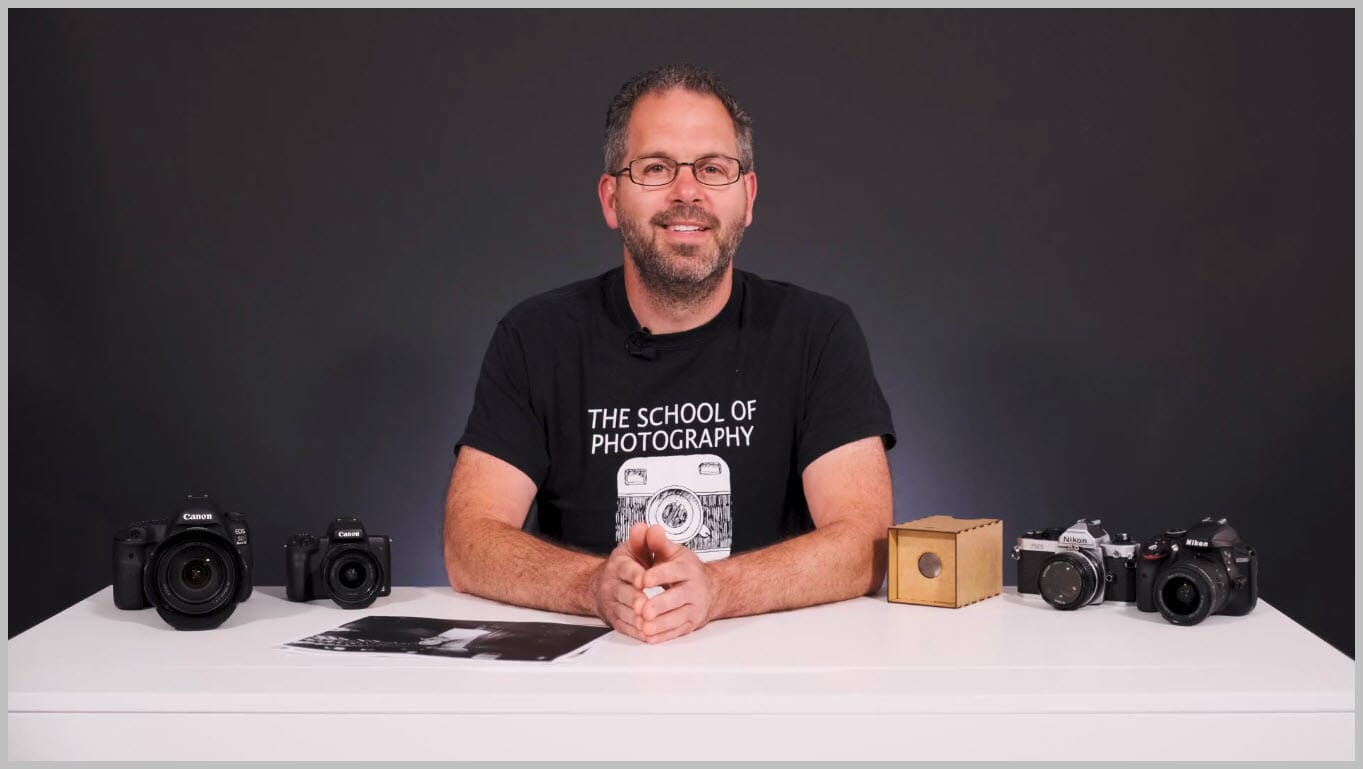 If I have one gripe with Marc's teaching, it's the lack of in-the-field demonstrations. Photography is a hands-on activity, and my favorite courses get you out in the field and experiencing photography in real time, whereas Marc tends to stick to the desk and the studio for its instruction. Yes, there are some videos that do get you outside or into a real photography studio – and these are much more common in the higher-level courses, such as the Guide to Studio Lighting and the Long Exposure Photography Course – but I would've liked at least one video per lesson with a realistic, real-world demonstration. It's one area where a course platform like KelbyOne often excels compared to TSOP (though too much in-the-field content, especially if it's improvised, can also be a problem!).
I'd also note that Marc caters more toward beginners than enthusiasts; he assumes little-to-no knowledge in his introductory courses (though higher-level courses do require some know-how). If you're a beginner, this is fantastic, and even more experienced shooters should be fine, provided that you're willing to speed up the course or skip through topics you're already familiar with.
Bottom line, though:
Marc is an excellent teacher, and beginners will undoubtedly find his tutorials engaging.
Course Depth
The School of Photography's introductory trio of courses – on photography, Lightroom, and Photoshop – are amazingly comprehensive.
In fact, they're quite possibly the best set of courses for beginners I've ever encountered, carefully building up your knowledge of key concepts. By the time you're done with these three core courses, you'll be a genuinely capable camera, Lightroom, and Photoshop user (though you'll still have plenty to learn, some of which is addressed by TSOP's other, more advanced courses).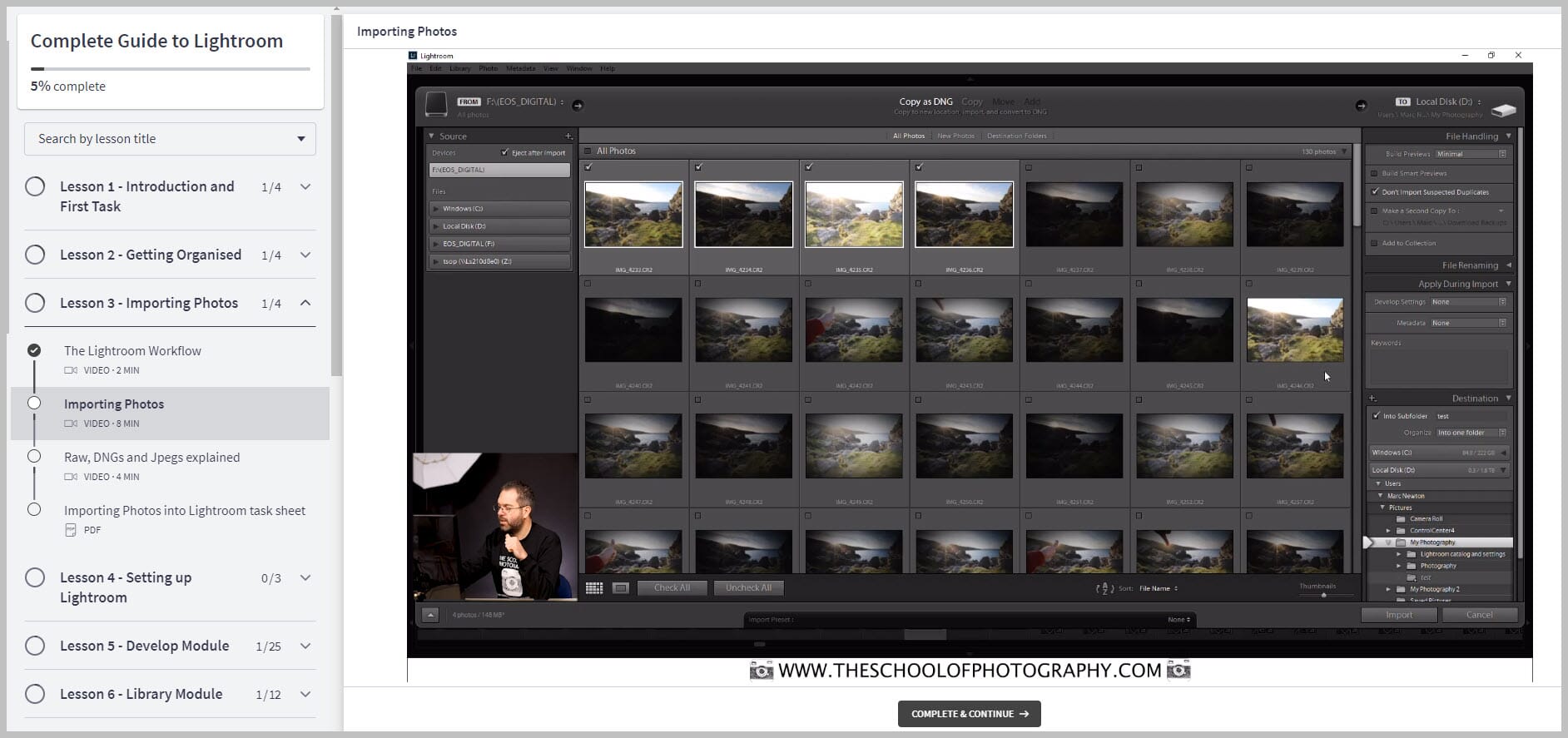 For instance, take a look at the Lightroom course, which is broken down into 20 lessons (or 70 bite-sized videos in total). The first few lessons are tailored to absolute beginners, and explain how to create a useful folder structure, how to import photos, and how to set up Lightroom for the best results. But once you're familiar with these basic Lightroom concepts, Marc moves on to an in-depth discussion of Lightroom editing, where he discusses all the editing tools and adjustments. Then he goes even further, explaining advanced concepts such as HDR merging and panorama stitching, and he even ends with a quick series of lessons on Lightroom's other modules (you may or may not be interested in these – personally, I've never used several of Lightroom's less essential modules, and I don't plan to – but it's nice to have the lessons just in case).
And I'll admit: When watching the higher-level courses, I found myself wishing for a similarly thoughtful and comprehensive structure. Field-based courses, such as those covering landscape photography, often fall into the trap of becoming too practical, where you watch the instructor take a few photos then immediately find yourself back in the studio for a quick edit, before being taken back out into the field for another photo session, without being offered any structured insights. I think a few of The School of Photography's courses suffer from this problem (though not quite so egregiously as the competition's offerings).
Course Catalog
After watching hundreds of TSOP videos, I'm a big fan of Marc and what he's trying to do with The School of Photography: create a comprehensive set of courses that can address the needs of beginners all the way up through more experienced shooters.
Ideally, you'd be able to start out as a novice, then work your way up to higher-level courses that address all key photography topics and genres, from advanced Photoshop tricks to HDR landscape photography to product photography, street photography, portrait photography and more. That's what competitors such as KelbyOne and PHLEARN are trying to do, with reasonable success.
Unfortunately, The School of Photography falls short of its goal here – because while the beginner courses are a fantastic foundation for photographers, and while the other courses do a decent job of teaching intermediate and higher-level topics, the whole thing just feels a little empty.
The School of Photography features only seven courses. Seven good courses, yes, but there's only so much you can cover in around half-a-dozen tutorials, plus the existing topics are heavily skewed toward post-processing, portrait photography, and landscape photography. There's no real discussion of the many other genres that photographers enjoy, such as product photography, still life photography, macro photography, street photography, black and white photography, and more.
On the other hand, Marc is actively putting out courses, so this issue may be addressed within the next few years.
Price
As I mentioned above, there are two ways you can purchase courses from The School of Photography:
You can buy them individually for $109 USD each (though strangely, you only gain access for six months)
You can purchase a TSOP membership, which costs $20 USD per month or (if you choose to pay for the annual subscription) $174 per year.


Personally, I think $109 USD for the individual courses seems reasonable, though the lack of lifetime access is a major sticking point. A much better deal, in my view, is the $20 monthly membership fee, which is on par with both KelbyOne and Karl Taylor Education (which are $20 USD and $19 USD, respectively).
You do get fewer courses compared to KelbyOne and Karl Taylor Education, which is why I don't recommend the annual membership; instead, get a TSOP month-to-month subscription, watch the courses you're interested in, and once you've finished, cancel your membership. If and when Marc puts up more tutorials, you can always resubscribe.
Update: TSOP provided us with a special coupon for our readers.
Use the coupon "PHOTOWORKOUT" at checkout for 10% off.
The School of Photography Alternatives
Throughout this review, I've mentioned a few competitors, including PHLEARN, Karl Taylor Education, and KelbyOne. There are also a few other prominent online broad-spectrum educators to consider, such as Joel Grimes and Trey Ratcliff, plus you can check out specialist courses (e.g., Albert Dros's excellent course on landscape photography post-processing).
So how does The School of Photography compare?
If you're looking to get started with photography, TSOP's courses are some of the best out there. They're certainly more comprehensive and better structured than anything offered by KelbyOne and Karl Taylor Education, and Marc does a great job breaking down concepts in ways that beginners can understand.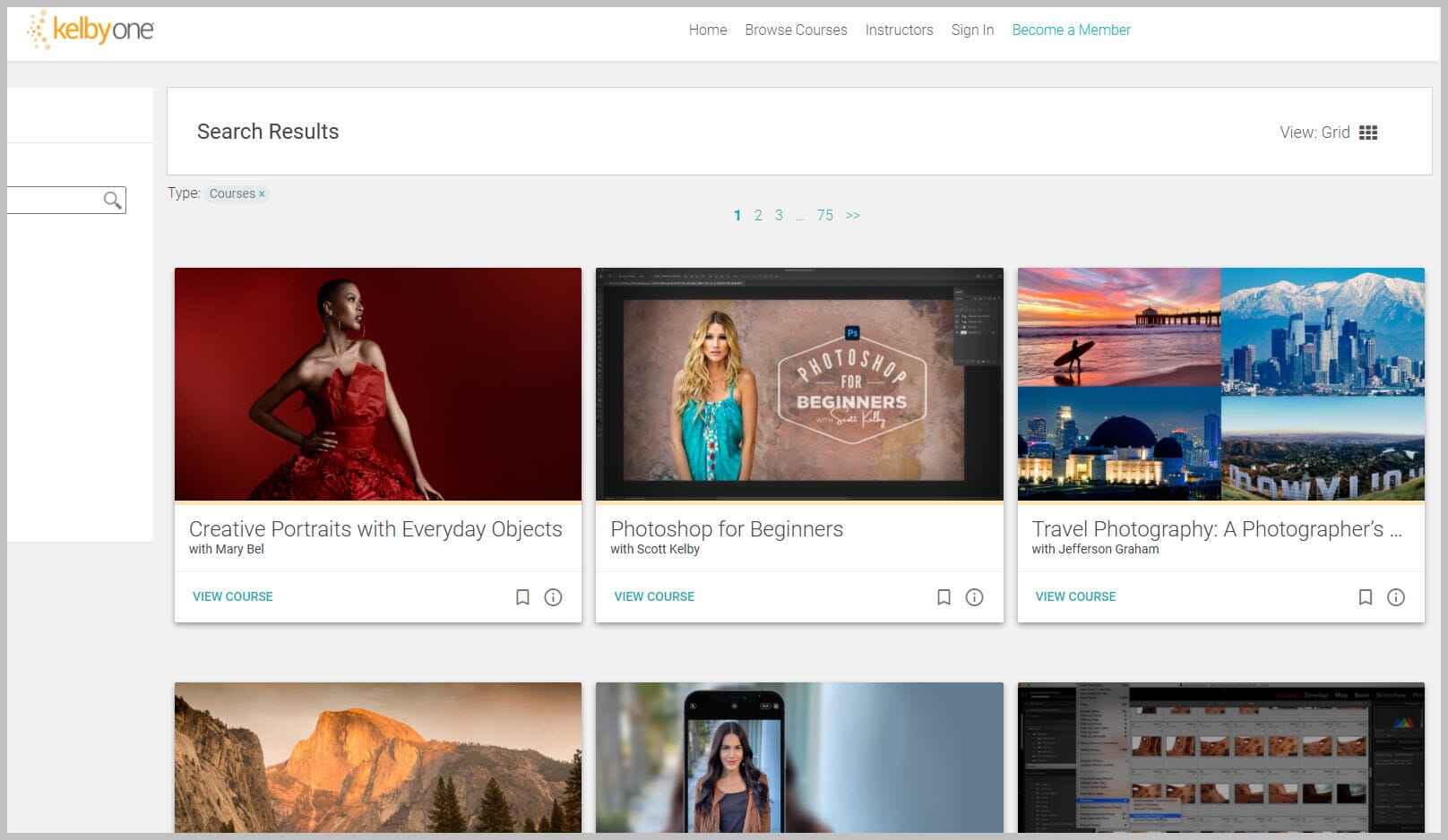 If you're more experienced, however, you might want to think about other options. KelbyOne offers approachable instruction of high-level photography techniques (many of the instructors are world-class shooters and/or retouchers), except for commercial photography, which is where Karl Taylor Education excels. Post-processing is PHLEARN's strength, so if you're purely focused on learning pro-level Photoshop skills, it's probably the way to go.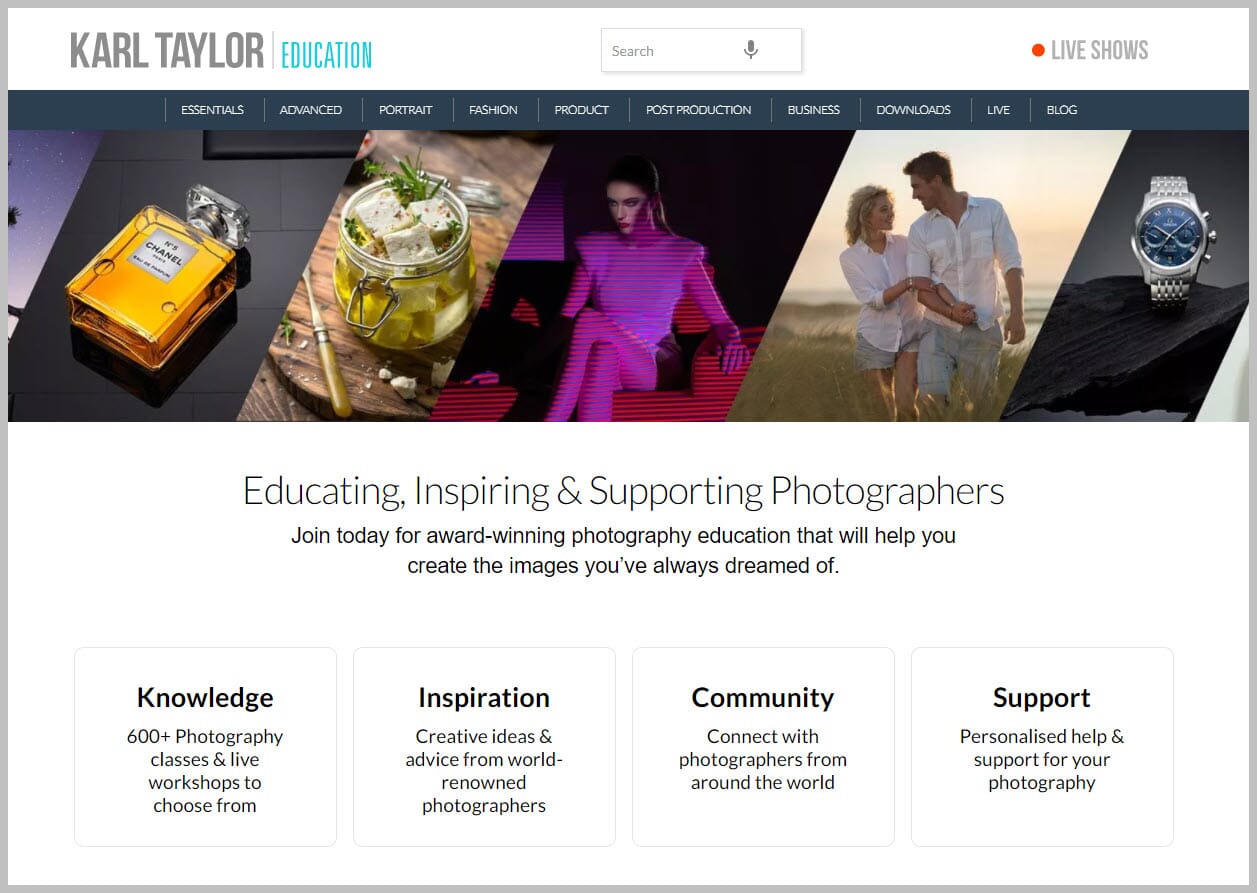 Fortunately, a subscription to any of these sites is pretty cheap, so you can always start with one, learn all you can, then move on to the next!
Is The School of Photography Right for You?
Now that you've finished this The School of Photography review, you should know all about its benefits and drawbacks – and whether it's the right online photography resource for your needs.
Overall, I'd highly recommend a month-to-month TSOP membership to beginners – Marc's teaching is excellent, and he provides easy-to-understand, helpful instruction of basic photography and post-processing techniques. The course catalog breadth isn't great, but that shouldn't stop you from appreciating the good that currently exists (and maybe we'll get some additional courses soon!).
The School of Photography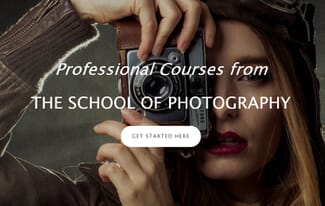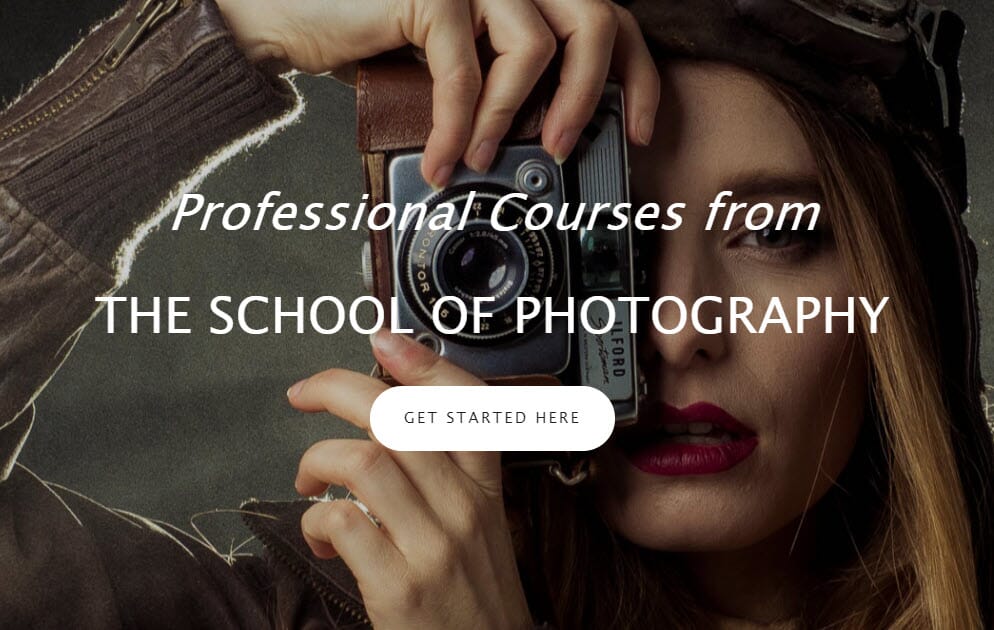 Product Name: The School of Photography
Product Description: The School of Photography is a photography education program offering instruction in camera basics, Lightroom, Photoshop, and more.
Brand: TSOP
Offer price: 20
Currency: USD
Availability: OnlineOnly
Offer URL: https://pwlink.co/tsop
Ease of Use

Course Quality

Course Catalog

Price
Summary
Looking to get started with photography? The School of Photography offers a series of high-quality classes perfect for beginners. You'll learn fundamental photography skills, such as focusing, exposure, and composition – and you'll also become a capable post-processor, retoucher, and more!
Pros
Excellent teaching
Great beginner courses
Well-structured content
Reasonable price
Cons
Limited courses for higher-level photographers
Individual courses can only be purchased for six months
Limited in-the-field instruction
Is The School of Photography legitimate?
Absolutely! Marc Newton is a reputable instructor who brings a lot of photography experience to the table. He's a great teacher, and his courses will improve your photography skills, guaranteed.
Is The School of Photography worth it?
That depends on your experience level. The School of Photography is great for beginners, but more serious photographers might do better with one of the alternatives, such as KelbyOne.
Which photography course is best?
For beginners, The School of Photography courses are great. KelbyOne is my go-to for higher-level photography topics, though.
How can I learn photography fast?
With a combination of instruction and practice! Online instruction from The School of Photography is a great place to start, but make sure you combine it with plenty of time behind the camera.