Creating epic panoramic photos requires a range of skills and tools. You need to understand how to take the photos, of course – but you also need software that can process (i.e., stitch) these images for a seamless result.
Panorama stitching can be done manually in raster graphics software like Photoshop. However, it is a difficult process, and it's much easier to use programs with automated features.
Below, we share the seven best panorama stitching software programs available in 2023, so you can start capturing panoramas like a pro.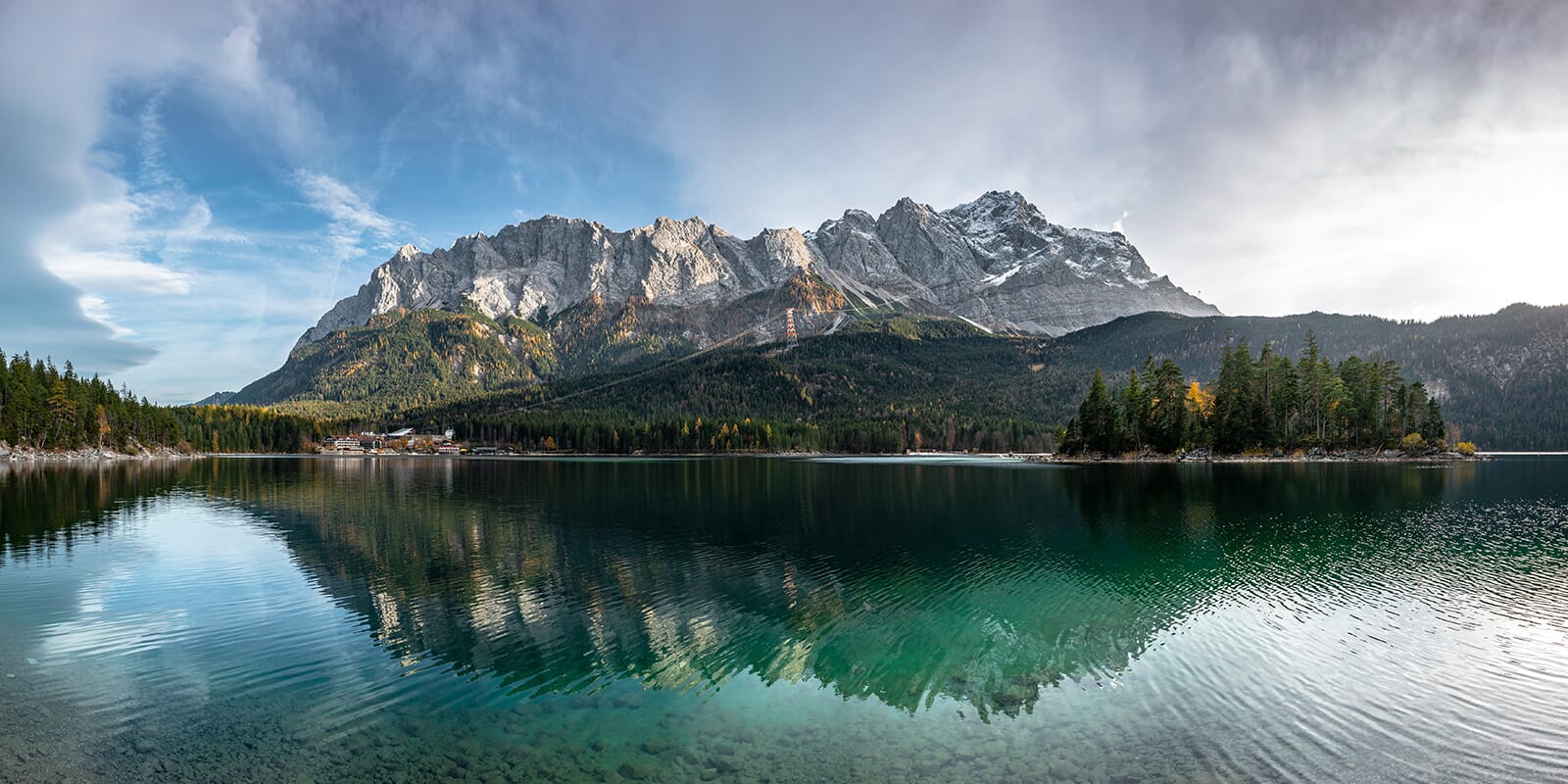 Best Panorama Stitching Software:
When you buy through links on our site, we may earn a commission at no cost to you. We evaluate products independently. Commissions do not affect our evaluations.
1. Adobe Photoshop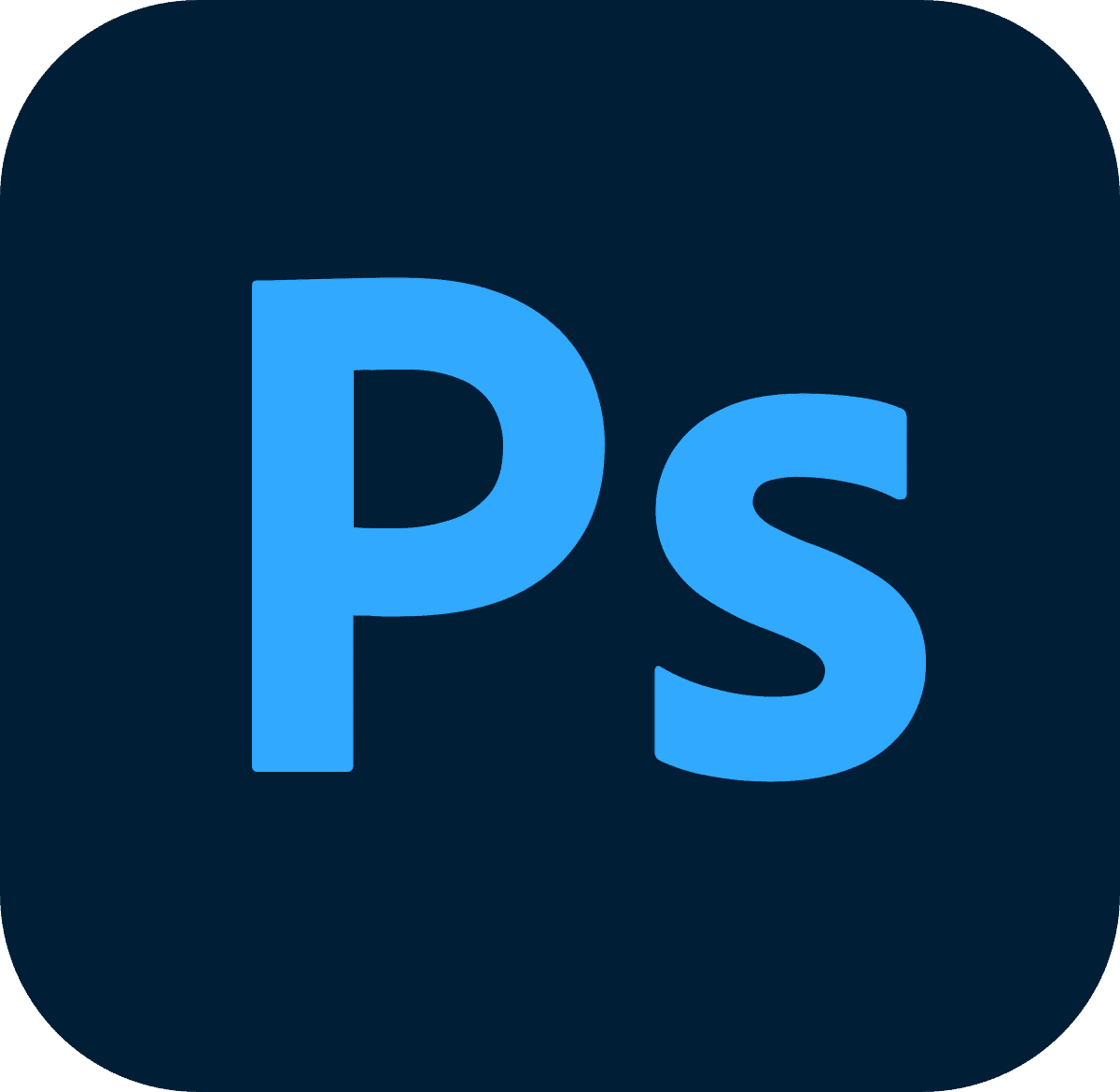 Great all-in-one solution
Adobe Photoshop offers a one-stop solution where you can quickly stitch panoramas and refine them afterward.
Pros
Simple and quick stitching process
Loads directly into Photoshop as a new image
Can benefit from Photoshop's editing tools
Cons
No advanced functionality
Our first pick is Adobe Photoshop. This is primarily a raster graphics program, but it also has a host of useful photo editing tools and a panorama stitching feature, called "Photomerge." This tool is incredibly easy to use and does virtually all of the work for you.
To stitch a panorama, open the file menu. Next, navigate to Automate and select Photomerge. This will open a new dialog box with the main panorama stitching options. You can select whether to use any selected files or an entire folder of images. You'll also see a Browse option, which allows you to navigate through your photo library to find photos for the panorama.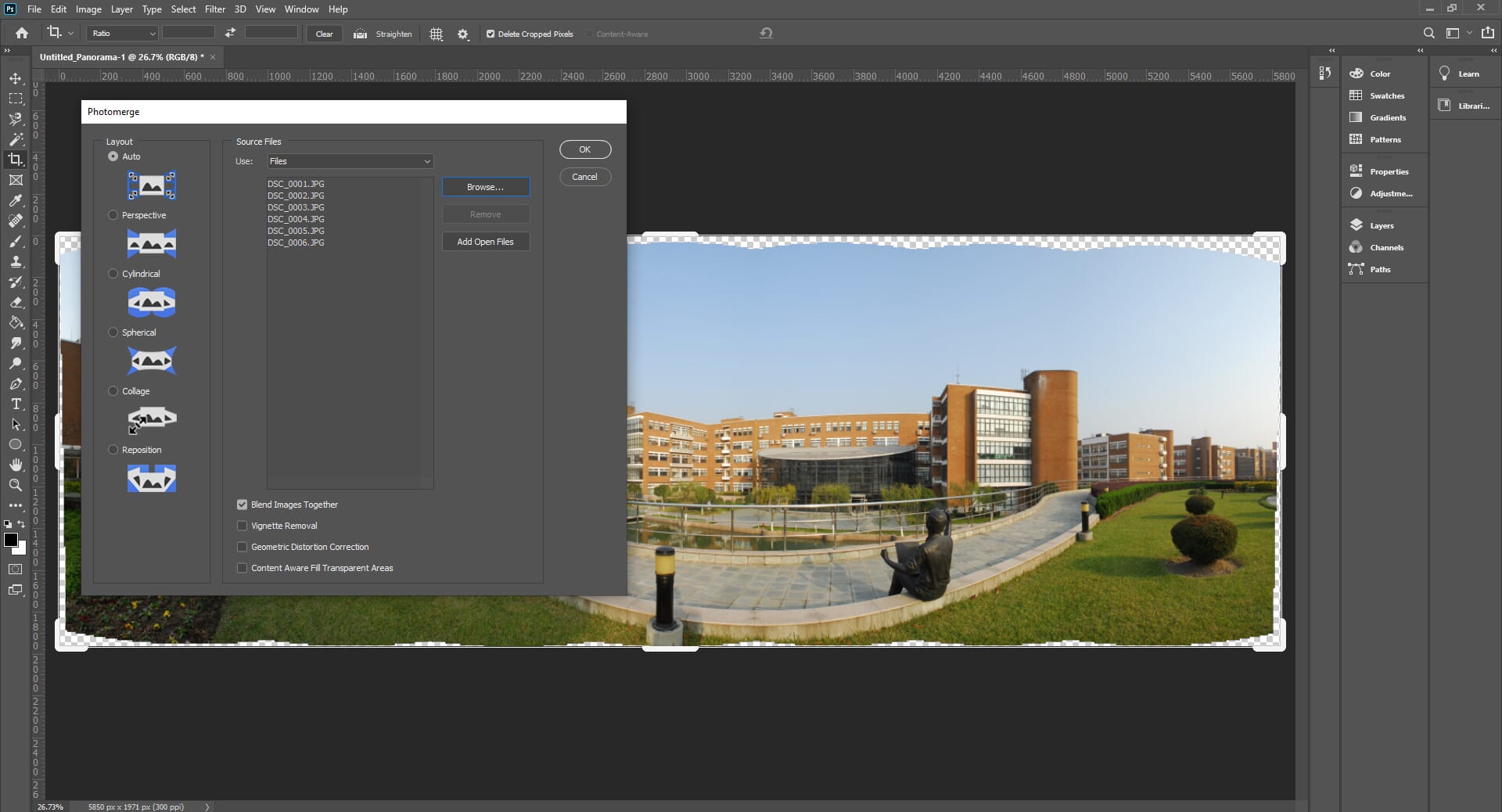 We also like that you can choose the layout and specify if you'd like adjustments such as vignette removal and geometric distortion correction. Once you have selected the source images and your settings, simply click the OK button. This will generate the panorama and stitch the images together.
The completed panorama will open as a new file directly in Photoshop. Also, it will open each photo as a separate layer in the Layers tab, which gives you greater control over the final result. You can then utilize Photoshop's vast array of editing tools to crop and refine the panorama as you wish.
The main downside here is that the Photomerge feature does not offer any advanced functionality. You can only choose the source images and change a few minor settings.
2. PTGui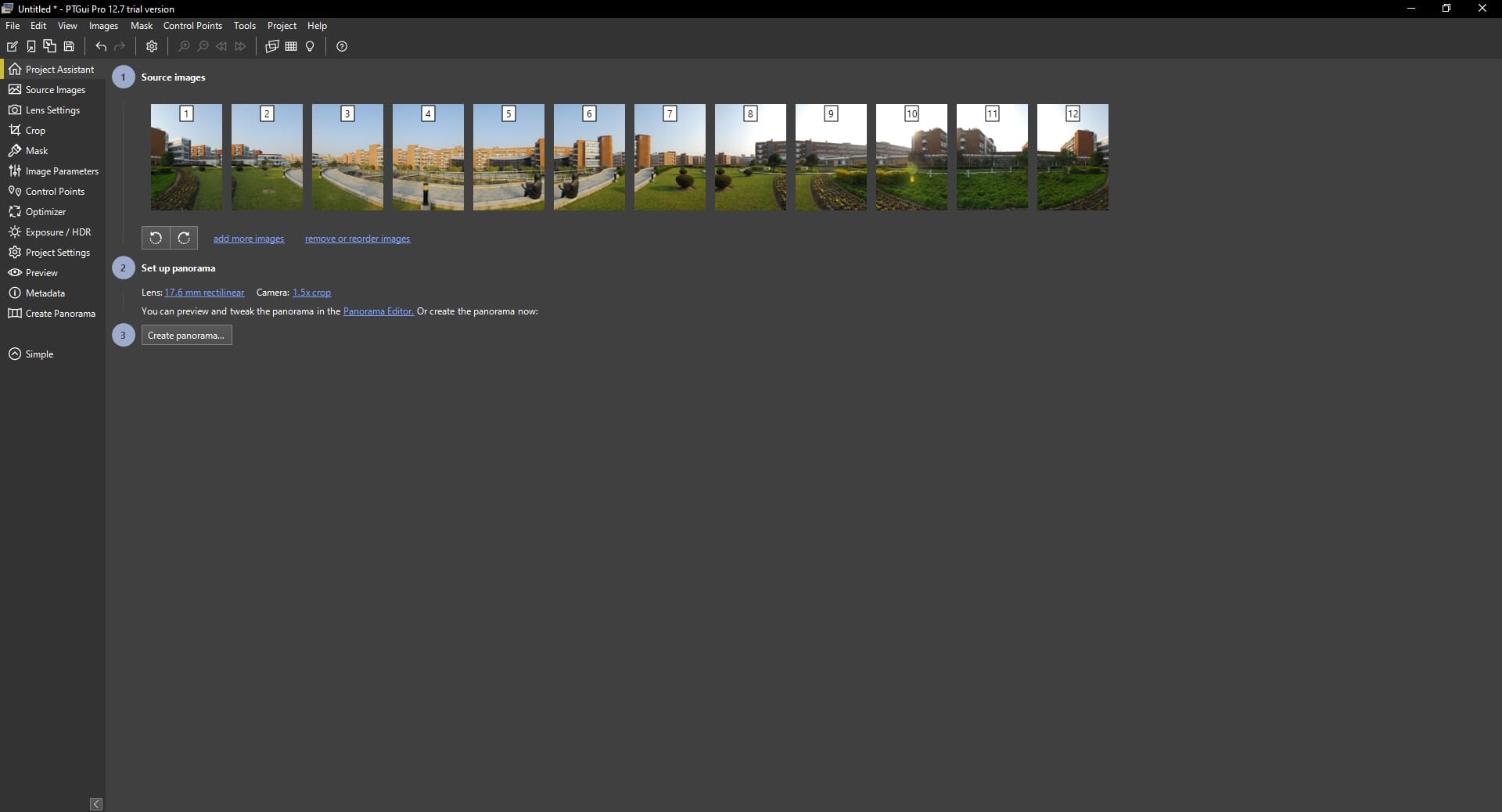 Great for professional panoramas
The advanced controls offered by PTGui make it suitable for those who need pixel-perfect panoramas.
Pros
Advanced panorama controls
Can edit image parameters beforehand
Relatively simple workflow
Cons
No in-software preview available
If you want ultimate control where you can precisely define the panorama settings, PTGui is one of the best options available. This is an advanced panorama stitching software that is great for creating professional end results.
PTGui is available for Windows and macOS devices, and there is a free trial version. The free version has full functionality. However, it has watermarks on the completed panorama stitches. This software is also available as a one-off purchase. For what it does, the price of $111 is reasonable.
PTGui offers both an advanced and a basic mode, which is great for professionals and beginners, respectively. The advanced mode has many features. For example, you can set the control points and even change parameters of individual images such as exposure and white balance.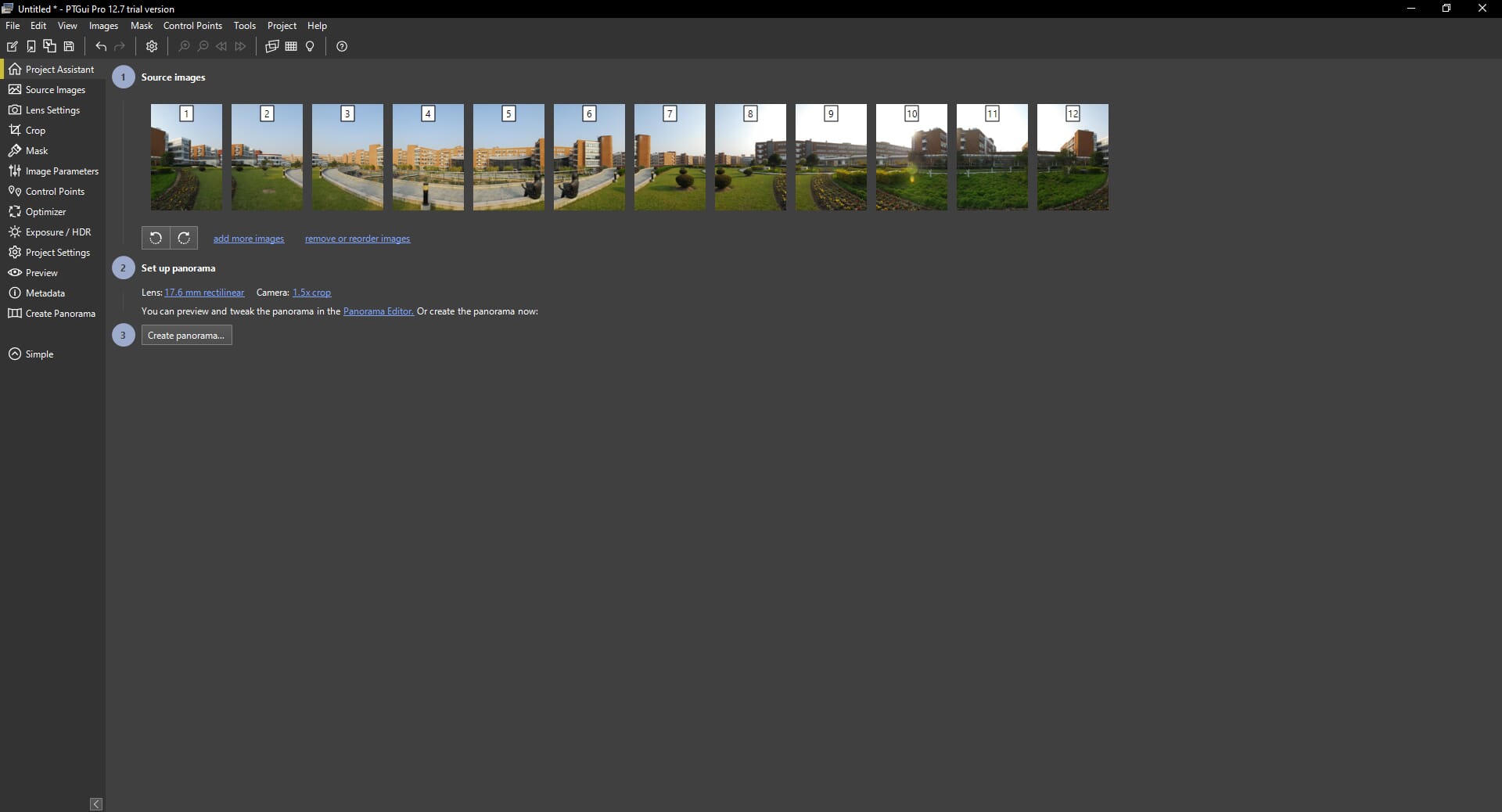 This software is also capable of creating HDR panoramas and 360-degree panoramas, too. The only drawback we found is that you have to preview the stitched panorama in a separate photo viewer rather than in the program itself, which is a little inconvenient.
3. Hugin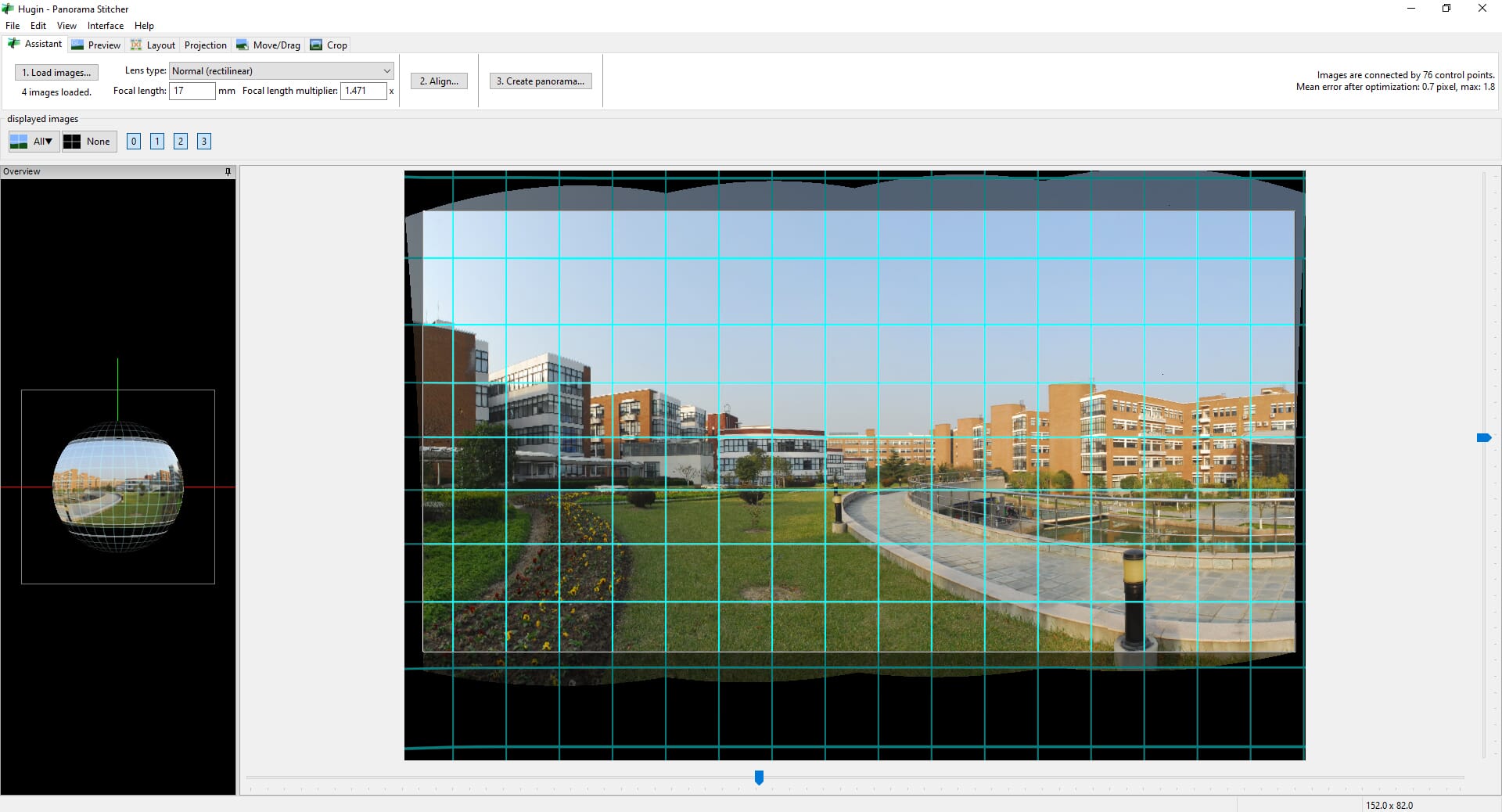 Great for advanced control
Hugin is a free piece of software that offers both advanced or simple controls to appeal to multiple users.
Pros
Switch between advanced and simple layouts
High-quality stitching results
Can crop the completed panorama image
Cons
Interface is not the most modern
Next, we have Hugin, a free panorama stitching tool available on Linux, Windows, and Mac devices. We have included this software in our list, but it is important to note that it is not a polished program; it is still being developed and refined.
The underlying panorama stitching technology works fine, though Hugin is a program that may not be best suited for beginners. To get the most from the software, some prior understanding of panoramas will likely help. This is because the process is semi-automated and some user input is required (e.g., selecting the panorama type).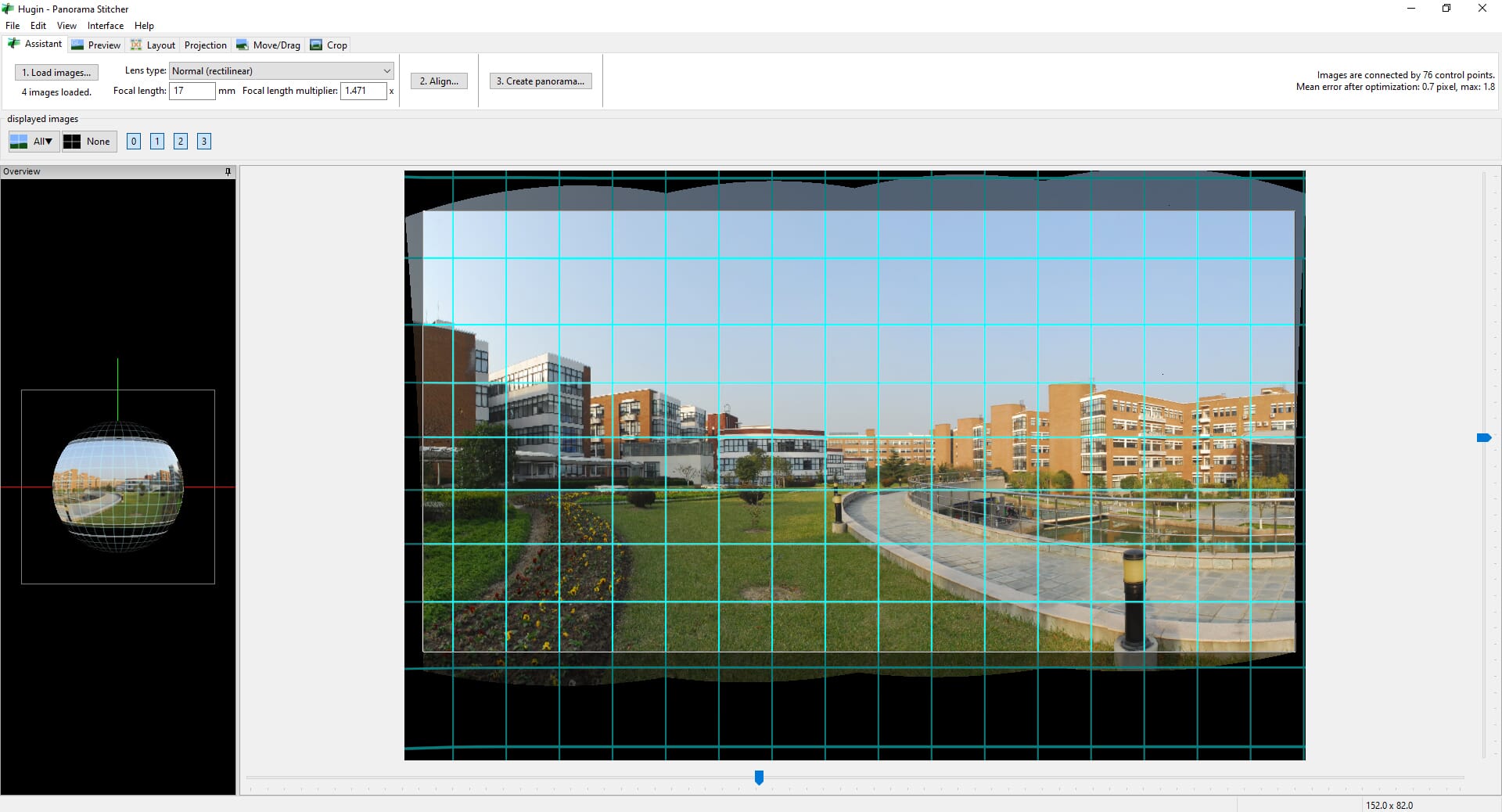 Once you get to grips with the software and the process, you can create high-quality panoramas. The stitching works fantastically and the end quality of the merged photos is great. We also like that you can crop the completed panorama afterward to remove the excess black areas and rounded sections.
You can also switch between different modes, including Advanced and Simple. The Simple mode streamlines the process, whereas the Advanced mode gives you far greater control.
4. Lightroom Classic
Great for RAW editing
Lightroom Classic is the best option if you want to edit the source images beforehand and the completed panorama afterward without using separate programs.
Pros
A simple and fast stitching process
Can edit RAW source images beforehand
Has an auto-crop feature
Cons
Limited in panorama settings
Part of creating a panorama is processing the initial images beforehand so you can achieve a uniform photo that really pops. The benefit of using Adobe Lightroom Classic is that you have a full set of RAW photo editing tools with which to do this.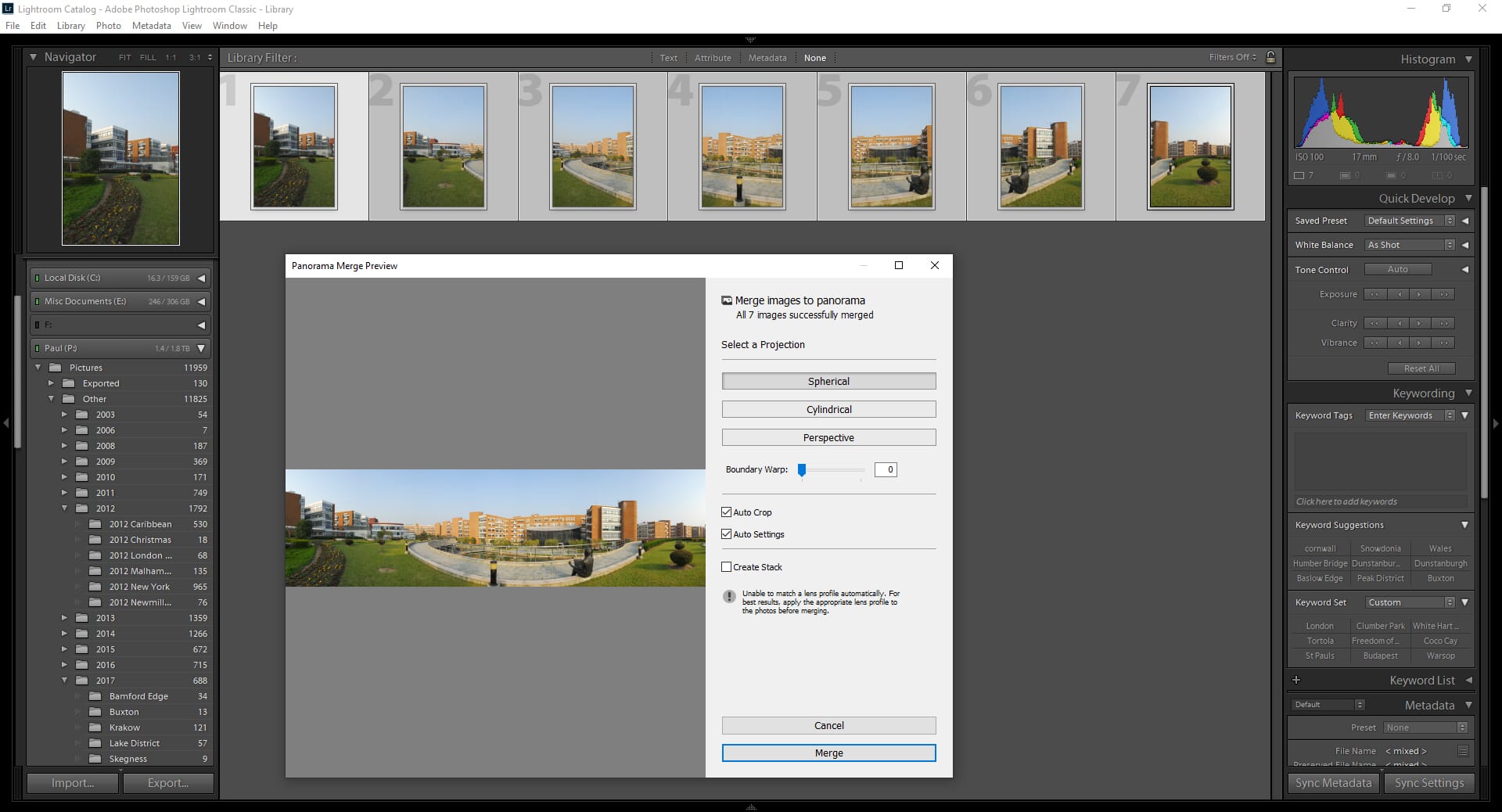 Lightroom offers a convenient solution to this process: you can first edit your source photos before using the simple panorama stitching software. This is a major benefit if you have RAW photos to stitch, as Lightroom is one of the best photo editing programs available for RAW files.
Like Photoshop, the panorama stitching feature in Lightroom Classic is called "Photomerge." First, you must select the source images. Then you want to open the Photo menu in the top menu bar. From here, select the Photomerge option.
This will open a new dialog box and show a preview of the stitched image. If possible, Lightroom will automatically detect a lens profile used for the source images, which will help correct any lens distortion. Also, you can select an automatic crop option – this is really handy and removes some initial steps you typically need to take.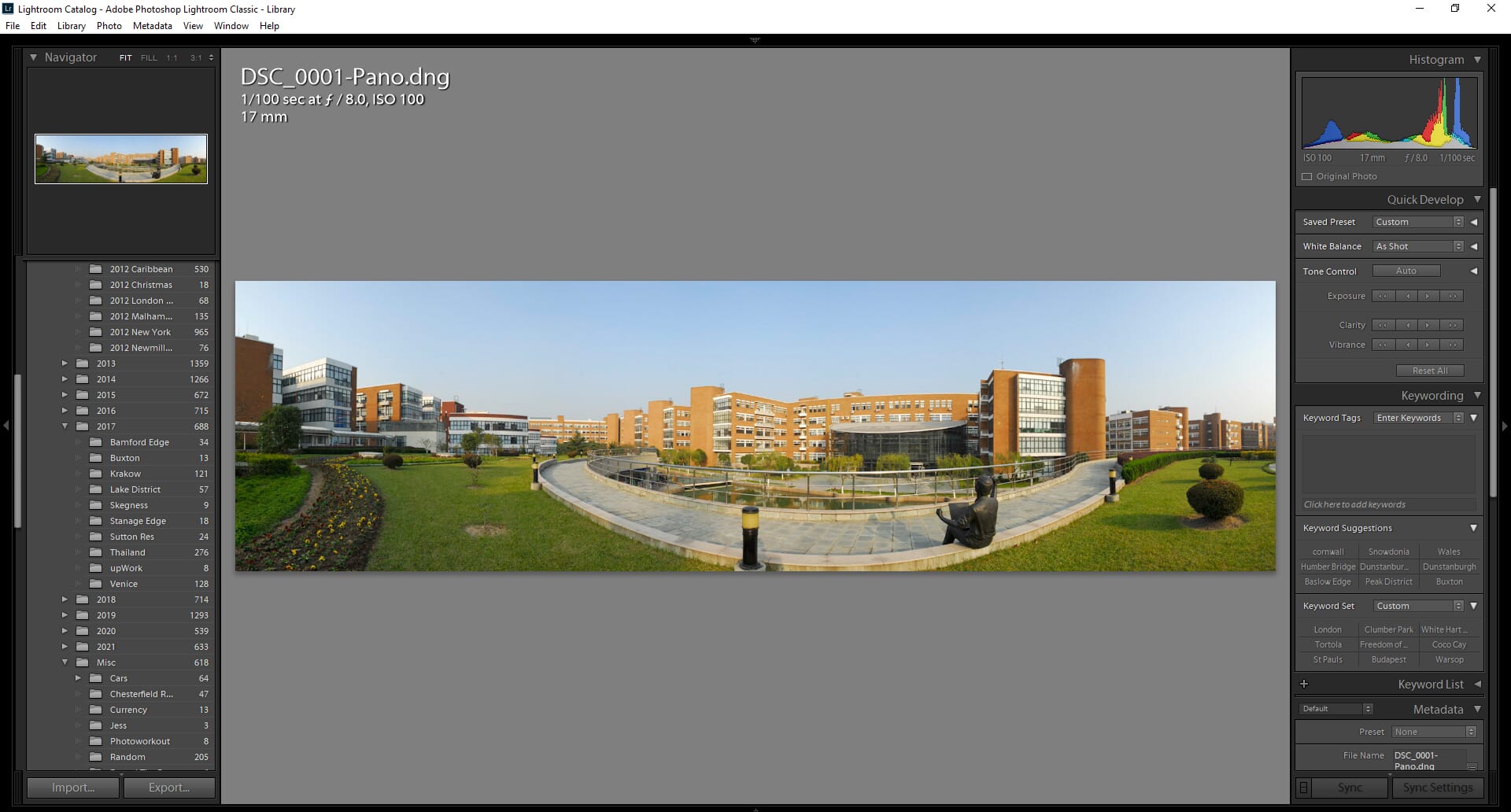 Like Photoshop, Lightroom Classic doesn't offer any advanced features or panorama settings. You can simply change the panorama projection to Spherical, Cylindrical, or Perspective.
However, despite this lack of advanced control, the stitching engine is fantastic, and the results are high quality. From the samples we tested, the stitching was seamless. Also, having the photo pre-loaded in Lightroom is incredibly convenient.
5. PhotoStitcher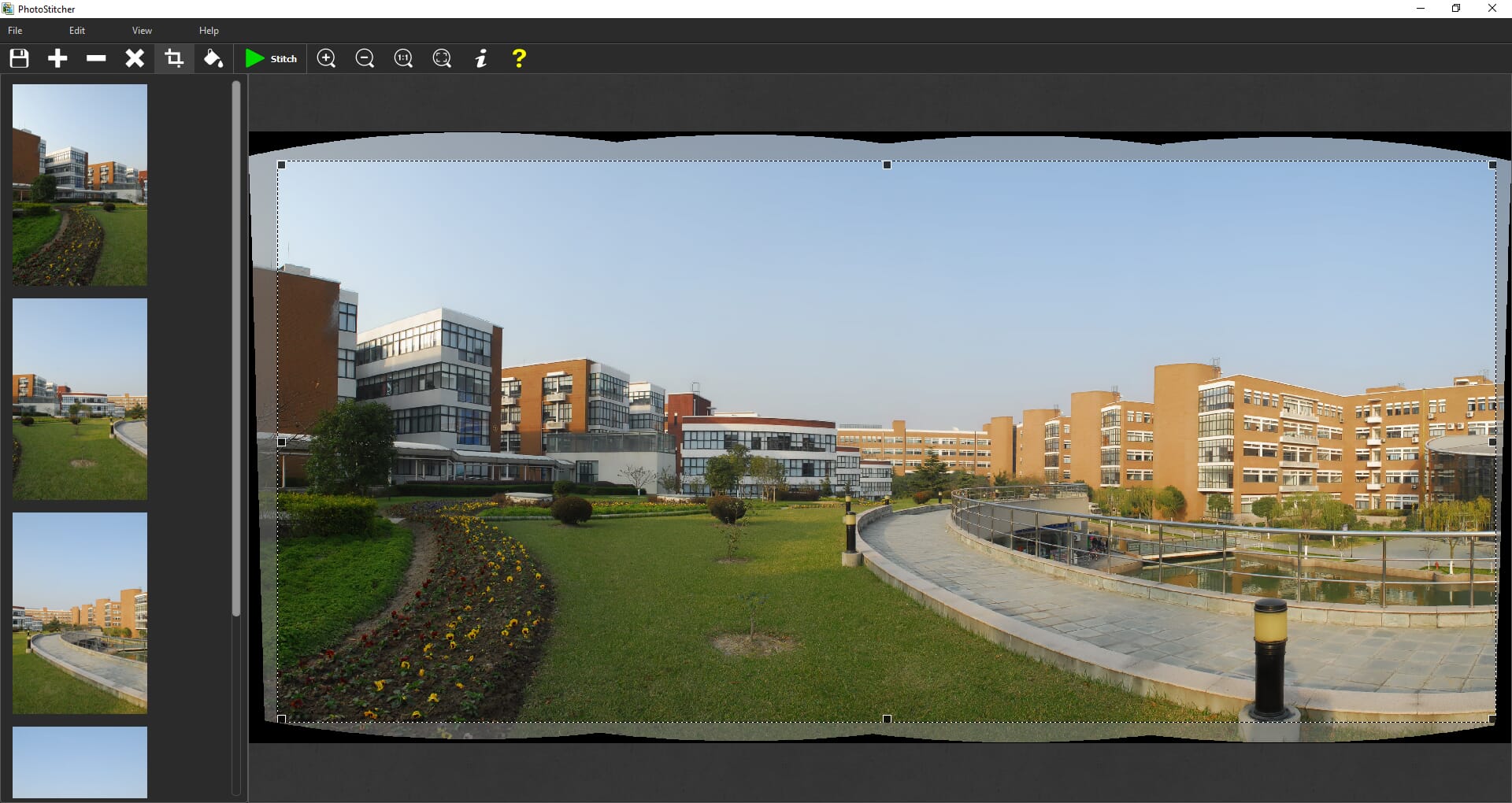 Great for beginner use
PhotoStitcher is one of the best options for those with no prior editing or panorama experience due to it's extremely simple interface and process.
Pros
Minimalistic interface
Simple panorama stitching process
Great end results
Cons
Not suitable for professional use
PhotoStitcher is one of the best panorama stitching programs for beginners, due to its affordable one-off purchase price of $19.99 and its user-friendly interface. It is available for both Windows and Mac users, and if you have minimal or no experience using panorama software, this is a great place to start.
The menu bar and toolbars are simple: simply use the plus button to add new source images for stitching, then press the Play button. A small dialog box will open, letting you can change the panorama mode, the image quality, and the projection. The software will then stitch the images and display the completed panorama.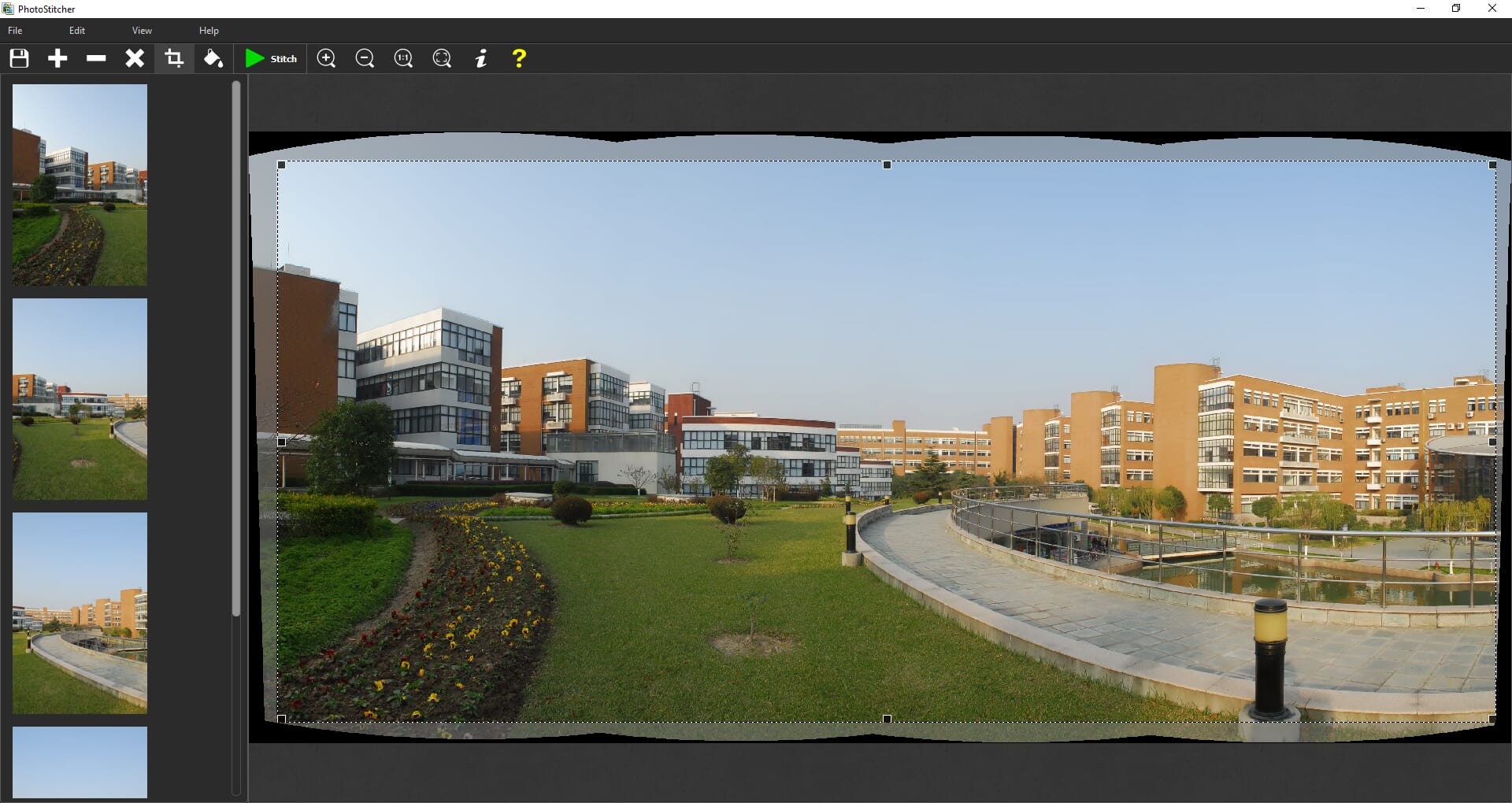 Unfortunately, there are no advanced controls, so professionals may not find this software useful. You can, however, crop the final panorama. Please note that when using the free trial, you cannot save your panoramas – this is only available in the full version.
6. Panoweaver 10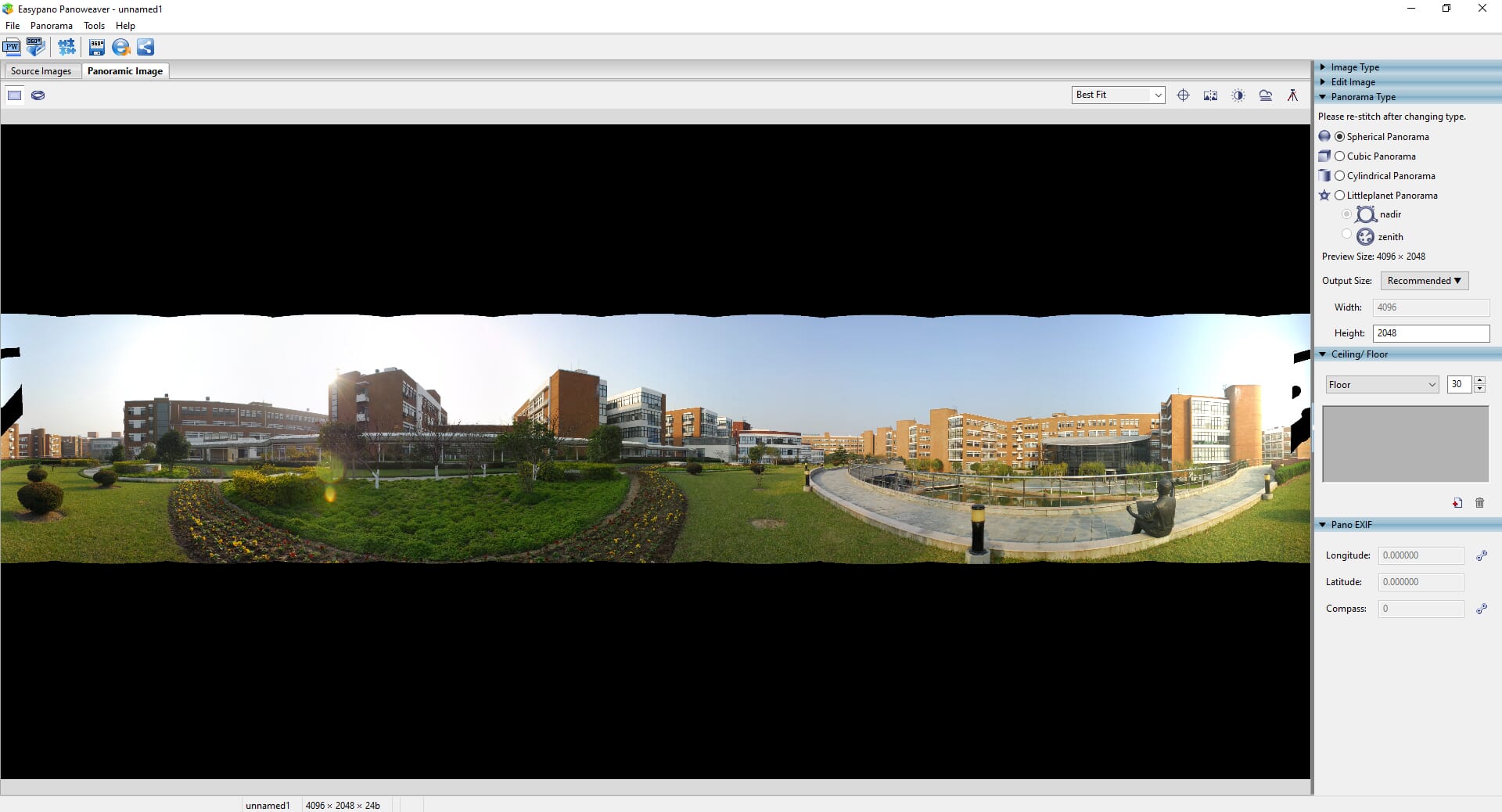 Great for simple panoramas
Panoweaver 10 may look dated, but it has a simple stitching process with excellent end results.
Pros
Easy to use
Fast and accurate stitching process
Can add masks to exclude areas from the stitching
Cons
No option to crop the final panorama
Panoweaver 10 is another dedicated panorama stitching program available for both Windows and macOS devices, and there is both a standard edition and pro edition available.
The software is highly advanced and does offer great control. For example, you can select the panorama type, edit individual images, and set masks over areas of the image you want to be excluded from the stitching process.

The software itself does look a little dated and the interface would benefit from modernizing. However, it has a minimalistic set of tools that anyone can understand. There are two tabs: Source Images and Panorama. In the first tab, you load the different source images and edit if necessary.
To proceed, it's a simple matter of pressing the Stitch button. The process is relatively quick, but it depends on the volume of data in the source images. Once the stitching process is complete, you can preview the panorama and edit basic settings like contrast and the stitching seams.
This is a simple and effective program, but one of the minor downsides is that you cannot crop the final image. You must export it into post-processing software for cropping, further editing, and refinement.
7. Autostitch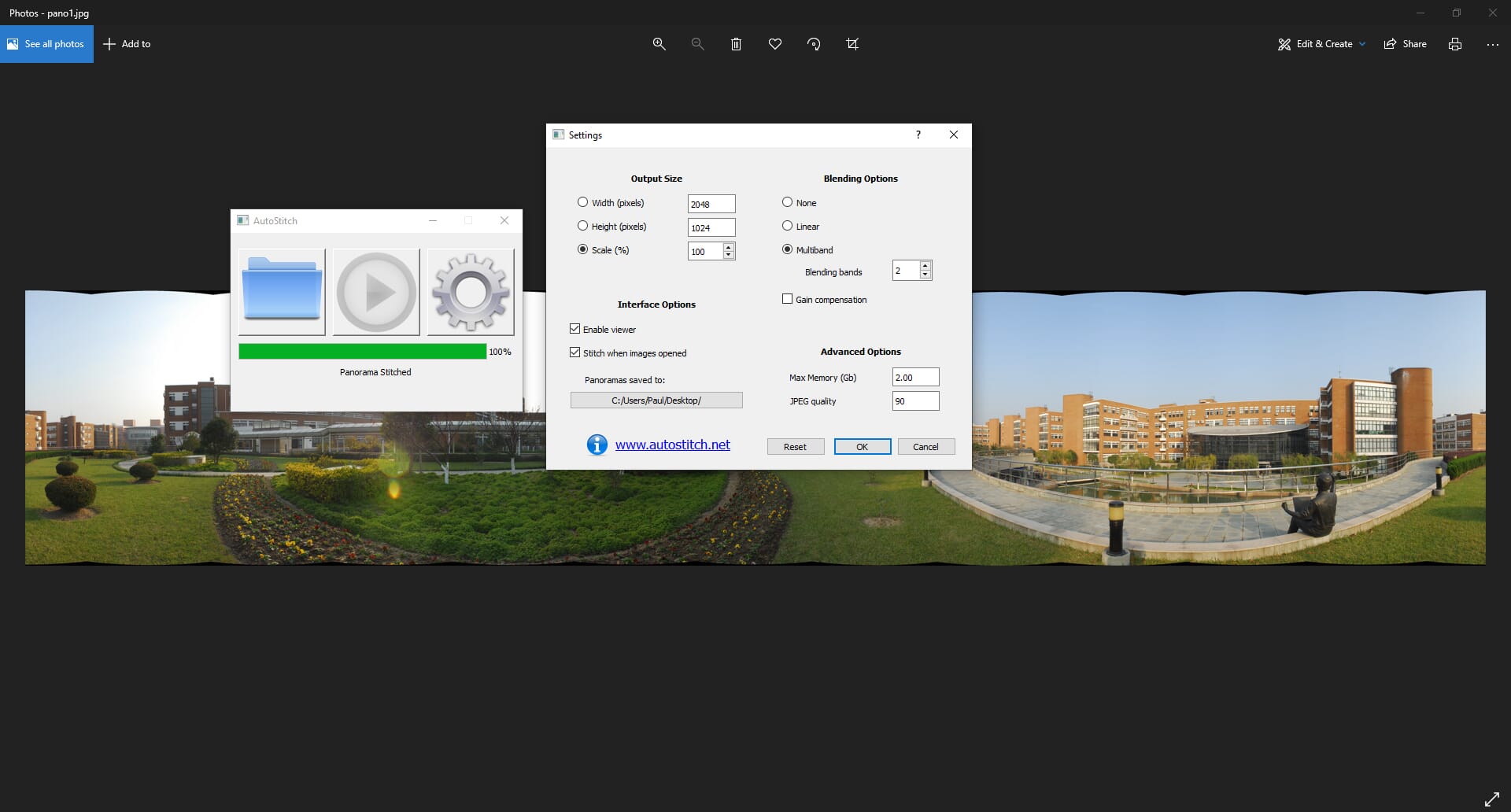 Great for beginners
Autostitch offers one of the simplest stitching tools available for beginners.
Pros
Incredibly easy to use
Requires minimum system resources
The stitching process is high quality
Cons
No advanced utility or control
Autostitch has to be one of the simplest panorama stitching programs available. It is free to download and is available for macOS, Linux, and Windows devices. The underlying code and software are also part of other programs, including Autopano Pro and Serif PanoramaPlus. However, it works perfectly fine as a standalone program.
If you want simplicity and a no-fuss approach to creating panoramas, this is a great option. The program is essentially a small dialog box that has three options: Browse, Stitch, and Settings. That's it!
The settings are minimal, and this program does not have the advanced controls of software like PTGui. However, for beginner photographers who simply want to create easy panoramas, the simplicity of the settings will be welcome.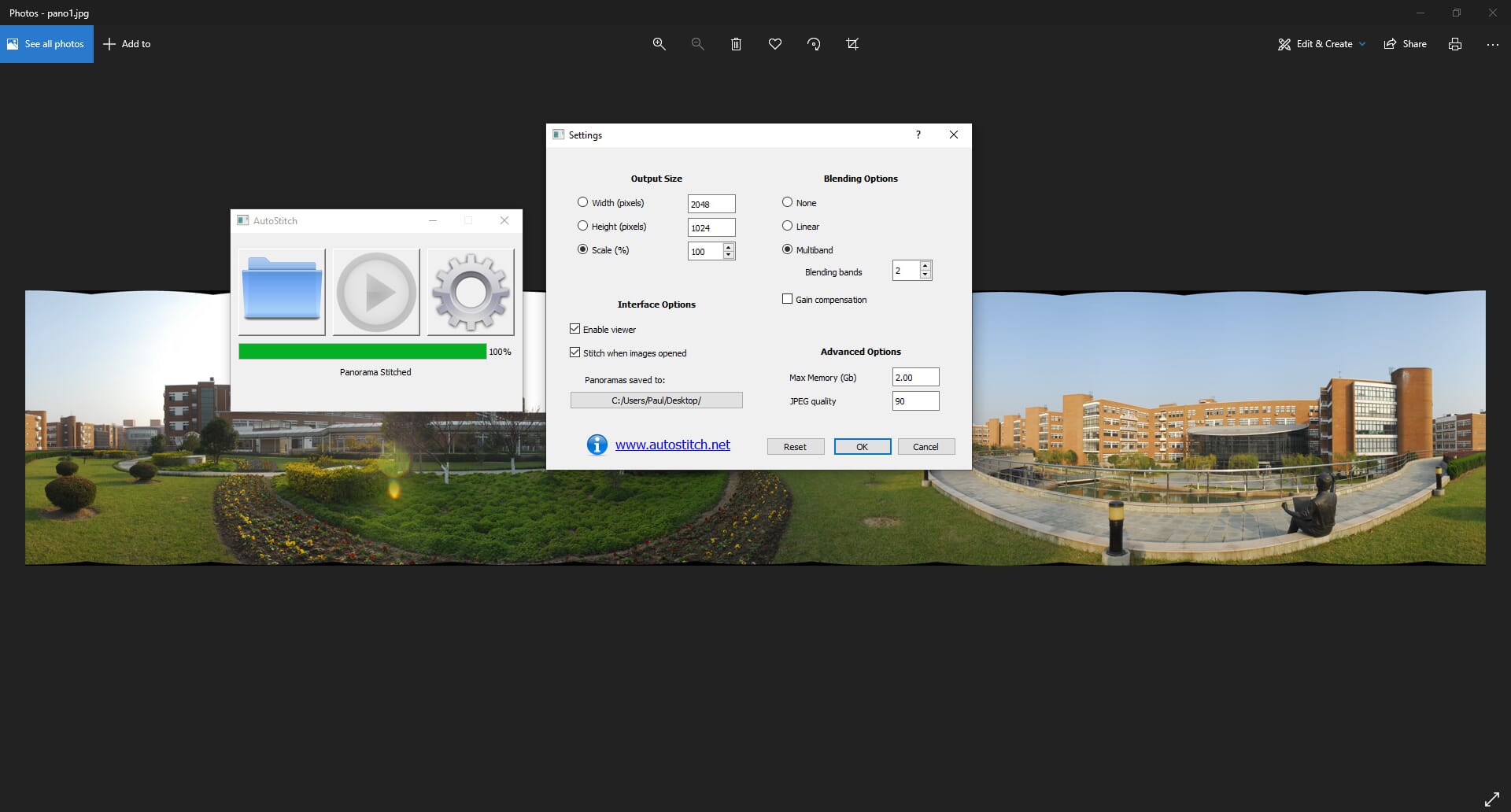 By default, Autostitch sets the panorama size to 2048x1024px. However, we recommend selecting the Scale option and setting it to 100%. This essentially creates a panorama stitch without resizing the source images. The stitching process is fast, and the end results are also accurate. The software was able to create a seamless panorama from the source images we used.
Which Panorama Stitching Software Is Right for You?
There is a wide range of software available that makes creating panoramas easy. So which is the best panorama stitching software for you? This depends on several factors, including how often you take panoramic shots, the level of quality you require, and the level of control you need.
Professional photographers who require maximum control will prefer advanced software like PTGui or Hugin. Alternatively, those who mainly want photo editing software with added panorama stitching features will benefit from programs like Adobe Photoshop and Adobe Lightroom Classic.
Finally, if you have minimum technical knowledge but still want to create spectacular panoramas, simple software like Autostitch or Photostitcher is a great choice.
---
Disclosure/Disclaimer: As an Amazon Associate, we earn from qualifying purchases. Certain content was provided "as is" from Amazon and is subject to change or removal at any time.