Printing your photos yields massive rewards. Seeing your photos in print can really make the shooting worth it for some people. It's also a way to make a profit from your photos through print sales.
Whatever your reason for printing, you're going to want the absolute best to truly bring out what you captured through the lens.
With the best fine art paper for photography, you will have an opportunity to create some really stunning prints. Read on to discover our list of the best fine art paper for photography, from absolute luxurious cottons to bold and poppy metallic.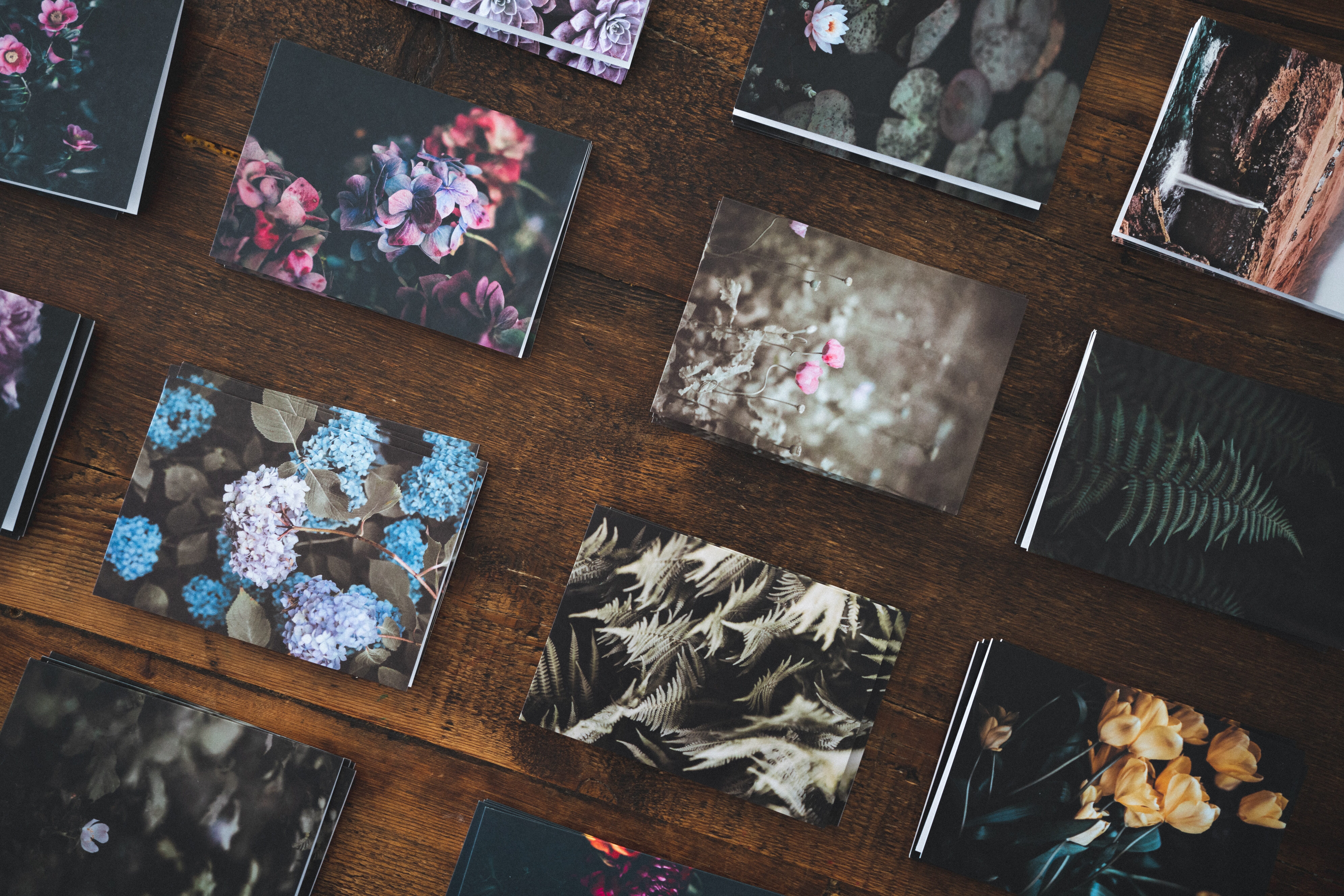 Best Fine Art Paper for Photography:
When you buy through links on our site, we may earn a commission at no cost to you. We evaluate products independently. Commissions do not affect our evaluations.
A Forward Note: What to Consider with Fine Art Paper for Photography
Before we get into our list, there are some facts about fine art paper you should know. Believe it or not, picking the correct printing paper can be as important as a traditional artist picking the right canvas to paint on. There are so many details in paper selections that can make a big difference as to how your photographs appear, but fear not, we have a nifty breakdown for you here!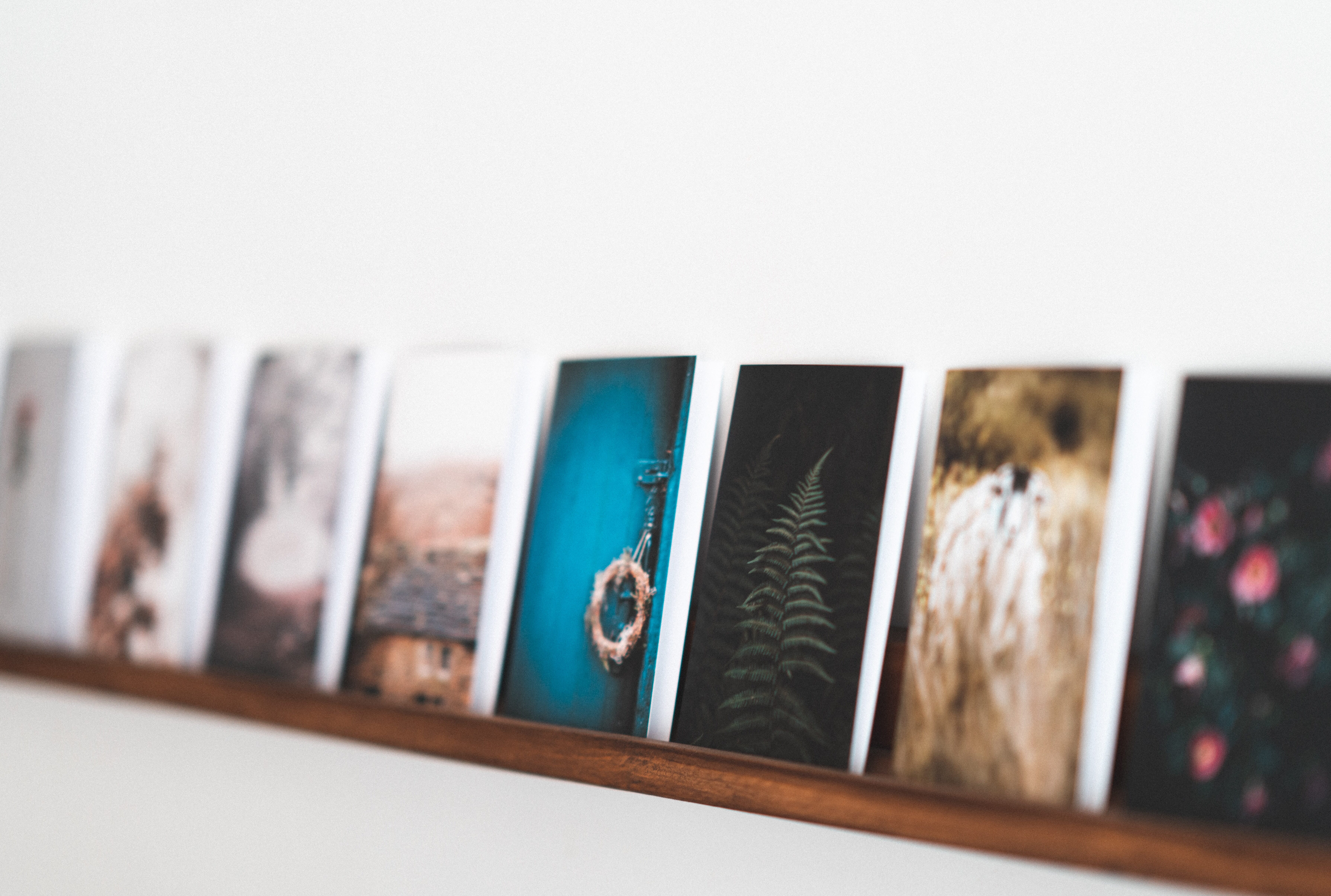 Paper Type
Firstly, you need to be familiar with the types of paper. The most common you'll find (and encompassing those on our list) are matte, glossy, cotton, satin, and metallic.
Matte and glossy paper are the top two paper types used, and they are opposites of one another. The difference between the two is how shiny they are – glossy has a coating applied that creates a very shiny sheen while matte is generally 'uncoated', in comparison, and is not very shiny. Which one you choose depends on the print look and feel you want to create. For moodier work, matte is wonderful. For something more vibrant and poppy, glossy is a great choice.
Cotton paper is made of 100% pure cotton, lined with cotton linters or used cloth rags. This paper type is very durable and has a beautifully textured feel to it, creating a strong and long-lasting print. The texture does come out in these prints, but it's so beautiful and the real embodiment of a fine art print. This is an excellent choice for color photography.
Satin paper is a glossy type of paper that differentiates itself from general glossy paper by its unique finish and detailed adjustments of glossiness. Satin is also special for having gloss only in printed areas and no gloss in the unprinted areas.
Metallic paper (a personal favorite of mine) is a paper that has a pearlescent effect to it. Absolutely excellent for black and white photography or monochrome work, metallic paper seems to almost add a three-dimensional effect to your prints! Metallic prints also tend to have a very slight warm tone to them, so that is something to be mindful of.
Paper Weight
Second, the paper you purchase for fine art printing comes in different weights. Generally, photographers prefer a thicker (or heavier) weight because it makes the print feel more substantial in your hand and tends to be more rigid. With fine art printing, the feel of the print when held is actually an important factor!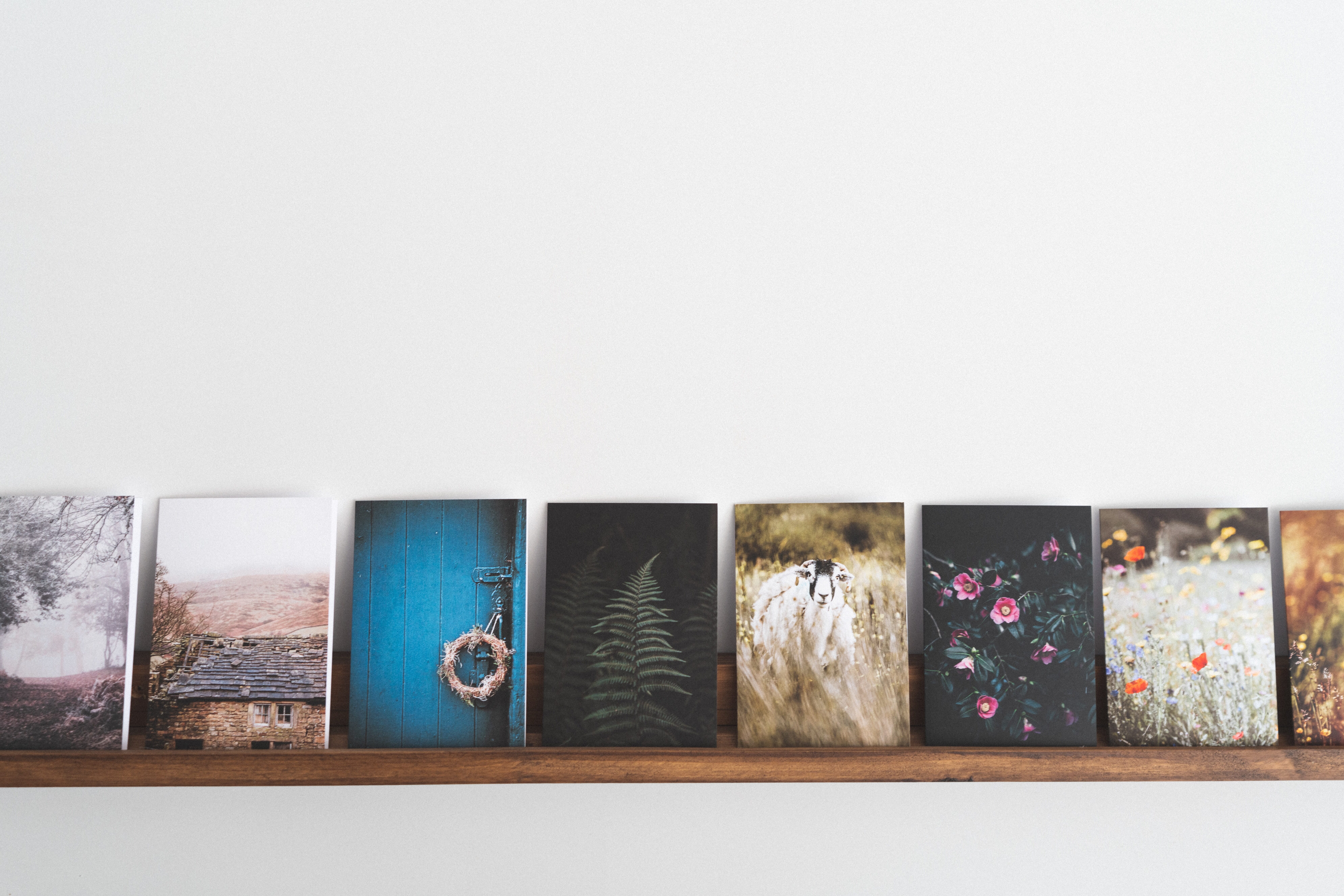 Paper weight is measured in grams per square meter, or GSM. For reference, the standard printer paper is 60-100gsm, but fine art papers range from 170 – 400gsm. Ideally, you want paper that sits in the 210 – 400gsm, with 400 being the thickest and heaviest.
Whiteness of Paper
Finally, how white the paper is, would be your final important consideration. Fine art paper for photography comes in different white levels. The color of the white in your paper impacts the color of your print(s). As you can imagine, off-white will have a different impact on your colors than a true white.
If the paper states that its white is "lower" or "natural", the tone will be more yellow.
Paper that is referred to as "higher" or "bright" will have more of a true white to bluish-white tone.
The Best Fine Art Paper for Photography
1. Moab Somerset Photo Enhanced Radiant White Matte Velvet Inkjet Paper
A great option for those that enjoy a velvet texture
Crisp, bold, and delightfully textures, this paper is great for many types of prints.
Pros
Great soft feel and texture
True white for bold colors
Made of 100% cotton
For photographers seeking a velvety finish, this No products found. paper would be right up your alley! Rightfully named for its gorgeous result, the Moab Somerset Photo Enhanced Radiant White Matte Velvet Inkjet Paper is a mouthful worth saying.
With a texture that is soft and pleasing to the touch, this Somerset paper is a bright white, helping colors come out crisp and saturated. Made of 100% cotton, this paper also helps maximize the ink – allowing it to go much further.
Additionally, digital profiling for this paper isn't too difficult. In order to ensure your colors are proper, you'd need to set up a color profile for each paper. With this one being brilliantly white, the color profile is easier to achieve.
2. Epson Exhibition Fine Art Fiber Glossy Inkjet Paper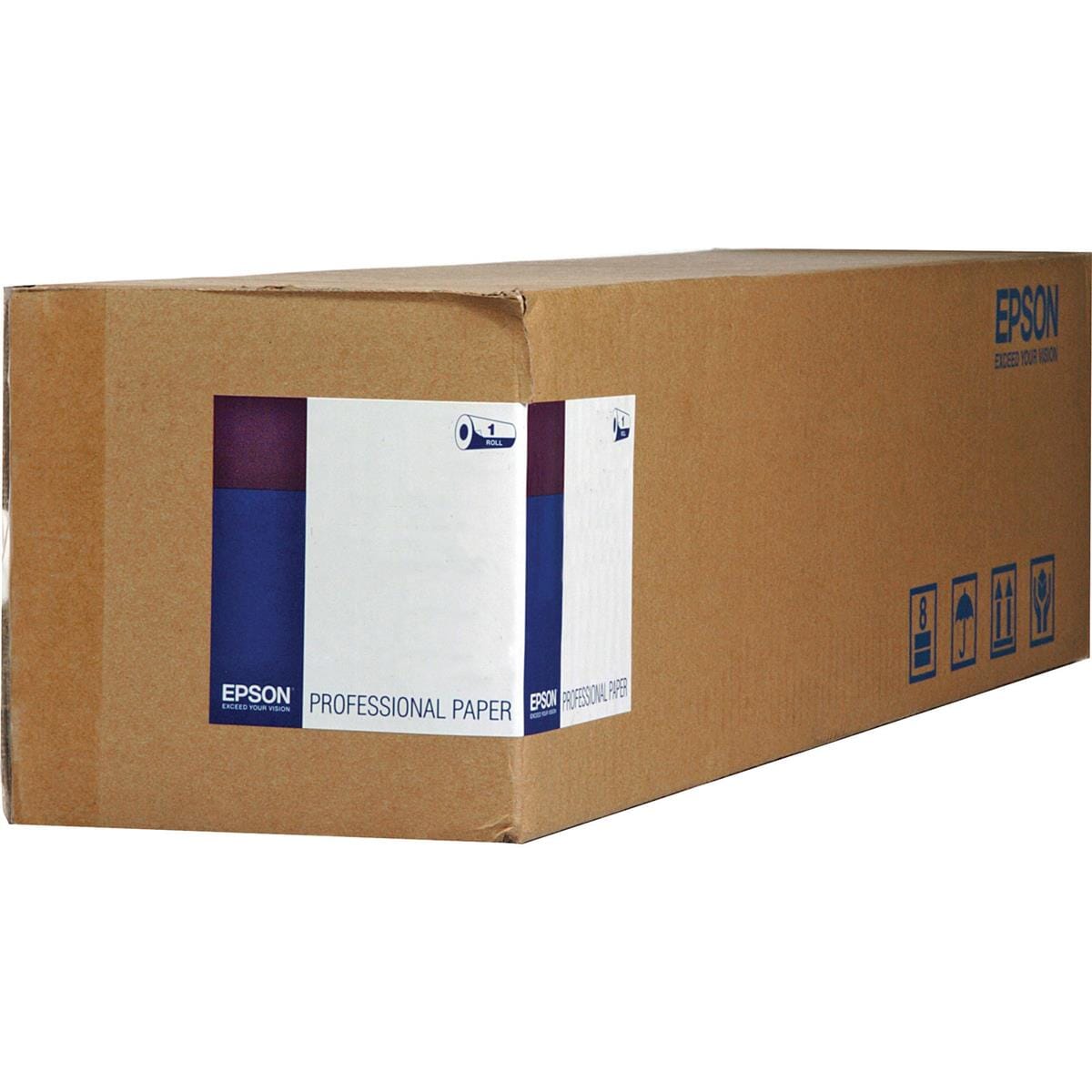 For darkroom print lovers, this one is for you
Aiming to mimic silver prints, this paper from printer brand Epson is a gorgeous option for digital photographers.
Pros
Similar in appearance to silver prints
Created with feedback from professional photographers
Great black and white tones
Epson is a brand well-known for its printers, although the default assumption might be your average run-of-the-mill office printer. However, Epson heavily dabbles in the world of art and enjoys making paper for the fine artists in us. The Epson Exhibition Fine Art Fiber Glossy Inkjet Paper is a great glossy option, with a brilliant shine and reflection that demands attention.
Intended to replace traditional silver prints, the Epson Exhibition Fine Art Fiber Glossy Inkjet Paper has a very similar appearance when finished. Excellent for black and whites, it is worth noting that the tonal transitions are truly eye-catching. Epson touts that the reason for this was a close collaboration with various fine art professionals, all of which gave their input that Epson then transformed into this product.
3. Ilford GALERIE Prestige Cotton Artist Textured Inkjet Photo Paper
Also Great
A beautiful watercolor finish
This paper is intended to make your photographs look like beautiful paintings, great for abstract photographers.
Pros
Beautiful watercolor texture
Hand made in a traditional paper mill
No optical brighteners
Cons
Goes in and out of stock frequently
With a name like Galerie, you can immediately expect this paper to be museum, gallery, or archival grade. The texture of this paper is quite unique, it is cotton paper, but there is an added texture, adding a very painterly quality to your prints. If anything, it's actually intended to mimic more of a watercolor look! This is excellent for abstract images or those with much texture and color, as the result is akin to a painting.
There are no optical brighteners to this paper, so it definitely ranks among the more natural look. Another interesting fact is that this paper is actually still produced in a traditional paper mill, adding a very hand-made element to the paper.
4. Hahnemuhle Photo Rag Baryta
Best For Color
The ultimate fine art paper for photographers
This fine art paper from German company Hahnemuhle exceeds many standards, producing gorgeous prints.
Pros
Reasonable price
Great image and color quality all around
Preserves image sharpness
Made in Germany, Hahnemuhle is a known brand in the fine art world – a reputation built on their great archival- and museum-quality papers. The Hahnemuhle Photo Rag Baryta made it on our list for its many fine reviews. Simply put, photographers love it!
Promised to meet the absolute highest of industry standards in its coating, this 100% cotton paper absorbs an extraordinary ink gamut which will make the most colorful photographers very happy.
What's also worth noting, however, is the paper's ability to preserve image sharpness. With the newest lenses on the market generating incredibly tack-sharp and detailed images, it would be a sincere loss to lose this aspect once taken to the printing press. The Hahnemuhle Photo Rag Baryta saves all of your detailed sharpening work!
5. Innova Art Editions Etching Cotton Rag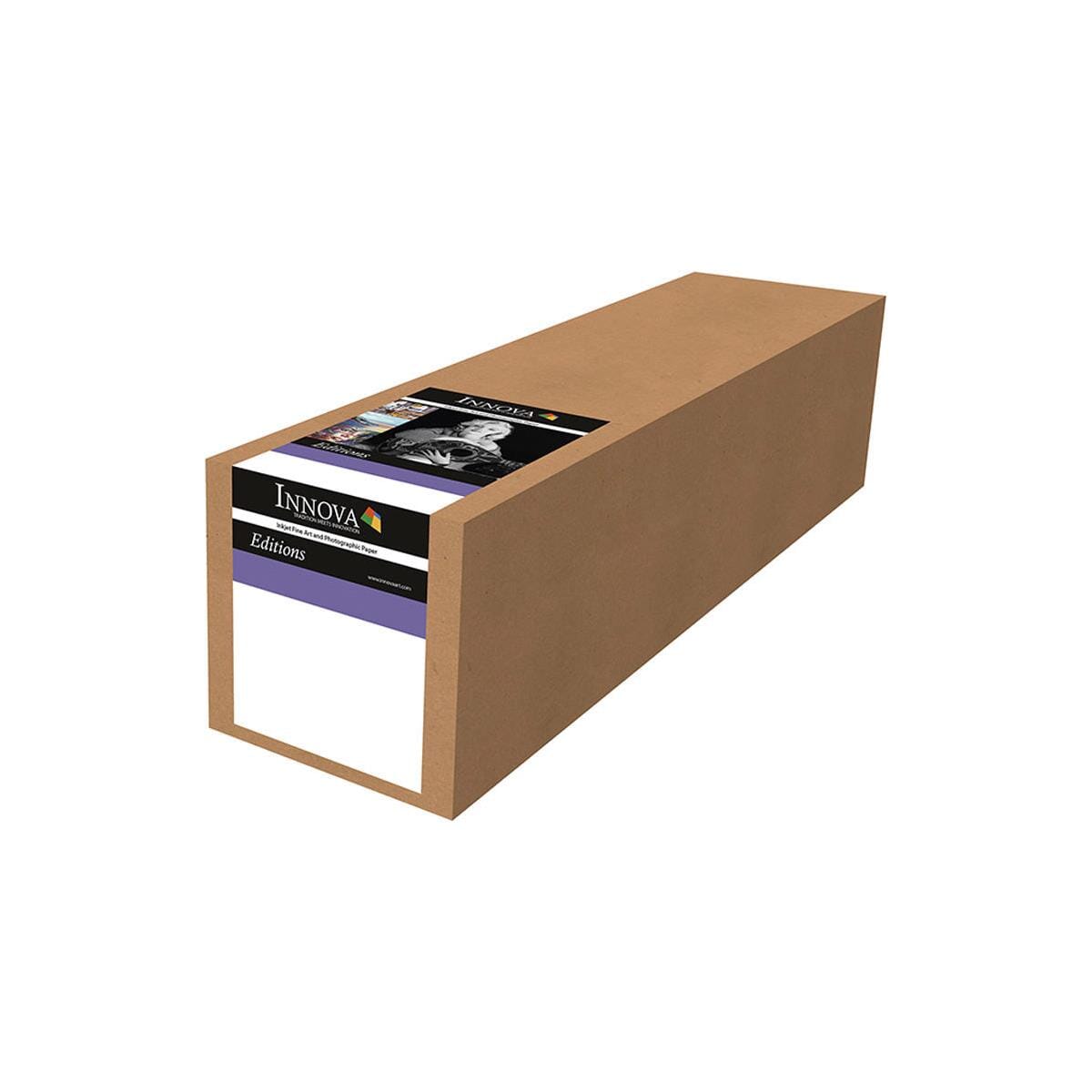 A good non-acidic archival print
A great print for your clients, this is a good option for studio photographers.
Pros
No acid present
Wonderful tones
Cons
Frequently back-ordered
A lesser recognized brand, the Innova Art Editions Etching Cotton Rag is another good paper that deserves its place on our list. A matte paper with no shine to be found, this option is excellent for your moodier or emotional work! With an instant-dry finish, your prints are done as soon as they leave the printer; no patience required. This paper is also considered archival grade and has no acid in it.
The tonal range is glorious, and studio photographers would benefit from this paper greatly. Considered great use for albums, books, and cards, there is a lot that can be done for your clients.
Having found itself on back-order several times, it would be worth purchasing more than one set.
6. Hahnemuhle Fine Art Baryta Satin Photo Paper
Best For Black and White
The exceptional black and white option
Seemingly made specifically for black and white imagery, this paper has gorgeously deep blacks
Pros
Great black tones
Shiny where the ink is, matte where the ink is not
Cons
Needs to be stored in very specific conditions to avoid damage
Another remarkable Hahnemuhle, the Fine Art Baryta Satin Photo Paper is as silky and lux as they come. With a mix of some fancy barium sulfate in the coating paired with a lovely texture, this paper will shine and glow in all the places where the ink touches its fiber. However, it will remain matte where the paper stays untouched, helping your photography really pop.
The special coating helps the blacks of your image be extremely deep when needed, courtesy of something called Dmax. As such, it really is encouraged to use this paper primarily for black and white work, as having good blacks can make a world of a difference.
Related Post: Best Printers for Black and White Photos
However, this paper is quite sensitive in comparison to other papers and has to be stored in specific conditions. This includes storing at relative humidity (something a bit counterintuitive for most photographers, since cameras and lenses need to avoid humidity) with a specific temperature.
7. Moab Slickrock Metallic Pearl Fine Art Inkjet Paper
A wonderful metallic sheen
For those that love their work to really stand out, the three dimensional metallic look is made even more brilliant by this niche paper.
Pros
Incredibly metallic sheen and brilliance
Exceptional highlights and detailed shadows
Cons
Fairly thin for a fine art paper
No fine art paper list is complete without a metallic option! The Moab Slickrock Metallic Pearl Fine Art Inkjet Paper is the best choice for those that enjoy the special shine that metallic gives. This unique three-dimensional look is courtesy of a special blend in the coating itself, almost as if pearls had been hidden in the fibers of the paper! This lends its hand to creating brilliant highlights that really pop all the way to dark shadows that have such a great sheen to them that they aren't entirely devoid of detail.
At 260gsm, this is the thinnest you'd want to go for fine art papers, as thicker would be preferred- but this discrepancy is surely made up for by the print itself!
Which Fine Art Paper Is Right for You?
As to which paper you should go for really depends on what kind of photograph you are printing and what the print's use will be. If you're looking for something more painterly, heavily textured paper would be your best bet. For museum or art collector quality, a paper that is heavier and thicker is the way to go!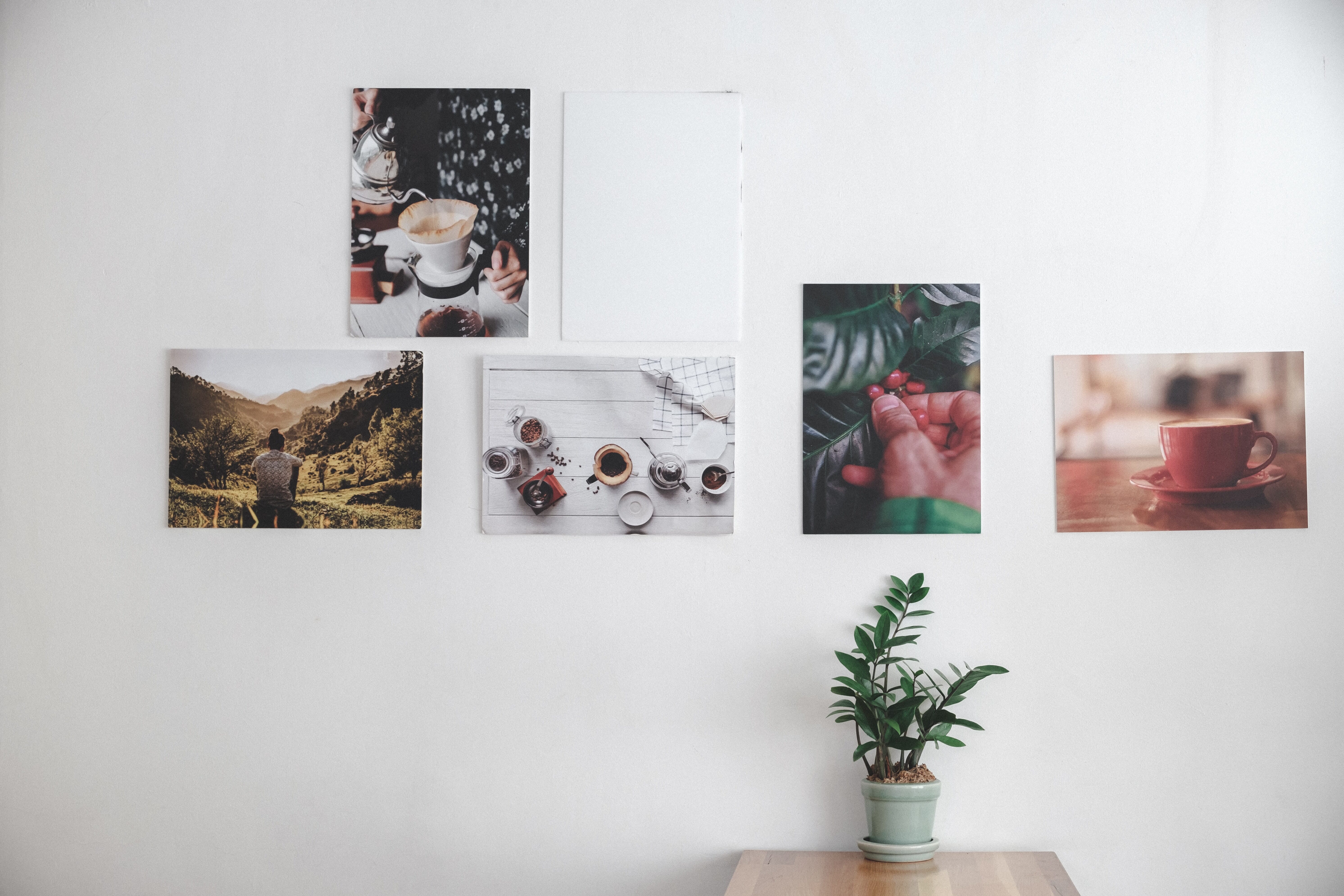 That being said, our overall pick would be the lovely Hahnemuhle Photo Rag Baryta, which does a fine job printing all sorts of photography.
For abstract photographers that want more painterly texture, the Ilford GALERIE Prestige Cotton Artist Textured Inkjet Photo Paper is a great choice.
For the black and white aficionados that want to produce great photo prints, the Hahnemuhle Fine Art Baryta Satin Photo Paper will be your best friend.
---
Disclosure/Disclaimer: As an Amazon Associate, we earn from qualifying purchases. Certain content was provided "as is" from Amazon and is subject to change or removal at any time.