Taking a great passport photo can be incredibly difficult. You have to determine the correct size, pose, and background color, and you generally want to look good in it, too.
But what if there were smartphone apps that could help you create satisfying passport photos? Fortunately, they exist!
We've handpicked 11 of the best passport photo apps to make capturing the perfect picture for your travels as easy as possible, and we share them below.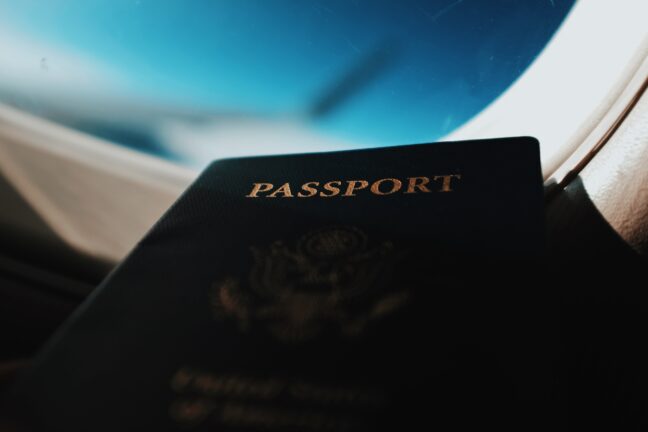 Best Passport Photo Apps:
When you buy through links on our site, we may earn a commission at no cost to you. We evaluate products independently. Commissions do not affect our evaluations.
1. Passport Size Photo Maker
Best for Android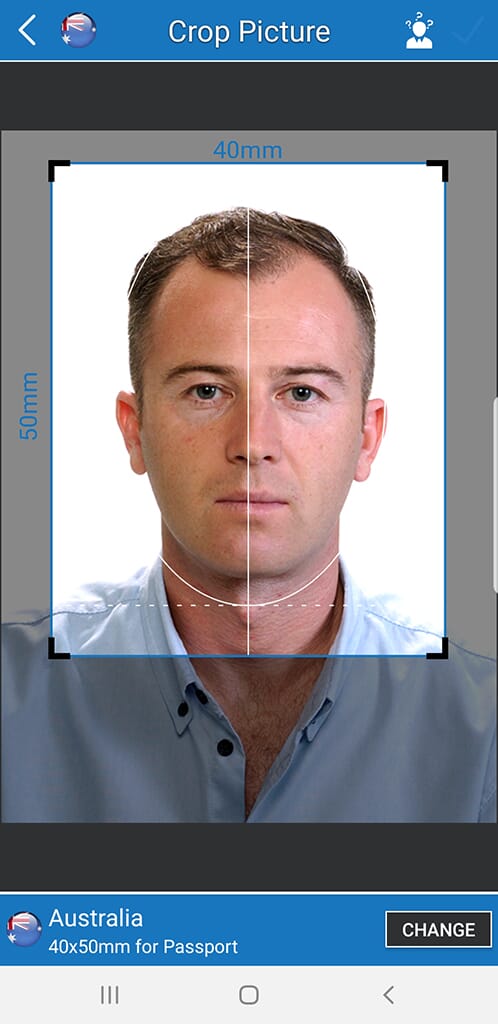 Passport Size Photo Maker
Great for specific countries
This app from Z Mobile Apps has an extensive template database for specific countries, so it'll work great for users across the globe.
Passport Size Photo Maker is available for:
Pros
Lots of templates
Simple step-by-step editing process
Option to print photos
Cons
Ads can be annoying
Z Mobile Apps has created a great passport photo program that also has other functions. Passport Size Photo Maker is available for Android devices via the Google Play Store, though it's not available for iOS users.
Aside from producing passport photos, you can resize images for a variety of social media platforms. Examples include Facebook cover photos, LinkedIn cover photos, and Twitter headers.

We like that the app has a complete list of passport photo templates organized by country. The countries are listed in alphabetical order, plus the database is very comprehensive and includes popular options such as the United States, Australia, and Canada (though you can also choose a custom photo size, too).
Additionally, the app offers steps for editing your photos so they meet exact passport requirements.
2. Passport Photo
Best for iOS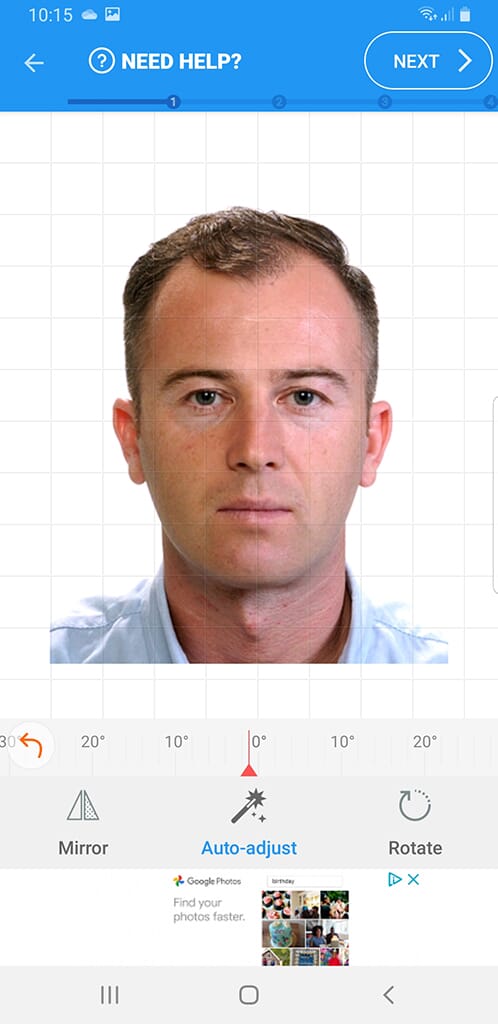 Passport Photo
Great for automatic alignments
The Passport Photo app automatically aligns your face vertically and has a large database of ID sizes.
Passport Photo is available for:
Pros
Simple step-by-step process
Paid version has a background-removal tool
Large database of country specs
Passport Photo from Yarsa Labs is a solid app that has a range of editing options. We like that the app offers a large catalog of predefined sizes, and these aren't limited to passports, either; you can find sizes for anything, including Canadian passports, Indian visas, Croatian driver's licenses, and United States passports.

The app uses a step-by-step process. This starts with image selection and size selection. Next, it automatically rotates and adjusts the image so your face is vertically aligned. After that, you can change the size and crop the photo so that it fits within the desired country's parameters.
The process is relatively easy, although the occasional ad does pop up as you are editing, which is irritating. There is also a premium upgrade available that gives you access to the background-removal tool and removes all ads. This is a great passport photo app for Apple devices, so if you own an iPhone, we highly recommend you try it out.
3. ID Photo Application
Also Great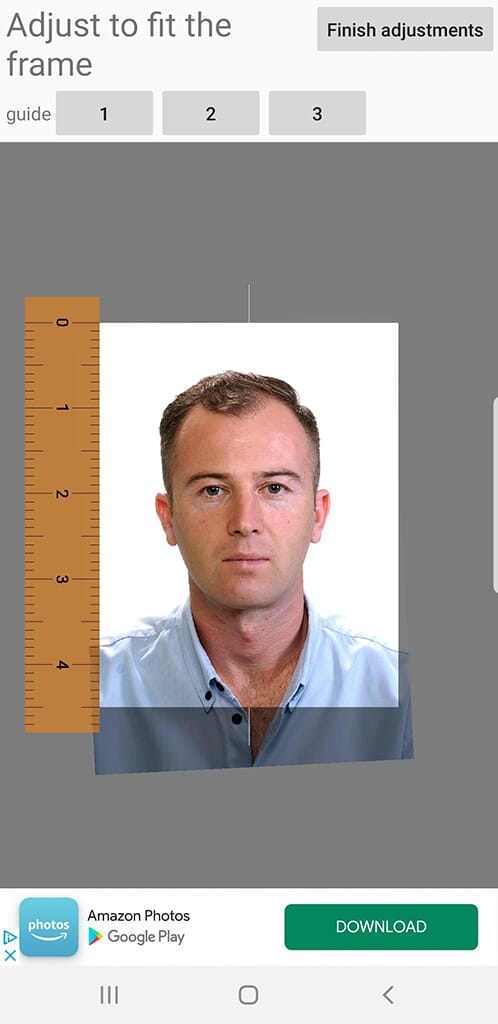 Pros
Easy process
Has a range of predefined sizes
Available for both Android and iOS devices
Cons
Doesn't relate sizes to country-specific requirements
Another great passport app is ID Photo Application from Siranet. This handy app looks relatively basic and isn't polished, but it offers a simple process and allows you to quickly create a suitable passport photo.
You start either by choosing a photo from your smartphone gallery or by taking a new photo. From there, you're presented with a range of sizes. You will need to already know the photo size requirements for your country – the app doesn't offer specific sizes for different nationalities.

Once you've selected a size, you can then crop and transform the photo so that it fits within the parameters. This process is incredibly simple and anyone can easily figure out how to do it. When you're happy with your photo, you can save the file and download it for printing.
4. Passport Photo Maker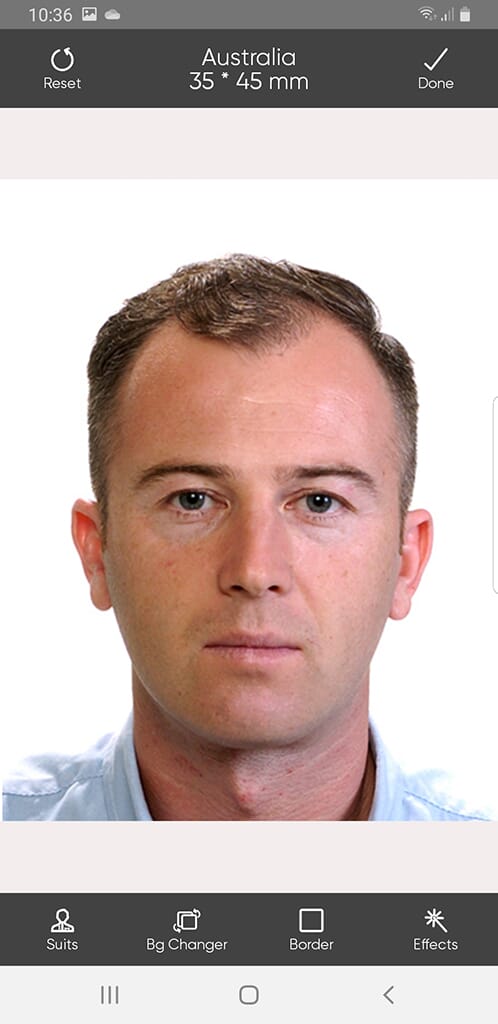 Passport Photo Maker
Great for changing backgrounds
This Appwallet Technologies app allows you to change the background color and even add borders.
Passport Photo Maker is available for:
Pros
Simple to get started
Lots of sizes
Background-changer tool
Cons
Pop-up ads are annoying
The best app for both passport photos and fun editing has to be Passport Photo Maker by Appwallet Technologies. This app is available for download from the Google Play Store and is free to use – though it does have in-app advertisements that include full pop-ups.
If you're looking to have a bit of fun, you can add different suits to your image subjects. This isn't a great idea when you're creating passport photos, but it is a cool tool to play with! Want to see yourself in a bright red suit? You can do it with Passport Photo Maker. It really is a neat little post-processing app!

The passport photo utility is also great. When you begin, you can select an image type, such as "passport," "ID," or "license," as well as the country specs. You can then go through various editing stages, including cropping and rotation. The step-by-step process is easy to grasp, and the end quality of the images is very nice.
5. Passport Photo – ID Photo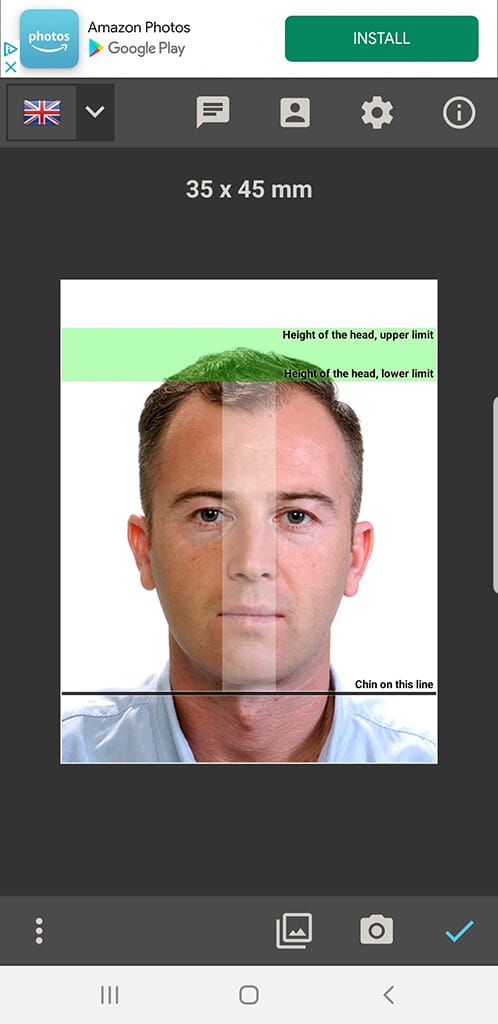 Pros
Wide range of country specs
Simple adjustment process
Has a variety of download options
Cons
Not the simplest process to access color image downloads
If you don't want to go through multiple steps, Passport Photo – ID Photo from Codenia is a great choice. Upon opening the app, you'll immediately be presented with the option to upload or take a photo. And once you're done, you'll see a simple dropdown menu that allows you to choose different countries' passport photo specifications.
You can then see guide markers on the photo that shows where facial elements need to be positioned. You can simply resize and adjust the photo using touch controls until you have a good result.

Once you're satisfied with the photo, you can download it in a variety of formats. For example, there is a single image option; there's also a duplicate option that features four photos spaced next to one another. The only downside is that you have to agree to data collection to get full access to color images.
6. Official Passport Photo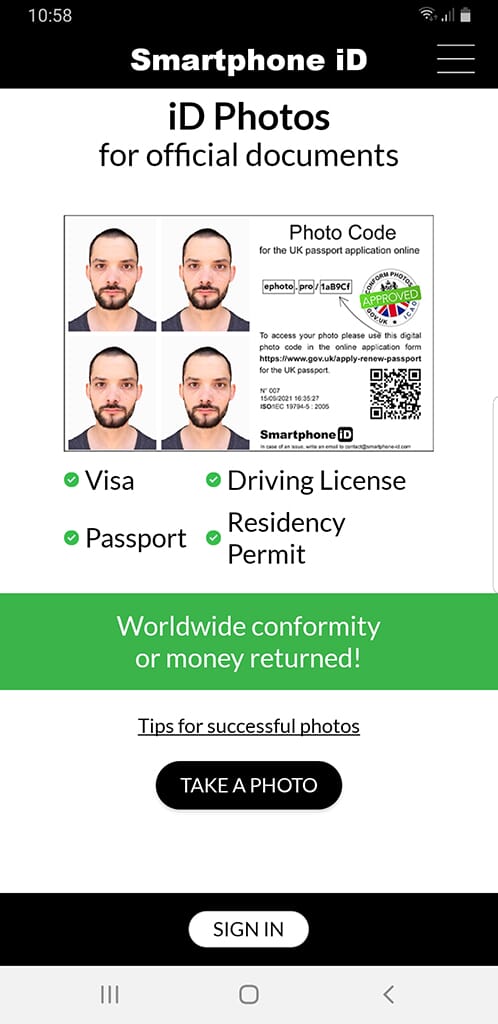 Pros
Check-and-approval process
Ensures your photos are valid
Easy-to-use app
Cons
Only suitable for users in the UK
If you want a handy app that allows your photos to be sent in for verification and approval, Official Passport Photo is a great option. This is aimed at UK users, and you can get approval for various IDs, including visas, passports, driver's licenses, and residency permits.
The app doesn't allow you to upload existing photos; instead, you must always take a new photo. This can be annoying, but it ensures you get things right. You then go through various stages to make sure the photo is perfect.

When photos are taken, you must sign in with an account to have the files sent off for verification and approval. It's a paid service, but it's far more convenient than traveling to a photo booth!
7. Passport Photo Booth US AiD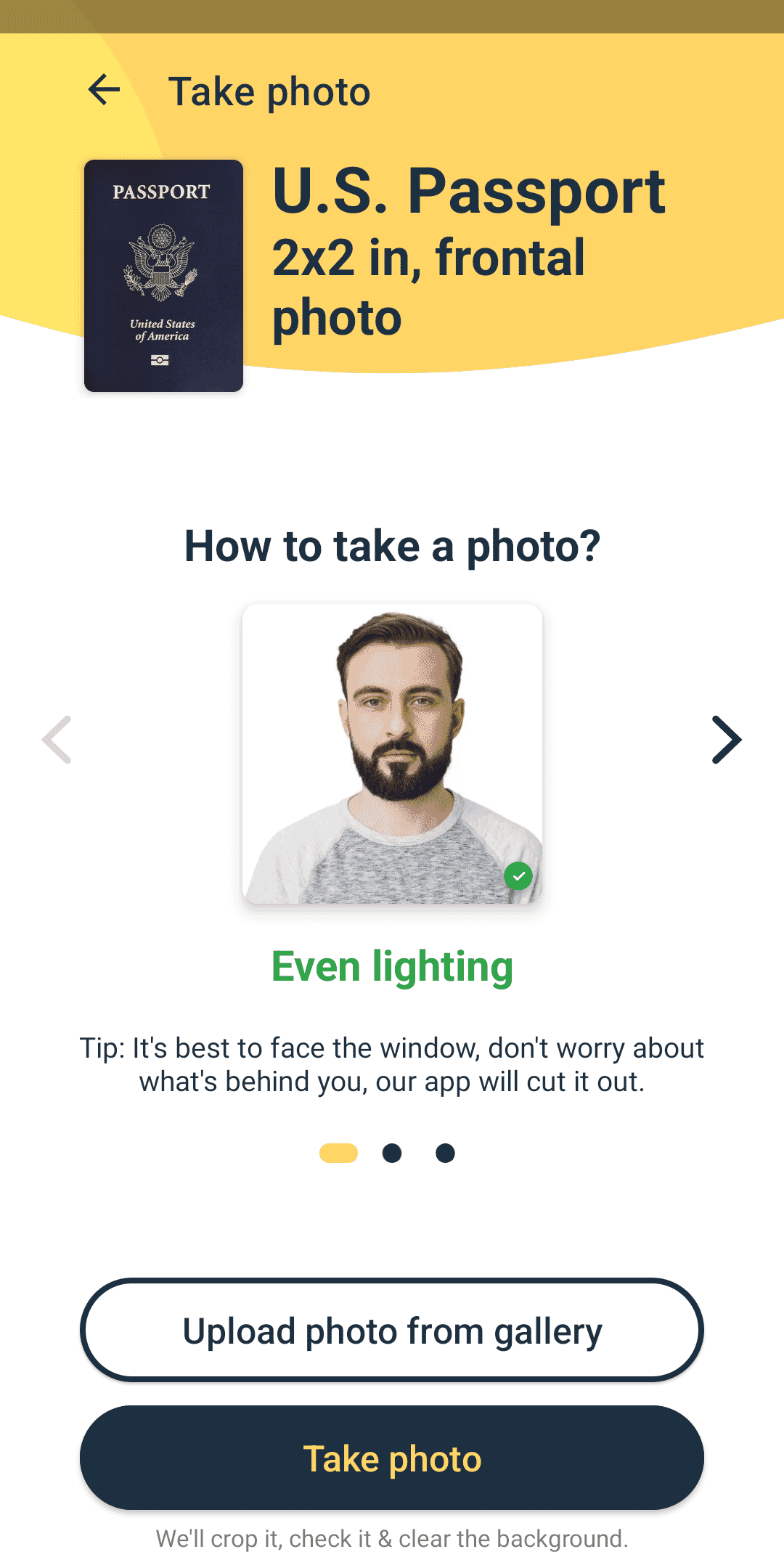 Pros
Great support for US documents
Offers many image sizes
Background-removal tool
Cons
The order process could be a little slow
If you're a US citizen and need to create photos for various IDs, the Passport Photo Booth US AiD app is an excellent choice. The software uses biometric tools and AI enhancements to quickly edit photos for different US documents.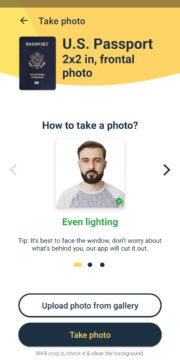 For instance, you can produce images for US passports as well as Green Cards. Additionally, you can select from a range of sizes, such as 2×2 and 4×6. We like the built-in background-removal feature, which ensures that your photos are suitable for official use.
The simplicity of the app is also fantastic. On the home page, you can choose from various popular documents, or you can use the search bar to find a specific type of photo ID. And to create the images, you can either use existing photos from your device or access your smartphone camera and import new photos directly into the app.
8. ID Photo for Passports and IDs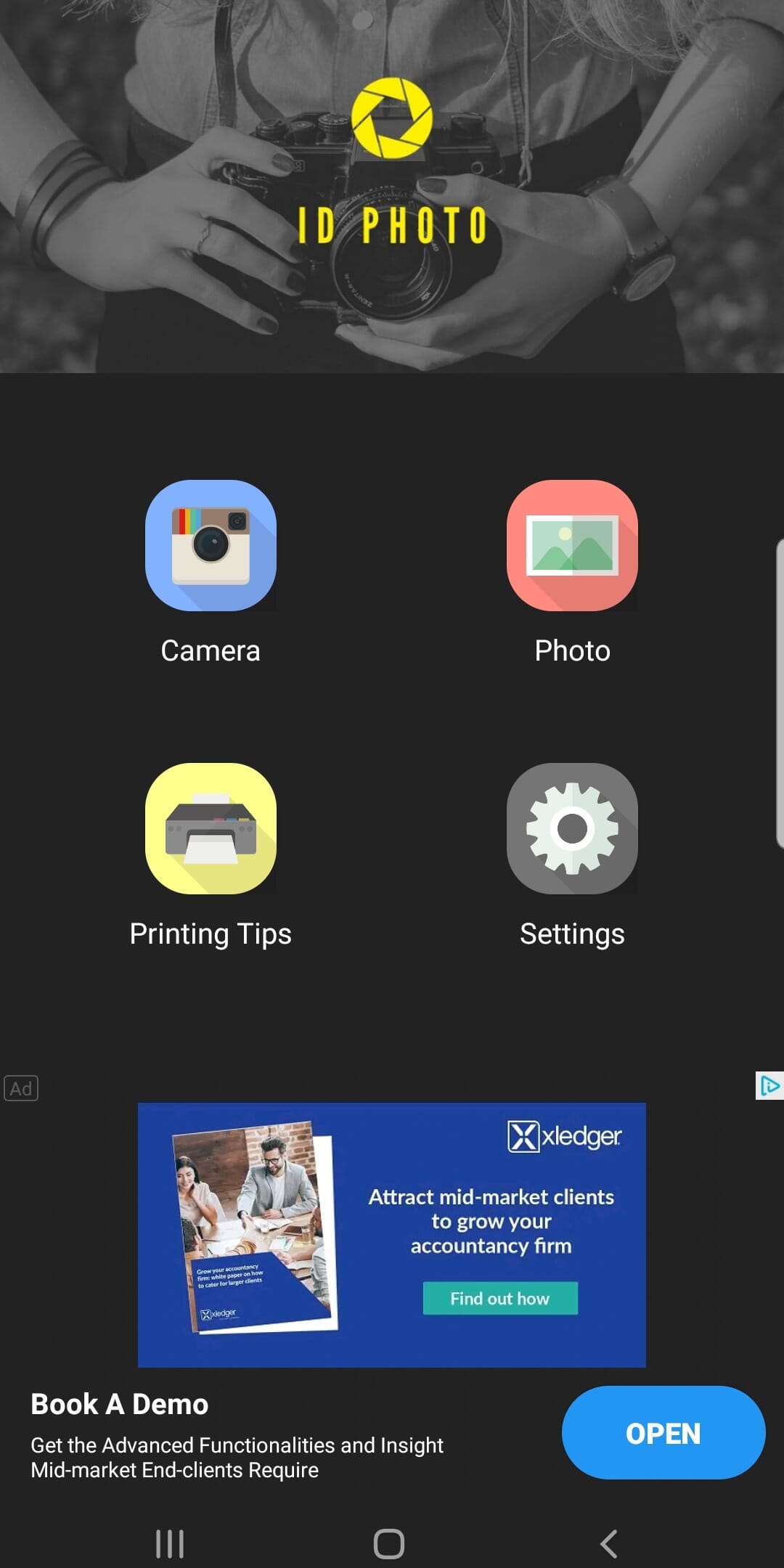 ID Photo for Passports and IDs
Great for home printing
The ID Photo for Passports and IDs app has a straightforward process and allows you to easily customize the portrait shape and background for different documents.
ID Photo for Passports and IDs is available for:
Pros
Great subject-size editor
Built-in background-removal tool
Offers excellent print support
Cons
The ads can be frustrating
The simple step-by-step process and printing support of the ID Photo for Passports and IDs app make it a great pick for those who have a high-quality printer at home. The app is free to download, and it's one of the highest-rated passport photo apps available.
It offers a simple process. First, take a new photo or upload one from your device. A wireframe is then shown so you can resize the photo subject to fit. We like that you can simply scroll through different ID types, including "passport," "resume," and "driver's license."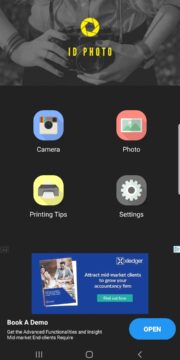 Once you've taken your photo, there are additional editing options; for instance, you can choose a background and change the saturation and contrast. The only downside is that the pop-up and banner ads can be invasive (they sometimes appear when you're trying to capture a photo!).
9. Passport Photo & ID Maker
Passport Photo & ID Maker
Great for iPad users
The Passport Photo & ID Maker app is built for use on iPads and offers a spacious layout that is perfect for those who prefer to work with larger screens.
Passport Photo & ID Maker is available for:
Pros
Works well on iPads
Supports multiple "Save" options
Easy to replace the background
Cons
The premium version may be a little expensive
Passport Photo & ID Maker is one of the few passport photo apps specifically designed for iPads. It features a larger layout and is ideal for those who want to use a bigger screen. It's also free and has some useful features, plus it supports IDs for over 130 different countries.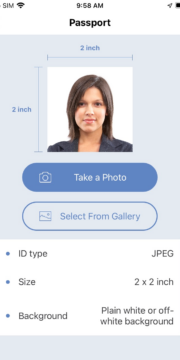 We like the Save tool as it lets you save your images in various formats. For example, you can save files as A4-sized documents with multiple copies of the image in case you need to send off more than one photo. You can also save photos in precise sizes (such as 2×2 passport photos).
There are numerous options, including editing tools for clothing replacements and basic image-quality improvements. We also like that you can easily remove any background and replace it with a plain white backdrop.
10. Biometric Passport Photo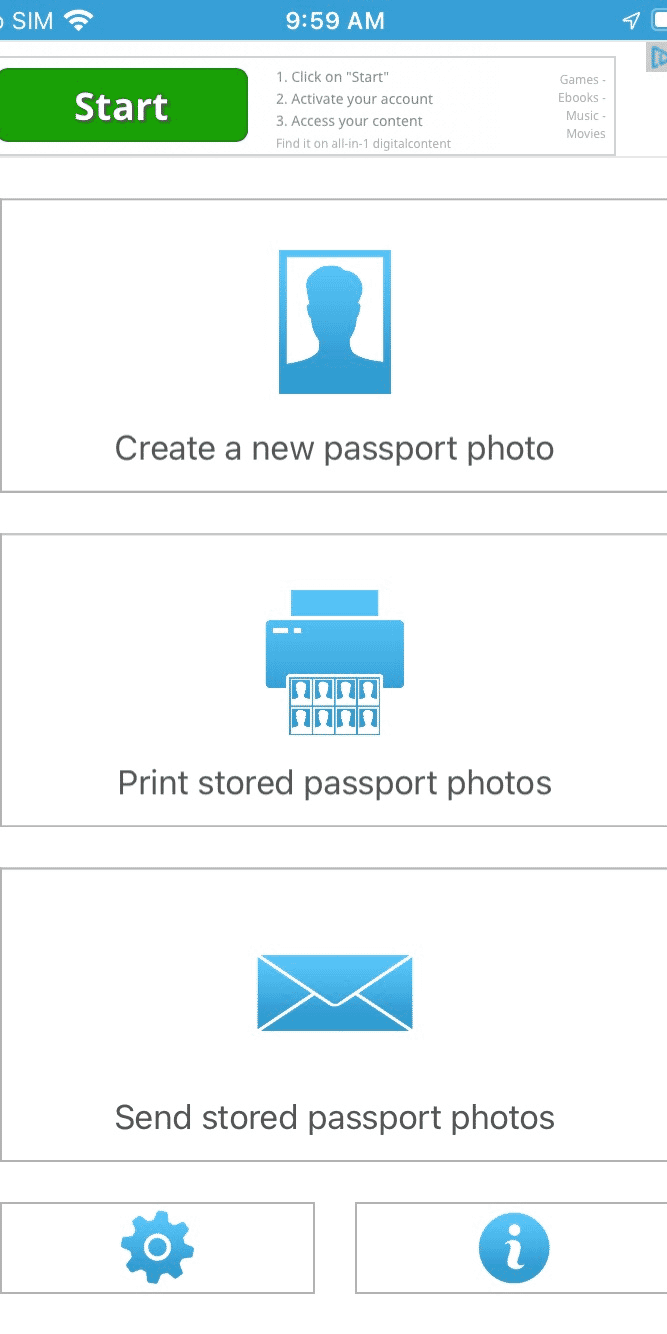 Biometric Passport Photo
Great for sharing ID photos
If you want to quickly send photos to a print company or another device, this app has numerous sharing options.
Biometric Passport Photo is available for:
Pros
Supports 100+ countries for passports
Simple and clean interface
Straightforward editing tools
Cons
Background removal is only available in the premium version
The sharing function and ability to send photos via email make the Biometric Passport Photo app a superb option. It is available for download on both iPhones and iPads, and it has a clean and simple interface.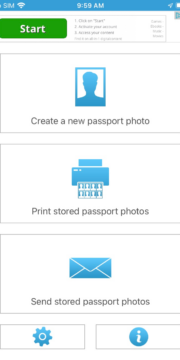 There are many different standard photo formats, including 2×2, 4×6, and 5×7. And the app gives you an extensive list of passport options from various countries, including the USA, Canada, and the UK.
Once you've taken an image or selected one from your gallery, you can access some basic editing tools such as cropping and alignment. However, one thing to consider is that the background-removal tool is only available in the premium version of the app. So unless you want to pay, you'll need to think carefully about the background before taking your images. (Alternatively, you can use a good background-changer app.)
11. Passport Photo Maker – VISA/ID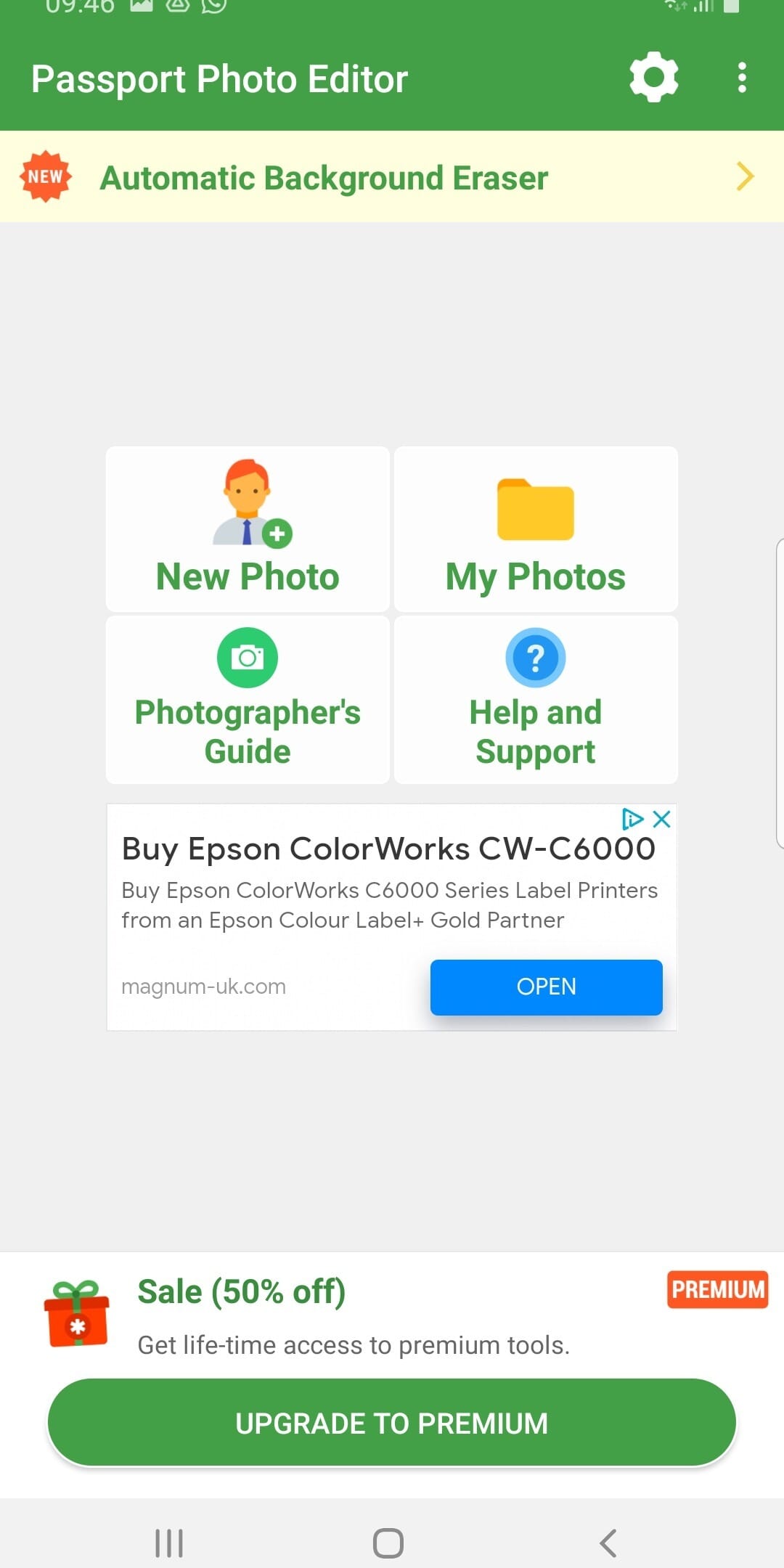 Passport Photo Maker – VISA/ID
Great for inexperienced phone users
Passport Photo Maker – VISA/ID gives tips and examples for those who have limited knowledge of photography and smartphone cameras.
Passport Photo Maker – VISA/ID is available for:
Pros
Superb photography tips
Easy editing process
Hundreds of ID options
Cons
The premium ads can be irritating
If you have minimal photography experience or haven't used your smartphone camera much, Passport Photo Maker – VISA/ID can help. It has a comprehensive photography guide that gives useful tips for taking official photos. Advice covers key items such as avoiding shadows and proper subject-camera distancing, and the app also gives a range of good and bad photo examples.
Passport Photo Maker – VISA/ID is free to download from the Google Play Store, but there is a premium upgrade that has a myriad of additional features. When you get started, you can select from common document sizes, but there's also a search function so you can pick the right document type from hundreds of different photo IDs.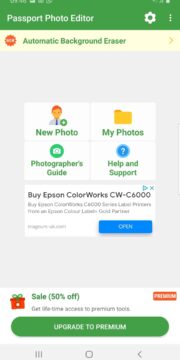 There's a powerful editing tool that lets you adjust the tilt, crop, and size of your photo to make sure it looks perfect. The automatic cropping tool is also great as it crops down the photo to the desired ID size, which reduces the amount of work required on your end.
Apply for Your Passport and Get Traveling!

We hope you found this guide to the best passport photo apps useful. We understand how difficult and time-consuming it can be to get the perfect passport photo. Luckily, any one of these apps can help make the process smoother!
While it's tough to determine the perfect app without knowing your precise needs, if you want an app that is simple to use and has a large choice of country templates, Passport Size Photo Maker and Passport Photo are both excellent picks!