Whether you transfer a photograph to your smartphone or take a shot with the phone camera itself, you may come across instances where the background looks a little distracting or bland. For instance, your subject might be framed by a boring wall, unsightly street signs, or even photobombers! Lucky for you, there are plenty of apps to change the background of a photo on the Android and iOS marketplaces.
Here is our list of the best background changer apps so you can swap that boring wall or distracting street scene for a beautiful forest!
The Best Background-Changer Apps:
When you buy through links on our site, we may earn a commission at no cost to you. We evaluate products independently. Commissions do not affect our evaluations.
1. Automatic Background Changer
Our Pick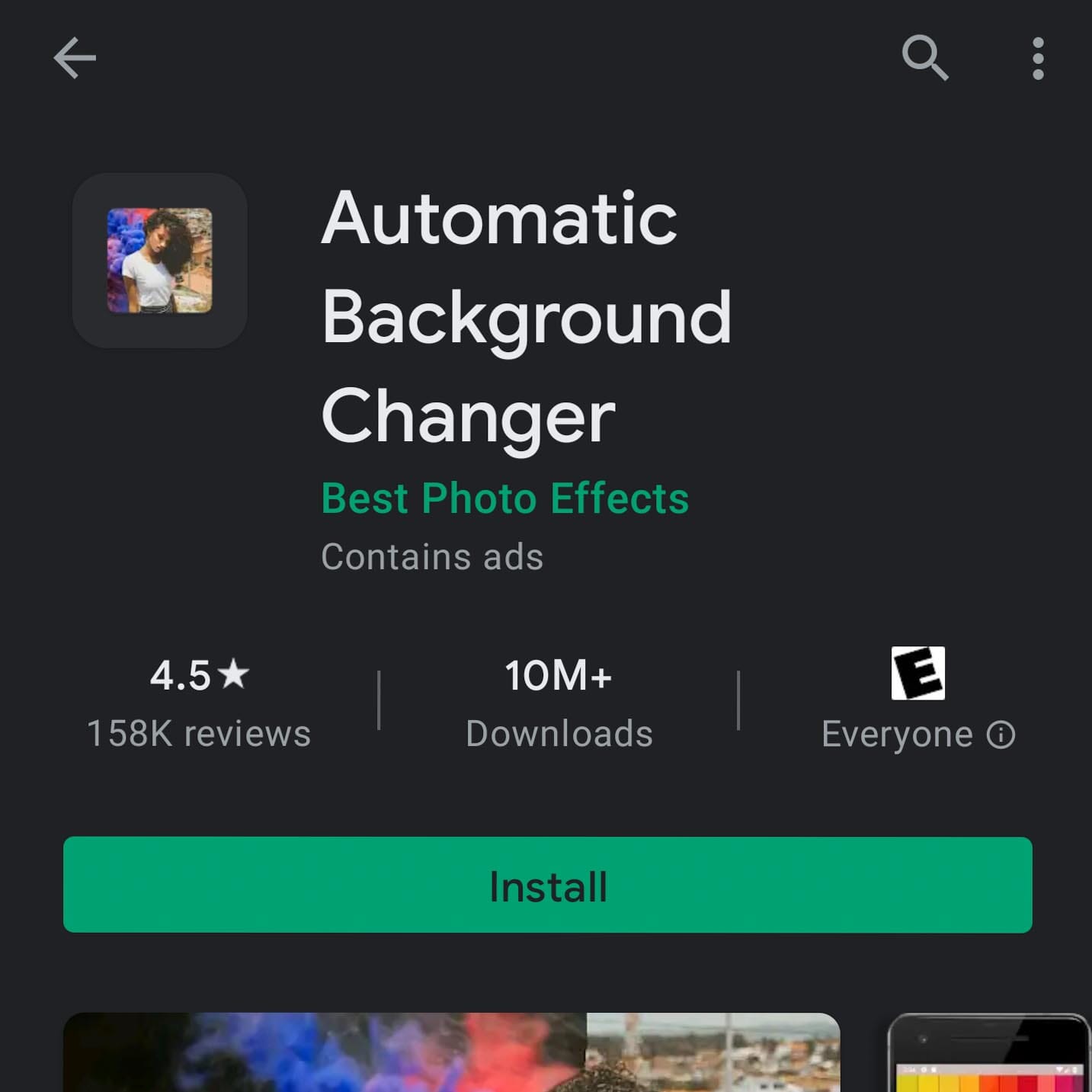 Automatic Background Changer
It works great, and it's also free!
This free app is quite competitive with the paid options out there and offers many different tools.
Automatic Background Changer is available for:
Free version contains ads. Paid version costs $1.49.
Pros
Free
Lots of backgrounds included
Retains original image quality
Cons
Limited subject recognition
A fantastic free option, Automatic Background Changer is a good app to download on the fly! As the name implies, this app has an option to automatically paste your subject on a transparent background; alternatively, you can do so yourself manually by using the pointer tool to make a selection around your subject.
The app has hundreds of built-in backgrounds, so you don't necessarily have to come with a background ready for your shot!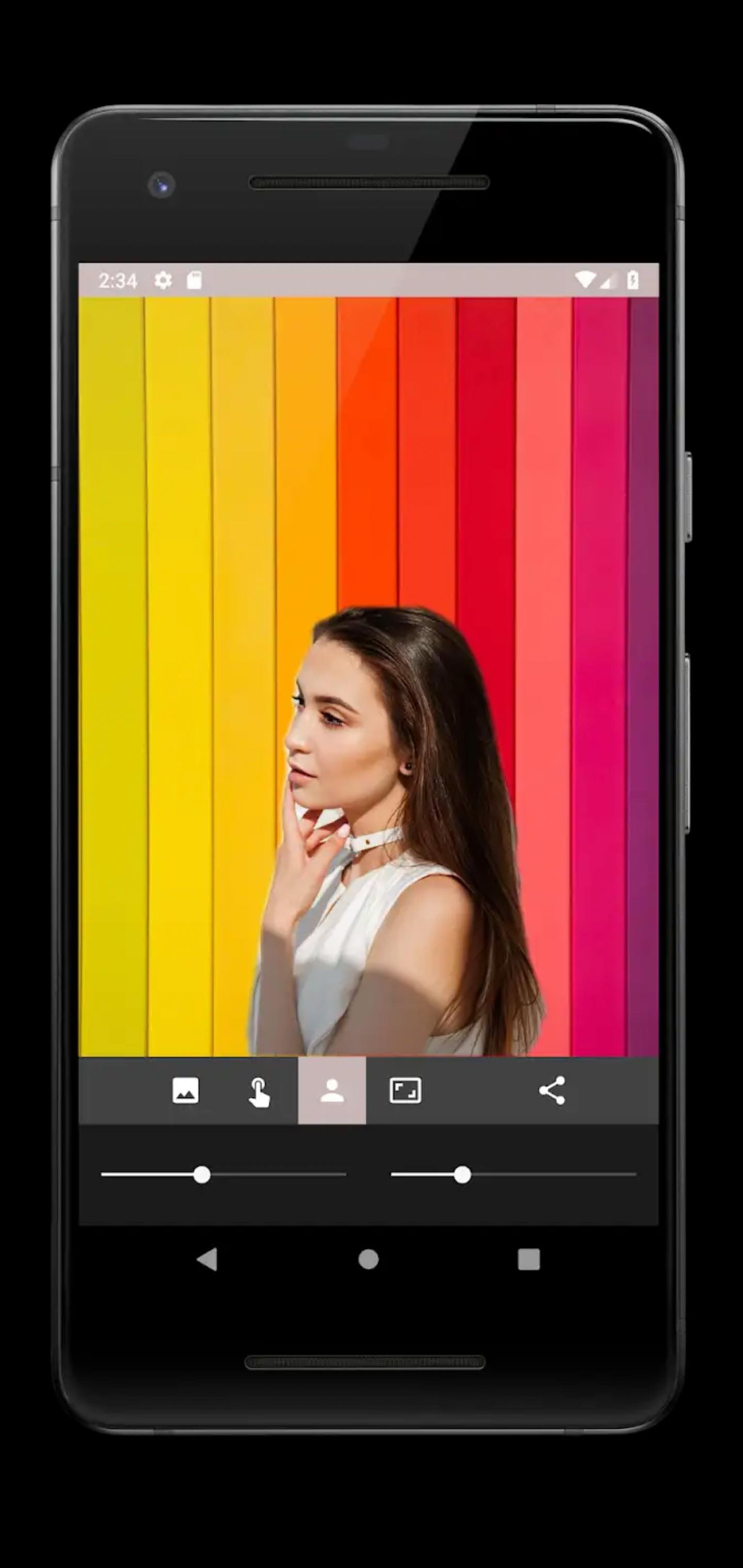 The biggest limitation comes from the AI-based processing tools. The app (at this time) can only recognize human, canine, and feline subjects effectively. But thanks to its option to select the subject manually and erase the background, this isn't a major deal-breaker. The app can also be quite slow to process images, though it does retain the original file size and quality upon export.
2. Simple Background Changer
Also Great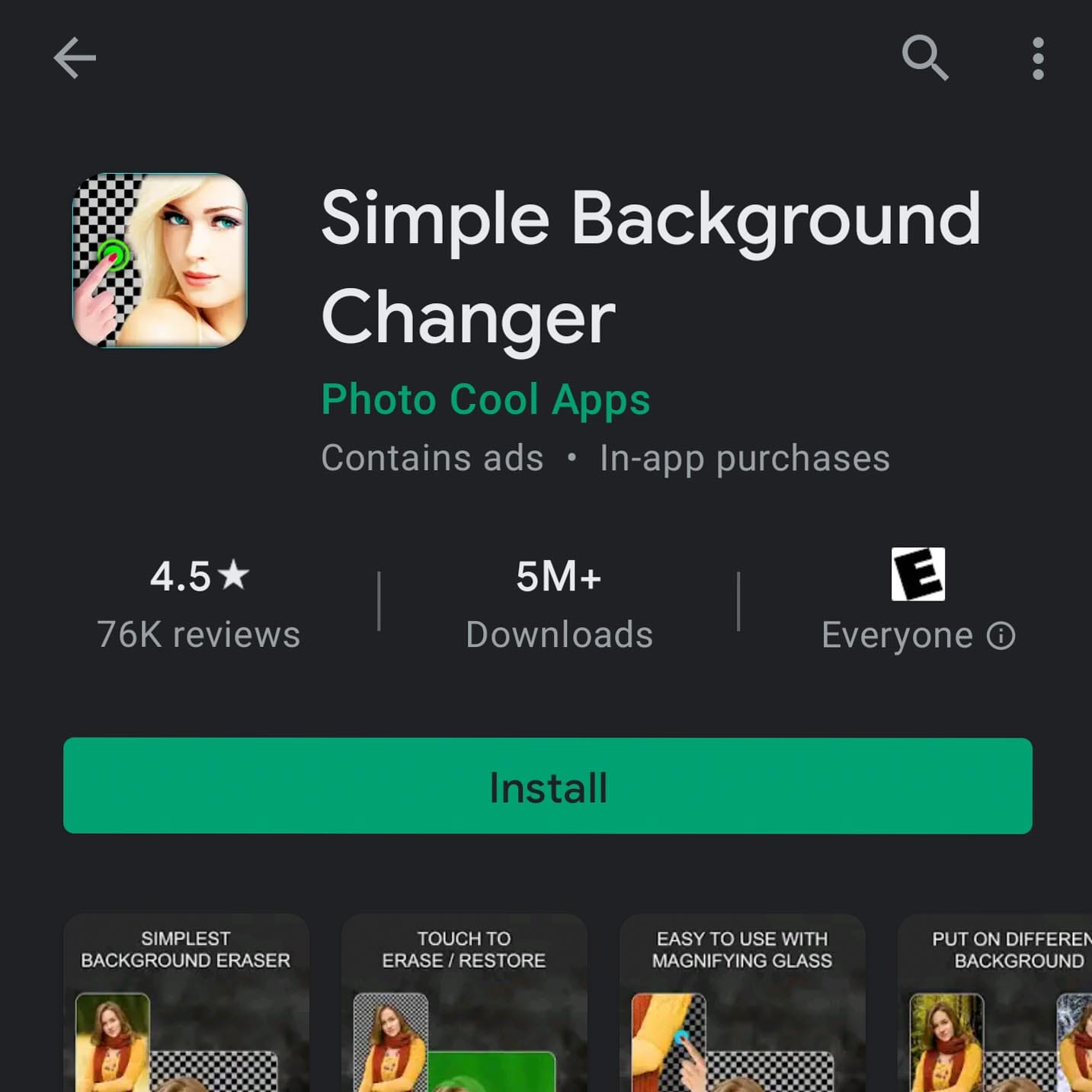 Simple Background Changer
Simple and to the point
Like the name implies, Simple Background Changer has just one goal in mind: swapping your background.
Simple Background Changer is available for:
Contains Ads, offers in-app purchases
Pros
Complete control over background removal
Non-destructive edits
Very decent AI
Cons
Free version has ads and watermarks
Does not automatically save your work
I have a bit of a fondness for apps that are titled very clearly; in my experience, this directness indicates that the app was designed with one purpose in mind! It's nice to see an application fully realize and master its one goal.
Simple Background Changer does require you to manually outline your subject, but you certainly don't have to be an artist to do this successfully. Its detection tools are able to differentiate (for the most part) the difference between the subject's outline and the background.
Similar to photo-editing software such as Adobe Photoshop, the app's changes are done in layers so it's pretty easy to make adjustments or undo a mistake.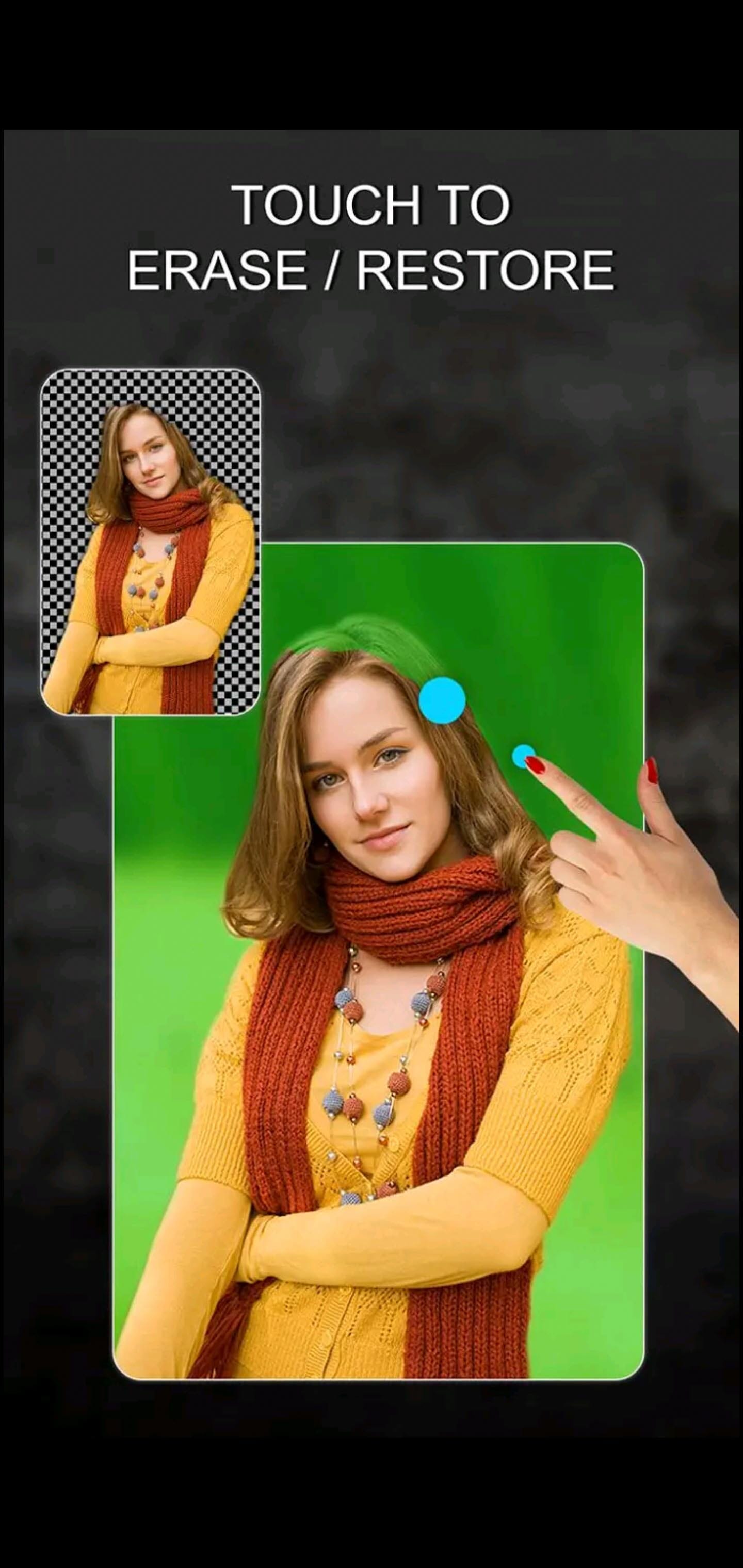 The downside is the app isn't good for multitasking. If you minimize the app's window to answer a text message or check Facebook, your work will not be automatically saved, and you'll have to start the process over. Another downside is that, although the app does have a free version, the unpaid option is riddled with ads and causes the images you export to appear with a prominent watermark. The paid version doesn't have these nuisances.
3. Superimpose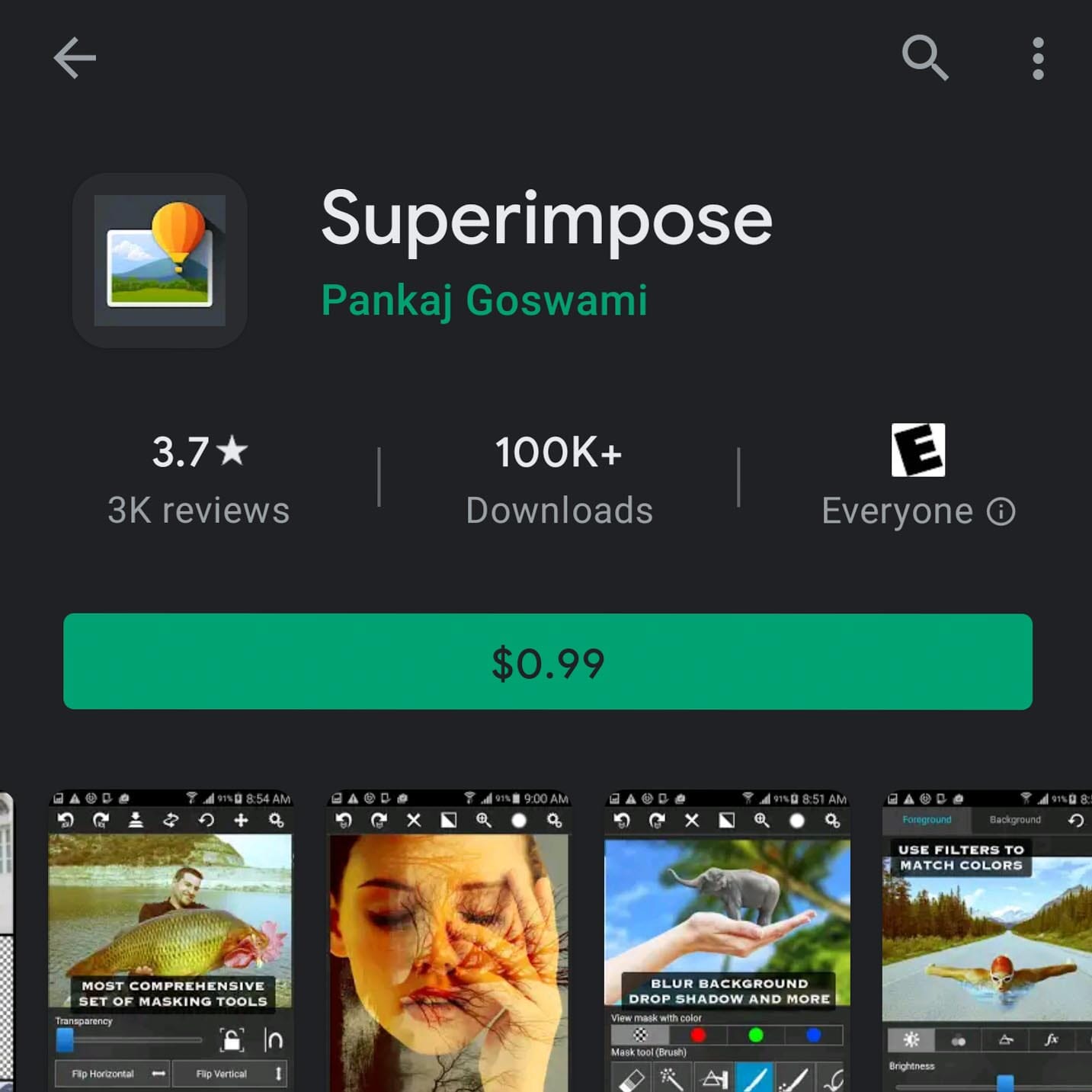 Pros
Very advanced background removal
Ability to edit the background independently
Includes tools that help backgrounds appear realistic
Cons
Can be buggy or laggy
Although it won't wow you with a laundry list of functions and features right off the bat, Superimpose is surprisingly advanced and gets the job done in a powerful way.
The main feature that I like is that, after you replace the background, you can continue your editing by adjusting the exposure, saturation, and other changes of the background independently. Like the Simple Background Changer app discussed above, the concept of layers comes into play.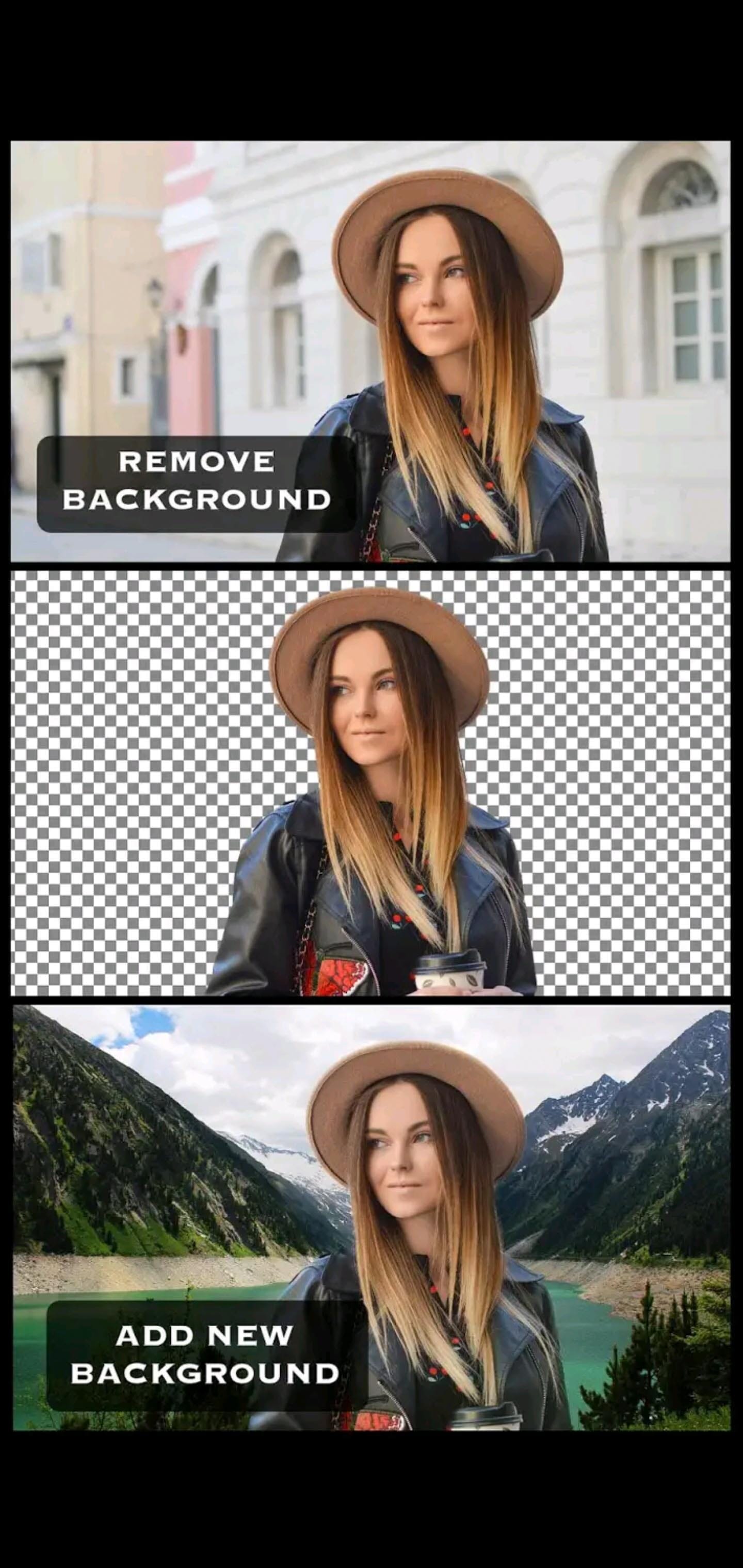 With the goal of offering as many opportunities as possible to make your new backgrounds appear realistic, Superimpose has tools that help blend the background, add drop shadows, and even create a double exposure!
Although there are reports of bugginess and lagging, the features often outweigh the occasional app issue. I suppose we do give a bit of a pass to smartphone editing applications; they are quite limited, after all.
4. Apowersoft Background Eraser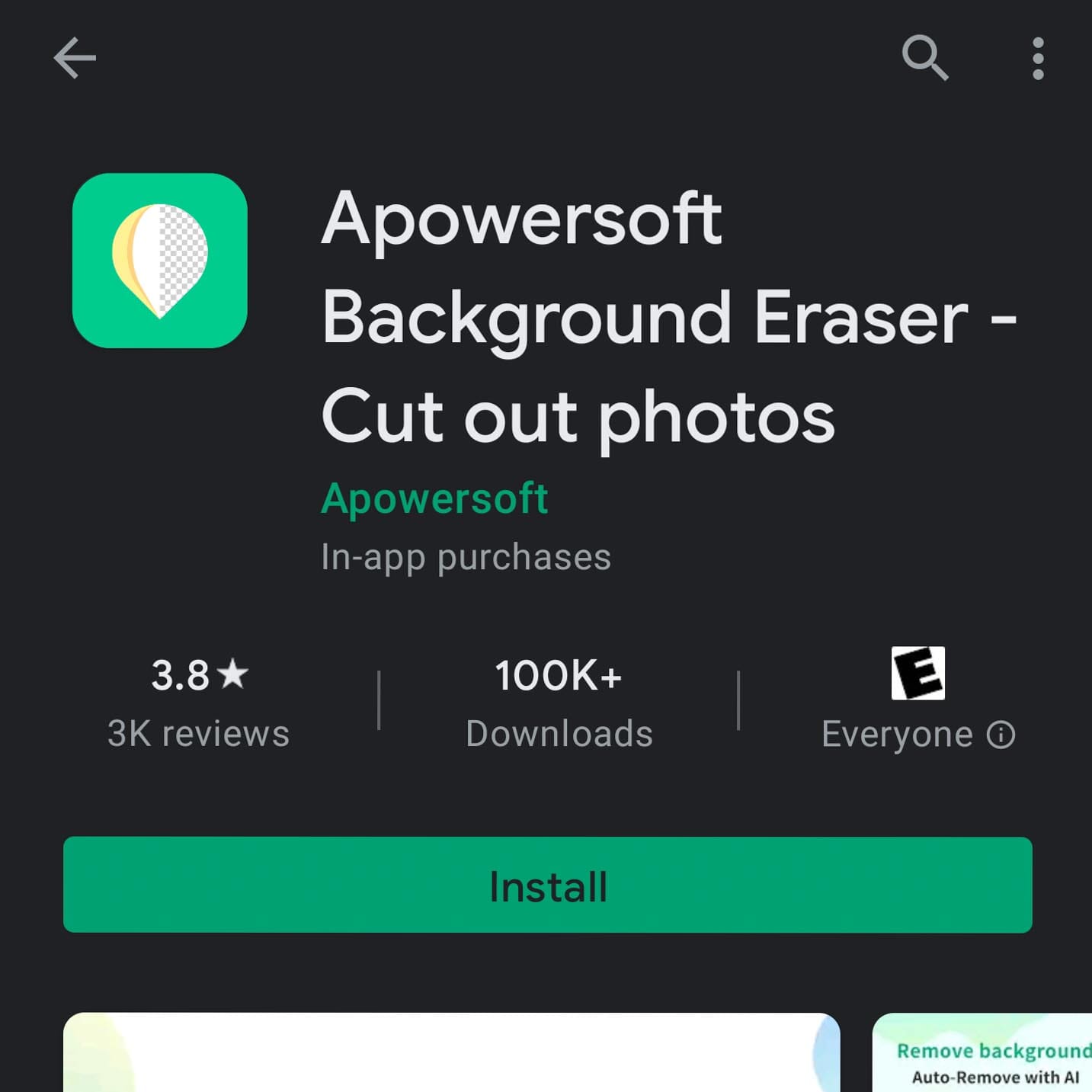 Pros
AI subject detection
Tools to remedy AI mistakes
Built-in backgrounds with the ability to use your own
Cons
Listed cost is misleading
Apowersoft has consistently found itself on background-removal review lists and for good reason! This powerful tool provides multiple different options for swapping out the background of your photos, ranging from allowing AI to do all of the work to manually outlining subjects.
Usage is quite simple: Upload your image, select the subject type (the selection includes Human, Product, and Logo), and let the app do the work. With plenty of tools to tweak and rectify AI mistakes, it's not too difficult to do a pretty realistic background swap.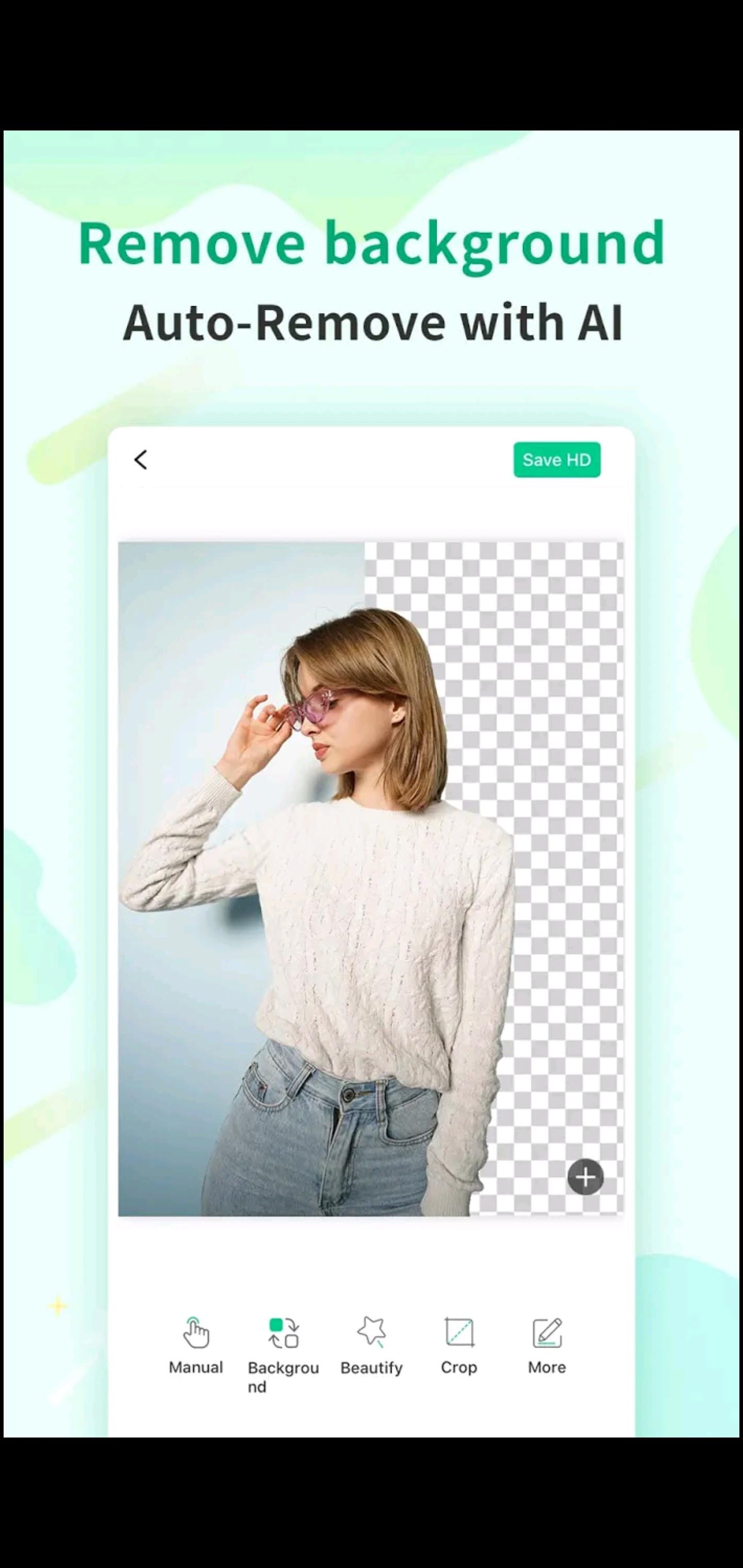 Additionally, the app provides some built-in background options (such as solid colors for e-commerce use and some basic stock images) as well as the ability to upload your own backgrounds.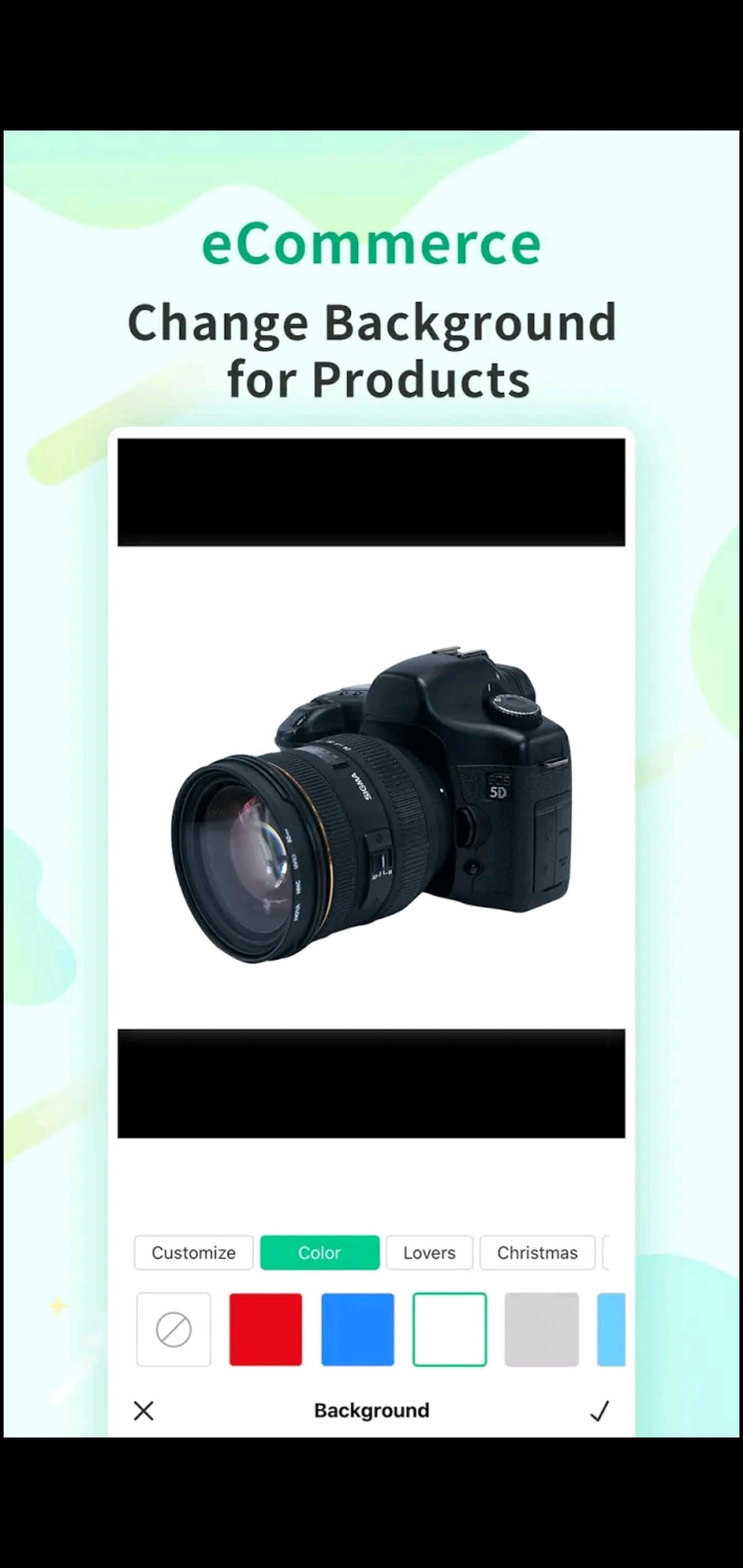 The downside comes in a bit of a sly app creator trick – Apowersoft is listed as a free app with paid features on the Android store, and it does allow you to play with the app and do some background adjustments. Once you want to export an image, however, the app will not let you do so until you pay for it, which has caused some users a lot of frustration.
5. Background Eraser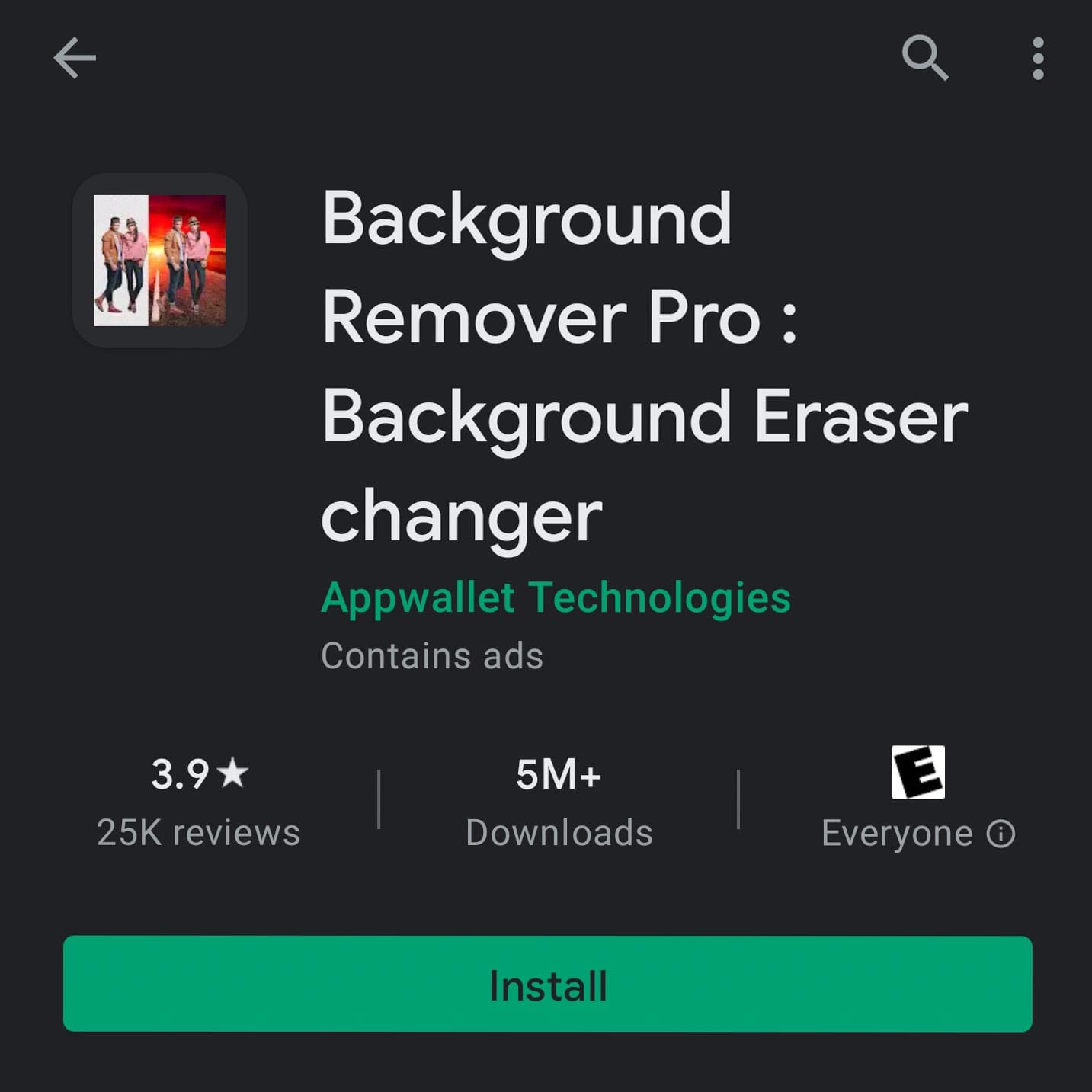 Pros
Free for Android
Easy photomontage and collage maker
Easy to use
Cons
iPhone version is not free
Thanks in part to its great interface, Background Eraser is option number five on our list. Operating a bit differently from our previous recommendations, this app removes the background with the tap of a finger so as to quickly render your subject on a checkered, transparent background in seconds. This app has a slew of built-in backgrounds as well, which are organized into convenient categories such as flowers, sunsets, oceans, animals, and other fun subject matter!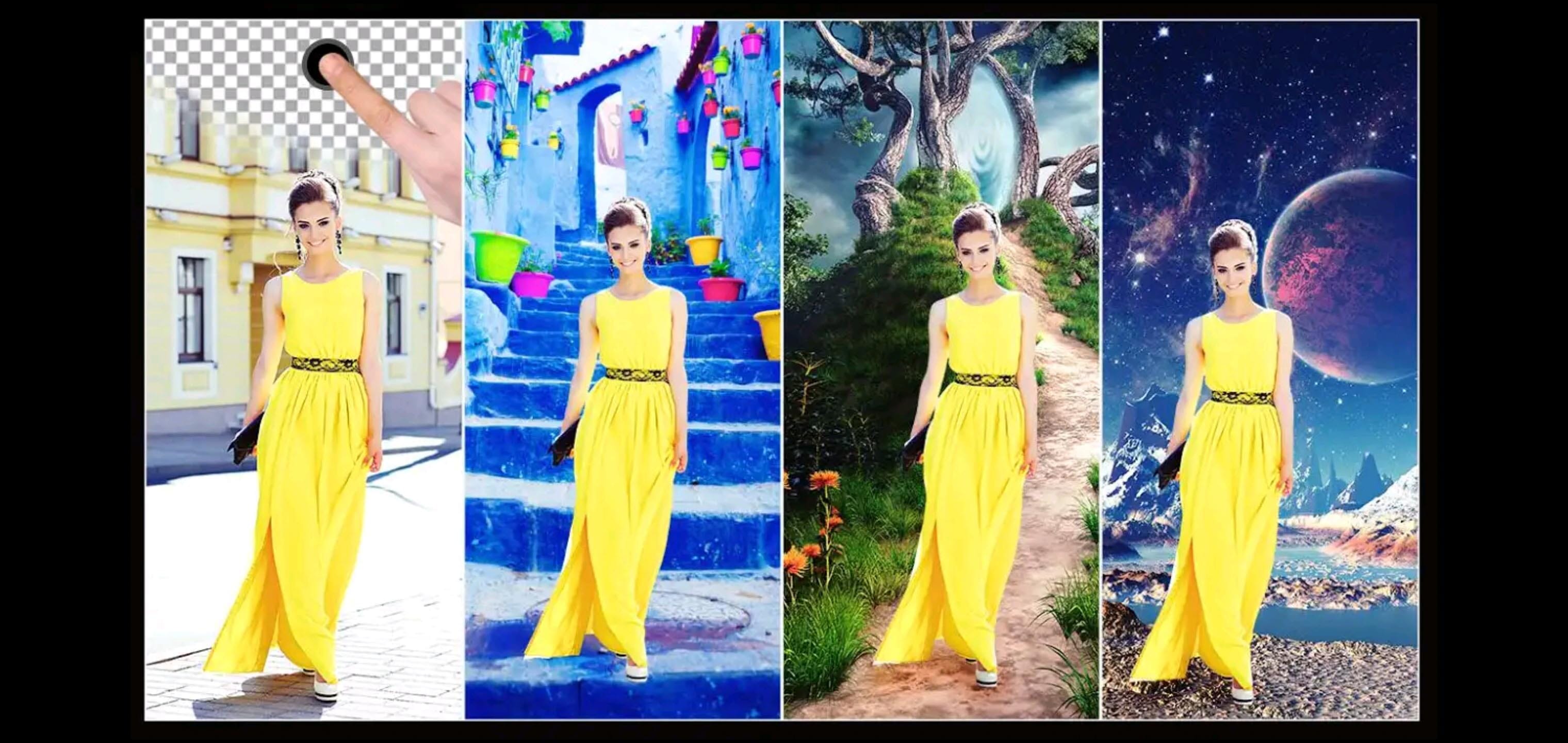 Exporting is also quite simple, as you're able to send files directly to the social media app of your choice. This definitely cuts out an extra few button clicks.
It's certainly not as advanced or full of features as other options, but for those that find Automatic Background Changer to be too slow, this is a fine alternative option.
6. LightX Editor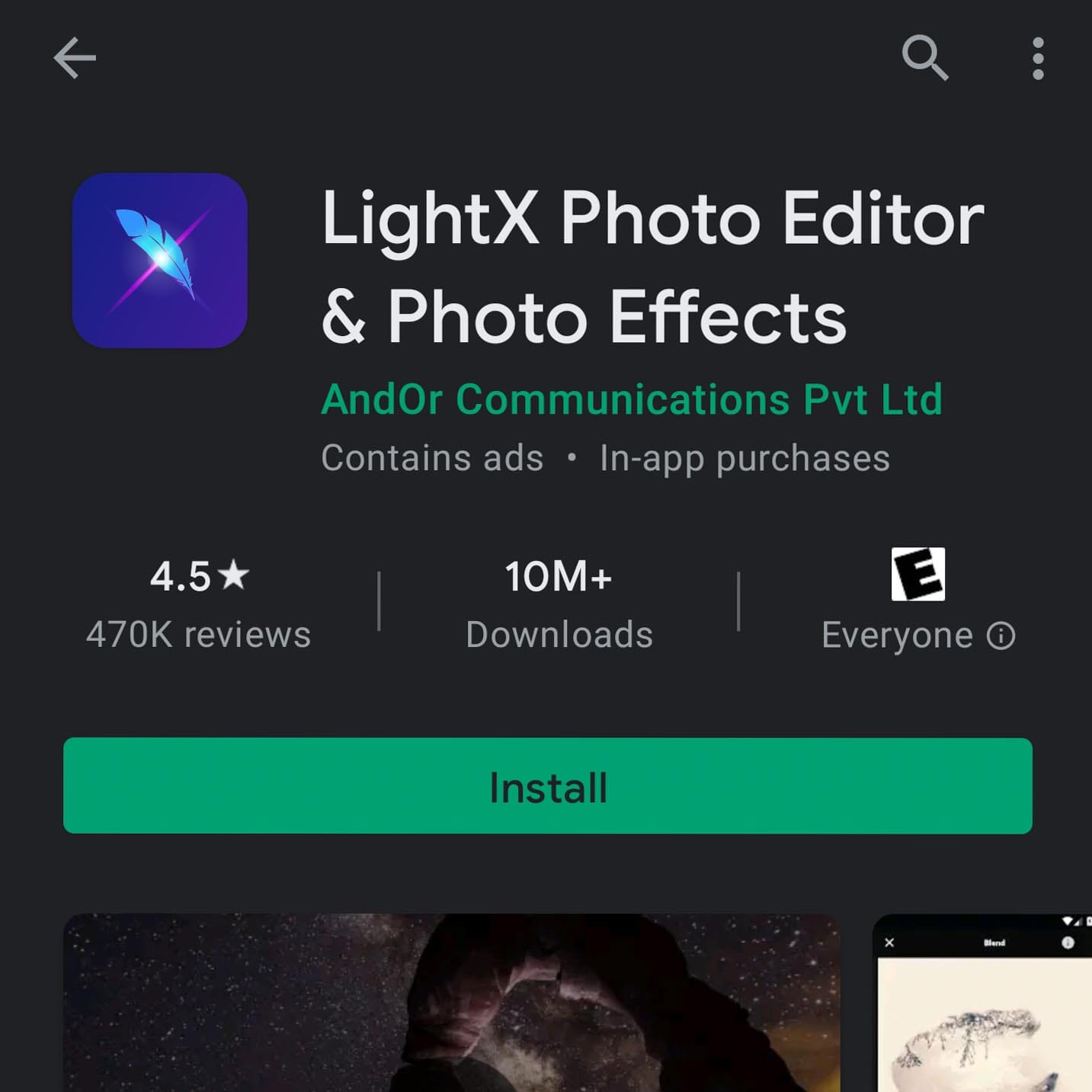 Pros
Great interface
Lots of advanced tools
Includes a Magic Brush tool
Cons
Unable to move around a photograph when editing
LightX Editor is a unique option that's truly attempting to compete against editing apps such as Snapseed and Lightroom Mobile with its tremendous amount of features. Its background removal options are quite notable (enough that these tools are mentioned in every review).
For background removal, you have several options. The first is the lasso tool, which allows you to select similar regions and remove them in one fell swoop!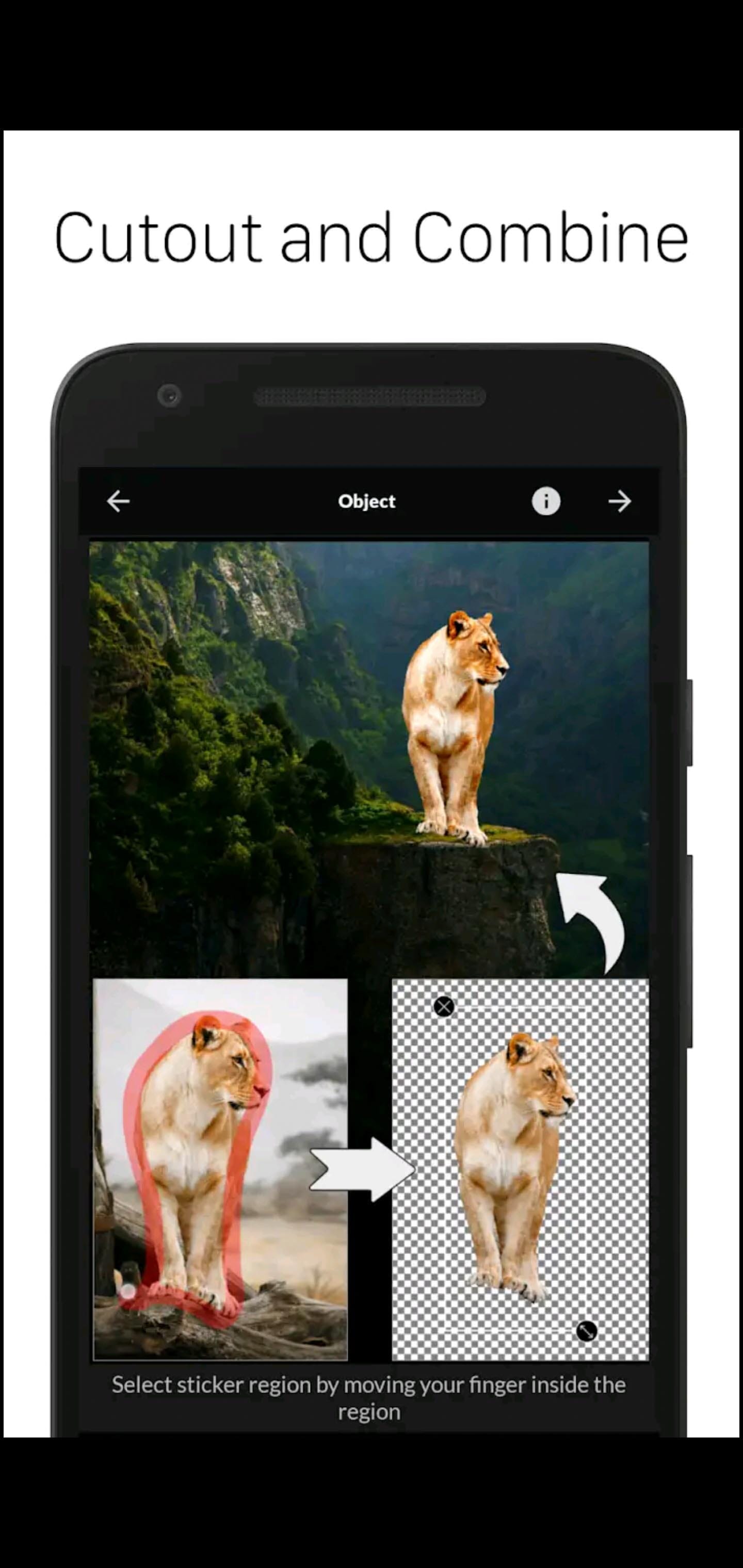 If you only want parts of the background removed, you can use the Magic Brush tool to remove only specific areas of the background. If the AI is giving you a bit of grief, don't worry; you also have access to professional tools that allow you to fine-tune the image to your heart's content.
The downsides are quite minuscule in comparison to related software and come in the form of some functionality drawbacks. First, the brush doesn't get very small and precise, making some forms of fine-tuning a bit more difficult. And if you're trying to adjust a specific portion of the image, there seems to be an issue with zooming in and moving around the frame; the image will not move.
With its slew of additional editing features, such as curves, exposure, color, and more, this is the best all-around paid editing app.
7. Facetune Editor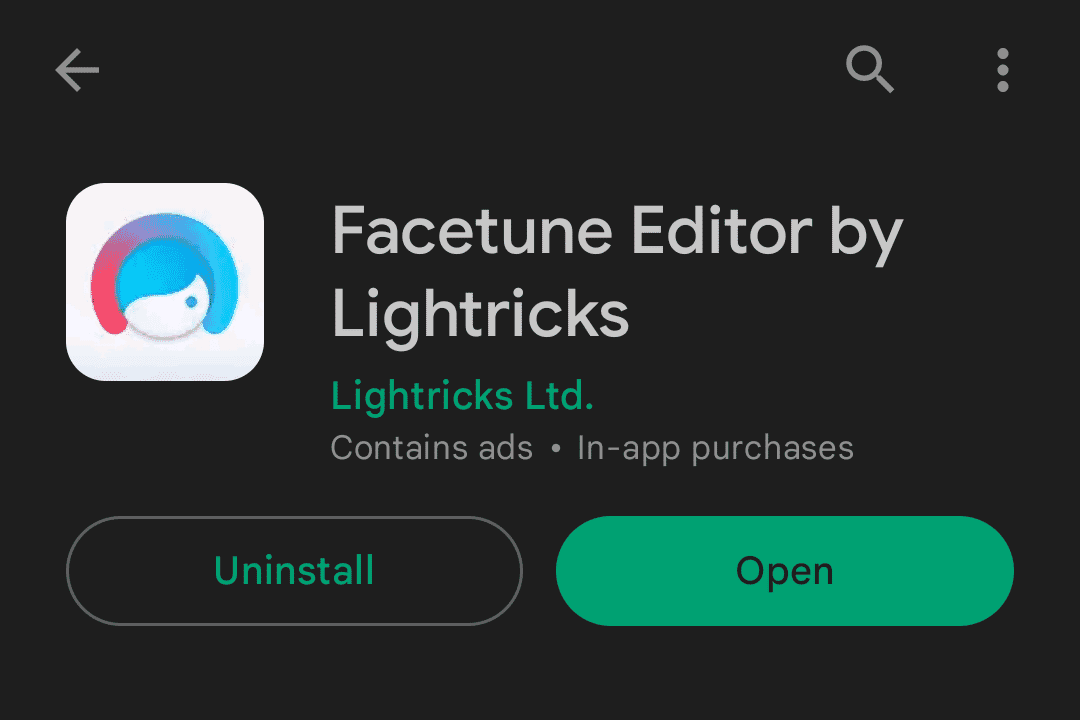 Pros
Many different editing features
Ability to add an overlay
Great for subtle edits
Cons
Not a designated background removal app, so functionality is limited
Likely the most unexpected app on our list, Facetune Editor gained popularity thanks to its retouching capabilities. While it's mainly used by social media posters to significantly alter their appearance, Facetune is actually capable of much more, including background adjustment.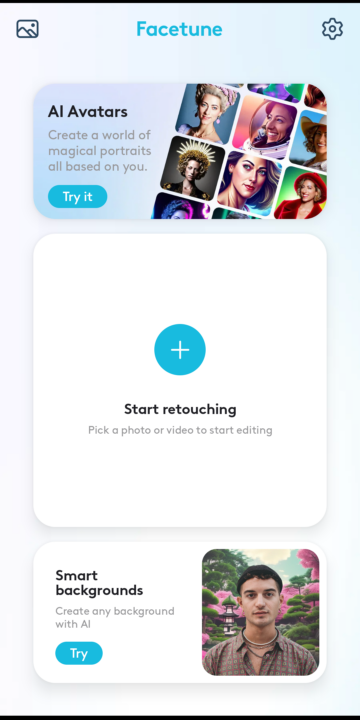 You can add an overlay texture and several adjustments to any background, allowing you to give your images a more realistic touch. Instead of attempting to cut the background out entirely, this app enhances what is already there, adding subtle refinements that can make your photos far more interesting.
There is a discrepancy between the Apple version and the Android version, however; the iOS app has more features, even in the background modification department.
Change Backgrounds with a High-Quality App!
So which background changer app is right for you? To be frank, it really depends on how well your phone can handle these apps. When it comes to downloadable applications, I always recommend trying several different ones to see which is the fastest, the most accurate, and the most efficient.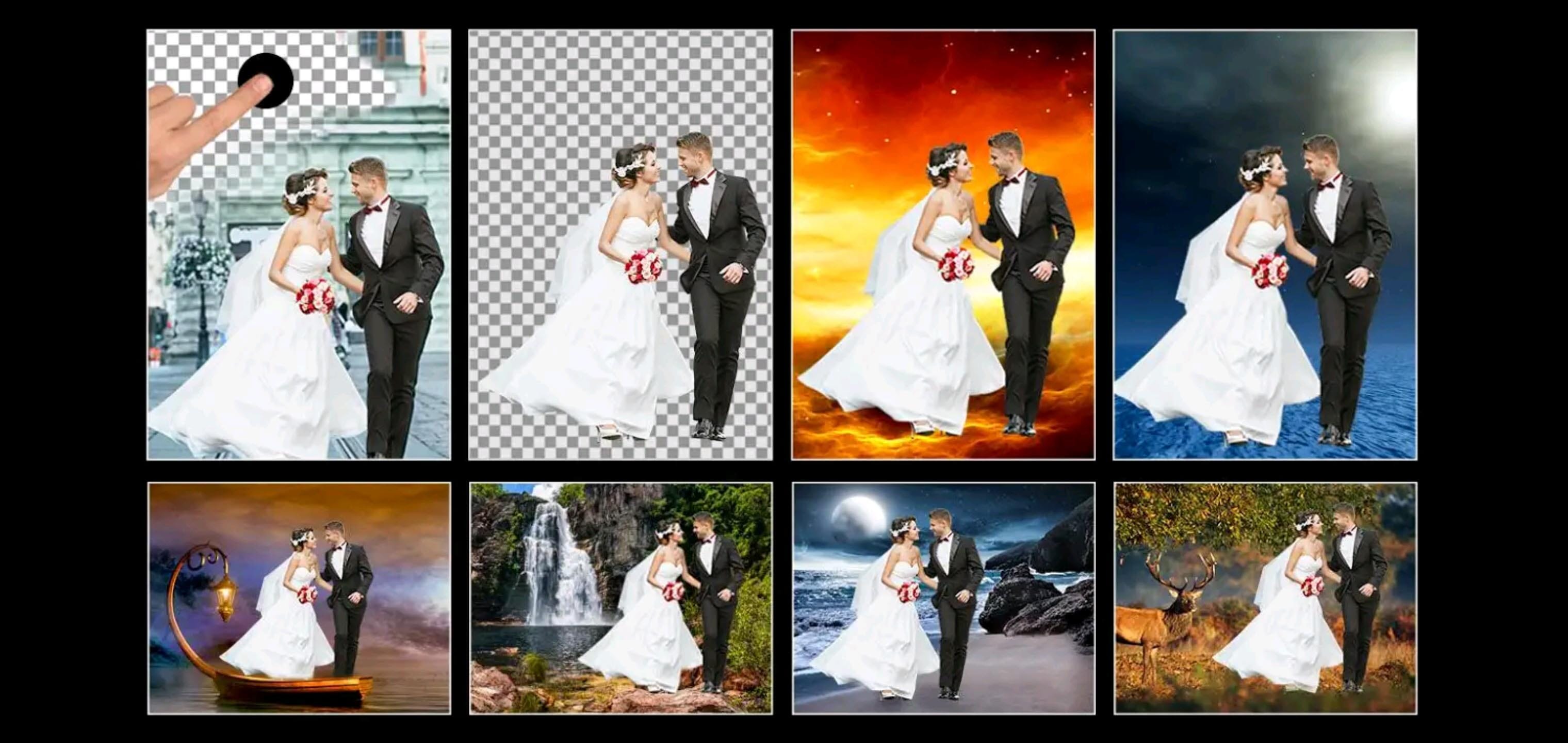 However, it is good to have a starting point. Automatic Background Changer (for Android) is a fantastic free option and is filled with features and goodies. Any downsides are typically outweighed by the zero-dollar price tag.
If that's not enough for you, the paid app that we recommend is the LightX Editor (for Android and also for iOS devices) due to its many background removal tools and its slew of other editing features.
However, if realism is your style, Superimpose wins out thanks to its amazing editing and blending features (we recommend the iOS version for Apple users, but there is also an Android version).