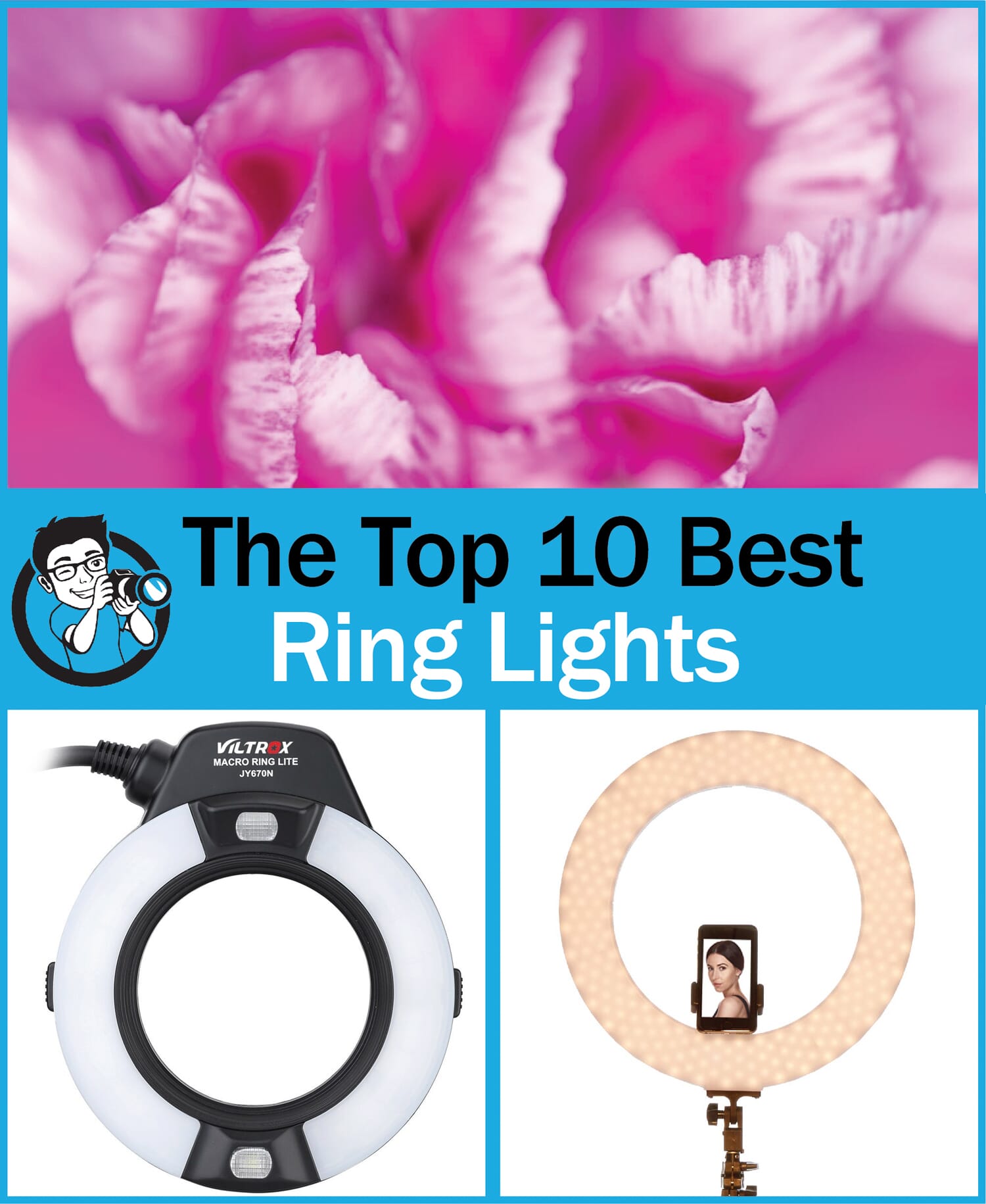 In this article, I'm going to share with you the 10 best ring lights for portrait photographers, fashion photographers, macro photographers, and videographers.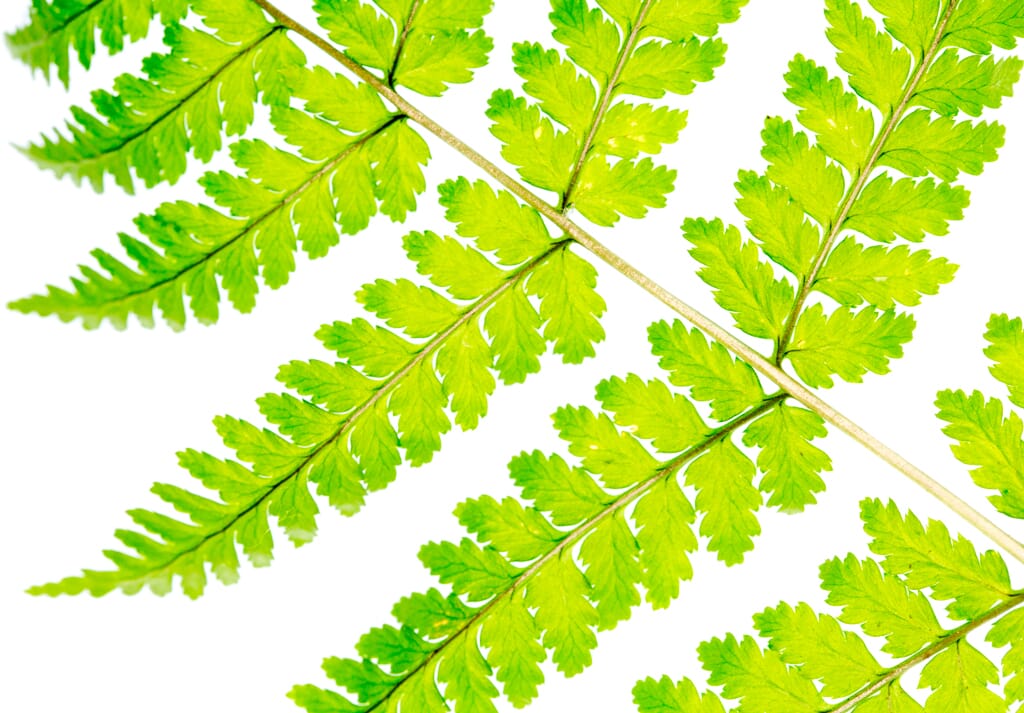 I'm also going to explain the exact process by which you should choose a ring light.
In other words, you're going to discover the perfect ring light for your needs.
Are you ready to select a ring light?
Let's dive right in.
Table of Contents:
What is a Ring Light?
First things first:
What is a ring light, and who needs one?
Ring lights are a type of photography lighting. Unlike strobes and continuous lighting, ring lights are circular, like this:
Most ring lights offer both strobe lighting (i.e., a single flash) and continuous lighting (i.e., lights stay on constantly). The main benefit of ring lights is that they give you a soft, even light–that is, light without harsh shadows.
There are two broad varieties of ring lights:
Studio ring lights are large in diameter and are mounted on light stands or cold shoes.
On-camera ring lights mount to the camera hot shoe, and the light itself goes on the front of the lens, like this:
Now, studio ring lights are mostly used by portrait photographers, as well as studio videographers (e.g., YouTubers). Studio ring lights will give your subject a nice glow. Plus, ring lights create a powerful catchlight in the eyes of portrait subjects, like this: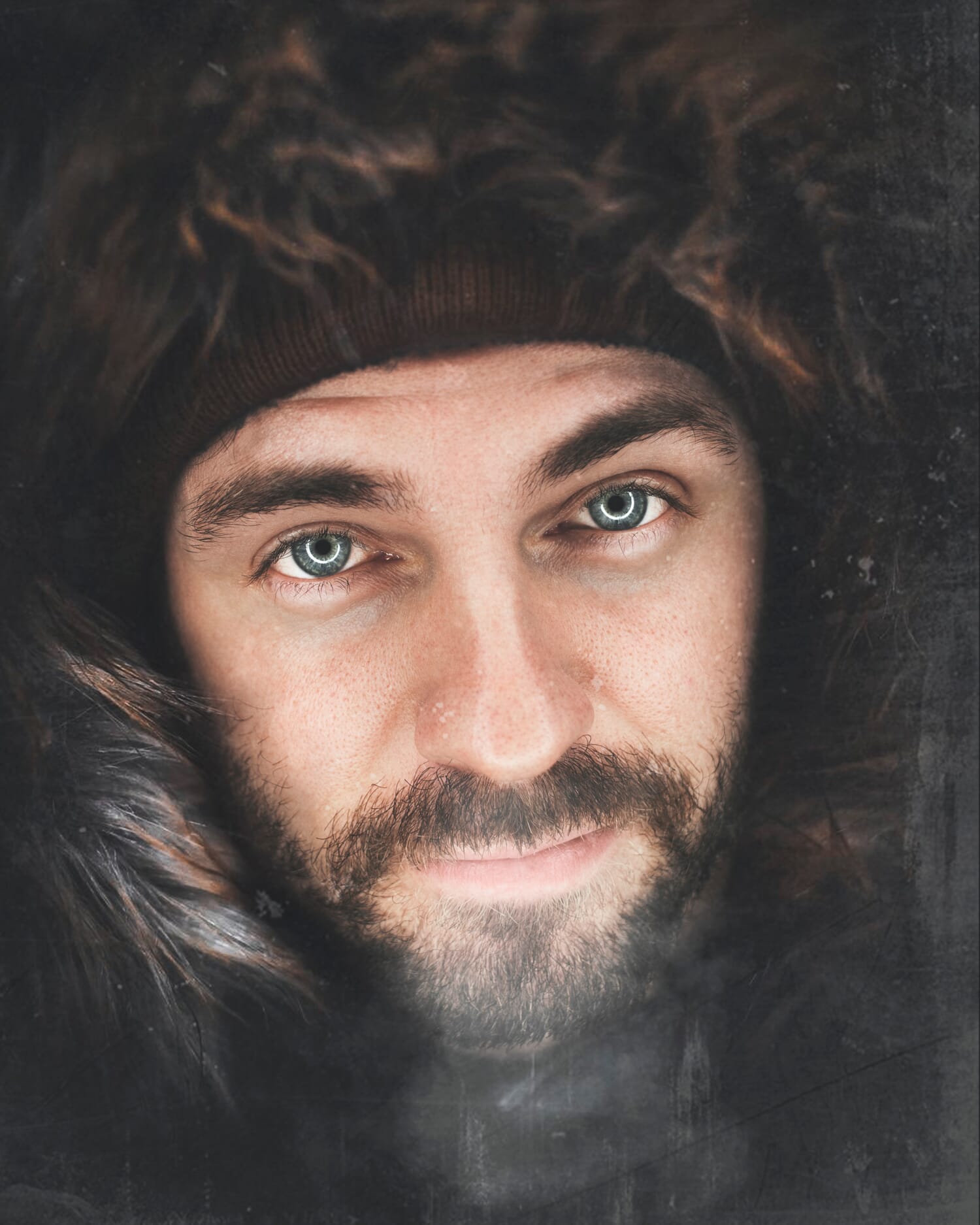 For most portrait photographers, the ring light look (including the catchlight) is highly desirable.
On the other hand, on-camera ring lights are used primarily by macro photographers. Macro photographers mount the light to the front of their macro lens and use it to give some soft illumination to close-up subjects, such as flowers and insects.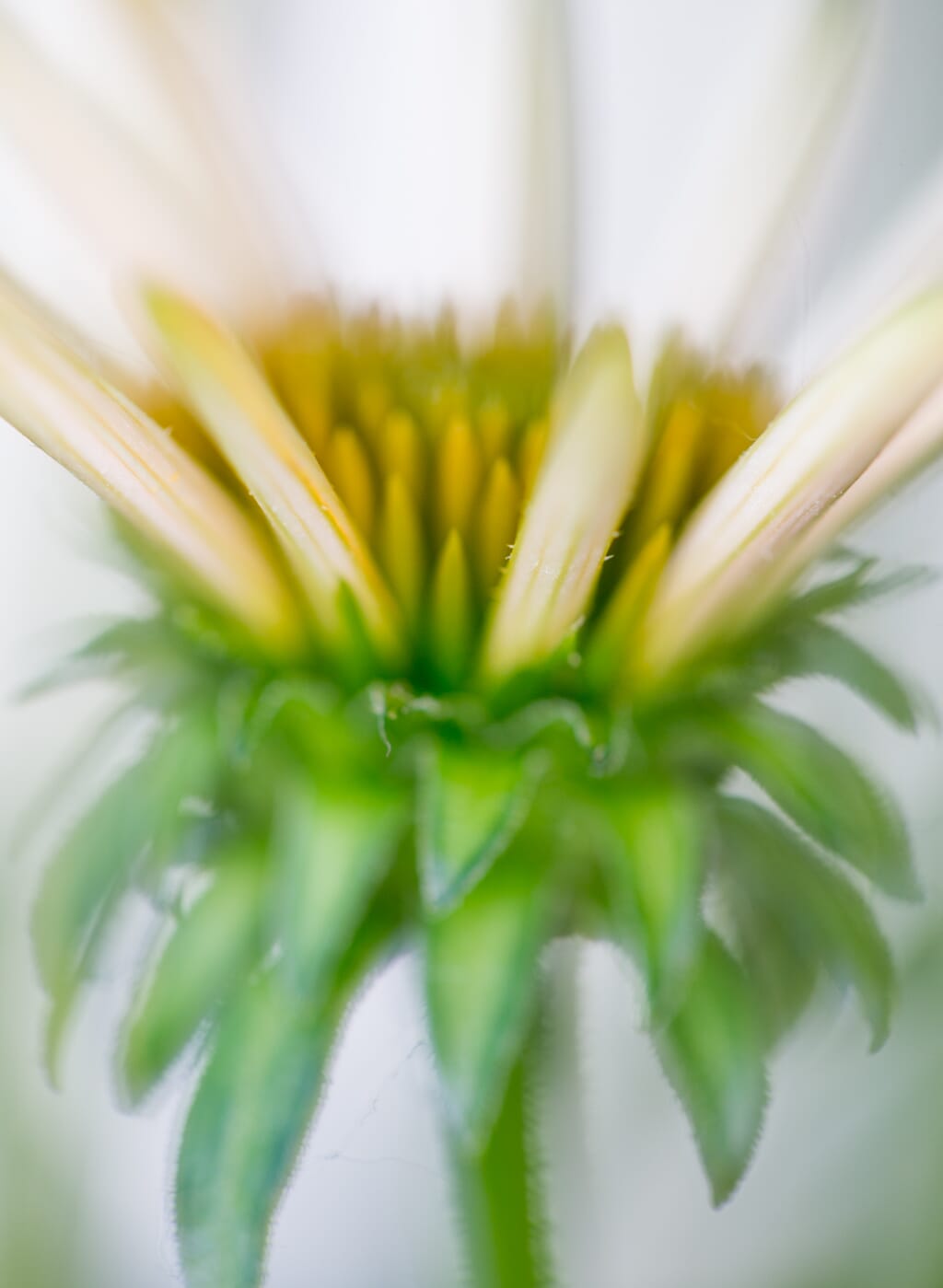 For macro photographers, a ring light is a great way to add some extra light in both natural and studio situations. Flashes (both on-camera and off-camera) tend to be frustrating in macro photography because the lens itself often gets in the way at such close distances.
Which is what makes a light mounted to the front of the lens so useful!
Related Post: Secrets of Buying an External Flash
Selecting the Best Ring Light for Ring Light Photography
Now that you understand the purpose of a ring light, it's time to discuss the factors you should consider when purchasing a ring light.
And there are four main features that you should think about:
Build Quality
Here, you should ask yourself:
Do you want a flash that's durable and made to last? Or would you prefer to go for something cheaper but much more prone to breakage?
The best ring lights are made of high-quality materials, and you can tell as soon as you hold them in your hands. Other ring lights are almost completely plastic. If you're extremely careful with your equipment, this may not be as big of a deal, especially if you'll be working in the studio.
But when it comes to build quality, you get what you pay for.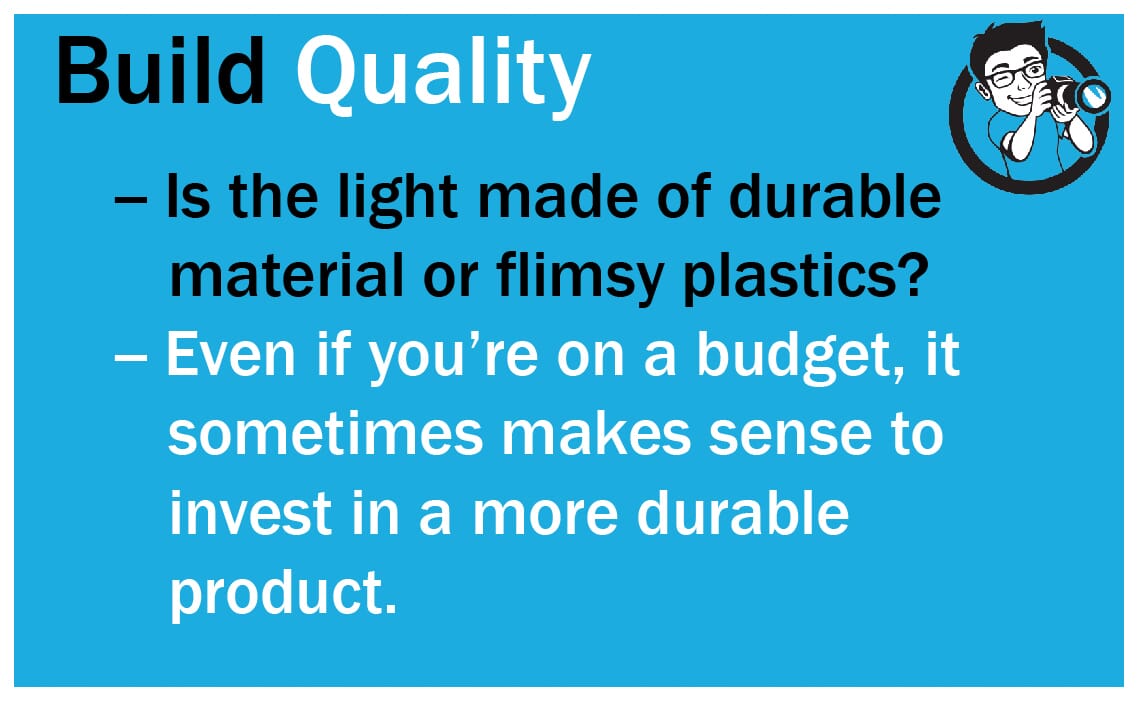 Strobe Versus Continuous Lighting
Do you want to work your ring light like a flash?
Or do you prefer to work in a what-you-see-is-what-you-get manner?
Strobe lights fire once, along with your shutter. Looking through the viewfinder, you won't actually see the effects of the ring light–instead, you'll have to look at the shot on your camera LCD.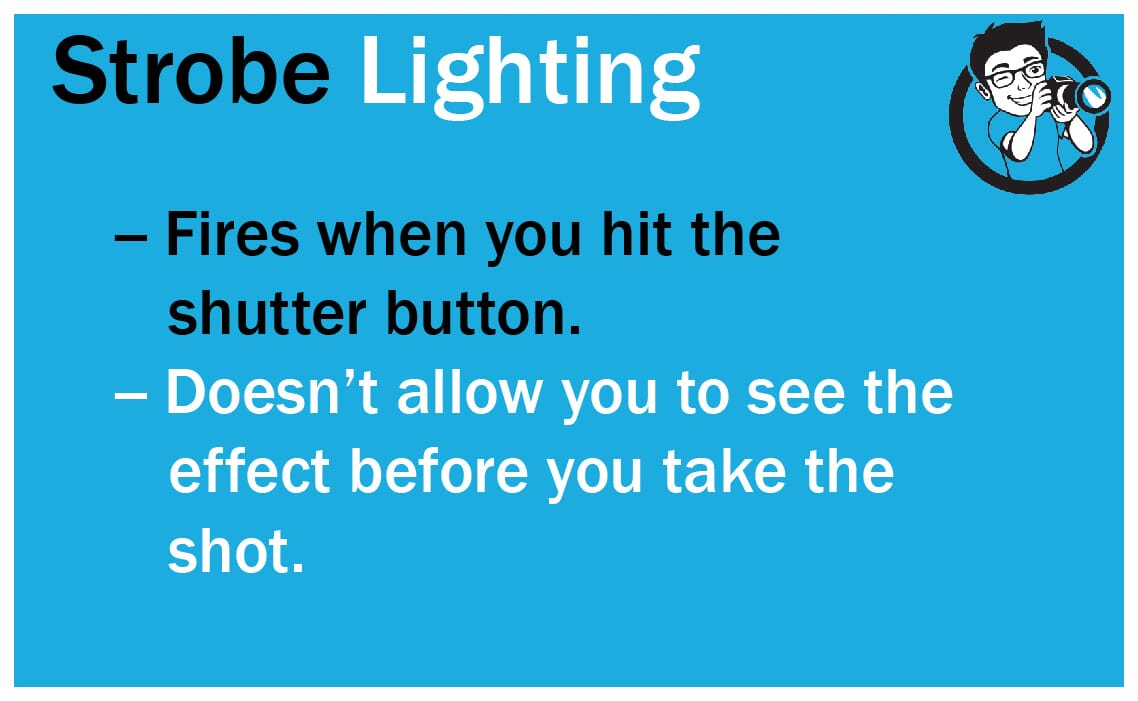 Continuous lighting is simply a constant beam of light. That is, the ring light turns on and remains on.
This has one main benefit: You can see in advance how your subject will be lit, whether there are any shadows, etc. You can also easily expose for your subject, without worrying about the effects of the light.
Plus, you avoid any sync problems with continuous light, where your shutter speed is too fast for the flash.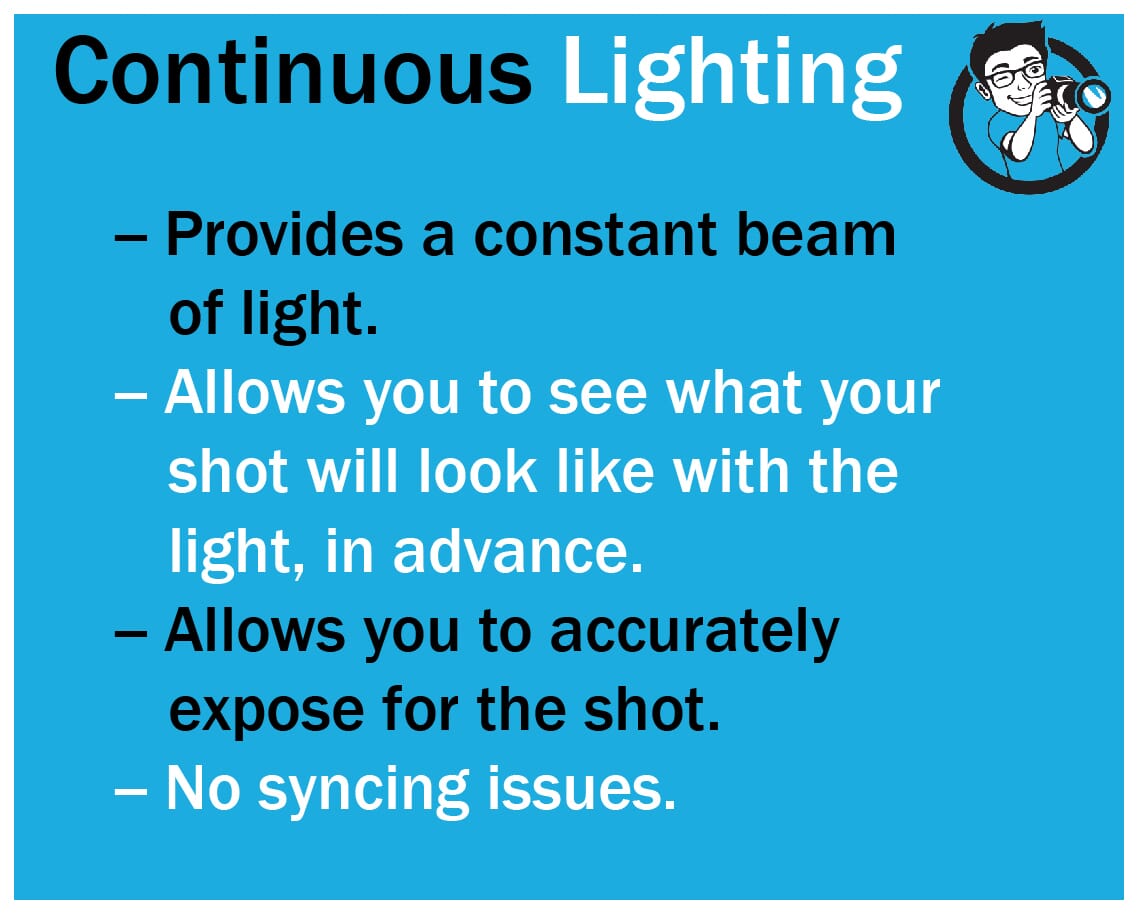 Studio ring lights generally work as continuous lighting. But some on-camera ring lights do offer strobe lighting options–which might be preferred by photographers who are used to working with speedlights.
Here's the bottom line:
You want to make sure that your chosen ring light has your preferred type of lighting. Don't get stuck with a continuous ring light if you want a strobe!
Lighting Quality
Ring lighting quality depends on two main factors:
Power and color.
First, you want a ring light that will generate enough power for your needs. If you're shooting portraits from a few feet away, you're going to need a ring light with a fair bit of punch.
On the other hand, a macro photographer who works at a distance of three inches may require a far less powerful light.
You should also look for variable power settings. The best ring lights offer a number of power options so that you can turn up or down the brightness depending on your situation.
Finally, you should consider the color of the ring light. This depends on personal preference, but I like a warmer white color or a more neutral white. Colder ring lights give a starker, less pleasant look.
Fortunately, some ring lights come with gel-like overlays, which hook on the front of the light and modify the color.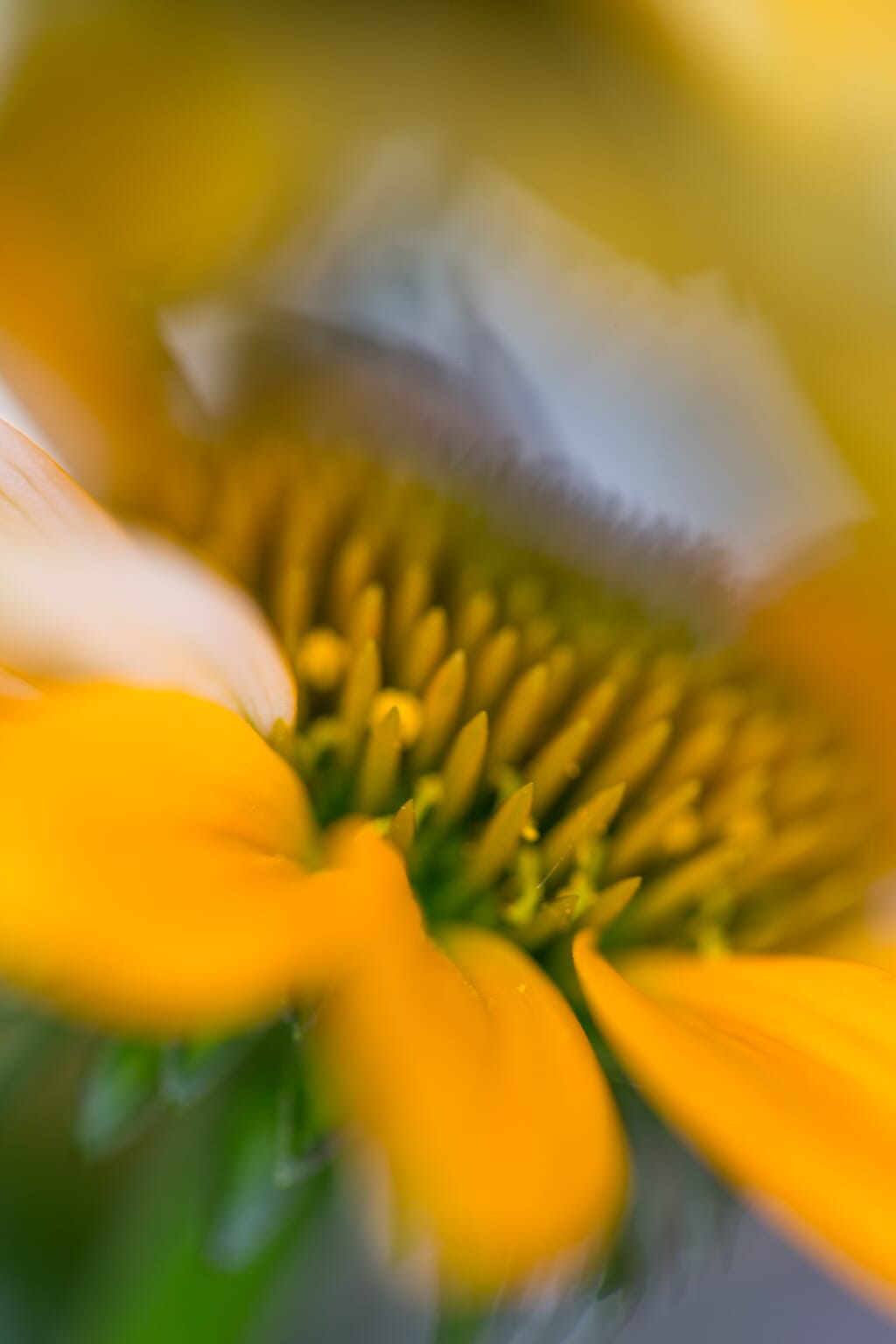 Size and Portability
This is the last factor to consider.
And it's an extremely important one.
For macro photographers, size isn't going to make much of a difference. Macro ring lights mount to the front of your lens, so they're all pretty similar in diameter. And while ring lights with more robust components will weigh a bit more, portability shouldn't be much of an issue.
But for portrait photographers and videographers, size and portability is a huge factor. While there are only two main studio ring light sizes (14 inches and 18 inches), in practice this can make a big difference.
First, if you're going to be shooting through the ring light, you'll find working with an 18-inch ring light much easier. And if you'll be shooting closer shots, you may find 18 inches to be a bit too big. It all depends on your needs.
Portability matters for the portrait photographer and videographer, too. You don't want to buy a heavy, unwieldy ring light, only to struggle when it comes time to transport it for a shoot.
The Best Ring Lights in 2019
Now that you're familiar with the essential ring light features, it's time to get down to it:
What's the best ring light in 2019?
I've divided the top contenders into two categories, to reflect their different purposes. First, I'll share the best studio ring lights.
Then I'll share the best macro ring lights.
The Five Best Studio Ring Lights:
The Neewer 18-inch ring light is my absolute favorite studio ring light out there, for a few reasons:
First, the ring is nice and large, perfect for shooting through or using as a portrait photography light at an angle.
Second, the Neewer ring light offers a suite of options for flexible shooting. The normal color temperature is 5500K, but an orange filter allows you to easily warm up the temperature, and a white filter gives you a diffused, soft light.
Plus, the ring light features a huge brightness range; this ensures easy shooting in all kinds of conditions.
The stand is a nice bonus, which allows you to set up the ring light anywhere between 36 inches and 78 inches tall. It also includes a hot-shoe adapter and a phone holder, which allows you to position your camera or your phone within the ring itself for easy vlogging or other videography.
Neewer 18-inch SMD LED Ring Light Dimmable Lighting Kit with 78.7-inch Light Stand,...
KIT INCLUDES: (1)LED Ring Light, (1)Light Stand, (4)White Filter, (4)Orange Filter, (1)Hot Shoe Adapter, (1)Power Adapter,...
Dimmable SMD LED RING LIGHT: Dimmable 18 inches/48 centimeters LED SMD Ring Light comes with 240 pieces LED bulbs with a wide...
STURDY SUPPORT STAND: Adjustable height ranges from 36.2 inches/92 centimeters to 78.7inches/200 centimeters; Equipped with...
WHITE AND ORANGE COLOR FILTER: Filters included are for changing shooting effect, including enhancing skin tone in portraits,...
360 DEGREE ROTATABLE PHONE HOLDER: Come with 360 degree rotatable smartphone holder for rotating your phone into portrait...
Related Post: Outdoor Portrait Photography Tips
The Fositan 19-inch is another excellent studio ring light, perfect for vlogging, portrait photography, and more.
The 19-inch diameter gives you the size you need to record make-up tutorials from within the ring light itself. And like the Neewer 18-inch (above), the Fositan comes with a hot shoe adapter and phone holder, which allows for you to shoot through the light without much hassle.
This Fositan ring light features step-less dimming from 100% to 10%. In other words, you can choose practically any brightness setting you need, all the way down to 10%. This is perfect for shoots with changing conditions, or simply for achieving a look that you really like.
Plus, like the Neewer, this ring light comes with a white and an orange color filter, which allows you to work with several different color temperatures (3200K and 5500K).
Finally, the Fositan kit includes a handy carrying case, which makes this one of the best portable studio ring light options around–at an excellent price, no less.
FOSITAN LED Ring Light with 2M Stand for Phone and Camera, 18 inches/48.5cm Outer 55W...
🔥[Flexible usage scenarios] FOSITAN 18-inch LED ring light is a large ring light, suitable for YouTube, TikTok, portrait...
🔥[High-intensity lamp stand and adjustable light] for video has a 2M adjustable light stand; The bracket is made of...
🔥[Smooth skin and shiny eyes] The 18-inch ring light has stable color temperature and soft light,and it will not hurt your...
🔥[Highly compatible retractable mobile phone holder] Supplied with a standard ¼-inch hot shoe adapter, compatible with...
🔥[Accessories and after-sales service you will get] You will get: 18-inch LED ring light, light stand, Bluetooth remote...
The Nugilla LED ring light is less than half the price of the other ring lights on this list–but don't let that deter you.
Because the Nugilla ring light is amazing value for the money.
You see, the Nugilla is a 6-inch ring light, designed for vloggers who do close-up videography with their smartphone–which makes it perfect for make-up tutorials.
The Nugilla comes with two small, tabletop tripods. You use one for the ring light itself, and one for your smartphone–for a simple studio setup. And don't worry about needing accessories; the tripods are both paired with stable ball-heads (plus a smartphone holder!), so you can attach the equipment and start filming, straight out of the box.
Plus, the ring light is USB powered, so you can travel without worrying about losing power.
Despite its low price, the Nugilla offers quite a bit of customization: You can choose from three colors (white, warm white, and warm yellow), as well as eleven brightness settings for each mode.
Here's the bottom line:
The Nugilla ring light is perfect for the beginning studio smartphone videographer–someone who wants to start using ring lights but doesn't want to go all-in for a larger, less-portable, pricier option.
6" Selfie Ring Light with Tripod Stand for Live Stream,Makeup,Nugilla Led Desktop...
【Dimmable LED Ring Light】: Special SMD LED design which provides shadowless and even lighting to help perfect your skin,3...
【USB POWERED】: available to many kinds of devices, no need to charge you can use at any time, work with multiple devices:...
【Multi-Functions】2-in-1 design combines the phone holder and selfie ring light together, it is a professional tool for...
【Universal Phone Holder】Compatible with almost ALL smartphones with or without a case, suitable for iPhone X/7 Plus, 7,...
High Quality With A Better Service Team:Worry-free after-sales,One Year Warranty Added 7*24 Hours Service Team always Here...
If you're looking for a slightly fancier ring light and have more money to spend, the 18-inch Inkeltech ring light is perfect for your needs.
Like the Neewer and the Fositan options, the Inkeltech ring light sports an 18-inch diameter, which is great for portrait shooting and through-the-ring videography. And the phone holder and hot-shoe adapter make it extra easy to hook up your phone or camera directly to the ring light stand.
The Inkeltech ring light is 0% to 100% dimmable–which means that you can quickly change the light output, depending on your situation.
And the light stand and carrying case are nice accessories, which makes this ring light both a) flexible and b) highly portable.
But here's where the Inkeltech really shines:
First, the ring light doesn't come with color filters. Instead, you can choose a temperature setting between 3000K and 6000K. This is excellent for achieving warm, soft, or neutral looks.
And second, the Inkeltech comes with a remote control–which allows you to change your settings on the fly, just before (or even while!) the cameras are rolling.
Inkeltech Ring Light - 18 inch 60 W Dimmable LED Ring Light Kit with Stand -...
INTELLIGENT AND QUICK COLOR CHANGE - Inkeltech Ring Lights are controlled via the IR remote controller or the knob on the...
SELFIE CONTROLLER AND IR REMOTE - Take photos directly with our wireless selfie controller! Change the color temperature...
PHONE HOLDER AND LIGHT STAND - Each Inkeltech Ring Light has a rotating (360 degrees) phone holder and a retractable tripod...
USE INDOORS AND OUTDOORS - Have a great deal of flexibility and power your Inkeltech Ring Light outdoors with batteries (SONY...
PACKAGE INCLUDES - Inside of your package, you will receive: LED Ring Light Body (18 in / 46cm) x1, Tripod (20-75 in / 50-190...
Related Post: The Best Portrait Photography Lenses in 2019 [Ultimate Guide]
The Pixel ring light is the priciest on this list.
It also has the most impressive features.
But first, the basics:
This 19-inch ring light is large enough for vlogging, videography, and portrait photos.
It comes with a stand, a smartphone holder, and a cold shoe camera adapter, for hassle-free shooting with all of your devices.
The Pixel ring light allows you to adjust power from 1% to 100%. And the ring light changes the temperature from 3000K to 5800K with the press of a button (and you can also make use of the temperatures in between).
The soft carrying case is a nice bonus, for enhanced portability.
And here's where it gets really impressive:
The Pixel ring light includes an LCD on the ring light itself. With this, you can view the brightness and the temperature, so you can keep your color and brightness consistent across shoots.
The Pixel ring light also includes a remote control with an LCD; this means you can choose your settings on the fly, while in the middle of a shoot.
Here's the bottom line:
The Pixel studio ring light is one of the most flexible, best ring lights out there–if you're willing to pay the higher price.
Ring Light with Wireless Remote and iPad Holder, Pixel 19" Bi-Color LCD Display Ring...
【BI-COLORS & LCD DISPLAY】Bi-color temperature ring light variables from a Warm 3000K to a White 5800K freely without...
【WIRELESS REMOTE CONTROL AND SELFIE REMOTE】Wireless remote control for convenient access to brightness and color...
【IPAD HOLDER & PHONE HOLDER 】Come with a cold shoe adapter for most DSLR cameras + smartphone holder for most...
【HIGH COLOR RENDERING】CRI ≥97 and TLCI ≥ 99, high color rendering makeup ring light brings a real, natural color and...
【WHAT YOU GET】1 x 19 inches Ring Light, 1 x Light Stand,1 x Carrying Bag, 1 x Wireless Remote, 1 x Bluetooth Selfie...
Related Post: Stunning Portrait Photography–The Ultimate Guide (in 2019)
The 5 Best On-Camera (Macro) Ring Lights:
The Bolt VM-160 is the best macro ring light for the price.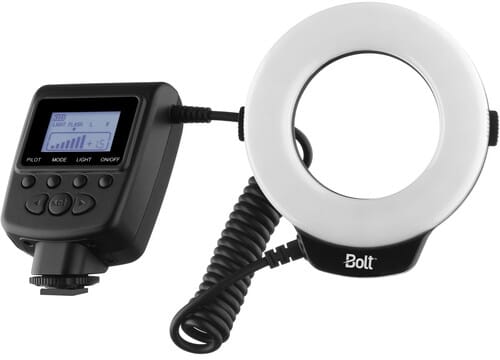 Because while there are more expensive options (including Canon's own ring light model, which comes in at over 500 dollars), the Bolt succeeds where it's most needed:
In offering nice, consistent lighting for stunning macro photography.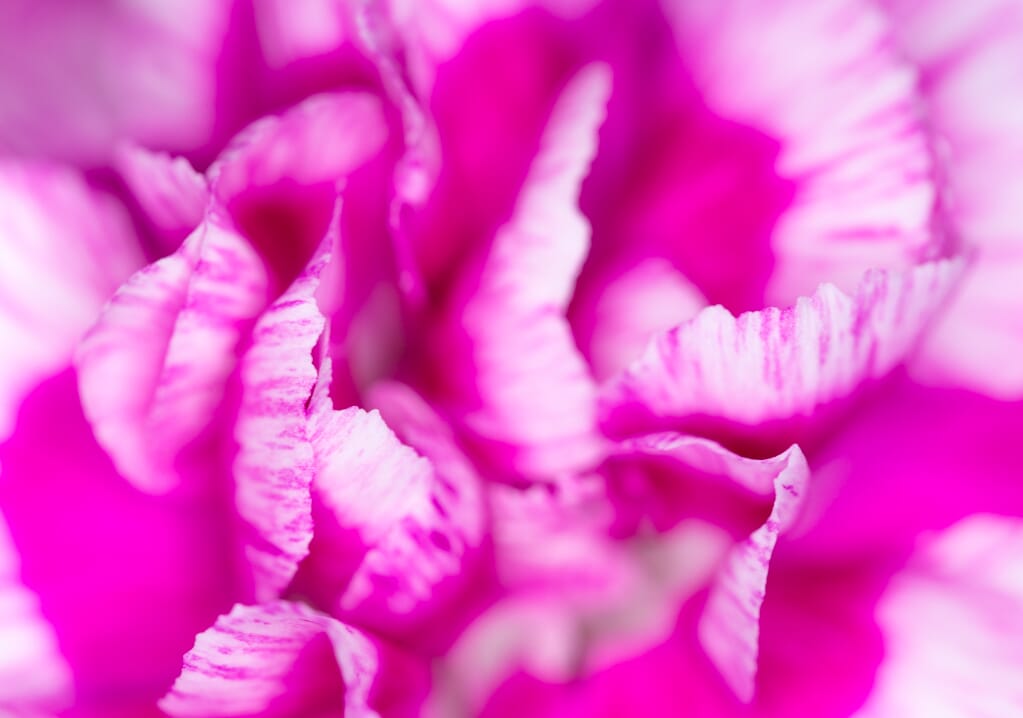 The Bolt VM-160 ring light mounts easily to your camera's hot shoe and to the front of your lens. It comes with a series of adapters which screw into the lens threads: 49mm, 52mm, 55mm, 58mm, 62mm, 67mm, 72mm, and 77mm. That way, you can use it on several lenses without needing to buy any additional kit (or worse, additional ring lights). And while build quality isn't stellar (it's almost entirely plastic), the ring light gets the job done.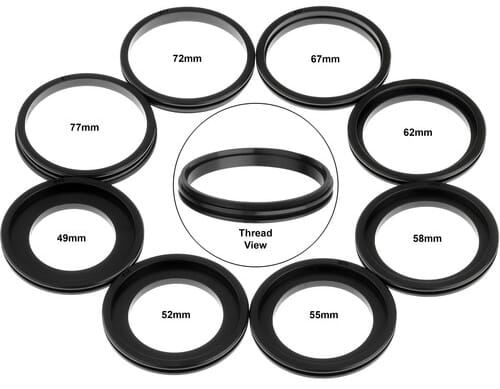 And as for performance:
The ring light is powerful enough for most close-up applications. And you'll appreciate the variable brightness settings, which allow you to change the power to suit your situation.
You can shoot with only the right side or left side of the ring light, for additional lighting options. And the ring light comes with several color filters so that you're able to warm up and cool down the light color in moments.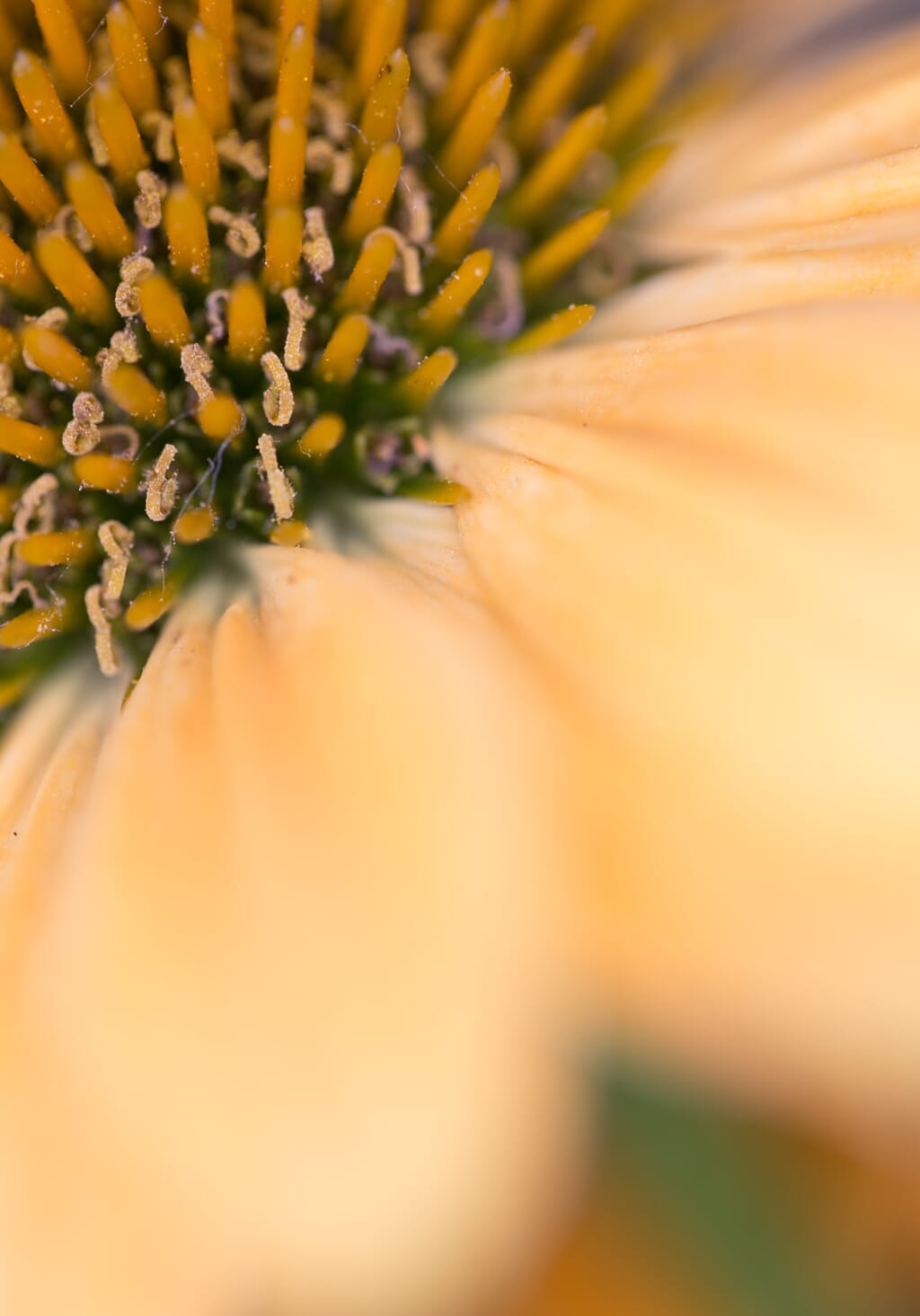 Note that the Bolt ring light offers both continuous lighting and flash mode–though the flash mode lags slightly behind the shutter; therefore, it will only work with slower shutter speeds.
You can buy the Bolt VM-160 LED Ring Light from B&H.
Related Post: 20 Macro Photography Ideas for Stunning Photos (Right Now!)
The Neewer Macro TTL ring light is more expensive than the Bolt for a few reasons, but one, in particular, stands out:
It comes with TTL metering for Canon cameras.
Now, TTL metering allows the flash to evaluate the exposure through the lens–and the flash will brighten or dim depending on the overall light in the scene.
This can be useful in portrait or macro photography if you find yourself often changing conditions and don't have time to repeatedly establish the right flash settings for good exposure.
Some photographers prefer to use TTL metering for this very reason. Personally, I don't find TTL metering very useful; I'm happy establishing the proper exposure with a bit of trial and error. But if you often work in a fast-paced shooting environment, you may like TTL metering.
Otherwise, the Neewer ring light performs very well. It comes with eight lens adapters (52mm, 55mm, 58mm, 62mm, 67mm, 72mm, and 77mm) and a hot shoe mount for hassle-free shooting. Build-quality is good, and the light itself is made from flash tubes, not LEDs.
The ring light also comes with extensive exposure control; you can alter the power levels to fit your shooting scenario.
But note that this is a strobe ring light only–you cannot use it for continuous lighting, only flash. So if you need constant lighting, look elsewhere.
Related Article: Best Macro Lenses for Canon
The Neewer 48 macro ring light is a strong budget option, offering decent lighting at an affordable price.
First, the pros:
The Neewer ring light comes with adapters to fit most lenses: 49mm, 52mm, 55mm, 58mm, 62mm, 67mm, 72mm, and 77mm.
It offers several filters for changing the lighting temperature, from blue (9000K), yellow (3000K), white (5000K), and transparent/standard (5500K).
The ring light comes with the same settings as the Bolt (above): Six lighting adjustment options, and four lighting options: right light, left light, flash, and continuous.
And the cons:
While the ring light comes with several lighting options, the flash is tough to use. Like the Bolt, it has something of a lag, which makes it tough to use fast shutter speeds in flash mode. So if you're someone who loves to work with strobes, you should look at one of the other options on this list.
Also, this ring light is built fairly cheaply: It's all plastic and feels flimsy. The ring mounts are plastic and feel prone to breakage.
Here's the bottom line:
While the Neewer 48 isn't the best ring light out there, it'll get the job done–for a fantastically low price. So if you're not sure if ring light photography is for you, this is a great option.
Neewer 48 Macro LED Ring Flash Bundle with LCD Display Power Control, Adapter Rings...
This RF- 550D Marco LED Ring Flash is specially designed to use in the field of macroshot, scientific research, medical and...
It can provide continuous and stable semi light or full light to meet higher photograph needs.
Includes 8 Mounting Rings (49-77mm). Weight of Ring Body: 125g. Weight of Control Unit: 60g. Weight of Electricity Charger:...
Consist of 48 pieces LED, higher luminance and lower static power consumption.
Fit Device: for any model of NIKON or Canon brand DSLR. Will Fit 49, 52, 55, 58, 62, 67, 72, 77mm Lenses. For Canon 650D,...
The Ploture ring light is another nice budget option. It caters to photographers who aren't ready to purchase a high-level ring flash but want to try it out as a lighting option.
No, it's not going to win any awards for most versatile ring light out there. But the Ploture ring light offers several useful features.
First, the ring light comes with eight lens adapters (49mm, 52mm, 55mm, 58mm, 62mm, 67mm, 72mm, and 77mm), as well as three color filters (white, orange, and blue). This lets you mount the light on pretty much every lens you own. And you can use the color filters to give your shots slightly different looks: cold, neutral, and warm.
The Ploture ring light also sports four useful lighting modes.
The left-flash mode and the right-flash mode give you light with only half of the flash.
The standard/full-flash mode works as a normal flash.
And the full light mode works as a continuous light, allowing you to see the light's effect before you shoot.
PLOTURE Flash Light with LCD Display Adapter Rings and Flash Diff-Users Works with...
This RF-550D is specially designed to use in the field of macro-shot, scientific research, medical and personal photography...
8 Mounting rings adapter fit 49, 52, 55, 58, 62, 67, 72, 77mm lenses.
Comes with high-definition LCD Display.
This high intensity LED ring flash Light suitable for Canon/Nikon/Pentax/Olympus/Panasonic DSLR with hot shoe.
3000~15000K Color temperature.
The Viltrox ring light is a flash only–it offers no continuous lighting options, just a strobe light.
Like the Neewer Macro TTL listed above, the Viltrox is a higher-priced flash. This is for a few reasons.
First, the Viltrox includes TTL metering, which is useful for more advanced flash applications.
Second, the Viltrox is furnished with fast recycle times (between 0.5 and 5 seconds), which makes for rapid shooting in the field. The flash itself is made of flash tubes. This means you won't have to deal with individual LED lights appearing in any reflective surfaces.
The Viltrox also comes with several flash modes, including multi-mode, for using multiple flashes in a single shot. And you can easily adjust the flash power with the flash controls.
Along with these advanced features, you'll also find pretty standard ring light capabilities: An LCD with controls, which mounts on the back of your camera, and six adapter rings for using different lenses.
Note that the Viltrox JY67ON will function fully only on Nikon cameras. While you should be able to mount the Viltrox on Canon cameras, the TTL metering won't work.
For the more serious photographers willing to pay a premium, the Viltrox may be the way to go.
VILTROX JY670N i-TTL Macro Ring Flash Speedlite Light Flashgun for Nikon SLR Camera...
High definition LCD panel, Completely compatible with Nikon i-TTL system
Come with 6 adapter ring 49/52/55/58/62/67mm ,enable flashlight to couple with lens.
mode/ Multi Macro dedicated flash, support i-TTL, Maximum GN. 14 (ISO 100, meter), Flash ratio control
Various flash functions: Suitable for macro shooting, Portrait shooting, Jewelry shooting, Oral medicine shooting, etc.
Get get the CE, EMC, FCC, RoHS certification , the quality is assured. it comes with 60-Days return-back guarantee when you...
Related Post: Best Macro Lenses for Nikon in 2019 (9 Great Picks)
The Best Ring Light in 2019: Conclusion
Hopefully, you now have a good sense of the best ring light for your needs.
However, if you're still struggling, just remember:
Studio ring lights are perfect for those looking for a more permanent setup–for instance, if you'll be shooting makeup tutorials or portraits in the studio.
If you need a basic studio ring light, go for the Neewer 18-inch, which comes with a stand, a smartphone holder, and more.
If you're only interested in smartphone ring light photography, then consider the Nugilla 6-inch ring light, which is both good quality and great value.
On-camera ring lights, on the other hand, are excellent for photographers who want a portable flash for close-up work.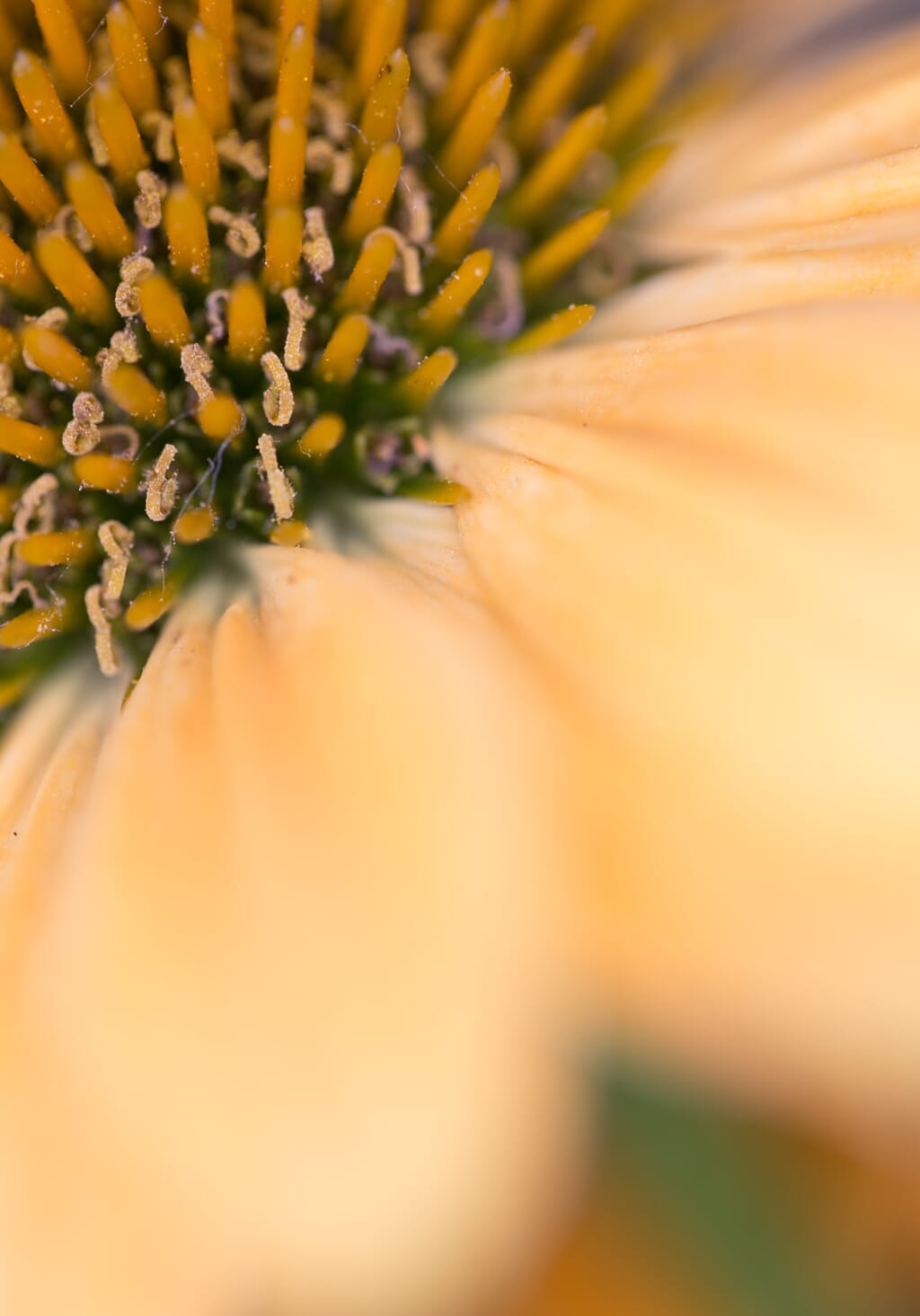 The Bolt VM-160 ring light is the best option for the price. It comes with several colored filters, a continuous lighting mode as well as a flash mode, and can be used on pretty much any lens-camera combo.
But if you're looking for something a bit more advanced, you might go for the Viltrox ring light (for Nikon) or the Neewer Macro TTL ring light (for Canon). These both offer TTL metering and more sophisticated shooting options.
Jaymes Dempsey is a professional macro and nature photographer from Ann Arbor, Michigan; his work is published across the web, from Digital Photography School to PetaPixel.
---
As an Amazon Associate we earn from qualifying purchases. Certain content that appears on PhotoWorkout.com comes from Amazon. This content is provided 'as is' and is subject to change or removal at any time.