If your work demands something more interesting than just the standard white light, you may be interested in exploring the world of RGB lights!
RGB lights have become a new trend to replace using traditional gel filters on white lights. They're increasing in popularity thanks to their easy-to-use nature and adaptability. If this strikes your fancy, here is our guide to the best RGB light for photography – from wands to panels!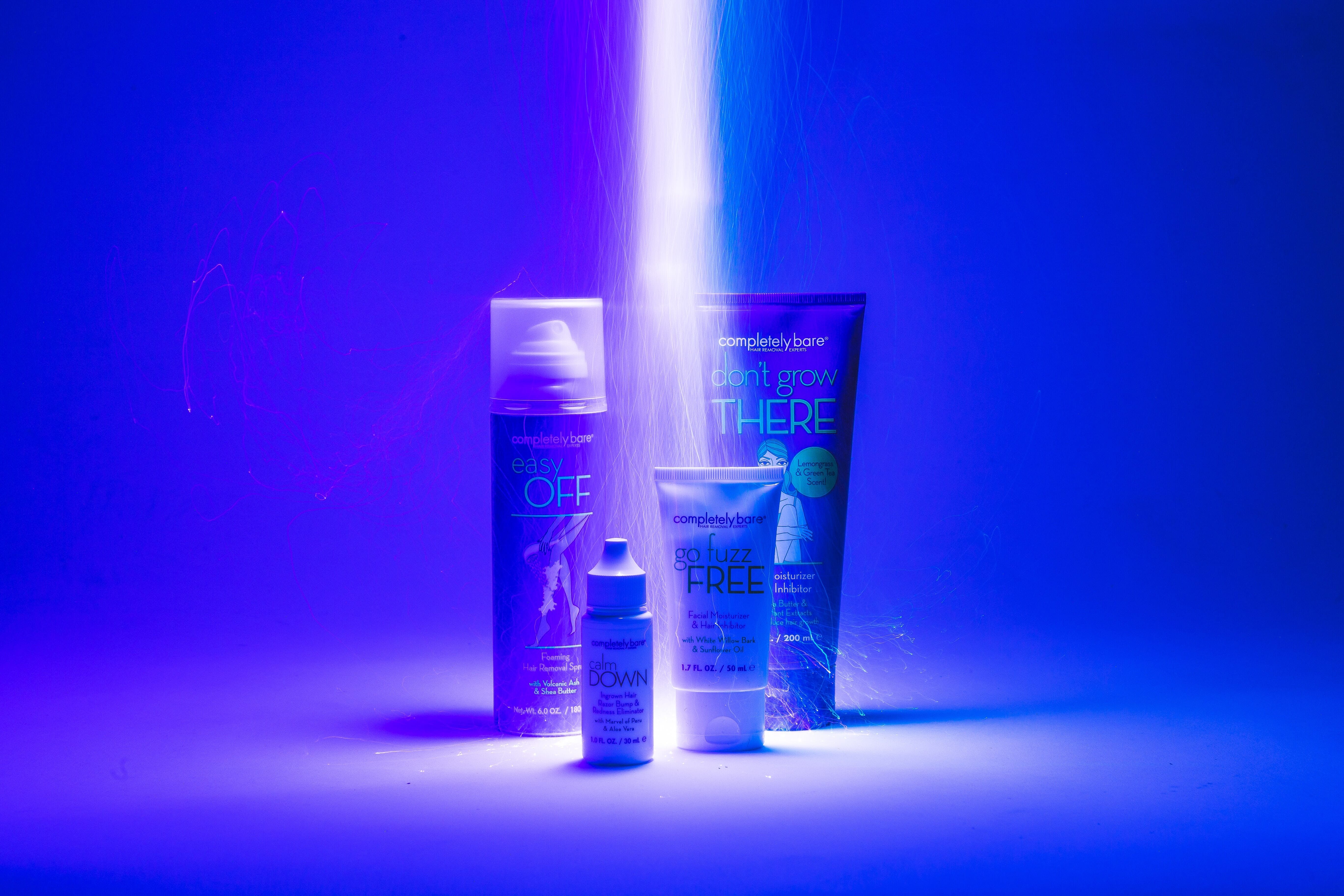 Best RGB Light for Photography:
When you buy through links on our site, we may earn a commission at no cost to you. We evaluate products independently. Commissions do not affect our evaluations.
Things to Know About RGB Lights
Before we dive right into all the drool-worthy options, let's cover a few basics about RGB lights for those that haven't used them before.
To start, the inclusion of color in the professional photography world was once accomplished by covering a white light with a color film. This filter, commonly called a gel filter, would allow the light to pass through it and color the output.
However, this came with its share of caveats that didn't thrill many photographers. Gels would often melt under some of the lights and they had to be clipped onto the light (and usually fell).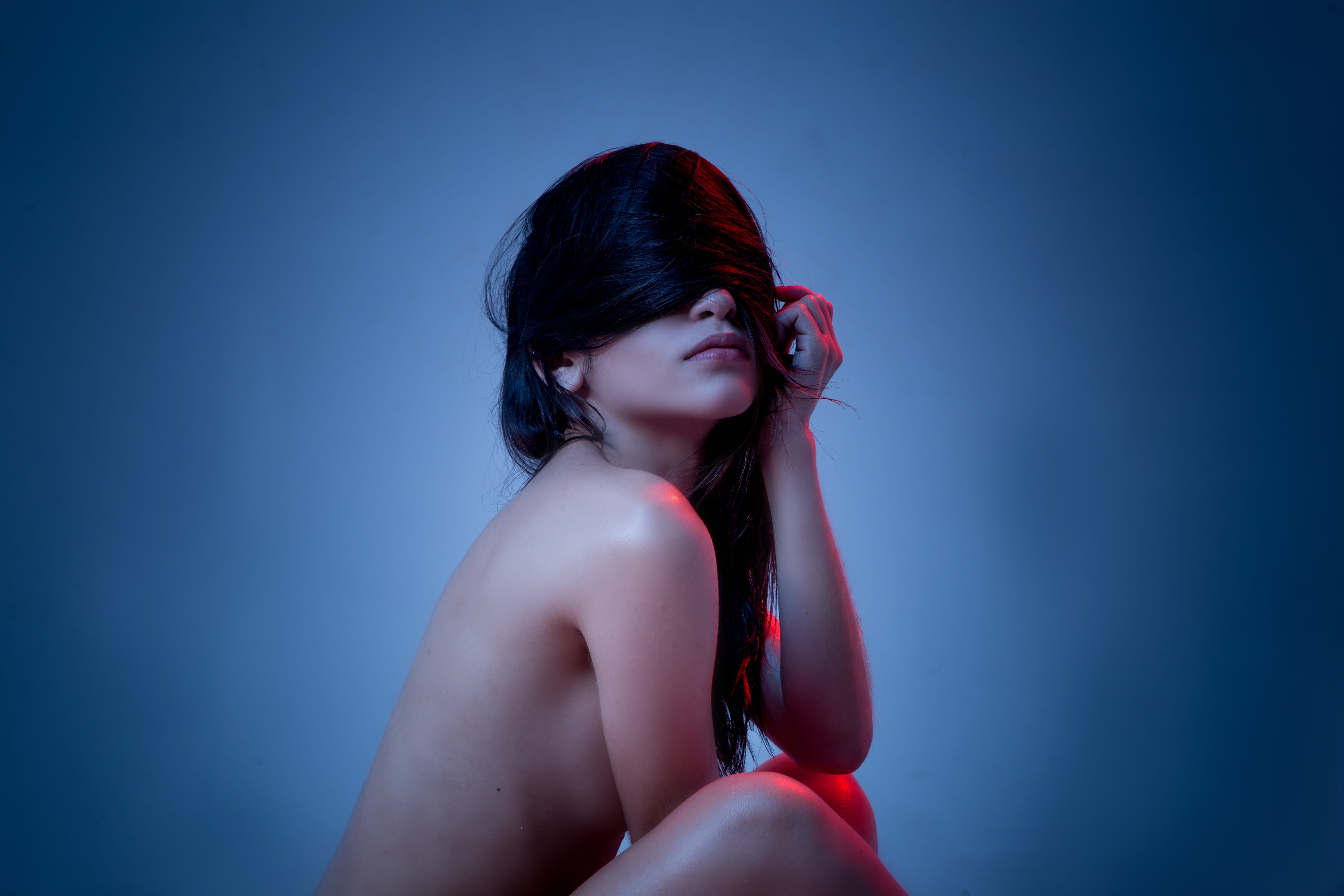 Enter RGB Lights!
The solution came from observing how cinematographers handled the need for continuous colored light; RGB lights.
RGB comes from the additive color system of Red, Green, and Blue. Mixing these colors together is what produces the colored light. Some RGB lights actually have red, green, and blue bulbs in them, with the mixture producing the final color. Others use a programmed color system to create the colors and not physical red, green, and blue bulbs.
The Advantages of RGB Lights
RGB lights do not flash, they stay on continuously – making the output consistent every time. Because the lights themselves change color, there is no need to carry gels around and attach them to white lights. You can use RGB lights for light painting, too, where you keep the shutter slow while moving the lights.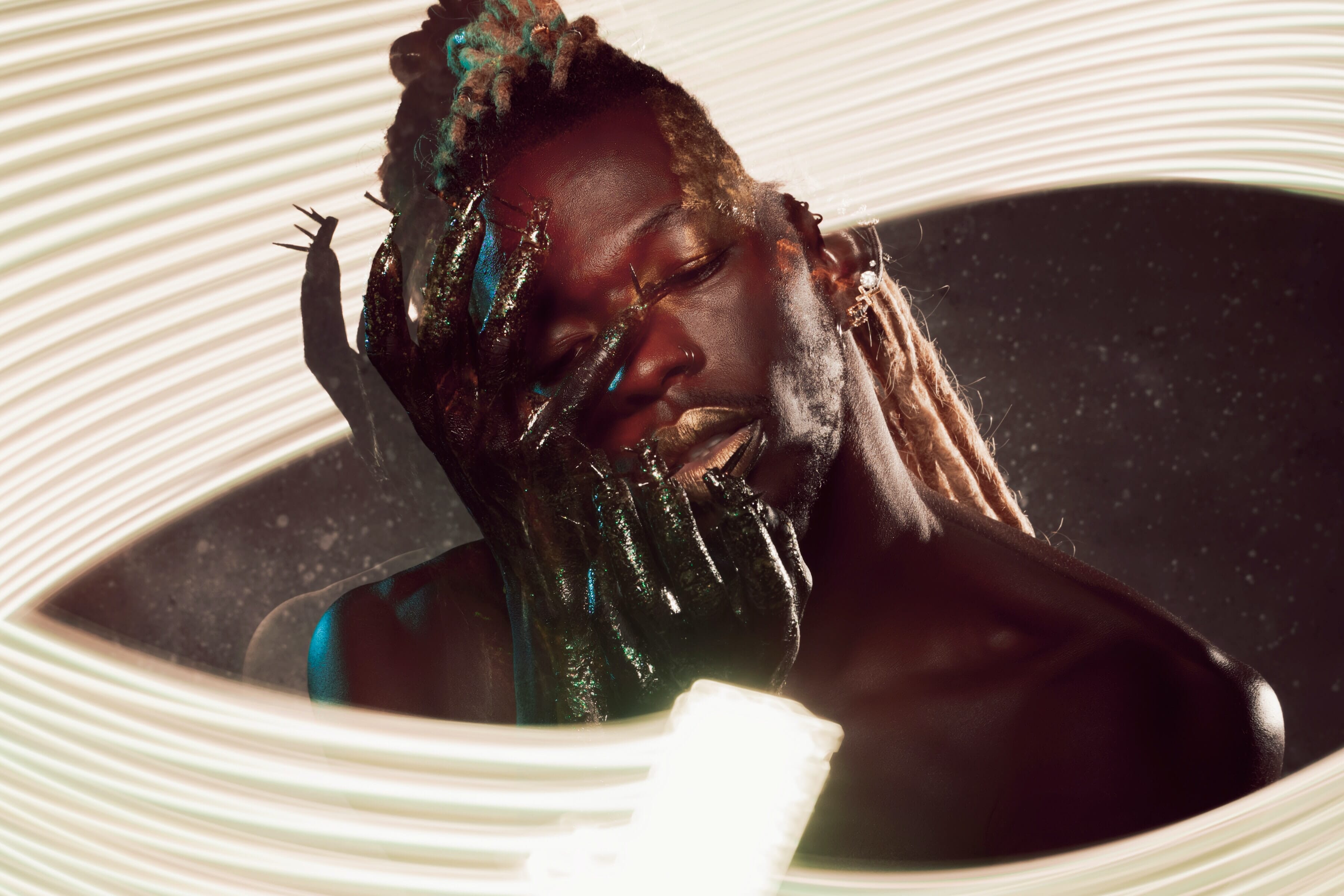 RGB lights also run cold, so they won't cause your subject to sweat up a storm or melt any plastic around them.
With all of these perks in mind, there are some cons to RGB lights that have to be considered.
The Disadvantages of RGB Lights
Because RGB lights are continuous and do not flash, they have a much dimmer output of light. As such, most photographers need to bump up their ISO or lower their shutter speed to compensate.
This lower output also keeps the lights from spreading very far, requiring RGBs to be placed closer to the subject than other types of lighting. How dim depends on the RGB light, which is where our list comes into play.
The Best RGB Light for Photography – Our Picks
Best RGB Tube Lights
Tube lights are quick to give anyone nostalgia over lightsabers, as they look like something right out of a Star Wars film!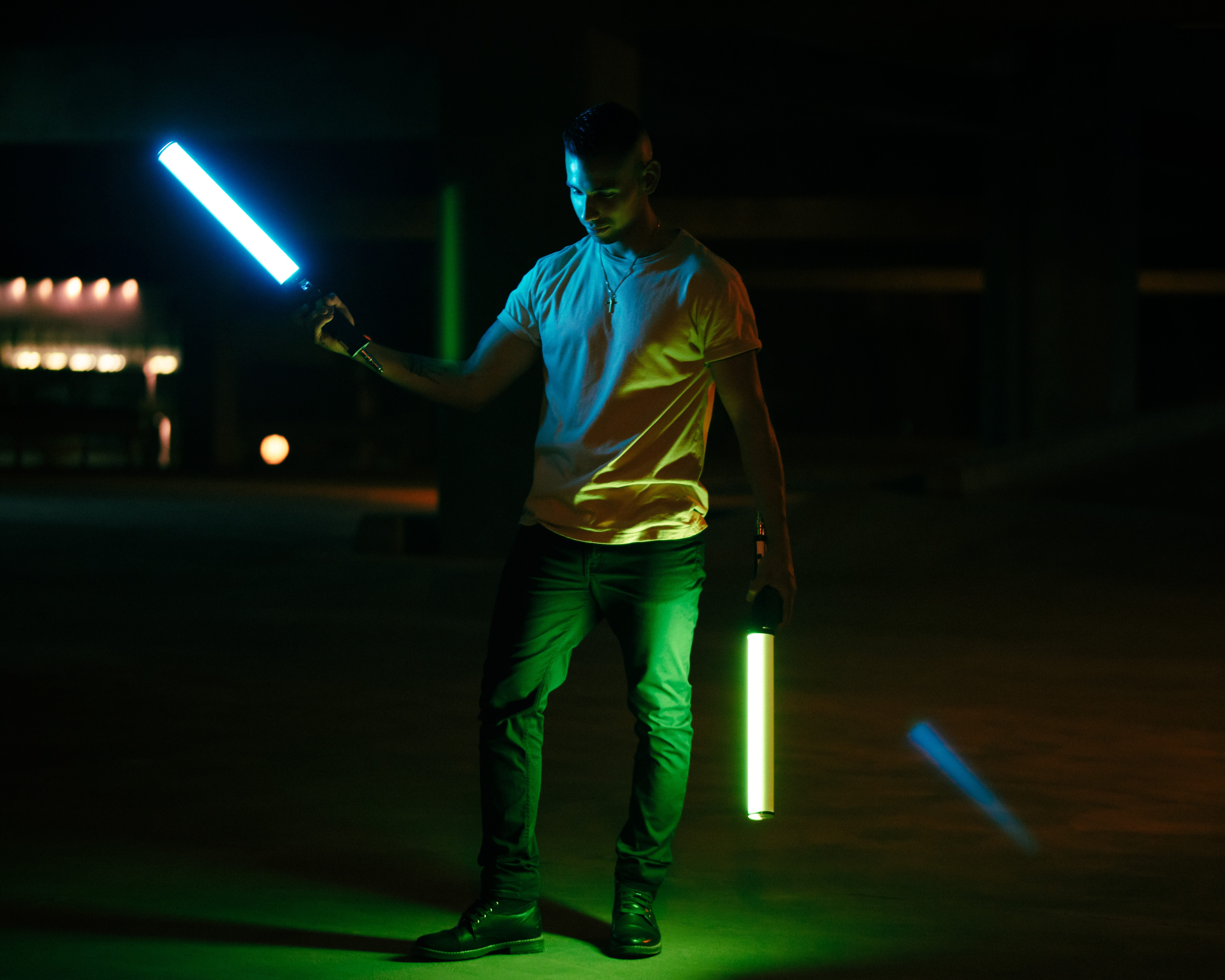 These lights have the benefit of being very unobtrusive in photo shoots. They're incredibly portable, too. For some photographers, they're even the subject of a photoshoot (such as those interested in light painting).
1. Nanlite PavoTube
Our Tube Pick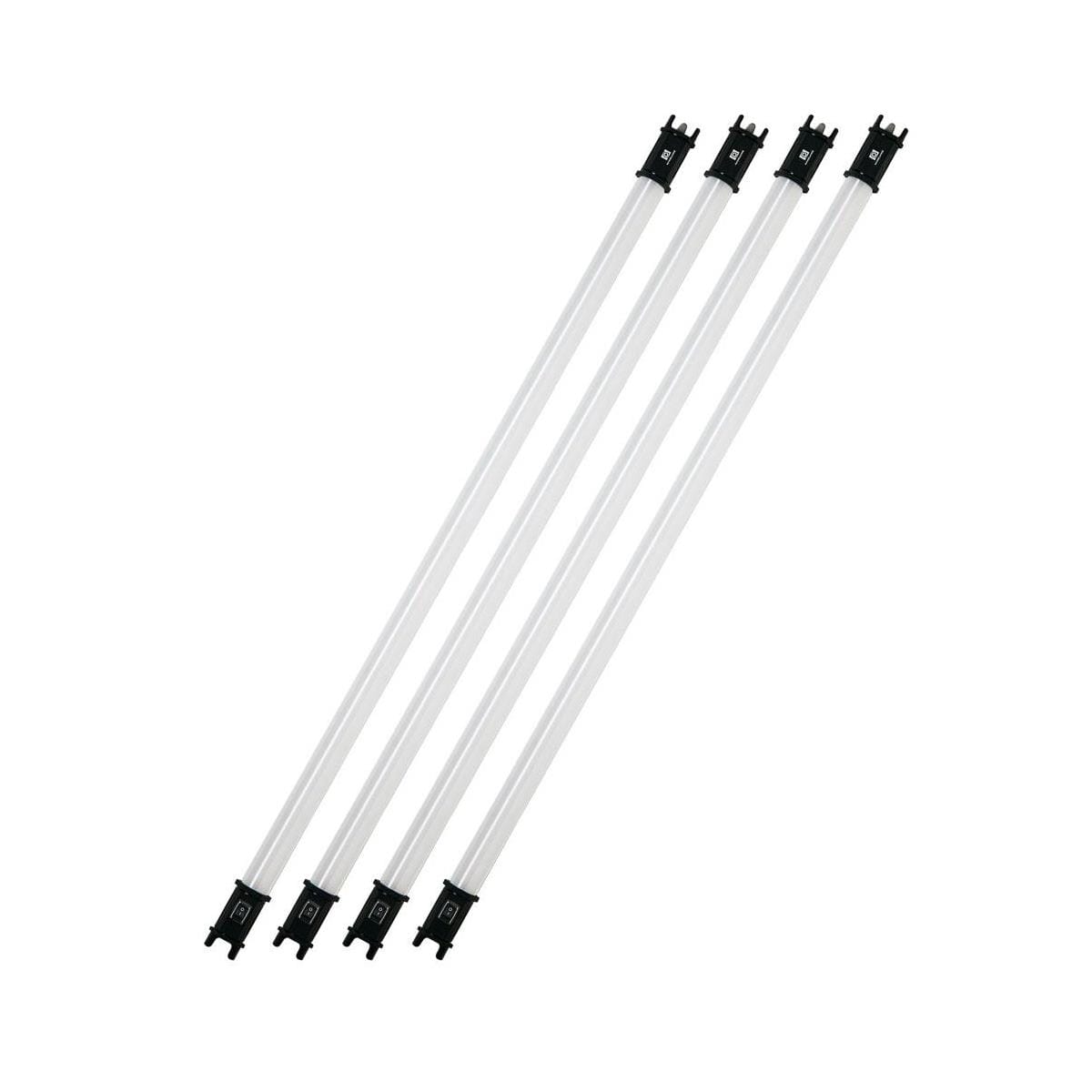 The best tube light option, hands down
The Nanlite PavoTube has a slew of options included at a price that is agreeable for its offerings.
Pros
Different sizes available, up to 4 feet
Powerful and bright light output
360 static colors to choose from
Many accessories available
Cons
Although the price is agreeable with the features, it is still costly
Not water or weather proof
Nanlite PavoTubes are a photographer's dream – truly! Created originally for video, there are many features this nifty tube has that can make any photographer happy. These lights are, unfortunately, consistently teetering on the edge of a significant backorder. But there is a reason, so many are quick to jump on these lights and cause them to fly off the shelves.
For starters, the PavoTube comes in several sizes, ranging from small wands that are great for product photography all the way to four-foot monsters excellent for lighting an entire person. The light output intensity can range from 0% to 100%, putting all the control in your hands. Additionally, the maximum illumination of 2850 lumens per tube makes these lights more than bright enough for most studio settings, helping you keep your ISO at a lower level than expected.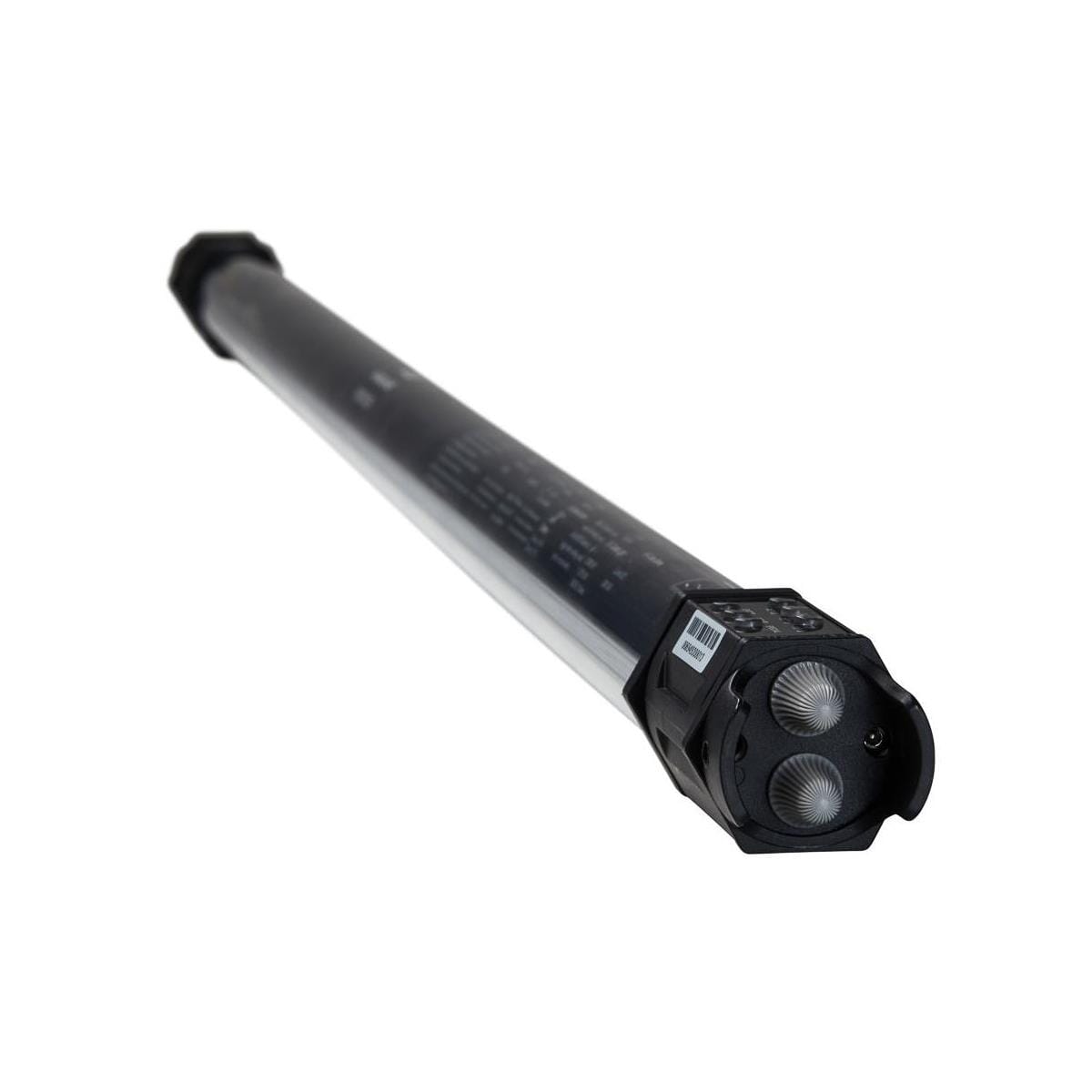 The real beauty of the lights, of course, is their color outputs. The options feel endless with 360 different light colors on the RGB spectrum, fully controllable on a very convenient LCD panel. You can even control these lights with the built-in 2.4GHz radio control using them in a similar manner to a strobe light.
Each set comes with tube clamps for tripods and accessories to position the lights in any way you desire. PavoTubes even have specially designed light modifiers to make photoshoots easier. Modifiers include grids and barn doors to control the light direction.
These lights can be battery-powered or plugged into an AC adapter.
2. Astera Titan Tube
Best of the Best Tube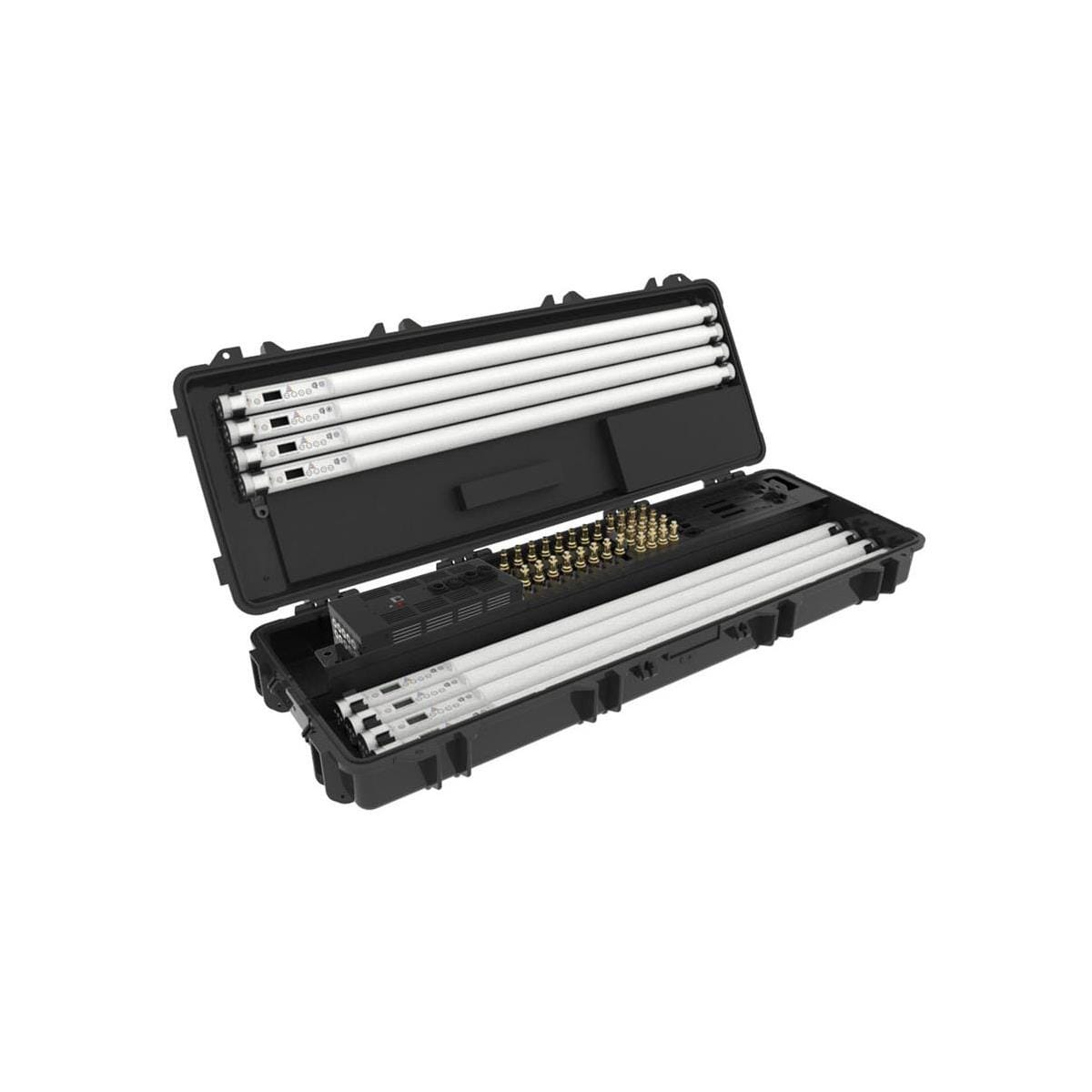 The ultimate RGB tube light
The Astera Titan Tube is the ultimate RGB tube light on the market, packed with enough features to make your head spin!
Pros
Up to 20,000k output making this an ultra bright light
Approximately 20 hours of run time
Real time updates on the lights, including anti-theft notifications
Perfect color consistency, easily controlled through a variety of wireless methods
Lights charge in their carry case
Cons
Very expensive
Can be heavy
A light you will often find lurking on professional film or television sets is the Astera Titan Tube. We've got to admit, it is as grand as the name suggests! There is no doubt that you will leave your clients impressed, whether you're a cinematographer or photographer.
This tube allows you to adjust the color as detailed as hue, saturation, and intensity – almost like playing with a real-life Adobe Lightroom color panel! The kelvin output is 1,750K to 20,000K depending on the intensity you set. This output range will let you light up any set or studio with ease. Each tube's color is individually calibrated, which leads to absolute consistency every time – an exact color reproduction.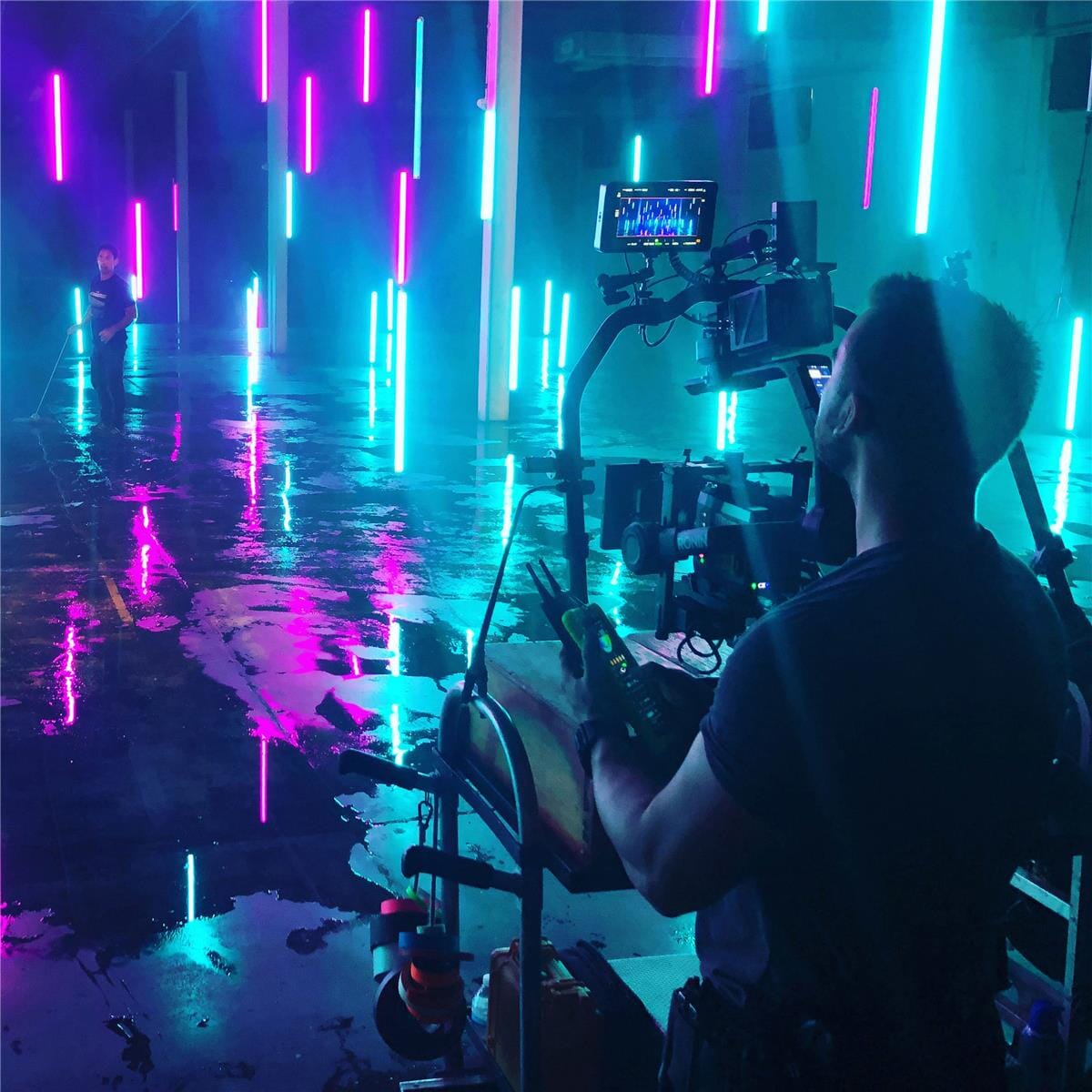 With a run time of up to 20 hours, this light can handle the toughest of circumstances. The light keeps you in the loop on all of its happenings, such as battery status and even if a light is moved! You can immediately diagnose why something may not be working directly on the light itself.
For commercial photographers, the detailed information you can access in real-time about each light will save you tremendously if something goes awry.
With Astera being quite a hefty investment, the Titan Tubes have an anti-theft precaution built into them. Through the Astera app, you will be notified if any tube is tampered with (allowing you to leave them with your set assistants and still be in the know).
The lights can be fully controlled in a variety of ways, such as a remote, a phone app, and more! You can preset color combinations or patterns and remember favorite arrangements. The list of features feels like a novel!
The lights charge themselves in their actual carry and storage case.
3. Quasar Science Tube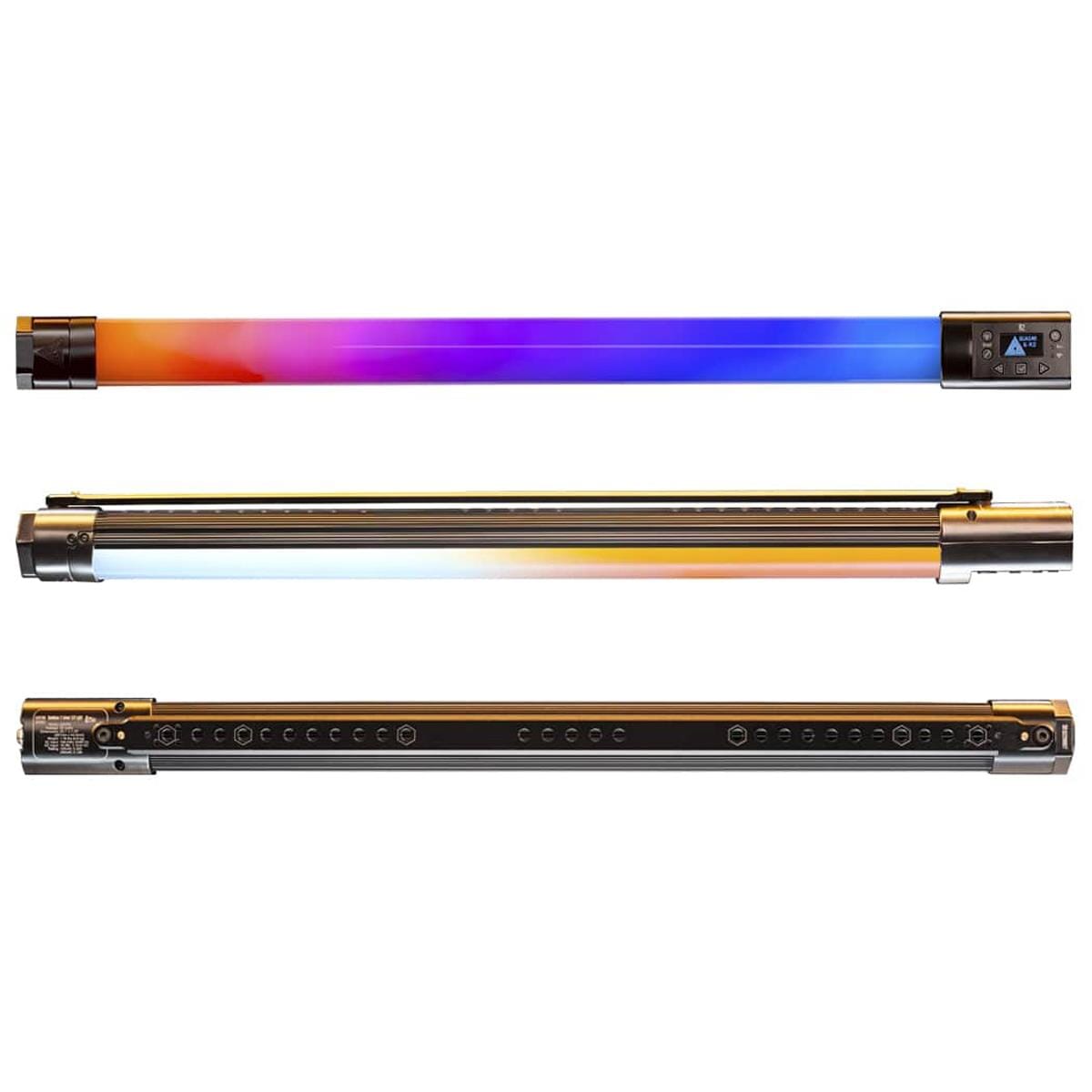 You don't have to be a scientist to figure these out
A good middle ground option, the Quasar tube is a powerful RGB light that allows you to do multiple colors on one tube.
Pros
Similar features as other RGB tube lights
You can do multiple color arrangements on a single tube
RAIL mounting system included in the purchase
Cons
Lower output than other lights in this price range
These lights certainly look like something out of a science fiction film, the Quasar Science Tube is a unique RGB tube for those that want a plethora of color in one light.
Maintaining the same low profile as the Nanlite PavoTube and Astera Titan Tube, the Quasar Science Tube can discreetly fit into any small space to illuminate your subject flawlessly.
Keeping with many similar features to the other tubes listed above, what's unique about the Quasar is its pixel control! You can color different parts of the tube independently, creating a whole rainbow if you wish! This reduces the need for multiple tube lights, as you can create a color combination with just one or two tubes.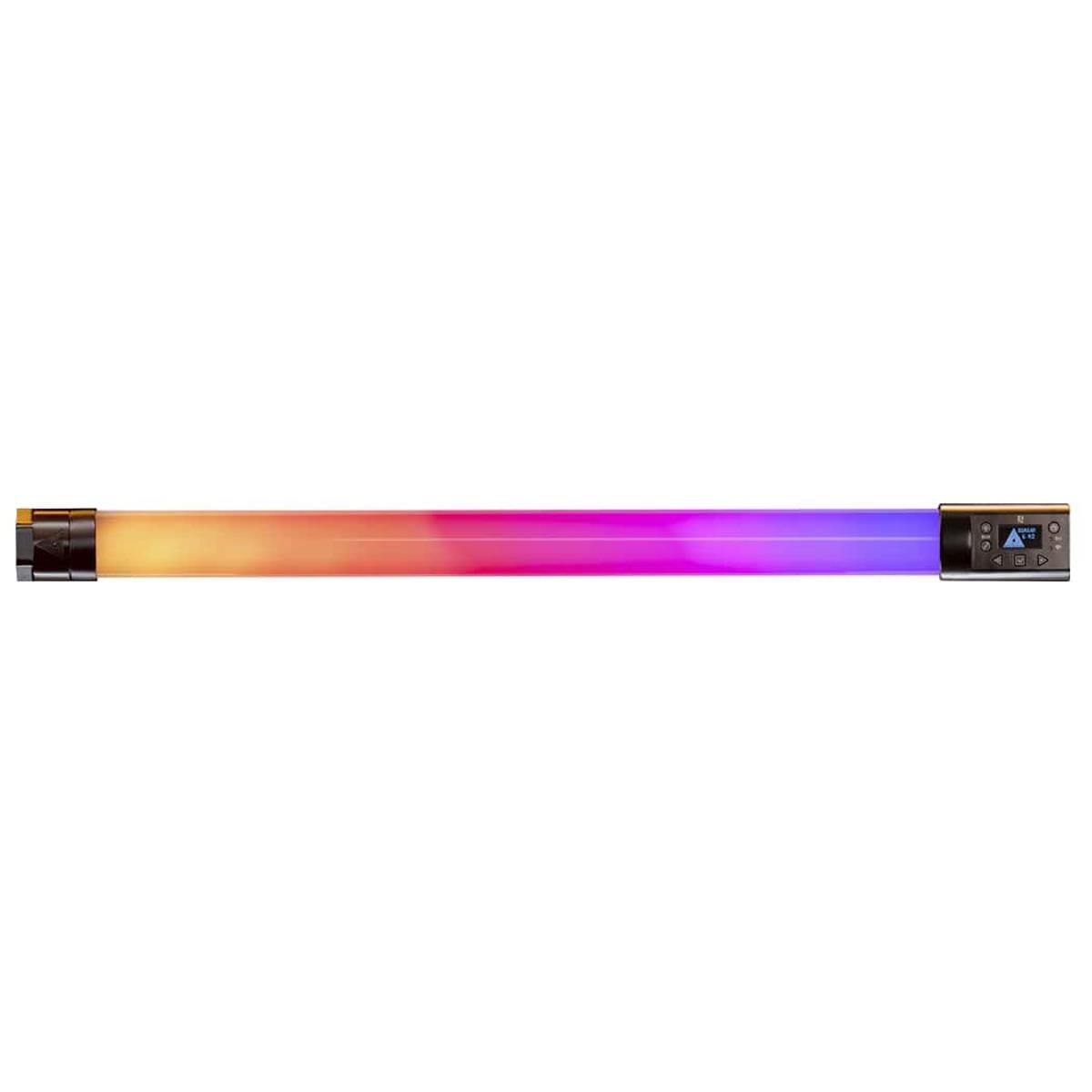 The output of the Quasar Science Light is lower than some other tubes on the market, but the pixel control ability and reasonable price are what allows this light to sit on our list.
In addition to this, Quasar has a fantastic rigging system available to help mount the lights in any way you need! The RAIL rigging system allows the contact point on the light to slide up and down the tube, with a baby pin attached to keep the mount in place. You will be able to mount your lights directly out of the box without the need for purchasing additional accessories! You can also mount a V-Mount battery onto the light for any portable needs.
4. Godox LED RGB Light Stick
A mini version of the PavoTube
Godox aims to deliver lighting that photographers are dying for, at a price most can afford!
Pros
Good price for the features
Multiple wireless control methods included
Big bang for your buck
Cons
Only 2 foot in size
Dimmer output and shorter battery life
The leading provider of flash, strobe, and lighting equipment at a price more suited for the prosumer photographer, Godox dipped its hands into light wands with the Godox LED RGB Light Stick.
In all honesty, the Godox LED RGB Light Stick looks and has similar features to the PavoTube in 2′ size. The Godox tube does have a somewhat dimmer output of light and shorter battery life. That being said, it is still a great choice for photographers that need to keep their wallets happy while investing in a product that will do the deed.
The advantage to the Godox, however, is its inclusion of a variety of ways to control the light remotely. Color can be adjusted via the built-in LCD screen, a dedicated remote, a smartphone app, or DMX control. The whole kit comes with a carrying case, sync cables, and a slew of additional accessories – great bang for your buck!
5. Luxceo Wand
Best Budget Wand
A great option to dip your toes
This wand is a great introduction to RGB light wands at a price that isn't terrifying.
Pros
Great price
Simple to use
Small and portable
Waterproof
Cons
Only 8 colors to choose from
Dimmer output and shorter battery life
If the prices of the above lights jar you, the Luxceo Wand is a great solution for the budget-conscious color photographer! While it is limited in its functions, it still does the job well! The Luxceo Wand is an easy tool to carry with you or keep in the trunk of your car!
With only 8 color options to choose from, the Luxceo won't allow you to adjust your colors much – but that's nothing that a bit of post-processing can't fix! The lights are small, portable, and effortless to use; nothing complicated about them. The lights are also waterproof, letting you use them even when the weather isn't being very kind to your photoshoot.
Priced low enough to save you hundreds of dollars, the Luxceo Wand is a great choice for someone wanting to dip their feet into RGB light photography. The handheld size also makes this a great paintbrush for light painting!
Best RGB Panel Lights
For those looking for more traditional-type lighting, panels are your best friend! Quite literally panels of light, this square option can cover a much larger square footage in the studio and tend to run much brighter than their tube cousins above.
1. GVM 800D-RGB LED
Our Panel Pick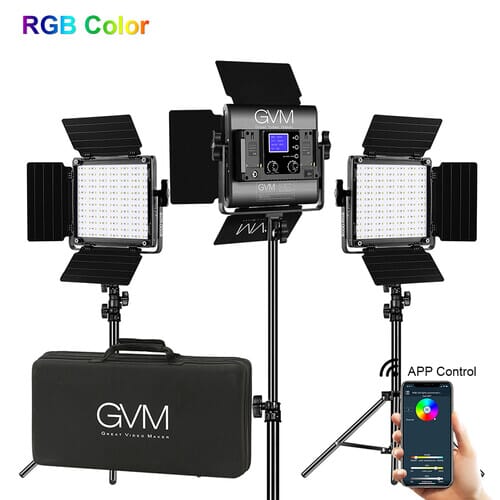 A kit that gets you started right away
The GVM 800D-RGB LED comes in a three light kit with a slew of accessories, a great use of your money!
Pros
Comes with a set of three lights, carrying case, tripods, and light modifying accessories
Ability to control color temperature as well as RGB colors
Not as heavy as you would expect
Excellent price
Cons
Not as bright as comparable models
No wireless battery option
We start off our list with the GVM 800D-RGB LED, which comes in a three-light kit to start off any photographer's RGB light journey! Set up a triangle lighting arrangement and you'll be able to light up every part of your set with this kit.
These lights are not battery powered – they do plug into an AC Unit, however, their expected lifespan is tremendous. You won't be replacing the GVM 800D-RGB LED anytime soon!
The color output is consistent and vibrant, easily adjusted with both CCT and RGB color controls. CCT stands for Correlated Color Temperature, which adjusts the amount of yellow (warmth) or blue (cold) in a color. As such, you can adjust the temperature of your color!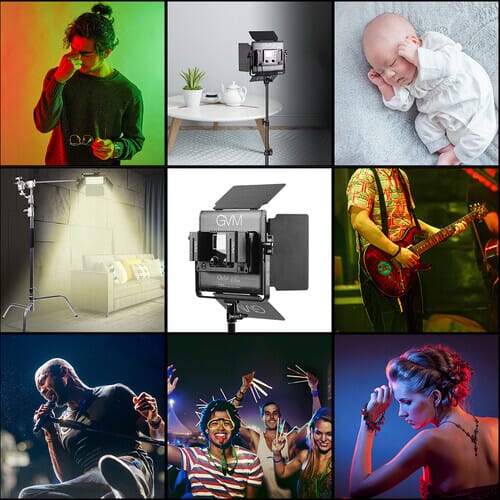 The light panels come with barndoor light modifiers already. These will help you shape and direct the light without additional accessories.
Three soft diffusers ship in the package as well, preventing the light panels from being too spotlight-esque and helping spread the color around. The kit weighs in at 22 pounds total, not an unbearable weight.
2. Neewer 660 RGB LED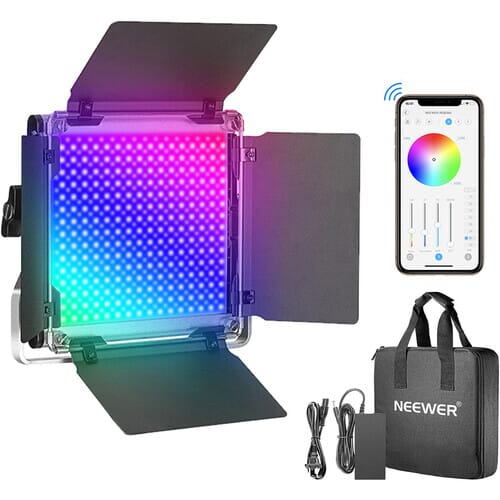 An improved option
Comparable to other light panels, the Neewer 660 RGB LED has some improved features which make it an excellent choice.
Pros
360 different possible colors
Can be adjusted to match ambient light
Runs off AC adapter or batteries
Controlled via phone app
Cons
Does not come with many accessories
At a bit of a higher price point than the GVM 800D-RGB LED, the Neewer 660 RGB LED is a very comparable model sporting many of the same perks! However, the big difference is in its color ability! 360 different colors are possible with this panel, at an output that is slightly brighter than that of the GVM model.
The light luminosity can also be adjusted to match or adapt to the ambient light in your scene, making the Neewer 660 RGB LED a good choice for in-home session photographers.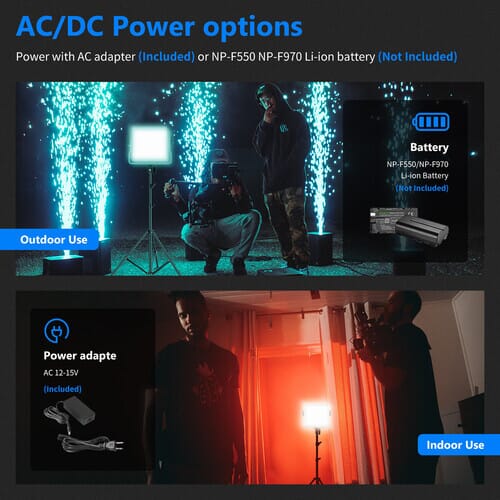 Able to be controlled via phone app, no additional remotes or cables are necessary to get this panel running! The light runs off an AC adapter or optional rechargeable batteries, making it easy to tote around and set up anywhere.
With a slew of accessories available, you'll get lots of flexibility with this lighting panel. Note that you'll only receive barn doors with your purchase, so additional accessories come at an extra cost.
3. Aputure NOVA P300c RGBWW LED Panel
Best of the Best Panel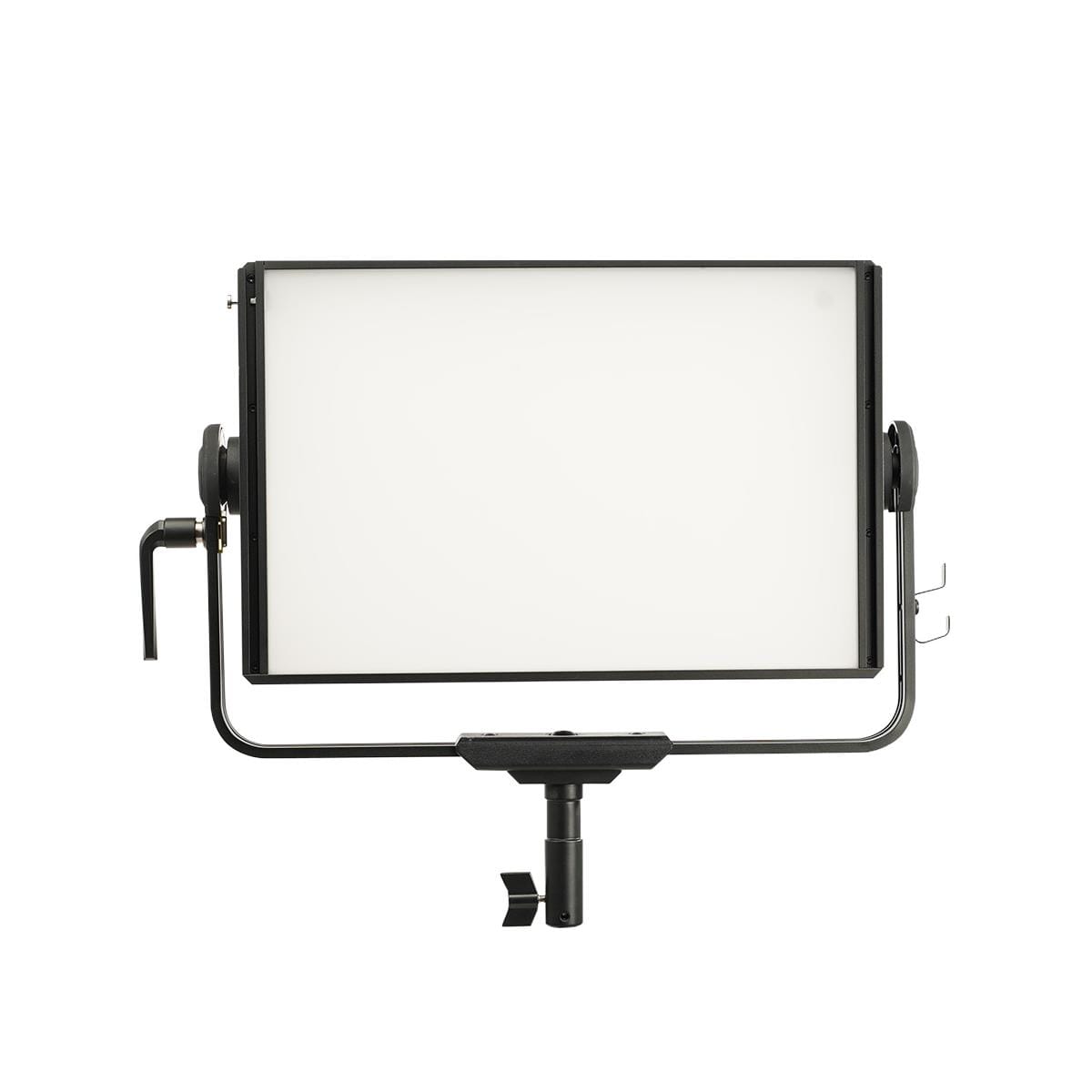 The ultimate RGB LED Panel
The Aputure NOVA is everything you would want and more in an RDB panel.
Pros
Incredible color control, with bi-color options and 300 built-in presets
Already created with a diffuser in mind
Only requires 360 watts to use
Aputure is one of the leading lighting companies in the video and photo industry, known for its exceptional quality and consistent output. The price point buries the Aputure NOVA P300c RGBWW LED Panel deep into the professionals-only world, but its immense ability justifies the investment!
The Aputure NOVA P300c RGBWW LED Panel is a soft panel, so it feels a bit squishy and isn't as rigid. The benefit to this is the natural diffusion, so you won't find a spotlight effect happening here. The lighting output is tremendous, even for a smaller sized panel – allowing your camera settings to be conducive with limiting noise. With a power output of only 360 watts, this light also uses a lot less power than other models!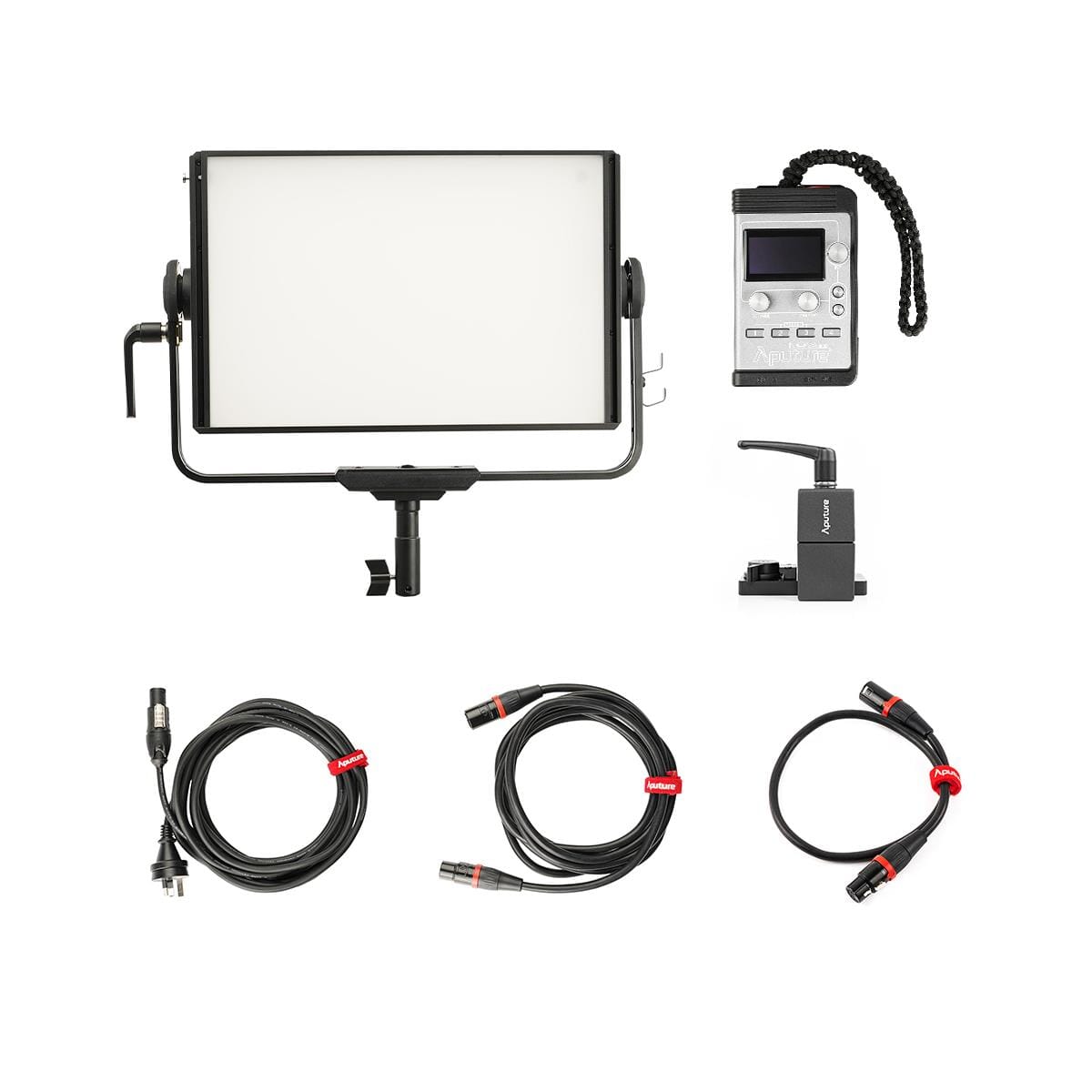 The colors are seemingly endless, with a bi-color option allowing the light to be divided into two independent colors. An added bonus is the light's already input library of about 300 industry-standard gels and their tones, hues, and saturations, so that you can mimic the work you were doing before!
Additional features include user-programmable modes, a fantastic adjustment panel on the light itself, mounting attachments included, and built-in lighting effects.
What RGB Light Is the Best for You?
In conclusion, which light should you spend your hard-earned money on? To be frank, whichever one you can afford! At the end of the day, all the lights do the same thing; the difference is how close you can get your desired shot in-camera.
The more expensive lights help you achieve the exact color of your dreams right off the bat, while the less expensive lights may require some color grading adjustments in post-processing.
As a general statement, The Nanlite PavoTube is our pick for the best tube light. Mixing features and functionality, this light will last you a tremendous amount of time. If you're looking for the best of the best, you can nab the Astera Titan Tubes with enough features to make you dizzy! Those that need to be mindful of their spending or just want to try out RGB lights for the first time can grab the Luxceo Wand.
If panels are more your style, the GVM 800D-RGB LED is the ultimate kit – one purchase and you're all set! If you're needing the best of the best, investing in an Aputure NOVA P300c RGBWW LED Panel will be the most impressive.
---
Disclosure/Disclaimer: As an Amazon Associate, we earn from qualifying purchases. Certain content was provided "as is" from Amazon and is subject to change or removal at any time. Product prices and availability: Amazon prices are updated daily or are accurate as of the date/time indicated and are subject to change. Any price and availability information displayed on Amazon.com at the time of purchase will apply to the purchase of this product.