Lighting is one of the most important aspects of photography, yet it can be incredibly challenging to get pro-level results. This can be especially difficult when you're doing something like product photography, which requires items to be bright and perfectly lit.
That's why a light box is so invaluable. Light boxes give you a direct but soft light source and allow you to block out external interference. They usually have an adjustable brightness setting and sometimes even let you modify the color temperature. This means you can use a light box to effectively control your lighting and get consistent end results for product and food photos.
Of course, choosing the right model is hardly an easy task. There are dozens of options featuring various access points, levels of portability, and price tags. That's where we come in; below, we share 10 of the best light boxes for photography, including options for all budgets.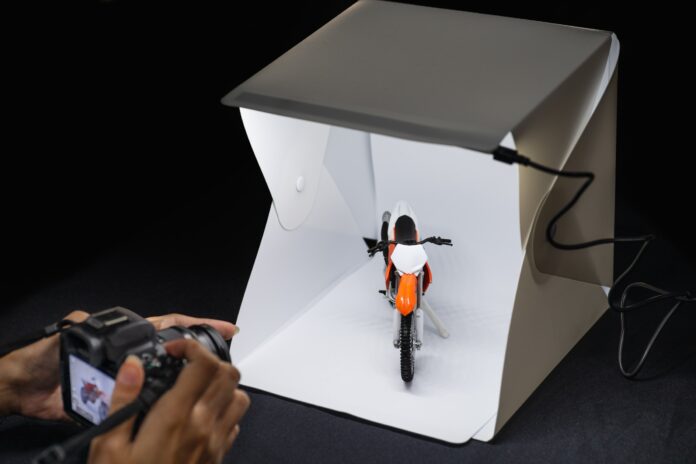 The Best Photography Light Boxes:
When you buy through links on our site, we may earn a commission at no cost to you. We evaluate products independently. Commissions do not affect our evaluations.
1. ORANGEMONKIE Foldio3
Our Pick
Great for product photography
The Foldio3 looks fantastic and is incredibly easy to set up. Additionally, the smaller size and movable light sources are perfect for product photography!
Pros
Can be set up in approximately 10 seconds
Different studio backdrops available
Includes LED halo bars
Amazing turntable
Cons
The size may limit you to smaller products
If you often work outside of your own studio, the fast setup time and fantastic functionality of the ORANGEMONKIE Foldio3 is ideal. It can be assembled in less than 10 seconds, and the magnetic structure makes it extremely easy to build.
The smaller size is perfect if you specialize in product photography. You can also choose between a black and a white backdrop, which means you get to pick the option that best suits your shooting style.
The set includes two halo LED light bars that you can freely adjust, so you get great flexibility and can create professional looks with minimal shadows. And even more impressively, this package comes with a turntable, which makes it easier than ever to create beautiful product shots from multiple angles.
2. Finnhomy Professional Portable Light Box
Budget Choice
Great for food photography
The spacious interior and multiple openings are perfect for times when you need to shoot dishes and items from different angles.
Pros
Durable materials
Spacious interior
The LED light bars are completely adjustable
Cons
The different backdrops may be fiddly to attach
Not foldable
The Finnhomy Professional Portable Light Box could be a superb lighting option for food photography due to its spacious interior and the LED light output that allows you to minimize shadows on your subjects.
It measures 16 in (41 cm) on each side, so you'll easily have enough space to place entire dishes inside with plenty of background space to work with. There are also five different PVC backdrops: black, white, tan, red, and gray.
The LED light bars have an output of 5500K, and they are fully adjustable so you can get a bright or weak light source depending on the style of your photos. There are also three entry flaps on the lightbox. Simply open these, point your camera inside, and snap your dishes from a variety of angles in seconds.
This product should also last due to the premium tent canvas and the durable metal frame. It's a great option if you intend to use it regularly and/or transport it to different locations.
3. ALUCAX Portable Light Box
Also Great
Great for travel
The ALUCAX Portable Light Box is fully foldable so you can easily transport from photoshoot to photoshoot.
Pros
Completely foldable
Excellent LED brightness
Six colored backdrops available
Cons
There is only one access flap on the front side
If you are looking for a smaller lightbox to shoot items like jewelry, the ALUCAX Portable Light Box is a top choice. It has a completely foldable frame and sides so you can quickly pack it away and transport it to different locations.
The setup process should be relatively easy once you get used to how the frame fits together. We like that you can quickly create different styles and color schemes for your photos as the package includes six backdrops: black, white, orange, blue, green, and red. The diffusion cloth the backdrops are made from will help you remove shadows and get clean photos.
The front side has a large opening that you can easily fit a DSLR or mirrorless camera through, but this does mean that you'll have to rotate the item to photograph it from different angles. Regardless, the end results should be consistent due to the built-in 126 LED lights, which give an output of 13000 lumens.
4. Travor Photo Box
Great for adjustable brightness
The Travor Photo Box has an adjustable brightness setting from 0-100% so you have complete control over product lighting.
Pros
Reasonable size with a 24 in (61 cm) frame
Six color backdrops
Great accessibility with different camera flaps
Cons
Relatively expensive
The backdrops are hard to keep in place
The Travor Photo Box is one of the best photography light boxes if you're working with mid-sized items; it's 24 in (61 cm) on each side, which means that it offers a decent amount of space without becoming unwieldy.
You can get beautiful uniform lighting on your items due to the reflective fabric, which is aided by the powerful LED light beads. You can use this device on a daily basis, too, as the LED beads will last for a long time.
This light box gives you excellent flexibility for multi-angle product photography as it has several access points. The flaps are all easy to access, and you can use them to capture the product from the front, the sides, and even from directly above.
This lightbox offers excellent versatility as you can adjust the brightness from 0-100%. It's done via a simple brightness dial attached to the LED power cable so you can make quick changes and keep a smooth workflow.
5. DUCLUS Mini Photo Studio Light Box
Great for beginners
The small size and simple operation of the DUCLUS Mini Photo Studio Light Box make it a great choice for folks wanting to get into product photography.
Pros
Two different camera access points
Highly portable
Simple USB connection for the power source
Cons
Not really suitable for professional use
The DUCLUS Mini Photo Studio Light Box could be a great starting point for beginners and those who are just starting to learn about things like light direction and shadows. It's a fantastic budget option, and although it's quite small, you can use it on a variety of items, including toys, gadgets, and jewelry.
You can set the box up in seconds, and it has a fully foldable design; this also means that it's highly portable, so you can take it to photoshoots or even photo classes.
You get 2x LED beads, each with 20 lights, which should give you plenty of brightness to get clean shots with minimal shadows. The light bars are integrated so it's easier to use, and it's powered by a USB cable.
Depending on the style of photos you want to take, you can shoot through the large open front section or point your lens in the top flap for overhead shots. This light box might not be suitable for professional use, but it's a great starting point for those wanting to learn.
6. SAMTIAN Photo Studio Light Box
Great for durability
The SAMTIAN Photo Studio Light Box is made from premium materials that can withstand constant use.
Pros
Multi-directional shooting with two access points
Portable and foldable design
Great for product and jewelry photography
Very robust
Cons
Four of the backdrops are duplicate colors
If you want a durable and robust product that can withstand rigorous use, the SAMTIAN Photo Studio Light Box is a top choice. It's lightweight and completely folds up, but the frame, sides, and fabric are all tough and won't get damaged or torn easily.
If you're looking to capture creative images or you're in need of some product photography ideas, the eight colored backdrops will keep you inspired. They include a premium black and white backdrop as well as six stylish color options: yellow, red, blue, green, black, and white. You can quickly attach new backdrops and completely change the feel of your photos.
The light is produced by 168 LED bulbs and the inner walls are made from reflective material. This means that you have a bright light source and that it should be reflected around the light box to help eliminate shadows. You also have full control over the lighting power as there is a dimmer switch to change the brightness from 0-100% as needed.
7. FOSITAN Bi-Color Photo Light Box
Great for light positioning
The FOSITAN Bi-Color Photo Light Box has a rotatable light board so you can make fine adjustments to the light source for perfect results.
Pros
Includes seven different PVC backdrops
4 shooting angles with quick-access flaps
Movable LED light boards
High quality LEDs that are built to last
Cons
The backdrops may be a little tricky to fit inside
The FOSITAN Bi-Color Photo Light Box is one of our favorite picks due to the light board. You see, the LEDs are fixed to a rotatable board so that you have complete control over the light source. You can angle it however you want to emphasize particular parts of your subject, and the 252 LED bulbs should last for ages.
While the main background is white, you can choose from seven other colors, too, and each backdrop is made from robust PVC that shouldn't wrinkle. This will always ensure that you have a smooth background behind your products.
The color temperature can be adjusted, too, so you can achieve cooler, neutral, or warmer looks. The product is also easy to use, and you should be able to set it up without any problems.
8. Glendan Portable Photo Studio Light Box
Great for a quick workflow
The Glendan Portable Photo Studio Light Box is very small, and it's ideal for photographers needing to work fast.
Pros
Compact and foldable design
Excellent lighting features
112 LED light beads
Great price
Cons
Not suitable for medium or large items
Not all light boxes have to be huge! The Glendan Portable Photo Studio Light Box is a smaller option that is worth considering if you photograph smaller items, such as jewelry and toys. It measures 12×12 in (30×30 cm) and is one of the most portable options available, in part due to the top carry handle and the foldable design.
You should be able to get set up in seconds and start working immediately, which is ideal if you always have a busy schedule. Despite the light box's small size, it still boasts 112 LED light beads that have complete brightness control from 0-100%. This gives you excellent flexibility and ensures you can get the lighting perfect for objects with a variety of reflective surfaces.
To improve the lighting further, this light box has a reflection board on the inside and a diffuser. Combine this with the six detachable color backdrops, and you end up with a compact but versatile product.
9. Konseen Professional Photography Studio Light Box
Great for full-body portraits
This larger light box is essential for those specializing in people photography due to the 78 in (198 cm) size and durable construction.
Pros
Wide opening for easy access
Full control over brightness with a dimmer dial
The frame is made from durable stainless steel
Cons
Takes longer to build due to the size and weight
Very expensive
If you specialize in portrait photography or full-body modeling shots, then you need something large, and the Konseen Professional Photography Studio Light Box fits the bill. It's meant to be used with people and has a height of 78 in (198 cm), so most of your models will be able to stand in it comfortably.
Don't worry about it collapsing, either; the frame is made from durable stainless steel, so it should be fine, even with regular use. If you have clients who are apprehensive about stepping into the box, the opening is huge and shouldn't give any feelings of claustrophobia.
So that you can get the right tones and lighting on faces and skin, you get a handy dimmer dial that allows you to change the brightness from 0-100%. This light box isn't cheap, but if you're serious about shooting full-body portraits, it's a good buy.
10. Heorryn Professional Photo Light Box
Great for large product photography
With a height of 55 in (140 cm), this light box is a fantastic choice if you work with larger items, such as appliances, furniture, or toys.
Pros
Bright, powerful lights
High-quality construction
Includes several backdrops
Spacious front access
Cons
Does take longer to set up due to the size
Our last pick is a great option if you specialize in large product photography or even in the photography of children. The Heorryn Professional Photo Light Box is 55 in (140 cm) in height, so it's not suitable for adults, but young children can stand inside it comfortably, and the large opening at the front gives them easy access.
It's also ideal for certain pieces of furniture, large appliances, or even larger toys. This makes it incredibly versatile and perfect for anyone trying to diversify their photography portfolio and offer more services.
It has 576 LED dimmable lamps so you can achieve smooth and even lighting that really accentuates the features of the items or people you're shooting. We also like that the zip stitching is high quality – this light box should last for quite some time.
Capture Beautiful Product Photos with a Light Box!
Picking the right light box isn't always easy. It depends on a variety of factors, including your studio space, your budget, and the type of subjects you plan to shoot.
However, after reading this article, you're hopefully feeling more informed. All of the options shared above are solid choices, but our top picks include the ORANGEMONKIE Foldio3, the ALUCAX Portable Light Box, and – for those on a budget – the Finnhomy Professional Portable Light Box.
---
Disclosure/Disclaimer: As an Amazon Associate, we earn from qualifying purchases. Certain content was provided "as is" from Amazon and is subject to change or removal at any time. Product prices and availability: Amazon prices are updated daily or are accurate as of the date/time indicated and are subject to change. Any price and availability information displayed on Amazon.com at the time of purchase will apply to the purchase of this product.