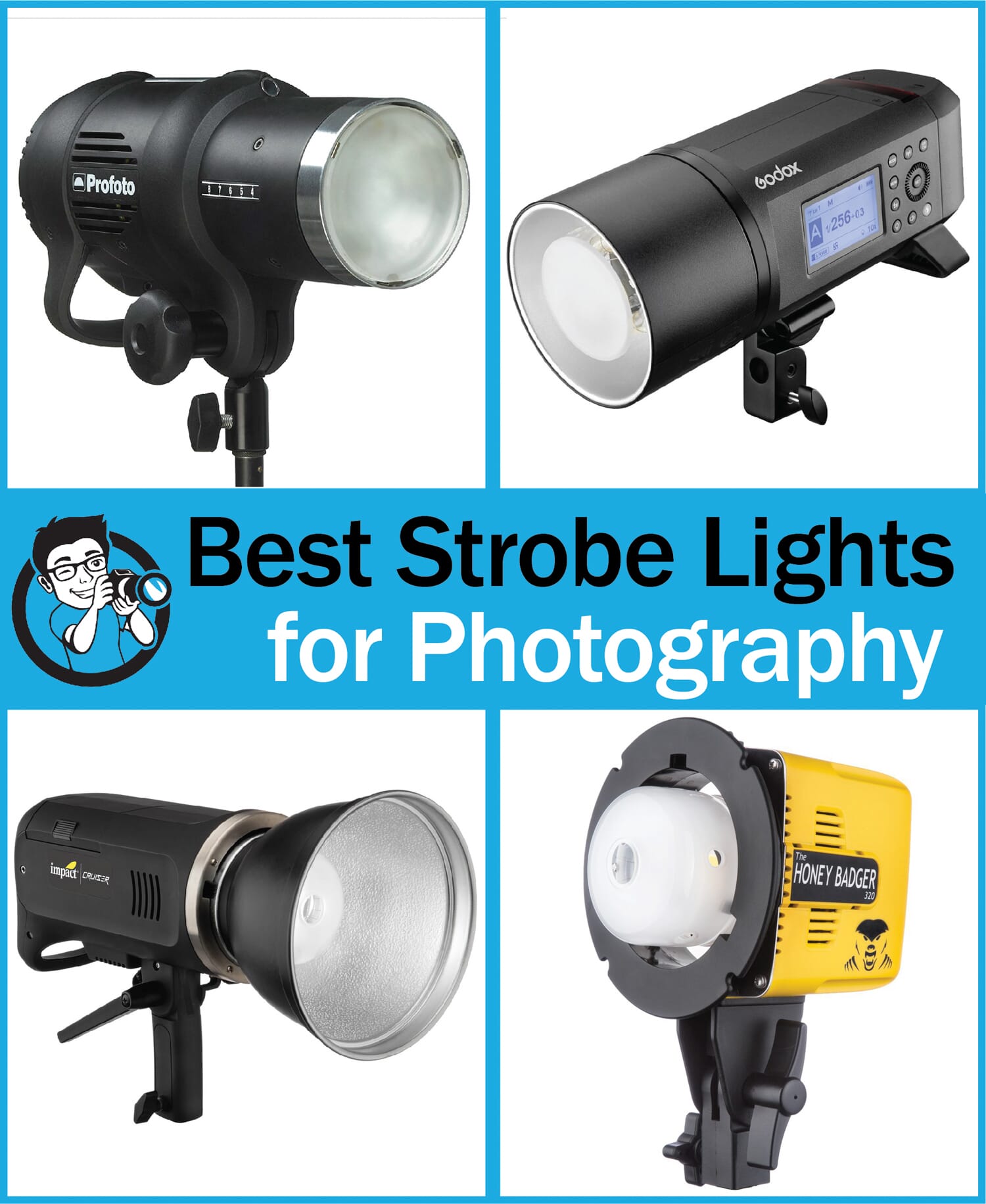 Today, we'll discuss the best strobe lights for photography. Strobe lights give your photography a completely new dimension. Strobes are more powerful, in the sense that they emit more light. They have a shorter recycle interval, that means less waiting time between shots. Some strobes are capable of being plugged into a wall AC outlet. Which means you can work for longer periods of time.
About Monolights
There are two different types of strobes that you can invest in. These are monolights and head and pack systems. The first one is an all-inclusive system which contains the flash head and the power source all inside one unit. The other one is a combination of two units: head and power. The two are connected using cables. There are advantages and disadvantages to both these two systems. Let's briefly look at some of these advantages and disadvantages before moving onto the main topic.
Advantages of Monolights as Strobe Lights for Photography
Monolights are a single self-contained unit. They allow you to use light modifiers much more easily compared to the head and pack (or head and power units). Also, fewer cables mean less hassle. Plus, since there are no cables running back and forth it means you are not losing any power. The major advantage of monolights is their portability. Being inside a single unit means you have an easier time transporting them and setting them up.
Disadvantages of Monolights as Strobe Lights for Photography
Monolights have to be individually adjusted for output, which can be a hassle. However, there are remote controls for that. An advantage which is also the disadvantage for monolights is the fact they are a single unit. Being a single cohesive unit that houses all of the components means it is likely to get heated up when in action. That means these items need a heat management system.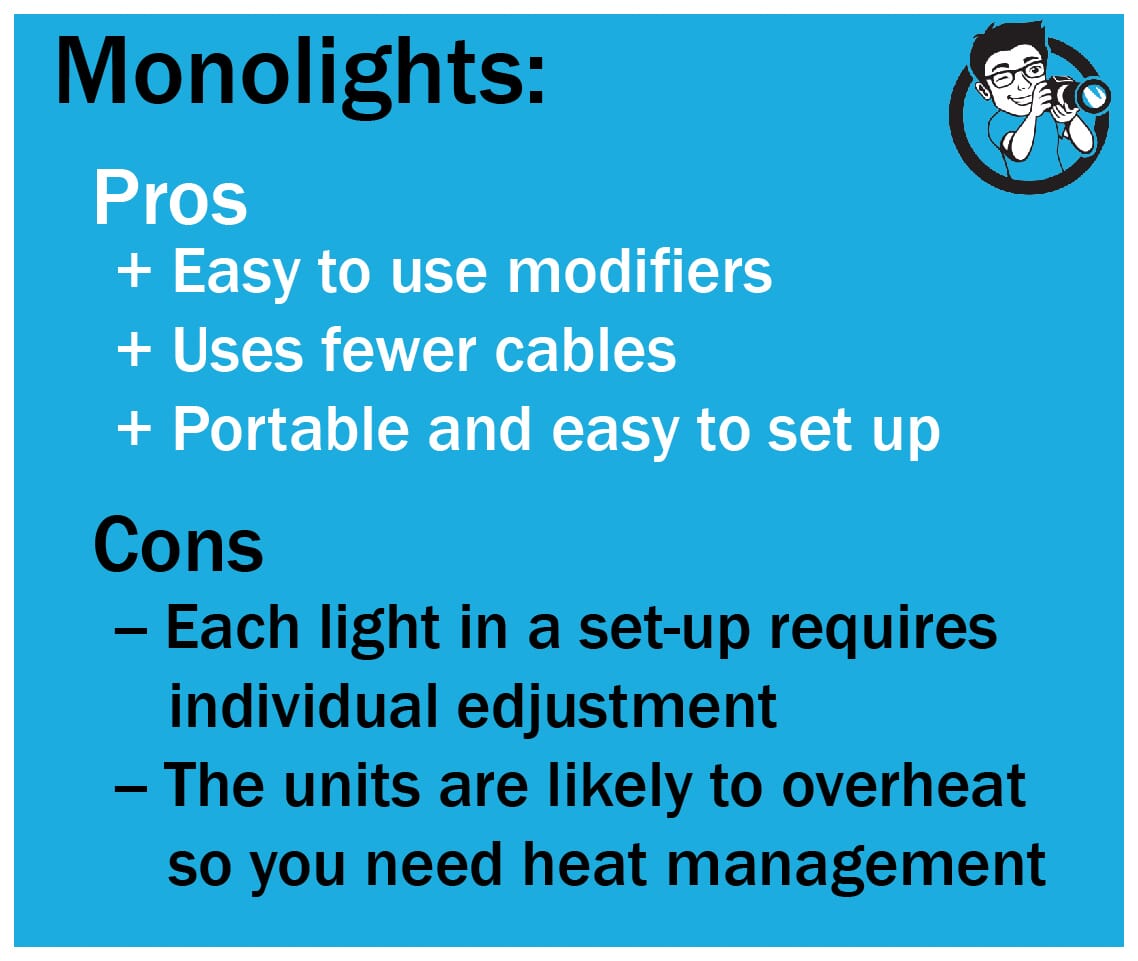 Advantages of Head and Light Systems as Strobe Lights for Photography
With the head and light system, you can run one battery pack to several head units. That saves the hassle of having to control the power output of each of the heads individually. You can control them all from a single battery unit.
Disadvantages of Head and Light as Strobe Lights for Photography
The major disadvantage to head and light systems is that you do lose some power because of the cables running back and forth between the two units. A major disadvantage is that you need to have a backup power unit. Perhaps more than one, depending on the number of heads you are using. If your power source fails you would be in a mess, especially when you are outdoors.
For this discussion of the best strobe lights for photography, we only pick monolights. These are also known as monoblock.
Best Strobe Lights for Photography – Monolights
The Profoto B10 is a powerful, all-inclusive monolight. It produces 250Ws of power when fully charged. The rechargeable Li-ion battery powered head produces about 400 full-power flashes on a full charge. You can choose between 10-stops of power output for which there is a control at the back of the head to allow you to do that.
You get full TTL with this unit which pretty much throws the guesswork out the window when using this for the first time. There are two new features on the Profoto B10 which should make this OCF an interesting proposition for studio shooters.
First, is the ability to charge the light while it is in use. Second, is the new constant light. Profoto has replaced its older modelling light and the new constant light is a lot more powerful. It also gives a better feel for the final shot than what the previous modelling lights gave.
Profoto makes some of the best studio monolights in the business. The Profoto D1 Air comes with a powerful 300W modelling lamp. Of course, the huge advantage of the Profoto system is that it has now become an industry standard of sorts. So it is easier to find third-party manufacturers who make diffusers and accessories for these lighting systems.
The other reason for the popularity of Profoto's lighting system is their consistency, build quality and, in this case, the Air remote. The Air remote gives the ultimate advantage when setting these and lights up at different distances and heights. With the Air remote you can control all the light without having to physically reach out.
Coming back to the Profoto D1, you can choose to set your output power level from a 7 stop power range. Of which the maximum power that can be delivered is 1000Ws. Which puts it much higher than the B10 OCF that we mentioned above.
The Interfit Honey Badger has a few reasons for being on this list of the best strobe lights for photography. And that is despite the fact that it does not have TTL and HSS. Two things that most studio strobe manufacturers tend to sell to their customers these days. This is because this unit gives good value for money.
The Interfit Honey Badger is small, yet powerful. It produces 320Ws of power. When you compare the size of this light with a normal Speedlight, it is small. You can easily pack two of these in your camera bag.
The monolight has a 7 stop power range that you can choose from 320Ws all the way to 5Ws. You can dial in the power in 1/10th stop increments. There is a built-in receiver for remote control. Interfit produces its own wireless remotes which are compatible with this unit.
Interestingly, the Interfit Honey Badger uses Bowen's S-mount which gives it an incredible advantage in the form of a wide variety of compatible light shaping accessories.
The biggest advantage of the Interfit Honey Badger is, undoubtedly, its price. This is one of the only lighting units at this price range which is more powerful than a Speedlight.
Interfit Honey Badger 320Ws Flash Head, Compact, Yellow (HB320)
Fast Recycle - Recycles in only 1 second at full power
7-Stop Power Range - Dial in exposure with absolute precision
LED Modeling Lamp - Strong enough for use as a stand-alone continuous light
Remote Control - Compatible with all Interfit Remotes
Versatile Modifier Mount - Compatible with Bowens S-Type modifiers and pop-up soft boxes
The Godox AD400 Pro is a TTL enabled strobe that is compatible with both Nikon and Canon TTL systems. The system comes with a built-in 2.4 GHz wireless X System. The unit is powered by a Lithium-ion battery pack which produces 400Ws of power, producing 390 full-power flashes when fully charged.
The unit also comes with a 30W LED modelling lamp. This helps in setting up the shot before the main flash fires. Another advantage of the Godox is that it comes with a Bowen's mount. This automatically makes it compatible with a host of third-party accessories.
Godox AD400Pro All-in-One Outdoor Flash Strobe, 400W 2.4G TTL Portable Speedlite with...
[Lightweight &Portable] Only weighs 2.1KG with 220*102*128mm dimensions (without the flash tube and reflector).
[Buil-in Godox 2.4G X system] Compatible with Canon E-TTL II,Nilkon i-TTL autoflash, Sony, FUJIFILM, Olympus and Pnasonic TTL...
[Master &Slave Function] AD400Pro can be used in combination with Godox TTL camera flash, TTL outdoor flash, etc.
[Godox Mount &Bowens Mount] With New Godox-mount to install lighter and more portable accessories which can be used in...
[Two Power Supply Methods] Professional lithum battery pack with 21.6V.2600mAh to provide 390 full power flashes and recycle...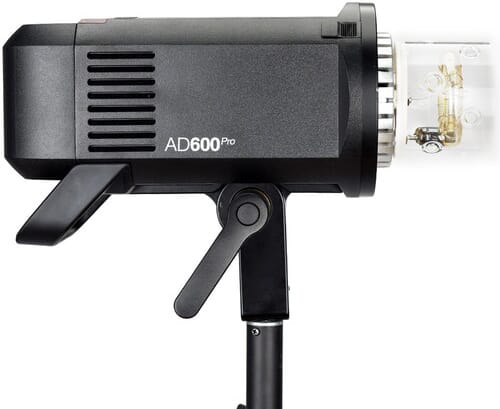 There are two versions of the Godox AD600. One is the manual version which does not have TTL. The second is the Pro version which comes with TTL and a range of other advanced features.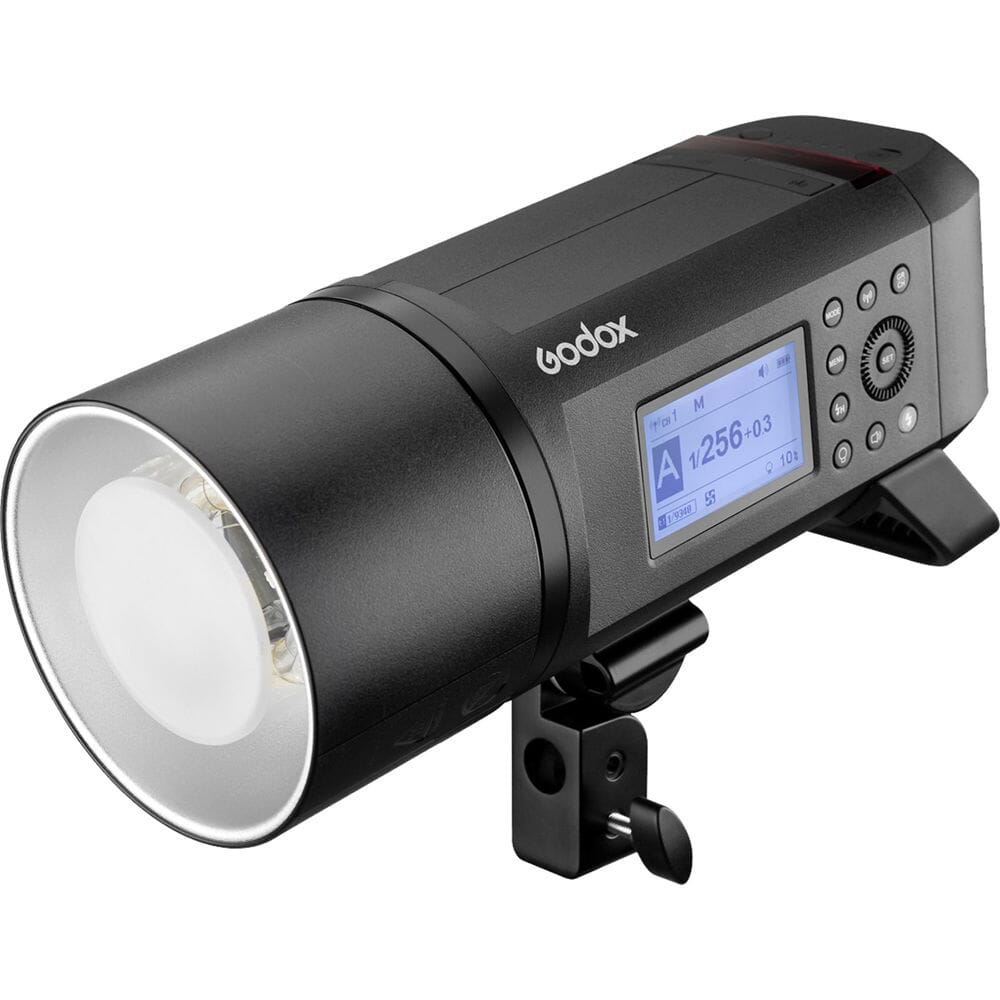 We have considered the AD600 Pro in this list of the best strobe lights for photography. This unit is compatible with all major TTL systems including Nikon and Canon. The system comes with a built-in 2.4 GHz wireless X system. The rechargeable lithium-ion battery can produce up to 360 full-power flashes. It also comes with a 38W modelling lamp.
You can purchase the Godox AD600 Pro from B&H for $899.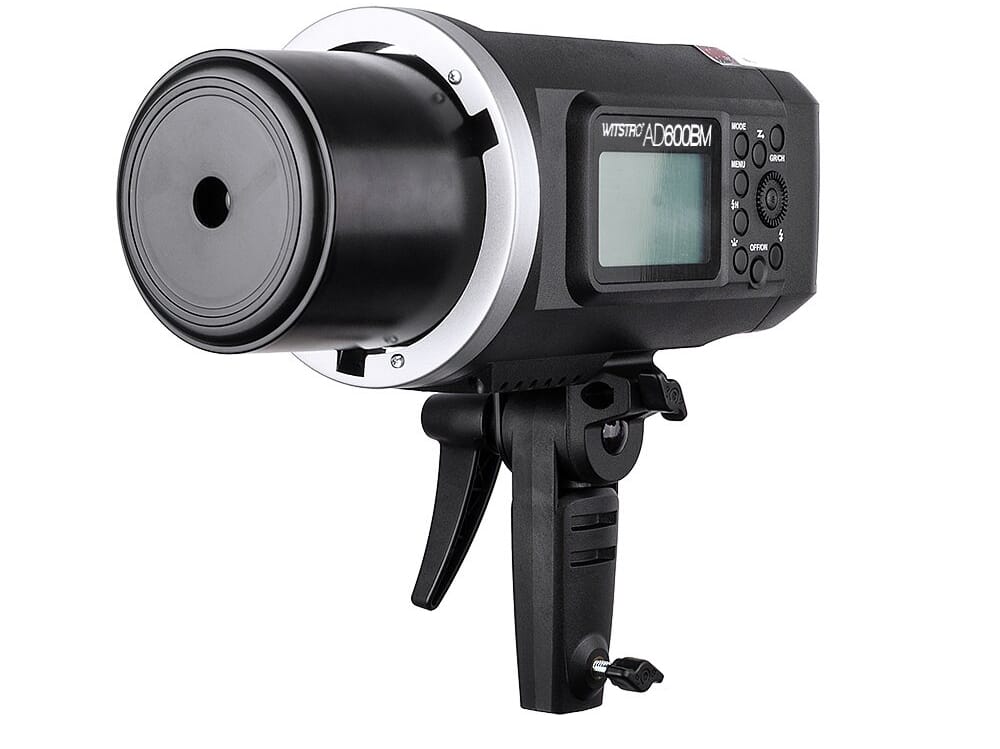 In case you don't think you need the TTL functionality, you could opt for the AD600BM. This is the cheaper manual version of the strobe.
Godox AD600BM Bowens Mount 600Ws GN87 HSS Outdoor Flash Strobe Light with 2.4G...
600Ws, GN87, 9 steps of power adjustment(1/1 to 1/256). Stable color temperature at 5600±200K over the entire power range
Fully support High-speed sync (up to 1/8000 seconds), first-curtain sync, and second-curtain sync.
Optical and Built-in 2.4G wireless transmission to offer stable output. 80M Wireless Control with precision.
11.1V/8700mAh large capacity lithium battery pack to provide 500 full power flashes and recycle in 0.01-2.5 second. DC/AC are...
10W LED modeling lamp can adjust light brightness in three steps. Large and clear dot-matrix LCD panel offers convenient...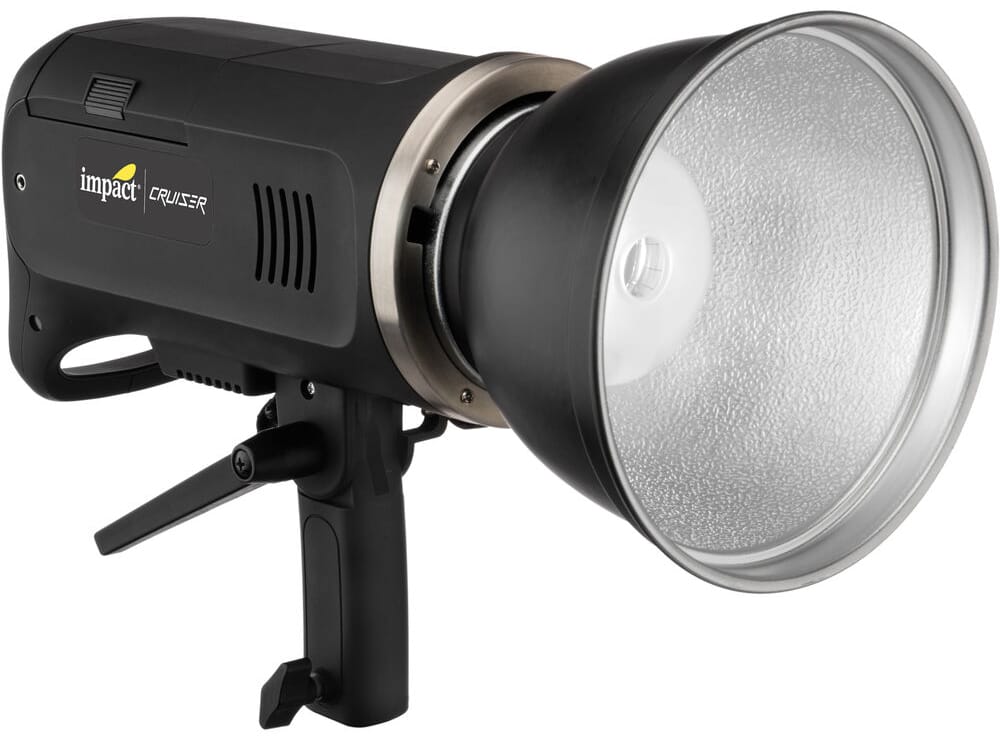 Cheaper options are aplenty and they don't have to significantly compromise on quality. The Impact Cruiser AC/DC is a 500Ws strobe. This option comes with TTL functionality and supports both Nikon and Canon TTL options. The rechargeable Lithium-ion battery can fire 350 full-power flashes when it is fully charged.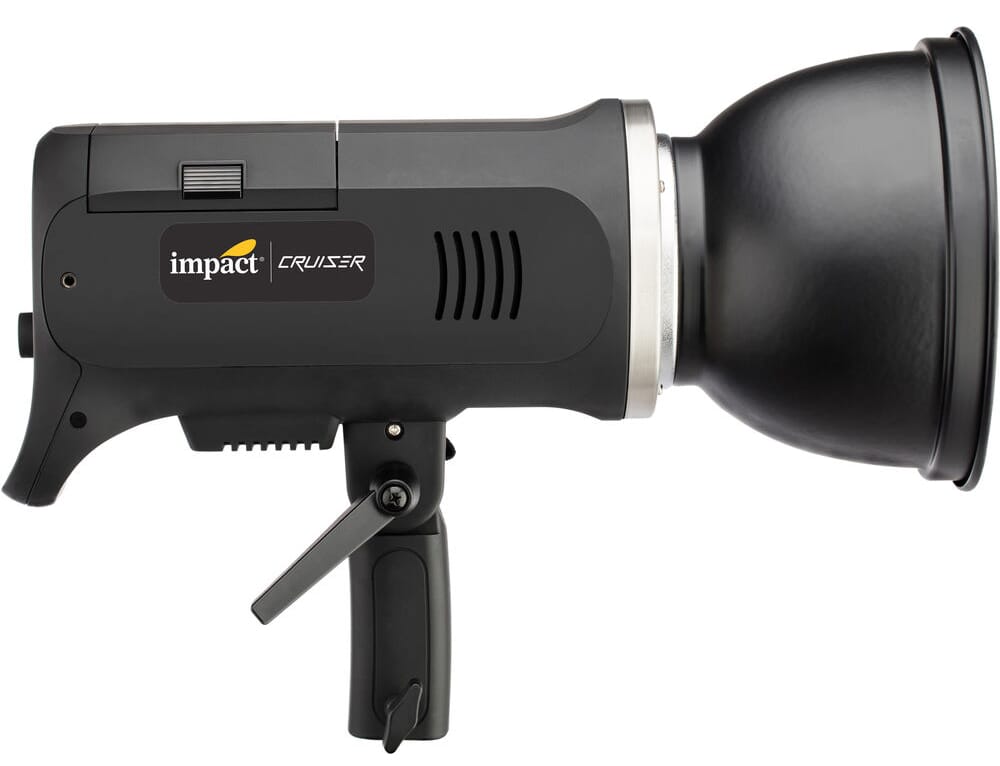 The built-in modelling light is a 10W LED which is one area where the strobe loses out to some of the other units we have discussed here. But with wireless TTL you have an option to fall back on. Plus, at this price point, there is little to complain about.
You can purchase the Impact Cruiser AC/DC Strobe from B&H for $449.50.
The Neewer Vision5 is a 400Ws strobe system that produces a maximum of 500 full power flashes when fully charged. This is an extremely economical solution for photographers looking for a more powerful solution than when compared to the built-in flash of their camera or a lower-powered Speedlight.
Because of the price, this is an attractive solution for someone looking to add a few studio strobes on a shoe-string budget. The fact that the Neewer Vision5 has TTL which is compatible with Canon and Nikon, as well as, Sony is a major selling point for this light. There is also a 13W LED modelling lamp which is ideal for setting up a shot. But its applicability is only limited to dark situations. Just like the modelling lamp of the Impact Cruiser we discussed above.
Neewer VISION5 400Ws 2.4G TTL Flash Strobe Compatible with Canon DSLR Cameras,...
Compatible with 450D/700D/750D/7D/5D2/5D3/6D/7D2/1D3/1D4/5D4/5DS/1DX/700D/70D Camera; Built-in 2.4G Receiver with 8 Channels....
Large capacity lithium battery pack to provide 500 full power flashes and fast recycle time (0.01-2.8 seconds)
400W Full Power even at 1/8000s High Speed Sync Mode. 13W Dimmable energy-saving LED Modeling bulb. Stable color temperature...
With Li-ion Battery, TTL function, High GN68, High Speed Sync, this Germany Engineered flash meets all Location Shooting...
Extremely short flash duration: from 1/650 to 1/10000 seconds. 7 steps of power adjustment (1/128 to 1/1)
---
As an Amazon Associate we earn from qualifying purchases. Certain content that appears on PhotoWorkout.com comes from Amazon. This content is provided 'as is' and is subject to change or removal at any time.