There are so many ways to illuminate your subject in a studio, from flashes and strobes to continuous lights. Continuous lighting, however, offers several key advantages, so if you're into lights that don't flash, our list of the best continuous lights for photography is bound to help you out!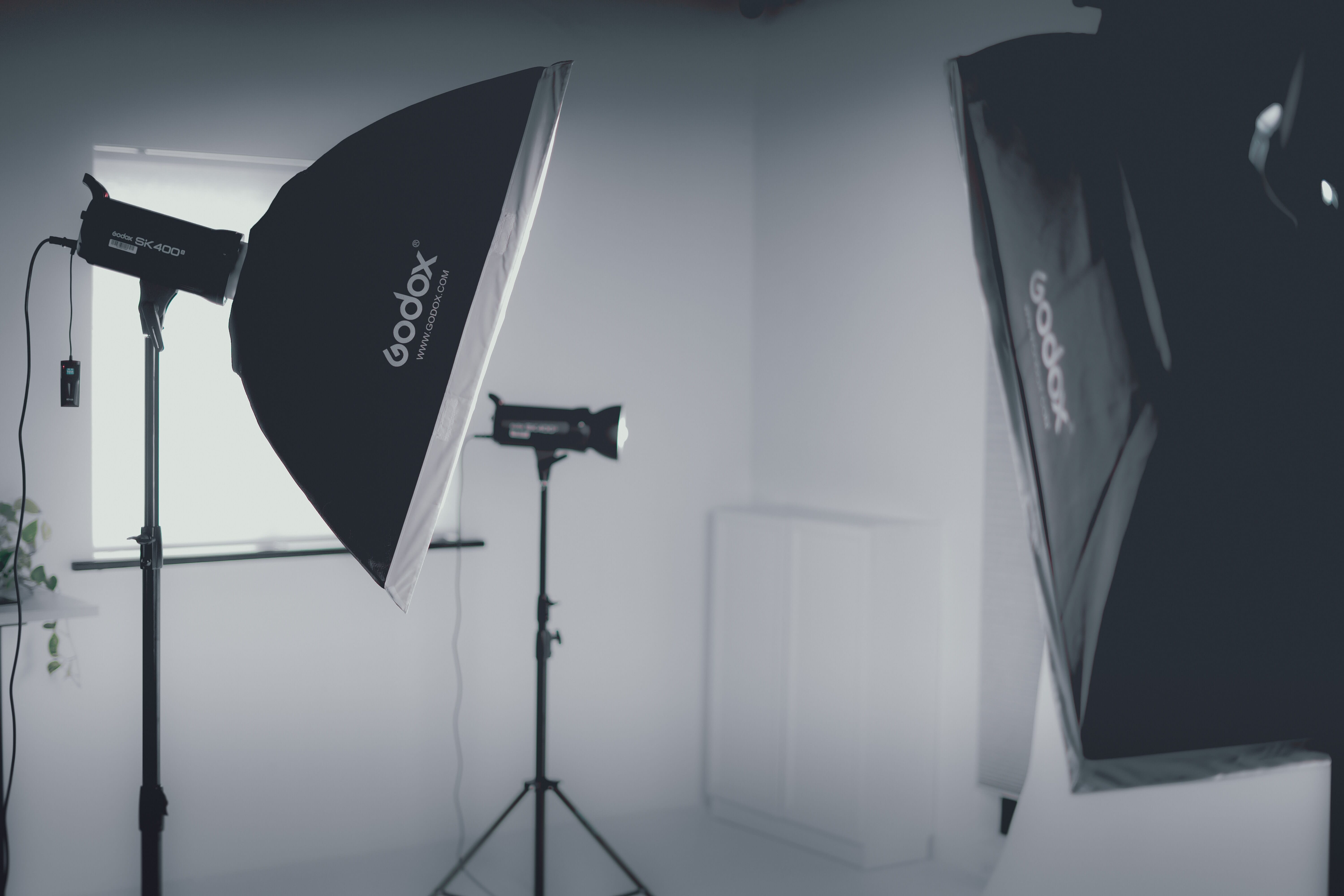 When you buy through links on our site, we may earn a commission at no cost to you. We evaluate products independently. Commissions do not affect our evaluations.
1. Westcott Solix
Our Pick
A powerful, portable LED
If you're looking for convenience, brightness, and a great build, this offering from Westcott is the way to go.
Pros
Small and portable
90 W output with color temperature adjustment of 3200 K to 5600 K
No lightbulbs to worry about
Cons
Expensive
Some complain that it's still too bright at a dim setting
Westcott has a reputation as a premium lighting equipment manufacturer. While Westcott is known for its strobes, the company does offer a continuous lighting option. Enter the Westcott Solix, a portable continuous lighting option with a multitude of perks and features.
For starters, the compact size makes the Solix a breeze to transport. The Solix is small and compact but mighty for its size. With an output of 90 W and 3,100 lux of continuous flicker-free light, the only downside of this light is that it doesn't do a great job of dimming down. It's quite powerful and can compete with brighter continuous lighting products.
As an LED, the Solix doesn't utilize bulbs so you won't need to worry about burn out. It plugs into a power supply, then off you go! The color temperature is completely adjustable and can range from 3200 K for tungsten to 5600 K for daylight.
Although the Solix is pricey, it offers so much that we think it's worth the cost.
2. Nanlite PavoTube II
Also Great
The best tube light
Tube lights have entered into the photography industry from the video industry, and they offer a slew of perks!
Pros
Ultra-powerful tube light that comes in a variety of sizes
Can produce light of any color
Portable and easy to carry
Powerful enough for photography
Cons
Very expensive
No wireless control
A video and cinema light that has crept into the photography world, the tube light has become a portable option for unique lighting arrangements. One of the most popular tube lights is the Nanlite PavoTube II, and it's praised for a reason.
For starters, tube lights have a significant advantage as a continuous light source: They're incredibly thin and small, yet they're still long enough to provide tremendous illumination. If you need to place the light close to the subject, it'll be super easy to remove in post-processing. Tube lights are also easy to port around, especially with Nanlite's included carrying case that is specially made for the PavoTube line of products.
What makes the Nanlite PavoTubes particularly amazing is that you can change them into literally any color you want! With comfortable controls and dials, you can turn these tubes into any color in the spectrum. The brand new Version II can even divide the tube into different colors per section (the first version only allowed the tube to turn into a single color), so the possibilities for photography are vast.
The output is incredibly bright so you'll have plenty of camera-setting flexibility when shooting. These tubes work great as rim lights placed behind or to the side of your subject, and because they run on both battery and AC, you can set them up anywhere.
3. Julius Studio Continuous Lighting Kit
Best Budget
Great for photographers on a budget
This kit is a wallet-friendly option that provides everything you need to get started with continuous studio lighting.
Pros
Very affordable
Daylight-balanced lights
Strong light stands that can take some abuse
Comes with everything you need
Cons
Cannot adjust color temperature
Light bulbs need to be replaced over time
The Julius Studio Continuous Lighting Kit is a low-cost continuous lighting setup comprised of two height-adjustable light stands, two 85 W bulbs, E27 sockets, reflectors, and cables. You also get a carrying case for travel.
The lights are daylight balanced, which makes skin tones look absolutely beautiful in the studio. Unless you want to do specific creative work, a daylight-balanced light source is ideal. It's especially great for those learning studio lighting for the first time.
Made from strong aluminum, the light stands are capable of withstanding some abuse. And the lights can be set up at an angle of 0 degrees all the way to 210 degrees.
The best thing about this kit is that you get all of these items for under $100, an absolute steal!
4. Viciall Hpusn Softbox Lighting Kit
Great for product photography
This continuous lighting kit is on the smaller side, so it's perfect for shooting products.
Pros
Includes everything you need to set up a studio
Great price
Energy-saving bulbs
Cons
The lights are small
The bulbs will eventually need to be replaced
The Viciall Hpusn Softbox Lighting Kit is next on our list. This budget kit includes two 85 W CFL bulbs (which are daylight-balanced at 5400 K), two octagon-shaped softboxes, stands, and a carrying case.
The softboxes are on the smaller side, so they're great for shooting products but not ideal for portrait photography. Fortunately, the softboxes are rotatable and adjustable; you can turn them up to 210 degrees for maximum creative freedom. And the light stands are collapsible. You can set the height at 26 in (66 cm), 79 in (200 cm), or anywhere in between!
The two 85 W CFP bulbs produce approximately the same output as 800 W incandescent lights. Therefore, these lights save a lot of energy!
5. GVM RGB LED Lighting Kit
A great three-panel kit
LED lights offer a lot of advantages over traditional daylight bulbs, and this three-light LED kit is great for all sorts of photographers.
Pros
Built-in barn doors for direction control
Color temperature is fully controllable
Solidly built for heat dispersion
Can be controlled wirelessly
Cons
On the pricey side
LEDs are very much the future and feature a lot of advantages over traditional light bulbs. The GVM RGB LED Lighting Kit is one such example; it includes three LED light panels, three stands, three diffuser panels, three AC plugs, and a convenient carrying case. The lights have built-in barn doors to help control the output direction, and the barn doors can be folded over to protect the LED panel in transport.
The GVM panels offer an adjustable color temperature range of 3200 K to 5600 K, similar to the Solix listed above. The lights can be controlled through a mobile app so you don't have to run from light to light while shooting. As an added bonus, one light can be set as the master light and the rest set as receiver lights, which allows you to control all three lights by adjusting only the Master light!
These lights are also pretty durable and are composed of materials that help keep the lights from getting too hot and burning out.
6. Neewer LED Photography Lighting Kit
Budget LED panels
If you don't want to pay for the GVM panels featured above, why not check out this budget option?
Pros
Similar perks to the GVM panels
Great price!
Comes with a wireless remote
Cons
No mobile app for control
Dimmer than other models
The GVM LED lights may be a bit pricey, but the Neewer LED Photography Lighting Kit is much more reasonable. Neewer is known for creating consumer-friendly versions of useful camera equipment, and Neewer's version of the LED panel kit includes pretty much all of the same things as the GVM kit but saves you around $100.
You can adjust the temperature and brightness of these lights right on the panels. Although there is no mobile app for control, the kit does come with a wireless remote. These lights are less powerful than the GVM versions, but they still provide enough illumination to make the kit a worthwhile buy.
7. Neewer CB60 60 W LED Spotlight
Shine a spotlight on your subject
Spotlights do come with some advantages, and this is a great consumer-friendly model to play with.
Pros
Easy to use and set up, even for beginners
Good price
Built-in fan to cool off the system
Comes with a wireless remote and a Bowens mount
Spotlights are an interesting continuous lighting choice as they create a pretty specific look. They're favored by some photographers because they're easy to use with accessories and they're highly portable. The Neewer CB60 60 W is a decent spotlight that offers great value!
Although the Neewer CB60 60 W is dimmer than some of the other lights on our list, it still provides more than enough light for most studio shoots. Brightness can be adjusted on the light itself or via an included wireless remote.
This spotlight has a built-in fan to keep the light cool, and it sits at a very stable daylight setting. It also has a Bowens mount so you can attach diffuser accessories!
8. Emart Umbrella Continuous Lighting Kit
A great umbrella kit
Umbrellas are common photography studio equipment, and this kit gives you everything you need to get started!
Pros
Includes a lot of gear
Two stand sizes
Bulbs can be upgraded
Great price
Cons
Bulbs will need to be replaced
We can't write a continuous lighting article without mentioning at least one umbrella kit! Although LED kits tend to be the more popular option today, the Emart Umbrella Continuous Lighting Kit is a great option.
This kit includes three 45 W continuous light bulbs at a daylight temperature of 5500 K (made to be energy efficient with an average lifespan of about 8,000 hours!), three light stands (two 83" stands and one 33" stand), two umbrellas (white and black), and a specialized carrying case for the entire kit. The white umbrella diffuses the light while the black one controls the direction.
This kit is great for beginners just getting interested in studio lighting. The three lights let you try so many setup combinations, and the beauty of this kit is that it's not a rigid system. If you need a slightly higher power output, the 45 W bulbs can be replaced with more powerful bulbs (up to 100 W). There might be a need for this if you want to shoot images with a high-key effect or if you try to create a hard lighting scenario with a single high-powered light.
9. Godox TL120 RGB Tube Light
A budget alternative to the Nanlite
Want to play with tubes but don't want to spend a fortune? The Godox is a great low-risk starting point.
Pros
Great price for the features
Can be changed into any color
Is able to be wirelessly controlled
Cons
Not as powerful as the PavoTubes
Tube can only be one color at a time
The Godox TL120 RGB Tube Light is a pretty decent budget alternative to the Nanlite PavoTubes we recommended above; it provides a similar result for a fraction of the cost. Granted, you do get what you pay for – the Godox equivalent lacks many of the features of the more expensive Nanlite – but the TL120 does get the job done.
The Godox TL120 RGB Tube Light can be turned into almost any color you can imagine, but the brightness output is not as powerful as the Nanlite. However, the Godox light is often just bright enough for most camera kits, so you'll likely be okay (especially if you have a low-light savvy mirrorless camera).
A major advantage to the Godox TL120 is the ability to control the light output with a smartphone app. This makes quick color adjustments easy and convenient!
10. Westcott 18" Bi-Color LED Ring Light
Great for professional beauty shoots
If you're a serious photographer looking to do fashion shoots, this ring light is an excellent buy.
Pros
A very powerful, professional-grade ring light
Color temperature can be fully controlled
Built-in mount for cell phones, DSLRs, mirrorless cameras, and action cameras
Cons
Expensive for a ring light
We couldn't avoid including the Westcott 18" Bi-Color LED Ring Light on our list of the best continuous lights! This ring light features similar perks to the Westcott Solix, such as color temperature adjustment from tungsten all the way to daylight.
The Westcott Ring Light also features flicker-free use, and it even has built-in mounts for mobile devices, digital cameras, and action cameras. This ring light is ideal for beauty photography, and it'll help minimize facial shadows and add a nifty catchlight to the eyes. If you're interested in portraiture, it's certainly worth a look.
Illuminate Your Subject with These Continuous Lights
All of the lights on this list can achieve outstanding results, but which is right for you?
If you're looking for the absolute best of the best, it's hard to go wrong with the Westcott Solix! And for rim or gel lighting, the Nanlite PavoTube II is a big favorite, both for its reasonable cost and its lighting output.
Finally, those on a budget looking for a great starter setup will love the Julius Studio Continuous Lighting Kit, which provides most of what is needed at a great price.
---
Disclosure/Disclaimer: As an Amazon Associate, we earn from qualifying purchases. Certain content was provided "as is" from Amazon and is subject to change or removal at any time. Product prices and availability: Amazon prices are updated daily or are accurate as of the date/time indicated and are subject to change. Any price and availability information displayed on Amazon.com at the time of purchase will apply to the purchase of this product.