How do you make your product photography sessions much easier and get professional-looking 360-degree images or footage? With one simple piece of kit: a rotating stand for photography!
These circular stands are also known as turntables, and a quick internet search will tell you that there are a lot of them to choose from. Finding the right one to suit your workload and your budget can be hard, so we've made a list to help you find the best rotating display stand for photography.
That's not all; we've also got some great tips on how to get the best out of your rotating stand!

Best Rotating Stands for Photography:
When you buy through links on our site, we may earn a commission at no cost to you. We evaluate products independently. Commissions do not affect our evaluations.
1. ORANGEMONKIE Foldio360
Our Pick
Great professional turntable
The Foldio360 is packed with features to make your product photography easier (and it's reasonably priced, too).
Pros
Connects directly to your DSLR or smartphone camera
Built-in halo edge light
Adjustable speed range
360-degree clockwise or counterclockwise spin
Cons
Can only be controlled through the app
Only takes up to 11 lb (5 kg) in weight
The ORANGMONKIE Foldio360 is a popular rotating stand for photography and video among online sellers and YouTubers.
One of the big advantages of the Foldio360 is that you don't need a DSLR camera to use it – it's compatible with Android and iOS smartphones as well as DSLRs. It uses Bluetooth and IR sensors to connect directly with the camera or phone that you want to shoot with.
Operating the Foldio is very easy if you're used to controlling things through apps. Once you click the start button, the turntable will automatically rotate, your camera will automatically take photos, and the program will combine them to create an interactive 360-degree image. You can also use it to create videos.
As it stands, the Foldio360 offers good value for the money. It's not the cheapest rotating stand out there, but it boasts professional-quality 360 operation without the hefty price tag of dedicated professional turntables.
The Foldio360 comes with a range of useful features, including an adjustable turntable speed range (controlled by the app), clockwise and counterclockwise rotation, and a 360 hosting site to host your 360 product photos. This site is free, and you can upload your DSLR pictures and stitch them together, too.
The Foldio360 is a great little product turntable, and you can use it in conjunction with ORANGEMONKIE's Foldio series of lightboxes (or with any other lightbox). At 9.8 in (24 cm) diameter, the Foldio360 is a decent size – but one of the only drawbacks to the Foldio is that it can only take weights of up to 11 lb (5 kg). That's fine if you have small, lightweight products, but if you shoot heavier products, you'll need to take a look at some of our other picks.
2. Fun Gift Motorized Rotating Photography Stand
Budget Pick
Great for beginners or those on a budget
This stand is great value for money, and it can take a lot of weight for its size!
Pros
Inexpensive
Can take up to 22 lb (9 kg) in weight
Comes with different colored circular stand covers
Adjustable rotation speed and direction
Cons
Have to buy the battery separately if you don't want to use the power cord
If you're looking for an inexpensive rotating stand for photography, then the Fun Gift Motorized Rotating Photography Stand may well fit your needs.
There's no remote control, but at this price point, you can't really expect it. What it does have is adjustable rotation speed and direction. You can choose from 8, 15, or 30 seconds per circle, forward and reverse, and 45-, 90-, 180-, or 360-degree turns.
You also get added value with six different backing boards to display your items on, so you have the choice of mirror, black, white, gray, yellow, or blue stand covers. This stand is quite small at 5.7 in (14 cm) diameter, but it is capable of carrying a maximum weight of 22 lb (9 kg), which is noticeably more than the Foldio360 listed above.
Power comes from a cord plugged into a power outlet or a USB cable. A rechargeable lithium battery can be used to give cordless operation outdoors or in other places with no mains power, but you'll have to buy it separately.
This turntable is also good for shooting video because it runs smoothly and quietly enough not to be audible on a video recording. It's by no means a professional-spec rotating display stand, but it is excellent value for the money if you are just testing the waters of 360 photography.
3. ComXim Professional Photography Turntable
Great for heavy items
This turntable can carry a large amount of weight and is packed with features, yet it isn't too expensive.
Pros
Can take up to 88 lb (39 kg) in weight
Two rotation modes
Remote control
Adjustable speed range
Cons
Build quality isn't great
The ComXim Professional Photography Turntable is an excellent pick for those who want a rotating stand that can take a lot of weight but doesn't cost hundreds of dollars. The ComXim has a maximum weight limit of 88 lb (39 kg), so it should be suitable for most 360 photography needs, and it is 12.6 in (32 cm) in diameter.
There are two rotation modes: continuous rotation and intermittent rotation. Another nice touch is that the stand will return to its starting point after a rotation. Speed range is adjustable from 24-68 seconds per rotation, so it can go as slow or as fast as you'd like.
The ComXim is operated by remote control, and other handy features include multi-angle shooting shortcut keys and acceleration/deceleration functions. It's cheaper than the Foldio360 and can take a lot more weight, though the plasticky build doesn't inspire a lot of confidence.
Having said that, the ComXim turntable is affordable yet capable and will suit professional product shooters who need a greater weight limit.
4. OPENCLOUD Professional Rotating Turntable
Ideal for large and heavy items
This stand is a great investment for professional product photographers and videographers, and it's capable of supporting a lot of weight.
Pros
Can take objects up to 242 lb (110 kg)
Good size for larger items
Strong and durable build quality
Versatile
The OPENCLOUD Professional Rotating Turntable is the most expensive option on our list. However, it's worth the money for professional 360-degree photographers and should be looked at as an investment.
It's sturdy enough to handle a whopping 242 lb (110 kg) of weight, and the 23 in (60 cm) diameter makes it large enough to accommodate bigger household appliances and items. It's also ideal for full-body mannequins or even human models, which is great news for those who photograph clothing and accessories.
The OPENCLOUD is operated by remote control and features clockwise and counterclockwise rotation, as well as a choice of 30-60 second stepless speed adjustment.
It's expensive, for sure, but it's well built and can stand up to the rigors of a professional product photography studio. The motor is also very quiet, which makes it good for shooting noiseless video.
5. Newerpoint Electric Rotating Turntable
Great for smaller items
Smooth in operation and very quiet, the Newerpoint turntable is great for beginning product photographers and videographers.
Pros
Smooth or step rotation
Low power consumption
Very quiet motor
Handles up to 45 lb (20 kg)
Cons
Only has one speed
Power supply is 110-120 V (does not support 220 V)
Next on our list is the Newerpoint Electric Rotating Turntable. This turntable is ideal for 360 photography of items such as mugs, small toys, jewellery, and food. It's not very big, but it can hold an impressive amount of weight for its size – 45 lb (20 kg).
This turntable does only have one speed (50 seconds per full circle), but it is butter-smooth in operation when on continuous rotation, with non-jerky acceleration and deceleration. It also comes with the option of step rotation, where it will rotate a little, then stop for you to take an image, and so on.
Movement can be clockwise or counterclockwise, and operation is very simple – there's one on/off button. There's no app or remote, and that will appeal to those who like things old school!
The Newerpoint turntable is very economical with power consumption, but the caveat here is that it works only with a 110-120 V power supply and does not support 220 V. Those who use this turntable say it is very quiet when in use, which makes it ideal for video purposes, too.
6. JAYEGT Motorized Rotating Photography Turntable
Good for heavier items
This turntable is capable of taking a lot of weight, yet it's not hugely expensive.
Pros
Takes up to 180 lb (81 kg) in weight
Remote control
Low noise operation
Cons
Can only be used with a power cord
The JAYEGT Motorized Rotating Photography Turntable is a good choice for those who want a product that can handle a lot of weight without costing a fortune.
The JAYEGT can take a load of up to 180 lb (81 kg). It's not the biggest turntable you can get, but at 8.6 in (21.9 cm) in diameter, it will work well with most e-commerce items.
A remote control adjusts the speed from 12-35 seconds per circle. The remote also changes the amount of rotation.
The motor in the JAYEGT is very quiet, although with very heavy loads, it does become noisier. This low noise output makes this turntable good for 360 videos. However, it only works with mains electric power, so you're limited to using it where there is a power outlet.
7. Yuanj Motorized Turntable
Best for large items
The Yuanj Motorized Turntable is big and sturdy, perfect for larger products.
Pros
Large diameter for bulkier items
Takes up to 175 lb (79 kg) in weight
Very smooth rotation
Quiet in use
Cons
Rotation speed not adjustable
If you're looking for a large, professional-spec rotating stand, the Yuanj Motorized Turntable is an outstanding pick.
Most inexpensive turntables seem to be made for smaller items, yet the Yuanj turntable fits larger products and takes a good amount of weight (up to 175 lb (79 kg), so it's ideal for large, heavy items.
An updated motor delivers extremely smooth rotation without any jerking. Combined with the near-silent operation, this makes the Yuanj a good choice for shooting 360 videos as well as still images.
The only downside is that the rotation speed isn't adjustable, so you're stuck with 45 seconds per revolution. But if adjustable turning speed isn't important to you, then this larger turntable offers great value.
8. Foleto Turntable Stand with LED Light
Perfect for small items
This stand can be used with the bottom light on or off. It's also good for 360 videos and great for displaying smaller items.
Pros
Built-in LED bottom light with adjustable brightness
Takes up to 33 lb (14 kg)
Ultra-low noise
Cons
Rotation speed not adjustable
The Foleto Turntable Stand with LED Light gives you that extra bit of versatility when it comes to shooting 360 photos or video.
The built-in LED light covers the top of the turntable base, giving you even, shadowless lighting from below when paired with other lighting options. The LED light power is adjustable to suit your needs, and you can also shoot without the light.
With a diameter of 7.8 in (19.9 cm), this photography stand is ideal for smaller objects. Yet it can take up to 33 lb (14 kg) in weight, so it's excellent for shooting heavy items. And it's very quiet and super smooth in operation, so it's also great for video or display purposes.
The Foleto is fairly expensive for a small rotating stand though it is sturdy and well made. We would've also liked to see more than one rotation speed option at this price point.
9. ORANGEMONKIE Foldio3 Full Set
The all-in-one 360 photography solution
The Foldio lightbox and turntable work perfectly together, giving you that seamless white background. You can use them together straight out of the box!
Pros
Dimmable triple-LED lighting system
Usable with DSLR or smartphone
Foldio360 turntable included
Comes with turntable extension kit
Cons
Turntable maximum weight is only 11 lb (5 kg)
Control of turntable is only via the app
If you want a ready-to-go turntable and lighting solution for your 360 photography, then look no further than the ORANGEMONKIE Foldio3 Full Set.
If you shoot mainly small products and have limited working space, then the Foldio3 full set is ideal. The lightbox features magnetic clips, so it snaps together in seconds. The built-in LED light strips are dimmable, as are the extra halo light bars you can use at the front of the turntable.
The turntable itself comes with an extension set, which makes the surface area four times as large. The Foldio3 and the Foldio360 turntable are designed to work together and are an ideal solution for those who want to quickly set up and shoot.
The Foldio360 turntable comes with a range of useful features, including an adjustable turntable speed range (controlled by the app), clockwise and counterclockwise rotation, and a site to host your 360 product images. If you want to know more about the turntable itself, check it out at the top of this list.
10. JAKIA Photography Turntable
A real heavy lifter
With its metal cover and extreme weight-bearing capacity, this turntable is built to last.
Pros
Takes up to 330 lb (149 kg)
Durable metal turntable cover
Remote control
Full or step rotation
Cons
Mains power operated only
The JAKIA Photography Turntable can take the most weight out of all our options. With its 330 lb (149 kg) maximum weight limit and 16.5 in (42 cm) diameter, it's ideal for heavy appliances, mannequins, or human models.
Updated for 2022 with a metal turntable cover, the JAKIA turntable is well built and sturdy. Operation is with a remote control, and it comes with lots of features. These include position memory, 45°/90°/180° angle circulation turning modes, smooth and step rotation, and adjustable speeds from 20-60 seconds per full circle.
Compared to some other (more expensive) heavy-duty turntables, the JAKIA offers great value. The only real downside is that this model doesn't take batteries and is reliant on mains electric power only.
How to Get the Best Out of Your 360-Degree Photography Turntable
If you're new to 360-degree photography, you might not be sure how to get the most bang for your buck when it comes to using a rotating display stand for photography. That's what this next section is all about: offering you some advice for getting the most out of your 360 photography.
What Are the Benefits of Using Turntables for Photography?
The standard online product photo has been around since the advent of internet shopping, and it serves its purpose just fine. However, since the advent of 360-degree photography, standard white background stills have started to look a little bit boring.
360-degree turntable photography offers:
Increased engagement: 360-degree imagery has a positive effect on consumers, giving them a more interactive shopping experience on e-commerce sites. It almost gives the feeling of being able to hold a product in your hands.
Increase sales: 360 photography can bring a significant increase in conversions compared to traditional still imagery, and it's why Amazon has added 360 photography to its product pages.
Fewer returns: This type of photography also reduces returns as buyers can make sure it's what they want before they buy it.
So if you run an e-commerce store (however big or small), 360-degree photography is a great way to maximize your product sales.
Equipment and Tips for Getting the Best 360 Product Photos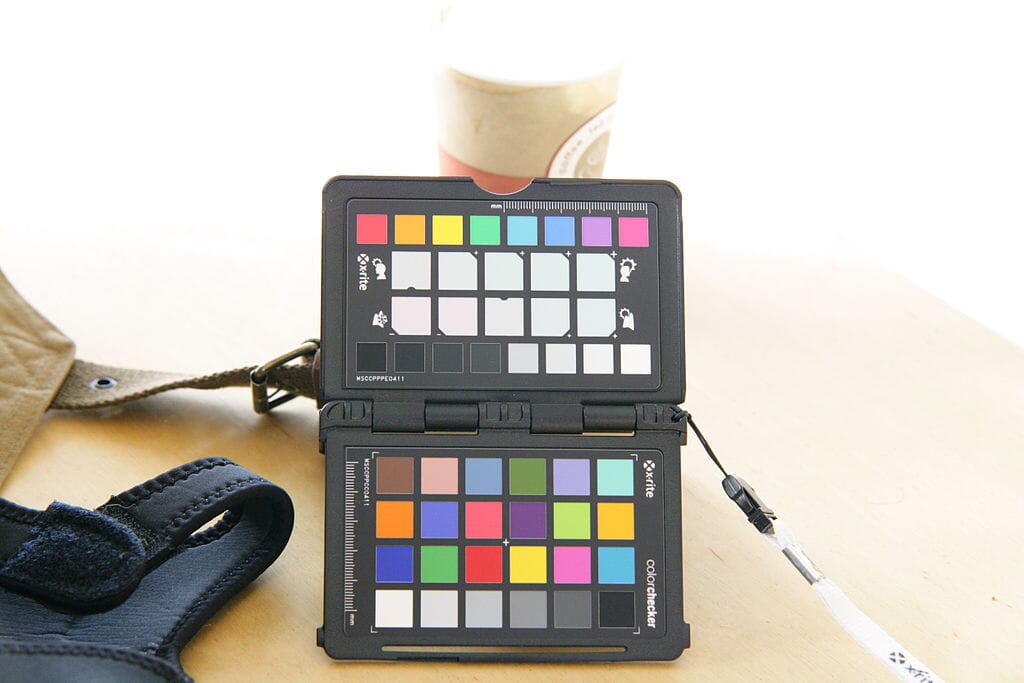 You want your product photos to be as good as they can be. In this section, we're going to run through the basics of what you'll need to create good 360 photos.
Lighting
You don't need to spend a fortune on studio lights. The aim is not to get creative; instead, it's to achieve even lighting with minimal shadows. Heavy shadows won't make your product look good, so you need lights that are powerful but covered by plenty of diffusion material to soften those shadows.
If you have the space, a couple of inexpensive strobe studio lights like those offered in the Neewer 600W Photo Studio Strobe Flash Lighting Kit will do the job brilliantly. This kit comes with two strobes and two softboxes, as well as stands.
If you don't have a lot of space or you only shoot smaller items, then consider getting a light tent with built-in LED light strips instead, like this Neewer Photo Studio Light Box. Quality light tents are very easy to use. Many of them also come with different colored backdrops.
Camera
While many people use smartphones to do their product photography, you'll get a much higher-quality photo with a DSLR or a mirrorless camera. Why? Because customers like to zoom in to see the fine details of the product.
So what's the best camera for product photography? A DSLR like the Canon EOS 90D is more than capable of doing the job. It packs a large 32.5 MP sensor, which enables the customer to zoom in on images by as much as 10x at any angle.
This means they can inspect tiny details like stitching and even read serial numbers on replacement parts. It's these little improvements that make a dedicated digital camera better than a smartphone for shooting e-commerce images.
Tripod
If you don't already have a good beginner tripod, it's essential for 360 photography. You need to keep the camera steady and still while shooting, just as if you were shooting a video. Your tripod should be sturdy enough to take the weight of your camera and lens without moving, like the K&F Concept S210, which supports up to 22 lb (10 kg) of weight.
Setting Up
360 photography preparation is not much different from still photography preparation. You need to position your item on the turntable, and you may need to prop it up with a clear acrylic stand. Positioning with a prop can be tricky as you don't want to obscure any part of the product.
Set up and test your lights while the product is on the turntable. That way, you can see immediately if your lighting needs adjusting. Your lights need to illuminate the product so it has bright, even light all around, with no harsh shadows. Check that there's not too much light in any specific area – particularly on reflective products – as this can cause blown-out highlights and washed-out colors in your images.
Capture Stunning Photos with Your Rotating Stand
I hope you found our list of the best rotating stands for product photography and videography useful. Our top choice is the ORANGMONKIE Foldio360, and our budget pick is the Fun Gift Motorized Rotating Photography Stand.
Ultimately, the rotating stand you choose will depend on several factors, like budget, studio space, and the type of product you want to shoot. But no matter your needs and interests, you're bound to find the right stand on our list.
---
Disclosure/Disclaimer: As an Amazon Associate, we earn from qualifying purchases. Certain content was provided "as is" from Amazon and is subject to change or removal at any time. Product prices and availability: Amazon prices are updated daily or are accurate as of the date/time indicated and are subject to change. Any price and availability information displayed on Amazon.com at the time of purchase will apply to the purchase of this product.