While natural light can be great, a lighting kit can help you in a slew of situations. From indoor studio shoots with frustratingly dim lighting to outdoor sessions where your client doesn't want to be silhouetted against the sunset, there are plenty of times when flashes and continuous lights come in handy.
Here is our selection of the best portable lighting kits you can buy in 2023. We include options for different budgets and experience levels, so whether you need a cheap continuous light, a high-end strobe, or anything in between, we've got you covered.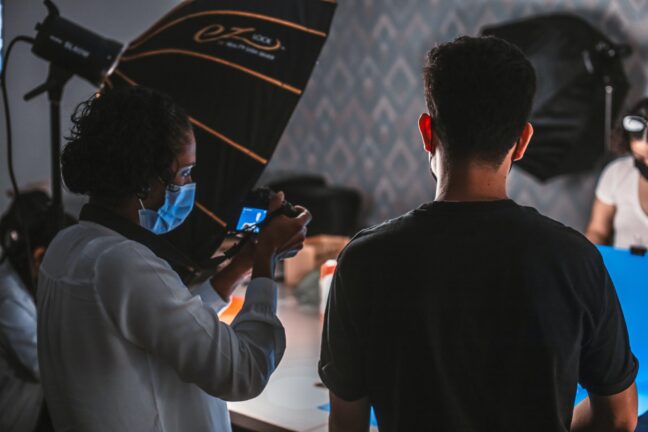 Best Portable Lighting Kit:
Strobe Flashes
When you buy through links on our site, we may earn a commission at no cost to you. We evaluate products independently. Commissions do not affect our evaluations.
1. Westcott FJ400 Strobe Backpack Kit
Our Pick
Great for shooting indoors and out on location
This strobe has super-fast recycle times and a long-lasting battery contained in a highly portable backpack.
Pros
Powerful light
High-speed sync
Universal wireless trigger included
Cons
Slightly bulkier than some competitors
The Westcott FJ400 Strobe Backpack kit makes it to the top of our best portable lighting kit list for several reasons.
This strobe kit is an all-around gem made by one of the most respected lighting brands around. It's not cheap, but it's also not the most expensive portable strobe out there (it's much cheaper than Profoto lights, for example), and it comes with a collapsible Rapid Box Switch Octa-S softbox light modifier. And everything fits nicely in the backpack for easy, hands-free transportation.
An FJ-X2m universal wireless trigger comes with the kit and is compatible with most camera brands such as Canon, Nikon, Sony (with an optional adapter), Fujifilm, Panasonic, and Olympus. The universal trigger is a great idea, and Westcott is one of the few manufacturers that offers this. Universal triggers save you from having to buy a separate trigger for your specific camera brand.
The high-speed sync (HSS) function allows you to shoot in bright sunlight even at f/1.4, something that traditional flash sync speeds can't do. It also makes freezing movement a breeze. Recycle times range from 0.5-0.9 seconds, which is impressively fast. This flash can also do continuous capture of up to 20 frames per second, so you can really get creative with your shooting.
The FJ400 comes with an AC/DC power supply, meaning you can use the battery on location or plug it into a wall outlet with the AC power adapter and cord. The battery itself is rated for over 480 full-power flashes on one charge, and that makes this strobe a great choice for weddings, events, and other location shoots.
2. Neewer Vision 4 Strobe Kit
Budget Choice
Perfect for studio beginners
This kit contains two Vision 4 strobes, umbrellas, and softboxes for a budget price.
Pros
Up to 700 full-power flashes per charge
Wireless triggers included
Compatible with Bowens-mount modifiers
Cons
Flash recycle time can be slow
For those looking for the best portable lighting kit on a budget, the Neewer Vision 4 Strobe kit may be just what you want.
The kit comes with two 300W strobes featuring lithium-ion rechargeable batteries, wireless triggers, rectangular softboxes, and shoot-through white umbrellas. The only things you don't get are light stands; you'll have to buy them separately if you don't already own some.
The Neewer Vision 4 Strobe kit is amazing value for money considering that a single battery-powered strobe can cost much, much more. The fact that the kit comes with wireless triggers and lighting modifiers means it's basically a photo studio in a bag.
For anyone just getting started with manual flash strobes, this kit is ideal. With around 700 full-powered flashes per battery charge, you can shoot all day with ease, and having two strobes gives you much more versatility when it comes to lighting. Recycle times can be a little on the slow side, though.
The Vision 4 is a manual flash, so you will have to work out the power settings on your own, but it does have a Multi mode that lets you sequentially fire up to 15 flashes in a row.
3. Godox AD600BM Strobe
Also Great
Good all-purpose portable flash
This manual strobe isn't super cheap, but it's built well and does a great job.
Pros
600W
Compact and lightweight
High-speed sync
Long battery life
Cons
Mounting lug seems flimsy
Our selection of the best portable lighting kits for photography wouldn't be complete without a Godox strobe in the mix! In this case, the Godox AD600BM is a top contender.
This strobe packs a decent amount of power for a reasonable price. While it doesn't come with TTL capabilities – you'll have to control the power output yourself – it's still a great option for those who want something a little more premium.
It comes with high-speed sync capabilities so you can freeze movement and shoot in bright sunlight without having to use a narrow aperture (as you would with traditional flash sync speeds). The Godox wireless trigger is easy to use and reliable, while the battery will provide over 500 full-power flashes between charges.
The AD600BM offers excellent value for money, and it's a good all-around manual strobe that will suit a range of photographers.
4. Neewer i4T EX 400W Monolight
Out of Stock
A great powerful and portable strobe
Packed with features, this lightweight strobe is excellent for more serious shooters.
Pros
High-speed sync
TTL mode
Built-in 2.4G wireless trigger system
Fast recycle times
Cons
400 full-power flashes per charge
The No products found. is compatible with Nikon, Canon, and Sony cameras, but you need to buy the version that works with your brand (so be sure to read the listing carefully!). If you do buy the wrong brand, there are some trigger converters, but they may not be reliable.
The i4T EX 400W is powerful enough for both indoor and outdoor scenarios, making it a great all-purpose option. It comes with high-speed sync to make shooting in bright sunlight much easier, and the TTL mode is reliable and accurate.
The TTL function is great for shooting in changing lighting conditions. In TTL mode, when you change your camera settings, the light power settings change to give you a proper exposure. This is also a feature many beginners appreciate.
The i4T EX 400W is compact and comes with a backlit LCD screen that is easy to read even in strong light. It's a good pick for beginners – but it's also great for professionals who don't want to spend thousands on a portable strobe.
5. Flashpoint XPLOR 600PRO TTL Monolight
An excellent off-brand strobe option
If you want professional features at a decent price, the Flashpoint XPLOR 600PRO TTL is certainly worth a look.
Pros
Compatible with every camera brand
Powerful
Fantastic battery life and quick recycle time
Features a Bowens mount
Cons
The flash can misfire when the battery gets low
Expensive (but more affordable than professional alternatives)
Flashpoint (sometimes called Godox) is an off-brand option for photographers. The company attempts to mimic and utilize a lot of features from much more expensive strobes, such as those produced by Profoto and Westcott, and many photographers have been very happy with the results. The Flashpoint XPLOR 600PRO TTL monolight is a perfect example; it offers power at a more user-friendly price (when compared to high-end options).
The Flashpoint XPLOR 600PRO TTL is packed with great features. It has a Bowens mount, so pretty much any flash accessory will easily fit. The built-in wireless system has a pretty decent range, so you can be a good distance away and still trigger the flash, which is great for weddings. The battery life is superb and the recycle time is nearly instant, so you won't have to worry about missing key moments.
You don't need to find a brand-specific product; Canon, Nikon, Sony, and Fujifilm cameras are all able to use this unit. That will certainly come in handy if you decide to change your equipment brand!
6. LimoStudio 160W Monolight
A great light for beginners
The LimoStudio 160W monolight may not be the most powerful option on this list, but it's easy to use and a wonderful beginner pick.
Pros
The price is excellent
Easy to work with
The angle can be adjusted
Cons
Must be plugged in
Low power
The LimoStudio 160W monolight has a funky-looking design compared to other monolights in this range, but that shouldn't be a problem for most shooters. And although the wattage is on the lower side, for the photographer who just wants to get started in the studio, it's an excellent option.
The LED indicators make it very easy to know what your monolight is doing, and the recharge time is decent. Really, there aren't a lot of downsides to this light (so long as you remember that you get what you pay for).
Another fantastic benefit is the readily adjustable angle, which enables you to illuminate your subjects in a wide variety of ways. The recharge duration, which ranges from 0.01 to 1.5 seconds, is also fantastic! However, the LimoStudio 160W needs a cable and is not battery-operated. The cord is fairly lengthy, though, so you can generally find a power source without too much trouble!
Continuous Lights
7. Aputure LS 60X Bi-Color Light
Great for video and still photography
This continuous LED light is highly versatile. It's also durable, so it works great for outdoor shoots.
Pros
Weatherproof
Adjustable color temperature
Powerful
Bowens-mount adapter included
Cons
Batteries must be bought separately
If you're looking for the best portable continuous lights for photography or videography, then the Aputure LS 60X Bi-Color light is an excellent pick.
The bi-color 2700-6500 K LED light comes with adjustable focusing, which means you can internally adjust the spot or beam angle between 15 and 45 degrees.
The kit comes with an eight-leaf barn-door modifier, but it also includes a custom Bowens-mount adapter that attaches to the accessory mount. This makes it a good choice for photographers who already have Bowens or Godox modifiers.
One of the big selling points of this light is the weatherproofing. The strobe is great to use for a variety of outdoor shoots as it's dustproof and waterproof. It also has metal casing for extra durability. The power comes from a wall socket or a couple of V-mount batteries (not included) that fit on the receiver.
The Sidus Link mobile app gives you another method of controlling the light, and the 60X features a range of special effects, including Paparazzi, Fireworks, Lightning, Faulty Bulb, TV, Pulsing, Strobe, Explosion, and Fire (all with adjustable color temperature control).
This light (as with all continuous lighting systems) can be used with your smartphone camera to shoot photos or videos, and it's also completely compatible with DSLR and mirrorless setups.
8. Neewer Dimmable Bi-Color LED Light Kit
Budget LED lights for photos and videos
This pack of dimmable bi-colored LED lights is great for those looking for budget continuous lighting.
Pros
Bi-color dimmable light
U-mount bracket for easy tilting
AC/DC power options (batteries sold separately)
Cons
The light stands are quite flimsy
The Neewer Dimmable Bi-Color LED Light kit is a robust and durable choice for both photo and video setups. The bi-color dimmable lights range from 3200-5600 K, and you can mix the light from the white and yellow LED bulbs to create a customized hotter or cooler light temperature.
The U-shaped brackets make positioning the angle of these lights easy, and they are a good choice for shooting in smaller spaces. The included light stands will work in a pinch, but they aren't very strong, so you may want to use sturdier ones instead.
Having said that, this two-light kit is excellent for the price and will satisfy many photographers and filmmakers!
Grab an Excellent Portable Lighting Kit
The best portable lighting kit for photography will depend on both your budget and your needs.
Some of the absolute best choices are the Westcott FJ400 Strobe Backpack kit and the No products found.. If you're looking for the best value for money, the Neewer Vision 4 Strobe kit is also a great pick.
---
Disclosure/Disclaimer: As an Amazon Associate, we earn from qualifying purchases. Certain content was provided "as is" from Amazon and is subject to change or removal at any time.