It will soon be that time again! Log fires, tinsel, turkeys – and festive photos. Everyone likes a good Christmas photo, but we don't recommend just posing everyone and then clicking away; first, you should think about the clothing. After all, the right clothing choices can add flair, dial up the cuteness factor, and even unite an otherwise chaotic group portrait!
Fortunately, we've put together a handy list filled with Christmas picture outfit ideas to inspire you. We've covered outfits for everyone (both adults and kids!), and we haven't forgotten about the four-legged friends, either. So pick your outfits, get the whole family together, and have some holiday photo fun!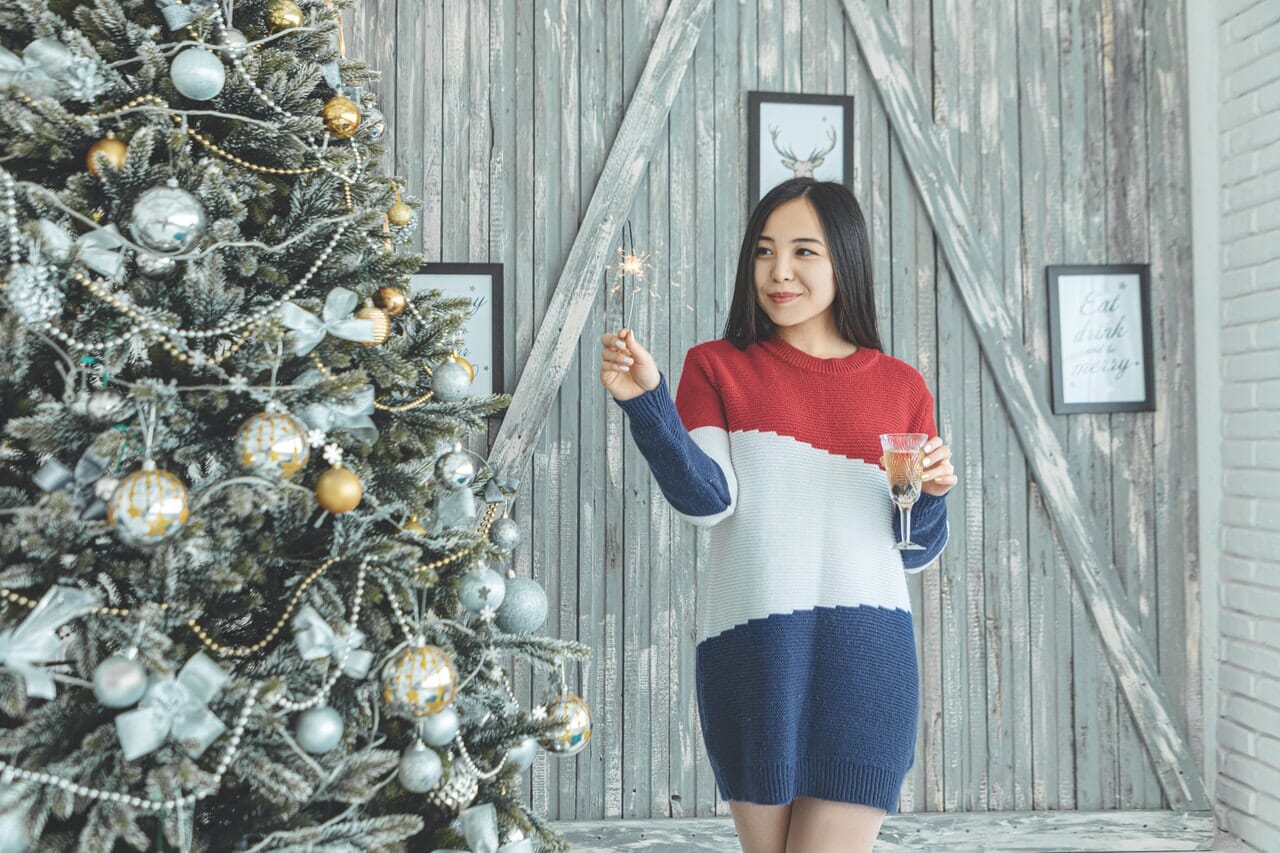 Christmas Picture Outfit Ideas:
1. The Classic Christmas Sweater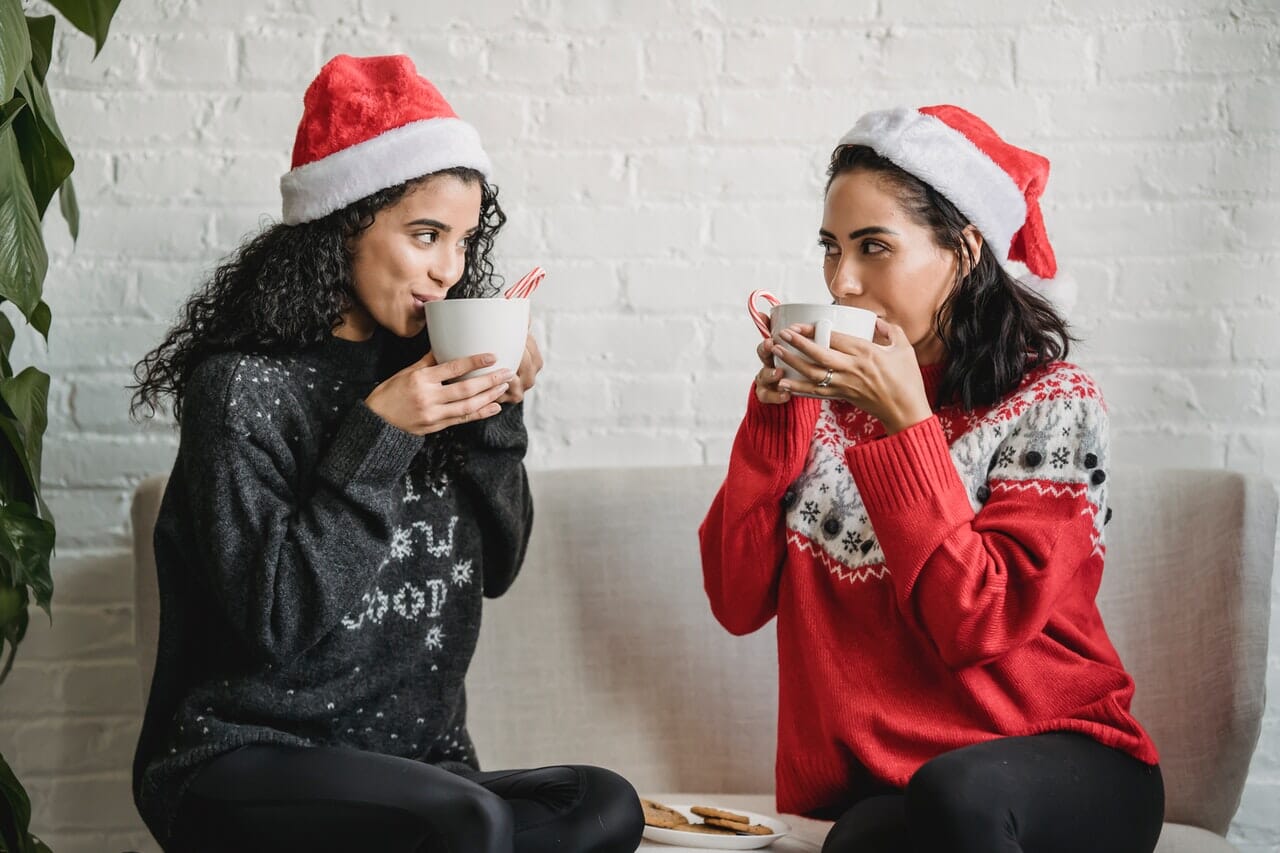 I'm not talking about the "ugly," garish Christmas sweaters here (although if that's your thing, then go for it!) but the classic Christmas sweater.
Keep an eye out for a basic red cable-knit sweater or a minimalist sweater designed with a few complementary colors.
2. Christmas Party Clothes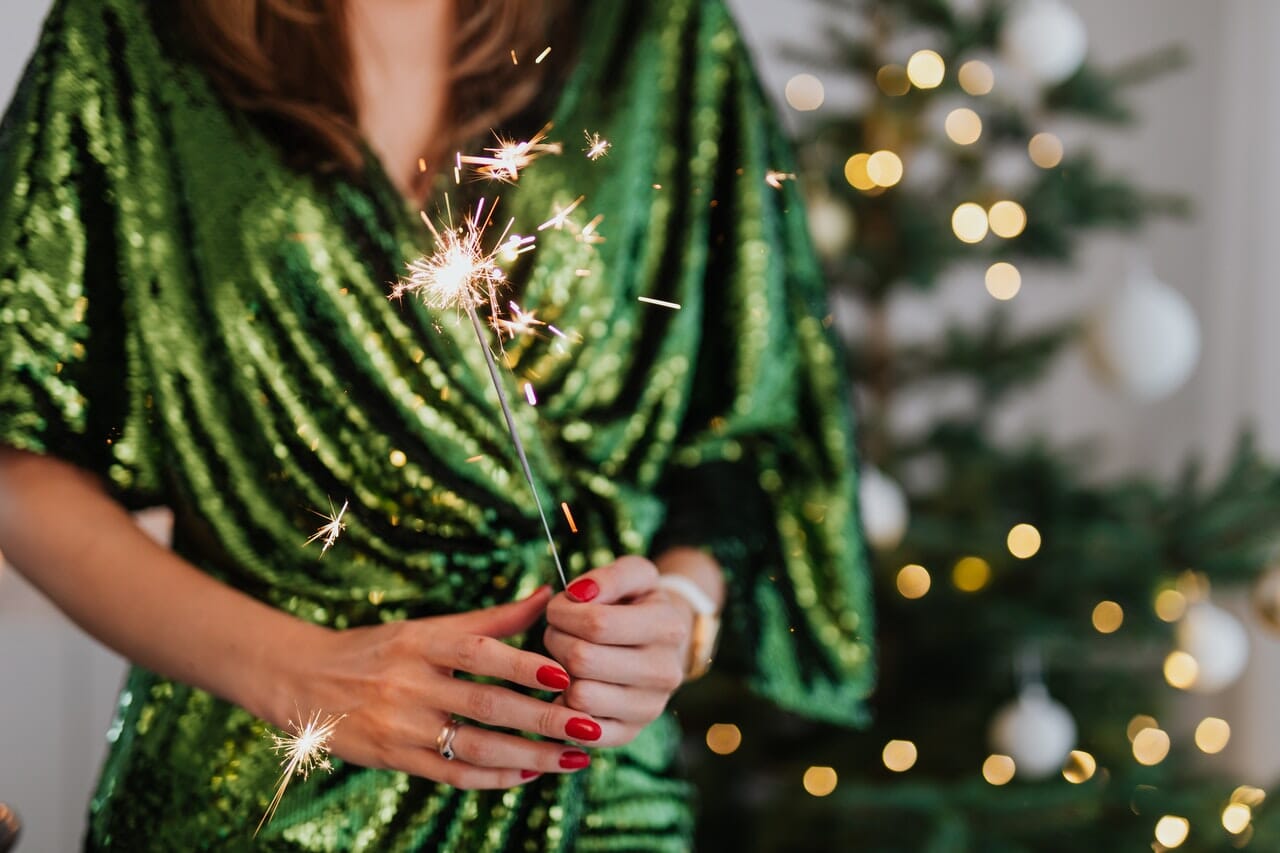 Around Christmas, sparkly dresses and heels come out of closets, so why not exploit this trend?
Don't be afraid to get dressed up as if you're going to a Christmas party with your friends. Glitter, sparkles, and sequins look good, but you can also wear a fun print combined with a neutral color. Consider adding killer heels for a great festive look.
Oh, and a bit of photography advice: You might want to blur the background a little so that you really stand out (like in the image above). Try stepping away from the wall and make sure you use your lens's widest aperture.
3. Candy Stripes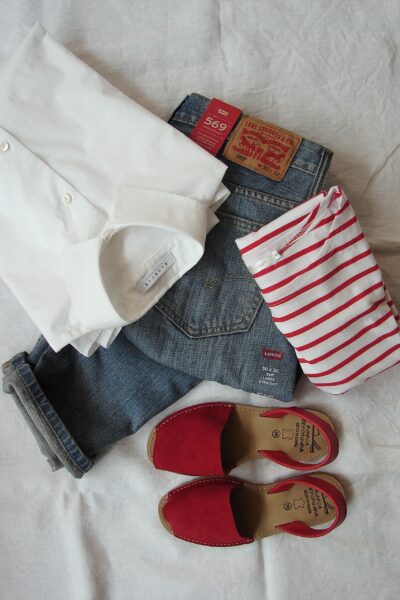 Can't decide on a holiday photo outfit idea for your kids? Look no further than festive treats for inspiration! Candy cane stripes in red and white are a fun look, and you can add a bit of green to the outfit as a finishing touch.
4. Perfect Plaid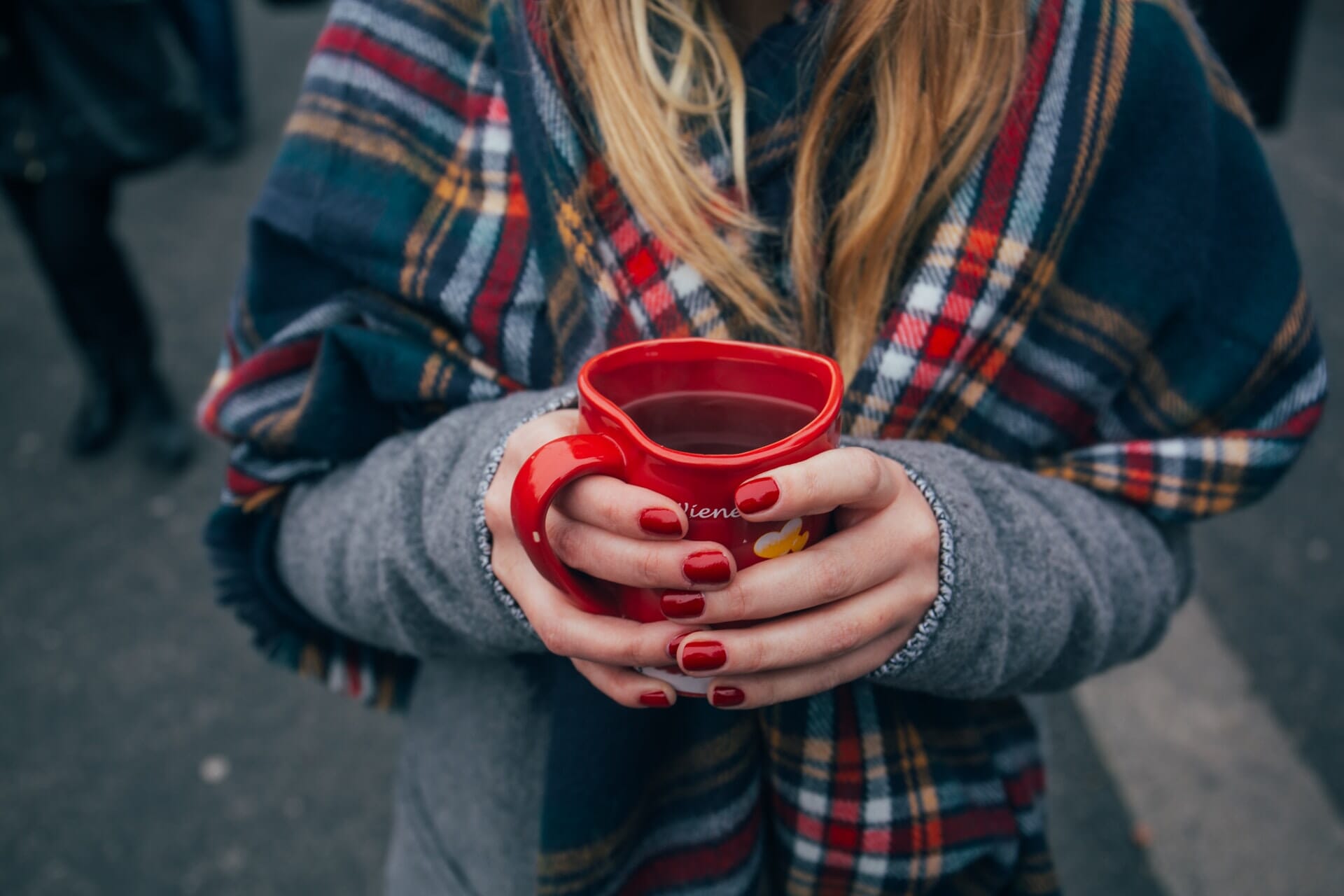 While winter makes you want to stay indoors next to that log fire, there are still plenty of outdoor activities to try – including family photos. Get some red and black plaid clothes, then combine them with neutral colors (like gray) for a fashionable and cozy winter look.
5. Welcoming Baby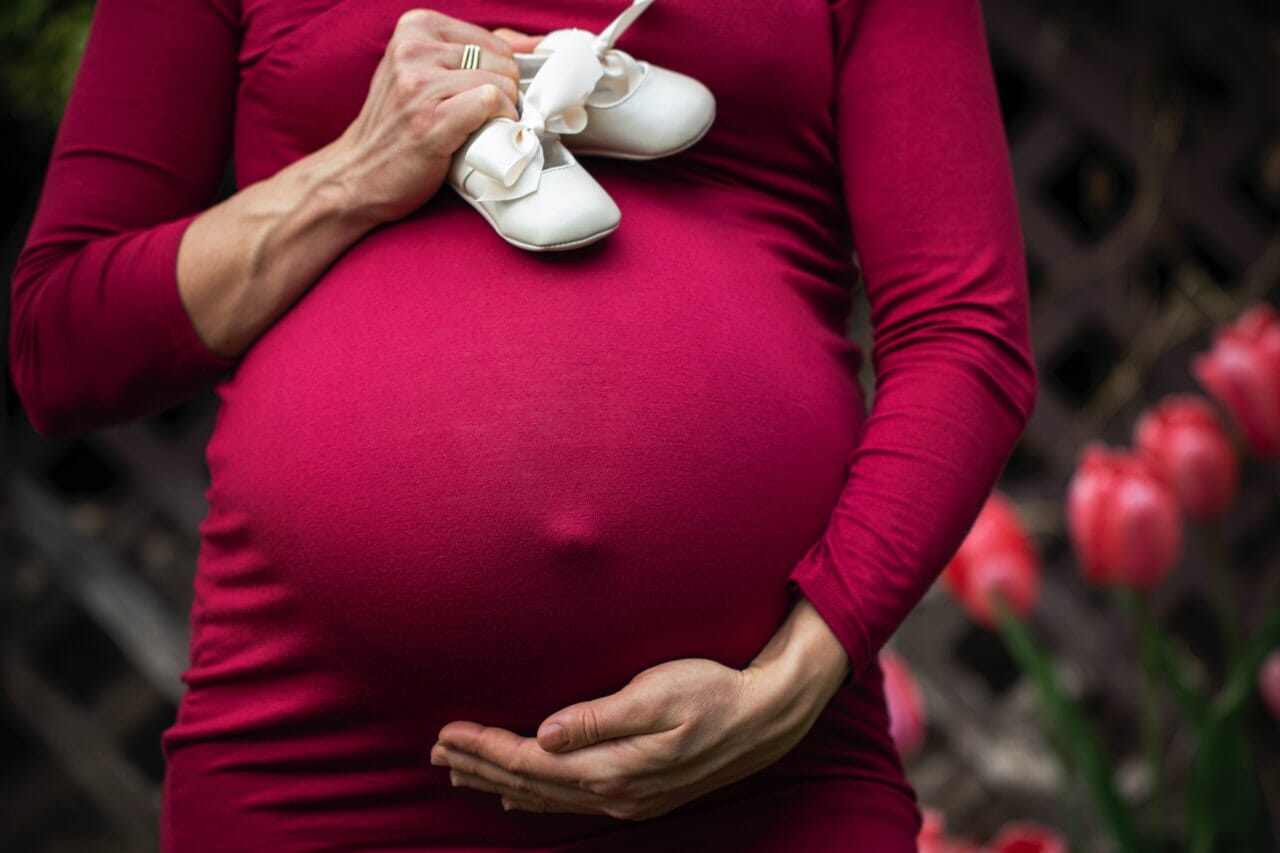 Are you expecting a different kind of present this holiday season? Get some family photos done to show off your baby bump! You can wear a sparkly or festive-colored floor-length gown to really accentuate the bump, and you can have your family dress in a coordinating color scheme.
6. Couple's Christmas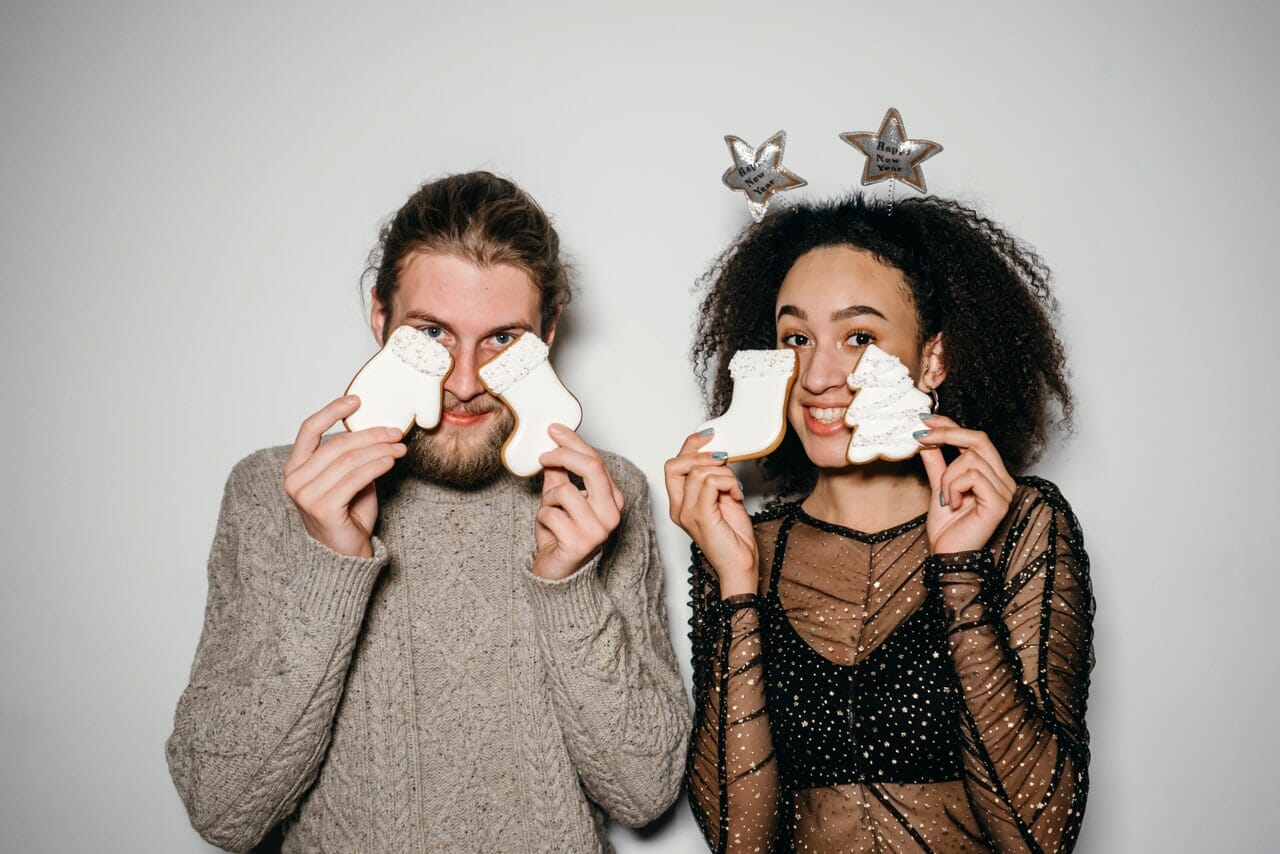 If you need Christmas photo outfit ideas for a couple, then go the classic route of outfits that complement each other. Both partners wearing Christmas patterns or colors would be too much; it's much better for one partner to wear a reindeer sweater and the other partner to stick with something neutral but warm.
7. Baby's First Christmas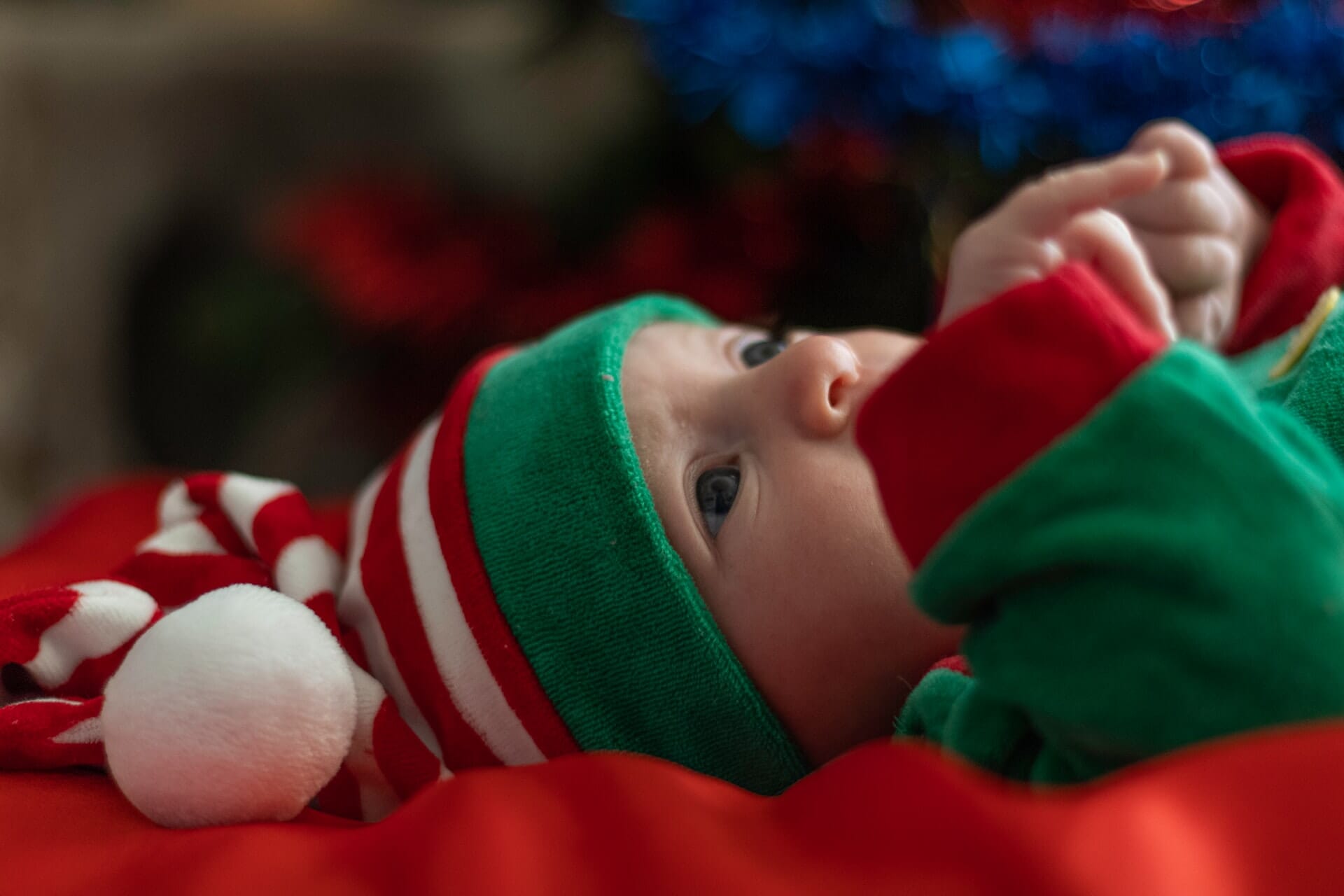 Newborn photoshoot ideas that feature a festive theme are always popular. While there are numerous adorable holiday outfits for babies, sometimes it's best to keep it simple. Try a pair of leggings or tights, or choose a dress featuring a classic holiday or Nordic sweater pattern. To increase the cuteness factor, don't forget the reindeer antler headband!
8. If You Want to Get Ahead, Get a (Santa) Hat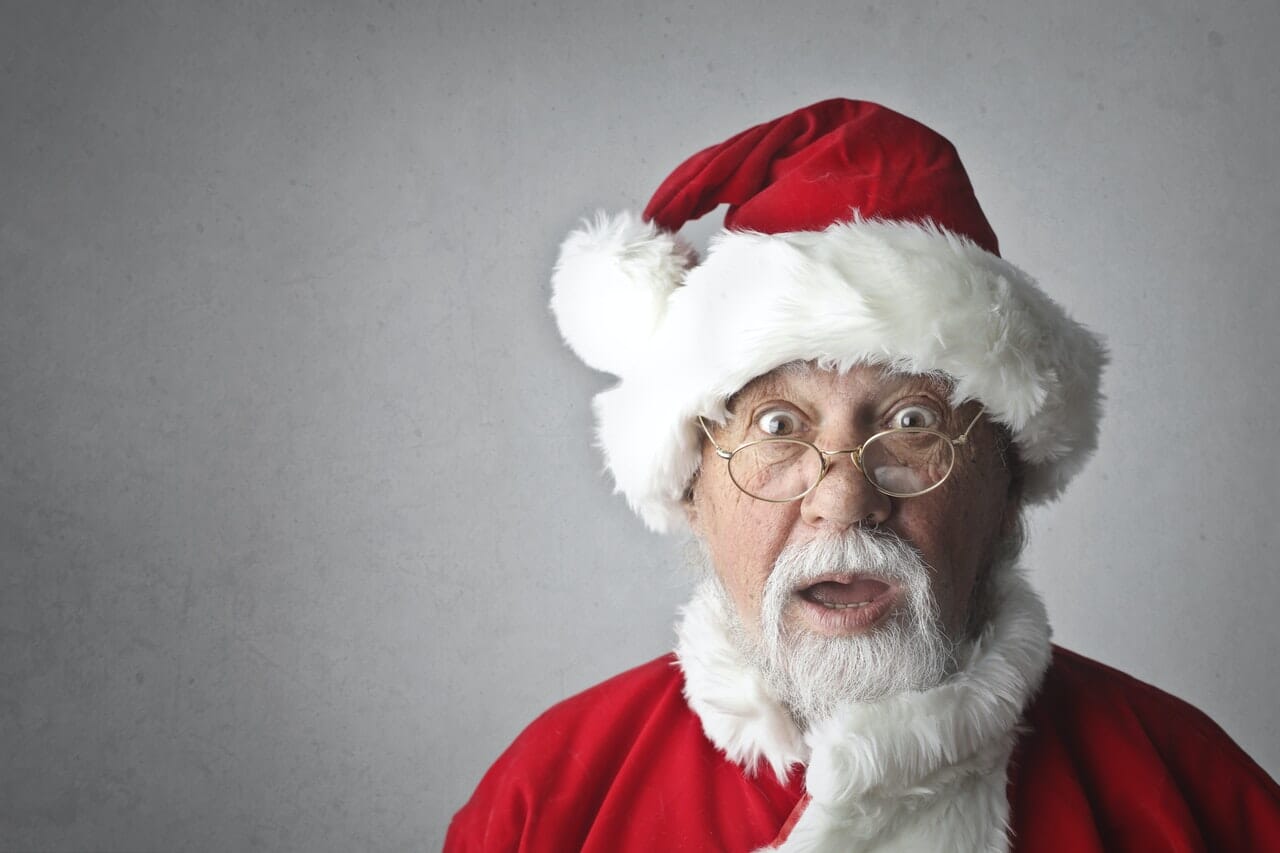 Nothing says "festive" more than Santa's favorite piece of headgear: his red and white hat!
To add some fun and playfulness to your Christmas photo outfits, grab a Santa hat. Everyone loves a Santa hat, and it will look great on your personalized Christmas cards.
9. Silver Sparkle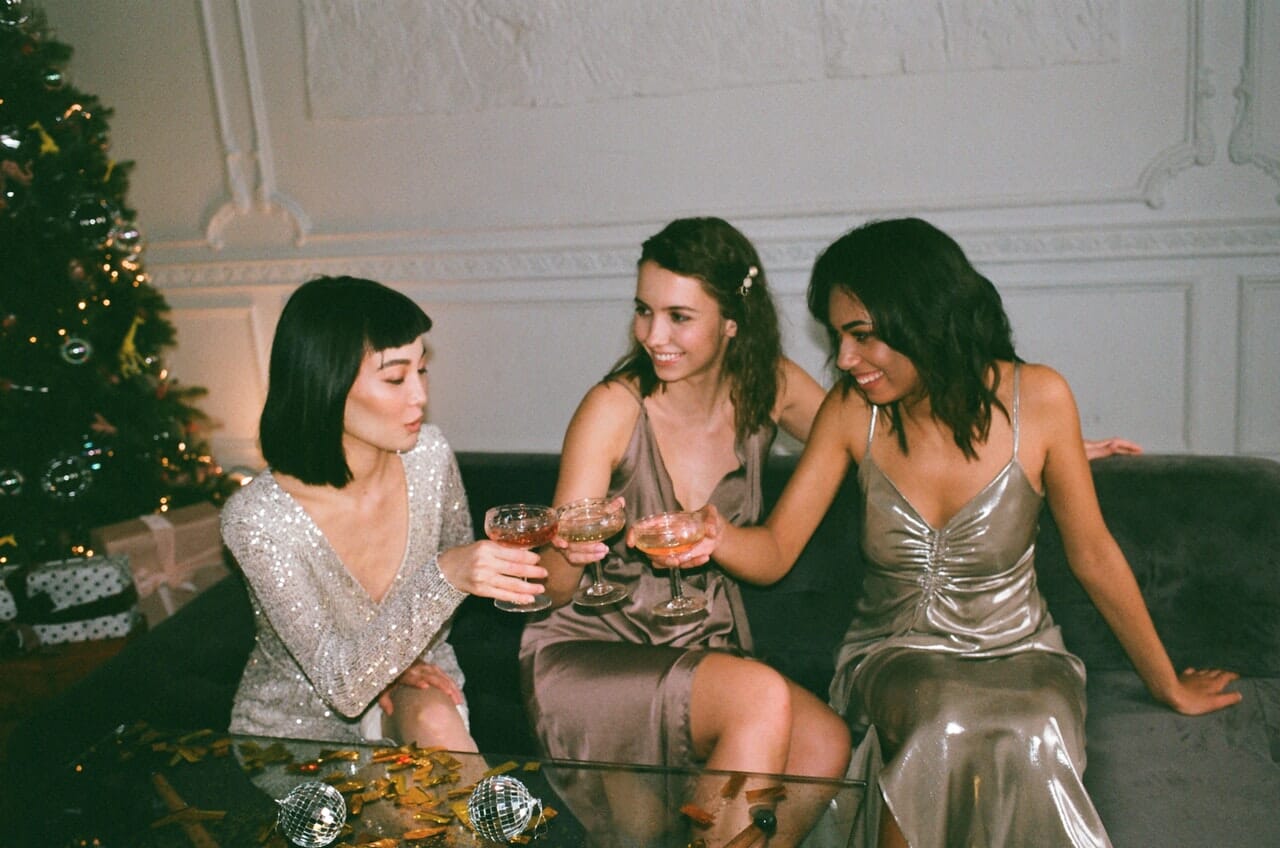 While gold is often the color of choice for the festive season, don't forget about classy silver. Wear a sparkly silver dress, skirt, or pants, then pair it with a cream or white top for added holiday elegance.
10. Snow Days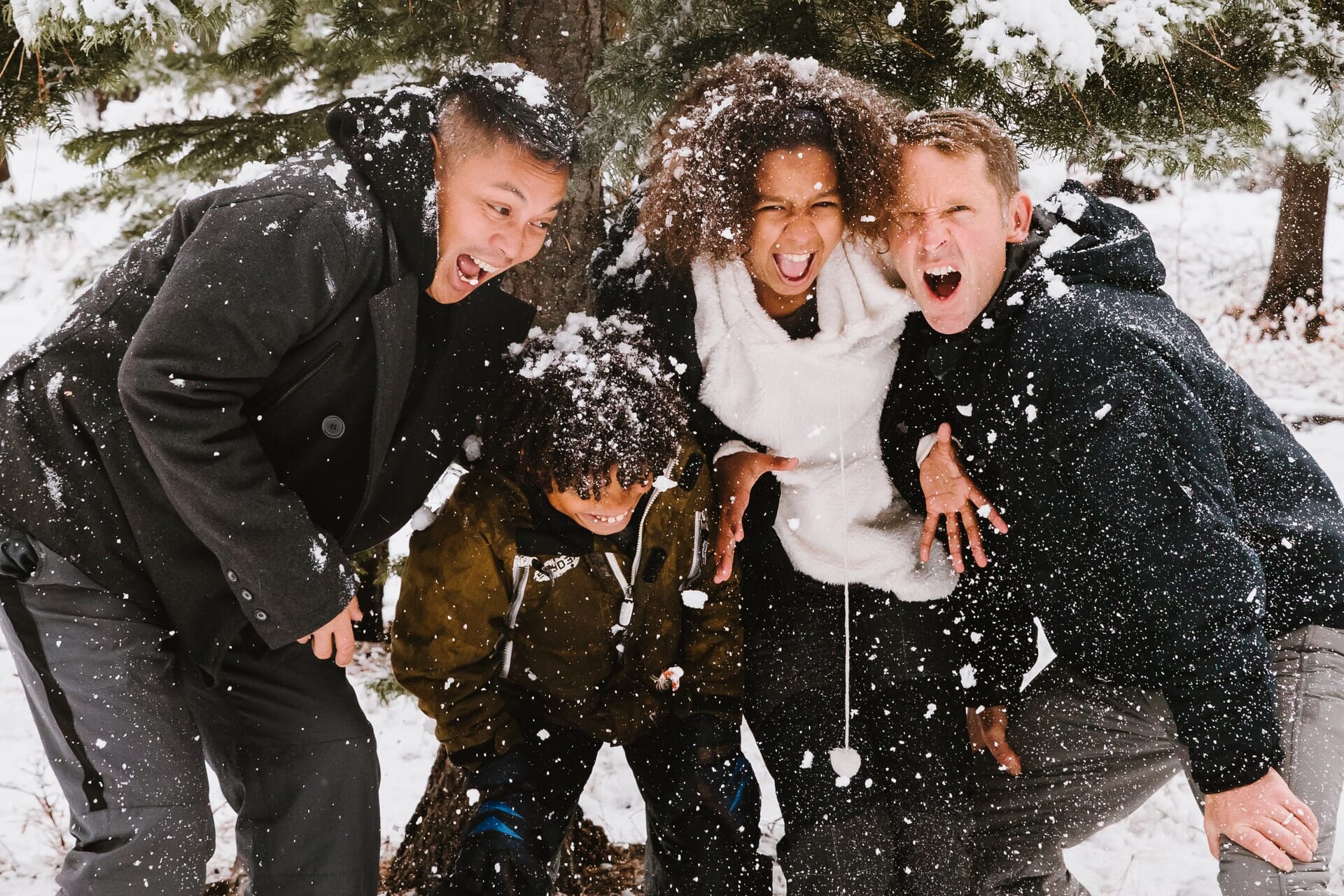 Holiday photos in the snow are always popular! There are just so many image-worthy scenes, from family snowball fights to the kids building a snowman or making a snow angel. If you're looking for outfit ideas for a snow photoshoot, then make sure your clothing choices are warm and comfortable as well as good-looking!
Boots, sweaters, gloves, scarves, and beanie hats in festive colors or patterns will look great against the snow. They'll keep you toasty warm during your shoot, too!
11. PJs All the Way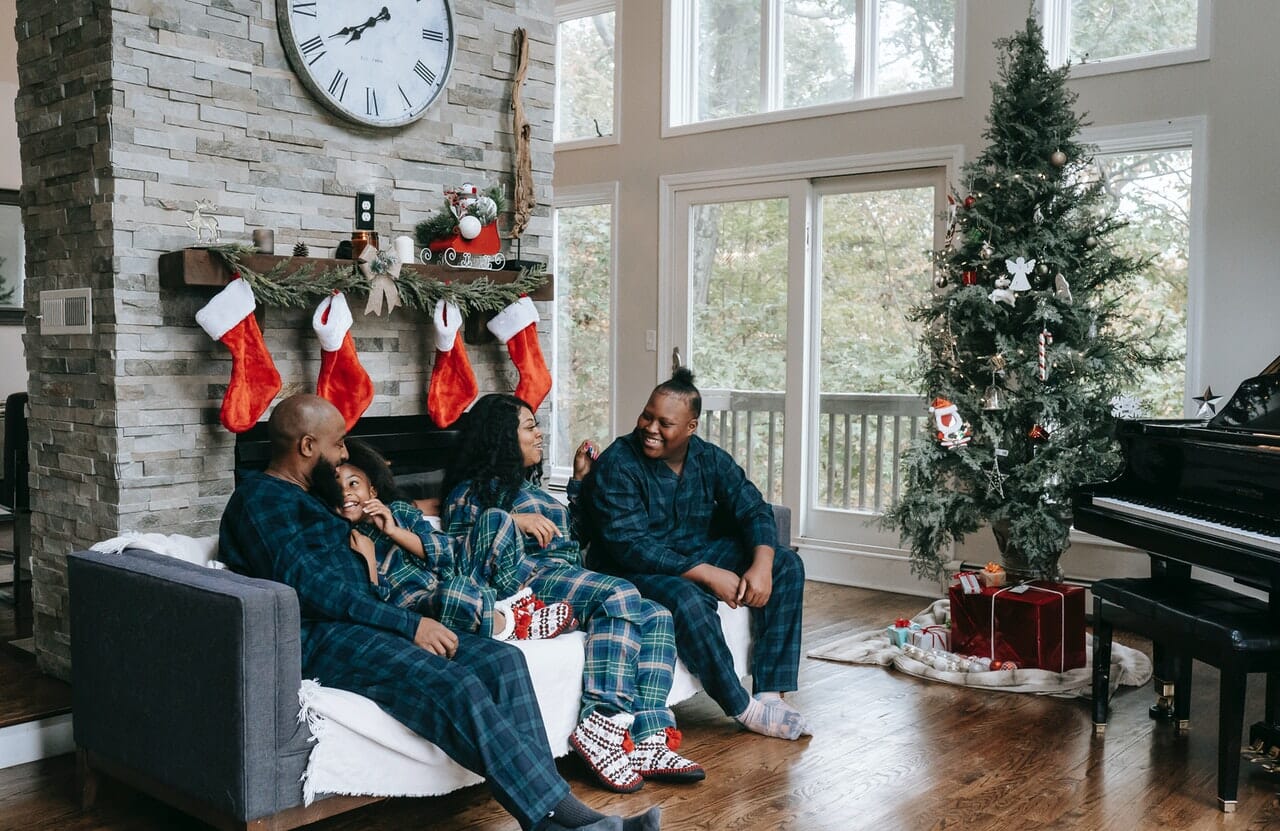 Want a unique Christmas outfit idea? Think about using those holiday-patterned PJs you love so much!
After all, why not commemorate the last few years with your favorite PJ bottoms and a smart, work-suitable top?
12. Neutrals Can Be Festive, Too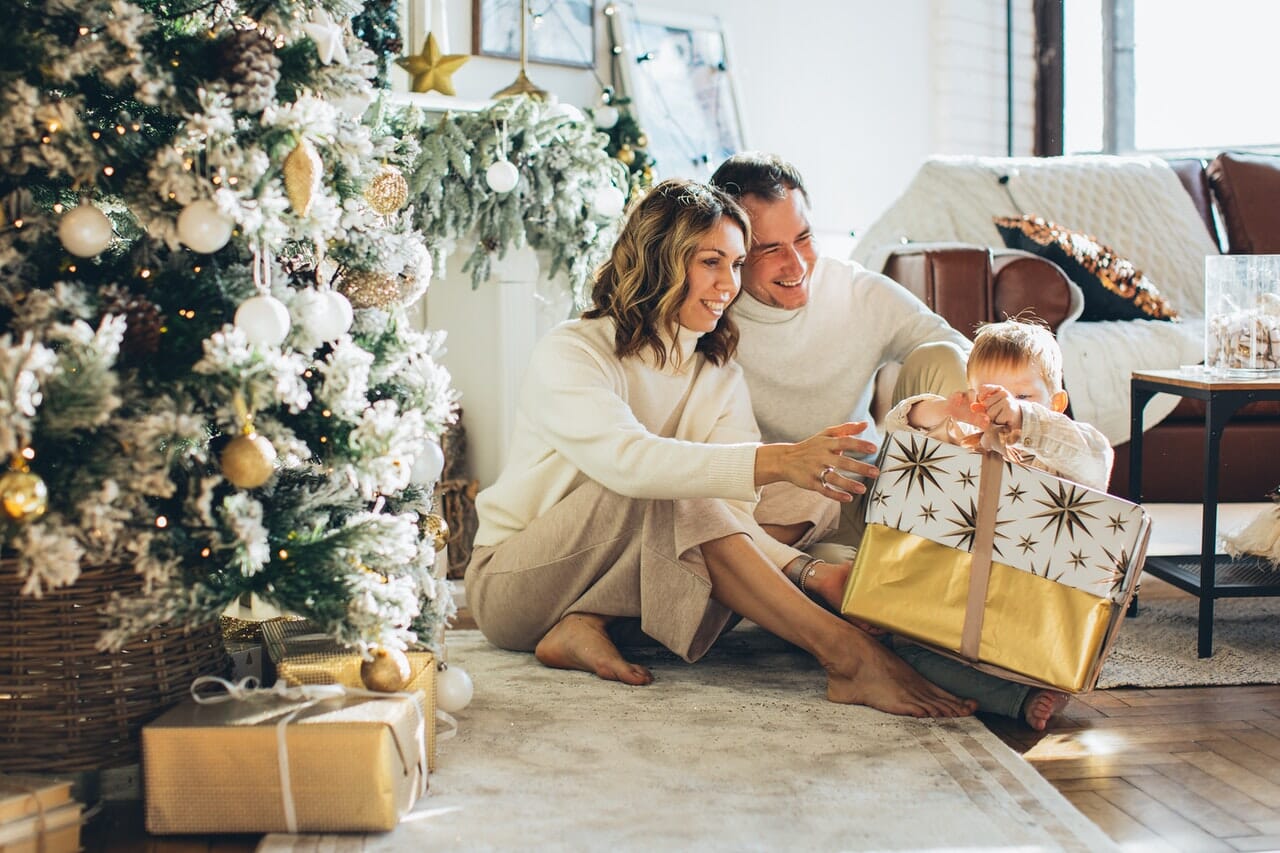 Neutrals needn't look drab. They're actually a smart photo outfit choice if you have a busy or colorful background, like a decorated tree or an outdoor setting. Too many colors tend to distract from the main focus of the photo: you and your family!
Try wearing a mixture of gray and white or some red lipstick with a black top. Have your partner wear blue jeans and a black sweater. Then dress your kids in cozy neutral outfits and add some red shoes or sneakers.
13. Santa Paws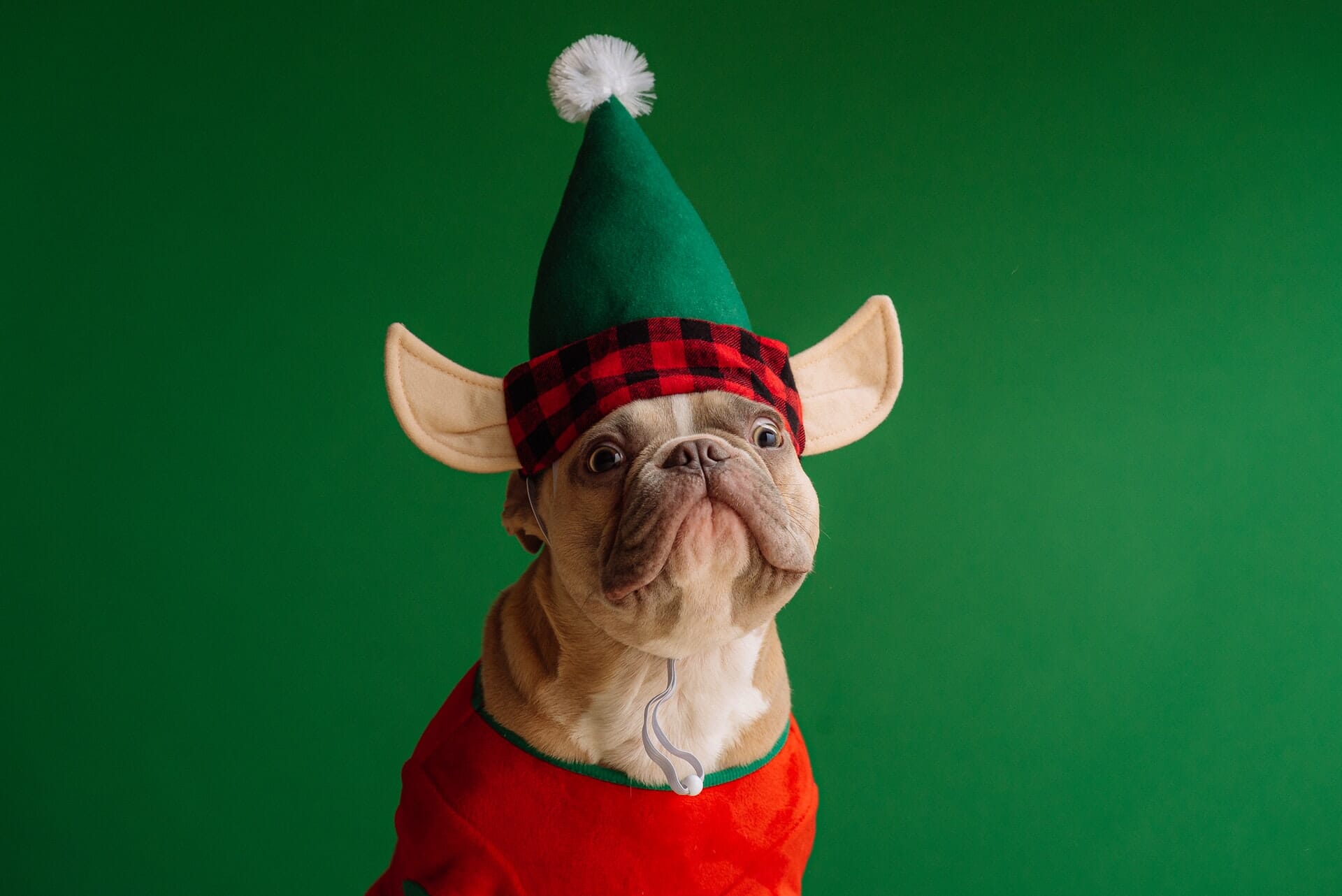 Many of us like to include our fur babies in our Christmas pics, and you can get a range of festive accessories for your dog or cat, including patterned collars, holiday sweaters, or antlers. Even a Santa hat is a good choice if you can get your pet to stay still long enough to have their photo taken!
14. Festive Color Palettes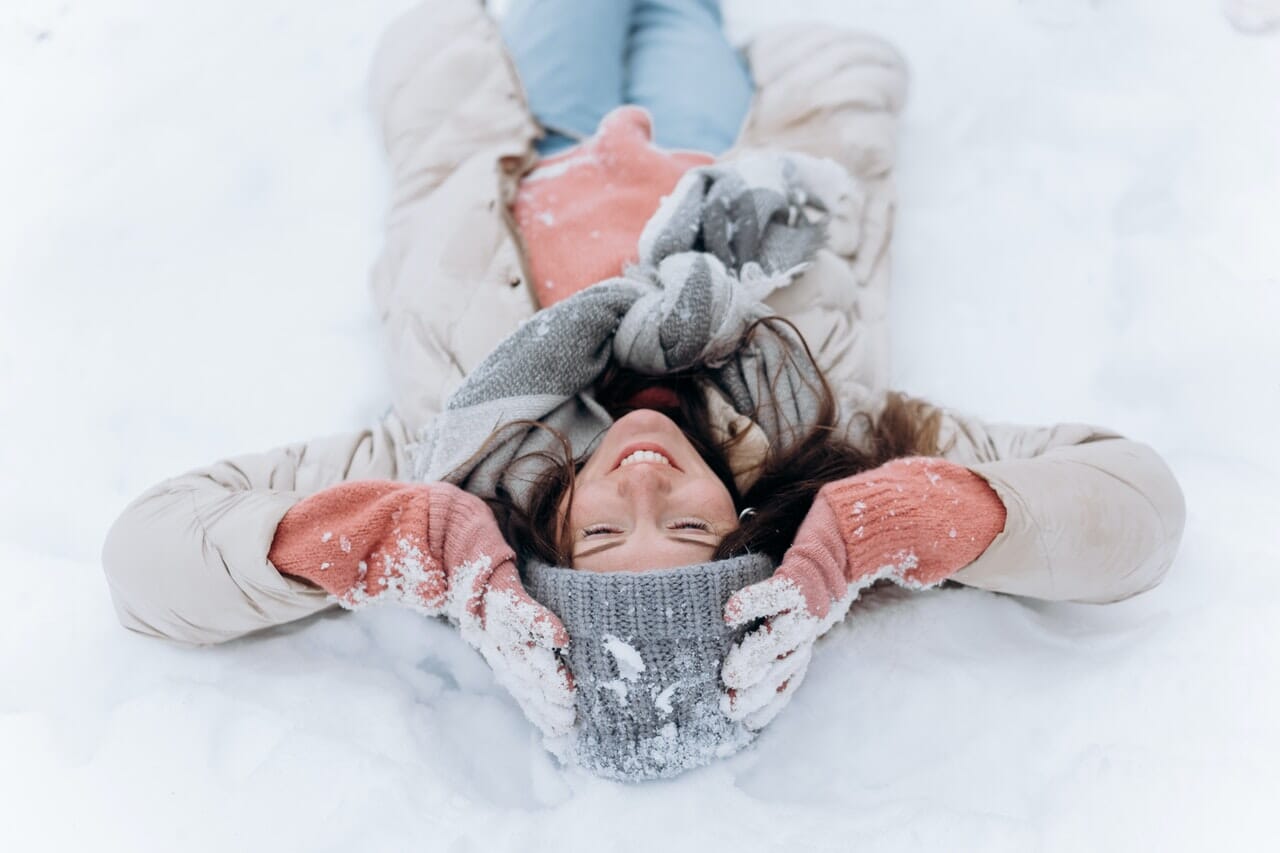 If you want to try a more modern take on traditional Christmas outfits, then switch things up with earth-toned clothes. Mix forest green with rust and tan colors for a beautiful look.
If you prefer a softer color palette, then pair dusty blue and blush with light gray and white. These colors look great against the snow, too.
You can also increase the elegance with rich jewel tones. Burgundy, emerald, and golden yellow are colors that'll flatter any skin tone!
15. Add Some Sunshine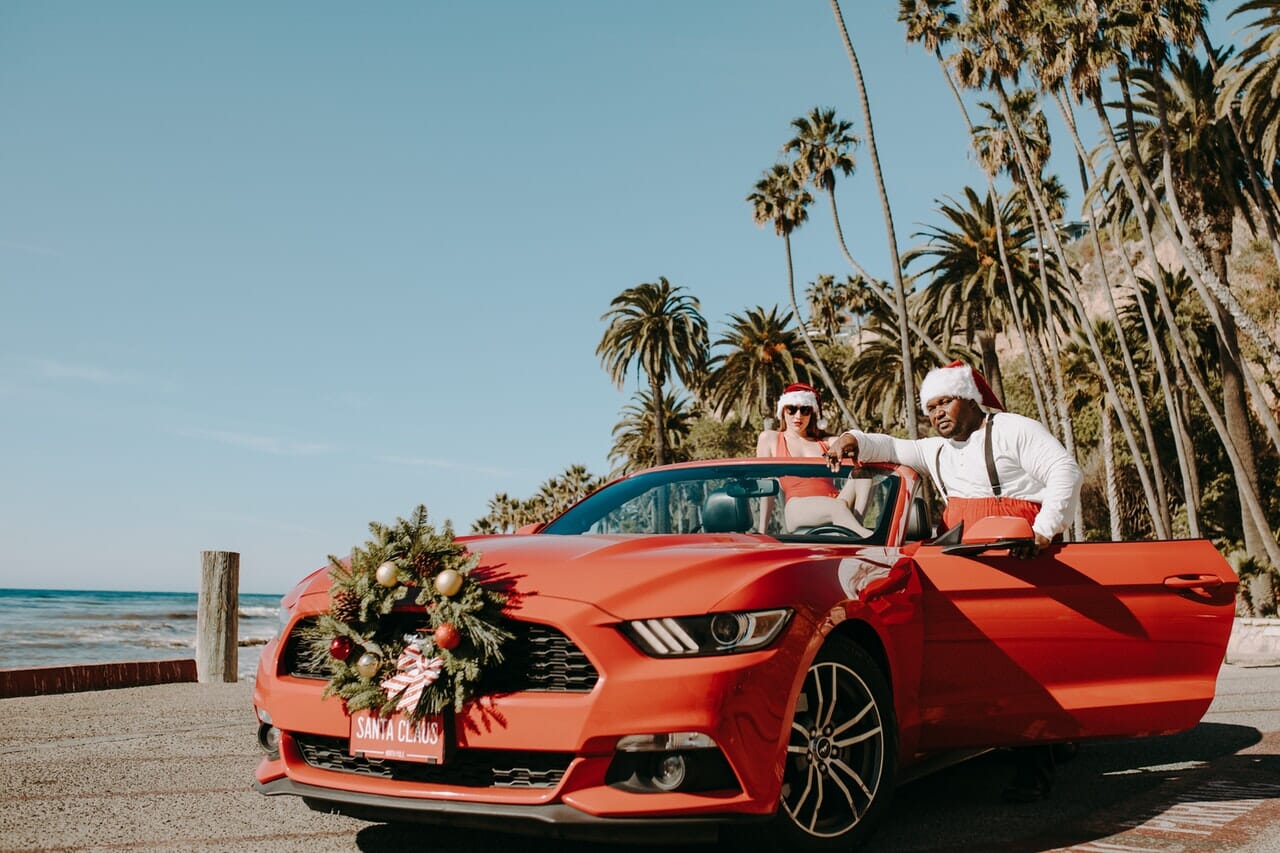 If you're lucky enough to live somewhere that's warm and sunny in the winter, then why not make that a focus of your Christmas photos?
Dress in your best Hawaiian shirts and shorts and get out the ice cream. Consider grilling up a storm on your barbecue in the sunshine (you can even add a Santa hat to your outfit).
If you're a surfer, get down to the beach with your board for some fun shots. Sunshine Christmas photos are sure to make all your shivering friends in colder climates jealous!
Have a Fun Christmas Photoshoot!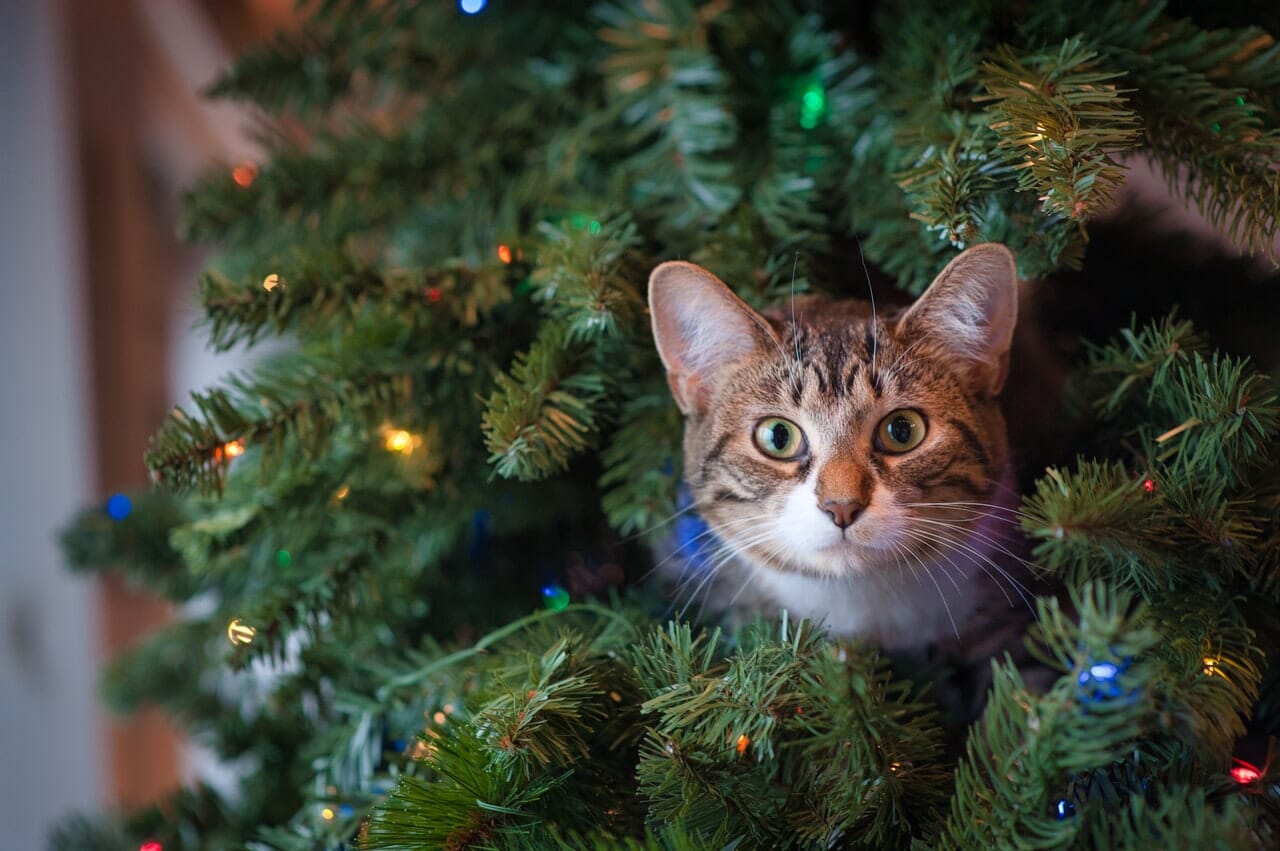 Hopefully, you're now feeling inspired, and you're excited to bring out your camera for some Christmas photoshoot fun.
Go ahead and pick one of the ideas listed above – and if you're feeling especially inspired, pick two or three!
Just remember that the holidays are a time for family, so while you can certainly capture some great shots, don't spend too much time posing for pics. Instead, combine the photographic fun with quality family time! That way, everyone is bound to have a great Christmas season.