Printing photos is a great way of capturing and sharing your memories and/or artistic endeavors, but sometimes a simple paper print just doesn't do a photo enough justice. In this article, we look at 31 photo print ideas that are perfect for a more unique display and even make great gifts!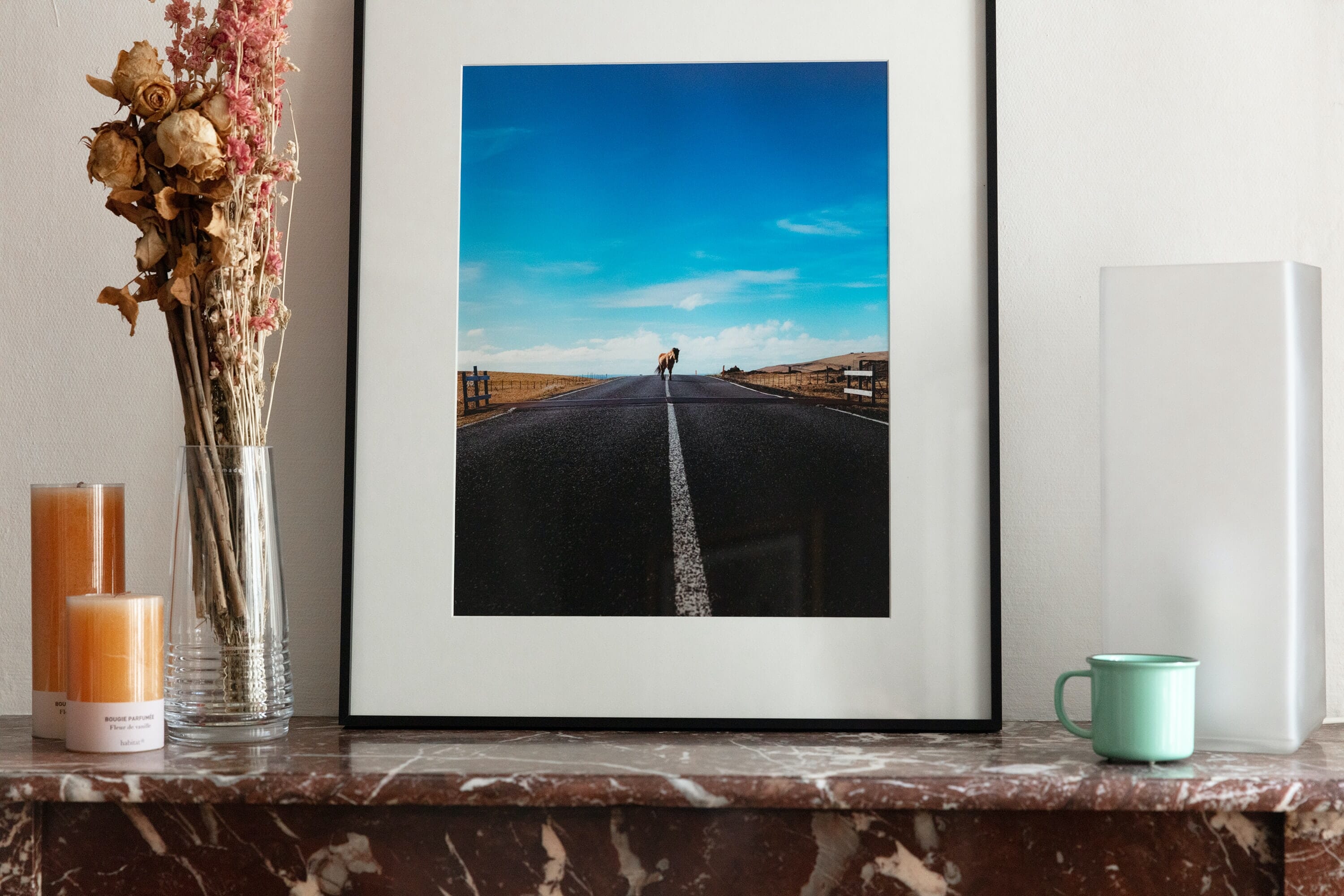 1. Mixtiles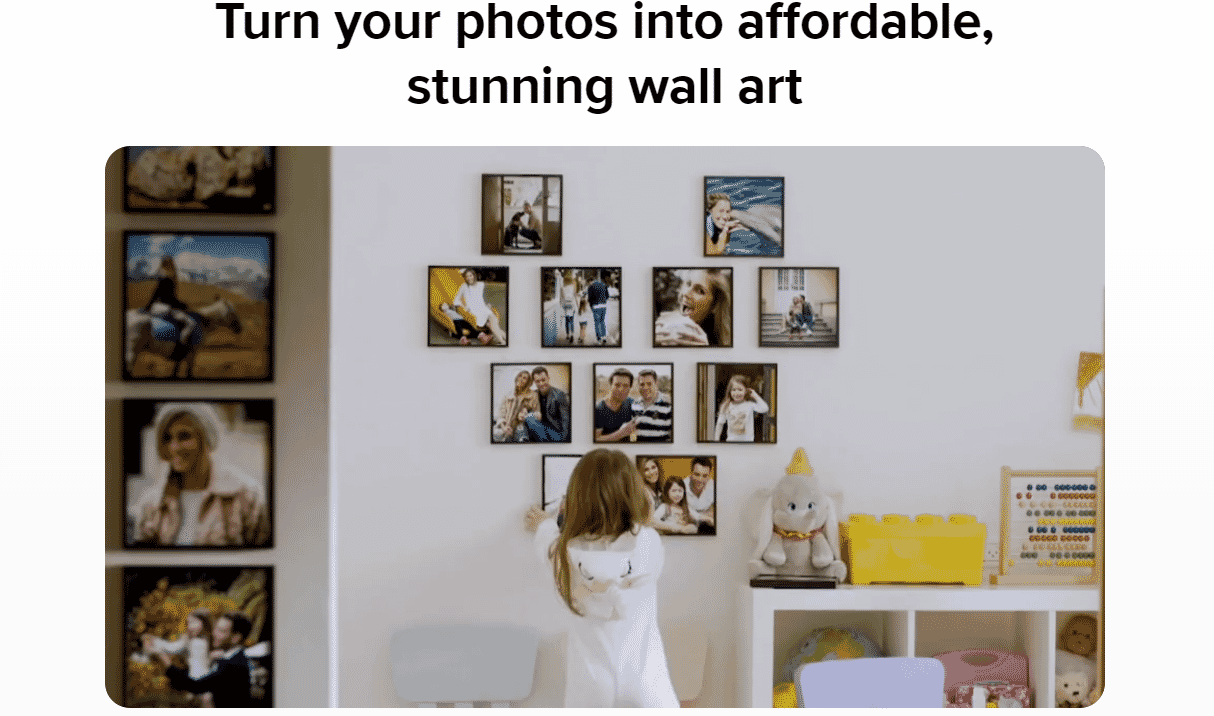 If you're hoping to add to a collection of pictures or frequently change out a display of images, Mixtiles may be the perfect solution. These simplistic 8 x 8-inch photos are made to be moved around without you having to add new fixtures to your wall. The even better news? Taking them off your wall won't damage them!
Related: Best Photo Tiles for Walls in 2023
It is worth noting that the price of a Mixtile isn't really friendly on your wallet, at $11 per tile, you'll find yourself forking out a fair amount if you want a sizable collection. The bright side? They often have sales!
So if you're truly interested in this product, but the price seems like a problem, check their website frequently (especially when there's a holiday on its way). You'll probably find the discount you're looking for!
An added bonus is the fact they have an app! If you plan to regularly purchase Mixtiles to add to your collection, the app can be a real time saver!
2. Custom Wallpaper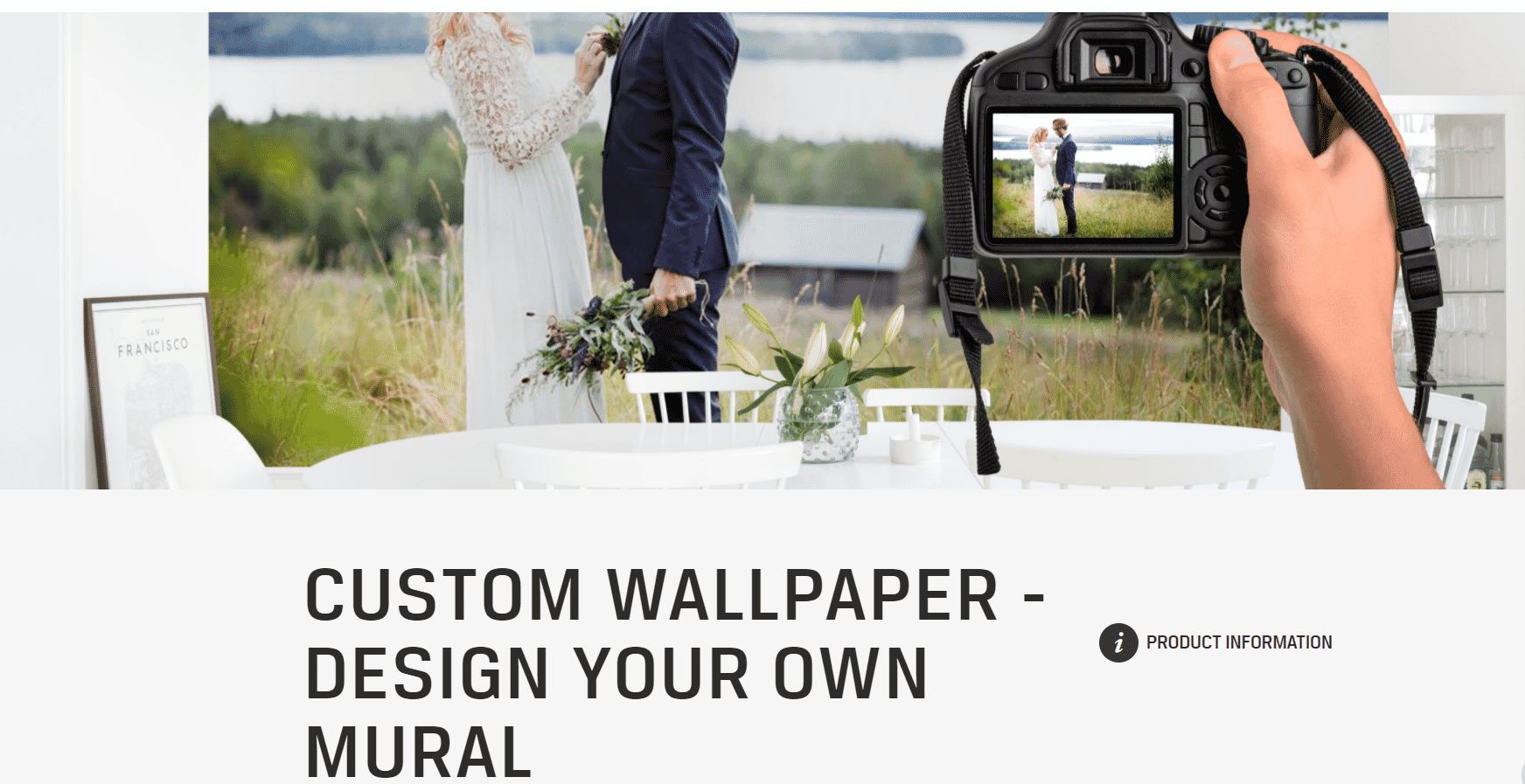 Wallpaper might sound a bit wild, but if you have a picture that captures a memory you want to keep on reliving, a wallpaper mural of the photo might be the perfect print solution.
Perfect for a family portrait in your family room or a larger-than-life replica of some abstract or macro photography, this is definitely a fun photo print idea to add a custom touch to your home.
3. A Triptych (or One of the Many Variants)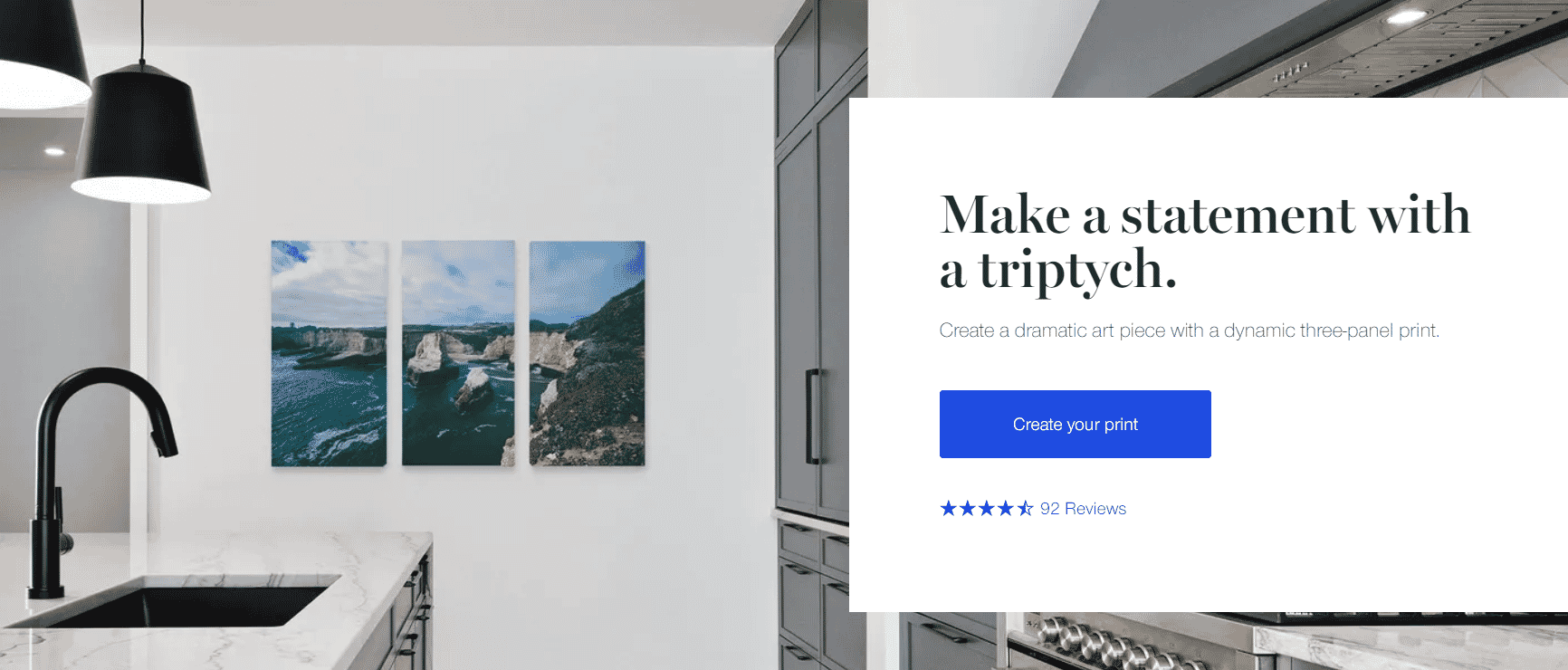 Triptychs are a great way of adding a new dimension to a canvas print. But if three panels aren't enough, you can always add more or even cut back to two and have a diptych instead!
There are many ways to have your photo printed as a triptych, including specialist services out there. But if you want ultimate freedom, ordering three individual canvases might be the way to go (though it'll likely cost you more).
4. A Photo Magnet Collection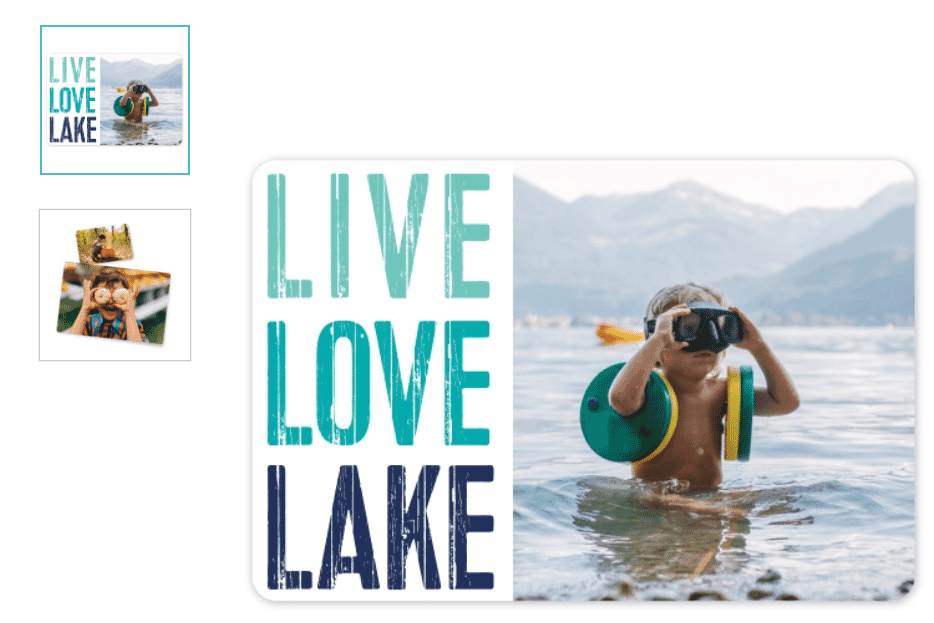 Photo magnets are a well-loved classic alternative to a standard photo print, but curating your own collection can allow you to uniquely display a set of images.
Where you put them is ultimately up to you, but your refrigerator is the most likely candidate. However, if you choose to install a dedicated magnet display board, you can creatively showcase your images and change your layout from time to time!
5. Get a Photo Jigsaw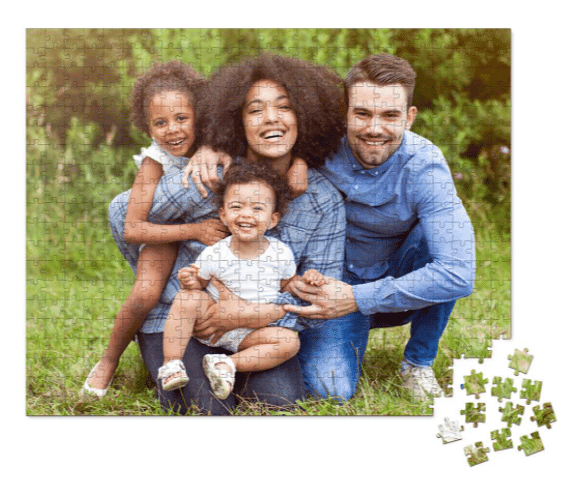 If you love spending time with your family or you know a puzzle bug that would love this sort of gift, a custom photo jigsaw is a great option! You can pick your favorite image, then have it printed onto a jigsaw set.
This is a great option for creating space for some quality family time while appreciating a photographic memory. Puzzles can be made with varying numbers of pieces to suit all difficulty levels!
6. Commission an Artist to Turn Your Photo into Art


There are many talented artists out there on the web and if you're looking for a new way to display your photo prints, commissioning an artist can provide a whole new dimension to your image.
We recommend heading over to Etsy and taking a look at the different styles on offer, you'll definitely find something you love, and the artist is sure to provide impressive results and work with you in developing an image with exactly what you have in mind. Another option is to try a Paint Your Life painting.
7. Order a Fracture Glass Print


Glass is a fun new print medium that offers a very polished-looking printed product. If you're just looking for something with a more modern and classy feel to it, a glass print could check all the boxes!
There are many design options available when it comes to glass prints, so you can shop around and find what works best for you. However, we really loved our Fracture glass print. Bear in mind, this is glass, so if you want something durable, look at one of the other options!
8. Let CanvasChamp Turn Your Photo into Pop Art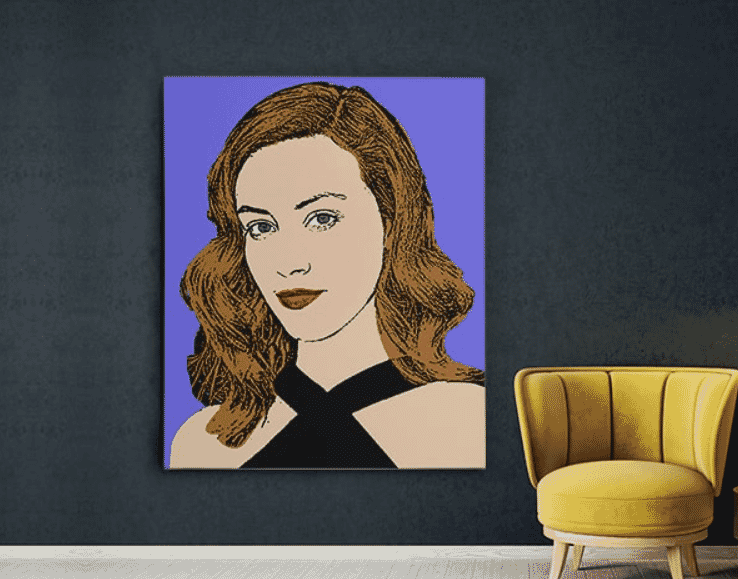 CanvasChamp offers some great canvas printing options, but for a more fun print style, why not check out their Pop Art prints? This retro style will certainly add a stylistic touch to your photo and make for a fun, action-packed print!
There are various pop art-inspired styles to pick from, and you can also have your photo printed on a variety of canvas sizes. For portraits and group shots, this is a print option not to be missed!
9. Make Postcards (or Standard Cards)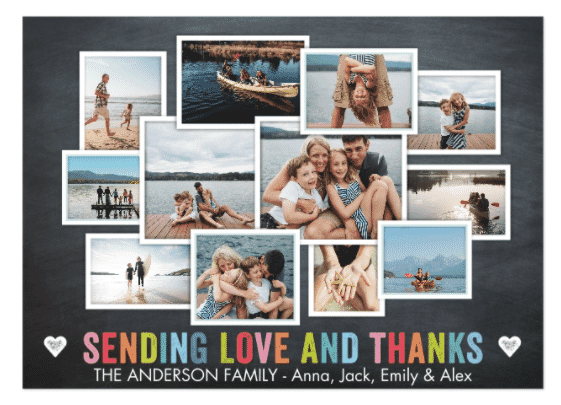 If you enjoy making artistic photos, you can transform them into postcards (or standard cards) to be shared with friends and family! It is an easy process that can really offer a unique and personal touch to cards you mail out.
As a thank you or just a quick note, we're sure these printed cards will go down a treat.
10. Try Out a Giclée Print for a Larger-Than-Life Dimension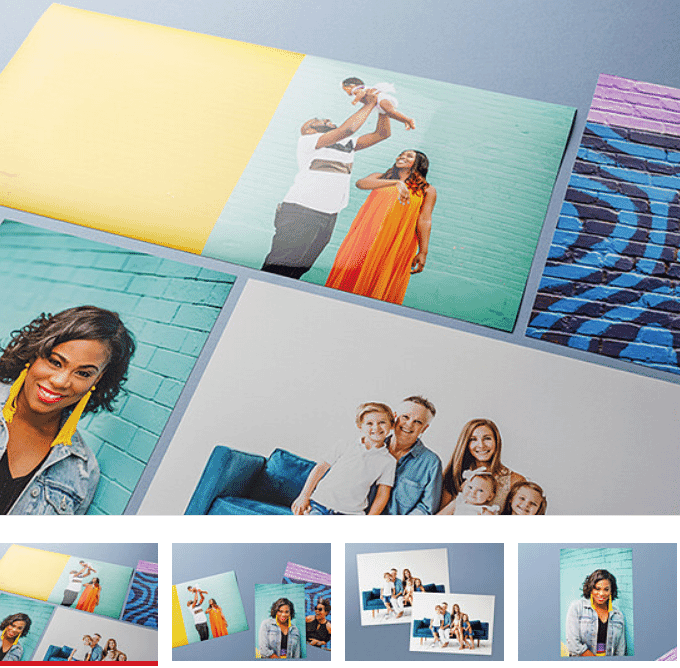 If you want to go large (but not wallpaper print large), a giclée print is a fantastic choice! These high-quality ultra-detailed prints are available in various sizes and even printing mediums.
There's so much to love about this type of print and even if you don't want a large print, there are smaller dimensions available to print, too!
11. Go Natural with a Wood Print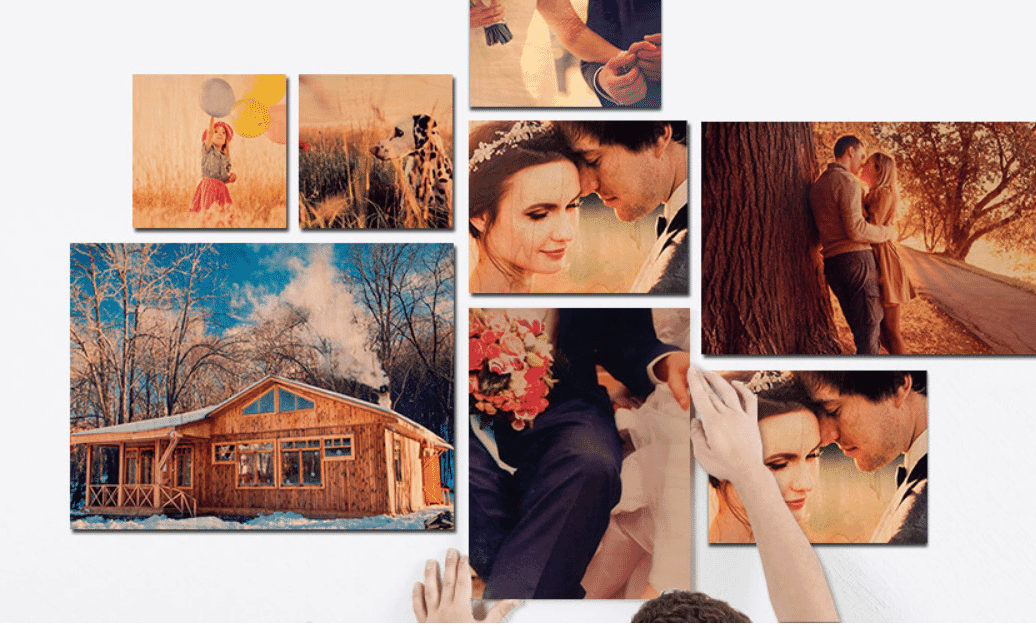 Some prints are so clean-cut and might not fit the style you're really looking for, but a photo printed on wood offers a more rustic, natural vibe that might be just what you had in mind.
You can get wood prints in many styles, so be sure to shop around to find the ones you like best!
12. Create a Photo Book


For capturing memories and putting them in a timeline to tell your story, a photo book is perfect. If you want a completely custom photo book, there are some places that offer complete design freedom.
On the other hand, if planning layouts is too complex, there are many design wizards to help you design the perfect photo book with a click of a button.
Our personal favorite photo book printers include Saal Digital and Mixbook.
13. Design a Phone Case


Pretty much everybody carries around a phone these days so what better place to have your photos printed than on a phone case. Not only does it protect your phone but it reminds you of treasured memories and even allows you to share them with other people!
When picking a phone case, make sure your phone model is supported. If you're unsure, contact the manufacturer before ordering!
14. Make a "Mini-Me" with a Statuette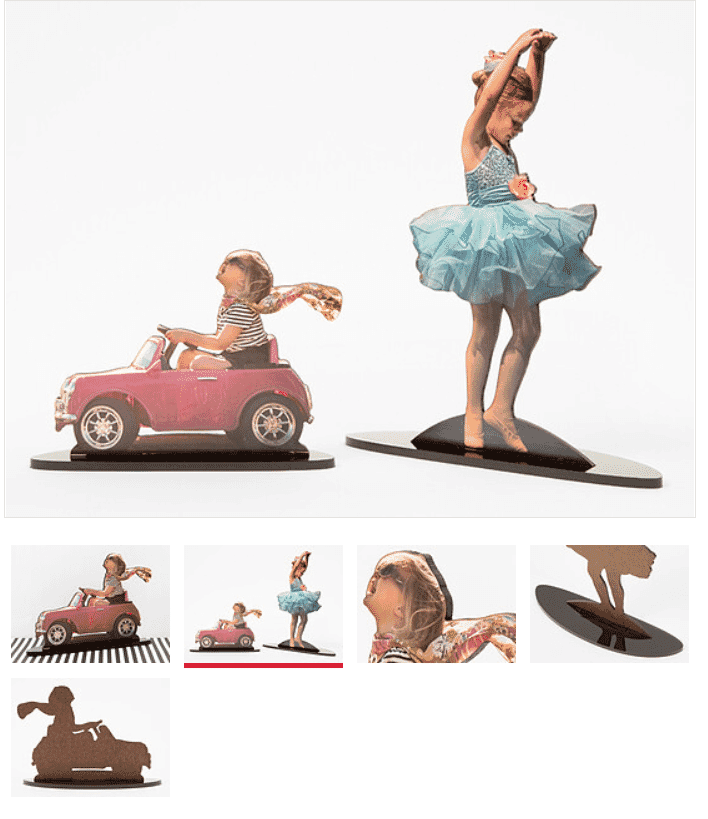 This super-fun print idea is perfect for a little humor or to please a child or two! A statuette is a miniature-sized cardboard cutout.
These fun prints might sound like they'd be tricky to make, but thankfully the printing service does all the hard work for you, cutting out the background of your image with high accuracy so you have a perfect little statuette!
15. Go Acrylic with a Photo Block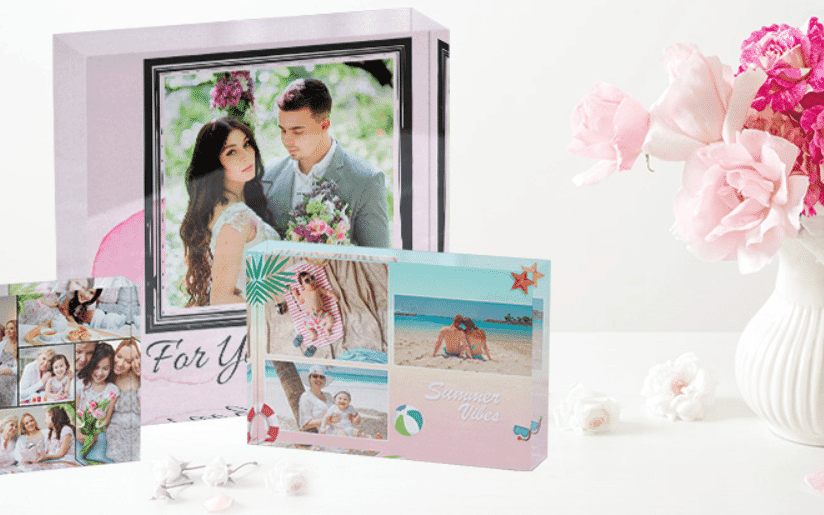 A photo block is a fabulous free-standing option that would be welcome on any desk space or shelving unit. It's a great alternative to having a print in a photo frame.
Photo blocks come in many shapes and sizes, but smaller is better if you're looking for an option to go on your desk. The thick acrylic material makes for a beautiful photo print.
16. Try a Pet Portrait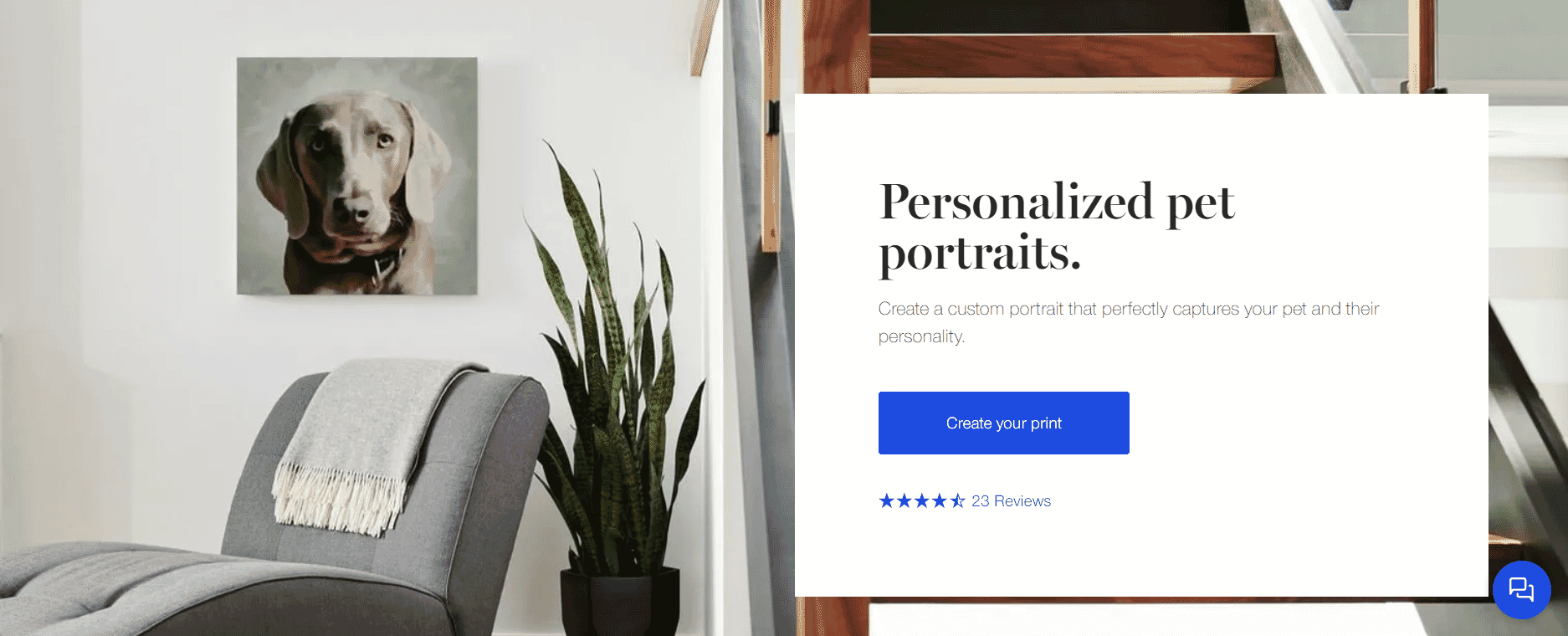 Do you have a beloved furry friend you'd love to get a print of? Companies like Canvaspop offer a fantastic service where you can have a creative pet portrait produced of your beloved pet.
This is an easy-to-follow process that produces results you'll definitely love. Pet portrait printing companies offer a selection of customization options for you to tailor your print to your needs.
17. Put Your Pictures in a Treasured Photo Box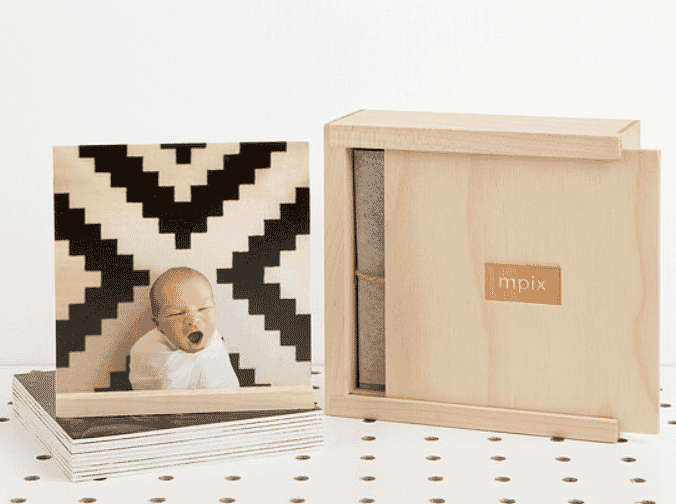 A neat little photo box can hold all of your treasured memories. Printed on high-quality mediums in a style that suits your liking, this is a great, minimalistic option.
An added bonus to this photo print idea is the fact that you can even showcase a few prints on the display blocks, allowing you to change out your images on show and preserve them when they're not in use.
18. Make a Collage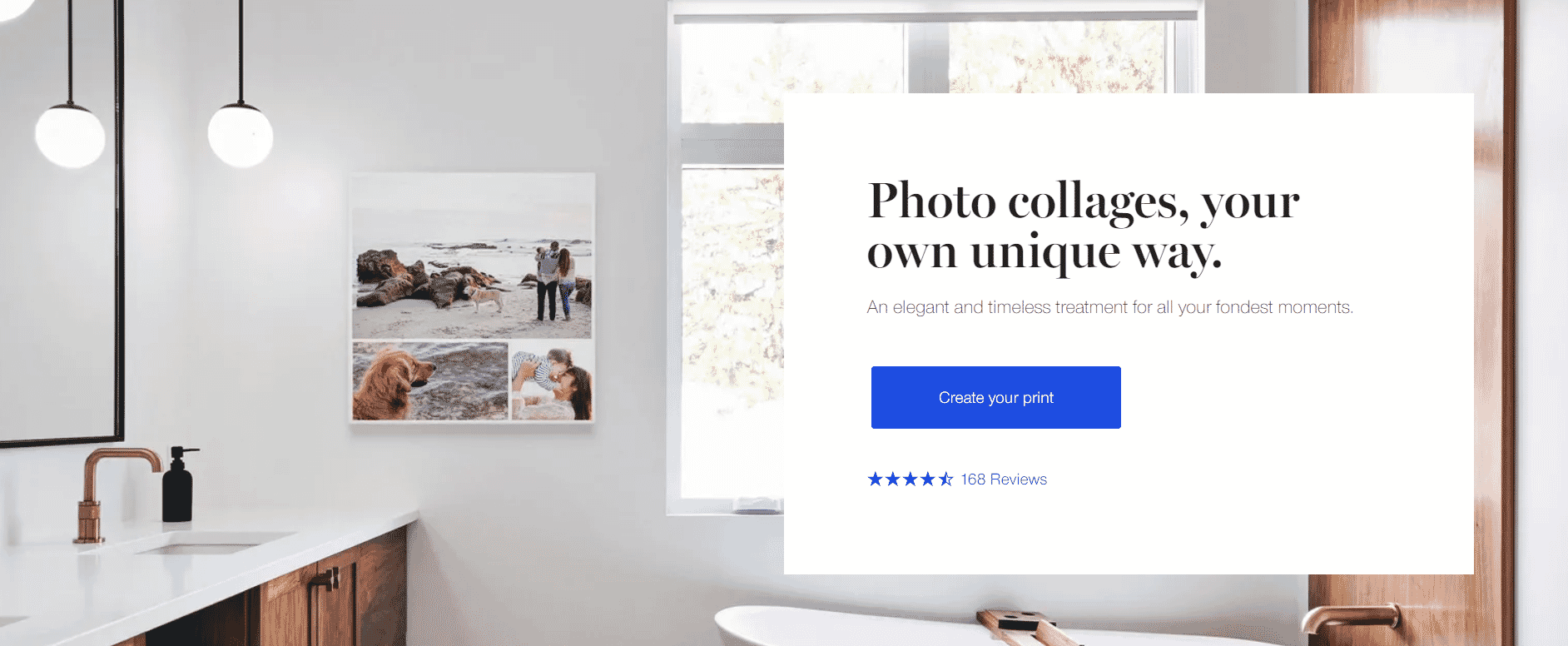 If you have a selection of photos and want more than to just produce a selection of prints, a photo collage can be a fun and creative way to compile a selection of images.
You can have a collage printed in various formats from paper prints to canvases and many other options in between.
19. Stick to a Classic: Photo Coasters and Mugs

When all else fails, there are always classics to fall back on. One set of these options is the photo coaster and mug collection. Having your photos printed on mugs and coasters make for fun home additions.
Nowadays, there are many stylish options, even in this rather old school department, so be sure to scout out what your options may be in this department!
20. Make It Metal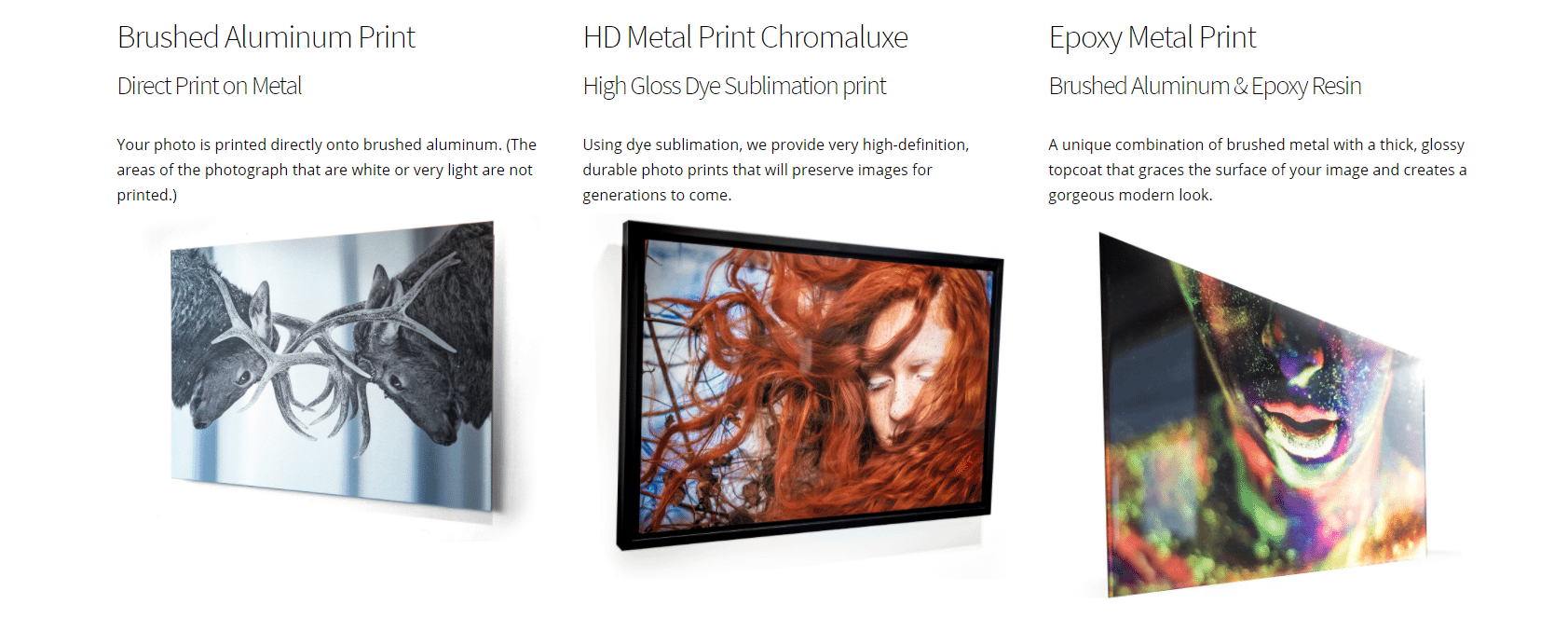 Metal prints are a great way to showcase your photos. With a clean-cut, modern finish, what's not to love? Metal prints can be produced in different ways and offer several mounting options and sizes.
It is worth noting that these prints are on the more costly side but we guarantee it will be worth it!
21. Hang It Up with a Hanging Canvas

A hanging canvas is a stylish option that shouldn't hurt your wallet too much! Each end of the canvas is fixed to a wooden beam, which keeps the free-hanging canvas taut while also adding a homely element to it.
These canvases can be purchased from a variety of sellers and offer a great deal as a gift or home decor addition!
22. Create Custom Photo Blocks
Photo blocks are essentially small decorative items usually made from wood that have a custom photo on the front. You can get a variety of customized photo blocks from Etsy.
These are a great option for adults and kids alike. You can use them as a decorative ornament or let kids run wild with them using them as building blocks.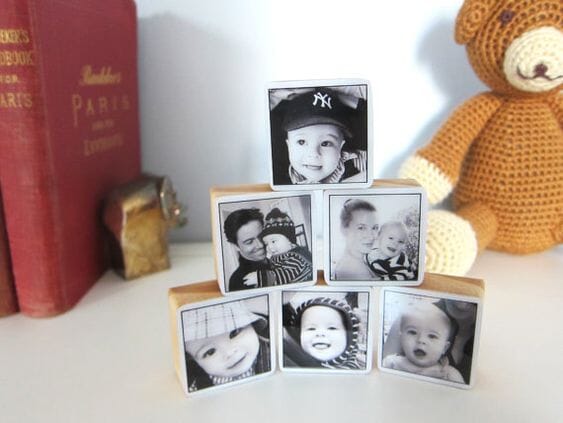 23. Personalize Your Pillows
What do we have a lot of in our homes? Pillows! Usually, we purchase generic pillows from home stores that match a certain color scheme, or the color of our sofas.
Instead of doing this, why not create a custom photo pillow? There are many websites that create custom pillows.
If you are worried about the color scheme, simply change the color of the pillow material. You can even use photos with a limited color pallet that complements your furniture.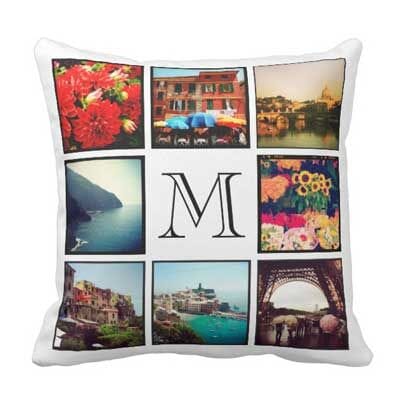 24. Take Your Photos on Your Travels with a Luggage Tag
This simple creation is bound to be a hit with anyone who loves to travel! You can find all sorts of luggage tags on Etsy that can be customized with your own photos.
With a personalized photo luggage tag, there will be no confusing your bag with someone else's at baggage claim ever again!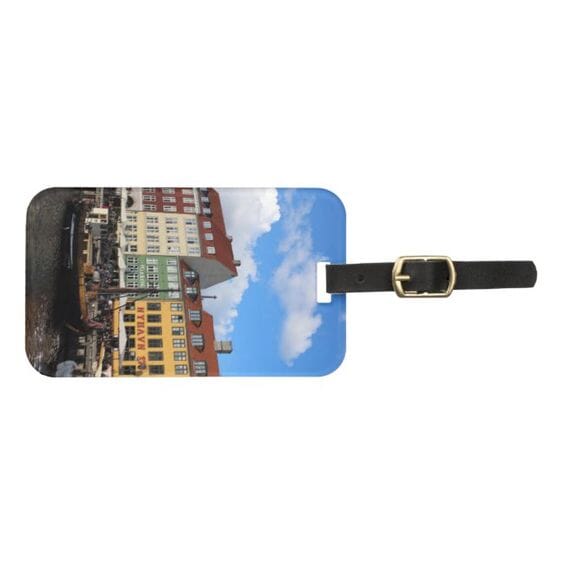 25. Print on Letters with a Photo Monogram
Aside from photo frames and ornaments, a cool type of decoration is a monogram. You can create simple monograms printed in photo frames or actual block letters made from wood or plastic.
If you're a creative type, you can make your own block monogram. Find yourself the perfect block monogram at your favorite craft store, then print a series of photos and cut and arrange them to fit the front face of the block letter. The result is a brilliant, personalized monogram wall display.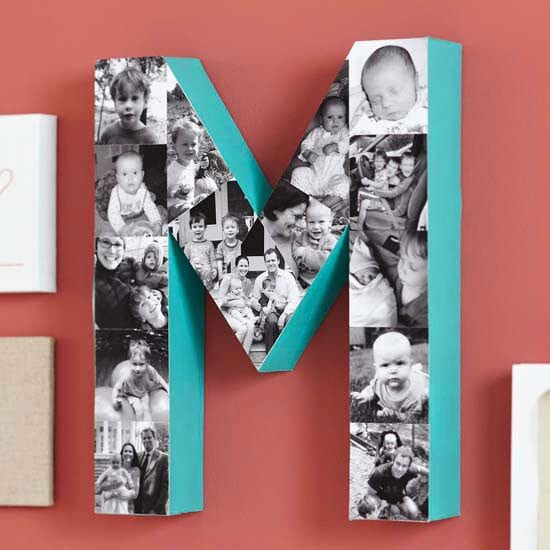 26. Hang Your Photos on a Mobile
A mobile can serve two purposes. It can simply hang it from a ceiling to create a cool personalized chandelier, or it could hang above a crib to create a personalized mobile for your children.
Photo mobiles are easy to create but you can use your imagination and experiment with a range of styles. For example, in the photo below, twigs and strings have been used to create a photo mobile with a natural feel.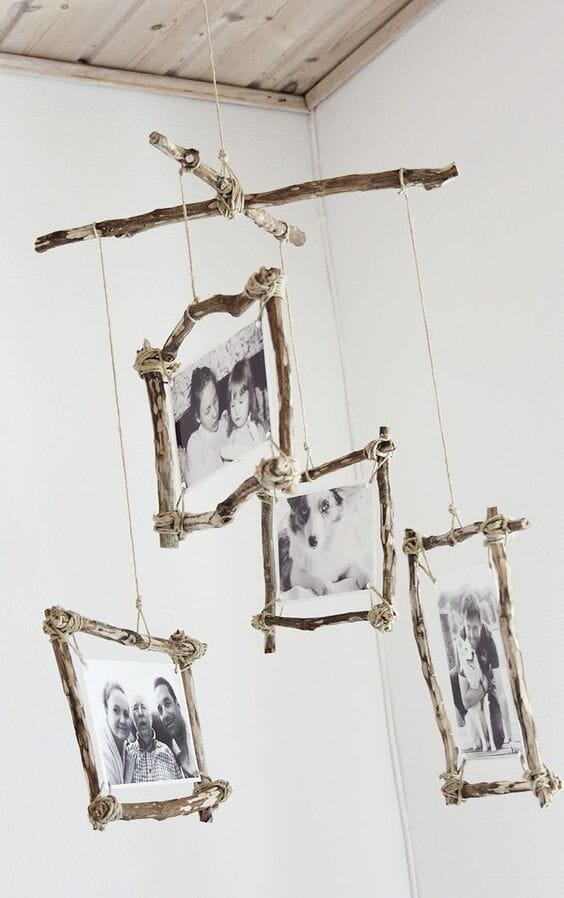 27. Create Your Own Polaroid Streamer
This last section will be dedicated to Polaroid print ideas. One of the best photo print ideas is to create a simple Polaroid stream.
To make this, you'll need Polaroid photos, some string, and small pegs or bulldog clips. When you have all your materials, simply attach the Polaroids to the length of string with the clips, and hang the string in the desired location – easy!


28. Capture Your Travels in a Polaroid Travel Frame
Instead of creating a frame with a photo, why not create a frame with Polaroids and travel mementos?
To create this decoration, you need a deep frame, like a shadow box, Polaroid photos, bulldog clips, and tack nails.
You can incorporate a collection of mementos into your frame, showcasing not only the pictures you took and what you saw, but what you did and where you went. For people who enjoy scrapbooking, this is a great hanging alternative.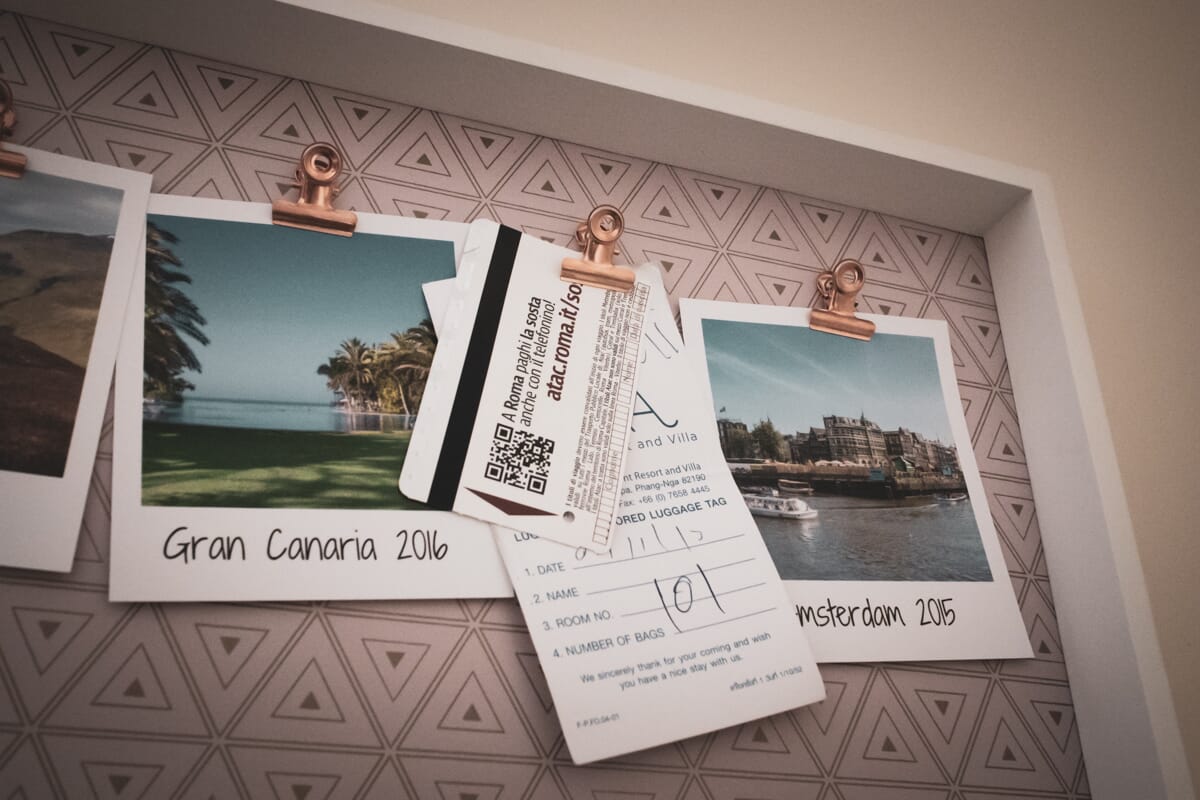 29. Mark Your Destinations on a Photo Pin Board
For keen travelers, this will be a hit! Instead of a simple pinpoint on a map (or scratch off if you use a scratch map), you add your images to the map to show where you visited and what you saw.
To make this you'll need a large corkboard, a printed world map, Polaroid photos, drawing pins, and string.
Attach the world map centrally to the corkboard. Surrounding the world map, pin your Polaroid images to the board. From these images, connect lengths of string to their relative positions on the world map – simple, but effective!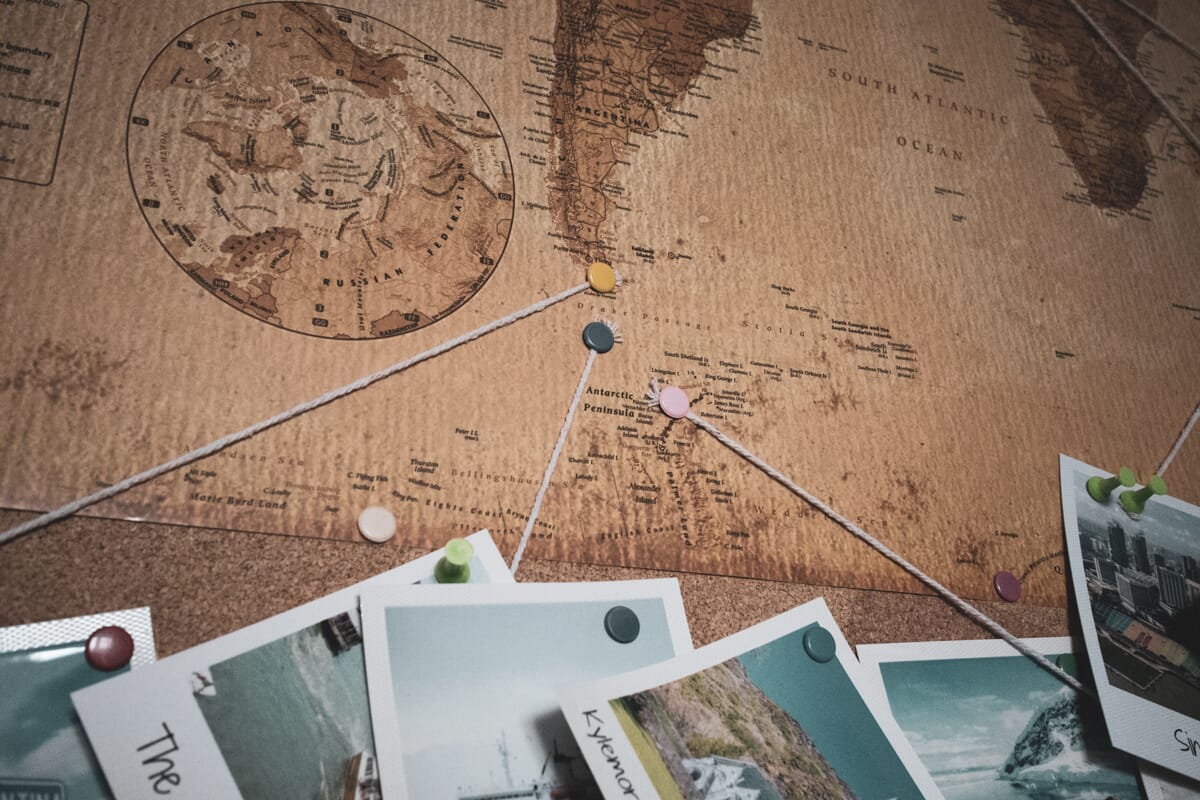 30. Create a Classic Polaroid Collage
Another simple but effective photo print idea is to create a Polaroid pin collage.
For this print idea, you'll need Polaroid photos, drawing pins, and a corkboard. To create this simple display, all you have to do is attach the Polaroid images to the corkboard with drawing pins. The key is to do so in a creative way.
If you want to take personalization even further, consider painting the corkboard itself and maybe even having multiple corkboards to create separate clusters.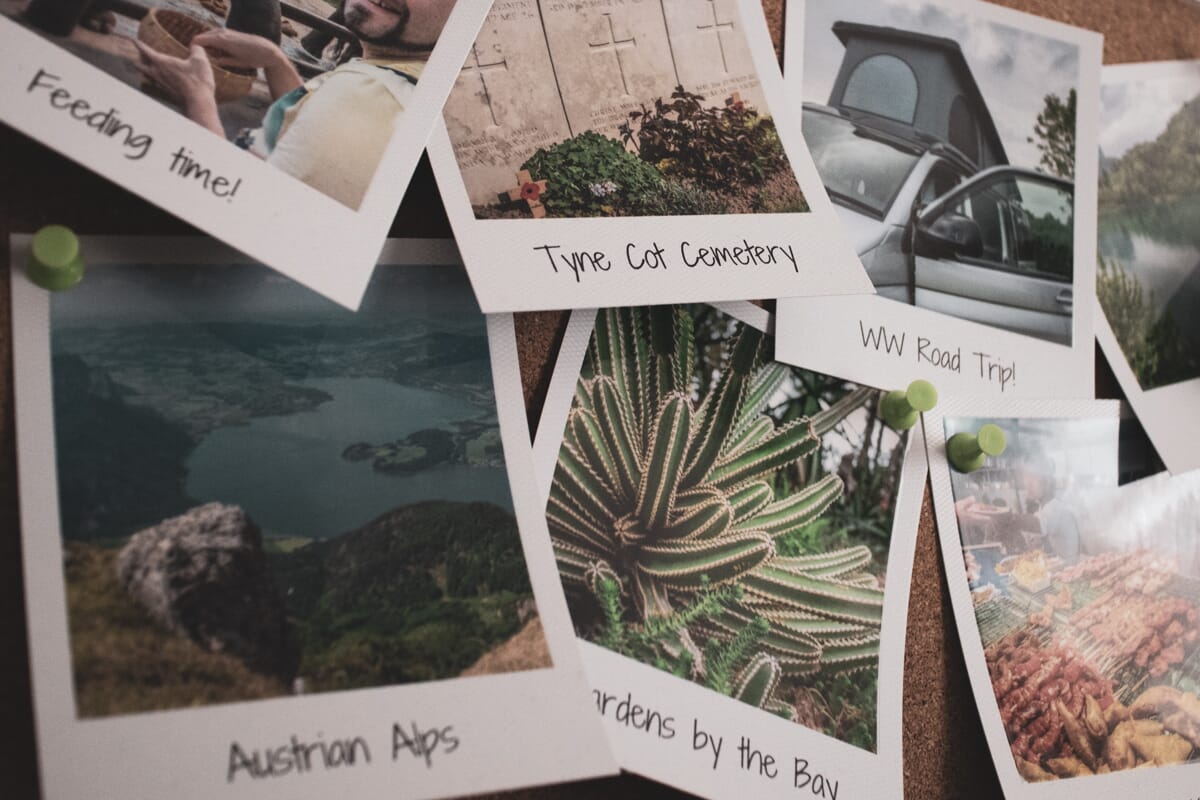 31. Lay Out Your Polaroids in a Grid
Our final Polaroid entry is a simple but effective Polaroid photo grid. This can be produced in several ways.
You can simply create a grid of Polaroids and attach them directly to your wall using adhesive or sticky pads.
Or you can position the Polaroid photos inside a frame and create a beautiful personalized display.
Also Read: Best Digital Photo Frames with Wi-Fi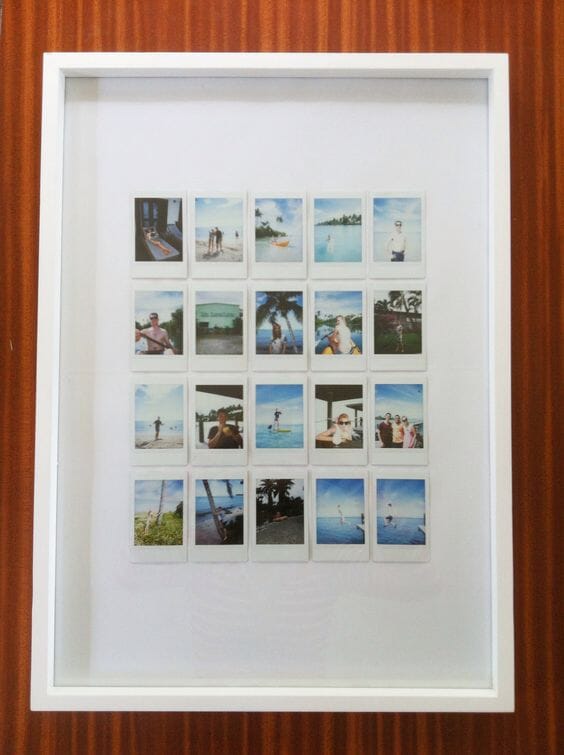 31 Photo Print Ideas: Wrap Up
Getting your pictures printed doesn't have to be mundane. You can bring your images to life with some unique photo printing ideas. Whether you plan to share them with friends and family or keep them as treasures of your own, you should now have an idea of the perfect print ideas for you!
If you thought of a print idea we didn't list, please let us know in the comments.
Frequently Asked Questions About Photo Prints
Can I print any of my pictures on anything?
Some photos will work better than others on certain print mediums, so while you can theoretically print any photo on any medium, it is worth considering whether your photo will work well on your desired print material. You can edit your photos to prepare them for print, which can increase your options for printing.
What size should I print my photos?
The size of your photo print depends on what the original resolution of your photo is, the higher the resolution, the bigger you can print your photos. If you print photos on something too big you'll notice heavy pixelation and your print quality will be significantly reduced.
What are the best printing companies?
That depends on what you're looking for. If you want affordable printing options, Snapfish is a great option. For high-quality canvas prints, Canvaspop is a firm favorite. Other top printing companies include Saal Digital, Mpix, and Nations Photo Lab.