When planning an outdoor photoshoot, with models or without, one of the first decisions you need to make is where it will take place: location, location, location.
Whether you are in the city, the suburbs, or in a more rural area, there are plenty of creative ways to discover new backdrops for your images.
To help you get the ideas flowing, we have created a list of 10 locations you can try when photographing models on your next outdoor photoshoot.
10 Outdoor Photoshoot Ideas:
1. Beach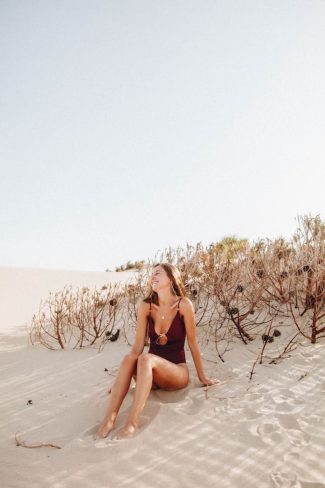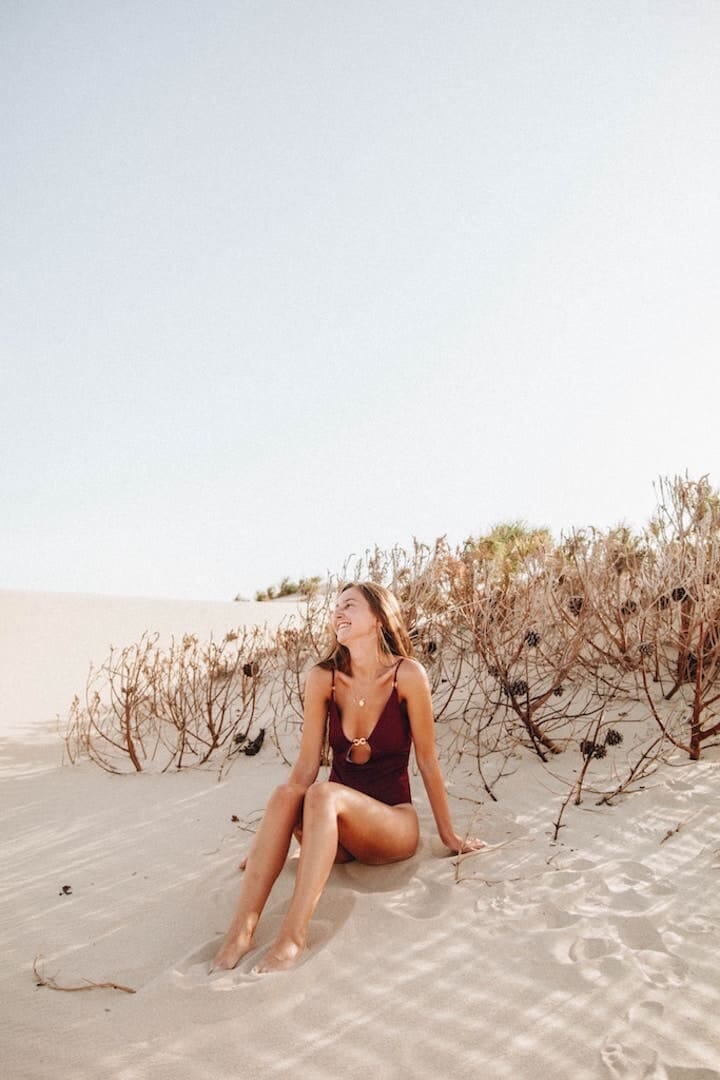 Using the beach as your location offers an array of options for your shoot. For example, if you're shooting on a tropical beach in Florida, you'll have crystal clear waters and beautiful sand. For a beach on the west coast of California, the landscape will have mountains in the distance, rocks to climb on, and elevation that will offer depth.
Beach settings in Europe may be situated in small quaint towns that infuse a travel perspective into your portrait. When using the beach as your location, shoot a mixture of images on land and in the water. The juxtaposition of texture and color from sand to sea will definitely give a visually engaging look to your work.
2. Open Field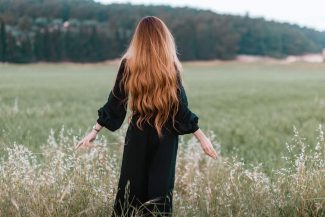 Another great idea for outdoor shooting is to use the landscape of an open field. In this situation, you want a field that is flat and long, in order to create perspective and depth in your images. This can be a place with budding green grass or even a field full of flowers. Just make sure there is a vast space to place your subject.
When shooting in an open field, you should focus on creating different lengths between you and your model. Compose up-close portraits, full body shots with a small distance between you two, and then increase the distance to have your model immersed in the landscape. Since an open field does not have distracting surrounding elements, capture a range of perspectives. This means you can have your subject lay down on the grass or you can angle upward to capture more of the surrounding sky.
3. Cafe / Coffee Shop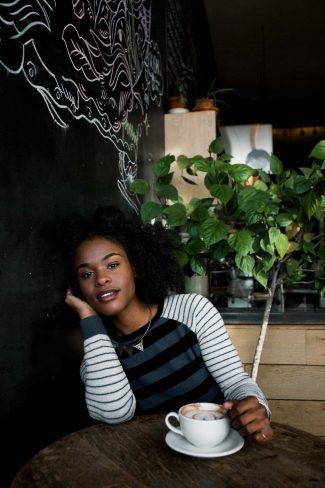 Using elements and places in your city is a great way to create creative portraits. The cafe scene is a popular idea for many photographers who want their images to be infused with a storytelling element. Cafes and coffee shops can be found in every city and most have some visually aesthetic appeal such as a unique design or color scheme.
Additionally, coffee shops and cafes allow for various methods of composition. Your subject can be seated, standing, inside the cafe, through the window, or out on the terrace – the possibilities are endless.
4. By the Pool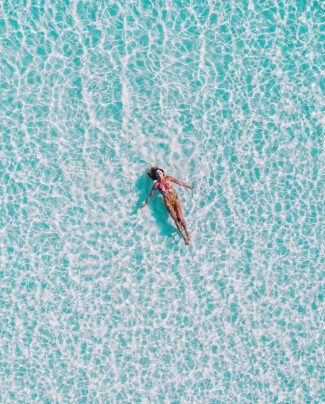 Photographing your model poolside is an ideal option for the summertime. You can pull inspiration from shoots at a retro motel, place your model in a colorful chair, or even have them fully immersed in the blue water – just be sure to add waterproof protection to your gear. Using the pool as your location is often seen in commercial work such as for swimwear or sunglass brands. Creating concepts shot by the pool is guaranteed to make your work look professional.
5. City Streets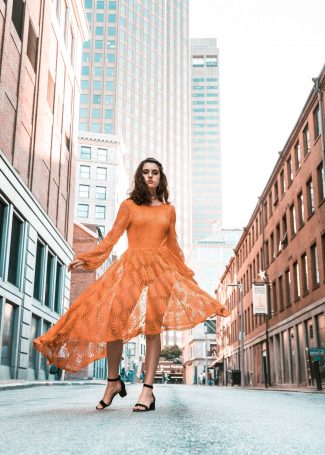 Depending on which city you live in, using the streets is guaranteed to create unique and personal images. Photographers who shoot their subjects in a city setting often create a representation of how they view that city.
For example, in New York, a photographer who feels drawn by the elegance of the Upper East Side may photograph their model on the steps of a chic brownstone. Another photographer who values the urban industrial side of the city may find themselves in areas of Brooklyn such as Bushwick.
No matter where you choose to photograph your model, city streets offer the element of life in your images. You will be guaranteed to have taxis zooming by, stunning architecture, and the movements of people surrounding you.
A great way to photograph your model in a city is to aim for a center, in the street's perspective. This allows you to compose a shot where your model is the focus and the city delicately fills in the surrounding frame.
6. Tennis Court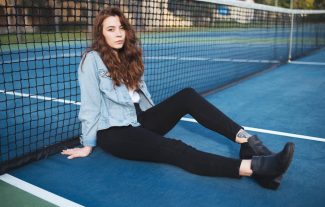 Using sports-related locations does not always call for an athletic shoot. In fact, a great example of using a location for a creative idea is a tennis court. Since the court offers depth, a juxtaposition of lines, and varying ways to play with light, you are guaranteed to be able to conceptualize images that are visually captivating.
A great trick to capture intriguing light is to use the court's net to play with shadows and patterns. Additionally, since most tennis courts are wide open with little shade, you will have plenty of light no matter the time of day. This can create soft textures in the early morning or evening and more dramatic light in the middle of the day.
7. Rooftop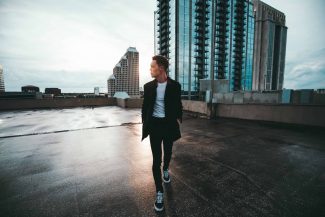 If you're looking for a location that offers depth, wide-open space, and flattering light, consider shooting on a rooftop. Rooftops are ideal because they capture the essence of a city without the distractions and interruptions that can occur on the streets. You can choose to shoot on top of a traditional building or even the top of a parking garage.
Shooting on a rooftop is also a location that offers optimal light no matter the time of day. You can catch the sunrise in the early hours; create dramatic portraits in the middle of the day or warm images when the sun dips below the buildings; and even shoot portraits under the night sky, illuminated by city lights.
8. Backyard / Garden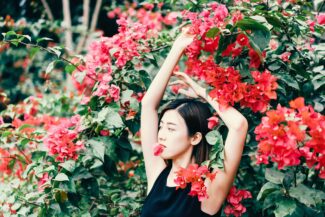 Similar to photographing your model in an open field, using a backyard garden can give your images a dreamy, romantic, and ethereal feel. With the hues of greenery and the assortment of flowers a garden provides, you can use the tones and colors to highlight the feminine nature of your subject.
A great technique for composing portraits in a garden is to use flowers to frame the model's face and figure. You can also add props and elements such as a white sheet on a clothing line, lawn chairs, or blankets to tell a story.
9. Mountaintop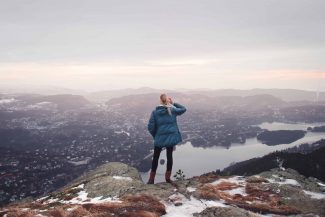 For the adventurous photographers and models, shooting on a mountaintop can be a great way to create portraits with depth. When photographing in wide-open spaces, you are able to infuse the design of nature and the frame of your model into one visually captivating photograph.
Using a mountaintop can be ideal for the photographer interested in working with outdoor, lifestyle brands and companies. From the likes of brands such as North Face or Patagonia, using the rustic and awe-inspiring visuals of peaks and valleys can help you create a portfolio of daring, bold, and unique images.
10. Industrial Background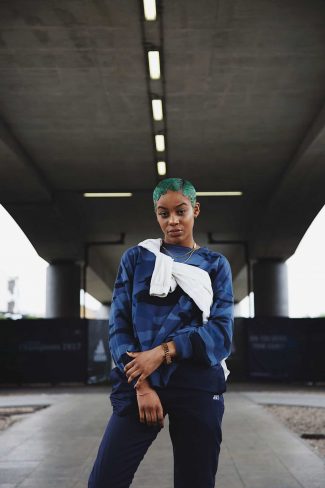 Our last idea for an outdoor photoshoot is to photograph your model within an industrial backdrop. In this situation, you can utilize areas such as underneath bridges or overpasses, against metal garage doors, or even graffitied walls.
Industrial and urban settings create a definitive contrast between your location and subject. With the beauty of your model and the lack of obvious visual appeal of your background, you can create strong, impactful portraits.
Try These Unique Ideas for Photographing Models on Your Outdoor Photoshoot
As you can see, there are a wide variety of outdoor options to use as your next photoshoot location. From city streets and rooftops to sandy beaches and rocky mountaintops, you are guaranteed to capture creative and engaging imagery of your model.
Do you have any favorite outdoor photoshoot locations? Share your thoughts and suggestions with us in the comments below!