Friendships are some of the greatest relationships we have in our lifetimes – and as photographers, capturing significant moments is part of the reason we exist! But what ideas work best for best friend sessions? And if you have a best friend you want to meet up with for a friend photoshoot, what could you two do?
Here is our rundown of 20 friend photoshoot ideas so you can capture plenty of laughter and smiles at your next session!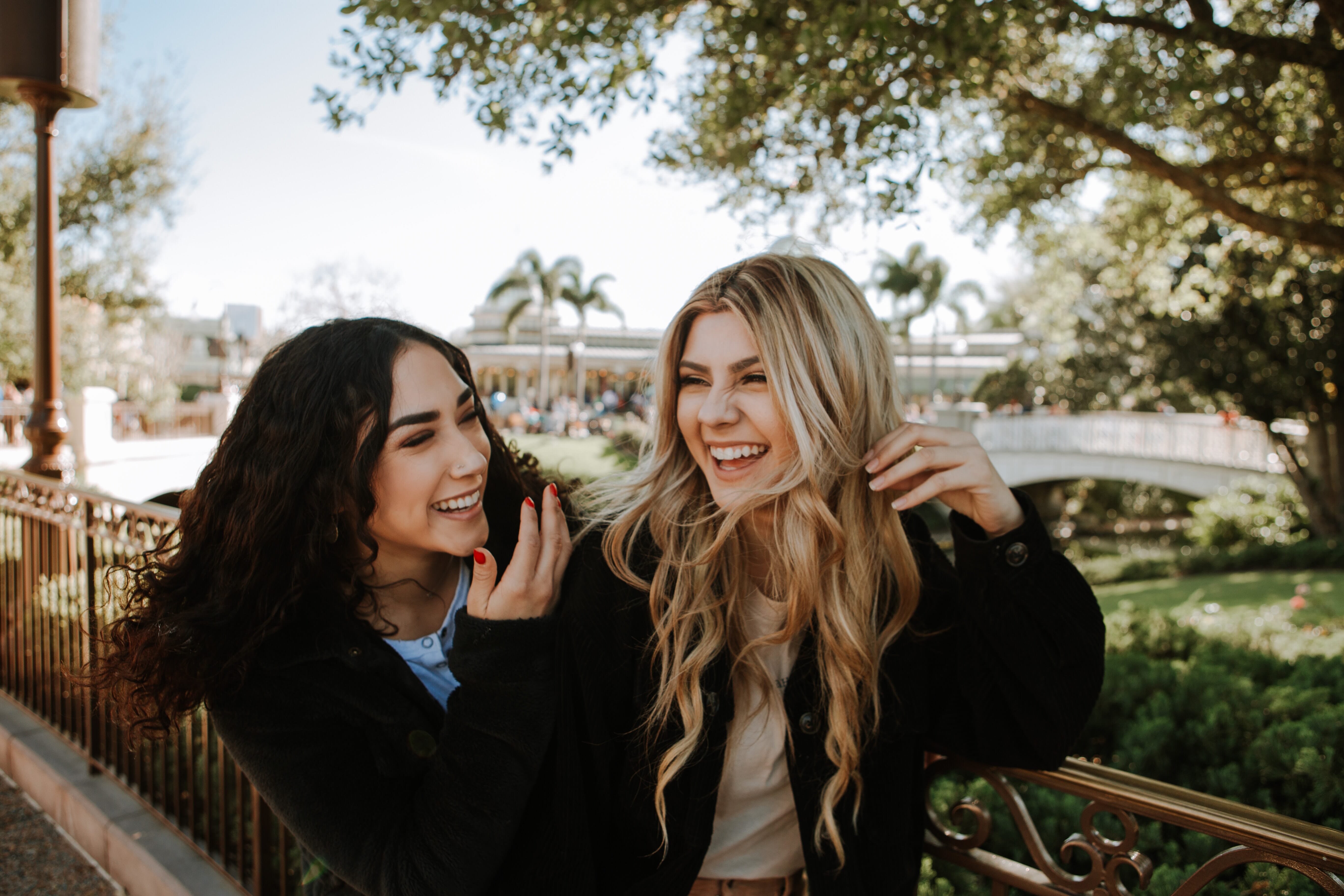 Friendship Photoshoot Ideas:
1. Sunset Walks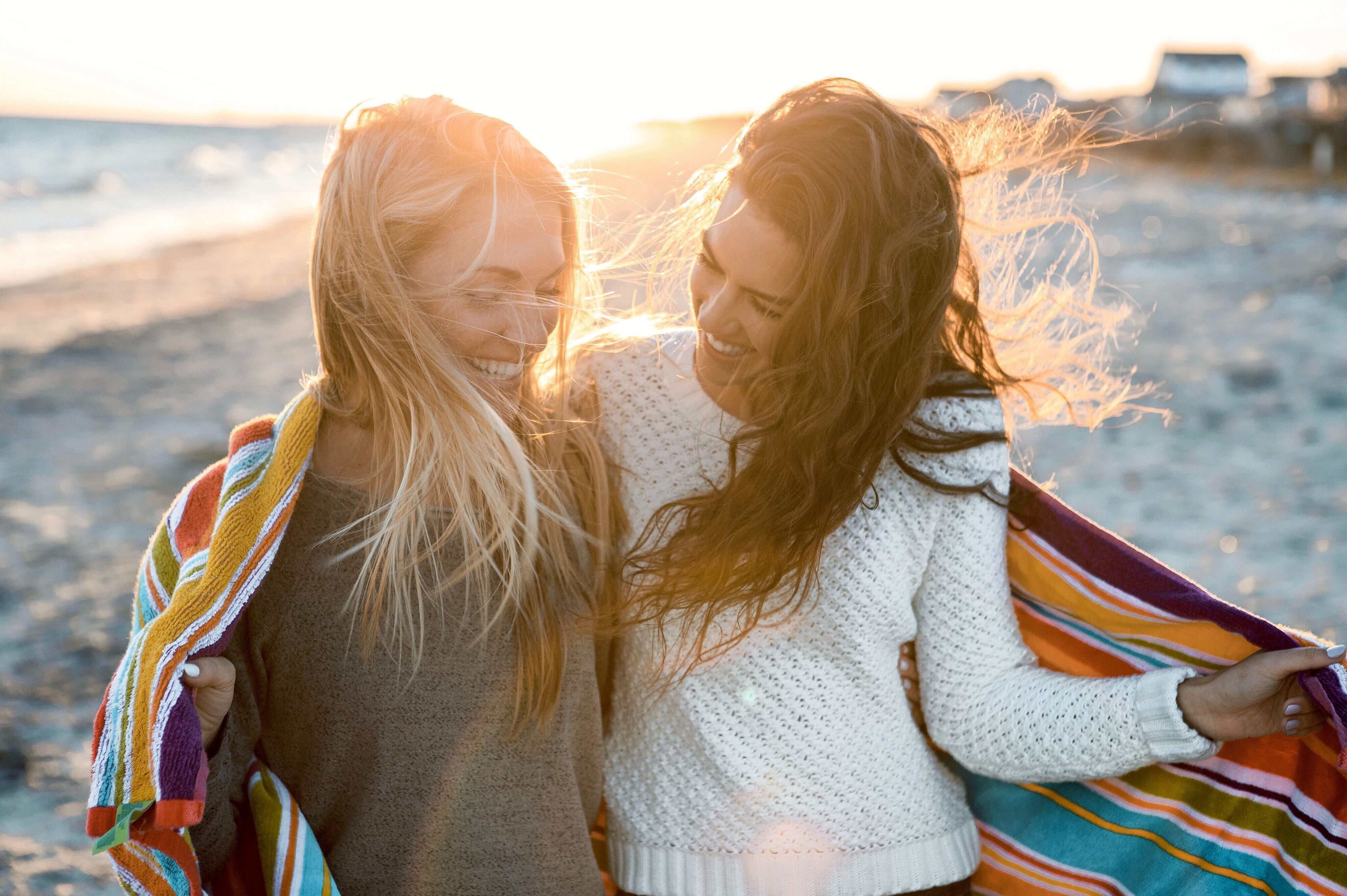 Photographers, hikers, and those with an eye for the beautiful have long adored the sun's setting rays. After all, the evening light paints the whole world as a blissful orange. The sunset, like friendship, is rather magical – so why not combine the two?
Photographing two friends enjoying the setting sun is a great way to add whimsy, visual appeal, and warmth to your photoshoot! Colors really do make a big difference to how a photograph is perceived, and the warmer the tones you use, the more loving the friendship images will be.
Related Post: Best Camera Settings for Sunset Portraits
2. Goofin' Around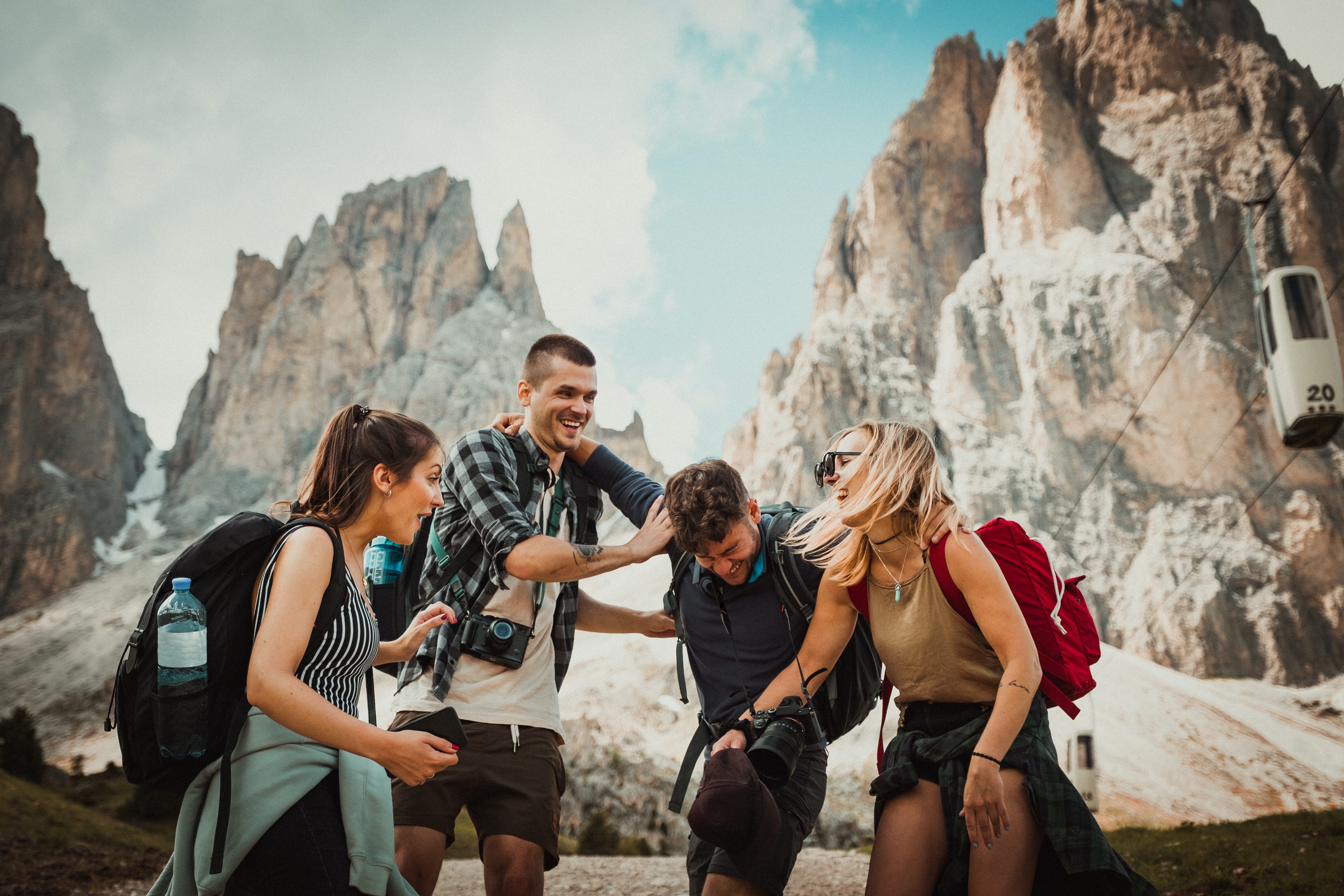 Hey, the best part of having a best friend is being yourself, right? Go ahead and capture friendship in a goofy way! Start off by telling each other jokes, poking each other, tackling one another, and enjoying the silliness!
Play around with different vantage points as some angles can be more dynamic than others! The awesome thing about friend photography is that you can bend the rules a little bit and capture images that are funkier in nature.
3. Travelers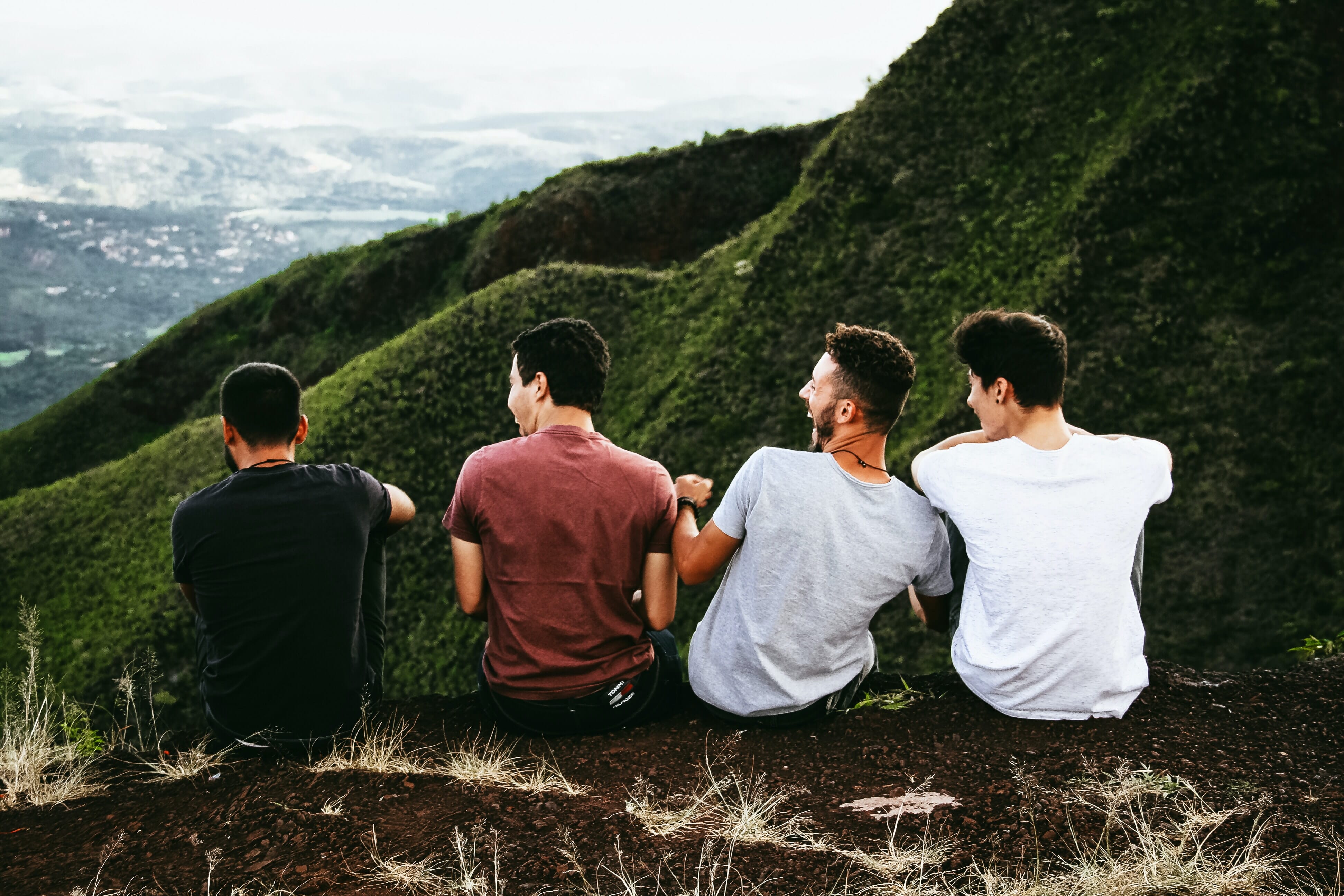 Adventures are more fun with a partner (or three)! A big piece of the friendship puzzle is having someone to explore the world with, someone with whom you can reach new heights. Taking photographs of gorgeous hikes, expeditions into the wilderness, or times spent crawling across the sand dunes can forever immortalize incredible moments. The whole point of capturing images is to remember the moment for years to come, right?
Focus on taking images that show a lot of the landscape as that helps ground the subject in the frame.
4. Creative Unity

I often feel like my best friends and I read each other's minds! So why not take this idea and implement it as a fun photoshoot concept? Showcase friend unity!
There are so many different ideas that fall under this one heading, which primarily revolve around creating art within an existing relationship. It's an especially good friend photoshoot idea if you're capturing two friends together. We naturally love twos and even numbers because it's much easier to create a pattern out of a duo, so play with the composition and see what you come up with!
5. Hanging at the Coffee Shop or Trendy Café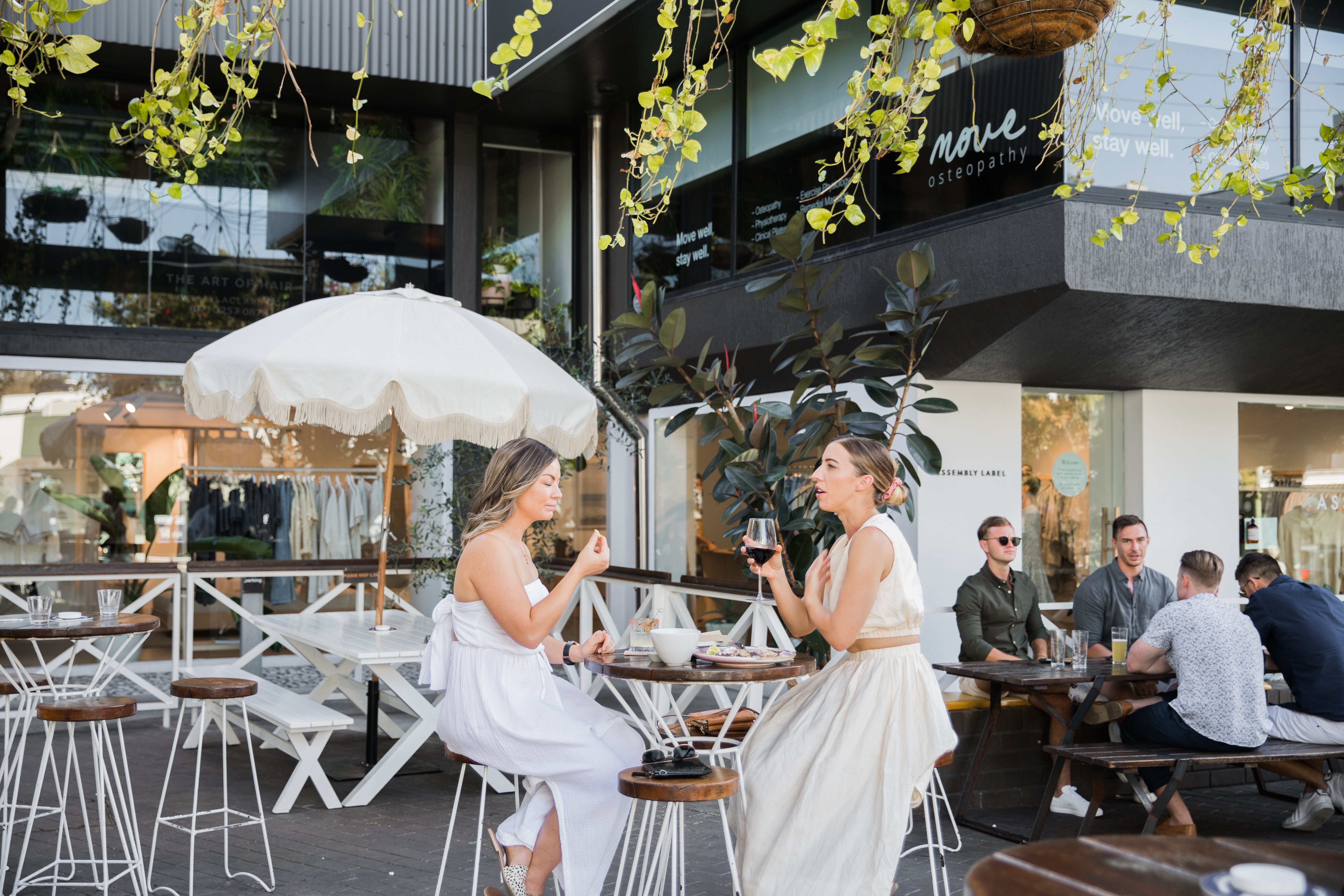 Coffee shop friend dates are awesome and make for some super chic images! Instagram will definitely be buzzing over lattes and sharply dressed friends casually enjoying the afternoon together.
Focus on capturing the outfits, the location, and the vibe of wherever the friends end up.
6. Finger Shapes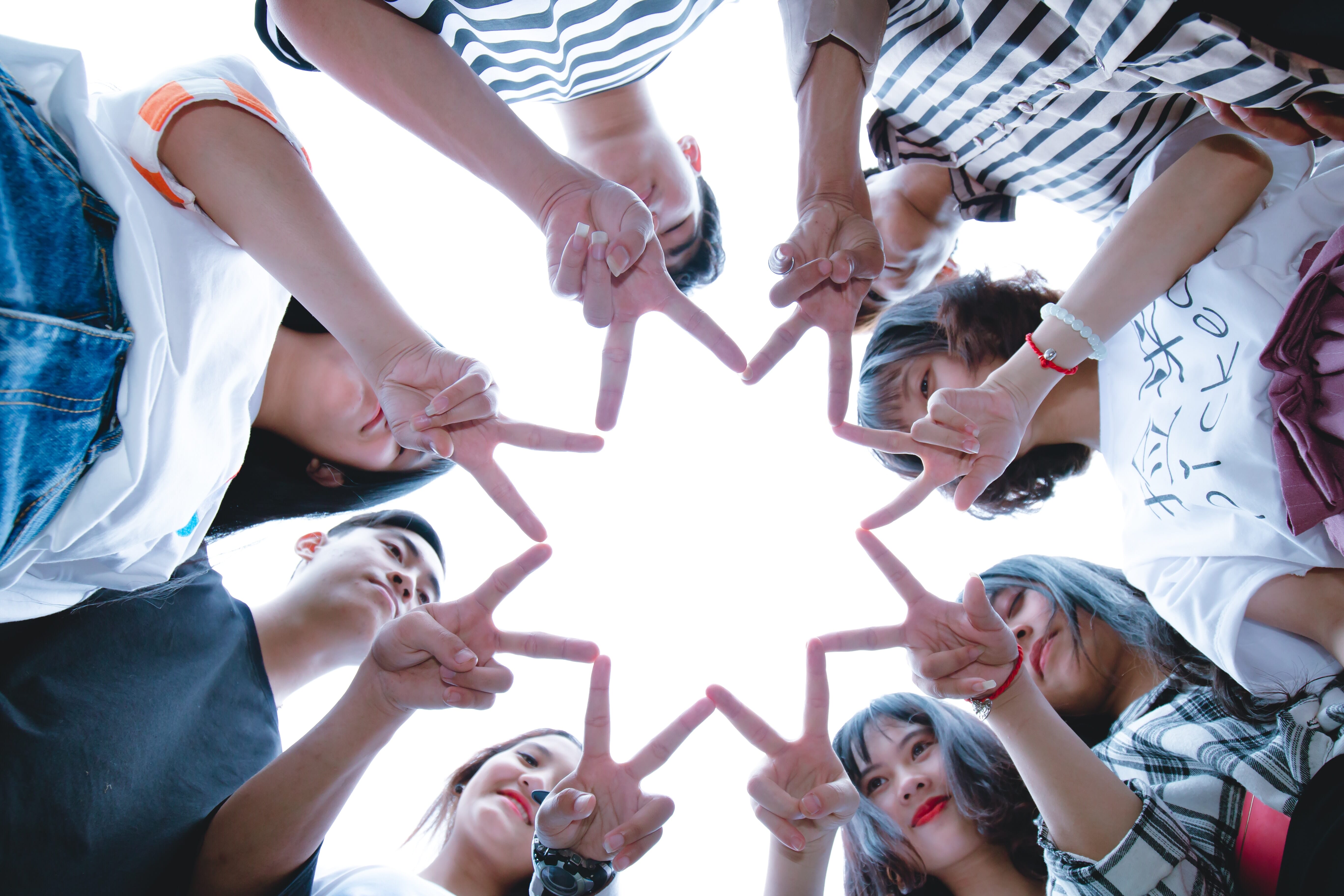 Growing up, I always loved making shapes with my fingers. But being limited to five on each hand can be frustrating…until you add five more! And five more, and five more, and five more!
If you have a big group of friends, play around with making different pictures using only your fingers. It's a great way to show the companionship that everyone feels.
7. A Favorite Activity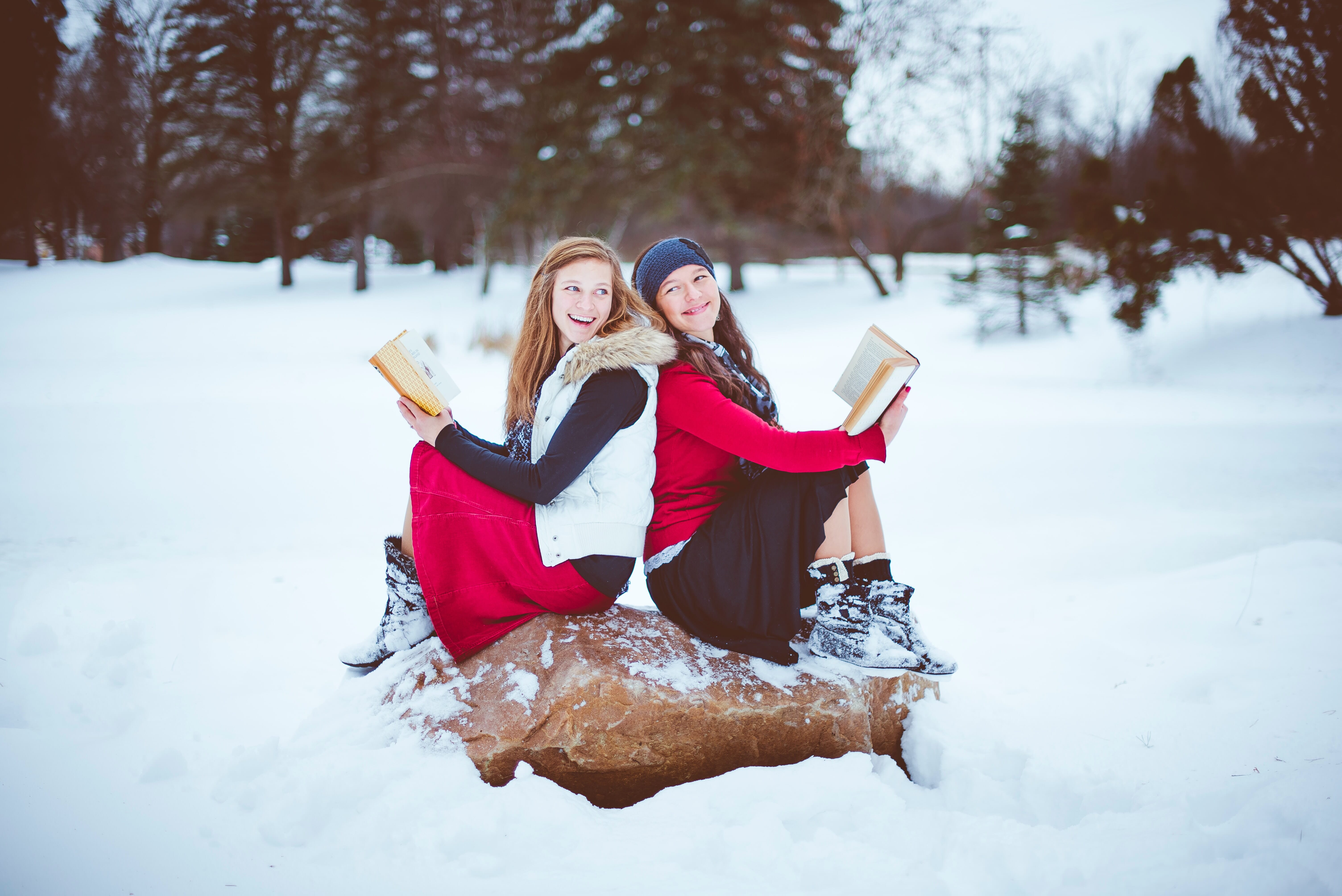 A lot of friendships start with a mutual love for something specific. Why not capture the activity that brought you all together? This makes for a very genuine, authentic, and sentimental photoshoot idea – and you won't even need to try hard to come up with the props.
Look for unique compositions and vantage points to add that extra visual element to the shot. If you're capturing something like skateboarding, try putting the camera on the ground and shooting from a low vantage point. And if you're photographing a more static activity, like reading a book, try to find a new way to show the world more about this passion.
8. Hugs, Hugs, and More Hugs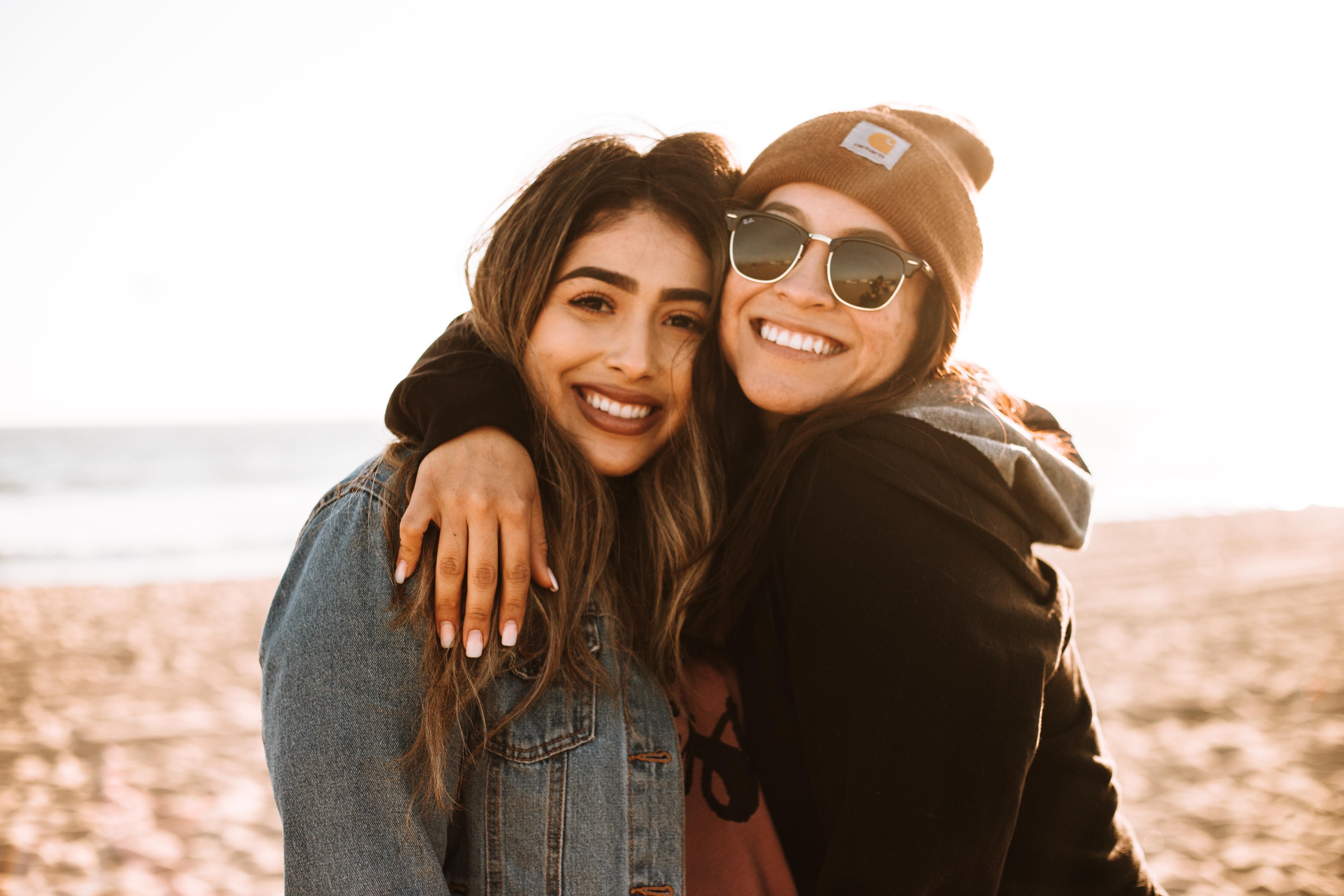 Show the love! We all know how a hug from your best friend can make everything better, so go ahead and capture it in a frame! There is a trick to this idea, though, as a regular hug doesn't always look very interesting in a photograph.
Instead of going in for the traditional hug, do more of a sideways-style hug so that your heads are close together. This allows you both to look at the camera while hugging!
9. Fashion Icons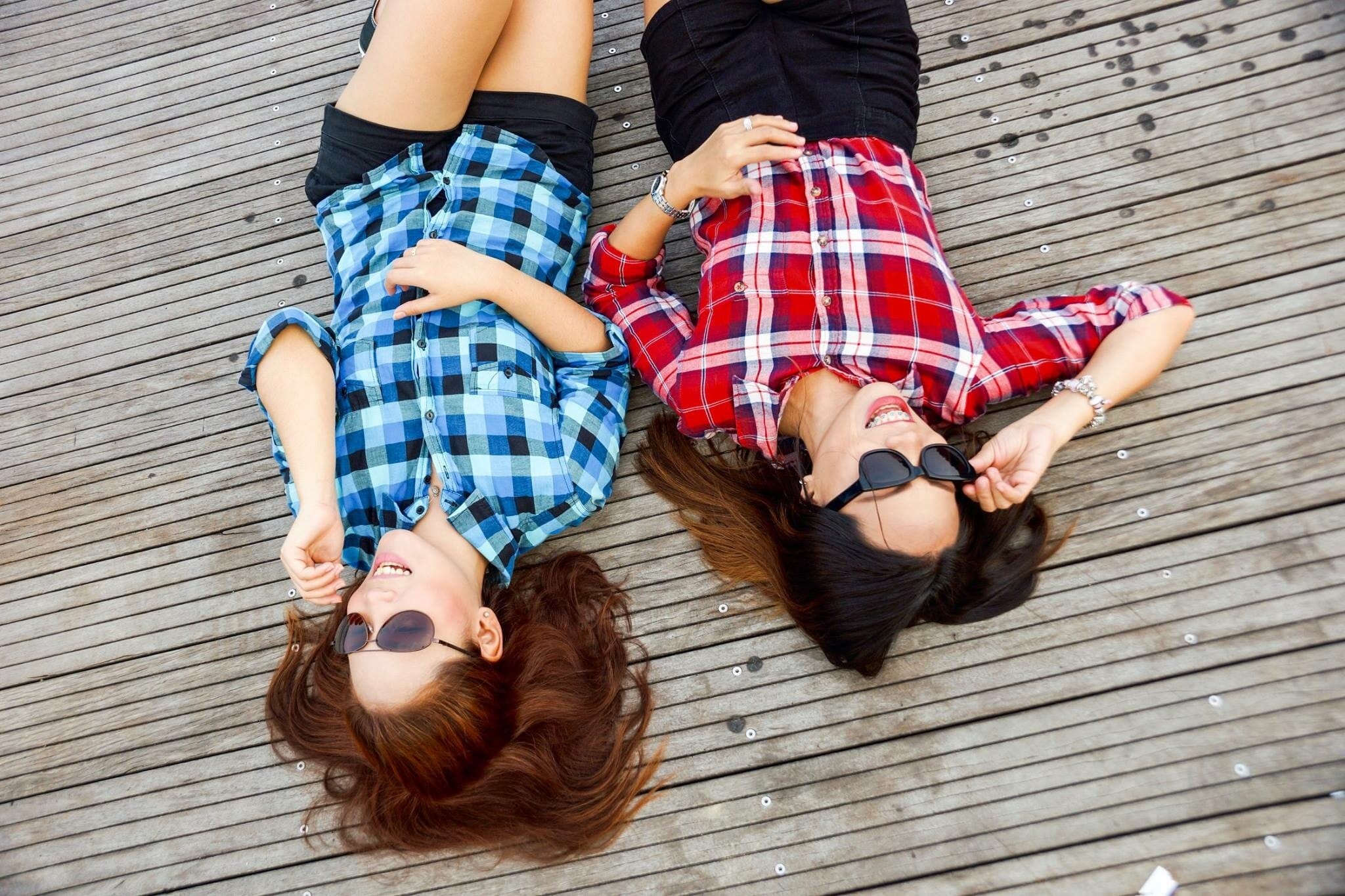 Fashionistas til' the end! For the best social media images, pretend the friend photo session is an editorial shoot for a fashion brand. You can even reference fashion magazines for pose ideas! This can be a super fun activity to carry out over a Sunday afternoon, and it'll yield some awesome photographs.
10. Picnic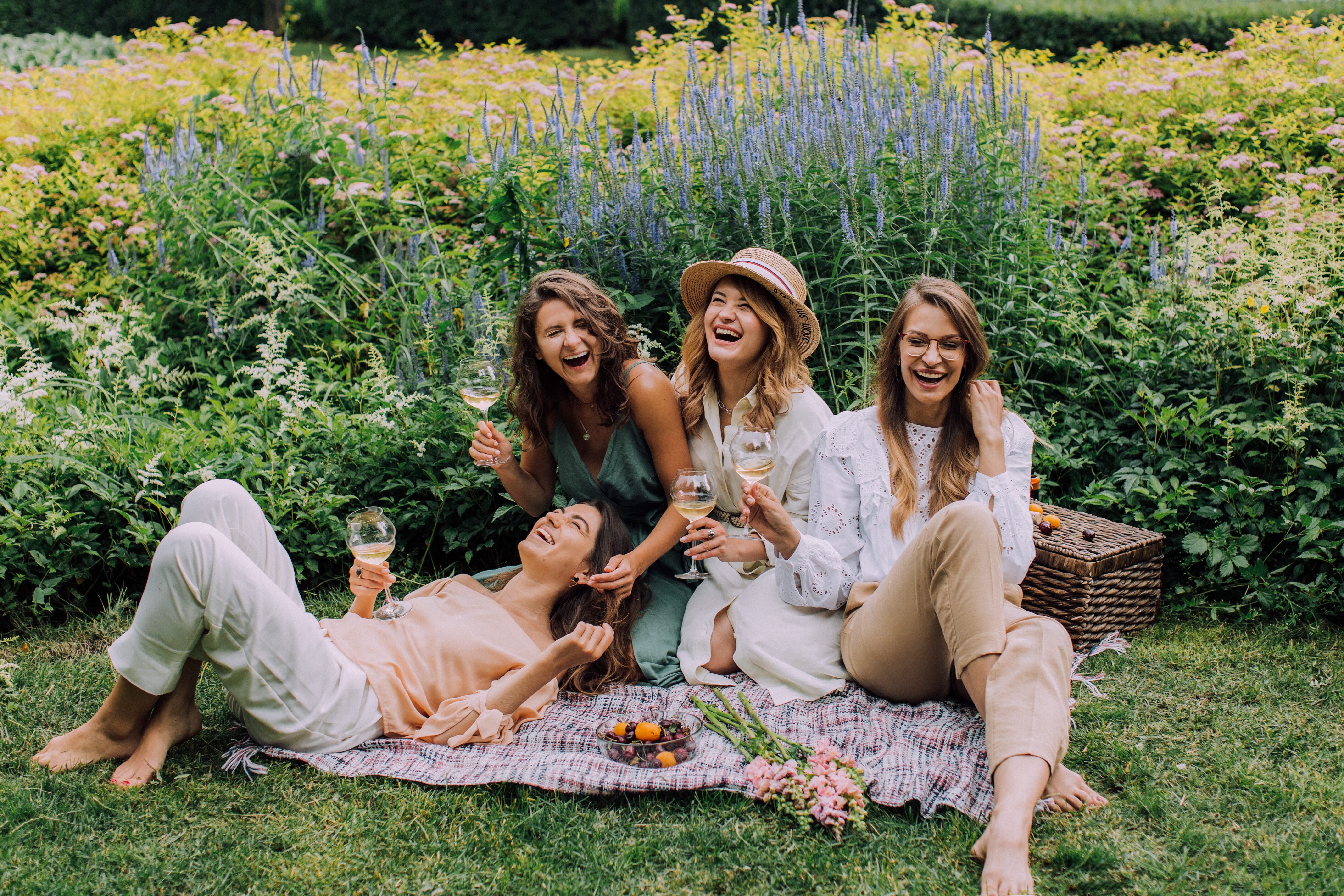 Picnics are such a great friend photoshoot idea! There really is something so charming about spreading out a blanket and enjoying some yummy food among the greenery.
There are so many ways to approach this, from simple images of friends on a blanket with some food to more intricate shoots where each friend is dressed in a picnic theme.
11. Errands Made Fun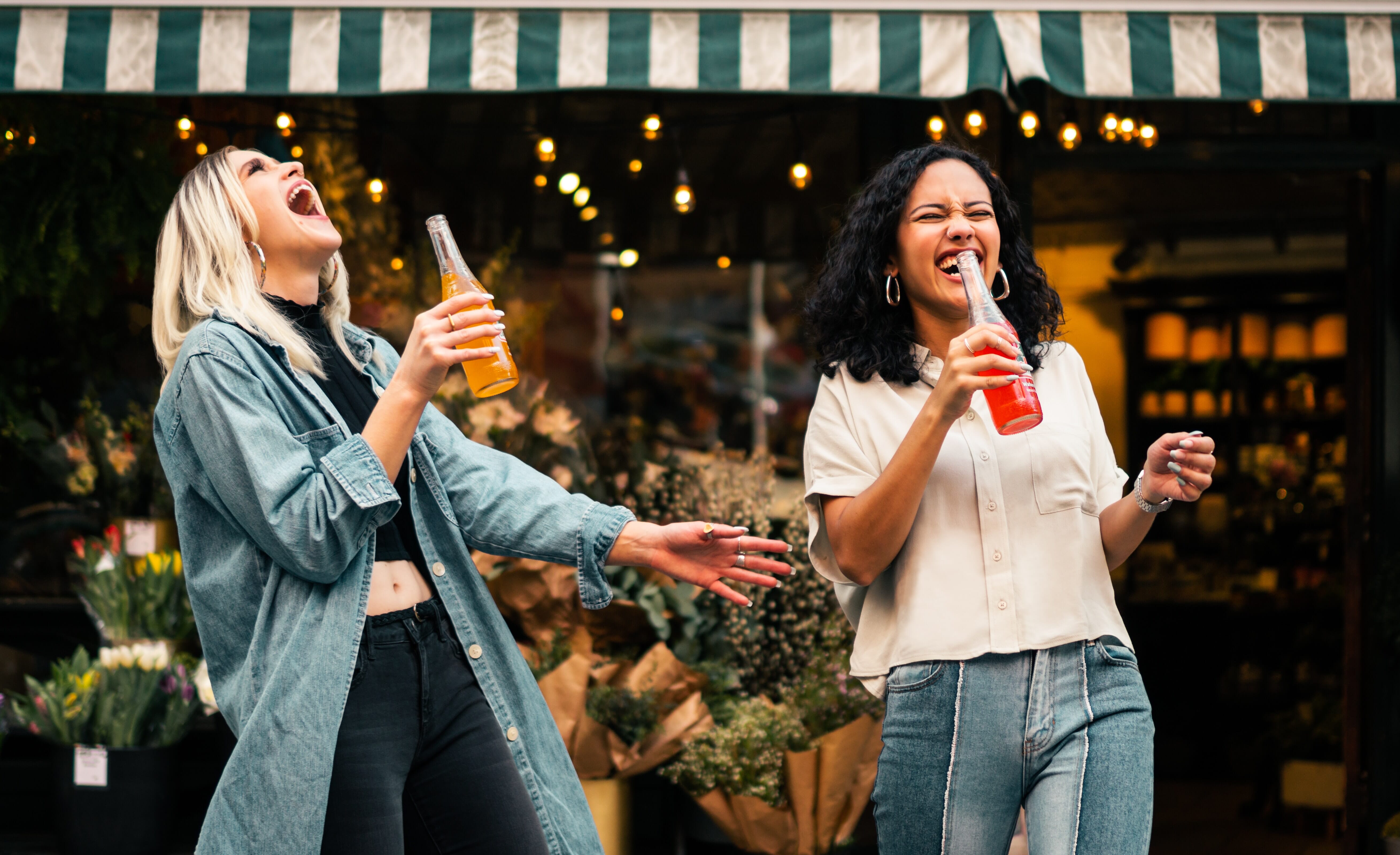 Errands aren't fun, but friends can change that! An easy and enjoyable concept is to capture friends doing mundane things, like grocery shopping. Take photographs with shopping carts, while playing with fruit, while buying flowers, and while otherwise enjoying the best that life has to offer.
12. Pillow Fight!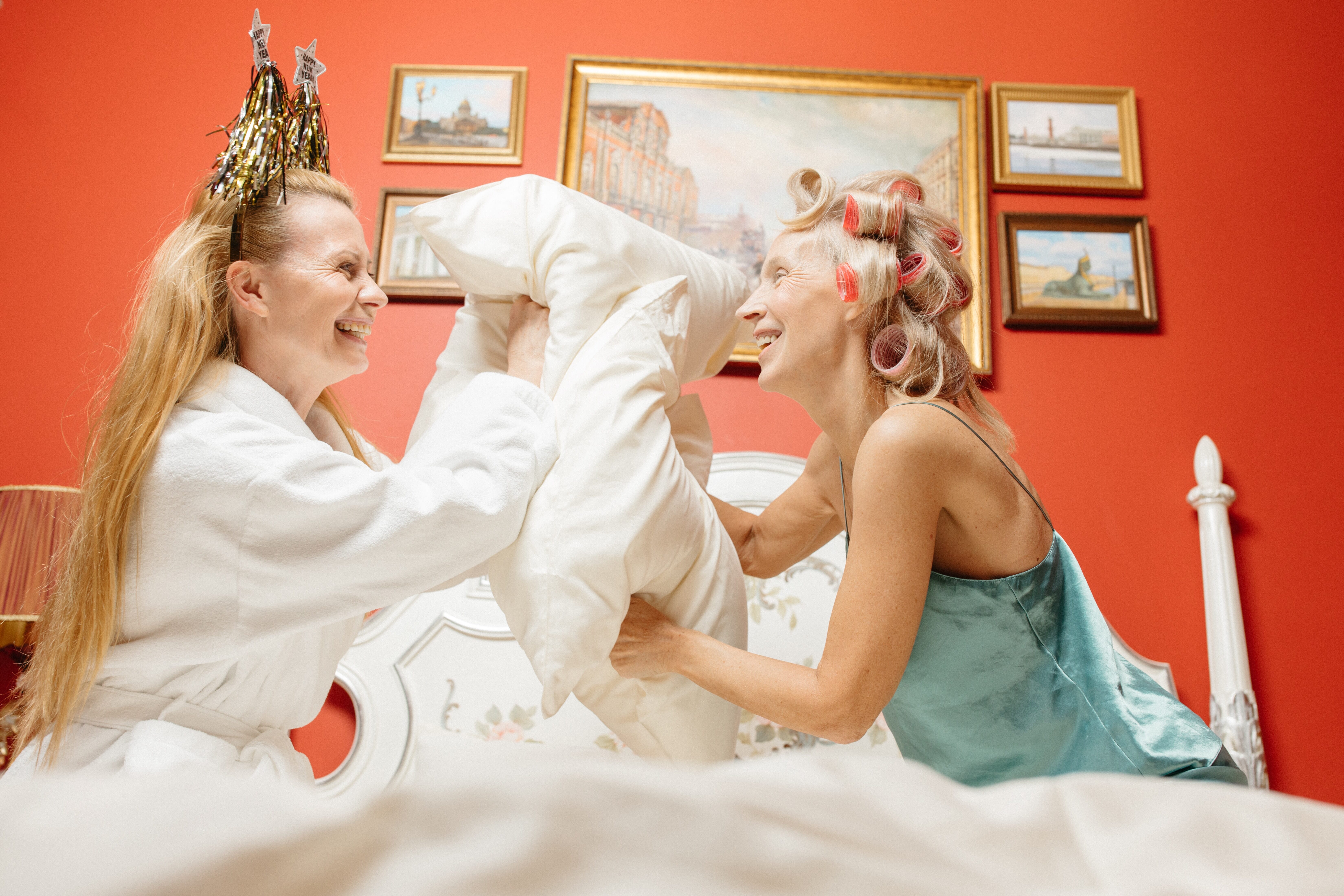 Did you love the all-out pillow wars as a child? I'm guessing the desire hasn't gone away! Pillow fights can make for such a dynamic and ridiculously awesome photoshoot. Let the feathers fly and fill the room; you can always vacuum up later!
Just make sure to buy pillows you don't care about. If you do this shoot right, you won't have many pillows left in the end.
13. Pajama Party

Pajama parties, slumber parties, and sleepovers are certainly featured in my favorite childhood memories. As adults, we don't have to ask for permission; we can throw these types of parties whenever we want! So go ahead and snap some shots of friends enjoying an adult version of a PJ party.
14. Pool Party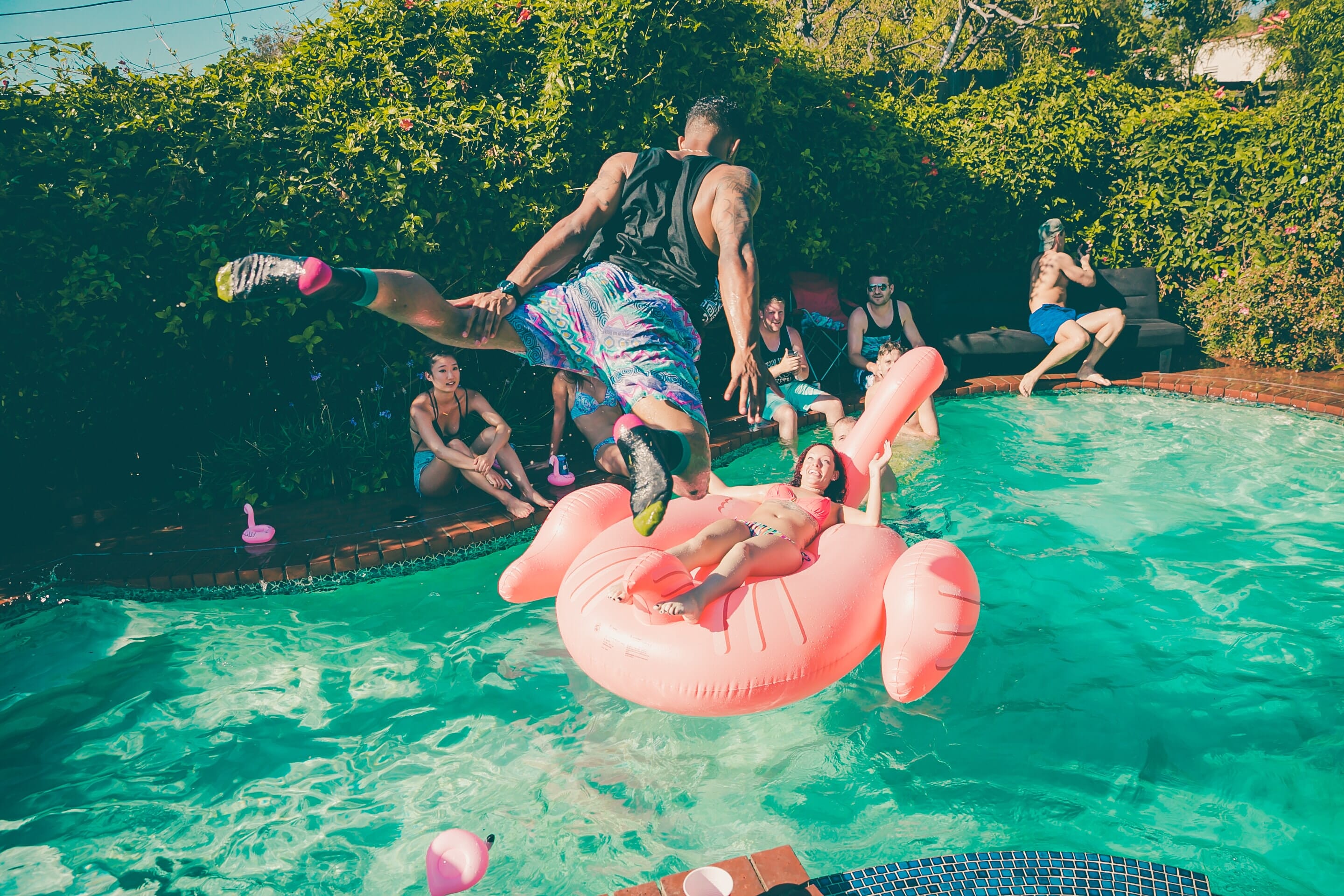 No summer is complete without a pool party, and pool party photoshoots offer so many benefits. Here are just a few:
All of your friends will be in one place
Everyone has a great time
People splashing in the water make for super fun photographs
Everyone looks downright awesome!
Need I say more?
15. Cozy Winter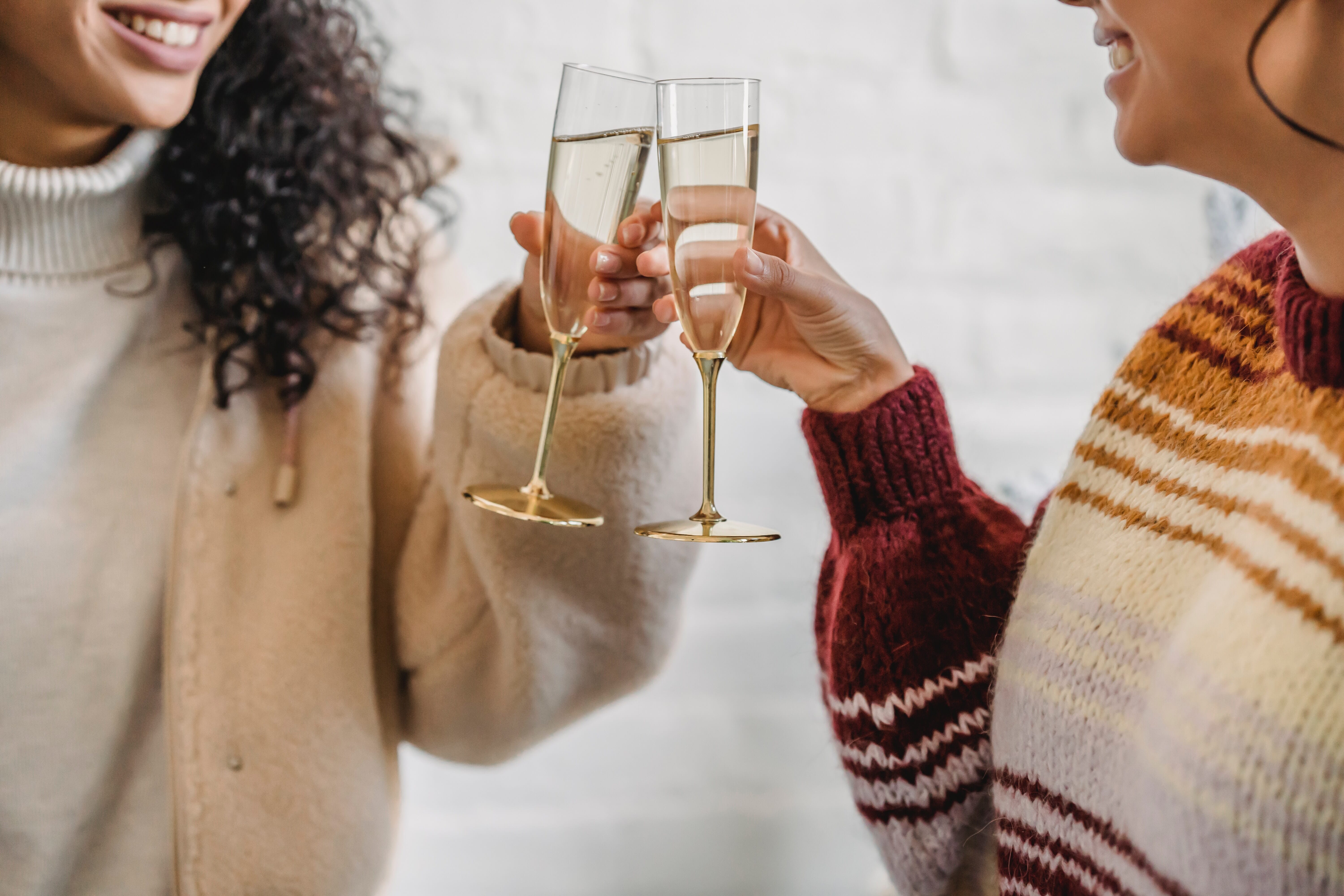 Sunsets add a lot of warmth to a photograph (see above), but so do comfy sweaters and cozy winter garb! These clothes look so inviting and soft, much like a really good friend makes you feel. So dress up in your warmest clothes and do a cozy photoshoot by the fire.
16. Visit the Flowers
Is spring in full swing? Then so are the beautiful flower fields! Get your friends together and play in the flowers. Let the beautiful colors of life fill the frame.
Look to shoot from a lower perspective so that the flowers take up a massive chunk of the shot. And wear clothes that complement the flowers to really add that extra zest!
17. Abbey Road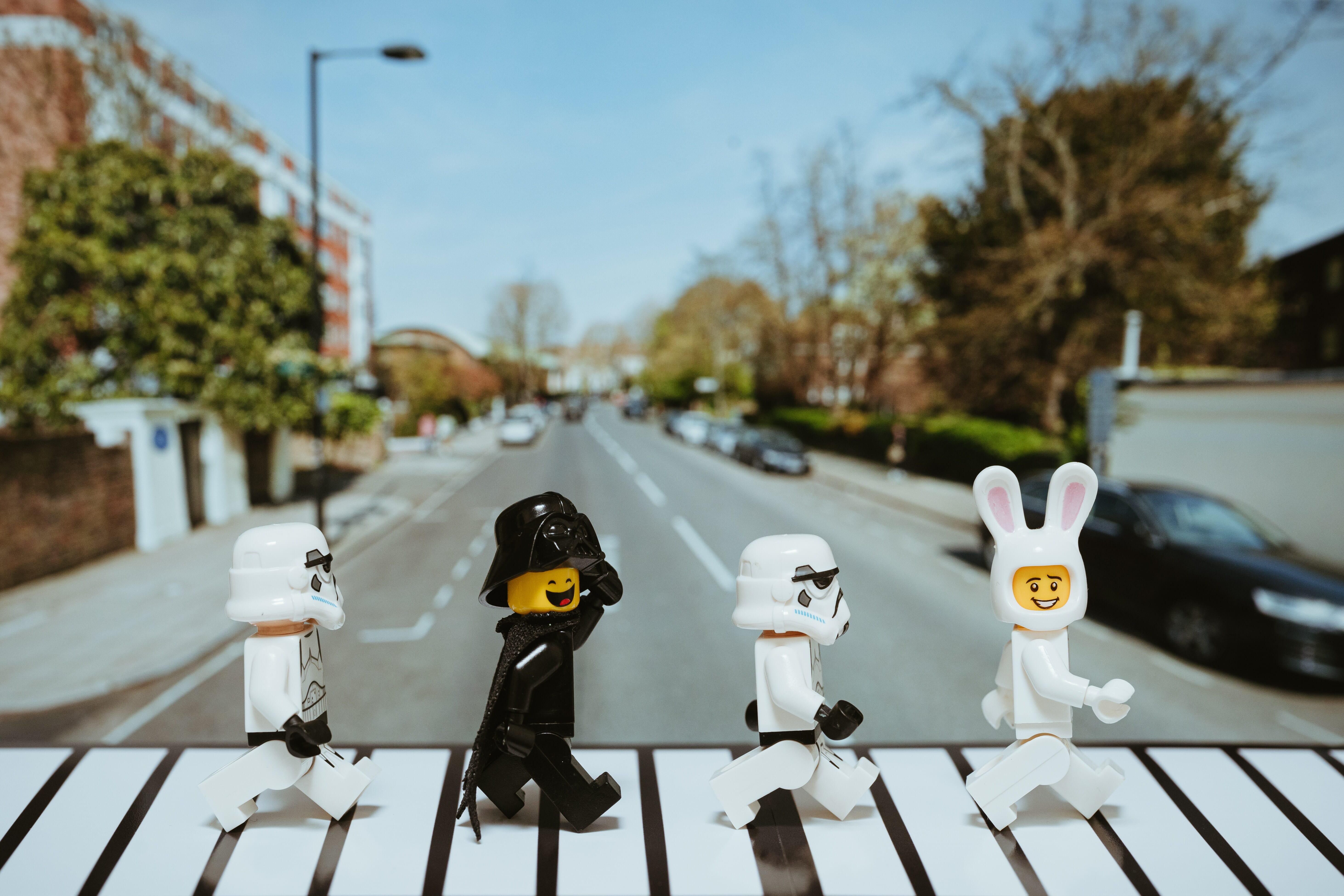 I often wonder if the Beatles had the slightest idea that their Abbey Road photograph would become one of the most popular images of all time, one that is so frequently recreated as an homage to the band. Regardless, every friend photoshoot should recreate this world-famous photograph!
18. Roadtrip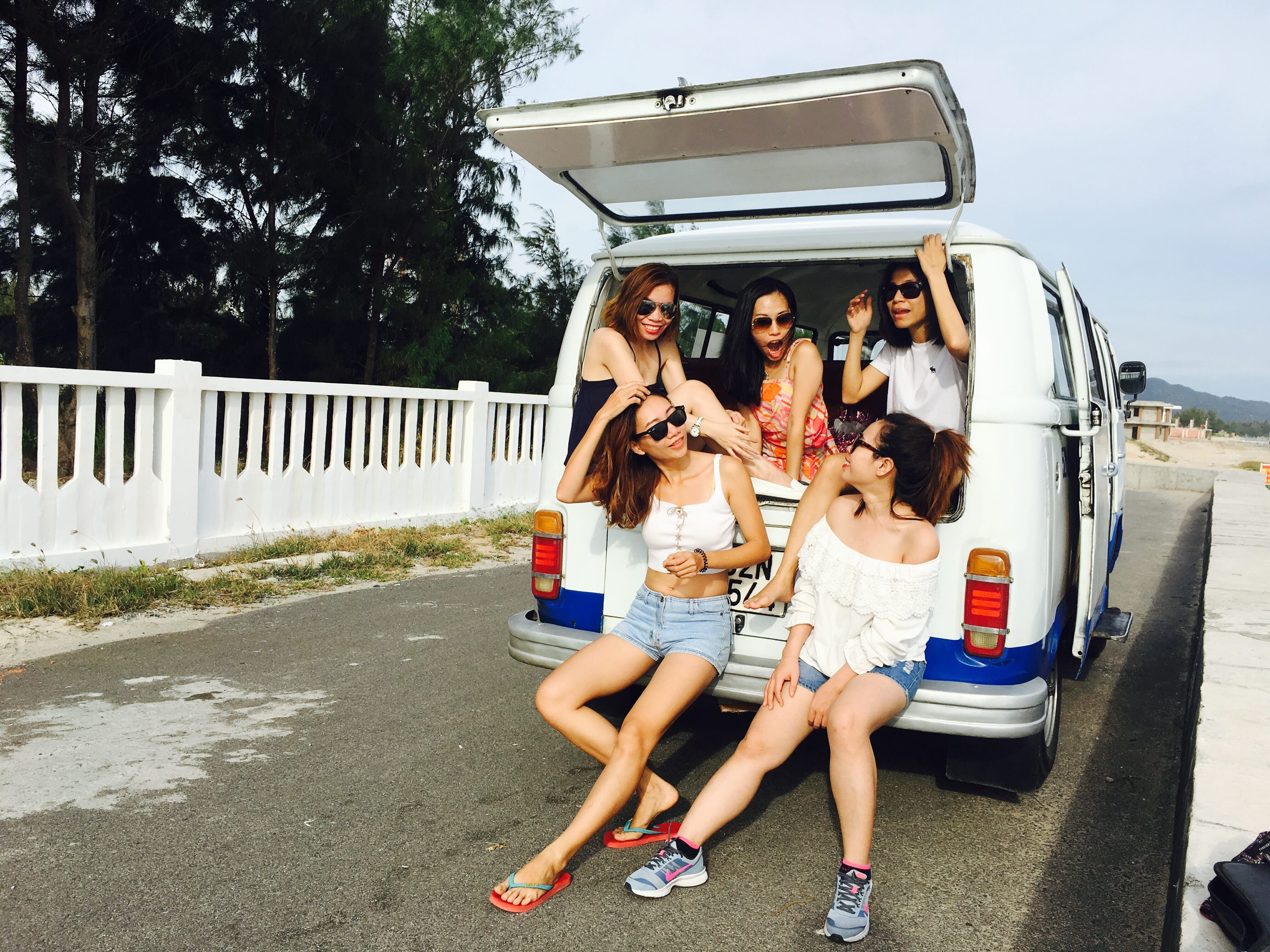 Travel photos are nice, but you have to get to your destination somehow, right? So document the road trip itself! Some of the best stories come from car adventures, and capturing the road-trip fun with your camera will help bring the tales to life.
Capture images of you and your friends on top of the car, driving in the car, pulling over at a rest stop, and peering down the open road!
19. All Fun and Games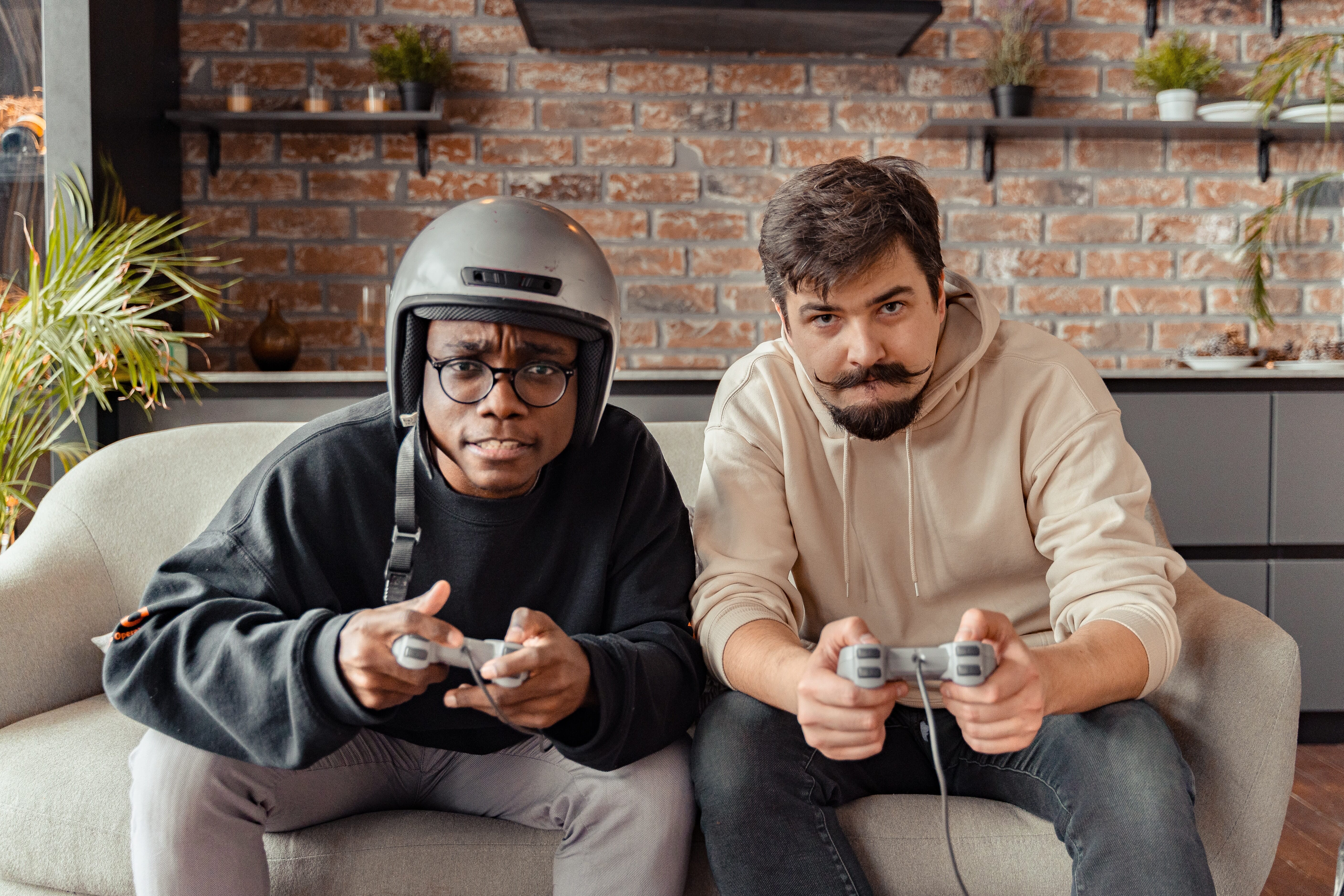 You are never too old to play games; this is especially true when out for a guys' night! We all know that gaming is one of the best ways to pass an evening with your best bud, so why not capture the fun? Have the friends hold the remotes, then pretend your camera is the game console and take some shots!
20. Twinning!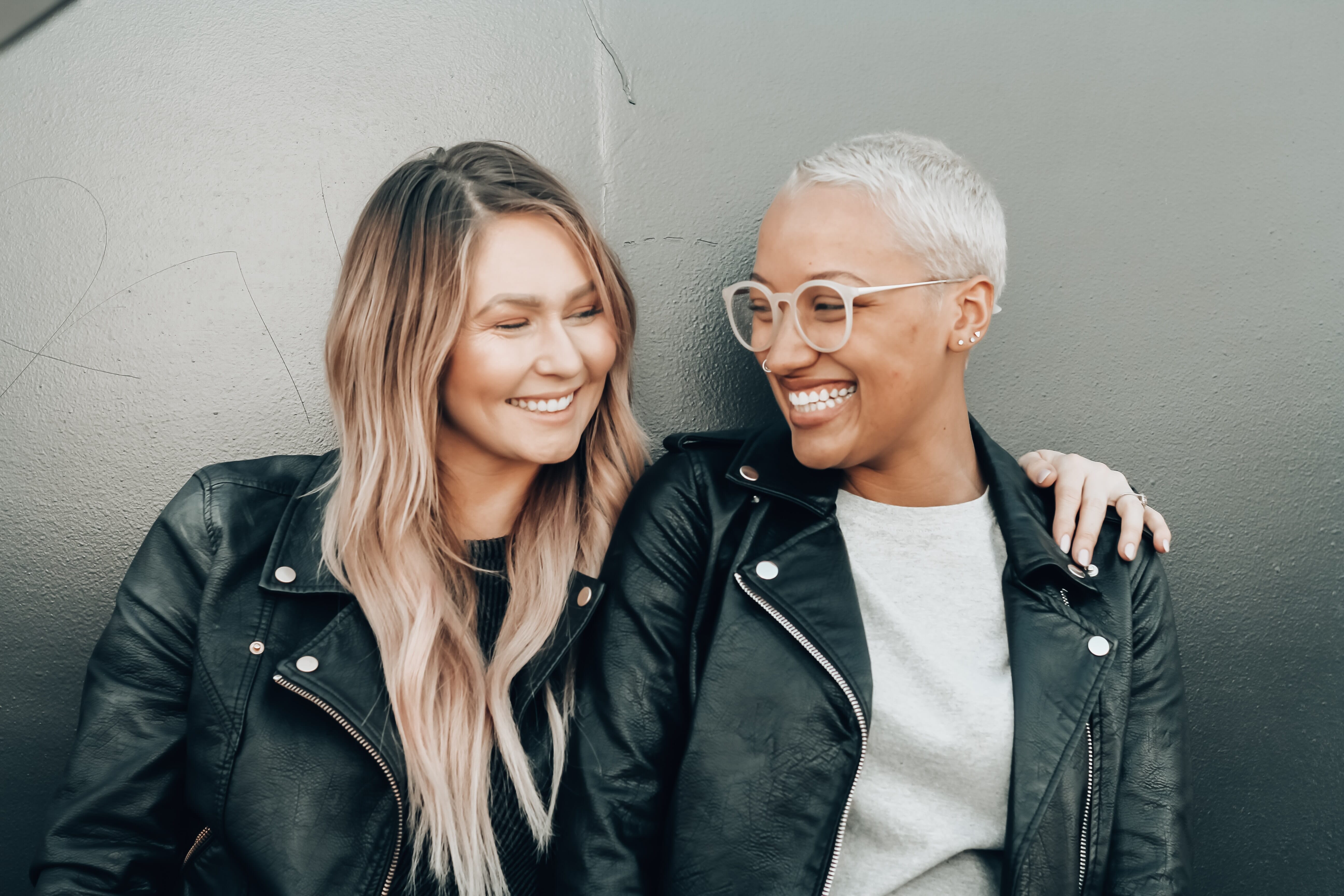 How often is the "You must be twins" comment directed at you and your best friend? Take advantage and actually start twinning! Wear the same outfit, copy each other's pose or do both. It's such a cute and fun way to display the relationship between two people using a single image.
Friend Photography Tips
Here are three quick tips to keep in the back of your mind when doing best friend sessions:
1. Use a Telephoto Lens
Telephoto lenses start at around 85mm, and the longer focal length forces you to shoot from farther away. Although some photoshoot locations aren't conducive to using such a long lens, if you have the luxury of space, opt for telephoto glass!
Telephoto lenses lead to beautiful subject compression, which means that your subject will look even better when shot at 85mm or greater. But the real beauty of this type of lens in best friend sessions is that it encourages you to shoot from a good distance, which means you can step back and let the friends do their thing. Your subjects can have fun without your interference, which can make for fun candid shots and a really great time!
2. Burst Mode and Continuous Autofocus Will Be Your Best Friends
Before starting a friend photoshoot, switch your camera over to its Burst mode and its continuous AF mode.
Burst mode lets you capture a continuous series of shots as long as your finger is pressed down on the shutter button. (The specific speed depends on your camera's continuous shooting capabilities, but newer cameras can reach 20 frames per second and beyond!)
Continuous AF is a mode that tells your camera to continuously acquire focus as long as you press the shutter button halfway down. This is great for capturing action images; for example, if you have two friends running toward the camera, your camera's continuous AF will constantly maintain focus as they move. Granted, this mode isn't perfect, so you may need to refocus on your subjects at times, but it generally does a good job.
Pair these two settings together, and you'll be able to capture full sequences of best friend moments, then pick out the top shots!
3. Capture Authentic Moments
This last tip is a big one.
In order to capture truly meaningful images, you don't want your subjects to appear as if they're just random models you plucked off of the street. Instead, capture the real smiles, the real laughter, and the real personalities of your subjects.
One of the best ways to do this is to allow the friends to interact as if you aren't there. Explain that they should think of the session as a casual friend hangout, then just take pictures when you see a good opportunity.
Quick Tips for Friends
If you're taking photos of yourself and your friends, here are a few extra tips to make your photoshoot easier:
1. Grab a Tripod, Self Timer, or Remote
Since you can't sprout a third arm, you should absolutely invest in a tripod! There are plenty of great beginner tripods for cameras, cell phones, and so much more. You definitely need a stable base for your camera so that you and your friend(s) won't need to hold it while doing your photoshoot.
You'll also need some method of triggering the shutter once all your friends are ready. You can use a self timer, but if you'd prefer to keep things easier, buy a remote. You can hide this in your hand, then simply click the button when you want to take a shot!
2. Shoot in the Shade on Sunny Days
If your day of choice is bright and sunny, head into the shade. The shade will keep the weather cooler (for yourself and for the camera), and it'll stop your eyes from squinting. Shade also looks great on skin and faces because it prevents unflattering contrast.
3. Shoot with the Sun behind You at Sunset
For sunset sessions, try to keep the sun behind the subjects in order to cover the frame with a beautiful orange glow! Much of the "glow" look has to do with how the sun's light hits the glass of the optic. Plus, if you put the sun behind the subjects, none of you will be forced to squint.
4. Turn on All of the Lights
If you're shooting indoors and you aren't a photography expert, turn on all of the lights; in my experience, it's the easiest way to capture indoor shots. Working in low light can be a pretty tough endeavor, especially if you're doing selfies. So reduce the difficulty by turning on all the lights!
Have Some Photoshoot Fun with Your Friends!
We've given you lots of friend photoshoot ideas (plus a few tips). So see what you can do with friends in front of your camera! And may these twenty ideas spark two thousand more.