It's not easy to find the time to learn a new skill. This holds especially true for professional photographers, who work long hours editing shoots, answering emails, and balancing finances. However, it's important for artists to expand their repertoire and keep up with updates, lest they risk sinking in a competitive market.
But how, exactly, can the average person find the time and money for courses taught by accredited instructors?
Craftsy offers a viable solution. Day or night, the platform's goal is to connect talented instructors with those looking to learn. With virtual seminars in cooking, knitting, sewing, and even cake decorating, the site is an ambitious creative's dream come true.
Luckily for all of the shutterbugs out there, Craftsy also has over 75 immersive online photography classes available. Today, we'll be taking a brief look at what you can expect from the company's services and whether they deliver on an educational level.


Craftsy Subscription vs. A La Carte Purchases
Before we get too far, it's important that we go over Craftsy's pricing options. Which option works best for you depends on just how much you'd like to get out of Craftsy's available materials.
Every single Craftsy online photography course is available to buy a la carte through the site. Occasionally, you'll encounter a free class or two. But for the most part, prices range anywhere from $9.99 to $200+ for access.
If you choose to pay the one-time a la carte fee, you'll gain on-demand video access as well as the ability to download course materials. Even if you don't have a membership, you will never lose access to your purchase.
With a membership subscription, things work a little differently. Instead of making a one-time payment, you can opt for recurring payments on a monthly or annual basis. With a membership, Craftsy's selection of online photography classes is available at no additional cost.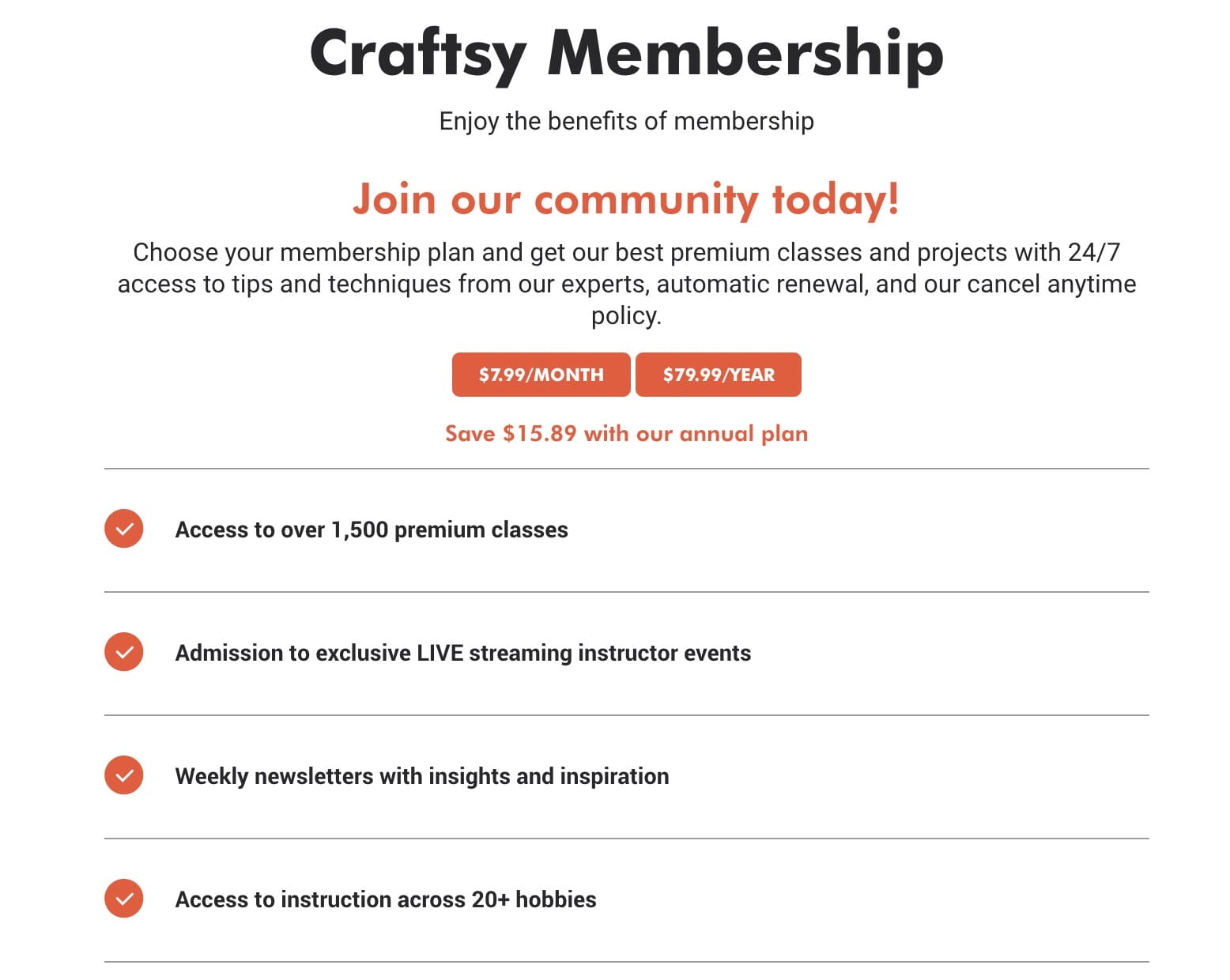 At $7.99/month or $79.99/year, Craftsy definitely makes membership tempting. However, there is a catch. In order to maintain access to a class, you have to continue paying membership fees. The moment you stop paying, you lose access to the Craftsy library.
Selected Course Reviews
To get a better idea of what Craftsy had to offer, I tried out three different online photography classes of varying degrees of difficulty. Each had its own set of highs and lows, as I quickly found that each instructor had a different way of running their class.
For starters, there are a few helpful features that you can expect from any Craftsy course:
Each class runs between one and four hours. This makes them easy enough to sit through in a single sitting. But, if you're really strapped for time, classes are further broken down into 10-20 minute segments.
All Craftsy online photography classes include closed captioning and rewind options. If something is confusing, you're free to check the class transcript or rewatch a demonstration as many times as you'd like.
Lessons include a time-stamped discussion threads for viewers to leave questions and comments. Some instructors keep track of their course's thread and provide additional insight to answer students.
As mentioned earlier, every lesson is divided into small, clearly titled segments. You may skip ahead to a segment at any time. This eliminates the need to watch hours of footage just to listen in on a specific topic.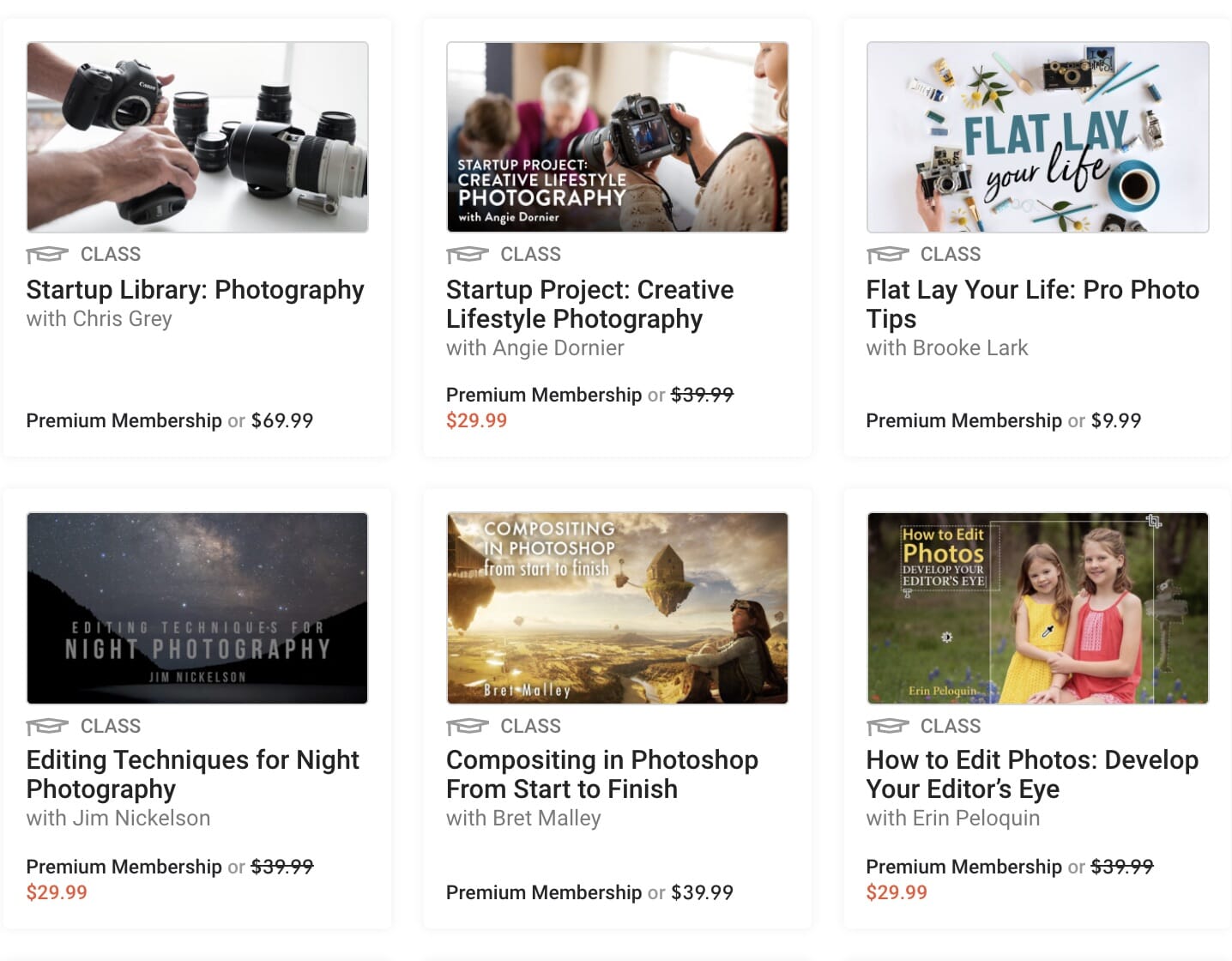 Without further ado, let's get into the class reviews.
Review 1: Craftsy Beginner Classes
Class duration: 2hr 28m 26s
A La Carte Price: $19.99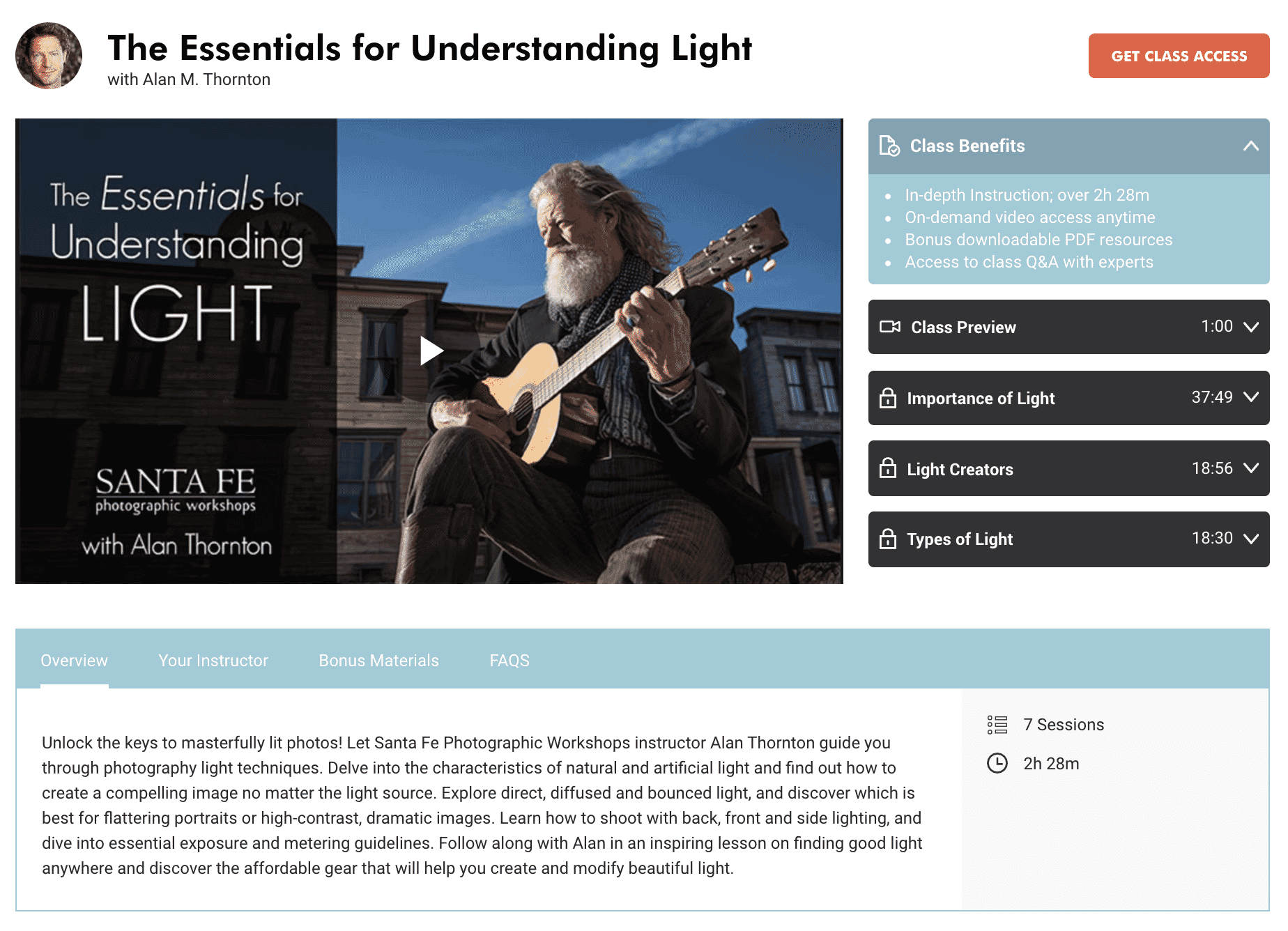 A veteran instructor at the Santa Fe Photographic Workshops, Alan Thornton quickly makes it clear that he is a fantastic teacher. As the title suggests, Understanding Light discusses the functions of light in a photographic context.
Covering broad and complicated concepts, lighting can be difficult to teach without in-person demos. However, Thornton uses a few different techniques to clearly illustrate his lectures.
With easy to understand language, he starts out by discussing some basic concepts. As the course goes on, he includes studio demos and location shoots that show the information in action. Throughout, he brings in pertinent images and diagrams, illustrating concepts whenever possible.
Furthermore, Thornton makes a point of interacting with his virtual students. A frequent follower of accompanied class discussion, he chimes in to answer nearly any question that's posted.
For obvious reasons, this class shows just how valuable virtual courses can be for burgeoning photographers. About as hands-on as possible, as can be, this course uses every means possible to convey one of the medium's most important concepts.
Review 2: Craftsy Intermediate Classes
Class duration: 3hr 13m 55s
A La Carte Price: $24.99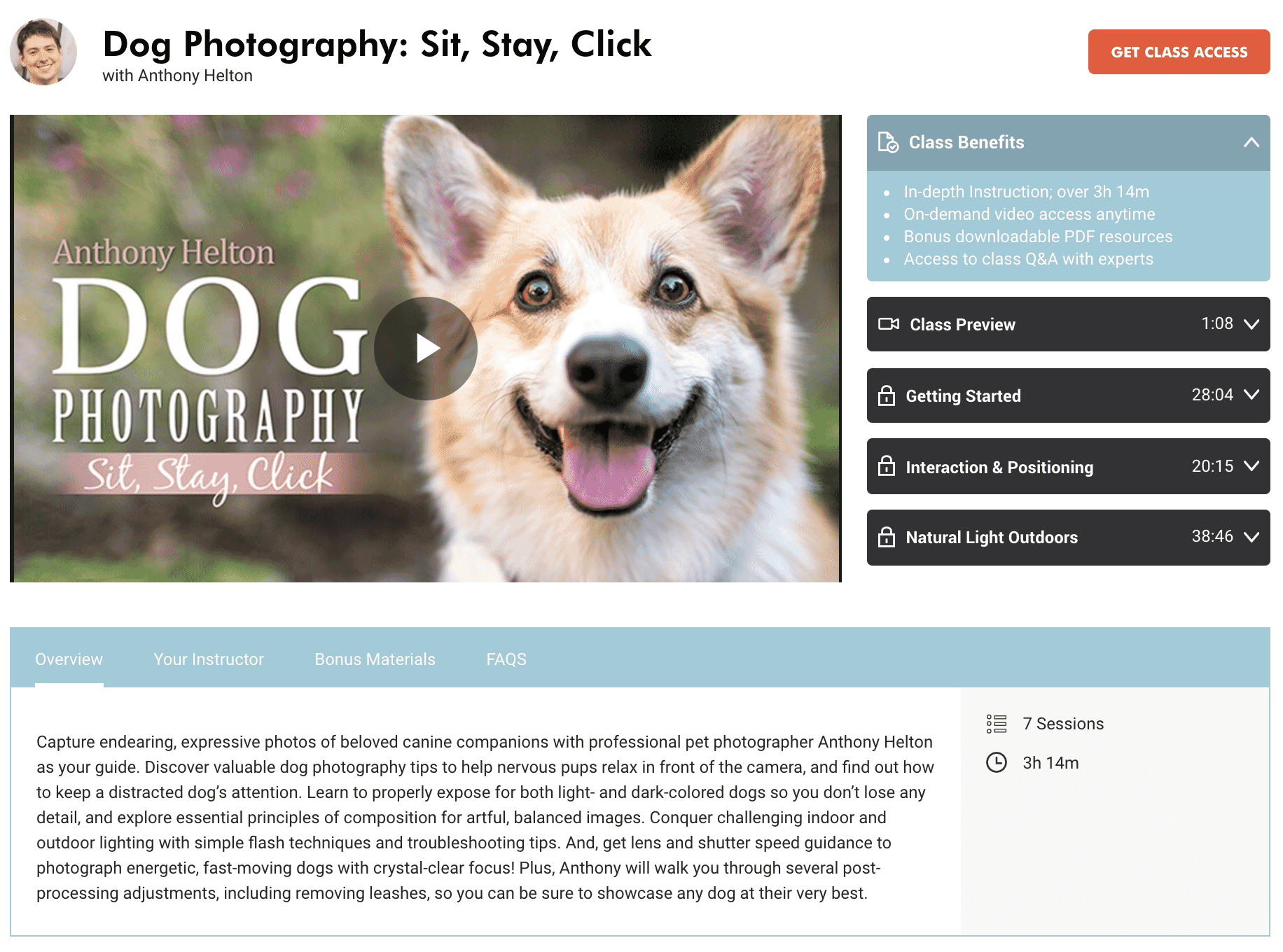 Craftsy doesn't just cover the basics. Users will also find a variety of niche subjects designed to broaden one's photographic range.
In short, Helton's Dog Photography class is a major departure from the beginner course previously discussed. As an intermediate course, much less of the lesson goes to fundamental topics. It's expected that students tuning in should already have the basics covered. However, that doesn't mean that technical information is entirely omitted from this course. For instance, a few post-processing Photoshop tips are shown via screen sharing.
Related Post: Review of the School of Photography
Though the style and content is drastically different, Helton proves to be as qualified an instructor as Thornton. As the owner of his own pet photography business, he has a unique, valuable skill set to share. That being said, for those seeking step-by-step instruction, Helton's class isn't a great fit. Though he does check in on class discussions, he only answers a few student questions. And, as mentioned before, the class does not waste any time focusing on photographic fundamentals.
Experienced photographers looking to develop their own personal style, however, may get a lot out of this class. Sure, the subject itself is rather specific. But, with plenty of basic classes available online, it's refreshing to see many of the unique, specialized classes Craftsy has to offer.
Review 3: Craftsy Advanced Classes
Class duration: 1hr 39m 55s
A La Carte Price: $39.99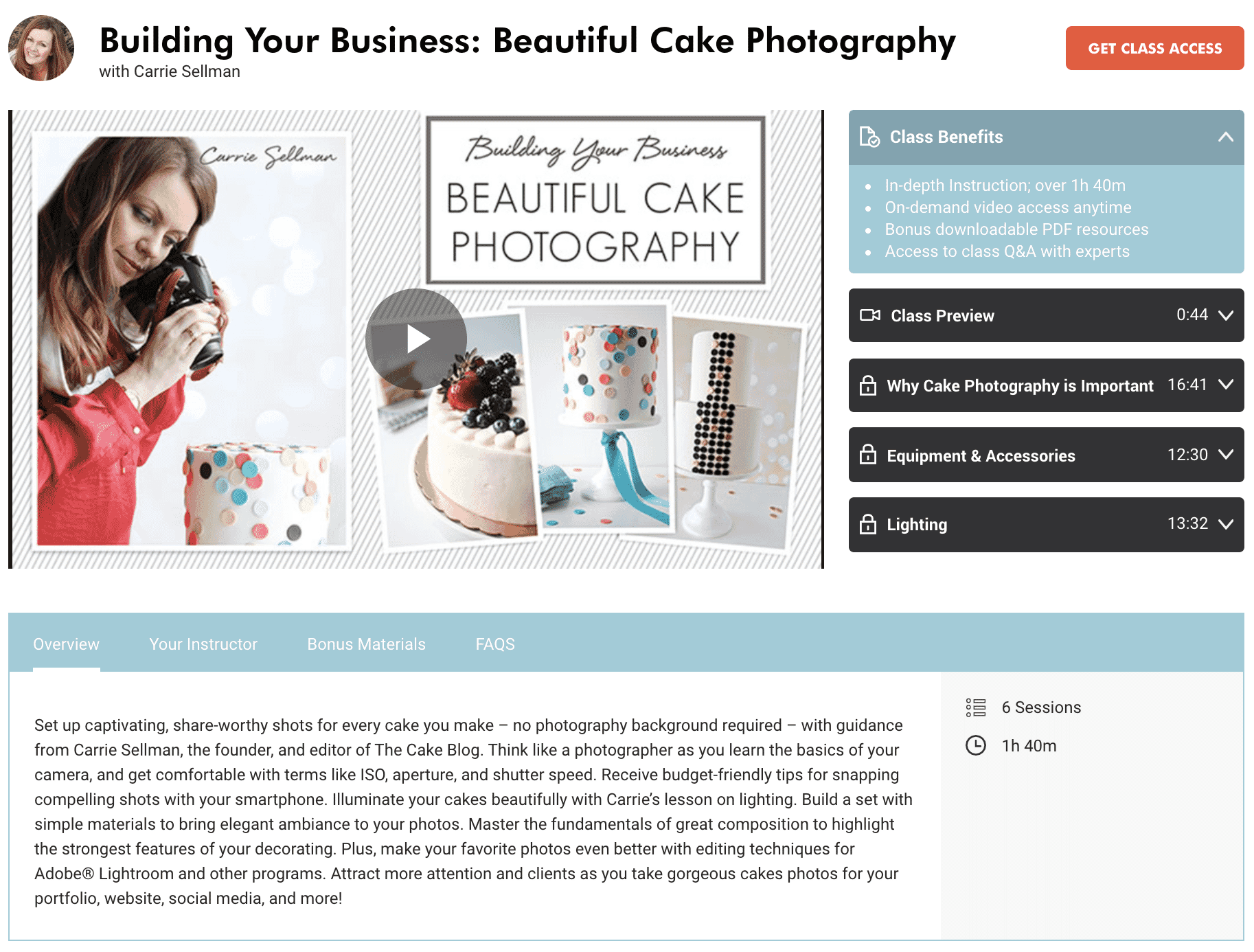 The mind behind a successful photo blog, highly-qualified instructor Carrie Sellman hosts her own lessons on Craftsy. However, of the three online photography classes I attended, I found that Sellman's was the least relevant to my interests.
For starters, I found the title itself to be misleading. I had expected a feature on food photography – instead, I received a class in marketing and branding. While those are indispensable tools for a photographer, the class was much less art-focused than the others.
That's not to say that Carrie didn't offer some valuable information. She does an especially good job of walking through her home-made photo sets and discussing her use of props. Insightfully, she suggests that food photographers should strive to present a story with their photos. But, the class itself runs short, hardly hitting the 90-minute mark. And frankly, a good portion of time goes into discussing topics inappropriate for an "advanced" class (i.e. explaining what Adobe Lightroom is).
Lastly, the constant callbacks to her blog sometimes make the class feel a bit more like a sales pitch than a learning experience. Because of this, some students seeking to gain a new photographic skill may walk away from this course feeling a bit shortchanged.
Is Craftsy Worth it?
In short – yes. Craftsy has a lot to offer if you're eager to advance your photographic skillset from home.
Regardless of topic, Craftsy presents everything in HD quality and includes supplemental materials. Considering that in-person workshops sometimes cost hundreds of dollars to attend, Craftsy is an affordable alternative.
Craftsy users should bear in mind that every course functions a little differently. And that's okay. Some classes cater to beginners, others are for experienced professionals. Every instructor has their own way of teaching, and you won't "click" with every individual.
Luckily, for every class that has a bit lacking, you'll find two more filled with valuable information.
Our main complaint? Craftsy releases new classes somewhat infrequently. However, with hundreds of hours of content available, users won't run out of coursework quickly.
Even if you've been working in the industry for years, it's never too late to brush up with an online photography course. Check out what Craftsy has to offer today – chances are, they have something that can take your skills to the next level.