Easter season is a great time to be with the people you love. So why not memorialize the good times with a photoshoot?
Below, we share our favorite Easter family photoshoot ideas for amazing images. Read this list, grab your family, and have plenty of photographic fun!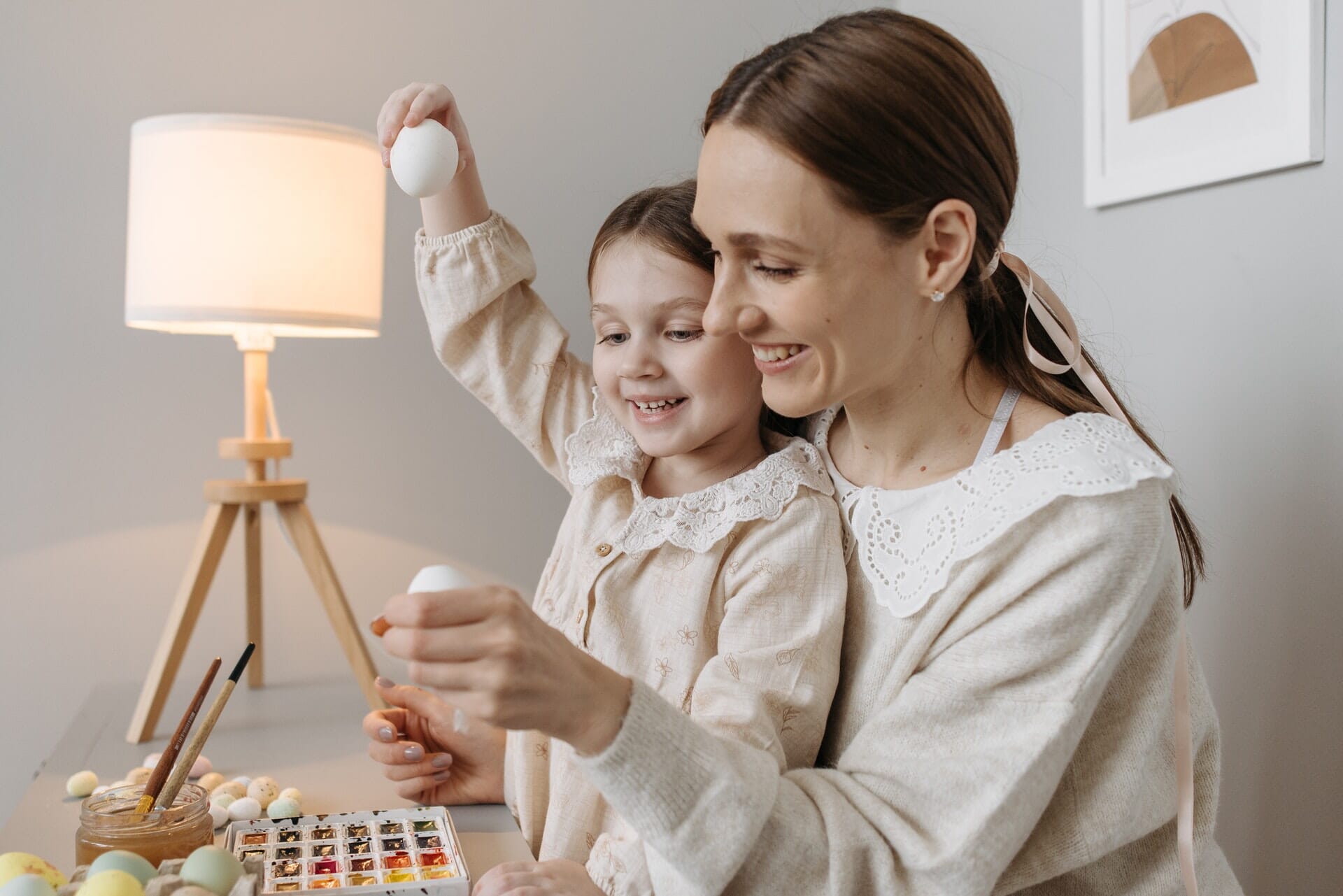 10 Easter Family Photoshoot Ideas
1. Wear Those Bunny Costumes
If you're looking to get into the Easter spirit – and to capture some images with a true Easter theme – then why not take a break from your everyday attire?
Instead, put on those classic Easter bunny costumes and have plenty of fun with the family. We're talking about full bunny onesies here, by the way (not just the bunny ears).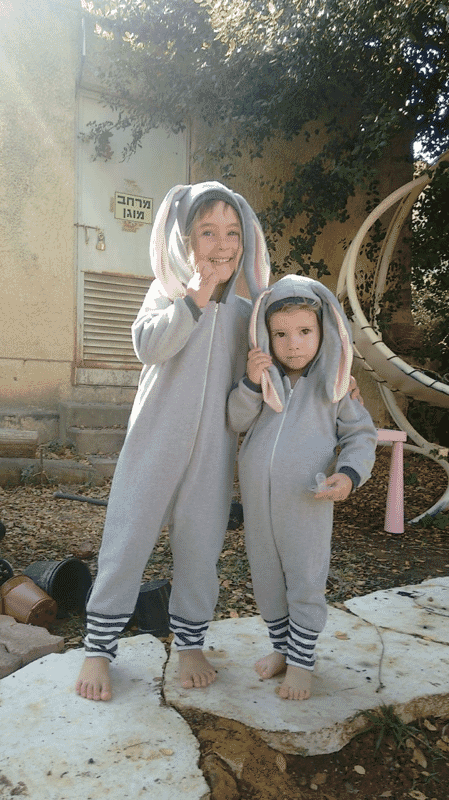 There's nothing cuter than a photo of the whole family wearing a matching set of costumes. Take a snap or two of everyone hanging out in their onesies, then ask them all to line up and pose.
(Don't forget to bring a compact travel tripod; you can use it to hold your camera while you pose in the photo, too!)
2. The Bird's Nest
If you're a mama bird, then why not do a bird-themed shoot this Easter?
You and the kids can all dress up as birds (bird beaks are optional!). Then you can cuddle together while snapping some selfies. If the kids are really into the idea, then consider creating a "nest" out of branches and take some photos with them in it!
This theme works especially well for families who are expecting a newborn. But don't let this limit you! You can do a lot of crazy things with this one.
3. Hunting for Eggs
An Easter egg hunt is lots of fun – and it's a great way to capture some heartwarming and candid family pictures, too.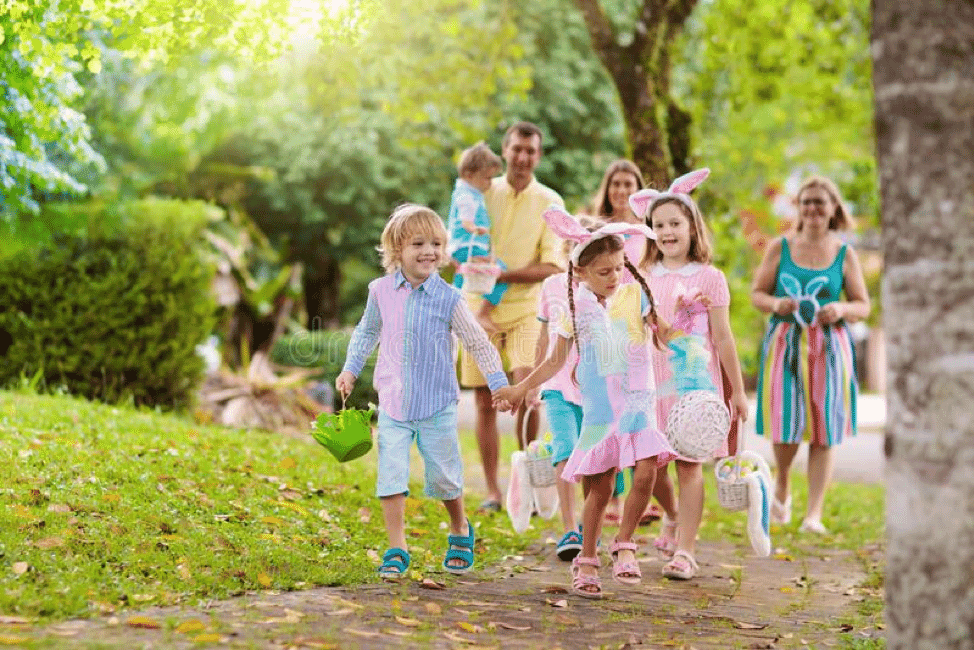 This Easter family photoshoot idea works especially well if you have a backyard or an open space where you can do a hunt in private. Just hide the eggs, bring out your camera, and snap photos as kids (or adults!) try to find them.
Of course, you can also shoot photos at a public Easter egg hunt. You'll just need to make sure to compose so that only your kids appear!
4. Sitting with Easter Baskets
Easter baskets are great props that you can either purchase or make yourself. In fact, you can turn basket making into an art project and spend an afternoon with your little ones crafting your own baskets out of recycled materials. They don't have to be perfect; they just have to be colorful and functional! (And feel free to take photos as you go!)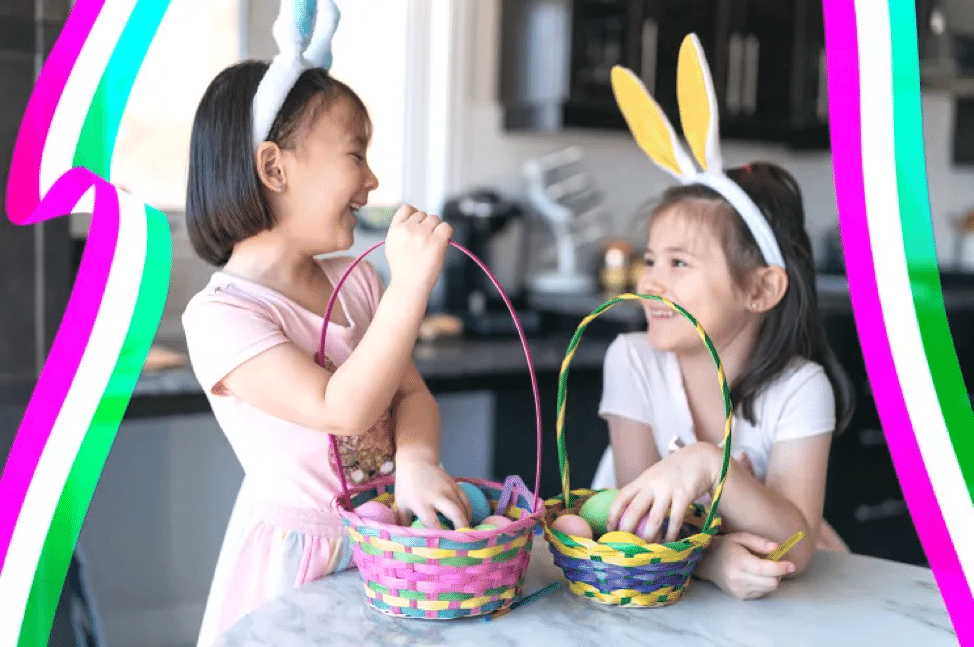 Then, once you're done, fill your finished baskets with anything you and your family members like. Treats such as marshmallows, candies, chocolates, and even Easter eggs and flowers are great options.
Then ask your kids to pose with the baskets and capture some ultra-cute photos!
5. Rabbit Ears
I've already discussed the rabbit-onesie idea, but if you're after a simpler approach, why not just grab a few pairs of rabbit ears?
No, they're not quite as hilarious or cute as a full costume, but bunny ears can certainly get you in the spirit of the Easter season.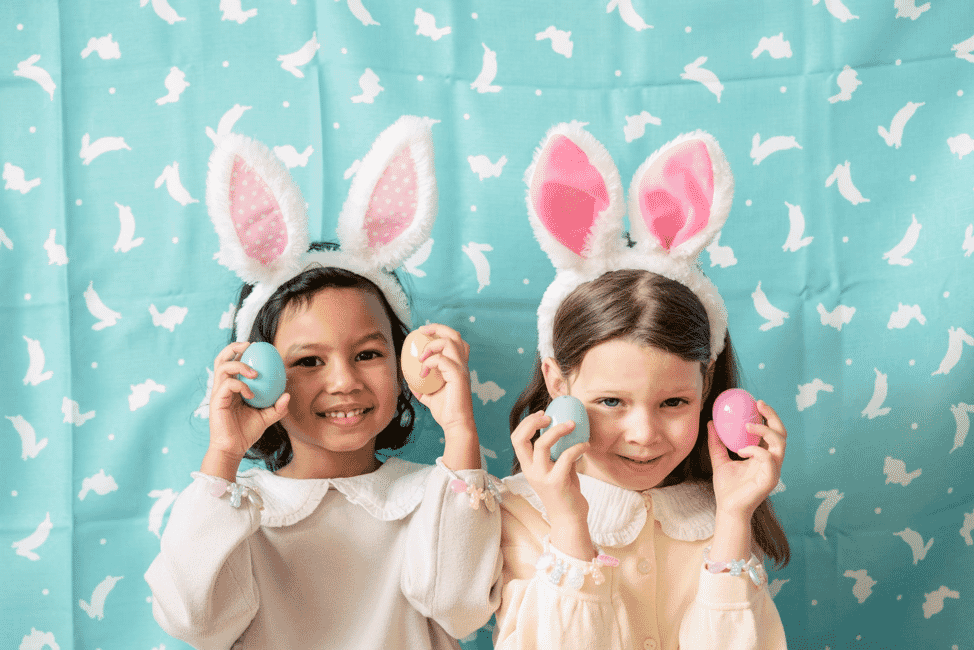 Bunny ears are great for the casual Easter family gathering, especially because they're very accessible and highly affordable.
You can snap candid photos as the kids play, and you can also do some fun posed photos, too. Be sure to capture some serious shots – but then take a few images where the kids are being super silly!
6. Include a Real Bunny
Does your family have lots of pets? Do you have a pet bunny on hand? Then incorporate it into your Easter family photoshoot!
After all, pets are family members, too. And Easter is certainly a time for rabbits to shine.
Have the kids hold the bunny while you take photos, or grab a few shots that show some mother-daughter-bunny love: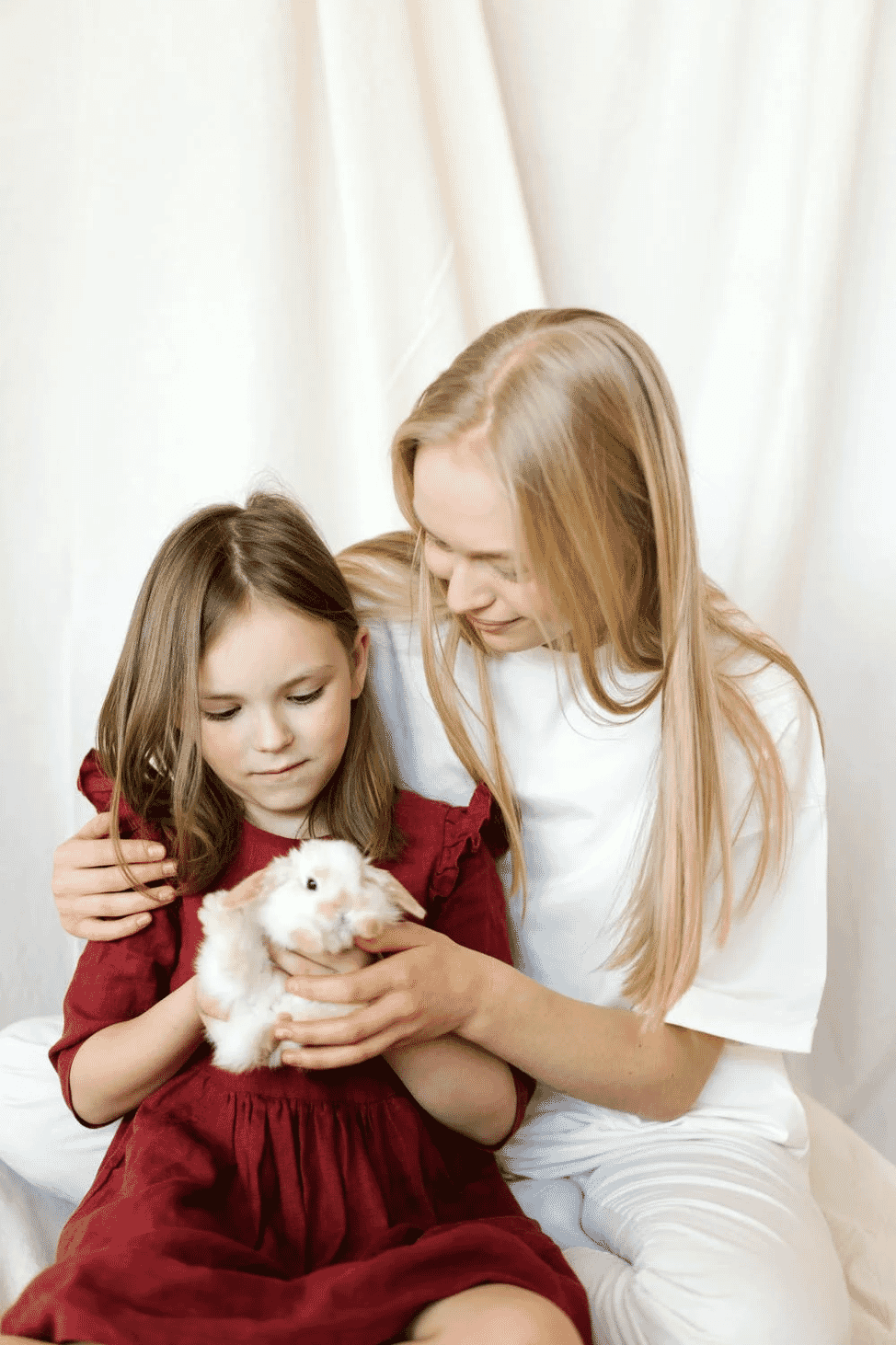 Of course, while rabbits are lovely pets, they are known to cause allergy issues, so be careful when trying this idea with friends and family outside your immediate household.
7. Use a Bunny Toy
If you don't have an actual rabbit, or your kids aren't old enough to hold a rabbit while posing, consider adding bunny toys to your photoshoot.
For instance, you might add a few toy rabbits behind the kids, then use a narrow aperture to keep the entire scene sharp. Alternatively, you could ask the kids to cuddle up tight with their favorite plush rabbits.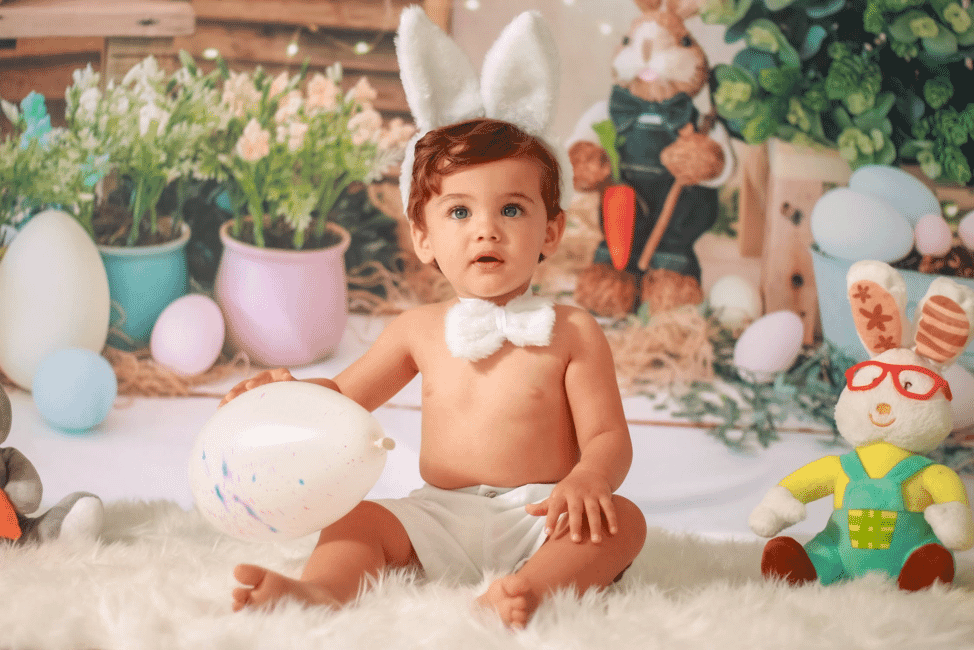 While adults may not wish to pose with rabbit toys, they can always wear rabbit ears or onesies, then sit in the scene with the children.
8. Have a Tea Party
People love having Easter Sunday tea parties, so why not invite plenty of family and bring along your camera?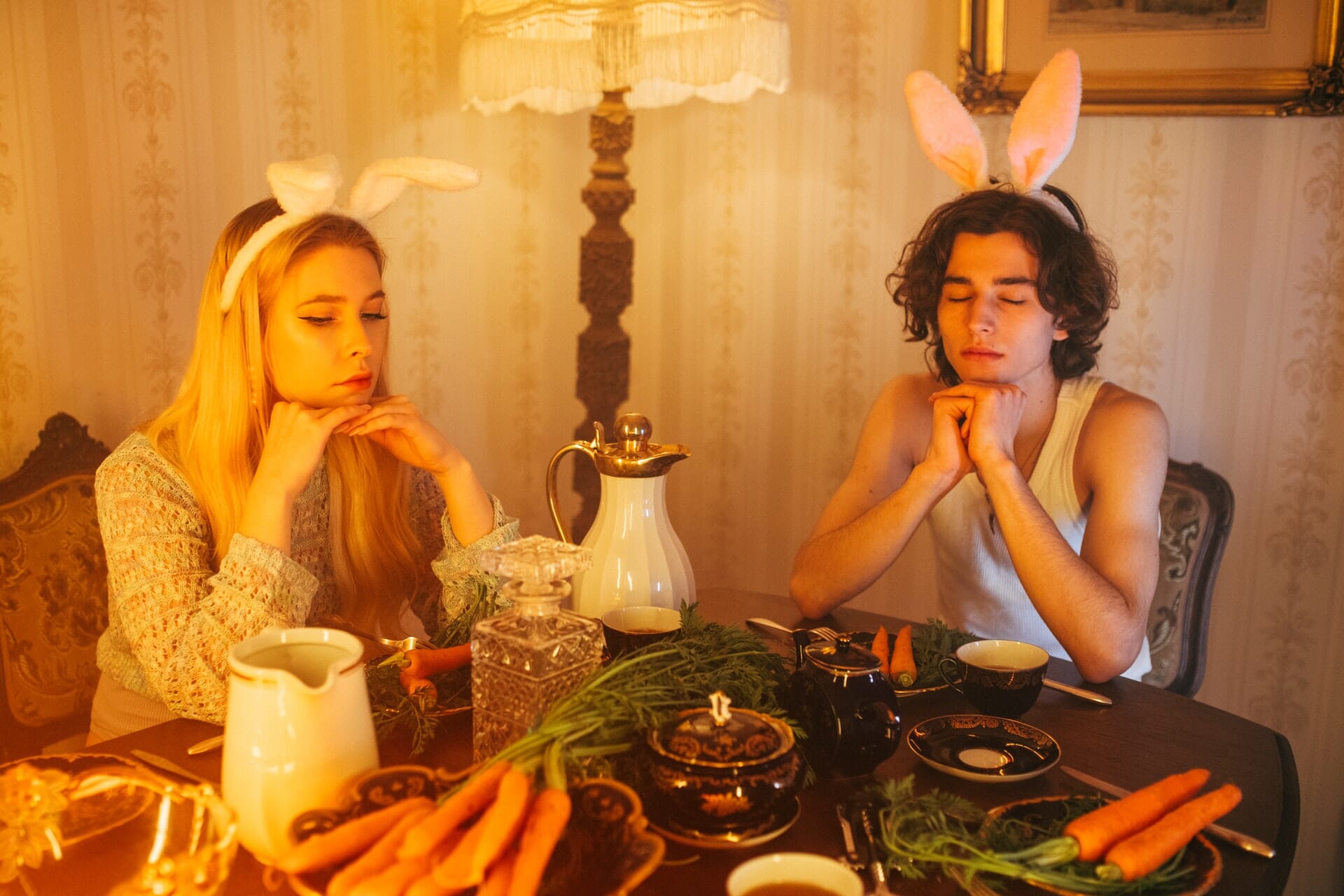 You can set up the chairs, tables, and teapots in the garden for that Instagram-worthy and family-friendly vibe. And to add more Easter flair to the scene, strategically add in some bunny ears, bunny biscuits, Easter eggs, or rabbit trinkets.
9. Make Some Cupcakes
If you're a baking enthusiast, why not make some cupcakes, then decorate them with adorable bunnies and cute egg designs?
You can ask the kids to help, then you can take photos of them adding frosting, mixing batter, and so on. Then, once the cupcakes are done, you can arrange them on the table and strike fun poses in the background. (Throw in some bunny ears, too!)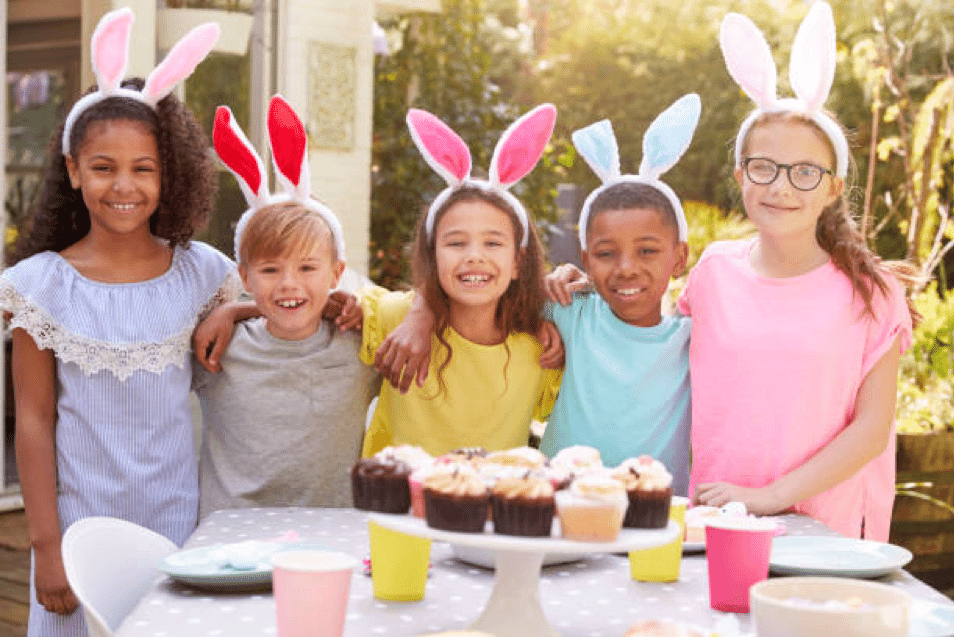 If you want even more colorful images, try adding in some fruit. After all, colors plus yummy snacks is bound to spice up the photos.
And once you're done shooting, make sure you all have plenty of fun eating the cupcakes (and the fruit, too!).
10. Egg Coloring
The more color you can add to your photos, the better they'll look. And one of the best ways to boost those colors? Photograph some egg-coloring activities!
Spending a day coloring eggs can be a great way to have fun with your family at home. Let the kids go crazy with the paint (and encourage them to make a mess!). You can join in the fun and mess, too, though be sure to protect your camera lens from any flying paint!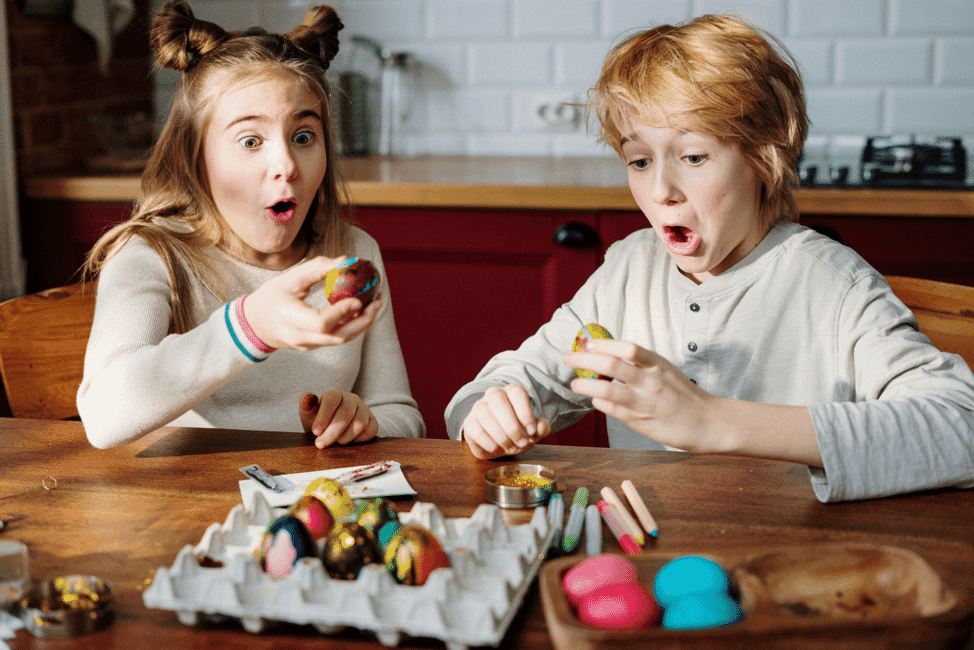 And once the paint has dried, continue the fun. Hide the Easter eggs around the house (see our third Easter photoshoot idea!) and let the kids hunt for them. Take candid photos as they do!
Have a Great Time on Your Easter Photoshoot!
We hope you enjoyed these Easter family photoshoot ideas. But whatever idea you use, remember that Easter is a perfect time to simply be with your family.
Even if you can't find the right set of bunny ears or your baking goes sideways, it's okay. What matters are the memories you make and the quality time you spend with the most important people in your life!