If you're looking to step into the world of studio photography, the first thing you'll need is a studio setup. While these setups are typically costly, we've done some serious research to find the best home photography studio equipment for those on a budget.
In this article, you'll find affordable options to get your home photography studio up and running in no time!
When you buy through links on our site, we may earn a commission at no cost to you. We evaluate products independently. Commissions do not affect our evaluations.
1. Reflector
If you're on a budget and don't want to splash out on extra lights, reflectors are a must! They allow you to direct your light source just how you want it, in a more soft, diffused manner. Making for some stunning photos.
Related Post: A Review of the Best Continuous Lights
Getting a reflector sit with multiple color options is a great way of giving yourself some creative freedom and adding stylistic touches to your photos before you even get to post processing. You can easily alter the temperature by changing to a warmer, gold reflector.
2. Speedlight
No home photography studio (or any other studio for that matter) is complete without some kind of lighting setup. A simple speedlight can be a great way of starting your studio and believe it or not, they're not too expensive. If you get a single speedlight, you're looking at less than $100 for one of the third party options.
3. Light stand
If you have a light source, you're going to need something to hold it. That's where a light stand comes in. But the use of light stands can extend way beyond that! You can use them to mount little extras like a reflector without too much difficulty.
So don't just stick to one light stand, purchase a few! They're affordable and versatile and you'll certainly find ways to make use of them all.
4. Clamps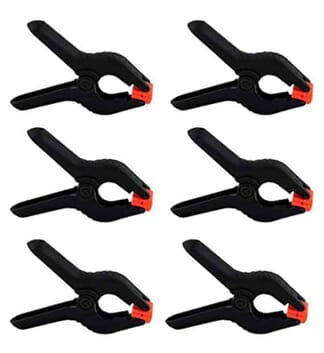 If you're setting up a studio, clamps are a must. You can use them for mounting backdrops and positioning extras just how you need them using clamps. You want heavy duty things that can withstand some push and shove so that they can grip onto things and spread across barrels for mounting.
5. Backdrops
If you've managed to sort out some clamps, you're going to want to get yourself some backdrops to hang them up. Backdrops are essential for photographers who want a professional home studio. There are lots of options to choose from and your selection will vary depending on what you want to shoot.
For full-body portraits, you'll want a long length of a backdrop so that your model can stand and the floor, and background covers their whole height.
For product photos or headshots, you can use a small mountable backdrop setup.
If you're looking for something to give a certain style or theme, there are plenty of patterned options. If you want a winter-themed shoot, there's definitely a backdrop that will suit your vision.
6. Havox Photo Studio HPB-80XD
A light tent is a must-have piece of equipment for photographers doing product photography for a living. A light tent, such as the ones that come with a built-in lighting system, reflectors, and bright panels on three sides is a complete unit. You just need a place to set it up, and a camera and a lens to start taking photos. The Havox Photo Studio is a complete package. With this, your entire lighting requirement for a product photography setup is complete.
7. Emart Photo / Video Studio Backdrop Stand
What usually comes with a backdrop? Well, a backdrop stand. And that is exactly why the Emart photo video studio backdrop is next on this list.
The Emart Backdrop Stand is a professional heavy duty photo backdrop stand. It is made up of 1.4-inch diameter aluminum tubes which gives it higher strength and durability.
The height of the tubes is adjustable. Meaning you can adjust it to between 3.7 feet all the way to 10 feet depending on the shot and the backdrop.
The crossbar length is also adjustable. You can extend it from 6 feet all the way to 12 feet. Up to 35 lbs can be supported. Two heavy-duty spring clamps are provided to allow you to mount your favorite backdrop.
The whole structure is quite stable and does not wobble even after you have mounted the backdrop.
EMART Photo Video Studio Backdrop Stand, 10 x 12ft Heavy Duty Adjustable Photography Muslin Background Support System Kit
Professional heavy duty photo backdrop stand kit, 1.4'' diameter tube – more sturdy & durable, perfect for using at home,...
(2) x Support Stand built-in Dual Spring Cushion: height adjustable (Min 3.7ft – Max 10ft), made of 100% Aluminum material,...
(4) x Crossbar: width adjustable (Min 6ft – Max 12ft), easy to connect, no sag when hang backdrops within 35 lbs, safety...
(1) x Portable Carry Bag: premium quality nylon material with sturdy zipper, easy to transport and store the whole kit.
This backdrop support system is easy to set up and take down, no need any tool, come with two heavy duty spring clamps to...
8. Neewer 3-Wheeled Wireless Camera Video Auto Dolly
If you love reviewing small products like photography gear or love shooting outdoor videos a motorized dolly can really add a lot of production value. The reason is with a motorized dolly, as opposed to a manual dolly, you can control the movement of the camera much more precisely. And in doing so you can create panning movements among others to add value to your production.
A motorized dolly can be effective even when you are shooting outdoors. Such as when shooting time-lapses. Or more specifically shooting hyper-lapses. Because you can then move the camera in micro increments over the course of hundreds of images and minutes.
And just in case you are wondering the built-in battery inside the dolly retains enough power to ensure up to 6 hours of use. Although made out of plastic the small dolly can support up to 3 kilos of weight. For product photography (and for that matter even outdoor photography) that is more than enough.
Even in a studio environment the Neewer 3-Wheels dolly has something to offer. The wireless controller ensures that you have minimum physical touch. This prevents unwanted jerks and movements that may get captured in the final images. Also the wireless controller gives you three different speed options. Depending on the type of photography (or videography) you are doing. You can move the dolly with the camera system mounted on it in either direction, pause it, and back it up at the flick of a switch.
Neewer 3-Wheels Wireless Video Camera Dolly, 3-Speed Motorized Electric Track Rail Slider Dolly Car with Remote Control, Compatible with DSLR Camera, Camcorder, Gopro, iPhone, and Android Smartphone
【Remote-Controlled Dolly】 Neewer Motorized Camera Dolly is a perfect tool for shooting time-lapse, low-angle, and...

【Angle Adjustable Wheels】 Two wheels with 90° angle adjustment enable the dolly to move in circular or linear paths....

【Lightweight and Durable】 Made of high-quality aluminum alloy and ABS plastic, the dolly can support DSLR cameras,...

【Built-In Rechargeable Battery】The built-in 1500mAh Li-ion battery can offer up to 6 hours of run time. A provided...

【4 LED Indicators】 4 LED indicators show charging status (charging: red, fully charged: green), battery status (low...
9. X-Rite ColorChecker Passport Photo 2
This is one photo studio equipment you should always have with you. X-Rite ColorChecker Passport Photo 2 is a trusted name when it comes to ensuring the correct white balance for your images. In a studio environment these are great choices for someone who wants minimum post-processing time. One of the hardest things to do is to ensure that the white balance of your images is perfect.
The ColorChecker Passport works as your white balance reference for the type of lighting that you are shooting in. before you start any shoot always take a reference shot with the ColorChecker Passport in the frame. You can create a custom white balance profile using that image or use it as a reference when you are editing your images afterward.
There is also an 18% neutral gray target. This comes in handy when shooting with your camera meter as the guide. The camera meter is not always the most effective when you are metering items that are highly reflective and this is where the 18% grey target gives a more accurate result.
X-Rite ColorChecker Passport Photo 2 (MSCCPP-B)
Industry standard 24-patch color reference target for creating custom camera profiles and for visual color assessments.
Create custom in-camera white balance for a consistent white point across a set of images with no need to correct each...
Set exposure with an in-camera or handheld meter.
Neutralize and create your look with enhancement patches. Check and evaluate shadow details and highlight clipping. Control...
Adjusts to accommodate multiple positions so you can easily incorporate the target(s) into any scene. Also includes a handy...
---
As an Amazon Associate, we earn from qualifying purchases. Certain content was provided "as is" from Amazon daily and is subject to change or removal at any time.