The Canon Speedlite 430EX II Flash is a neat little external flash for your Canon DSLR. External flash units are useful when the built-in flash of your camera falls short of the desired quantity of light for your images. They are more powerful, have a better reach and lasts longer than built-in pop-up flashes.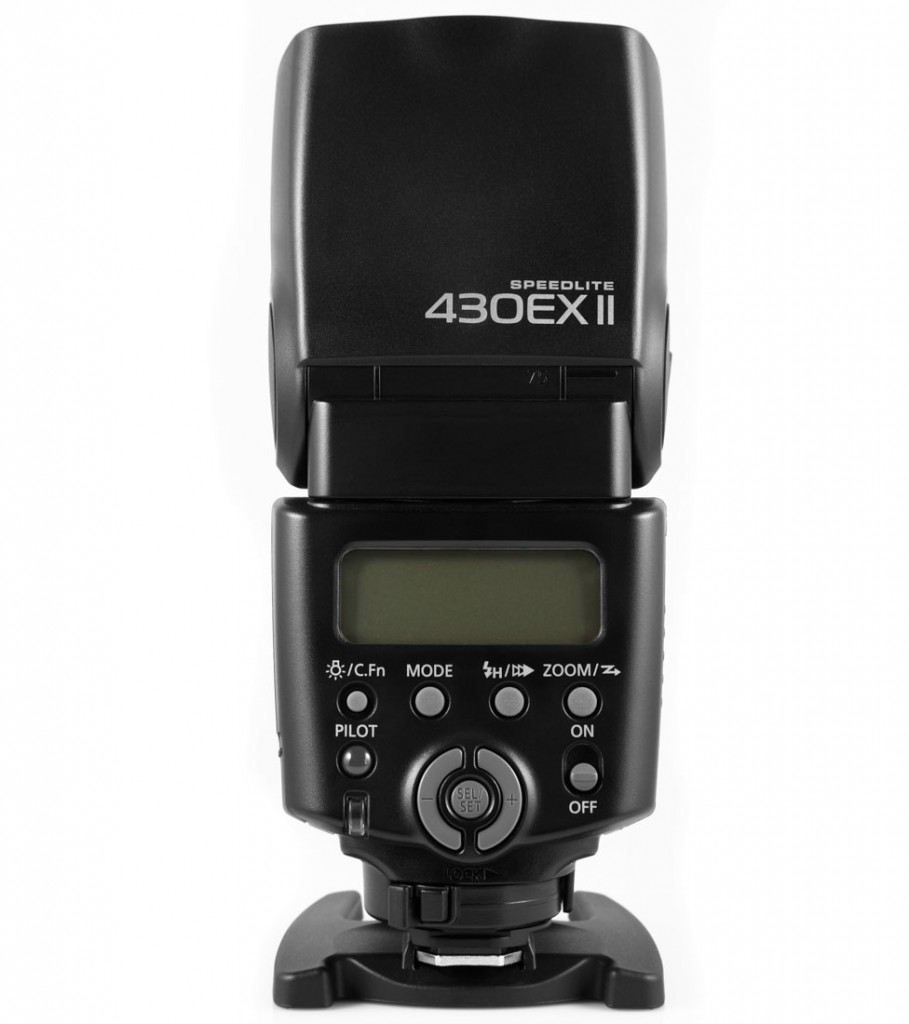 The 430EX II can be triggered using infra-red. Most semi-professional and professional Canon models have this. You can use this flash with all EOS digital cameras as well as PowerShot G Series cameras. Full flash control can be done right from your camera.
Related Post: Finding the Best Slave Flash (Review & How Slave Flashes Work)
Guide number
The guide number of the flash is 141' at ISO 100.
Features – Tilt and swivel
The flash head can tilt up from 0 – 90 ° in four settings, move left from 0 – 180 ° in seven settings and right 0 – 90 ° in four settings.
The flash head thus covers all the essential angles for any shooting requirements, whether you are firing it straight at the subject, bouncing the light off of a ceiling or setting it as a fill-light, kicker light or even background light.
A flash stand provided with the unit allows you to set it down on the floor or on a table to work as an off-camera light source (without having to hand-hold it).
Related Post: Secrets Of Buying An External Flash
Recycle time
Canon states that the new 430EX II has a faster recycle time when compared to the older 430EX. As a matter of fact it has a 20% faster recycle speed. Recycle times determine how quickly you can take another shot with full flash power after the first shot.
Zooming
The flash head can zoom from 24 to 105mm, meaning you can focus the burst of light to suit the kind of photography that you are doing. This is a cool feature that pop-up flashes don't have. To further assist your wide angle photography the flash has a pull-down filter.
Power
The 430EX II is powered by four AA batteries. This is a power hungry device so ideally you should be looking to buy rechargeable batteries to power your flash, else this is going to be a costly affair for you. Depending on the type of batteries that you use the flash can fire anything between 200 to 1400 shots.
Review of Speedlite 430EX II: Buttons
The 430EX II has a bunch of buttons on it. There is the C.Fn button that also doubles up as the button to fire the LCD panel light. It is handy when you are shooting in very dark conditions.
There is a Hyper-sonic flash sync button and also a zoom button that actually moves the flash inside the casing to adjust if you need it to fire for a wider area or pinpoint on a smaller area. The other buttons include a pilot button (for test firing the flash), on and off buttons and left / right buttons.
Dimensions and Weight
The flash weighs 330 grams minus batteries. The dimensions are 72 x 122 x 101 mm.
Watch this video for a more in-depth review of canon speedlite 430ex ii and instructions:
Update: Canon Speedlite 430EX III-RT Flash
There is a newer version, the Canon Speedlite 430 EX III available:
Canon Speedlite 430EX III-RT Flash
Compact body for space efficiency and style
Zoom flash head covers a range of 24-105mm; maximum guide number 141ft./43m at ISO 100
Convenient controls include a built-in Catch light Panel to help enhance the subject's facial expression, Dot-matrix LCD and...
Recycling Time: Approx. 0.1 to 3.7 seconds (AA-size Alkaline Batteries)/0.1 to 2 seconds (AA-size Ni-MH batteries)
---
As an Amazon Associate we earn from qualifying purchases. Certain content that appears on PhotoWorkout.com comes from Amazon. This content is provided 'as is' and is subject to change or removal at any time.