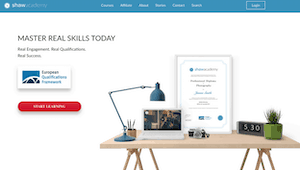 If you are interested in learning more about the field of photography, you have probably considered engaging and enrolling in an online photography course to expand your knowledge.
While there are many useful and helpful resources available today to take your photography skills to the next level, it can be hard to determine which program is most suitable for you and your photography level.
One learning and education course we want to examine and review today is called the Shaw Academy. Marking itself as a resource for learning, we will review what it does, what it offers and whether you should enroll in one of its many courses.
What is the Shaw Academy?
The Shaw Academy is the largest real online educator, providing online skill development courses like photography, financial trading, digital marketing, and nutrition.
According to its website, the company's mission is to:
Change billions of lives by providing a great education, accessible and affordable to everyone.
To reskill and upskill the world.
To make continuous learning a part of life.
To make personalized education accessible to all.
And to focus on interactive education because it is engaging and better for learning.
The Shaw Academy currently offers 50+courses and has over 4,000,000 successful graduates.
What Does the Shaw Academy Offer?
In the field of photography, the Shaw Academy currently offers 6 courses. These include:
Professional Diploma in Photography
Professional Diploma in Photoshop
Diploma in Video
Diploma in SmartPhone Photography
Diploma in Adobe Lightroom
Diploma in Wedding Photography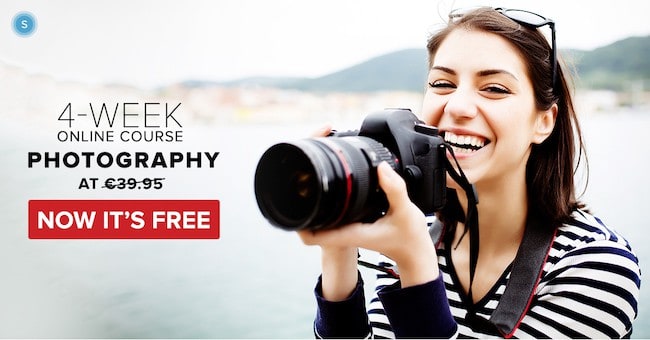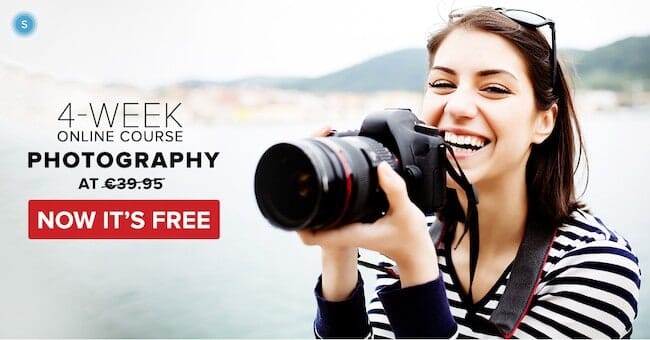 A Breakdown of Photography Courses
Expand your creative potential
Let's take an in-depth look at one of the courses, the Professional Diploma in Photography. According to the website, the Shaw Academy describes the course as:
"Whether you want to tell a story, sell a product or just capture the beauty around you, photography is essential for fulfilling your creative vision. On this course, we will teach you the skills you need to make the transition from fully automatic to fully manual shooting. Expand your creative potential and capture the images you have always dreamt of by joining this course today."
The course has international accreditation from the European Qualifications Framework and the Scottish Credit and Qualifications Framework.
It is built up of 4 modules each that are meant to last for 4 weeks. For module 1 the first 7 days are free, while the remainder of the modules costs 50 euros per month.
Here is a breakdown of what is offered in each Module of this course.
Module I is called Introduction and contains 8 lessons that include:
What is Photography?
Camera Functions and Lenses
Motion and Depth
Composition
How Much Light is Enough?
Fully Manual Mode
The Colour of Light
The Digital Image
Module II is called Mastering Light and contains lessons on:
Advanced Exposure
Mastering Exposure for Colour Images
Introduction to Flash Photography
Studio Flash and Shaping Light
Module III is called Powerful Enhancement and contains lessons on:
Camera Raw Processing
Creating Black & White Images (Part 1 & 2)
High Dynamic Range (HDR)
Lastly, Module IV is on Creative Techniques and includes:
Advanced Lens Techniques
Low Light Photography
Macro
Colour Management and Output
Review of Photography Courses
From a first glance, it appears that the Diploma in Photography Course covers an extensive range of topics that are necessary for any photographer learning or strengthening their skills.
The course has been reviewed by over 1,000,000 participants with an overall rating of 5 stars for satisfaction.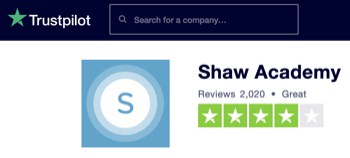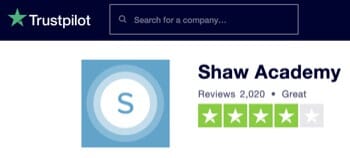 About William Eames – the Shaw Academy Photography Teacher
From watching the course's trailer, we learn about what to expect from the course. Hosted by William Eames, an educator with an M.F.A. and B.A in Photography as well as 15+ years of experience, it appears that our learning is in good hands.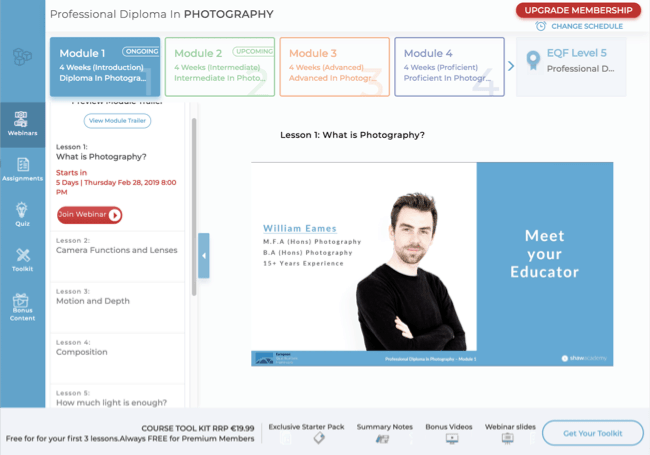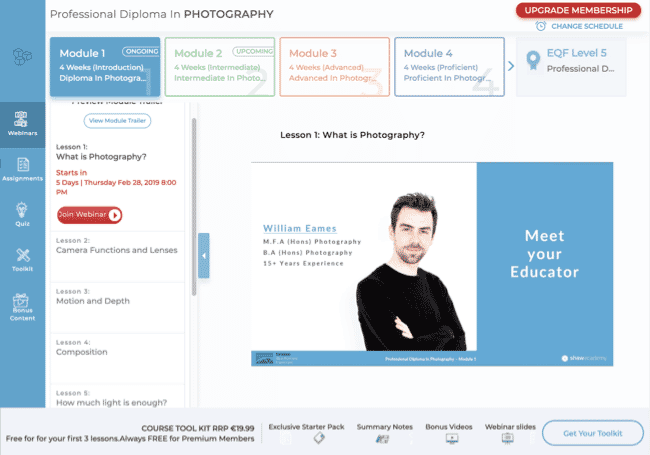 He goes on to explain that the course talks about camera types, the components of your camera, how the camera works, learning exposure, understanding motion, depth of field, composition and understanding your photography style.
Best for Beginner Photographers
teaching newcomers about the craft of photography
After watching the trailer and reviewing the components of the course, I would say that this diploma is best suited for photographers who are beginning their photography careers. While it may be a good refresher for advanced creatives, it appears that the majority of the topics are focused on teaching newcomers about the craft of photography.
Additionally, I also noticed that the style of the courses may not appeal to certain types of photographers. This seems to be a course that is directed toward a traditional type of photographer, one who captures portraits, lifestyle or even travel imagery.
This would not be a suitable course for someone who is experimenting with new, modern techniques or who wants to work in niches such as fashion or commercial photography.
Good for Learning Photography Basics
Solely from reviewing the graphics and topics, I would say that a photographer with more creative or daring techniques would be better suited for skipping the diploma and gaining real-world experience. While a photographer looking to learn more about their camera and understand their own style could utilize this course to begin to uncover their photography skills.
Additional Offerings of the Shaw Academy
Outside of the photography field, the Shaw Academy also offers courses in the areas of:
Technology
Health and Wellness
Finance
Marketing
Design
Beauty
Music
Business
Language
It appears that the academy has an extensive range of topics that are perfect for any beginner looking to learn more about a particular subject.
EQF Level 5 Professional Certification can help you move up in your job
After completing the courses, participants earn a professional diploma that is accredited by the European Qualification Framework and recognized all over the world. For some, the EQF Level 5 Professional Certification can help you move up in your job and land a promotion.
Finally, students' success stories on the website say that the academy taught them a lot, had quality content and great instructors.
7-Day Free Trial
The best part about the Shaw Academy is its free 7-day trial offer. This way, students can test out a course before purchasing the entire program. If you find that the photography course would be of interest to you, be sure to enroll in the free trial on the Shaw Academy's website.
Overall, the Shaw Academy appears to be an accredited online resource for learning new skills in a variety of fields. With extensive information and positive reviews from its students, I would recommend giving their 7-day trial a go and see if the program is a good fit for you and your growing photography skills.
A note about the free trial: If you registered for a free course, then your account will automatically be canceled once your free course completes. In case if you are a paid member, then you can cancel your account by logging in to their platform and cancel your subscription from your profile. Else email their customer support team and they will cancel it for you.
Be Aware of SMS and Email Notifications (we found this a bit annoying). Shaw Academy sends you Email and Text Messages after you sign up. If you no longer want to receive certain communications from the Shaw Academy via email or text message, simply click the "unsubscribe" link in the email or reply STOP (or as otherwise instructed) to the text message.