What Are Slave Flashes?
Slave flashes are and behave like any other flash units. They can be mounted on your camera's hot-shoe mount and be radio-triggered using transceivers, just like any other flash.
The only additional feature on them is that they can be triggered by firing another flash, i.e., optically, without the need for a radio trigger or PC sync cord.
All slave flashes come with a sensor in them which senses the light fired out of another flash. That in itself triggers it to fire the light. The greatest benefit of a slave flash is that they are incredibly easy to set up. You can just mount them on a light stand, place them on a table or even hand-hold them.
Heads up: "Slave flash" is an outdated term.
Receiver flash and transmitter flash (for master flash) is the terminology we will be using going forward.
Problems Working With Transmitter Flashes
The biggest problem working with transmitter flashes is that you do not have any control over the output of the flash when shooting remotely.
There is no connection between the camera and the flash that transmits information back and forth between the camera and the flash.
Unlike radio triggers or corded off-camera flash units, there is no umbilical cord between the two devices. You will have to physically walk up to the flash and then manually set the output power.
Most transmitter flashes could be left in auto mode, and that will produce a decent result. You could also take down the aperture set on the transmitter flash and then use that on your camera. This solution could be unacceptable for some photographers, as they have to accept a depth of field forced upon them. The other option would be to move the flash further away or closer to the object being lit so that the lighting is optimum.
Pre-Flash Firing Problem
Another problem with these transmitter flashes is that they can sometimes get triggered when your commander flash fires the pre-flashes. This can be a real issue because you never know when the transmitter flash will fire. The result is underexposed images. To avoid this pre-flash problem, some transmitter flashes have a particular mode that ignores the pre-flashes from the commander flash and only activates when you fire the final flash.
Setting Up the Commander (Master) Flash
The master flash is the one that triggers the transmitter flashes. This can be an external flash, just like the transmitter flash itself. It can also be the pop-up flash on your camera.
Since the whole purpose of using a flash in transmitter mode is so that you can fire the light off-camera, the light from the flash on your camera can ruin the shot. How? The extra light from your on-camera flash will have an impact on the final image. To avoid this on-camera flashes are always set to their lowest power. This emits just the amount of light to trigger the transmitter flash but will not be enough to impact the exposure.
Another thing to note is when you are setting up the master flash there should be a clear line of sight between it and the transmitter flash that you are setting up. The master flash is going to trigger the transmitter flash. This is an optical arrangement and not a radio / wireless trigger, so for the most reliable results, a line of sight is necessary.
Why Do You Need to Use a Transmitter Flash?
There are a number of reasons you may want to use a transmitter flash or a flash in a transmitter mode. Let's say that you arrive at a venue with less than the number of transceivers that is necessary for setting up the shot. A transmitter flash will allow you to go ahead and light up the scene nevertheless.
A Cheap Flash Option
Then again, transmitter flashes are a much cheaper alternative to using the more expensive radio triggers. As a beginner, you may not have the means to buy more than two radio triggers, and therefore the reliance on this alternate arrangement.
Using a Transmitter Flash with a Point & Shoot Camera
Since transmitter mode needs just optical flash to trigger them, they can be used with compact point and shoot and even smartphones. This greatly enhances the capability of a compact camera.
Compact systems and other cameras don't usually have a hot shoe. This severely limits their ability to shoot well-exposed photos in low light. With the ability to trigger a transmitter flash optically, it opens up a new dimension for them, allowing you to shoot great quality images.
Transmitter Flash Choices
Transmitter flashes are not dedicated systems. They are normal flash systems just as any other flashes. Most of them have both the commander and the transmitter mode. There is usually a switch or button on the flash that allows it to be switched from commander to transmitter mode.
Does the Brand Matter?
OEM (original equipment manufacturers) options are the priority if TTL flash control (TTL = Through the Lens) is necessary.
However, as even OEM flashes don't get TTL connectivity when being optically triggered (Transmitter Flash), this is not an absolute requirement.
For more versatility, however, you should always invest in flashes which support TTL for your camera system.
Nikon Options: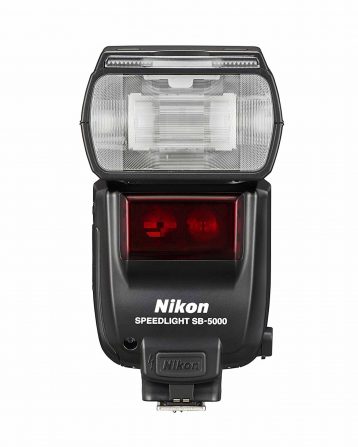 The Nikon SB-5000 AF is the latest and the greatest Speedlight from the Nikon stable. This also happens to be one of the more expensive on-camera flash systems available in the market (except for the Quantum Instruments QFlash systems).
The Radio Controlled Advanced wireless system also comes with an optical transmitter mode that is triggered by a pulse of light.
The guide number of this powerful flash is 113' at ISO 100 and 35mm position.
The zoom range of the flash head is 24 – 200mm.
The flash head tilts -7˚ to 90˚ and rotates all the way to 180˚.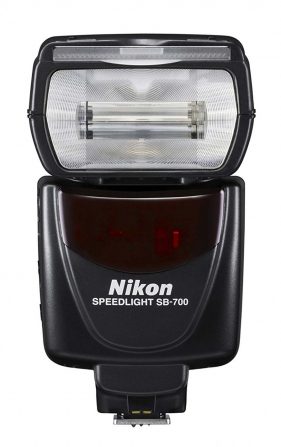 The Nikon SB-700 AF is a powerful yet reasonably priced Speedlight that comes with a built-in transmitter as well as a commander mode.
A powerful flash, it has a guide number of 92' at ISO 100 and at 35mm position.
It comes with manual and i-TTL functions.
The power on the flash can be set from full power to 1/128.
The head can be swiveled all the way to 360 ˚.
The zoom head can be set from 24mm to 120mm giving you the option to concentrate the output to a small area or spill it out over a larger area.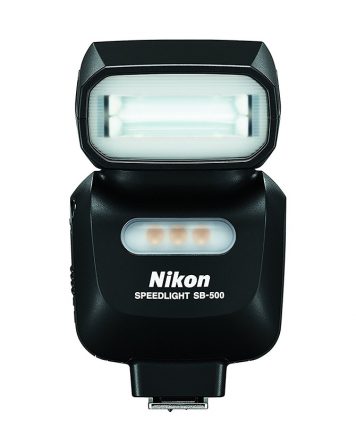 The Nikon SB-500 AF is one of the cheaper Speedlight options from the Nikon stable.
This flash comes with a guide number of 79', clearly not as powerful as some of the other flash unit we have discussed here. But then you probably don't need too much light in a small environment. What you need, however, is the SB-500 AF to be triggered via an optical pulse from your pop-up flash or another hot-shoe mount flash. You can also trigger with an off-camera flash that is radio-controlled.
The flash has coverage of 24mm.
The Nikon SB-500 AF head tilts up to 90˚ and swivels all the way to 360˚.
Tilting and swiveling ensure that the flash head can be easily positioned in any direction with a clear line of sight to the master flash.
Canon Options: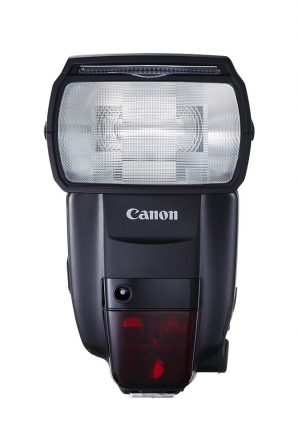 The Canon Speedlite 600EX II-RT is an upgrade of the older 600EX RT. This is a high-end flash designed to provide TTL exposure for Canon systems.
The guide number of the flash is 197' at ISO 100 and 200mm position.
The flash head can be zoomed from 20 to 200mm.
It can be tilted from -7 ˚ to 90 ˚ and rotates 180 ˚ from left to right. We are, however, not bothered by the TTL or other abilities of the flash.
We are concerned whether it has an optical transmitter feature and thankfully, the Speedlite 600EX II-RT does have that feature. You can trigger this with an optical pulse from any other flash, including a pop-up flash on your camera.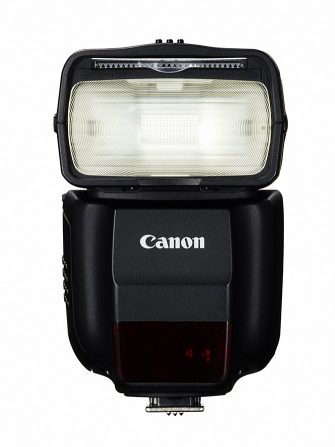 A smaller and cheaper option when compared with the 600EX II RT, the Canon Speedlite 430EX III-RT is one of the more popular budget choices.
The Canon Speedlite 430EX III-RT has a guide number of 141' at ISO 100 and 105m position.
The zoom range of the flash is 24 – 105mm. The flash tilts upwards 90 ˚ and can rotate 150 ˚to the right and 180 ˚ to the left.
The power on the flash can be controlled from 1/1 all the way to 1/64.
Optical transmitter capabilities of the Speedlight ensures that it can be triggered from a distance by a pulse of light with a clear line f sight.
Related Post: How High-Speed Flash Sync Functions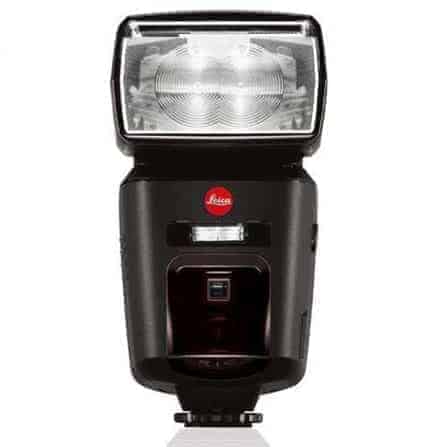 The Leica SF 64 Flash is an offbeat choice, especially if you don't have a Leica camera system. But the point of this discussion is transmitter flash, and the Leica is a powerful compact flash that will work just about in any condition. When we say powerful, we mean it.
The Leica SF 64 Flash has a guide number of 210' at ISO 100 and 200mm position.
The flash has a wide zoom range of 24-200mm.
The flash head can tilt from -9˚ to vertically straight at 90˚. Further, it can rotate right to 120˚ to up to 180˚.
The flash can be set to a wide variety of power settings, right from 1/1 to 1/256. The Leica SF 64 Flash is a pretty powerful and versatile system. It has a modelling light, which is useful when setting up a shot.
The optical transmitter mode allows it to be triggered with any other flash firing. It is difficult to get a good PC sync cord for Leica systems. Some users have suggested using Nikon cords, which seem to work. But the optical transmitter mode doesn't require any of those.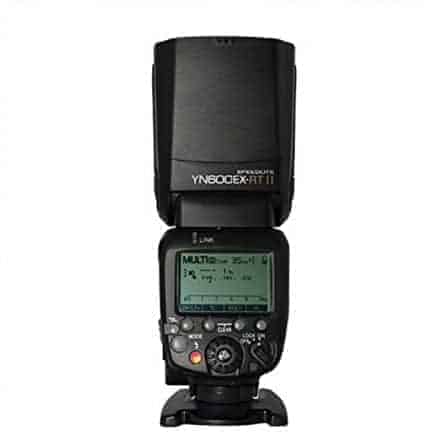 This is one of the cheapest options that you have to remotely trigger a transmitter flash using your pop-up or master unit. Even then, there is nothing cheap about its power.
The Yongnuo YN600EX-RT II comes with both a commander and a transmitter mode, giving you the option to buy two or more of these units to complete a decent lighting set-up.
Related Post: What Are Flash Color Gels?
The YN600EX-RT II comes rated with a guide number of 196.85' at ISO 100 and 200mm position.
You can vary the power output from 1/1 all the way to 1/128.
The flash head can be swiveled all the way to 360 ˚.
The head zooms, which allows it the flexibility to restrict the light from 200mm or fire a wider burst all the way to 20mm.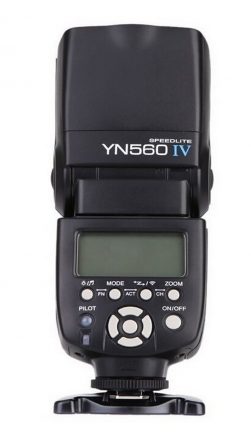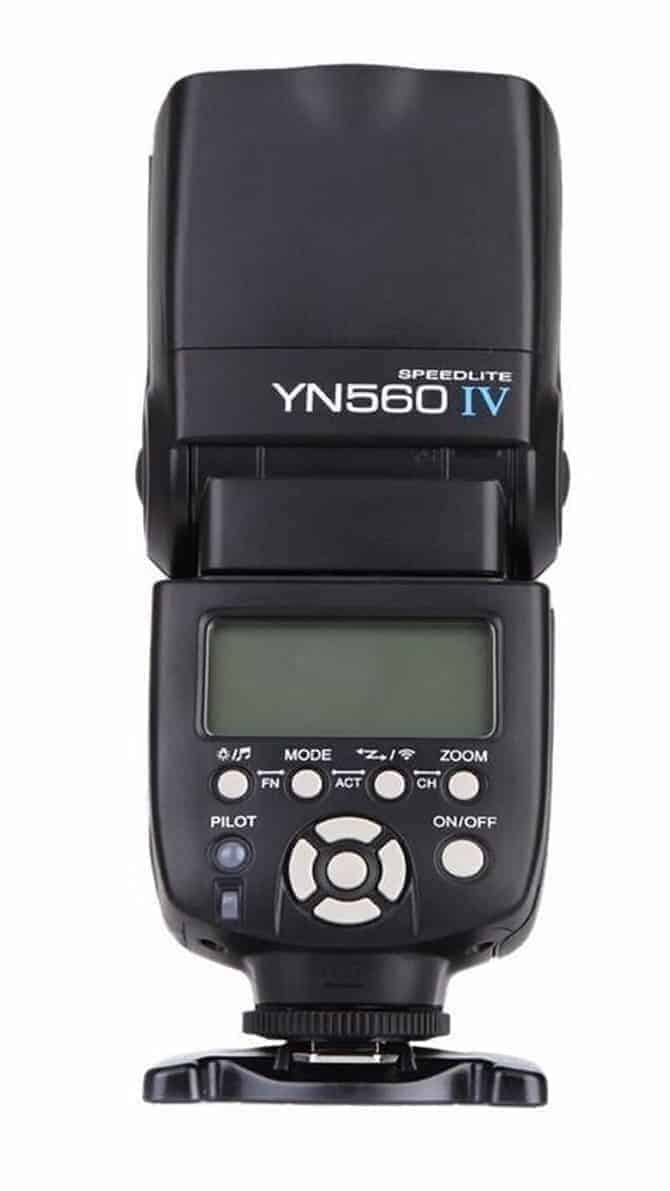 This flash is cheaper than even the YN600EX-RT II that we just finished reading about. At just about 200 bucks you could buy 3 of these and complete a three-light setup easily.
The Yongnuo YN560-IV comes with a guide number of 190' at ISO 100 and 105 position.
The zoom head has a range of 24 – 105mm.
The head can tilt as well as rotate. It can tilt from -7 to 90˚and rotate to about 270˚.
The power of the flash can be adjusted manually from 1/1 to 1/128.
Needless to say, the flash has optical transmitter functionality. There are two transmitter modes on the flash, the second one ignores the optical pre-flashes and allows your pop-up flash to do its bit and then only trigger the Yongnuo YN560-IV when the final flash is fired. This is a great feature to have.
---
As an Amazon Associate, we earn from qualifying purchases. Certain content was provided "as is" from Amazon daily and is subject to change or removal at any time.