Thanks to the internet and social media, free online resources to learn something are plentiful. Provided, however, you have your heart set on what you want to learn.
Photography, being a visual art form, you can learn a lot simply by dissecting the work of other photographers. This you can do by watching them build an image from the ground up. That is composing, focusing, lighting, metering, and post-processing.
But to really have a more in-depth understanding of what goes into making a professional-quality image, you have to join a photography course. That way, you can learn the tricks firsthand from an accomplished photographer.
In this discussion, we look at the best free online photography courses that you can join right now.
Best Free Online Photography Courses:
When you buy through links on our site, we may earn a commission at no cost to you. We evaluate products independently. Commissions do not affect our evaluations.
A Word About Free Online Photography Courses
Please note that the best online resources are not always free. After all, why would someone share the knowledge gathered over a lifetime of toiling for free? Why would someone share their thought process, technical insight, and knowledge of post-processing for absolutely no compensation at all?
Though there are free resources available, they will only let you learn things up to a limit. It is the paid photography courses that will let you get behind the scenes and learn the tricks from the photographer's point of view.
1. Introduction to Photography and Related Media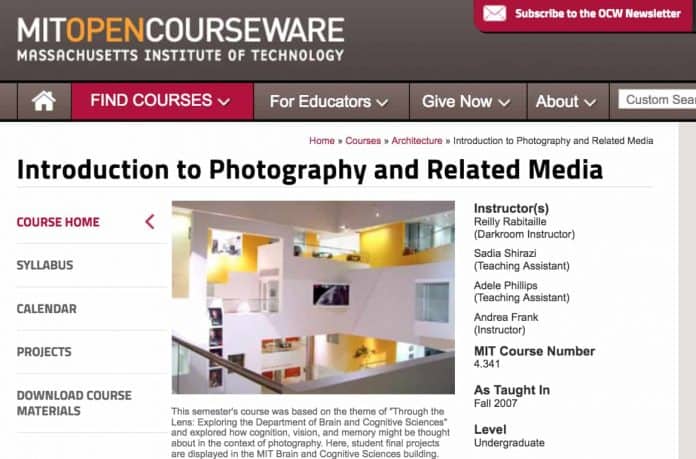 One of the most respected institutions in the USA, the Massachusetts Institute of Technology offers an Introduction to Photography and Related Media. This is a part of the OpenCourseWare initiative. This particular course is actually a semester-long program involving four different instructors. They will provide video lectures on a variety of fundamental aspects of photography.
The lectures of this undergraduate-level course cover both digital and analog photography. That means it covers both DSLR and SLR camera systems. That said, the course also covers medium and large format camera systems as well.
Film photography, for many, is true photography. As a matter of fact, there will be lectures that are dedicated to aspects of film photography such as film exposure, development aspects, and the technicalities of it as well as some important darkroom techniques.
As you are aware, exposure parameters and the other technical aspects of film photography are equally applicable to digital photography as well.
But that's not all. This course will also cover a range of aspects of studio lighting setups. Studio lighting is an interesting aspect because it basically introduces you to the world of artificial lighting and how it can help you take your photography to the next level.
Students will have the opportunity to submit their work at the end of the course, which will be critically assessed in a forum. Professionals from the industry will often visit and offer their invaluable input. There will be group discussions, readings, as well as site visits, that will put the theory aspects learned in a classroom environment into practice.
2. The Art of Photography (PHOT) by Dr. Shane Hulbert, RMIT Australia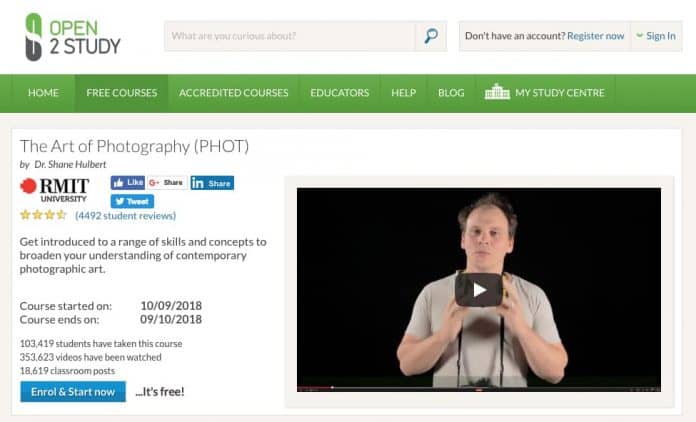 Dr. Shane Hulbert is a faculty member at the RMIT, one of Australia's largest tertiary universities. With more than 70,000 students enrolled in several of its programs, RMIT is one of the largest universities in Australia. The University offers a specialized course on the Art of Photography, conducted by Dr. Hulbert.
One of the salient features of this course is that students are introduced to the work of some of the most gifted photographers and artists of the 20th/21st century. Being a photographer himself, Dr. Hulbert finds it easy to draw parallels from various renowned artists.
The course is designed to inculcate an understanding and appreciation of the art and science of photography. It is designed to inspire you to make better photos. But beyond just triggering the spark in you, the course transcends into technical areas as well. The course will demonstrate ways to improve your 'digital darkroom' expertise. Post-processing is the final aspect that makes your photos presentable. It is the difference between a stunning image and one that is 'average' at the best.
The course is broken down into four modules:
Light through Lenses
Photography's Evolution
The Digital Darkroom
Visual Language & Creative Photography
Each of the modules is broken down into 10 videos, nine quizzes, and one assessment at the end of the module. They cover fundamental aspects of photography like – how to pick the right hardware for your photography, the relationship between shutter speed and aperture, and how you can control each aspect in order to do creative photography.
The modules also cover more technical aspects like how a lens 'sees' an image and how you can use that knowledge to produce more compelling imagery and how to understand exposure and digital capture. The modules also teach aspects such as what are RAW images and how it can be beneficial to shoot in RAW more times than not.
3. Professional Family Portraits with Kirk Tuck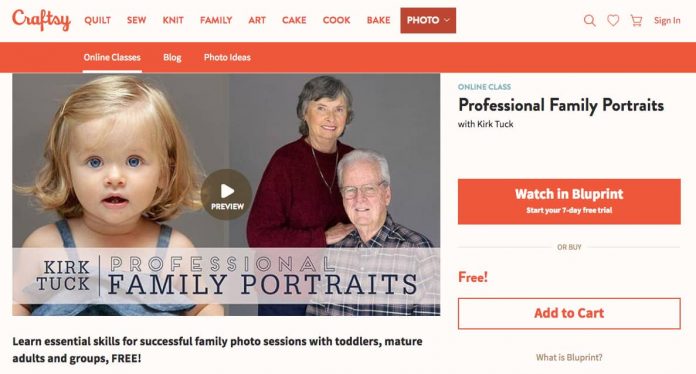 Portrait photography is probably one niche that can put food on your table year-round and is one of the most in-demand photography genres. The techniques used are applicable in a vast number of other genres – wedding, corporate headshots, baby photography, high school senior portraits, and family photos.
The best thing is that portrait photography requires surprisingly little equipment compared to other genres. A camera with a good lens is all that you need if you are going to shoot predominantly in natural light. You'll learn this, plus other great tips, in the Craftsy Professional Family Portraits course.
Of course, you will also need to master artificial light if you are going to mainly shoot inside a studio. You will need a solid understanding of the different lights and light shaping devices that you can use.
Finally, the course will also provide details on various post-processing techniques. Post-processing is the final peg in the whole scheme of things. It brings together the image and makes it presentable. Thus, a good understanding of post-processing techniques is a must-have for every portrait photographer, as a matter of fact, all photographers regardless of the genre they are in.
This free course by Kirk Tuck will demonstrate a series of techniques on how to take flattering portraits. Moreover, the course will also explain how you can control the expressions and pose of your subjects when they are facing the camera. It is by far one of the best free online photography courses for portrait photography enthusiasts.
4. Free Online Photography Classes from the School of Visual Arts (SVA)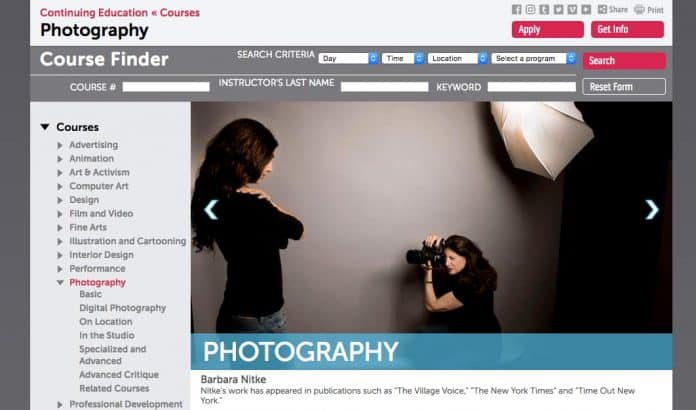 The School of Visual Arts, New York City, is a non-profit institution for imparting arts and design education to whoever is interested. The college was established in 1947 and is a member of the Association of Independent Colleges of Art and Design in the USA.
The school originally began as an institution that offered special training for budding cartoonists and illustrators, but quickly branched out into several other areas of creative and artistic expression. Today, the school offers graduate and undergraduate level courses on various genres of photography.
Technically, though, these courses are not free. But they have a YouTube channel that offers no less than 99 hours' worth of online photography classes, which you can watch at any time. The best thing is all these videos are available for watching for free. A reason why we have added them to this discussion of the best free online photography courses.
Related Post: 10 Best Photography YouTube Channels to Follow
At the time of writing this review, there were a total of 112 videos that you can watch on their YouTube channel. The videos are an impressive assimilation of lectures and knowledge shared by some top photographers, industry stalwarts, and equipment / technical gurus in the business.
Miho Aikawa – Fine Art Photographer
MPS Digital Photography presents a talk by Japanese photographer Miho Aikawa (MPS 2010 Digital Photography).
Thus, while you can watch Japanese fine art photographer Miho Aikawa speak about the synergy between personal artistic vision and the commercial application of the same you can also watch Claudia Grimaldi Marks, Senior Art Director at Getty Images with over 20 years of experience in publishing and image-making elaborate the finer aspects of stepping into the demanding world of stock photography.
The videos/lectures cover numerous aspects related to different genres of photography. Thus, you can tap into the brain of accomplished street photographer and artist behind the monograph Cuba: Campo Adentro, Susan Bank and go deeper into what makes a compelling street photo.
And, you can also get a more profound understanding of what goes behind the scenes when selecting images for a leading publication, such as the Time when you sit through a lecture by the Time's director of photography Kira Pollack.
5. Free Courses on KelbyOne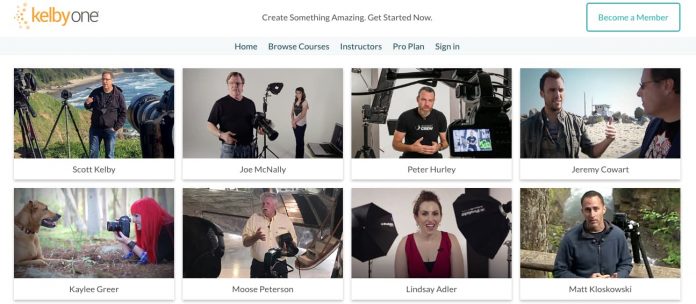 Scott Kelby is one of the most renowned and popular instructors on the internet. KelbyOne, his training division, curates and brings forward some of the best photography courses that you can enroll in right now. These are made by some of the most well-known and well-established photographers in the world.
Unfortunately, the best of these courses are not free. Luckily, some are. If you search the site and sign up, you will find no less than 14 courses on various aspects of photography. These include landscape, basic gear selection, shooting techniques, and post-processing which you can watch for free (if you need more you can upgrade to paid plans).
The only thing that you have to do is register yourself on the website, and that takes exactly 30 seconds to do. In return, you get a sneak view of some of the most valuable online photography courses/tutorials that you could watch right now. After registering, select KelbyOne Free Courses to reveal the ones that you can join for free.
Among these free tutorials/courses, there is one that need mentioning: 10 Essential Tips Every Landscape Photographer by Scott Kelby.
The course by Scott Kelby on landscape photography discusses the fundamental aspects of photography, such as choosing the right gear and using camera settings. Additionally, it also discusses the more complicated parts, including using specialized tools like filters as well as shooting HDR and composition.
The course by Kristina Sherk deals with the common mistakes that a new photographer/user of Photoshop is likely to commit. It also explains the ways someone can rectify/not commit those mistakes in the first place. It covers the basic aspects of post-processing and retouching, including adjustment of exposure, color balancing, and noise reduction. Additionally, it covers more advanced topics such as dealing with camera shake blur and using the clone stamp tool.
And just when you thought that there is nothing new happening in photography or that the courses on KelbyOne are just like all the rest, take a look at the lecture, How to Bring Your Still Images to Life Using Plotaverse by Trey Ratcliff.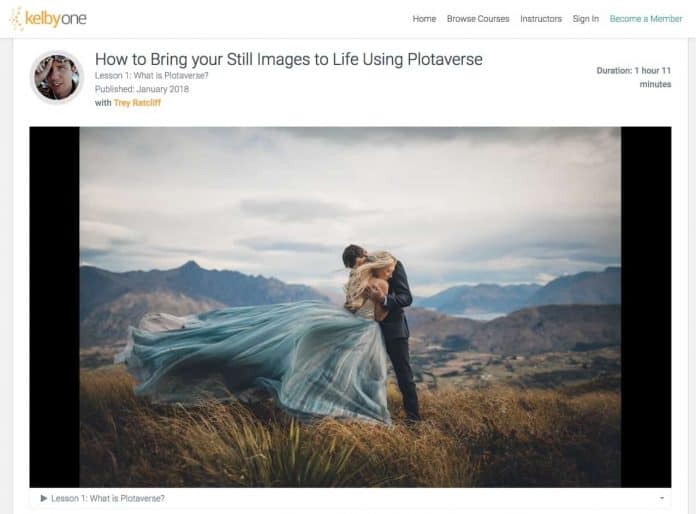 This is a unique technique to create an animated photograph using Plotaverse. This one technique is guaranteed to give your social media presence a boost and increase the footfall on your pages.
6. Affinity Photo in 30 Minutes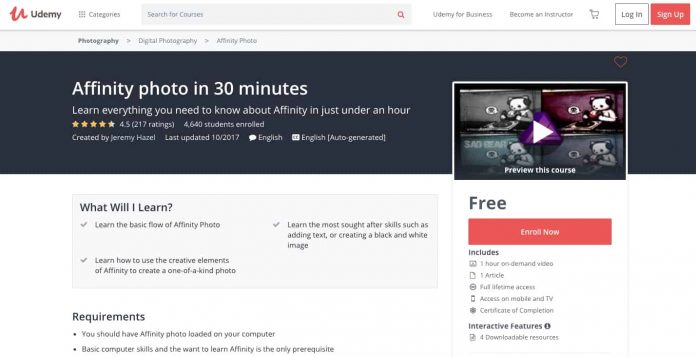 Adobe had a stranglehold over the photo editing application industry for several years. Of late, however, new photo editing applications have been slowly and surely making inroads into Adobe's market share. One of those photo editing applications is Affinity Photo.
Affinity Photo has a smaller learning curve than compared to something like Adobe's Photoshop and even Lightroom. The best thing is it is way cheaper than its more illustrious competition, something every beginner photographer will dig.
This course by Jeremy Hazel covers the basics of working with Affinity Photo. It covers the general flow for editing a photo once you have downloaded it onto your computer. It includes cropping, adding contrast, and recoloring. There are a bunch of blending options too, layers and masks, much like Photoshop. The tutorial covers these functionalities of the software as well.
Additionally, there are options to convert a color photo into a black and white one. The tutorial explains the best methods to do that while retaining a good dynamic range in your photos.
One of the extra features of Affinity Photo is to put text on photos. Lightroom does not have that, at least not in the stock application. Photoshop does. This feature allows you to prepare greetings cards, school projects, and other everyday stuff.