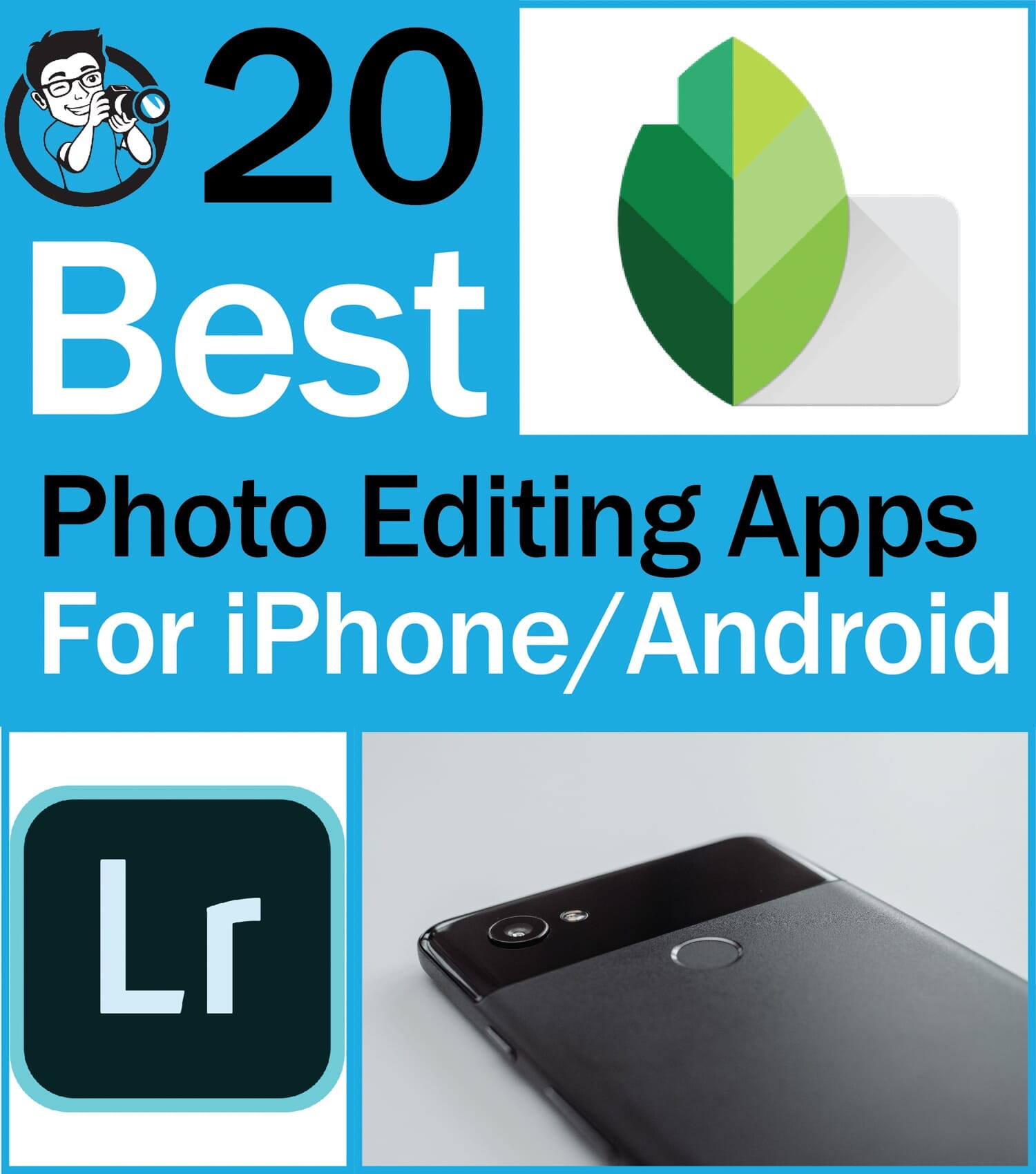 Whether it be memories from your travels, daily snaps of your city or that "Insta-worthy" flat lay of your Sunday brunch – why not use the best photo editing app to turn your images into a truly creative photograph?
However, there are many so many photo editing apps to choose from, you may be asking yourself:
Which apps are the best to download for editing my pictures?
The 20 Best Photo Editing Apps On Android and iPhone
To help you get started, we've compiled a list of the best free and premium photo editing apps for both iPhone and Android.
Let's take a look at our list below:
Comparing The Best Free Photo Editing Apps
1. VSCO
VSCO is a photo editing app that focuses on creating edits inspired by film photography.
It's a "place to express your true self, make beautiful photos on mobile and connect with a creative community."
The app is free on mobile and comes with 10 VSCO presets. You can use basic editing tools like Contrast, Saturation, and Grain.
However, to unlock more features of the VSCO app and become part of the VSCO X community, you'll need to upgrade to their membership program which includes 170+ presets, advanced editing tools and more.
RELATED POST: How to Print Photos: The Ultimate Guide to Printing Gorgeous Images
2. Snapseed
Snapseed is a photo editing app that allows you to create professional style edits for your images.
Developed by Google, it has 29 tools and features. It works with JPG and RAW files and has the ability to save and store edits.
Plus, Snapseed has tools such as lens blur, tonal contrast, text, glamour glow, and more. We love this powerful editing platform for basic adjustments as well as more advanced adjustments like spot healing.
There are also a variety of filters you can apply to your images.
3. Adobe Photoshop Express
Adobe Photoshop Express is a photo application that is a powerful, on-the-go tool.
One of the most used features on this app is Text. It gives you the flexibility to create memes, use a variety of fonts, and colors.
With PS Express, you can build collages from your device, Adobe Creative Cloud, Dropbox and more. Plus, it allows you to create intelligent layouts and share-worthy collages with one tap.
And, PS Express has tools for editing your photos such as crop, color correction, and unique effects.
Related Post: Best Tablets for Photo Editing
4. Adobe Lightroom CC
Adobe Photoshop Lightroom is a free, powerful and intuitive photo editor.
It is a free app to download that includes features such as – presets, profiles, curves, color mixer, and a pro-level camera.
But, if you want to access more tools and options, you will need to upgrade to premium within the Adobe application.
Or, if you already have an Adobe Photography the premium features are included in your subscription. You can sign up for a free trial here.
RELATED POST: How To Edit Photos Like A Pro In Lightroom
5. Darkroom
For iOS – Free
Darkroom is a free photo editing app for iPhone.
It has features such as iPad support, RAW support, Portrait editing, hashtag manager, custom filter, content-aware frames and more.
Plus, it allows you to sync your images and use professional style tools and filters to bring your images to the next level.
6. Infltr
For iOS – Free
Infltr is the infinite filter photo editing app.
It's the only app that allows you to change filters by panning your finger on the screen. Pan in any direction and watch as the filter continues to change.
There are more than 7 million filter possibilities and you can design your own filters. Plus, it has 24 editing tools to tweak your filters for the ultimate, creative use.
7. Polarr
Polarr is a creative and powerful photo editing app.
It offers professional features such as custom overlays, blending modes, filters, mask, and global adjustments to color, light, and curves.
You can customize the app by selecting from dark or white color themes, utilizing the various workspaces and rearranging icons to make the app your own.
Related Post: The Best iPhone Macro Lens in 2019 (An Ultimate Guide)
8. Prisma
For iOS – Free
Prisma is a different type of photo editing app. It's a photo editor that creates photo effects by transforming your images into paintings. 🤳🎨
If you want to add a truly unique edit to your photo, this is the app for you.
In fact, it comes with hundreds of styles, a new filter every day and enhancement tools to fine-tune your pictures.
RELATED POST: How to Learn Photography and Take Stunning Photos: The Ultimate Guide
9. RNI Films
For iOS – Free
RNI is a photo editing app that develops filters to emulate the look of film photography while shooting digital.
Their filters are built from analog slides and negatives, packaged and compiled into an all-encompassing app.
And, RNI has features such as adjustment tools, RAW support, sharing for socials and in-app workflow.
10. Ultralight
For iOS – Free
Ultralight is a photo and video editing application.
It offers wide and nuanced control for editing. Plus, it includes features such as creating and saving your own filters, non-destructive edits and automatic saving, split toning, texture overlays, and selective masking.
In fact, it's an easy to use, powerful app that is perfect for any level of photographer.
11. PicsArt
With over 500 million downloads PicsArt is one of the most popular photo editing apps for mobile.
The app offers a collage maker, camera, video editor, effects, tools, and user-created stickers.
Plus, they invented the feature called, Photo Remix. Just take any images that are free to edit in PicsArt, add your own personal touch and share it with their creative community.
12. Unfold
Unfold is a photo editing app that focuses on collages, templates, and adding fonts to your images.
It has 25 templates, 90 premium templates, 5 fonts, and advanced text tools. It supports both photo and video media. 📷🎥🆗
And, Unfold offers high-quality export of your crafted stories to easily share them onto other social platforms.
13. A Color Story
A Color Story is a photo editing app that's heavily designed for color editing.
The app, "focuses on fresh photos and video, on-trend editing styles, and colors that pop."
Plus, the app has over 300 filters, 100 movable effects, 20 advanced tools, custom filters, Instagram grid preview, batch editing, and video editing tools.
14. Philtro
For iOS – Free
Philtro is an all-in-one photo editor.
With the app, you can use frames and filters to create your best pictures.
It also offers a collage maker, templates, and more. And, when you're finished editing – they make it easy to share on all of your social media platforms.
RELATED POST: How to Edit Photos: The Ultimate Guide to Stunning Photo Editing
The Best Paid Photo Editing Apps for iPhones and Android
15. Facetune
For iOS – $3.99
Facetune has become a best-selling photo editing app.
It's used as a tool to adjust and alter any problems you may have with your selfie. Some examples of how to use Facetune include – fixing skin blemishes, whitening teeth, and removing acne.
Facetune is an app for portraits. And, the app is designed to work like the powerful healing and spot removal Photoshop tools.
It's a quality app for removing small imperfections on your portrait images.
16. Afterlight 2
For iOS – $2.99
Afterlight 2 is a photo editing app that's recently been further improved beyond the original version of the popular Afterlight.
Now, it has powerful touch tools, curves adjustments, selective hue/saturation, dust and light leak overlays, frames, artwork, text and filter collections.
And, it has no hidden fees or subscription – purchase one time and access all of the updates for free.
17. MaxCurve
For iOS – $2.99
MaxCurve is a professional photo editing app with curves and a pro manual camera.
It has 28 curves, which users rave they haven't seen on any other apps. So if you're looking for something unique, this photo editing app is for you.
Plus, MaxCurve has an RGB, CMYK, Lightness, HSL, Lab, Layer, and Channel kit. Each of these kits offers a different look and creative features to your images.
And, the built-in manual camera allows you to adjust the exposure, ISO shutter speed, temperature, and focus.
18. RAW Power
For iOS – $2.99
RAW Power is a photo editing app that is focused on RAW images.
It's a full photo app that works with both RAW and JPEG files. And, within the app, you'll find tools such as presets, histogram, batch processing, enhance, highlights, deep color imaging, and more.
The app supports the file formats of RAW, JPEG, DNG and PNG.
RELATED POST: 3 Must-Have Smartphone Apps: VSCO, Snapseed, Lightroom Mobile
19. Duotone + 
For iOS – $2.99
Duotone + is a photo editing app that edits your images by choosing two colors.
Once, you have chosen your two colors – the appearance of your photo will change, resulting in a new, beautiful image.
Plus, this app offers tools for exposure, contrast, temperature, shadows, sharpness and more. If you want creative edits and a different look for your images, this is the app for you.
What's The Best Photo Editing App In Your Opinion?
So, as you can see, there are tons of free and premium photo editing apps for both iPhone and Android devices. Download them today to add your own creative, unique edits to any of your photos!
Can we ask for your opinion? Share your favorite photo editing app in the comments below and be sure to tell us why you love it so much!