Apple is known for having stellar camera features that people have patronized over the years, and it has remained progressive among other high-end phone cameras.
With features like the Ultra-wide camera lens, Night Mode, Portrait Mode, Cinematic Mode, and more, you can do a lot to take your mobile photography to the next level.
However, if you want to have manual control over your shots, there are camera apps available you can find on the Apple Store. In this article, we share the 10 best manual camera apps for your iPhone.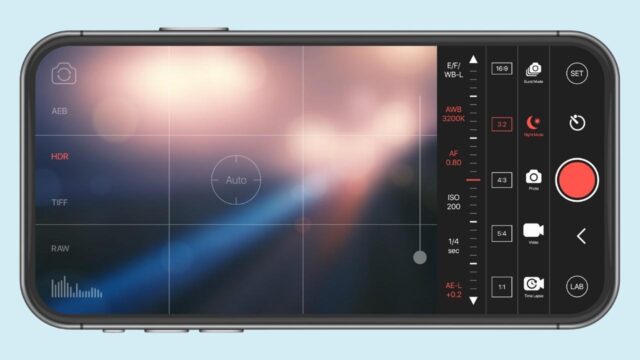 When you buy through links on our site, we may earn a commission at no cost to you. We evaluate products independently. Commissions do not affect our evaluations.
1. Halide Mark II – Pro Camera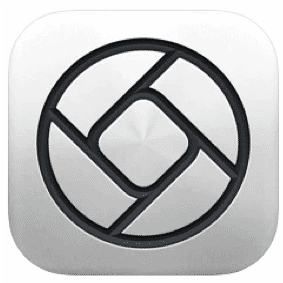 Halide Mark II – Pro Camera
Professional photography
Halide Mark II has all the features needed for amateur and professional photography.
Halide Mark II – Pro Camera is available for:
Pros
DSLR-like features
Easy access tools
Cons
Time-consuming when saving photos
Price: 7-day free trial. $49.99 one-time purchase. $2.99 monthly subscription. $11.99 yearly subscription.
Halide II is one of the best choices when it comes to manual control over your camera. Its tools are the perfect alternative for professional cameras, making them a handy choice for professional photographers. It has a simple interface for easy access to its features.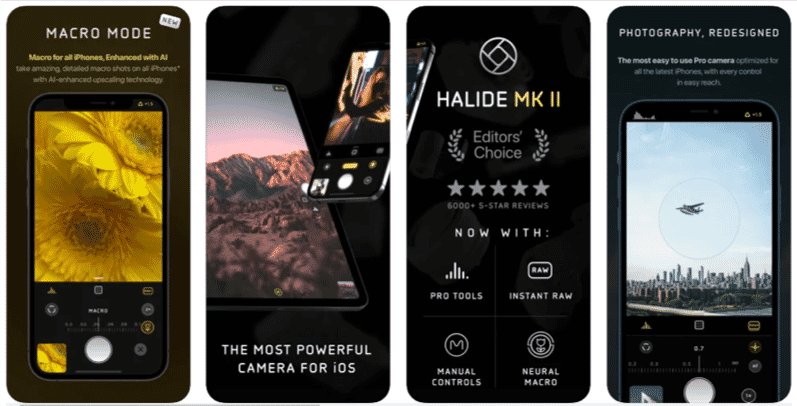 Halide II's ProRAW feature is great for taking clear and detailed close-up photos. You can choose between 12-bit or 10-bit ProRAW to create a balance between the file size and editing latitude. It also has features called Focus Loupe and Focus Peaking, which help you achieve sharp focus on your subjects.
Most of the app's powerful photography tools can be accessed on your screen when you open the app. It includes gestures, so if you want to switch from automatic to manual mode, all you have to do is swipe. You can also switch from macro mode to portrait mode with just a tap.
2. VSCO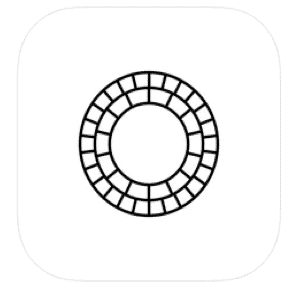 VSCO
Photo and video editing
It has presets that make photo and video editing easier.
VSCO is available for:
Pros
Has ten free presets for free version users
Easy use for novice photographers
Opportunity to share your creative shots
Cons
Only an annual subscription is available to access premium features
Price: Free with limited features; $29.99 for an annual subscription.
VSCO has advanced photo and video editing features that will take your photography to the next level. On the free version, you'll have access to ten available presets that will add flavor to your photos. But avail of their annual subscription and you'll get more than 200 different presets!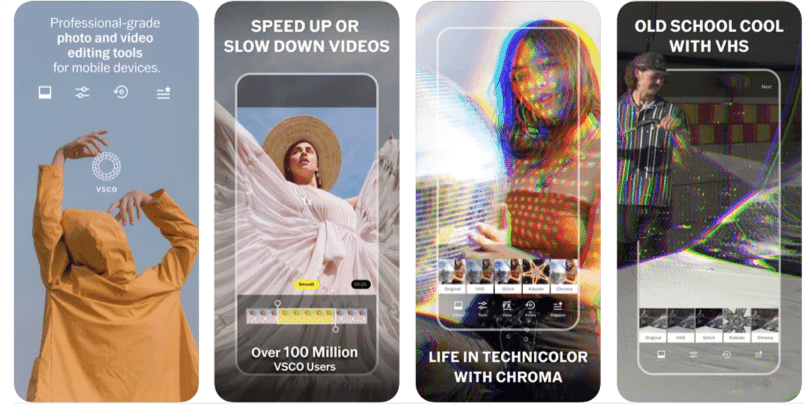 Their hundreds of presets can help add a vintage feel to your photos, which you can then frame using VSCO's creative and colorful borders. Premium also comes with other advanced features like HSL, Blur, Dodge & Burn.
With VSCO, a few lighting and color tweaks are enough to give your shots more radiance. The tools are readily available in the editing menu, so it's easy to choose your options and preferences. So, even if you're a novice photographer, this is an excellent app to mold your talent.
3. ProShot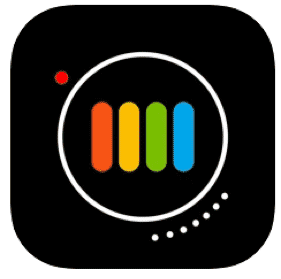 ProShot
Video and Filmmaking
ProShot is the best app for making videos and films. It has features that are not too complicated for a beginner.
ProShot is available for:
Pros
Intuitive and fluid UI system
Has full-resolution recording, video light, and adjustable intensity
Great for beginners
Cons
Prone to crashing
Price: $5.99 one-time payment, with in-app purchases ranging from $0.99 to $19.99.
ProShot is another user-friendly app for both seasoned photographers and beginners alike. It has features as powerful as your DSLRs, so you can take stunning shots anytime you encounter a good subject.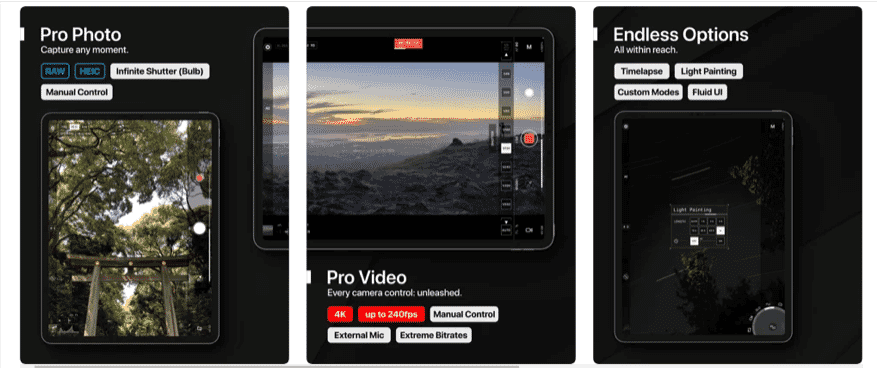 Choose between ProShot's auto, manual, semi-manual, or two custom modes and enjoy RAW image processing, time-lapse feature, and night theme mode for taking amazing shots similar to how professional cameras do it.
Unlike other apps, you don't have to try hard to familiarize yourself with its features as it is already accessible on your screen. It has a simple interface that is not too complicated for beginners.
4. ProCam 8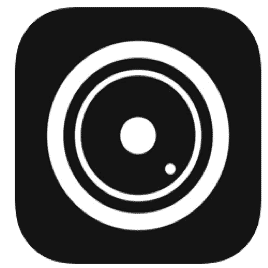 ProCam 8
Instagram photos
ProCam 8 is great for taking snapshots of memorable experiences, particularly for taking "instagrammable" photos.
ProCam 8 is available for:
Pros
Non-destructive video/photo editing
Can add background music to videos
Advanced editing options with different filters
Cons
Not all features are compatible with other iPhone models
Prone to lagging
Price: $7.99 one-time payment, with in-app purchases ranging from $0.99 to $4.99.
ProCam 8 is a good manual camera app for taking Instagram photos. It has different shooting modes that you can set based on your preference, and includes an auto-sync feature that saves your edits even if you accidentally exit the app.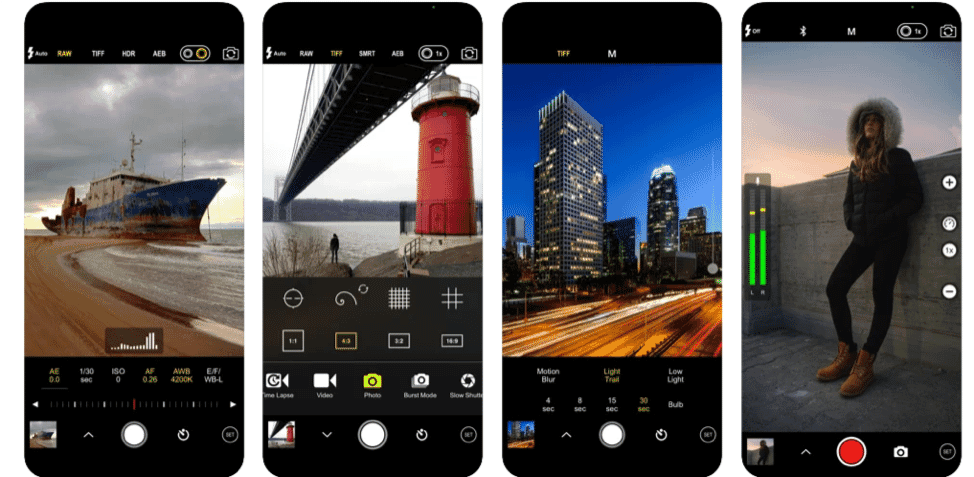 You don't even need to use Instagram's editing tools because this app guarantees and impresses with its sharp shots and wide range of filters and lenses for photo enhancement.
It also lets you edit videos frame by frame, so you'll have the opportunity to produce some truly impressive outputs. With ProCam 8 on your phone, you will be confident to share every snapshot of your life with the world.
5. Camera+ 2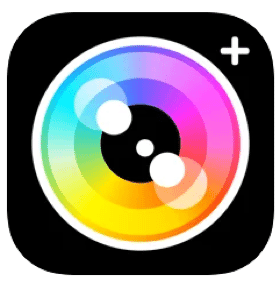 Camera+ 2
Overall quality
This app suits any model and operating system. Camera+ 2 includes several high-end photo and video editing features for your photography needs.
Camera+ 2 is available for:
Pros
High-end features
Not too complex
Preferred mostly by iPhone users
Cons
Some users encounter problems when saving photos
Price: $7.99 one-time payment
Camera+ 2 is a great app for photography experts and beginners. It includes high-end features such as presets, RAW shooting and editing that are suitable for any iPhone model.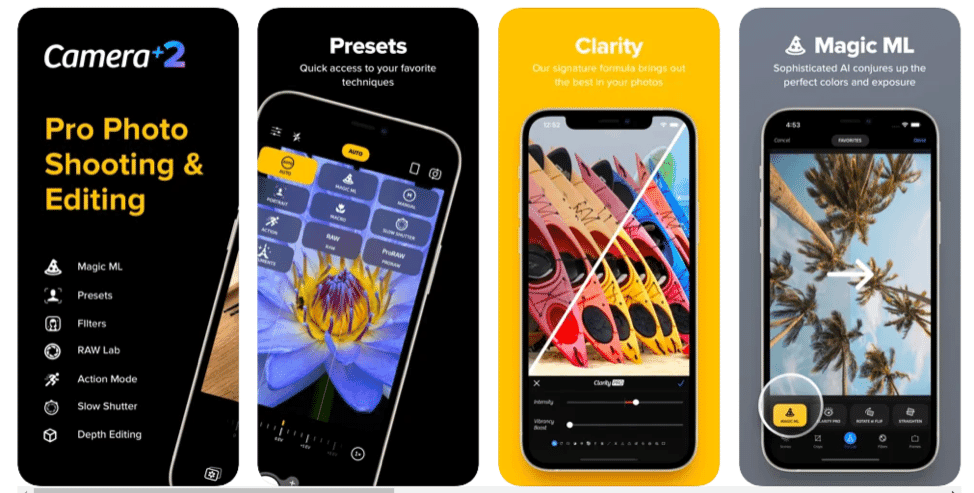 Unlike other manual camera apps out there, Camera+ 2 has almost all the necessary features that are found in your DSLR. You can edit RAW photos and videos with various tools like filters, exposure adjustment, shadow adjustment, white balance, and other powerful features to get the job done.
You can easily access all the features of this app by simply tapping and swiping. Camera+ 2's unique feature is the Magic ML that can be accessed in the app's menu. Your image will have the perfect color with just one tap.
6. Camera+ Legacy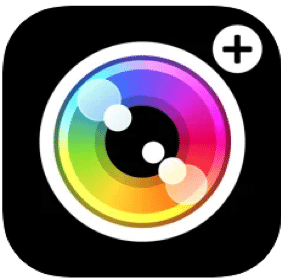 Camera+ Legacy
Sharing and syncing
Camera+ Legacy is another groundbreaking app developed by LateNite. It includes iCloud Lightbox sync that enables you to access your photos across devices with the app.
Camera+ Legacy is available for:
Pros
Great for sharing
Syncs photos easily
Has a wide range of effects, crops, and borders
Cons
Prone to crashing
Price: $4.99 one-time payment with in-app purchases
Camera+ Legacy includes features that are easy to familiarize and experiment with. You will certainly love taking pictures with this app in your arsenal.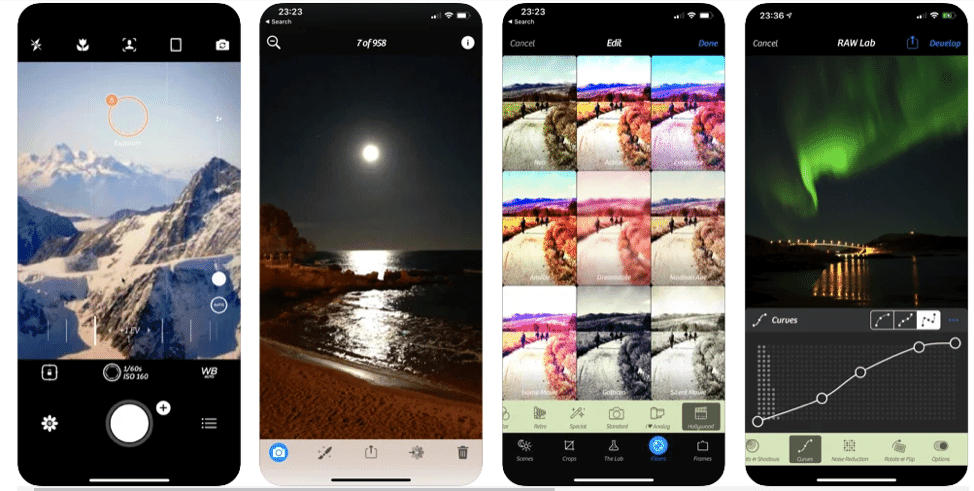 Whether you are taking selfies, portraits or landscape photos, this app has got you covered. It includes exposure focus that will enable you to control how light or dark your shot will be. It also has a wide range of effects, scene modes, and shooting modes that you can choose based on the subject you are capturing. With Camera+ Legacy, taking a selfie in a dark room is possible thanks to its front flash feature.
The app is easy to use, and your photos become even more accessible since they can be synced in the app. With this feature, you can access your photos across all devices with the Camera+ Legacy app.
7. Slow Shutter Cam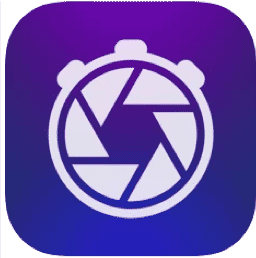 Slow Shutter Cam
Budget
Slow Shutter Cam is easy on the wallet.
Slow Shutter Cam is available for:
Pros
Has three capture modes
Real-time live preview of images
Unlimited shutter speed
Price: $1.99
Slow Shutter Cam is one of the best apps available for iPhone. It does not offer mere camera effects or filters, but also includes high-end features that are perfect for professional photographers to use.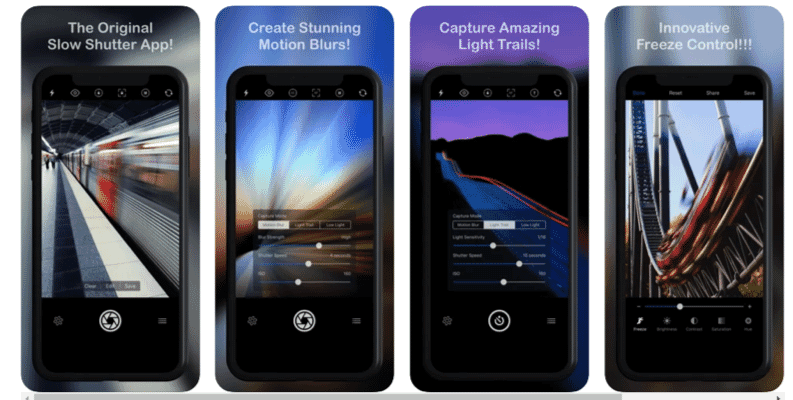 One of its best features is the low-light mode, where you can take clear and stunning photos even in dark environments. Just hold your iPhone steady and shoot!
It also includes other modes like motion blur and light trail. Using motion blur will add streaking visual effects on your photos. On the other hand, the light trail effect is best for shooting car lights or fireworks.
8. ProCamera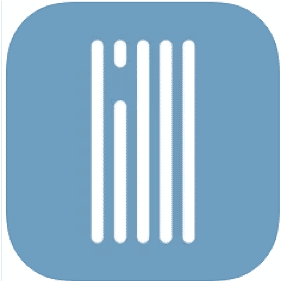 ProCamera
Traveling and vlogging
ProCamera is a trusted manual camera app for iPhones that offers manual, semi-automatic, and automatic modes, along with other features.
ProCamera is available for:
Pros
Easy to use anytime and anywhere
All-in-one photo, video, and editing app
Cons
Not all features are available in some iOS versions
Price: $14.99 with in-app purchases
What makes ProCamera great for vlogging is the HD and UHD 4k video, which allows you to take wide and clear videos. It also includes continuous video focus that you can turn on and off while recording. Other features like high bitrate recording, audiometer, stereo audio, and Dolby Vision HDR are also a plus.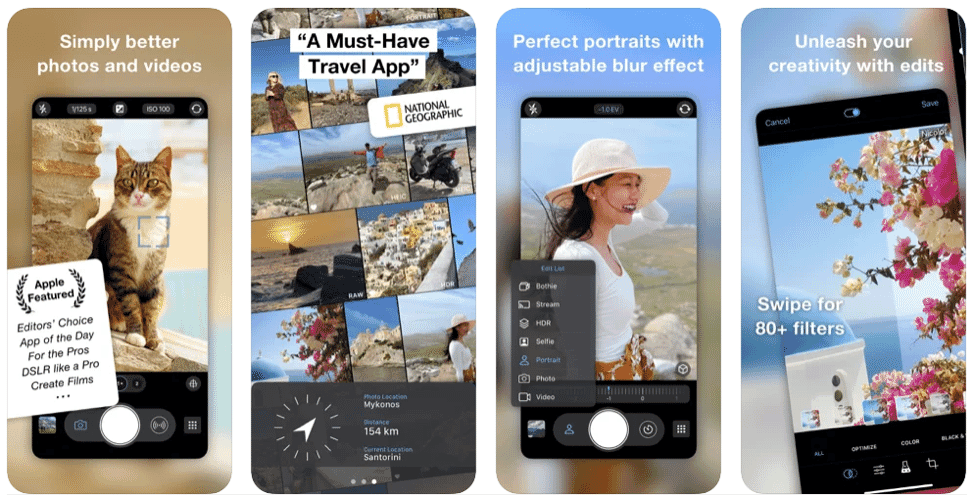 This is a very portable tool when you want to capture spontaneous photos. Its manual, automatic, and semi-automatic mode enables you to control its focus and exposure based on your desired outcome of the photo. It also includes dual and triple-lens support, adjustable fill-light, and more.
Additionally, you can control the white balance while taking photos and shooting videos. You can easily get all of these remarkable features straight from the app, and use them whenever you're on the go.
9. RAW+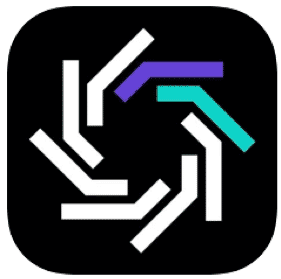 RAW+
Manual control
RAW+ app gives you complete manual control over your shots.
RAW+ is available for:
Pros
Easy access to the features
Full control over your shots
Cons
Prone to glitches
Price: Free for the first 100 shots. $7.99 for unlimited shots. $0.99 for monthly subscription.
RAW+ is a fully manual camera app that has the famous RAW and ProRaw features that enable you to turn your shots into more stunning and radiant photos.


With RAW+, you can enjoy features like manual exposure, manual override, white balance, and grid lines. All these features can be controlled manually, so you will have the opportunity to experiment with the different presets and filters available.
This app offers 100 free shots if you are a new user. After consuming all the free shots, you can choose between two subscriptions, either monthly or one-time payment.
10. Hydra II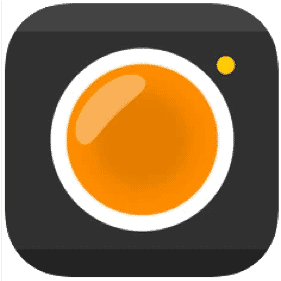 Hydra II
DSLR alternative
Hydra II is a wonderful option for people looking for the same shutter features found in a DSLR camera.
Hydra II is available for:
Pros
Has advanced AI technology
A good alternative for DSLR
Cons
Picture quality may vary in some iPhone models
Price: Free with optional in-app purchases. $5.99 for Pro Pack Upgrade. $11.99 for the Pro Pack. $0.99 for monthly Pro Plan. $5.99 for yearly Pro Plan.
Hydra II comes with high-end features that are available in DSLRs. One of the best things about this app is its high-resolution feature. Hydra II's advanced AI (Artificial Intelligence) technology makes its image processing stand out, so your images don't come out looking grainy or overprocessed.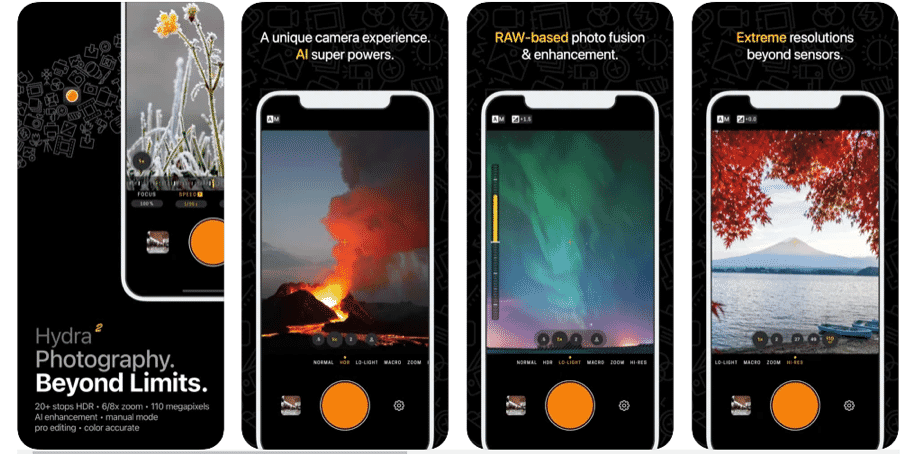 Its HDR is also the real deal for taking amazing photos. You can then further manually edit and process those photos like a pro thanks to its Macro and RAW shooting
Hydra II can be installed straight from the Apple Store for free. However, you'll want to avail of the Pro subscription to access all of Hydra II's features.
Conclusion
Whether you are a hobbyist or a seasoned photographer, installing a good camera app on your iPhone can be beneficial, especially if you want to spice up and level up your photography. It can also be a good start to hone your skills before buying your own DSLR.
Finding the right camera app for your iPhone can be confusing, as there are many apps out there that all promise quality service. We hope that this article helped you decide on the right one for your needs.