There are times when sharing just one photo isn't enough. Sometimes it's just as good – or maybe better! – to display more than one image, especially if you've taken a handful of pictures from a recent vacation or a party on social media.
There are definitely lots of collage-making applications out there. But which is right for you? In this article, we share the 10 best collage apps for iPhone users – so you can create stunning collages for social media, friends, and family.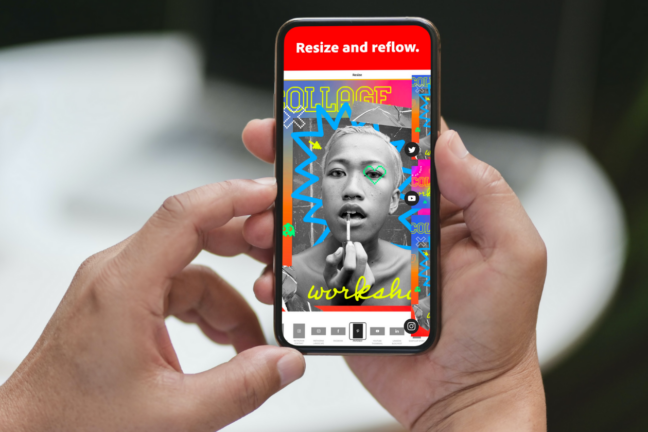 Best Photo Collage Apps for iPhone:
When you buy through links on our site, we may earn a commission at no cost to you. We evaluate products independently. Commissions do not affect our evaluations.
1. Adobe Express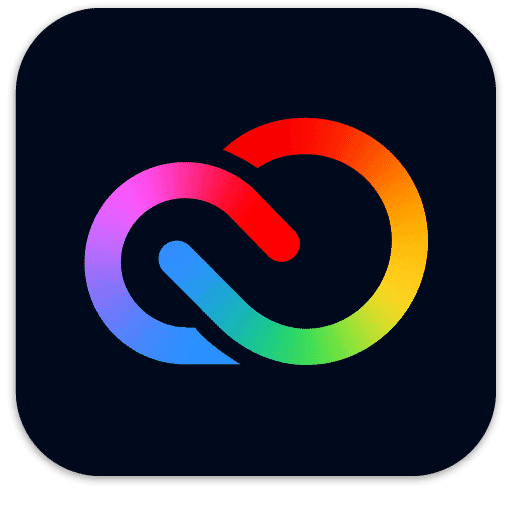 Pros
Provides thousands of creative templates
Allows integration with an Adobe account
Cons
Need a premium membership to access certain features
Previously called Adobe Spark, Adobe Express is an application designed specifically for graphic design and perfect for the budding social media marketer. It provides over a thousand templates and assets to create different types of social media content like posters, stories, logos, and more.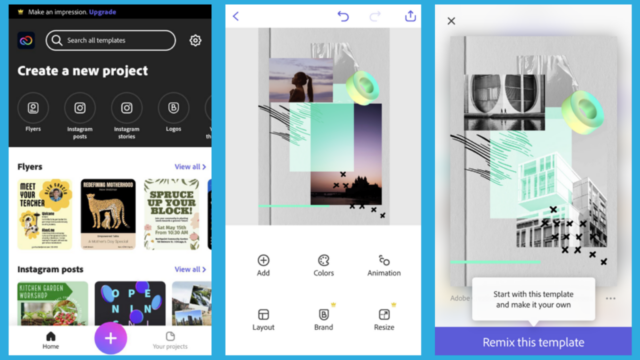 This photo collage app gives you access to Adobe's royalty-free photo collection and a number of Adobe Fonts. You get to freely create posts sized to specific ratios, including Instagram Stories, Instagram posts, Facebook covers, etc.
Related Post: Adobe Creative Cloud Express Review
To create your collage, you must decide whether you want to start from scratch or edit a template. If you choose a template, you can tap on the existing photos one by one and replace them with your own using the "Replace" option.
You can then enhance your photos with filters, remove the backgrounds, or even add texts, stickers, and animations.
2. Diptic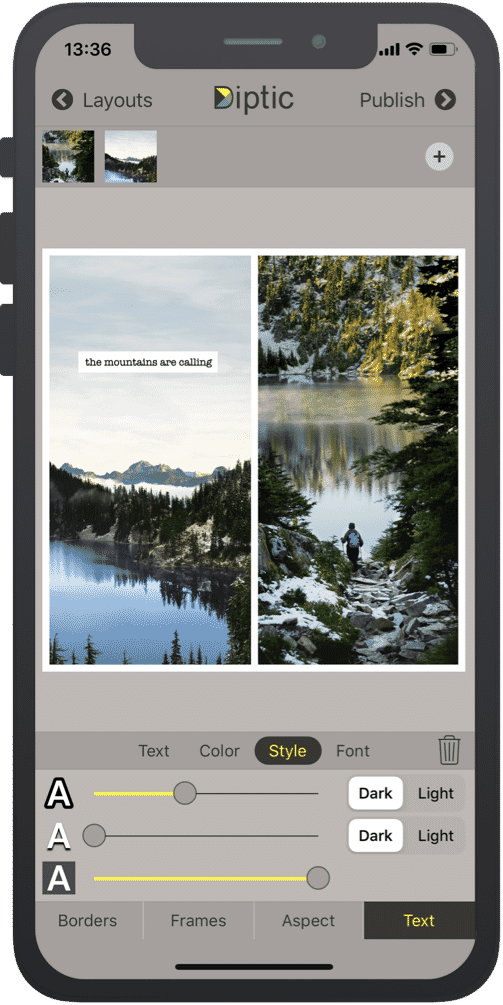 Diptic
Best for multimedia posts
Diptic provides customizable layouts with the option to add both videos and music from your own library.
Diptic is available for:
Pros
Very customizable
Lets you add videos and music to your collage
Also available for the iPad
Cons
Certain layouts require payment
Diptic is a photo collage app that boasts over 194 layout choices, all of which are designed to fit the needs of users. There is also another separate collection of layouts that are offered as in-app purchases.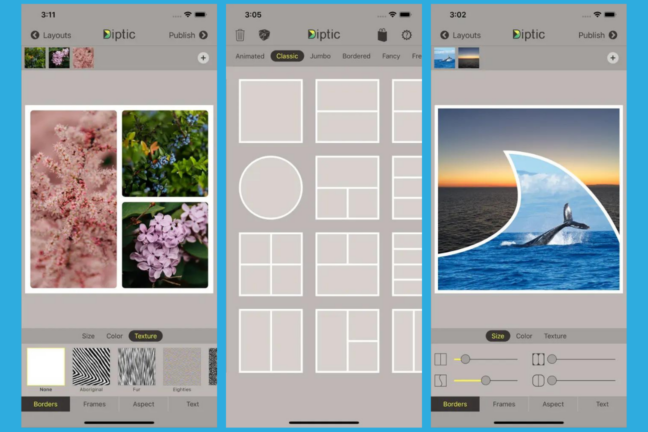 Diptic lets you create collages with both photos and videos. It lets you customize the existing layouts as well as the borders within and outside the photos. The app provides 14 filters to choose from, and you can make additional photo adjustments to brightness, contrast, and more. You can even add textures to both your images and videos.
Another feature that stands out is the ability to add music from your own personal library; this nifty feature isn't available in other collage-making apps!
3. MOLDIV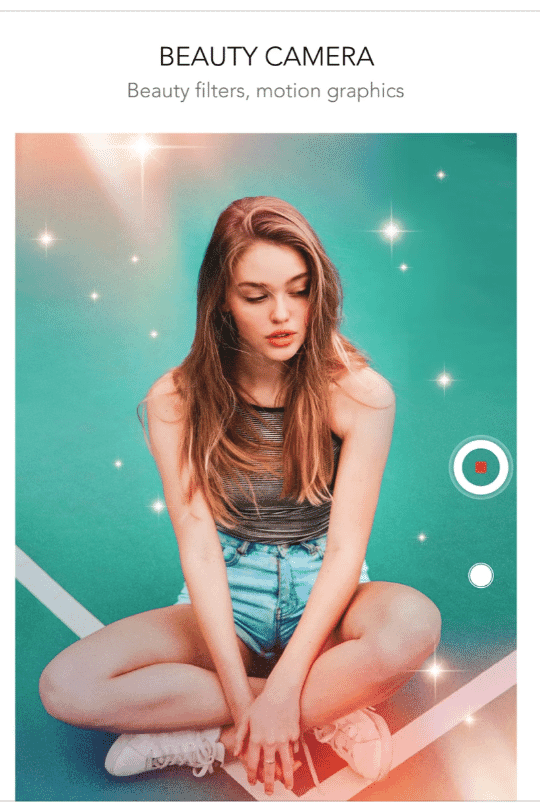 Pros
Allows photo resizing
Has its own integrated beauty camera
Cons
Layouts and templates are somewhat basic
MOLDIV is an all-in-one, easy-to-use app that lets you edit both photos and videos, and it's a great choice for beginners and professionals.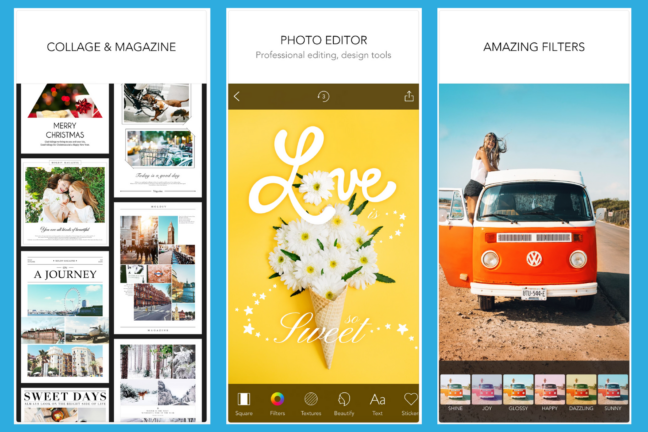 MOLDIV allows users to edit photos with a selection of over 190 filters and a number of design tools. It has its own integrated camera, which lets you take your own photos and videos within the application.
To create a collage, simply tap on the Collage option and choose from the 120 free layouts. If you pay the subscription cost, you'll gain access to the full collection of 312 layouts. After choosing a layout, select the photos you wish to use. You have the option to switch, rotate, and replace your chosen photos. You can even adjust the frame size and ratio.
4. PicCollage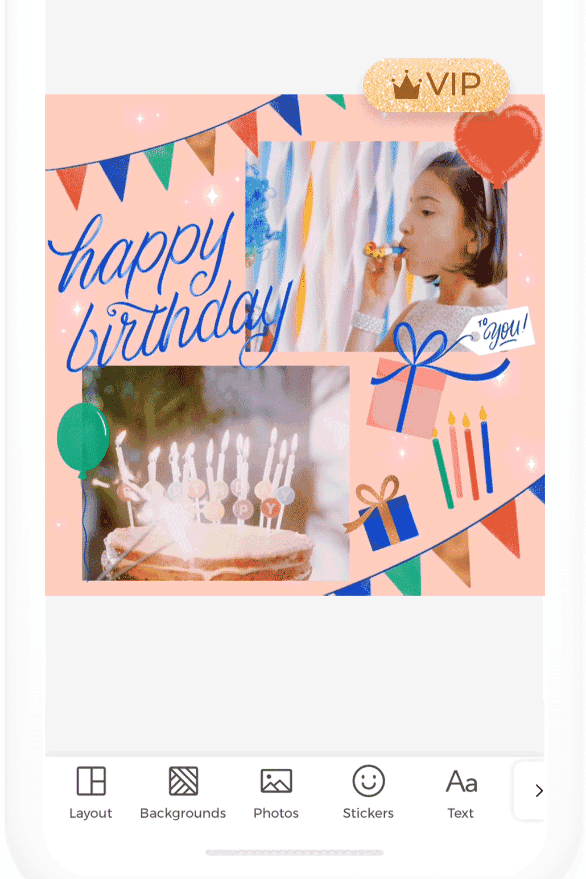 Pros
Seasonal templates
Can add up to 20 photos
Cons
Watermark can only be removed with a VIP membership
PicCollage was designed to make photo collages, and it's full of amazing features.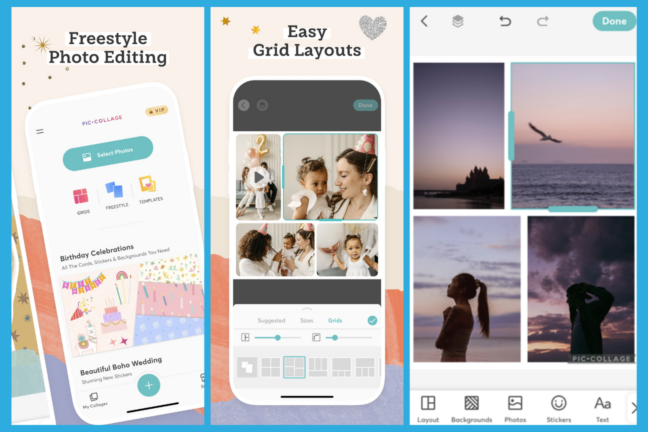 The free starter pack provides grid layouts that can display up to 20 photos in one collage. You can even adjust the photos to take up as much or as little space as you wish. And the app features a variety of seasonal templates.
The steps to creating a collage are easy to follow. First, choose from three options: "Grids," "Freestyle," or "Templates." Choose a post size and a grid layout or template. Finally, select your photos, then pair them with some nice backgrounds, texts, drawings, animations, and more.
5. Google Photos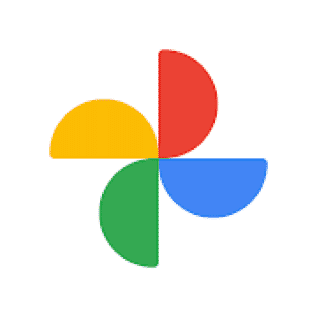 Pros
Can be connected to your Google account
Great for backup storage for photos
Simple collage function
Cons
Not designed for photo editing
Collage doesn't offer much customization
Google Photos is a photo application that connects to your phone's gallery and syncs it with your Google account. The app provides 15 GB of free storage, with the choice to automatically back up specific folders as soon as you open the application.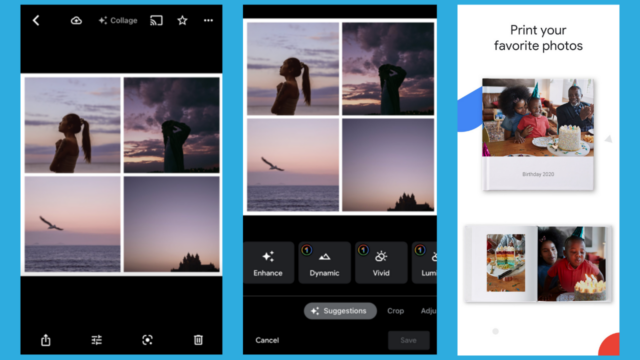 Google Photos also organizes your photos – and it lets you create animations, movies, and collages with your photos.
To make a collage, you must first navigate to the "Library" tab. Tap on "Utilities" and choose to create a new collage. Select up to nine photos in your library; the application will provide you with a collage in just a few seconds. And while you can't make significant adjustments, you'll be able to make a few minor alterations before you finish.
6. Layout
Pros
Completely free
Instagram integration
Can flip and mirror images
Cons
Can only select up to 9 photos
Limited customization and layouts
Layout allows you to select photos from your camera roll – or use the built-in Photo Booth to take shots – then instantly turn them into a fun collage for Instagram sharing.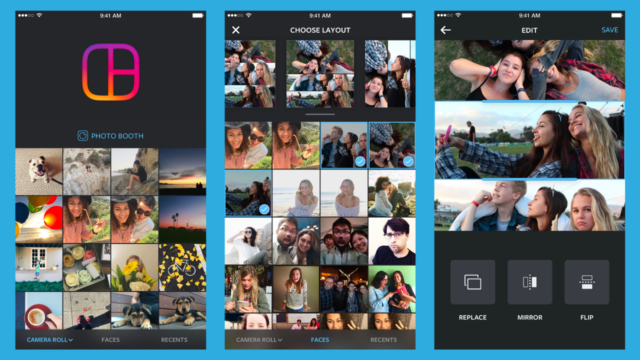 It allows you to easily move your selected photos around the layout, make adjustments by zooming in and out, and even mirror them. And the app has a handy feature called "Faces," which lets you quickly find photos of people in your camera roll.
7. Canva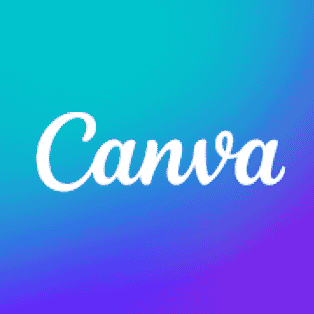 Pros
A large number of creative editing features
Has thousands of free stock photos, background music, and frames
Canva is a popular graphic design platform, and it's easy to see why. The app is packed with thousands of templates to choose from, and it even gives you the opportunity to create unique, aesthetically pleasing designs.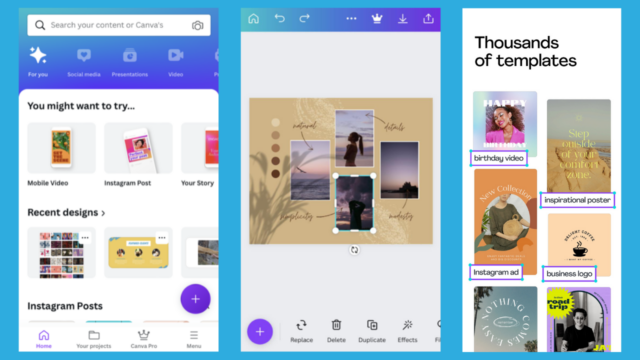 This app is a comprehensive multimedia editor that lets you edit photos and create posters, slideshows, and collages. It's also great for team-based designs as it allows for real-time collaboration on projects with just the tap of a finger.
To create a Canva collage, navigate to "Photo Collages" and pick from the numerous available templates. Like Adobe Express, you can simply click on the existing photos and replace them with your own. You can then add text and stickers for extra pizzazz.
8. Unfold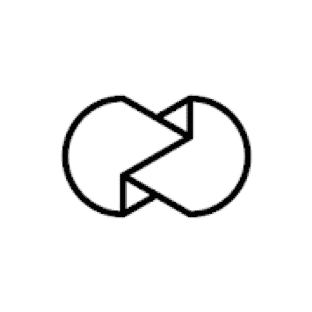 Pros
Allows post scheduling
Beautiful templates
Large collection of customizable layouts
Cons
Posts are the size of your phone and cannot be changed
The number of photos you can add is limited
Unfold is an easy-to-use application, one that's focused specifically on social media posts. It has over 400 templates to choose from, ranging from simple options in the Clasico collection to more complex picks in the Zodiac or Film collection.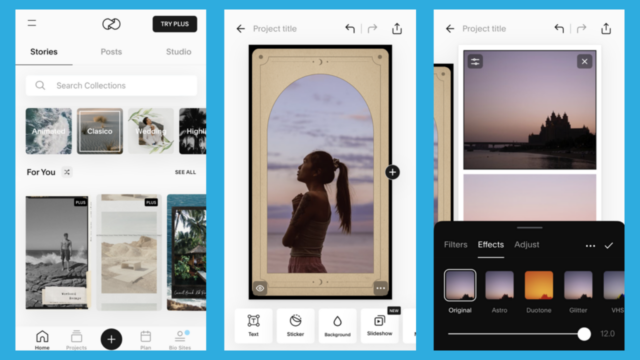 Unfold lets you add both photos and videos, and you can enhance them using filters or effects. You can also create "Bio Sites" to share your numerous links online, and you can schedule your posts ahead in the "Plan" tab. This makes Unfold the perfect companion for social media creators!
9. FrameMagic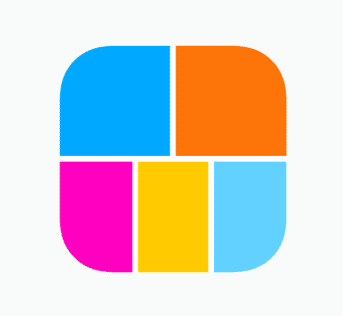 FrameMagic
Best for creative collages
FrameMagic enables its users to create truly amazing photo collages and slideshows via a bevy of unique collage options.
FrameMagic is available for:
Pros
Can edit with multiple styles
Can create polygonal layouts
Can add and arrange your photos freely
Plenty of options for customization
Cons
Cannot actually save photos unless you subscribe
FrameMagic boasts a selection of uncommon collages and allows its users to be highly creative in their collage designs. You can choose from unique collage types such as Vertical Stitch, Auto (which automatically creates a layout with an unlimited selection of photos), 3D Mesh, and Montage.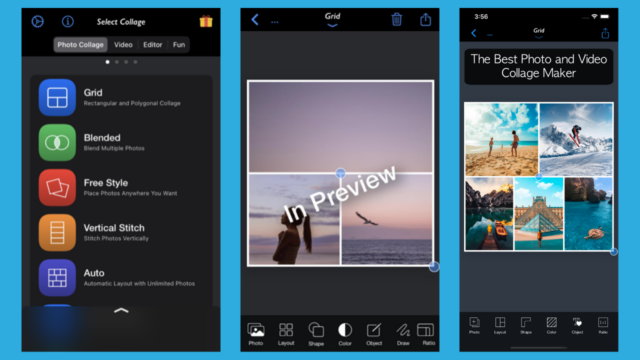 The application lets you load multiple photos at once, and you can add in unique decorations, backgrounds, and even gradients.
Making a FrameMagic collage is easy. For example, with the "Grid" option, you can simply select the "Photo" tab and load as many images as you want. This will produce an automated collage that you can easily customize to your preference.
10. PhotoGrid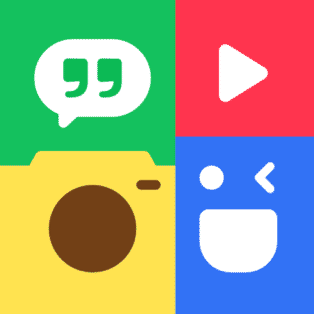 PhotoGrid
Best for basic collages
PhotoGrid does a solid job; it provides a range of grid templates and lets you easily edit your results.
PhotoGrid is available for:
Pros
Has unique and seasonal templates
You can make video grids
Over 20,000 different collage templates
Option to create and add your own logo and watermark
Cons
Watermark can't be removed without a subscription
PhotoGrid is an application developed to make collages, and it lets you create high-resolution designs that can easily be posted to different social media sites.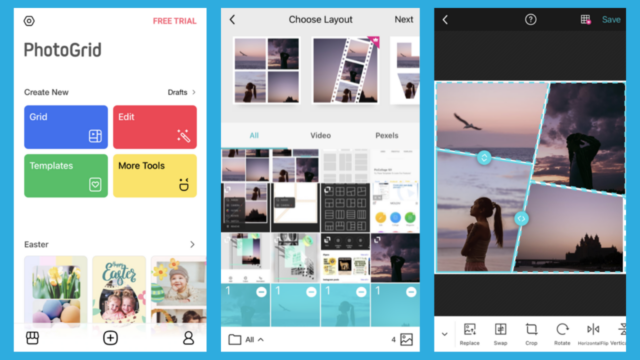 PhotoGrid can create both photo and video collages; it even integrates with a stock photo website so you can make use of their royalty-free collection.
To design a collage with PhotoGrid, you can choose from the existing collection of templates or tap "Grid" to create your own design. Once you select your photos, you'll see a set of layouts to choose from. Don't worry, though; you can still change the collage layout later on.
Pick the Perfect Photo Collage App!
Whether you want to arrange your photos in an artistic way or you want to create a simple grid to show off your best memories, collages are the way forward. There's no need to pick just one photo; put them into a collage, and you'll be good to go!
We hope you found a good app to make your collage. Choose the one that suits you best!