Photo resizing can be tricky. More often than not, resizing an image will reduce its quality, especially if you try to enlarge it. However, it is possible to get great results when resizing your photos; you simply need one of the best photo resizer apps.
In this article, we share the 10 best resizing apps for Android or iOS devices available in 2023. So read this list, pick an app, and resize photos to your heart's content.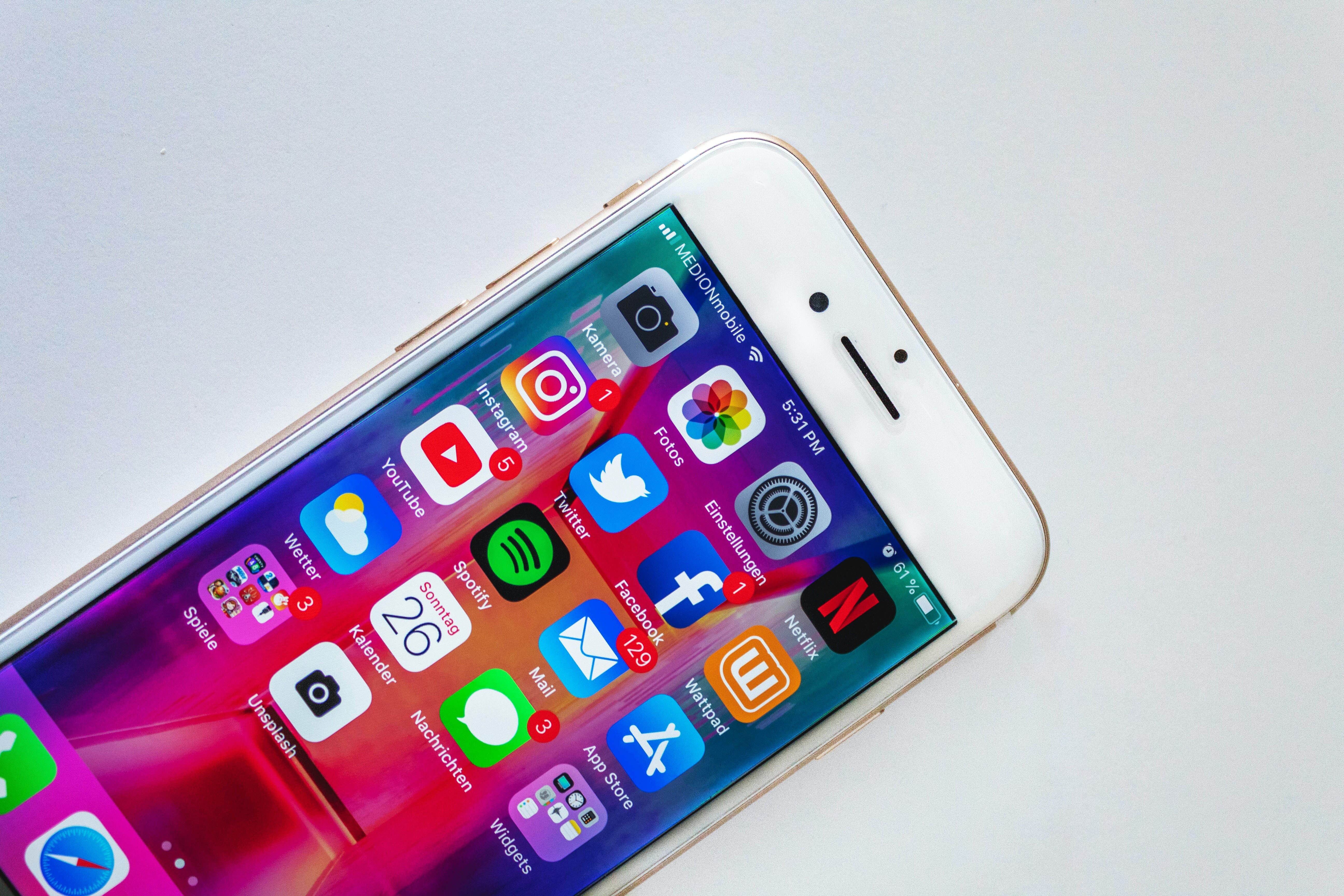 Best Photo Resizing Apps:
When you buy through links on our site, we may earn a commission at no cost to you. We evaluate products independently. Commissions do not affect our evaluations.
Best Photo Resize Apps
1. Image Size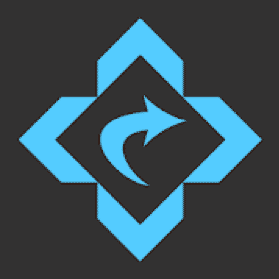 Pros
Completely free
A variety of possible sizes
Easy to use
Image Size is a completely free mobile application designed for image resizing. This means it offers a bunch of quick and easy options, like the ability to select the type of measurement you prefer (pixels, millimeters, centimeters, or inches).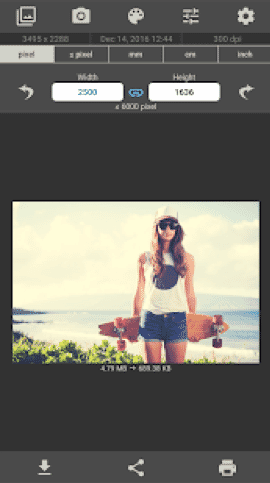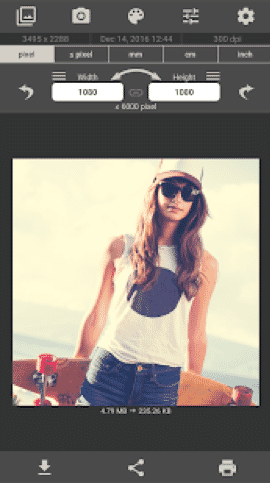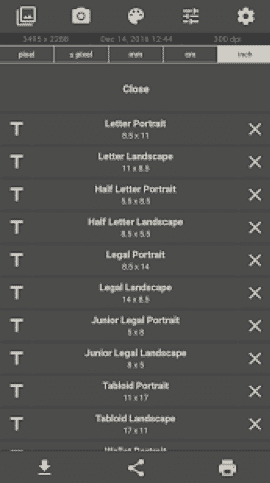 Concerned about aspect ratio? You don't have to worry; you can simply tap on the chain icon between the width and height inputs in order to link the dimensions when resizing. Then, as you adjust the width, the height will automatically be adjusted alongside it (and vice versa).
To make use of the app's image resizing feature, simply upload a photo and enter your preferred output size. Image Size will then adjust your image to the indicated size (with the option to crop the photo afterward).
2. Pixlr
Pros
Basic Photoshop alternative
Also includes retouching tools
Cons
Has a tendency to be buggy
Pixlr, formerly known as Pixlr Express, is a photo editor with plenty of different tools. It allows for photo collages, easy photo enhancements, and retouching. You can smoothly remove red-eye issues and even whiten teeth with the app's many options.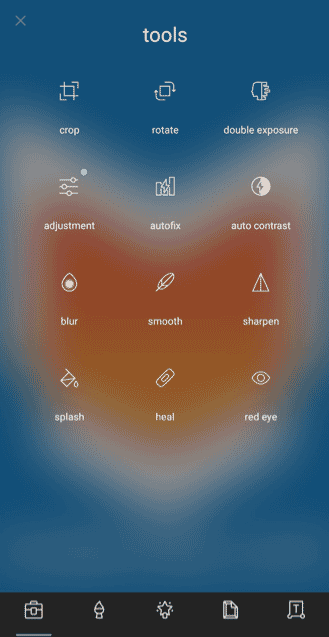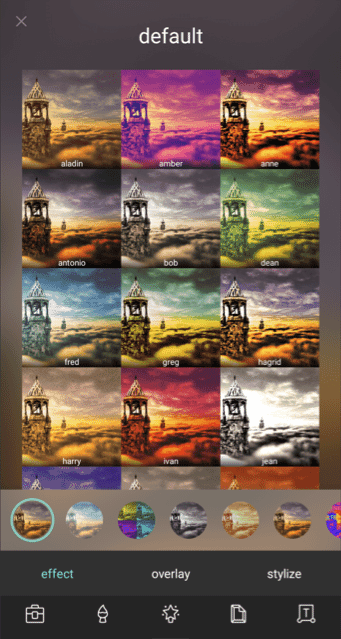 To resize a photo with Pixlr, tap on "Photos." Edit the photo to taste, then tap "Done." This will redirect you to the next section, where you will then see the option to "Resize Image." Add in your preferred dimensions and watch as your image is resized!
Also Read: Best Photo Collage Apps for iPhone
3. Resize Me!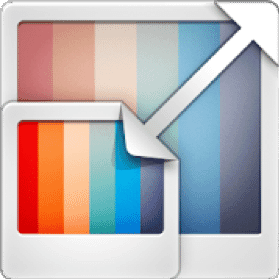 Resize Me!
Best for batch resizing
Resize Me! is a free application that easily resizes your photos and includes a variety of settings for fine-tuning.
Resize Me! is available for:
Pros
Provides specific settings for resizing
Allows for batch resizing
Completely free
Cons
Not available for iOS devices
Resize Me! is a photo resizer that is designed for easy and seamless photo resizing. It allows for custom size selection and allows you to make minor adjustments (like cropping and rotating).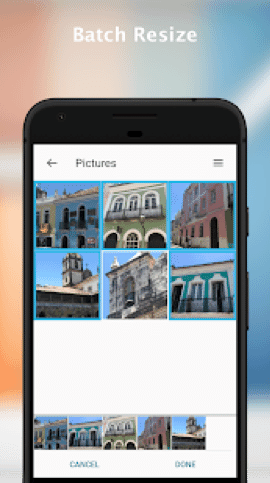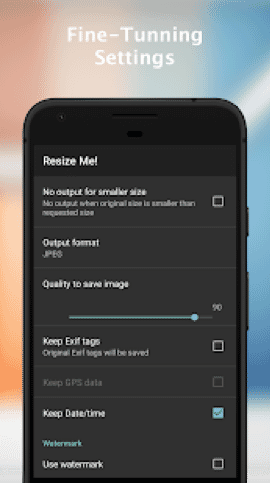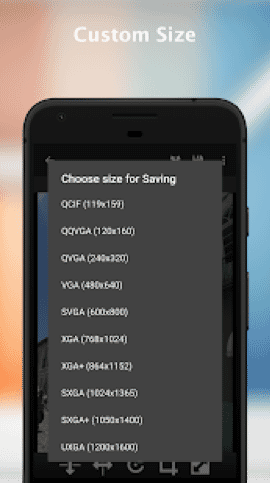 The application also provides some fine-tuning options to keep your photos looking great. You can choose your output format, select the quality of your image, and even add an image watermark.
But the best part is probably its batch resizing option, which can save you a lot of time. With Resize Me!, you can select a large number of photos and watch as all of them are resized to your specified dimensions.
4. Picsart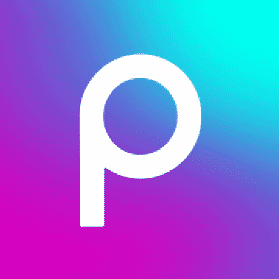 Pros
Has a large variety of features and editing tools
Offers real-time collaboration
Picsart is an application where you can edit both photos and videos. It has a variety of tools and even offers its users real-time collaboration on their projects.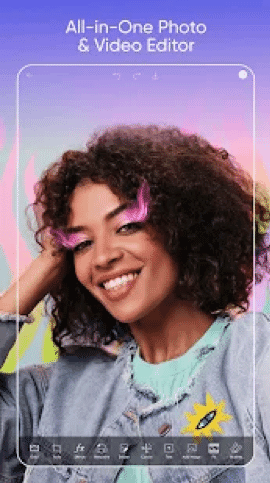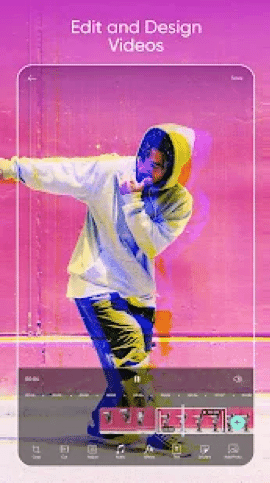 Picsart provides basic editing features offered by every photo-editing application, but it also offers more unconventional and unique options, such as glitch effects, object and background removal, double exposure effects, and more.
Resizing a photo is easy with Picsart. Tap the "+" button at the bottom of the screen and choose your photo. Then select "Tools," tap on "Resize Image," input the dimensions you wish to use, and that's it! Easy as pie.
Also Read: Picsart Review
5. Photo & Picture Resizer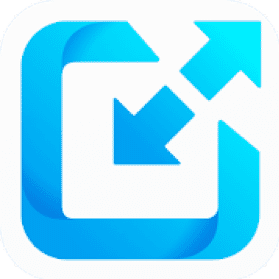 Photo & Picture Resizer
Best for photo enlarging
This application is an easy photo resizer that can enlarge and downsize photos without compromising image quality.
Photo & Picture Resizer is available for:
Pros
Keeps both original and resized photos
Allows users to take photos within the app
Offers batch resizing
Cons
Not available for iOS devices
Ads can be intrusive
Photo & Picture Resizer is another app that can quickly resize a photo without much hassle (unless you count the ads, that is!).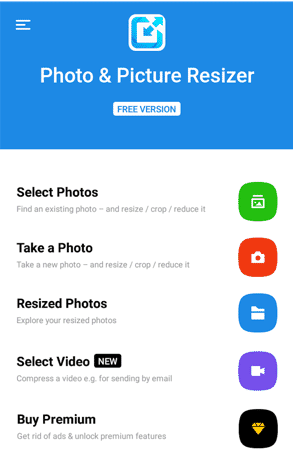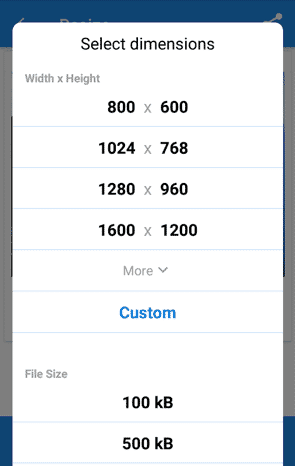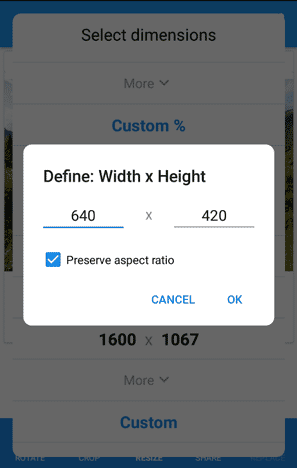 Like Resize Me!, this application allows batch resizing. Simply choose the photos to be resized, edit your settings, and your photos will be good to go. You even get to see the details of your original and resized batch, including the amount of memory they're taking up.
6. Reduce Images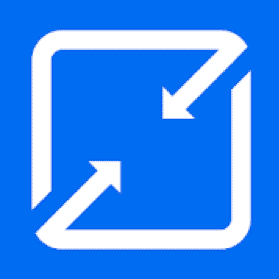 Reduce Images
Best for online image sharing
Reduce Images is a quick photo resizer that reduces the dimensions and file sizes of photos in order to make them easier and faster to upload online.
Reduce Images is available for:
Pros
Has an equivalent web application
No ads
Shows original resolution
Cons
Not available for iOS
For seamless uploading and sharing of images on Facebook and Instagram, you generally need to downscale your photos, and that's where Reduce Images comes in. With Reduce Images, users can reduce their photos to the necessary sizes for uploading purposes.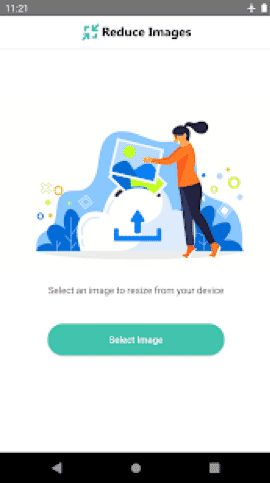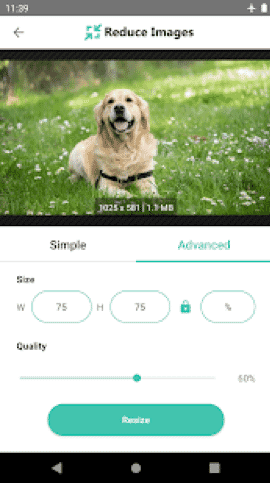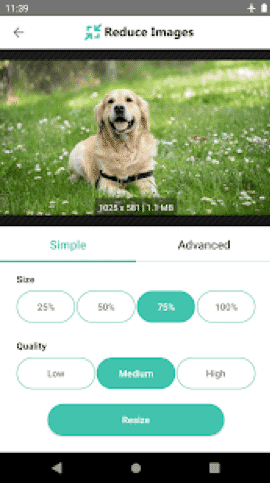 The application has two modes: Simple and Advanced. Simple mode is faster, where you simply choose the percentage of reduction and image quality. But with the Advanced mode, you can be much more specific. You can indicate the exact dimensions you need and lock the aspect ratio so it won't be affected.
To resize your photo, simply select a preferred photo from your gallery and upload it to the app. Then choose from the two modes and indicate your size preferences. The app will provide you with your downscaled photo in just a few seconds.
7. Photo Resizer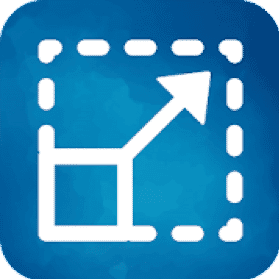 Photo Resizer
Great for batch resizing
Photo Resizer provides many different settings, including dimensions and cropping, to resize files as required.
Photo Resizer is available for:
Pros
Keeps original quality
Allows batch resizing
Allows for original aspect ratio
Cons
Not available on iOS
You can only email your finished photos
Photo Resizer is another application designed for efficient photo resizing. It has an easy-to-use interface that shows the details of both your original and resized photos for a trouble-free comparison.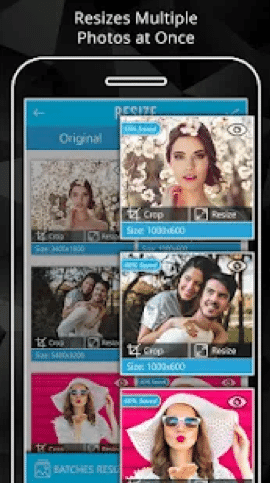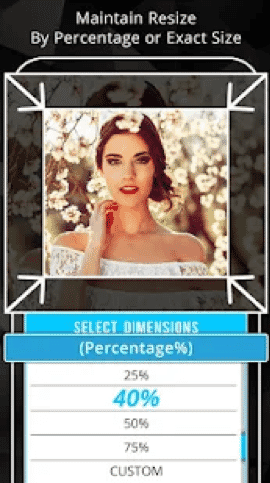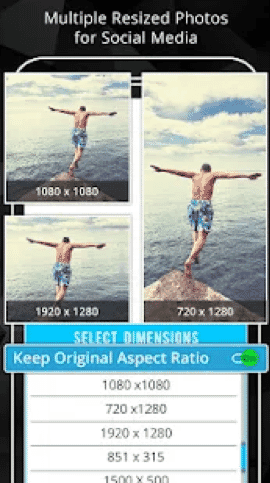 Your resized photos will not affect the original image quality, which is great, especially if you tend to change your mind a lot! It's also possible to compress your photos and share them as a ZIP file, making them easier to send through email or text.
To resize a photo, select one or more photos to resize. You can then edit each one by cropping and selecting your desired dimensions and size. Wait for all of the images to save, and then tap "Share" to send them to your desired platform.
8. XGimp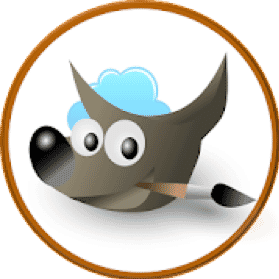 Pros
Has advanced features
Familiar if you're used to the desktop app or Adobe Photoshop
Free
Cons
Prone to crashing
XGimp is an expert photo-editing and retouching application that was made to look, function, and feel just like GIMP. It has most of the desktop app's familiar features like painting tools, layers, and channels.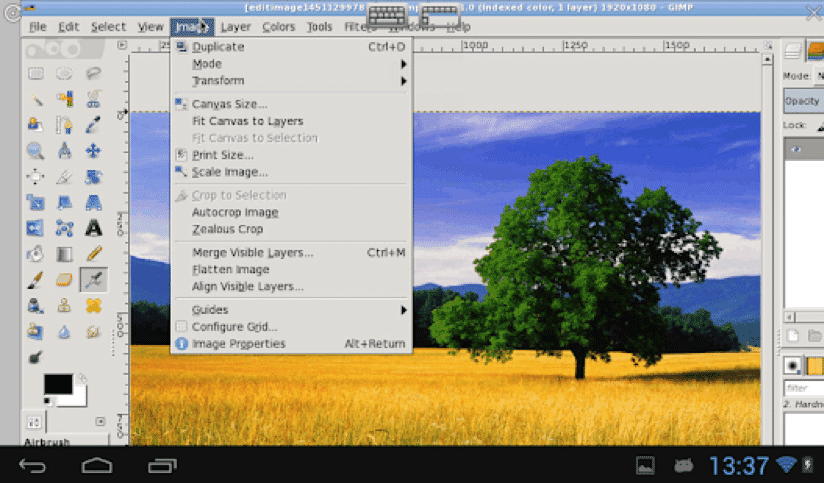 And because it is modeled almost exactly like the desktop version, it comes in landscape form, which is unusual for a mobile editing app. For this reason, XGimp is perfect for resizing and editing landscape-orientation photos.
To resize a photo in XGimp, tap on "Image," then look for the "Scale Image" option. You'll then see a dialog box that allows you to change the width, height, resolution, and quality of your image.
9. Resize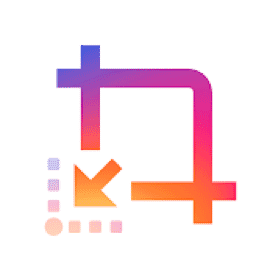 Pros
Also allows for video resizing
Allows you to add background colors and stickers to the canvas
Cons
Premium plans are expensive
With Resize, you can reduce file size up to 90 percent while keeping 75 percent of the quality intact. And this feature applies to videos, too!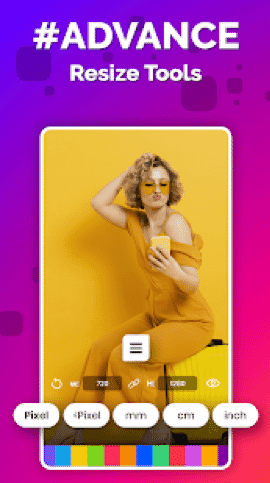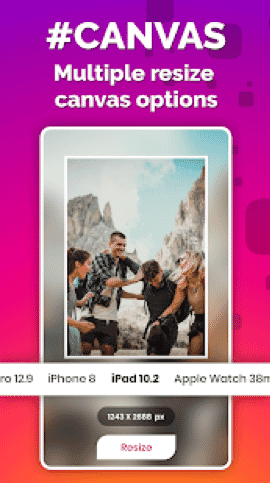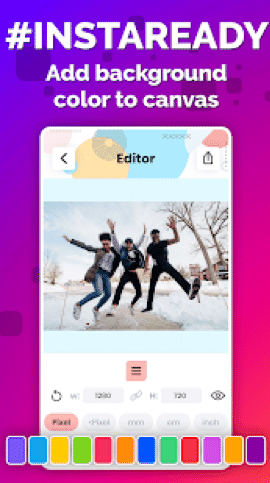 The application allows you to resize your photos and videos any way you want. You can select your unit of measurement and type in the exact dimensions you need. You can even choose to resize the canvas to fit a popular aspect ratio (the app offers ratios for iPhone, iPad, Apple Watch, and 4K).
To resize a photo or video, just type your chosen dimensions into the editor. You also have the option to add a background!
10. Instasize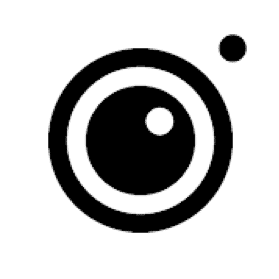 Pros
Includes basic retouching tools
Can edit both photos and videos
Can use videos as backgrounds for photos
Cons
Limited sizing options
Instasize offers plenty of tools to edit your photos and videos, including more than 130 filters, ranging from natural looks to more vintage styles.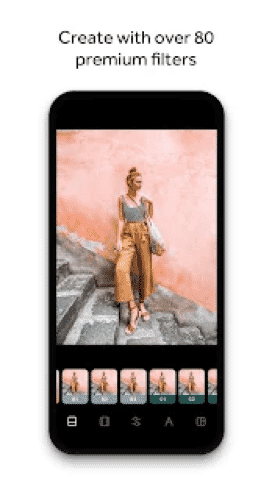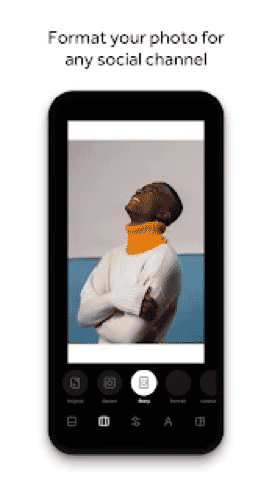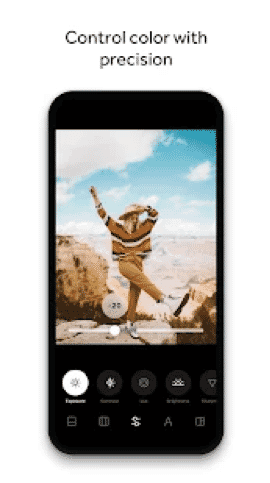 It also offers over 100 borders as well as a collage maker for your photos. And you get the option to use videos as backgrounds for either a photo or video, a neat little trick that isn't offered by most of the editors out there.
To resize your images with Instasize, select a photo, then choose a specific canvas size such as Square or Instagram Story. You can then edit the photo to your heart's desire.
Related Post: Best Photo Border Apps
Pick a Resize App!
It is now so much easier and faster to resize photos on a smartphone. You just need the right app and tools! Of course, at the end of the day, the best photo resizer app is the one that fits your budget and fulfills your needs.