For those who often take portrait photo selfies, a face editing app is a handy tool to have. They offer plenty of specialist tools and features to dramatically improve the quality of portraits and selfies.
In fact, if you post regularly on social media or you need to create high-quality selfies and portraits for your profession, a face editing app could be precisely what you need.
In this guide, we have chosen seven of the best face editing apps available in 2023, both free and paid!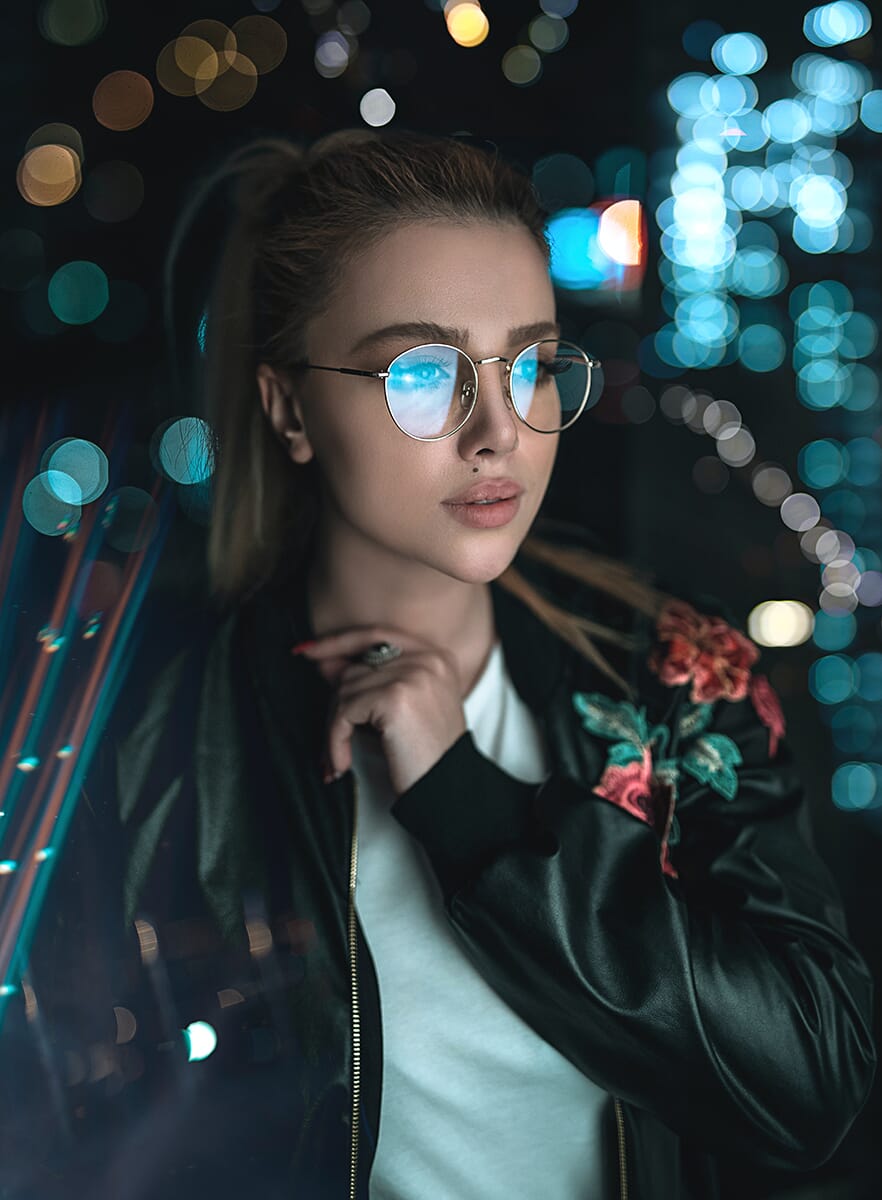 When you buy through links on our site, we may earn a commission at no cost to you. We evaluate products independently. Commissions do not affect our evaluations.
1. Facetune 2 (Freemium)
Best Paid
Pros
Simple layout and intuitive tools
Excellent automated adjustments
A wide range of facial improvement tools
Cons
Not the cheapest app available
FaceTune 2 is the absolute best face editing app available in 2023; you can buy it on the Apple Store and Google Play Store, though it does have a limited free trial version. After the trial is complete, you must pay a monthly subscription or a one-off cost.
Compared to some other face editing apps, Facetune 2 is on the expensive side. The minimum subscription price sits at $1.99 per month and the one-off fee is $69.99, which puts it on par with many desktop photo editors.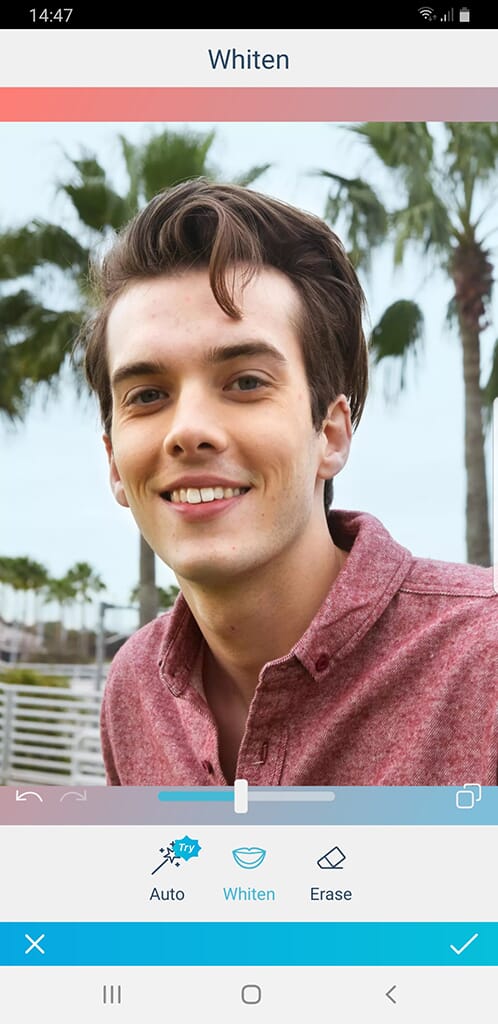 Regardless, Facetune 2 offers an excellent set of tools. You can edit literally every aspect of your face, including shape, eyes, nose, eyebrows, and lips. It also has a host of automatic tools. For example, the app will automatically detect teeth in a photo for whitening.
Facetune 2 also lets you adjust hair color and even apply makeup. So if you want creative, in-depth portrait editing, Facetune 2 is a top option.
2. Perfect365 (Free)
Best Free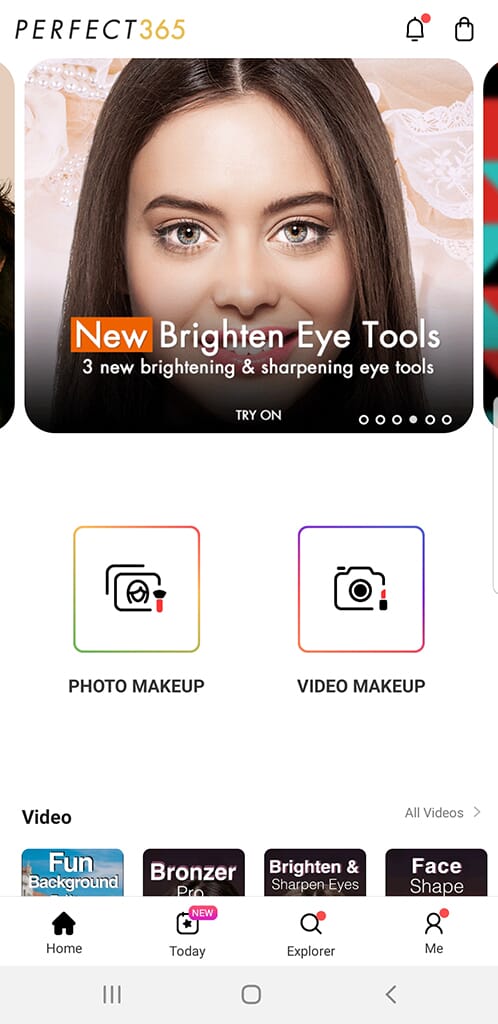 Pros
Simple, intuitive tools
Can apply different overlays (like wigs)
Can edit faces in minute detail
Cons
Advertisements can be irritating
If you like experimenting with different makeup styles or doing controlled, professional-level edits, Perfect365 is the way to go.
This app is available for free from the Google Play Store and Apple Store, though – as with most freebies – you'll need to put up with obtrusive advertisements. If you prefer to work with zero advertisements, you can upgrade to a $2.59/month premium subscription, which includes a host of additional features and content.
For basic face editing, Perfect365 has a similar set of tools to Facetune 2. You can remove blemishes, brighten skin, soften skin, add makeup foundation, whiten teeth, change your smile, and even apply effects like lip plumper.
We also like that you can add different overlays to your selfies. For example, you can add a range of different wigs; you can also reshape them to fit the shape of your face and head.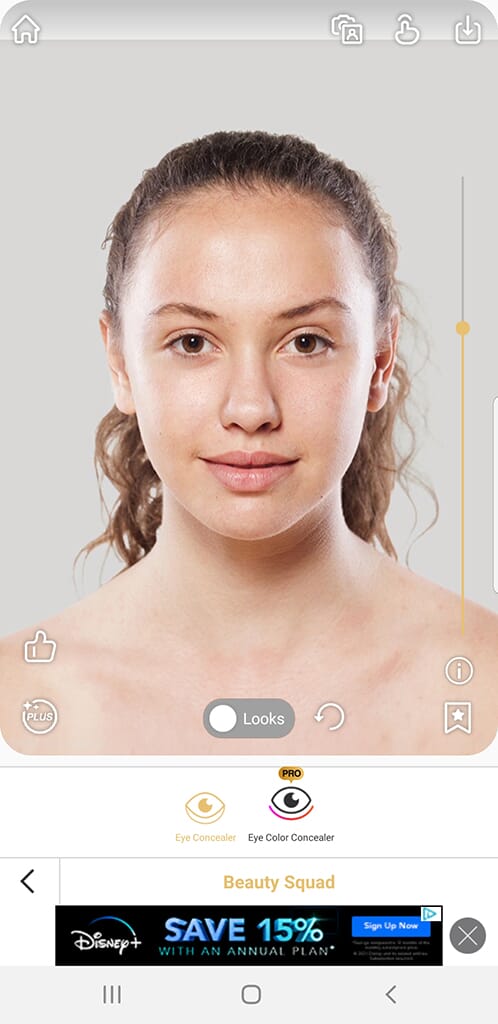 Another great feature of Perfect365: it includes a selection of content creators whose styles and editing tutorials you can try (or emulate). This is great for those who need inspiration, and it's a great way to find that creative spark.
3. Visage Lab (Free)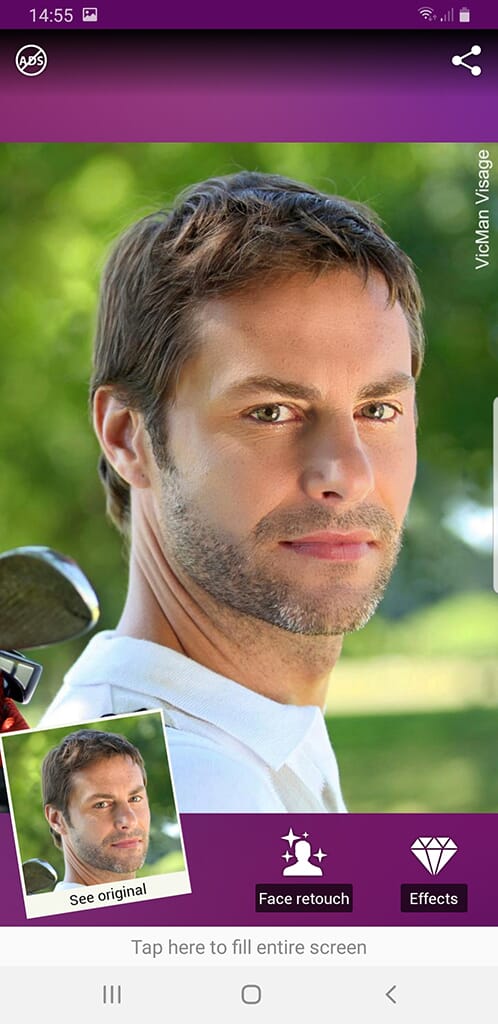 Pros
Incredibly quick and easy to use
The end result is fantastic
The pro version is cheap
Cons
No advanced control
If you don't have time to edit photos in great detail, or you're not confident with your editing abilities, a simple and effective free app like Visage Lab will do the trick. Visage Lab is an automated face editing app that is available for both Android and iOS smartphones.
It offers a pro version, which can be purchased as a one-off fee of just $2.99 and is certainly worth it if you intend to use the app often. The upgraded version lets you access the complete set of effects, plus all adverts and watermarks are removed and you can save images at their maximum resolution.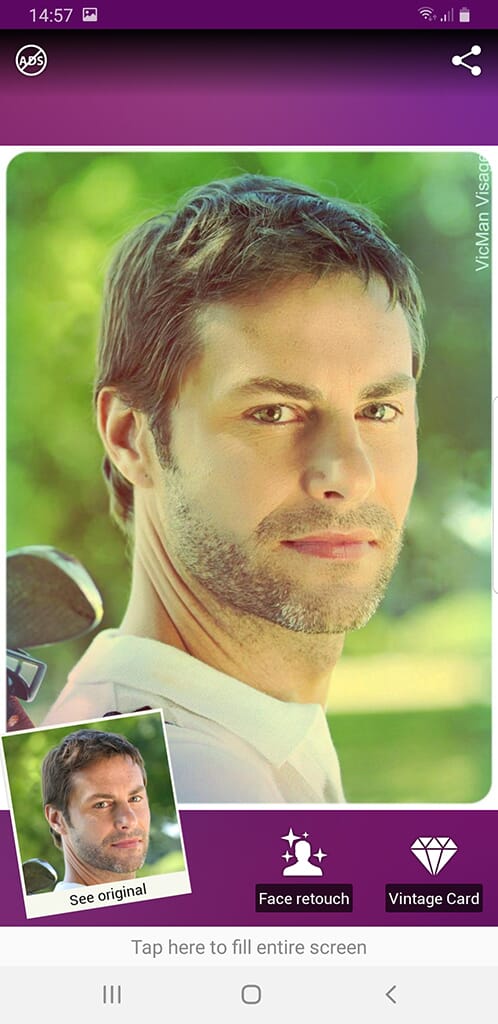 For selfie and portrait improvements, Visage Lab has a set of automatic effects. These include skin makeup, shine removal, wrinkle-smoothing, eye makeup, teeth whitening, and color enhancement. You can tick or untick each of these options to determine which are applied, but you cannot edit the parameters of the individual effects.
The effects are realistic, and the result is a pleasing photo that greatly enhances portrait quality. You can edit portraits in seconds; however, the downside is a lack of advanced controls.
4. Fotor (Paid)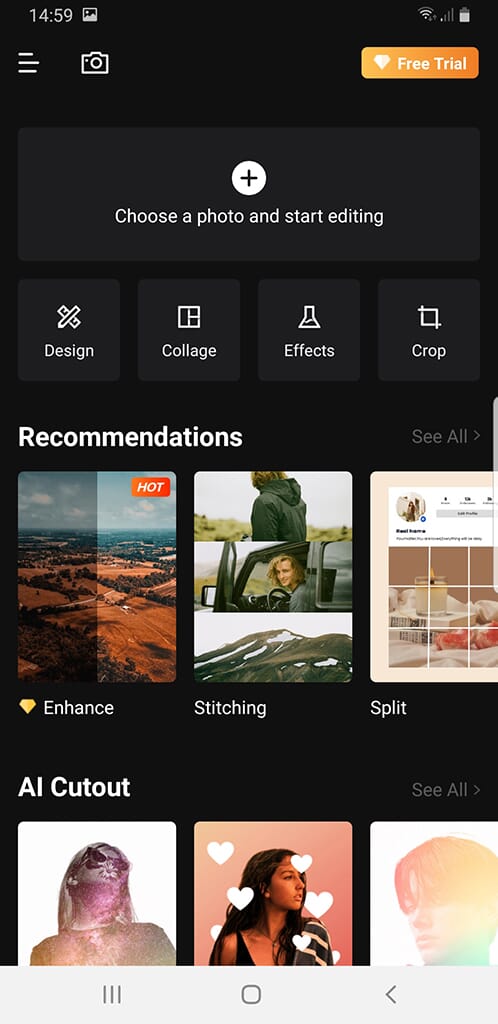 Pros
The interface is easy to use
Has a detailed set of RAW editing tools
Can easily adjust parameters using sliders
Cons
Lacks the dedicated face-editing features of other apps
Fotor is primarily a photo editing app that also has face editing capabilities. This is a good app for those who mainly need standard photo editing, but occasionally edit portraits and selfies, too. There is a free trial available for Fotor from the Apple Store and Google Play store, but you must eventually upgrade to a subscription, which currently costs $2.92 per month.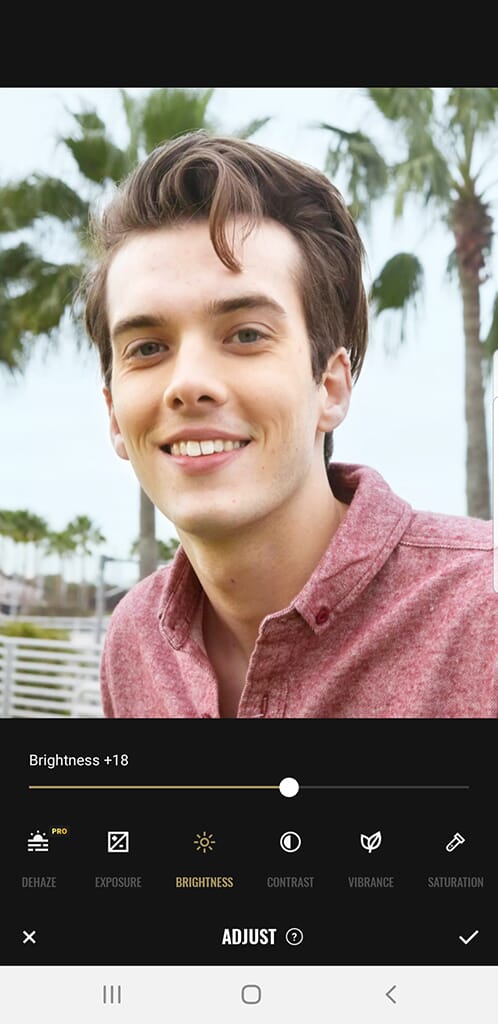 Fotor has a comprehensive set of editing tools similar to Adobe Photoshop Express. For portraits, you can adjust things like brightness, exposure, contrast, vibrance, and saturation, for complete control over the colors and tones. Also, Fotor offers a "scenes" tool, which includes a dedicated portrait option to automatically improve the quality of the photo and boost image brightness.
For advanced editing, Fotor really is an outstanding app. We also like the great selection of effects that you can apply to your selfies and portraits, split into different categories like Vitality, Nostalgia, Retro, and Modern.
The only downside to Fotor is that it lacks some of the special face editing tools included in apps like Facetune 2 and Perfect365.
5. AirBrush (Free)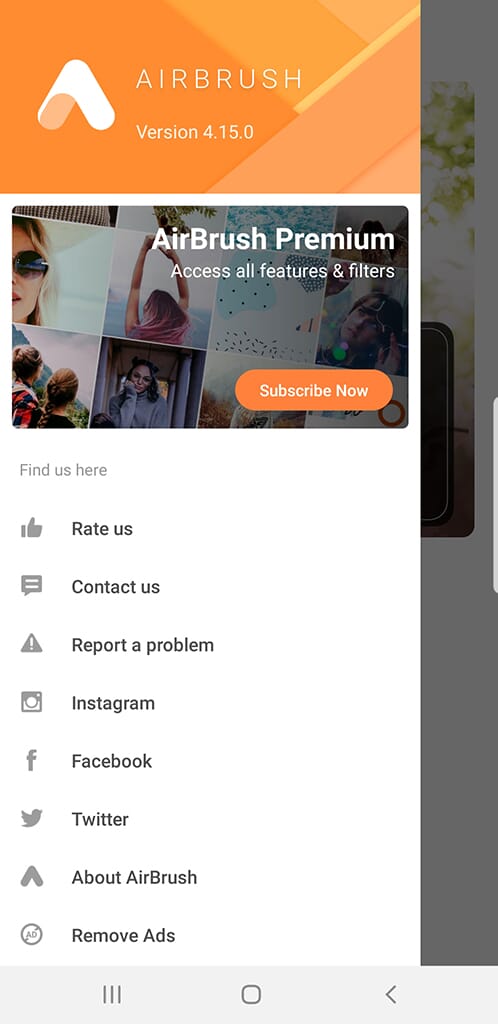 Pros
Choose either manual or auto tools
Includes RAW editing tools and filters
The app is well designed and easy to use
Cons
Not all features are available in the free version
AirBrush is a popular face editing app available from the Google Play Store and Apple Store, and it packs a dedicated set of tools that make face editing simple. We like the simple and intuitive layout of the app, which anyone should be able to use without prior photo editing experience.
The basic AirBrush tools are split into different categories, including Retouch, Tools, Filters, Makeup, and Hair. This lays out a logical workflow and allows you to easily edit your photos.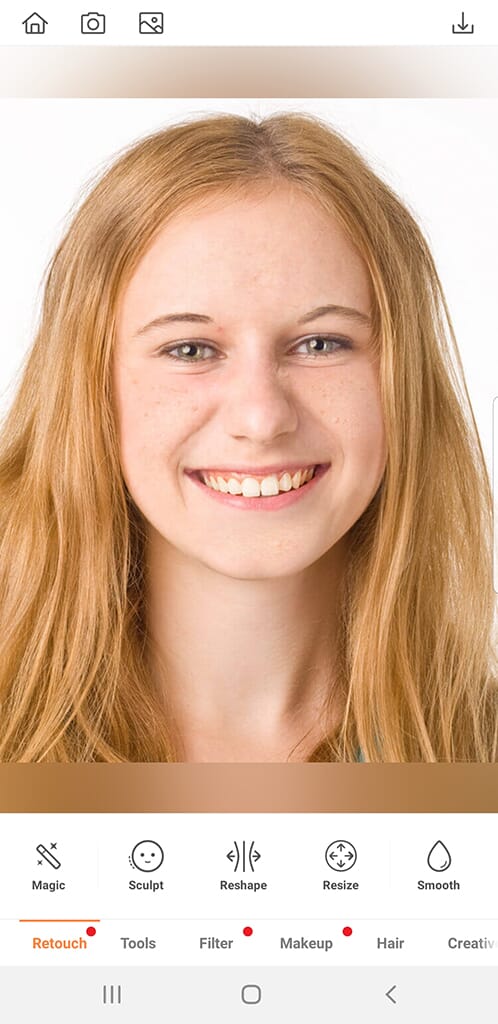 The Retouching tab has a great set of tools to improve the basic quality of portraits and remove imperfections. For example, it features an acne tool and a skin-smoothing tool. Each has both a manual and automatic mode; if you want precise detail, the manual option allows you to apply the filter to specific areas, while the automatic feature will use AI technology to identify and remove imperfections. We found that the automatic option works well and does a great job of improving basic image quality.
AirBrush also has a set of basic RAW editing tools and a great range of creative filters. The editing tools allow you to do things like cropping, blurring, changing the focus, and adding vignettes.
Happily, this app is free to use. However, not all of the features are available in the free version, and you can grab the pro version for a reasonable subscription fee ($1.58 per month).
6. Pixelmator (Paid)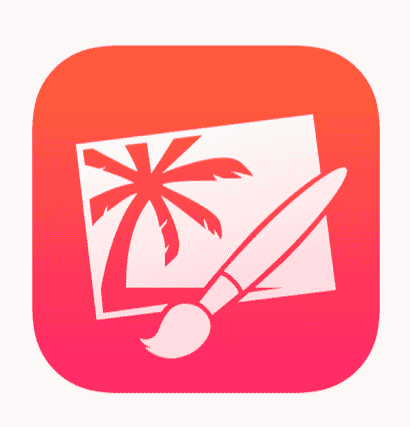 Pixelmator
Great for creative selfies and portraits
Pixelmator is a brilliant iOS app that features useful facial editing tools such as automatic repair to remove skin blemishes.
Pixelmator is available for:
Pros
Has a comprehensive set of tools
Also has automatic repair tools
Includes effects and filters
Cons
Not a dedicated face-editing app
Pixelmator is an excellent photo editing app available for iOS devices, though there is currently no Android version available. The app includes a complete set of editing tools and can be used for anything from portraits and selfies to landscapes and macro shots.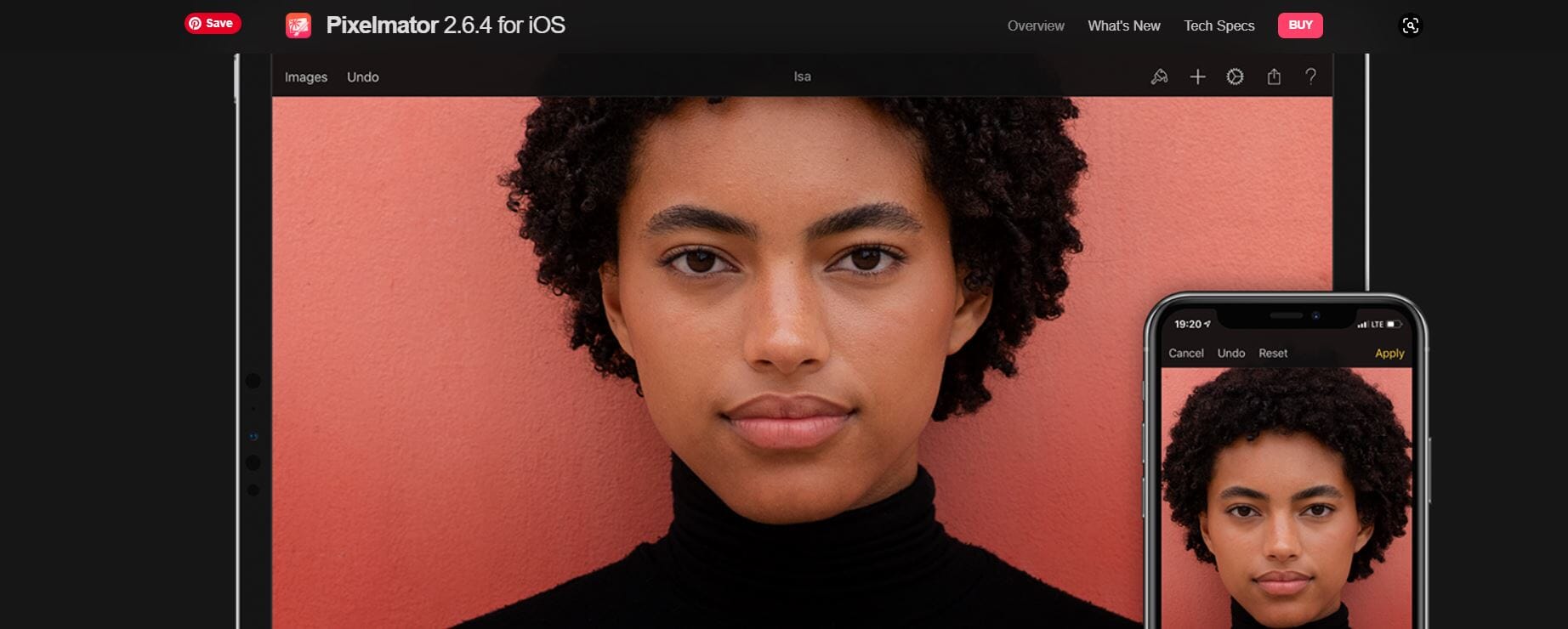 The layout is simple, and anyone should be able to understand how the different tools work. For face improvements, it has a brilliant repair tool, which will automatically remove things like blemishes from your skin, depending on where you apply it. It also has a one-tap color correction feature to improve the tones and colors of your portraits.
The facial editing tools aren't as detailed as some other apps, but you still get excellent control, along with a large collection of filters, effects, and an entire painting setup. That way, you can get creative with your selfies and portraits and even turn them into works of art.
7. Adobe Photoshop Express (Free)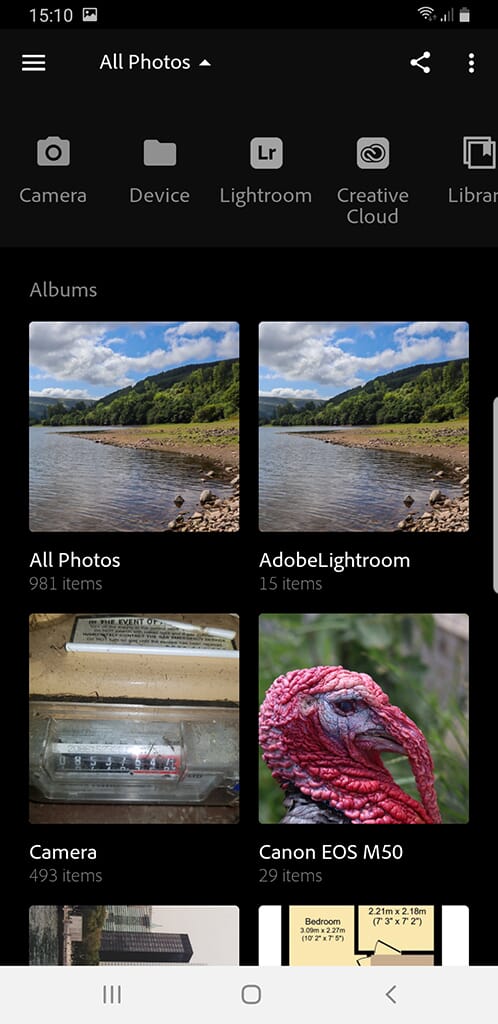 Pros
Can create masks to edit just the portrait subject
Has automatic blemish and red-eye removal
Advanced set of editing tools
Cons
Doesn't have any automated makeup tools
Lastly, we have Adobe Photoshop Express, which offers a professional set of editing tools; it's similar to the array of options available in the desktop version of Adobe Photoshop, but condensed for improved smartphone accessibility.
Photoshop Express gives full control over the editing process. You can easily edit the basic image parameters, including saturation, contrast, exposure, and highlights. That way, you can first prepare the overall image before concentrating on facial features.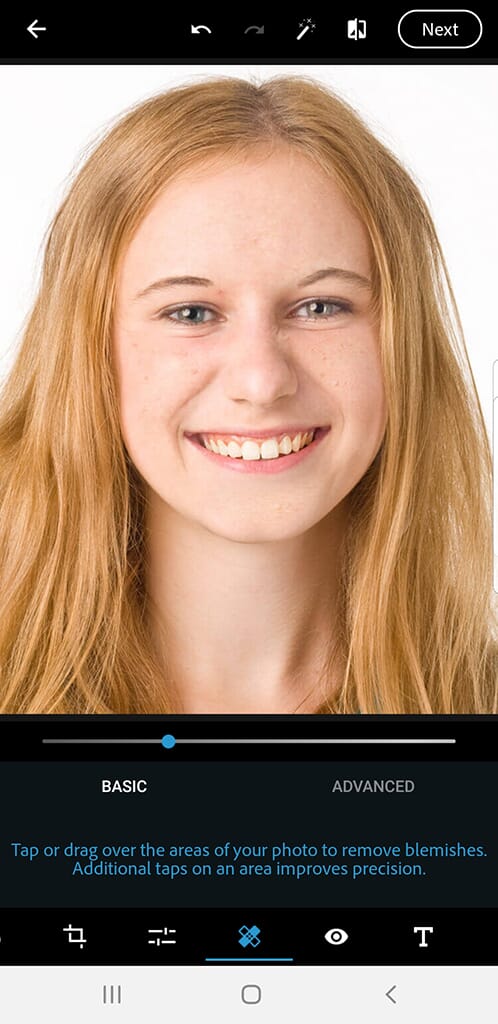 We also like that Adobe Photoshop Express will automatically create a mask that surrounds the main subject in your portrait. You can then choose to apply edits to just that mask or to the entire photo. It also has a blemish removal tool and a red-eye removal tool that are both easy to use.
If you want to produce creative portraits and selfies, there is a range of effects and filters. For example, you can add effects like light leaks, bokeh backgrounds, and even cool grunge looks. Adobe Photoshop Express is free to use, but you must have a valid Adobe ID.
Which Face Editing App Is Right for You?
We hope you have found this guide on the best face editing apps beneficial. As you can see, apps like these make it incredibly easy to create perfect snaps to share with your friends or to use for social media or business purposes.
But which app is right for you? If you want the best variety of automated face editing tools, dedicated apps like Facetune 2, AirBrush, and Perfect365 are outstanding options. These apps all have amazing features and allow you to edit faces in minute detail.
Alternatively, if you want comprehensive photo editing apps that also pack face-editing capabilities, options like Fotor and Adobe Photoshop Express make great choices.