While it's true that you can add borders to your photos in a desktop program like Photoshop CC, why bother? To save time, just make adjustments in an app.
In this article, we give you a rundown of the best photo border apps for Android and iOS devices. And we've included a mix of free and paid options – so whether you're a professional or a hobbyist, you'll find the right app for your needs.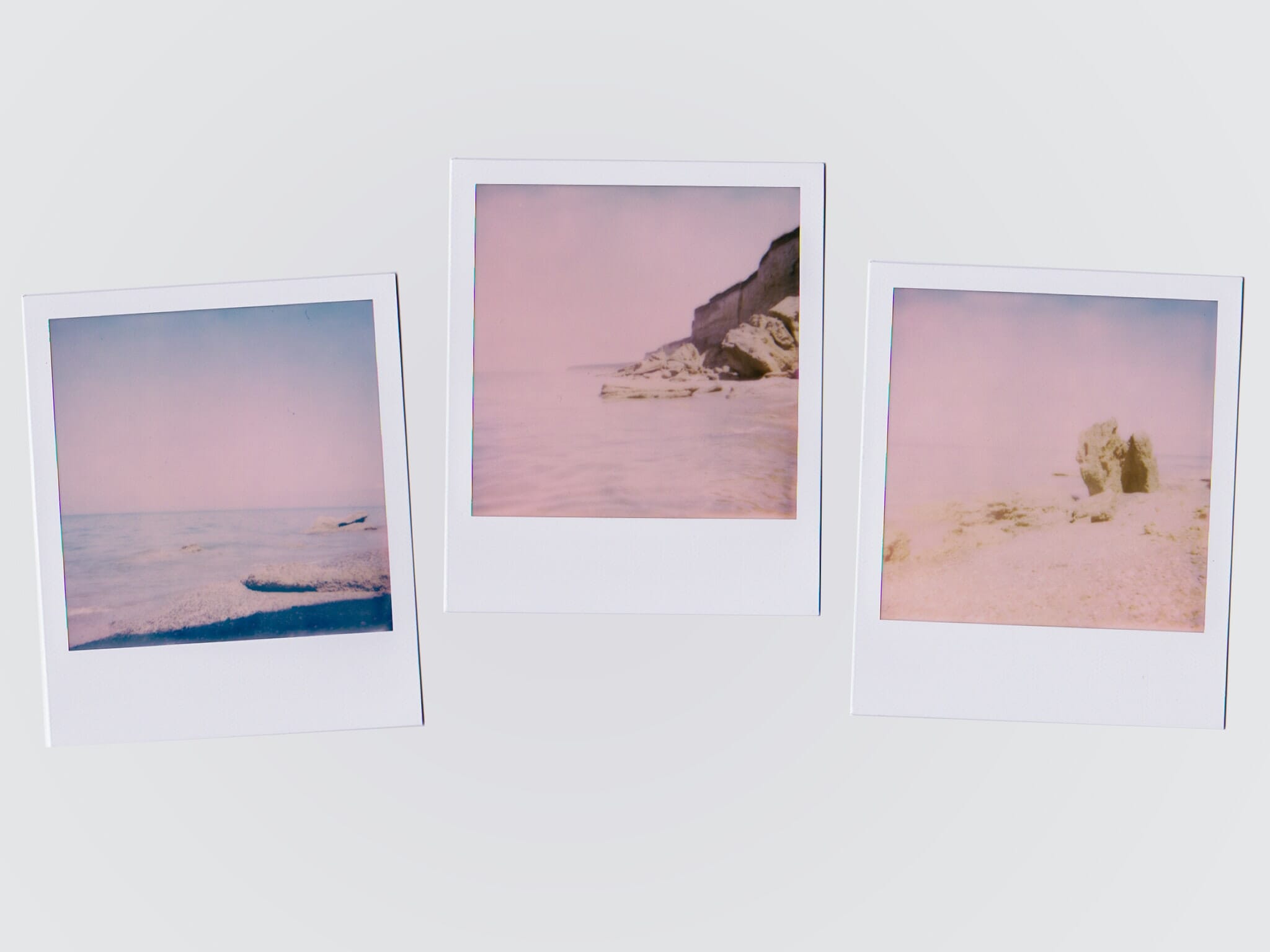 When you buy through links on our site, we may earn a commission at no cost to you. We evaluate products independently. Commissions do not affect our evaluations.
1. Photoshop Express
Our Pick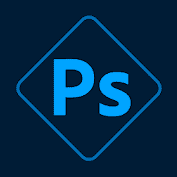 Pros
Advanced photo editing tools
User-friendly
Aesthetic borders
Cons
Some advanced features require subscription
That's right: Adobe Photoshop has a mobile version. Like its desktop counterpart, Photoshop Express features a familiar set of tools for enhancing photos, including a Borders feature – which lets you select and instantly apply beautiful frames to your shots.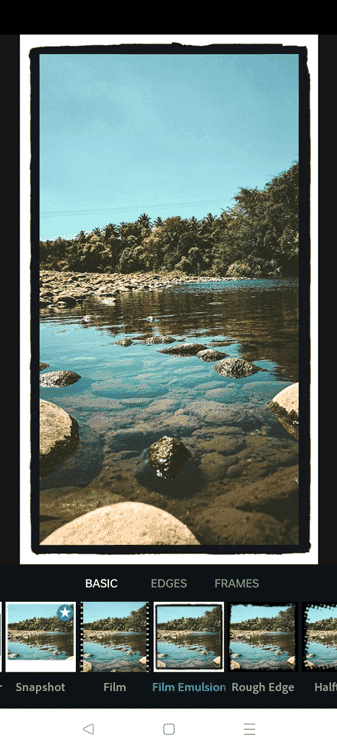 The Borders feature comes with three categories – Basic, Edges, and Frames – and each includes its own collection of borders. In just a few clicks, you can easily transform any regular photo into a professional-looking image.
Although the free version already lets you enjoy the available borders, you can unlock additional choices and advanced features by purchasing the premium version of Photoshop Express.
2. Snapseed
Also Great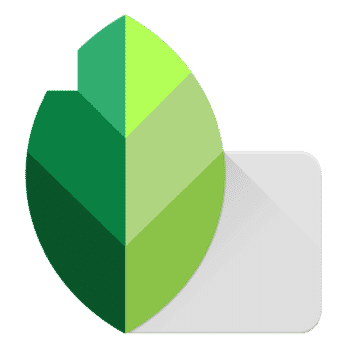 Pros
Completely free image-editing tool
Comes packed with professional-looking borders
No advertisements
Cons
Not so friendly for beginners
If you're looking for a quick and easy way to add borders to your photos, Snapseed is the way to go. Its Frames tool features a slider that adjusts the width of your selected frame in real time so you can see the effect as you work.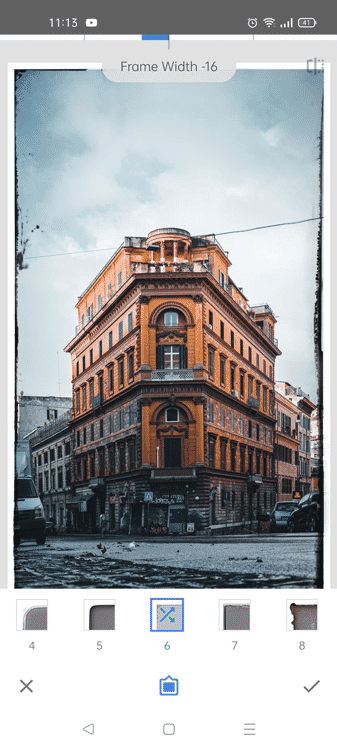 After giving a photo a nice border, you'll probably want to enhance it further, and that's where Snapseed's editing features come in handy; you get plenty of outstanding editing tools that let you adjust the exposure, do complex color grading, and more. In other words, Snapseed offers the creative freedom to turn your shot into an Instagrammable photo.
Plus, Snapseed is completely free! You get to enjoy all of its advanced features without paying a cent.
3. VSCO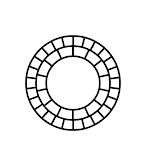 Pros
Can create colorful borders
Comes packed with several gorgeous presets
Simple but attractive design
Cons
Not completely free to use
The Borders feature is only available for VSCO members
If you want to make your photos look classy, then check out the VSCO app, which delivers truly impressive effects for a reasonable price.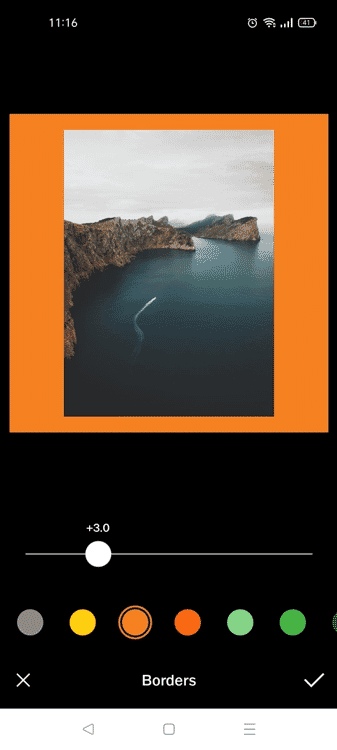 The Borders feature gives you 18 colors to choose from, and you also get a slider that you can use to easily adjust the size of each frame. Once you've finished applying a border to a photo, you can even use the app's advanced filters to create a refined, professional look.
Unfortunately, VSCO's Borders feature is only available for its members. To use this feature and other advanced tools, you'll need to buy an annual membership.
4. Afterlight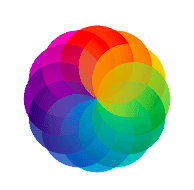 Pros
Plenty of border options
Includes a wide variety of tools for editing photos
Features a user-friendly interface
Cons
Must purchase the premium version to access more advanced features
Afterlight is a photo editor known for its extensive list of features, and it includes a number of frames that come in various shapes and styles. If you need more border options for your photographs, it's a great app to consider.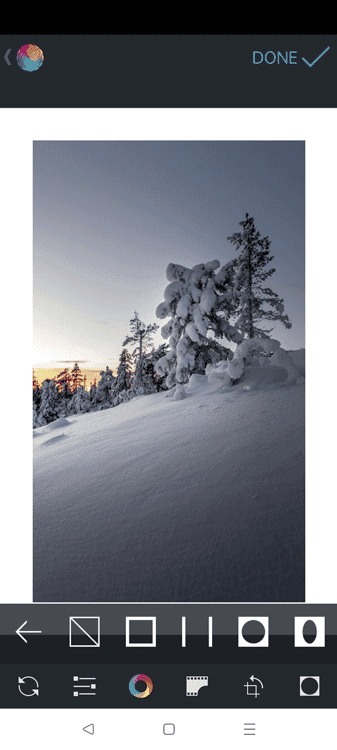 Like other great photo border apps, Afterlight presents a simple user interface that's perfect for beginners and experienced photographers alike. And in addition to more standard frame options, you get extra frames that include symbols, letters, and advanced shapes.
The free version of Afterlight provides you with lots of tools. But if you want to improve your edits and add that premium feel to your photos, then it's worth getting the paid version, which unlocks more frame styles and textures.
5. Pic Stitch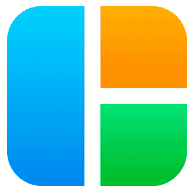 Pros
Hundreds of designs to choose from
Features a powerful image editor
Easy to create artistic collages
Cons
Must purchase the purchase the premium version for custom borders and backgrounds
Do you love creating collages? If so, consider Pic Stitch, a collage maker that packs hundreds of beautiful designs. With this tool, you don't need to manually arrange your photos and set the borders of your collage. Just choose a layout, select the photos you want to include in your art, and – voila! – your photo collage will be instantly created.

Pic Stitch also offers plenty of creative freedom. If a component seems off in your collage, you can always override the original settings for a custom look.
Happily, you get a variety of tools and layouts for free. But if you want to use this app to its full extent, you can always grab the premium version, which gives you access to helpful add-ons, including textures, colors, patterns, and additional frames.
6. Photobook Photo Editor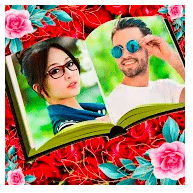 Photobook Photo Editor
Perfect for creating digital scrapbooks
Photobook Photo Editor lets you apply stylish frames to your photographs, and it packs plenty of features for unique results.
Photobook Photo Editor is available for:
Pros
Features various stylish border effects
Lets you add design elements to your photographs like stickers and text
Easy to use
Cons
Free version contains a swarm of advertisements
Photobook Photo Editor is a good alternative to Pic Stitch, especially if you prefer more stylish border effects. Like Pic Stitch, there's a nice collage feature – but Photobook also presents you with special frames that let you turn your favorite photographs into magazine covers.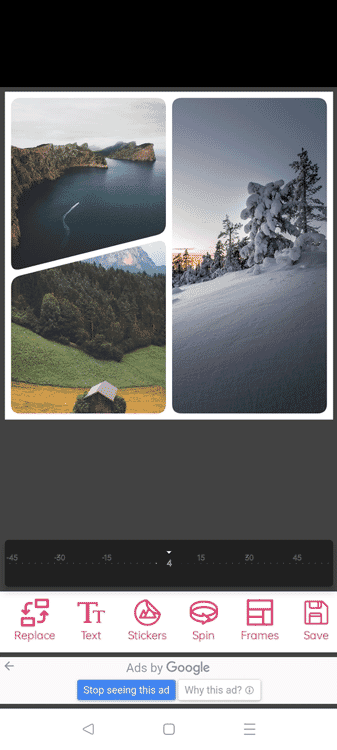 To add to the magazine feel, the app lets you apply visual elements such as texts and stickers to your collage. You can rescale and position these elements anywhere you want (even on the borders for a custom look).
While the free version does have annoying advertisements, Photobook Photo Editor can get the job done. However, if you want a smoother experience, then you'll need to pay to remove the ads.
7. InFrame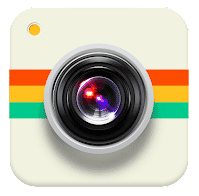 Pros
Has over 100 frame designs
Allows you to edit the backdrop of your photo
Free to use
Cons
Lacks advanced editing tools
If you love retro effects, then InFrame is a fantastic app to try. It's loaded with hundreds of frames and border styles so you'll never run out of ideas, and you can even change the backdrop of your photos to emphasize their borders.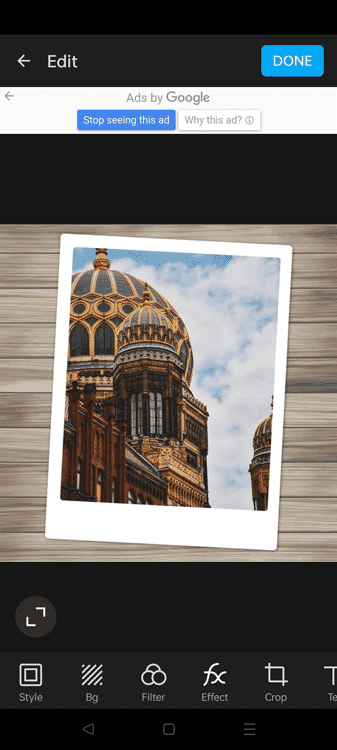 But InFrame goes beyond the standard border features. You can also edit your photographs by applying high-quality filters. Would you like your subjects to appear cheerful? Moody? Bright? The Filter feature has plenty of options to choose from.
Amazingly, InFrame is free to use, so you can create spectacular designs without spending a cent. The only catch is that you'll need to watch some advertisements to unlock certain features, but that's a small price to pay given the app's incredible power.
8. Prisma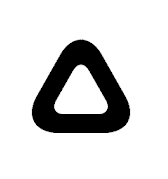 Pros
Packs tons of attractive borders and styles
Lets you adjust brightness and exposure
Great for the artistic photographer
Cons
Exports in square format only
When it comes to creative editing, Prisma is in a league of its own. It's loaded with stunning borders and effects that can transform your photographs in so many ways (you can even make your photos look like paintings!).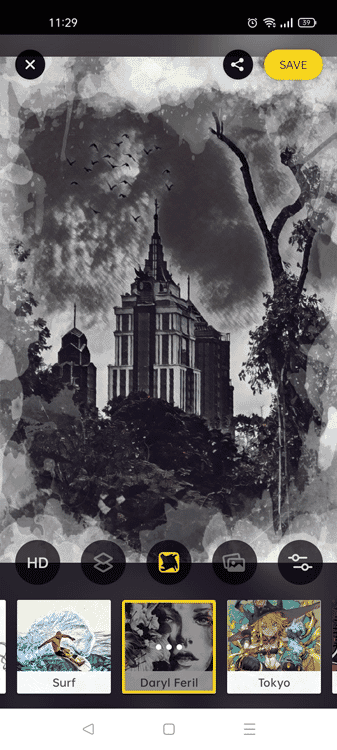 Prisma has its own unique collection of frames. Perhaps you want multicolored paint splashed around the edges of a photograph? Or realistic smoke splattered around the borders? Those are just a few of the available border effects.
Prisma even lets you choose from a library of styles so you can match your photograph's style to its borders. Alternatively, you can spice things up a bit by choosing an unexpected style. Your creativity is the limit!
9. BeFunky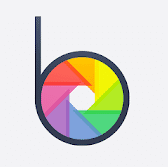 Pros
Includes collage layouts for your photographs
Immediately post your designs to Facebook and Instagram
Cons
Crashes occasionally
Before flaunting your latest selfie on Facebook or Instagram, why not give it a nice frame? BeFunky offers a wide range of editing features, including overlays and frames that'll make your photos look amazing.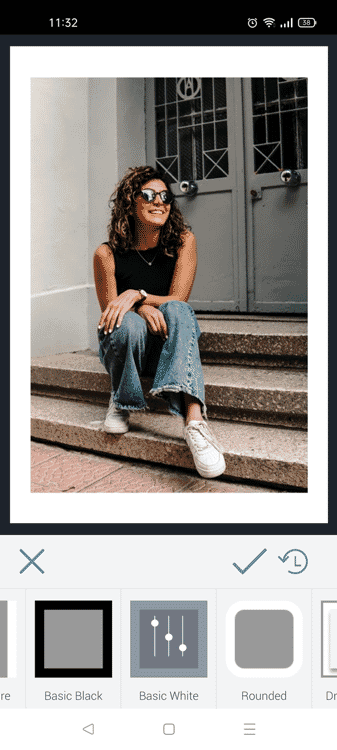 Whether you're looking for a minimalist border or a complex, three-dimensional result, BeFunky has what you need. You can even make a selfie look like a Polaroid photograph. And after adding borders, you can further enhance an image using the tools in BeFunky's Touch Up feature.
Also, BeFunky offers a major bonus for social-media users: You can instantly upload your newly edited photos to Instagram or Facebook. This spares you the trouble of having to export the files before sharing.
10. Canva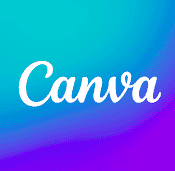 Pros
Sleek and highly-intuitive interface
Provides you with a wide collection of design templates
Great for beginners
Cons
Must purchase the Pro version to unlock advanced features
Want to make your photos look refined, formal, casual, silly, funny, or even shocking? Whatever your objective, you'll definitely find a suitable design in Canva.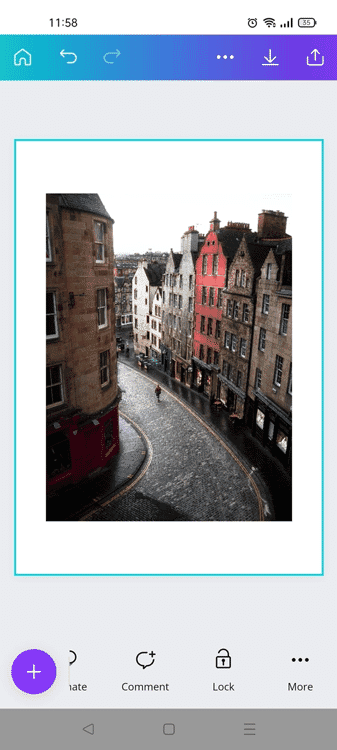 In this award-winning editor, adding a border is stunningly simple. Just select your desired template, replace the placeholder image with your preferred photo, and that's it! Plus, thanks to Canva's endless library of designs, you can turn your photos into posters, advertisements, collages, and so much more.
While Canva does offer many free features, you will need to pay for access to the highest-level options. But the price is pretty reasonable, and for up-and-coming photographers and graphic designers, it's certainly worth a look.
Picking the Perfect App to Add Borders
You know all the best photo border apps, so pick one and get started! Photoshop Express includes plenty of beautiful border effects, though Snapseed does offer a more full-featured editing experience.
Alternatively, if you're after colorful borders, consider VSCO (which is also great for creating beautifully moody edits).
Ultimately, you can't go wrong with any of the apps on this list. Good luck!