We all know how convenient and useful mobile devices are for keeping our photos and videos safe. But the problem is that anyone who has access to your smartphone can easily view your saved photos – including the photos and videos you'd like to keep private.
Fortunately, there are plenty of apps you can use to restrict access to sensitive and confidential media files on your phone. Which should you use?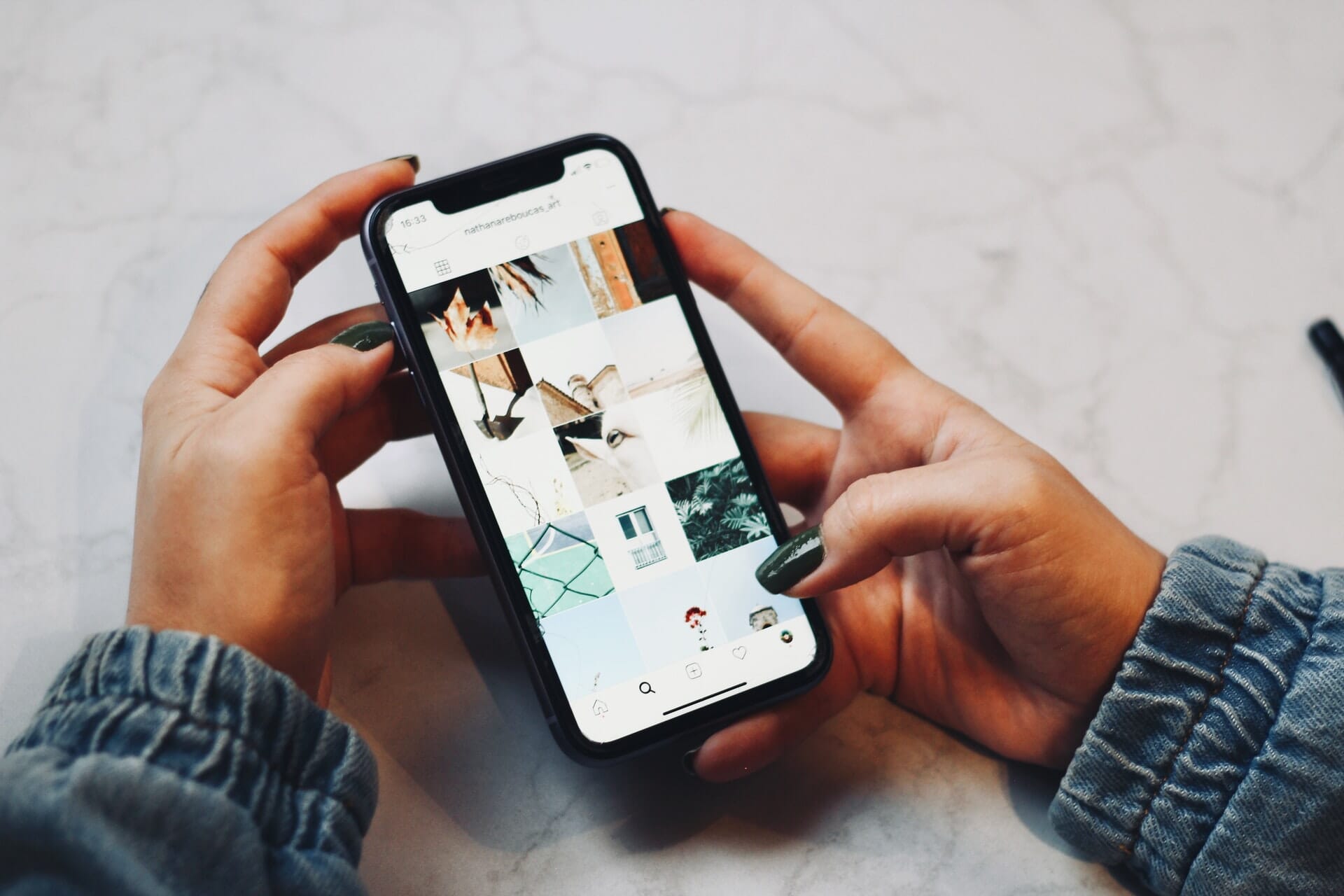 10 Best Apps to Hide Photos and Videos in 2023:
When you buy through links on our site, we may earn a commission at no cost to you. We evaluate products independently. Commissions do not affect our evaluations.
Best Apps to Hide Photos
1. Keepsafe Photo Vault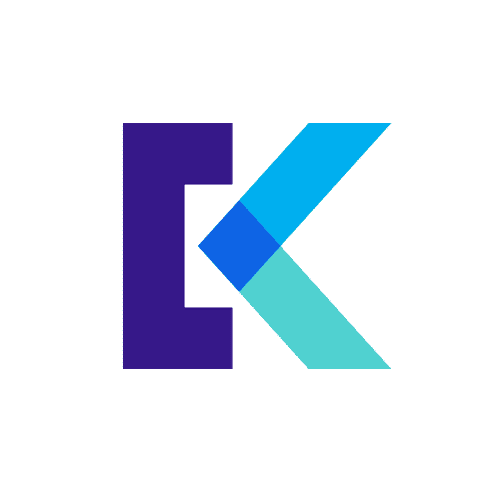 Pros
Three locking mechanisms available
Includes cloud storage for backup
Allows you to share albums
Cons
Sometimes images aren't automatically backed up to the cloud
We're starting off our list with the Keepsafe Photo Vault, an impressive app for iOS and Android users. This photo storage app contains everything you need to keep your photos hidden, including three different locking options: pattern, PIN, and fingerprint.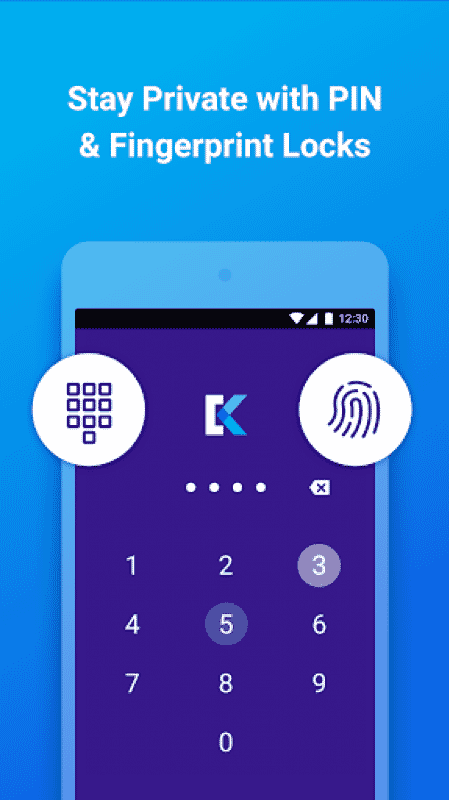 Whenever Keepsafe detects the wrong login details, it uses your phone's front camera to take a picture of the person who made the login attempt. It then notes down the date and time for your reference.
Keepsafe also enables you to transfer photos in its cloud storage. The best part is that all your data is encrypted, so you can rest assured that the entire process is reliable.
2. Vaulty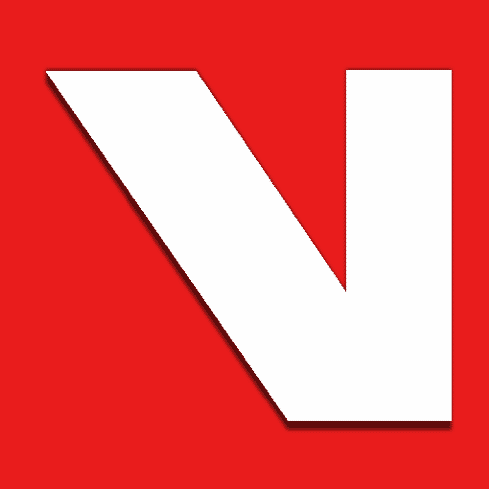 Vaulty
Great for organizing hidden files
Vaulty is one of the oldest and most reliable apps to hide your photos.
Vaulty is available for:
Pros
Offers online backup
Allows you to connect your Google, Facebook, and Twitter accounts to directly send pictures to the app
Allows you to create and manage your own vaults
Cons
Outdated user interface
Vaulty offers multiple levels of security, including multiple vaults, each with individual passwords for extra protection. This ensures that the app is absolutely impenetrable.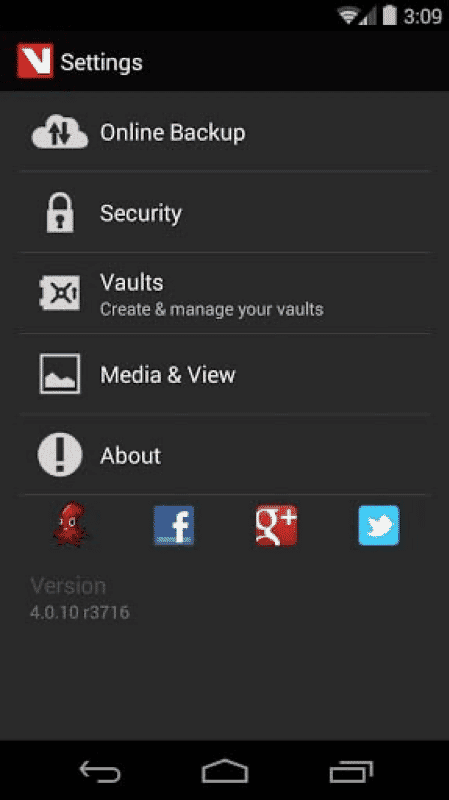 The app links directly to your Google account and backs up all the hidden images in your Drive folder. So even if your smartphone gets damaged, your pictures will remain safe in the cloud. Vaulty also disguises itself as a stock lookup app or a calculator app to avoid suspicion from outsiders. Like we said: multiple levels of security.
Finally, organized users will be happy to know that the app allows you to arrange photos based on the time or date they were last uploaded.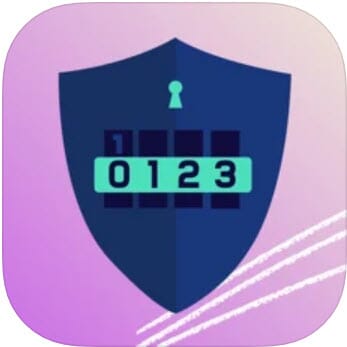 HiddenVault Secret Photo Album
Best for fast storage
HiddenVault Secret Photo Album allows quicker transfer and storage of photos than other apps on the list.
HiddenVault Secret Photo Album is available for:
Pros
Stores unlimited passwords, photos, and videos
Offers Face ID as a locking method
Does not store or access any of your personal data
Comes with a private browser so you can surf the web anonymously
Cons
Video uploads to the app take a little longer
Only available for iOS devices
HiddenVault Secret Photo Album is a highly secure app that protects your media files without compromising other data on your iOS device. So if you're looking for a great app to hide photos and videos on your iPhone, then this is a solid choice.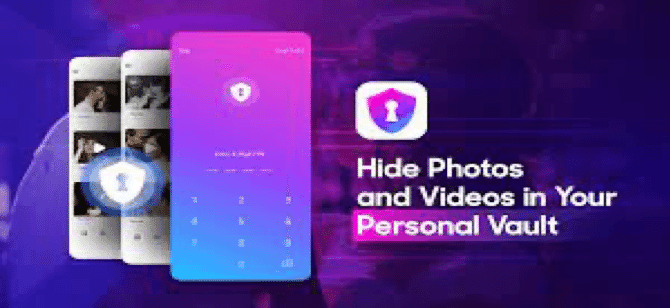 You can add an extra layer of security by installing Face ID as your lock so you won't have to worry about any passwords getting leaked. The app also includes an incredible password vault that stores all your login credentials so you can launch any website in one tap.
The zero-knowledge architecture of this app uses a unique algorithm so that the app doesn't need to access your private data. Unlike other apps, you are in complete control of the pictures and videos that you want to upload.
4. Private Photo Vault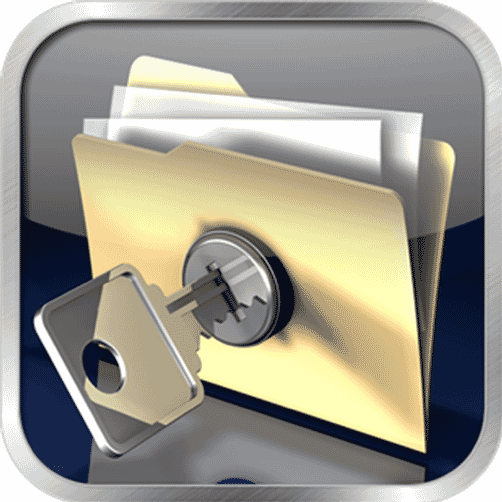 Pros
Comes with a built-in photo editor
You can password-protect albums on your smartphone
Provides a break-in report with GPS location
Has a decoy-password feature
Cons
The built-in photo slideshow is sometimes glitchy
Private Photo Vault is a feature-packed photo-hiding app that has everything from direct gallery transfers to album passcodes.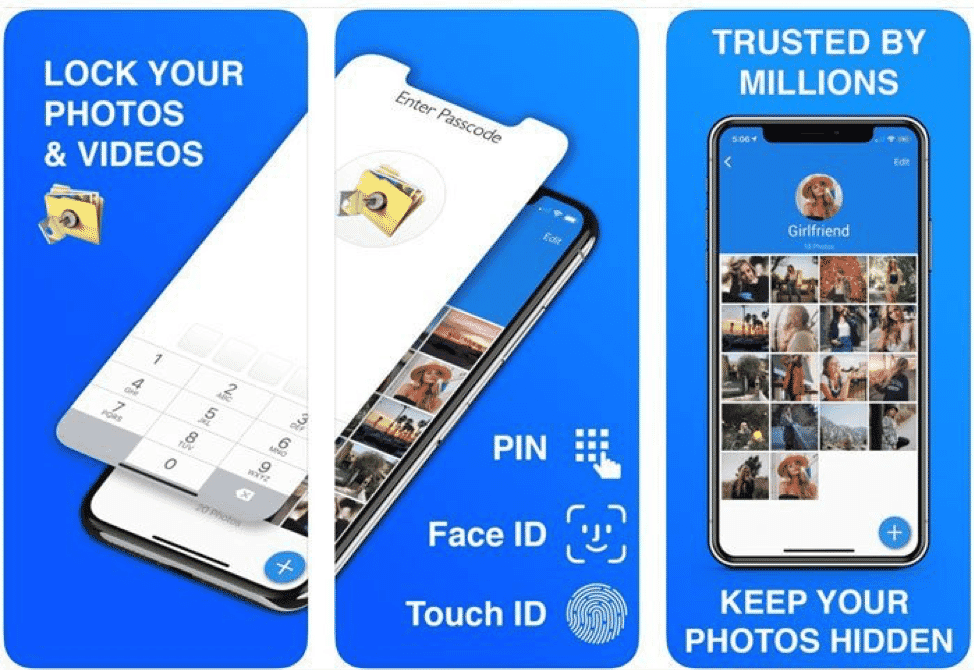 Private Photo Vault comes with a decoy-passcode feature that lets you set two different passcodes. One will lead you to a general folder while the other will grant you access to the secret folder containing your private pictures.
This app also sends an intruder notification with an image and the break-in GPS location, which will help keep your device safe (and locatable).
5. Hide It Pro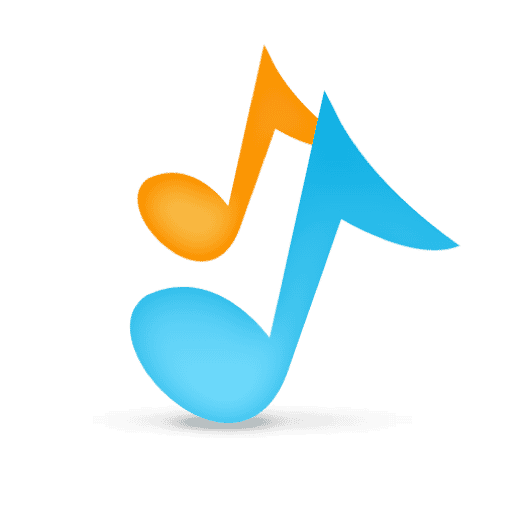 Pros
Disguised as an audio manager in the apps drawer
App disappears from recent apps list to make it untraceable
Includes an option called "Secret Chatting" that allows you to communicate anonymously
Has a built-in encryption tool to keep your essential data safe
Cons
The Unhide option requires multiple tries to work sometimes
Hide It Pro is a 2-in-1 app that hides your photos and locks apps of your choosing. This secret photo-storage app disguises itself as an audio file manager to mislead outsiders.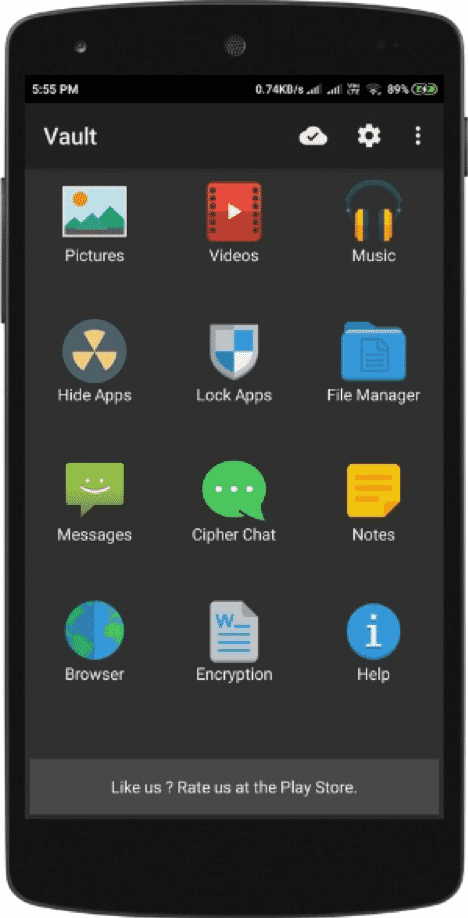 Hide It Pro also has a top-notch privacy setting that is backed by a built-in encryption tool to protect your images from any external threats. And thanks to its File Manager feature, you can organize your photos for easier navigation.
6. 1Gallery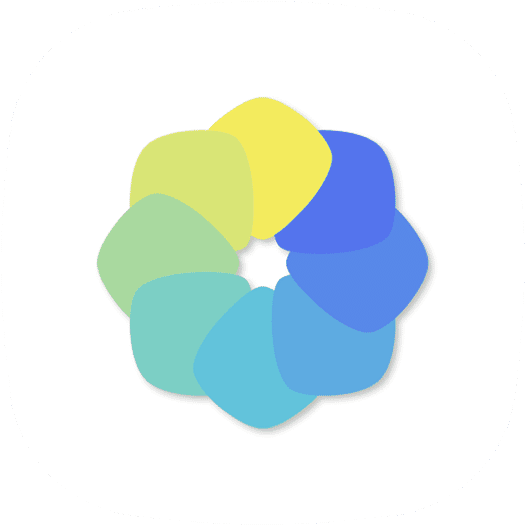 1Gallery
Perfect for organizing and hiding images
1Gallery is similar to your phone's gallery but with the ability to camouflage important images.
1Gallery is available for:
Pros
Supports AES encryption
Provides photo- and video-editing features
Gives information on the photo file type and size
Cons
The names of the albums may get cut short when displayed
If you are running low on storage and do not want to install extra apps to hide photos and videos, then 1Gallery is perfect for you. You can use this as your device's default gallery, but it also lets you hide select photos. The AES encryption will keep your photos completely private.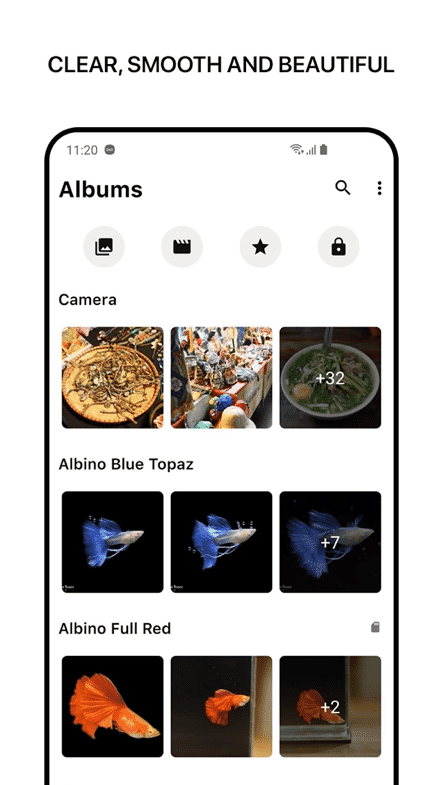 Like a normal gallery app, 1Gallery consists of basic photo- and video-editing tools, and you can easily sort the albums and files so you won't need to go through all your media one by one. You also have the option to choose between PIN, Password, and Pattern mode for an extra layer of protection.
7. LockMyPix Secret Photo Vault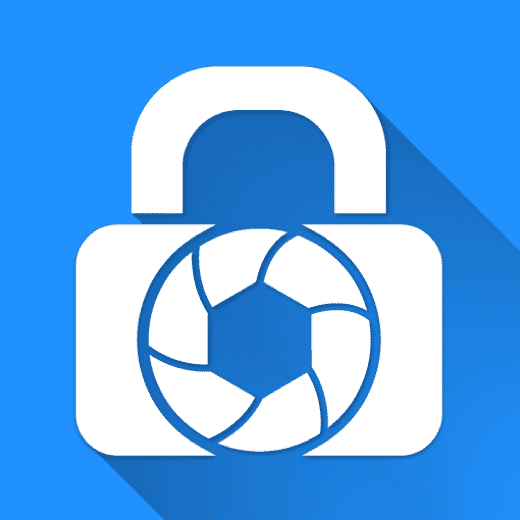 Pros
Includes a fake vault to mislead any intruders
Uses an SD card to free up internal storage
Can disguise itself as a radio, calculator, or any other app
Offers various album customization options
Cons
Has ads that pop up suddenly
Privacy comes first with LockMyPix Secret Photo Vault. It uses AES encryption to conceal your personal photos and has a fake vault feature for an added layer of security. This comes with a decoy folder and a passcode that misdirects others trying to access the app.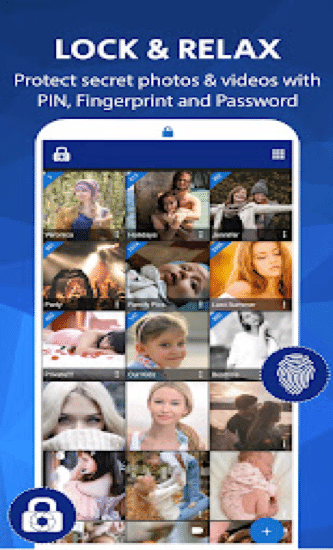 LockMyPix uses your SD card to store your private images, videos, and documents. As the SD card slot is expandable on most devices, you can choose a sufficient storage capacity for your files.
LockMyPix also has customization features so you can tweak the app to your liking. And if you enjoy photo organization, then you'll appreciate the app's album categorization and sub-album features.
8. Safe Gallery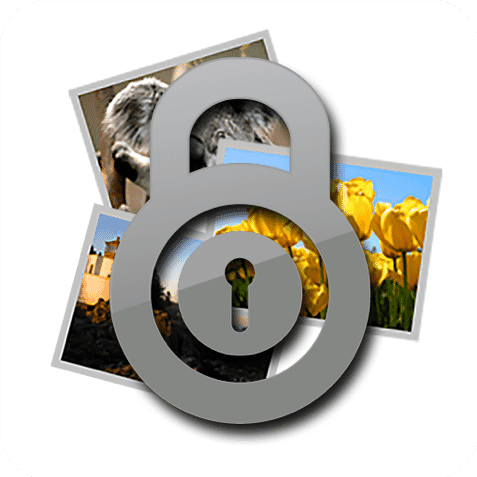 Safe Gallery
Best for budget phone users
Safe Gallery allows you to set a password for each file, and it doesn't use much processing power, either.
Safe Gallery is available for:
Pros
Lets you save web images
Lightweight
You can download any photo directly to the app
Cons
No cloud storage backup
If you are looking for a great app to hide photos and videos that doesn't take up lots of space, then Safe Gallery is a reliable option. It was developed to use minimal processing power and RAM. Despite its lightweight design, this app is great at hiding photos that are downloaded directly from the internet.

The app reduces your security risk by letting you place your private photos into separate folders, each with different passcodes. With so many passcodes to remember, you might want to have a cheat sheet for all of them, though.
Safe Gallery can also store videos and other documents. But it's best if you keep the usage to a minimum because this app lacks mass storage features.
9. Calculator Photo Vault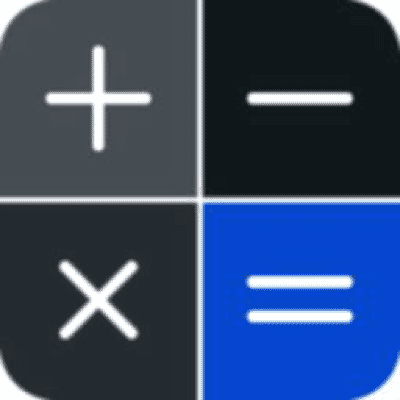 Calculator Photo Vault
A perfect way to hide your photos in plain sight
Calculator Photo Vault actually works as a fully functioning calculator; it's also a great app to hide your photos.
Calculator Photo Vault is available for:
Pros
Built-in private browser allows you to surf the web anonymously
Offers all the regular functions of a calculator
Encrypts your file details to ensure complete privacy
Closes automatically when you shake your phone
Cons
App freezes sometimes when rendering
Only available for Android
The sleek design and engineering of Calculator Photo Vault sets it apart from other apps on this list. The app's front end is a fully functioning calculator that you can use to crunch some numbers. But when you input the right passcode into the calculator and press the equals button, you gain access to your secret vault. Pretty cool, right?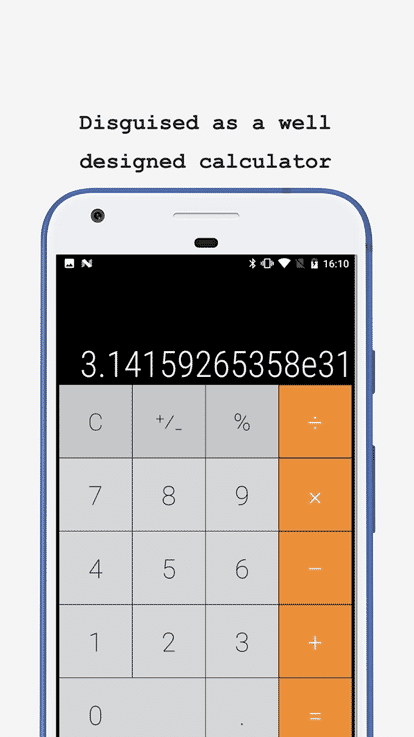 The app also has a built-in private browser for a completely safe and untraceable web browsing experience. This means you can download pictures directly to the app without generating any download history.
But the most unique feature is the shaking move that you can use to quickly close the app whenever you're in a hurry. The calculator won't show up in the recently used section, either. Talk about stealthy!
10. FotoX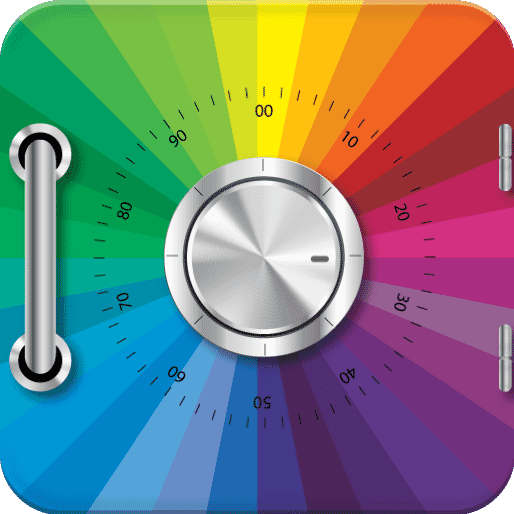 FotoX
Best for serious security
FotoX is a complete photo safety and security storage app.
FotoX is available for:
Pros
Includes a fake crash dialogue that mimics a shutdown due to technical difficulties
The advanced security feature does not allow the uninstallation of the app without the passcode
Allows you to reset your password in case you forget it
Records every break-in attempt
Cons
The in-app video player lags sometimes
Not available for iOS devices
FotoX is a complete security package that prevents unauthorized access. The app has a fake crash report and will shut down whenever the wrong passcode is used. In the crash report, the break-in details are noted, so you can see for yourself after you regain access to your phone.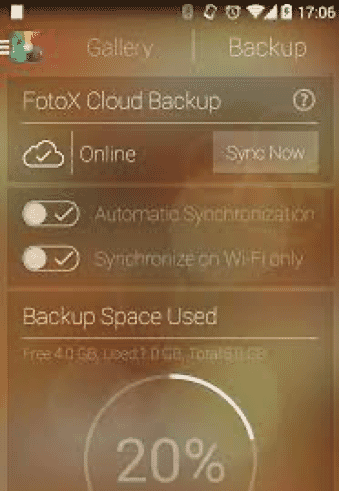 FotoX also comes with extra cloud storage to back up your essential files and pictures. And if you forget your passcode, you can reset it from the app's main servers.
Hide Your Photos with These Apps
If you want to keep media hidden on your smartphone, then using an app that protects privacy is crucial. Now that you're familiar with the 10 best apps to hide photos and videos on your phone, pick one and protect those files!