Do you want to create professional-quality edits using only your smartphone?
You can. In fact, smartphones have post-processing apps that rival the best desktop options! (Plus, they're way less expensive.)
And in this article, I'm going to share these best post-processing apps with you. All of these apps are available for both Android and Apple devices.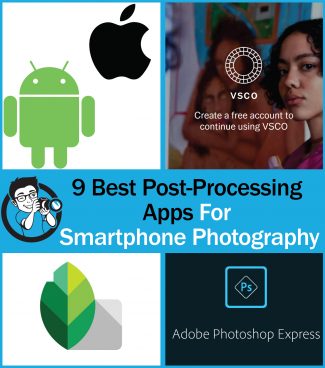 Best Apps to Edit Photos:
When you buy through links on our site, we may earn a commission at no cost to you. We evaluate products independently. Commissions do not affect our evaluations.
Best Apps for Photo Editing
1. Adobe Lightroom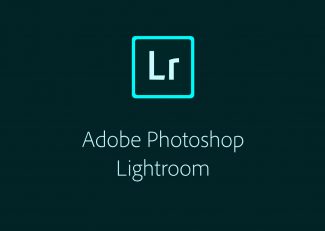 Lightroom is an amazingly powerful desktop program.
But did you know that you can get that same power on your smartphone?
It's true. With Lightroom Mobile, you can manage all of your post-processing needs. In fact, this Lightroom app can probably do everything you want, and more.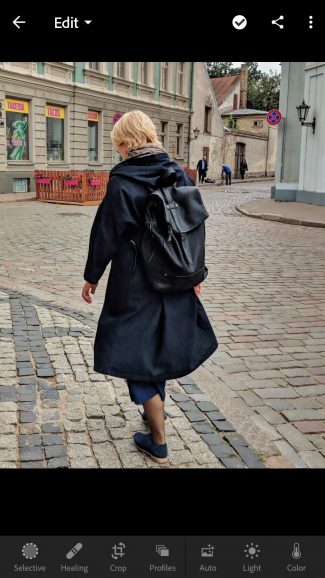 It offers:
Useful presets for quick editing
Exposure sliders
Curves for sophisticated exposure adjustments
Color adjustments (including split-toning and HSL sliders)
Selective adjustments
Related Post: How to Edit Photos Like a Professional in Lightroom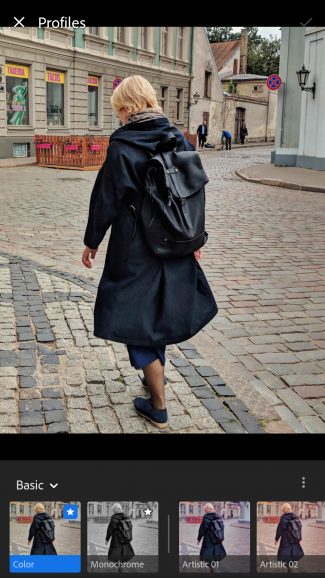 Basically, it's an all-in-one post-processing solution for smartphone users.
And best of all, it's free! (Though some features do require in-app purchases.)
To download Lightroom Mobile visit Adobe Lightroom and Photoshop.
2. Snapseed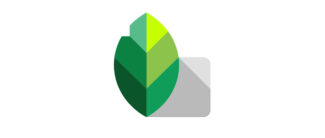 Snapseed is a full-featured photo editor–one that easily gives Lightroom Mobile a run for its money.
One of the best things about Snapseed is how beginner-friendly it is. The interface is intuitive and easy to work with.
But on top of that:
Snapseed offers an amazing number of useful features.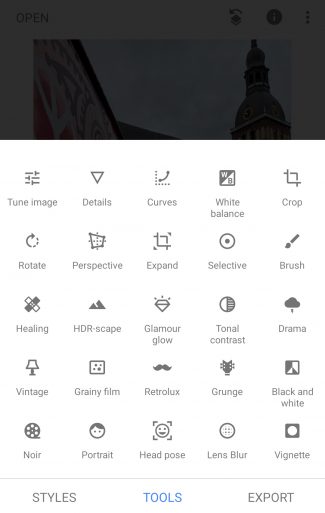 For instance, you can make all your basic edits:
Cropping
Exposure adjustments
Color boosting
But then you can venture into the more complex, powerful features, such as:
Customized vignettes
Selective saturation adjustments
Artistic filters
(And so much more!)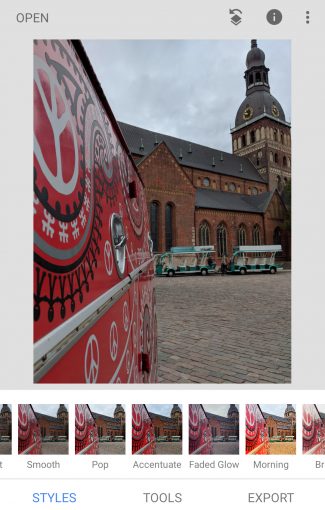 With Snapseed, you'll never run out of things to try. It really is that comprehensive.
Related Article: Best Smartphone Cameras
And it's completely free, with absolutely no in-app purchases.
To download Snapseed, click here if you're an Android user and here if you're an Apple user.
3. VSCO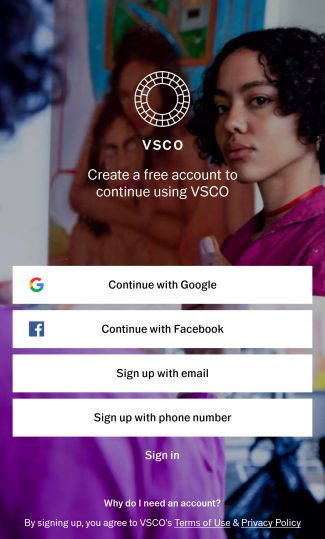 Up until now, I've been sharing comprehensive editing apps.
But what if you prefer a less intensive form of editing? What if you want to tap a few filters call it a day?
That's where VSCO comes in.
VSCO is a one-tap filter app, which offers a slew of free filters (and bundles of paid filters, as well).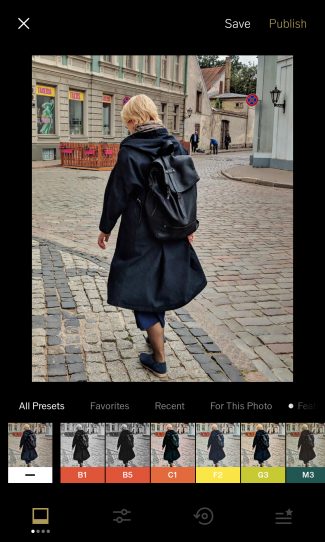 If you want to instantly create a light and airy look in your photos, VSCO has you covered. One tap, and your photos will look like they came from a wedding magazine.
If you want to create a darker, moody look, VSCO can do that, too. With a single tap, your photos will look thoroughly somber.
Note that VSCO also offers some basic editing adjustments. So you can easily incorporate the app into a more comprehensive editing workflow.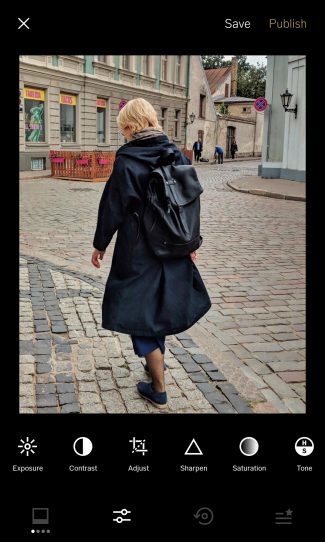 To download VSCO, click here if you're an Android user and here if you're an Apple user.
4. TouchRetouch
TouchRetouch is no full-featured editing app.
Instead, it does one thing–and it does it brilliantly.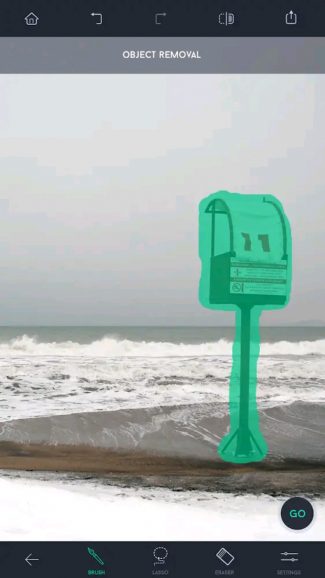 You see, TouchRetouch is an app dedicated to removing objects from your photos. And it's amazingly simple.
Step one: Paint over an object that you want to be removed.
Step two: Watch as the object disappears, thanks to TouchRetouch's incredible software.
Related Post: Best Apps to Remove the Background
TouchRetouch even offers a line-removal tool. Paint over a pole or a power-line, and it'll be gone in moments.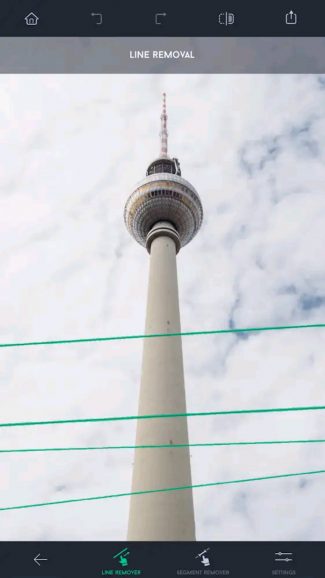 TouchRetouch is a paid app ($1.99 on both Apple and Android smartphones). But if you often find yourself needing to remove distractions from your photos, it's absolutely worth it.
To download TouchRetouch, click here if you're an Android user and here if you're an Apple user.
5. Photoshop Express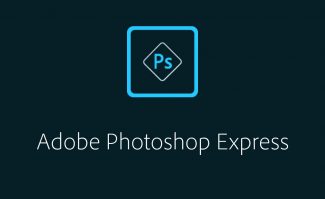 Are you looking for a comprehensive photo editor…
…that can also give your images some amazing final touches?
Look no further than Photoshop Express.
PS Express has a slightly more complex interface than some of its competitors (e.g., Lightroom and Snapseed). But don't let that deter you–because its features are worth the learning curve.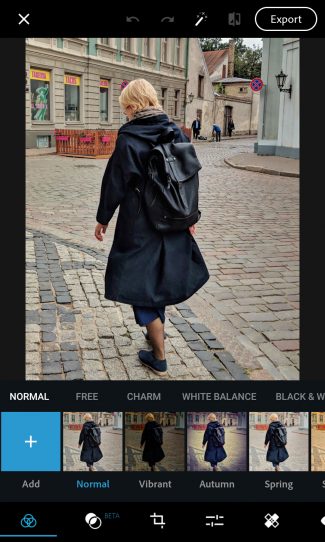 For one, you can make all of your basic adjustments within Photoshop Express. For instance, you can do some cropping, exposure, and perspective correction. And you can do more advanced edits such as noise reduction.
But where Photoshop Express really shines is in its framing and text overlay options. The app allows you to easily add text to your photos, for a graphic-design-style product. And you can work with a number of stylish frame options to create a stunning border.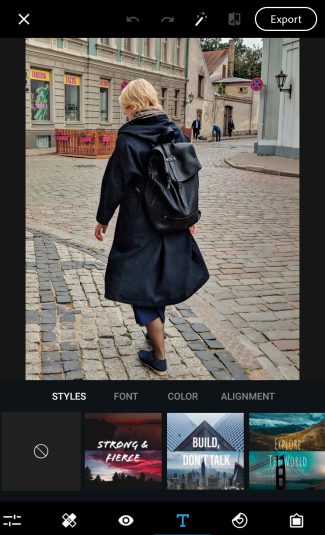 Photoshop Express is free to download.
To download Photoshop Express, click here if you're an Android user and here if you're an Apple user.
Related Post: 20 Simple Photoshop Tips That Will Make Your Pics Look Amazing
6. Polarr Photo Editor
Photoshop Express is excellent for creating borders and text overlays.
But Polarr is undoubtedly its perfect complement.
With Polarr, you can do all of the crazy things that you've dreamed about doing with (desktop) Photoshop, but never quite managed.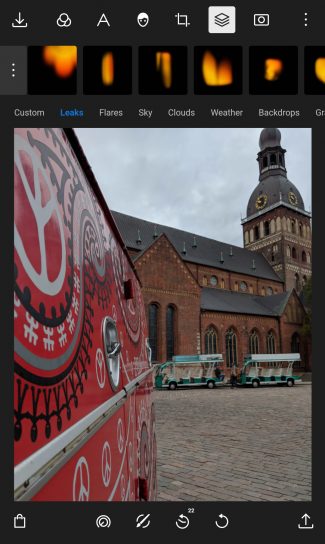 For instance, you can create weather overlays, so that photos taken in summer include snow, and photos taken in dry summers show rain. You can also add lens-flare to your landscapes, for an ultra-artistic effect. You can even add clouds!
And I haven't even talked about Polarr's artistic filters, which let you turn your photos into all kinds of artistic masterpieces.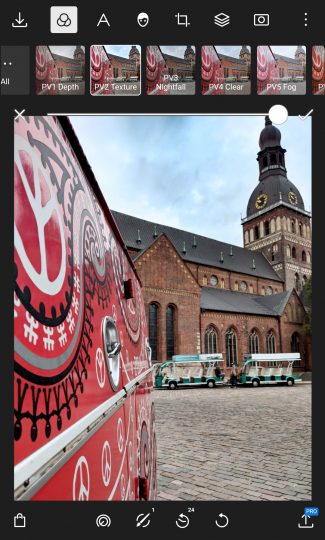 Also, be aware that Polarr isn't just a 'special effects' app. It'll satisfy your basic editing needs, as well, with its tools for cropping, exposure adjustments, and more.
Polarr is free to download (with in-app purchases).
To download Polarr, click here if you're an Android user and here if you're an Apple user.
7. SKRWT
Do you feel like your photos of buildings just aren't quite right?
The issue could be perspective distortion–which occurs when you have straight lines in a wide-angle photo.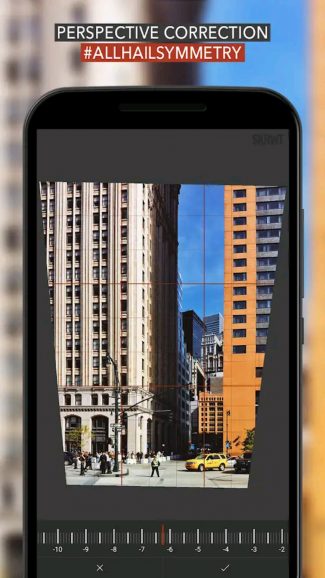 On smartphone cameras, this is fairly common. But there's not much you could do about it…
…until SKRWT, that is.
SKRWT allows you to correct any perspective distortion problems you might have. For instance, you can take lines that are crooked, and make them parallel.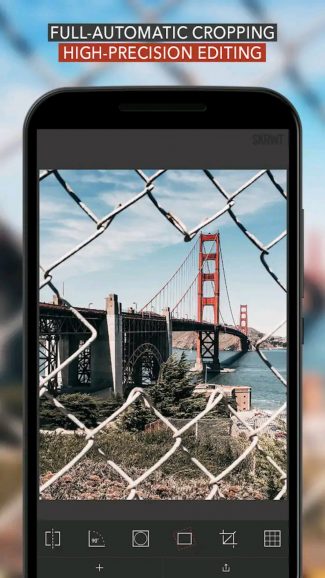 For street and architectural smartphone photographers, this is a must-have.
SKRWT is available for a small fee ($1.99 for Apple and $1.49 for Android).
To download SKRWT, click here if you're an Android user and here if you're an Apple user.
8. Afterlight
Afterlight is another comprehensive editing app–with a few artistic bonuses.
You can start by making your basic adjustments: exposure, color, cropping, and contrast.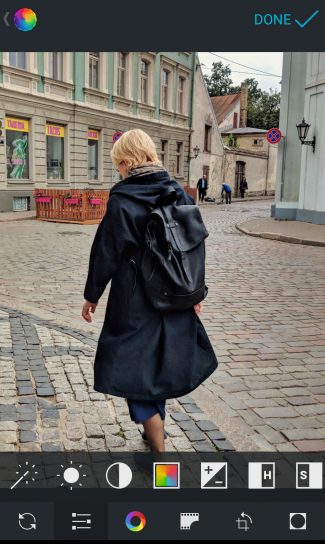 But then you have the option to go deeper.
For instance, Afterlight offers a bundle of filters, all designed to take your photos to a more artistic level. And the Afterlight textures let you get even more creative, with light leaks and film grain.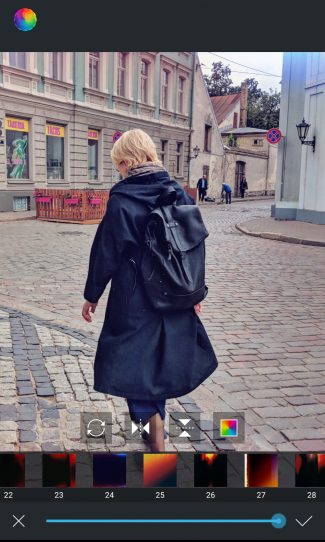 Finally, like Photoshop Express, you have the option to add frames to your photos (for a wonderful finishing touch!)
Afterlight is available for a small fee for both Apple and Android users.
To download Afterlight, click here if you're an Android user and here if you're an Apple user.
9. Adobe Photoshop Fix
Do you enjoy taking portraits? Do you ever wish that you could do some quick portrait-retouching on your smartphone?
You can–with Adobe Photoshop Fix.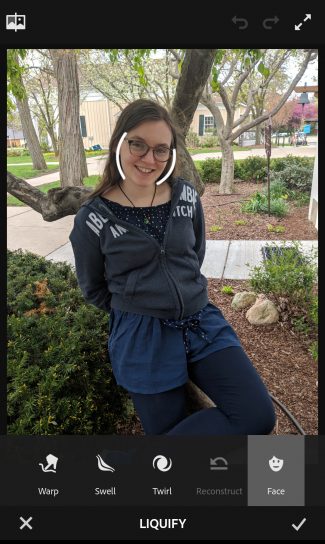 This app is designed with portrait photographers in mind, and it delivers.
All the basic retouching tools are there, such as spot healing, clone stamp, and red-eye removal.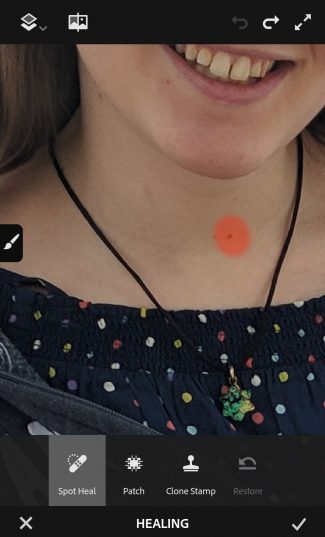 But the more advanced tools are where Photoshop Fix gets interesting. You can use the face distortion tools to modify facial features–such as face width, chin shape, and jawline shape. And the liquify tools actually allow you to select and drag faces.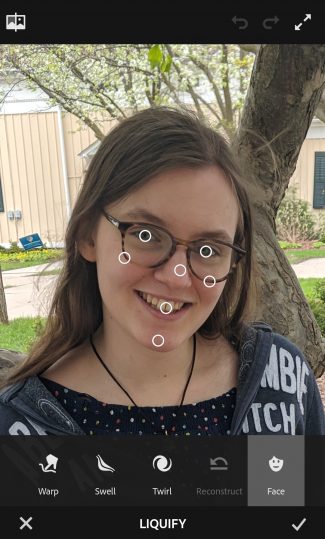 Bottom line?
Photoshop Fix is an incredibly powerful retouching app–which every portrait photographer should try.
To download Adobe Photoshop Fix, click here if you're an Android user and here if you're an Apple user (Note: Adobe Fix is no longer available).
Our Recommendation
Hopefully, you now have a sense of which post-processing smartphone app is best for your needs.
But if you're still struggling to decide, here are my recommendations:
Choose Lightroom or Snapseed if you want a full-featured photo editor with a lot of power and little fluff.
Choose TouchRetouch or SKRWT if you need to do more specialist editing.
Choose Photoshop Express, Polarr, or Afterlight if you're interested in effects and finishing touches.
Grab VSCO if you want to do some quick, one-tap editing.
Finally, go for Photoshop Fix if you're looking to edit portraits.