Professionals and beginners alike can have a difficult time finding a printer they love. Whether you're looking to expand your portfolio by having some of your best shots printed professionally or just looking to document your niece's sixth birthday, choosing a printer you trust is vital.
While it's important to sort and compare your options, sifting through dozens of printer websites can be a waste of time, time that could be spent doing something you love.
For those who would rather devote their free time to furthering their photography passion, we've compiled an in-depth comparison of two heavy hitters: Mixbook and Blurb.
Continue reading below and check out our Blurb vs Mixbook comparison chart, which can assist you when selecting which printer is right for you!
Blurb vs Mixbook Photo Books:
When you buy through links on our site, we may earn a commission at no cost to you. We evaluate products independently. Commissions do not affect our evaluations.
How to Choose a Printer
Before we get much further into our side-by-side review, it's important for you to take a minute and decide exactly what kind of features you're looking for. Keeping your needs in mind can simplify the decision process and make your job easier. In general, there are four things to consider when choosing a printing company:
What will you be printing? Those looking for a hobby photo book will have different criteria from those looking to have single photos printed. When researching reviews, be sure to narrow your search to match your needs.
What is your budget and is there any wiggle room? If you've got a strict budget, the best use of your time may be in narrowing your search to companies that cater to your budget. If you've got wiggle room, don't be afraid to look at some higher-end companies: some have better deals than you'd expect.
Will you need extra features? Some printers offer a level of customization in your prints that professionals will be especially interested in, while other companies target a demographic that wants these things automated. Pay attention to what optional features each company offers.
What kind of delivery will you need? For those looking to receive their product on a tight schedule, it's worth it to compare shipping prices from a few companies. Also, keep in mind that not all companies will ship internationally.
Comparing Blurb vs Mixbook
Blurb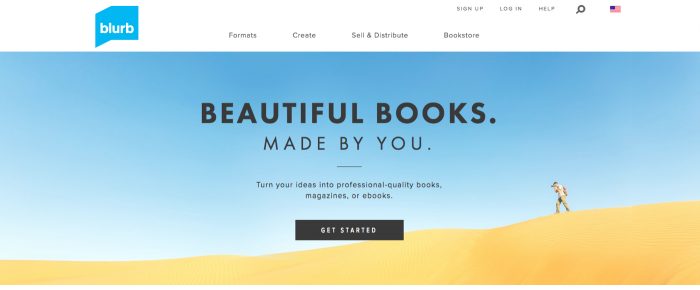 Blurb, founded in 2005 in San Francisco, CA, has stood out among other photo book companies, largely because it is a self-publishing company offering a very different selection of services. Blurb ships to over 70 countries and has delivered more than 14 million books. Most photographers will be interested in Blurb's fantastic photo book abilities. While they may offer fewer services than others, they more than make up for the deficiency with high-quality printing.
Blurb Product Range
While Blurb does offer options for traditional printing, we're focusing on their gorgeous photo books. The books are available in six sizes: 5×5″, 7×7″, 8×10″, 10×8″ 12×12″, and 13×11″. Rivaling the paper options of Mixbook, Blurb also offers six paper options, meaning you won't have to sacrifice your love of customization when going with Blurb.
Currently, they offer Standard, Premium Lustre, Premium Matte, Proline Uncoated, Proline Pearl Photo, and Standard Layflat. Their covers are available in three different styles:
Glossy Softcover,
Hardcover ImageWrap with a matte finish, and
Hardcover Dust Jacket with a glossy jacket over black linen.
Impressively enough, the design aspect of their photo books is what really sets Blurb apart from Mixbook and other competitors. While it does offer a fantastic browser tool, it also offers a desktop and mobile version. For those who are looking to really personalize their photo book, there's also an option to upload directly from popular professional tools such as Adobe InDesign.
Also, Blurb offers you a free desktop software (see Blurb.com/Bookwright) to create your own books, magazines, and ebooks.
Blurb Prices
Depending on which size, cover, and type of paper you're looking at for your photo book, the price will vary. To give you a general overview, we've listed the price range for the photo books offered by Blurb based on their sizes:
Small Square Photo Books (7×7″) will cost anywhere between $14.99 and $44.99. Keep in mind, additional pages for this book will cost anywhere from $0.20 per page to $.0.40 per page, depending on the type of paper you choose.
Standard Portraits (8×10″) can cost between $21.99 to $52.99. Additional pages for this size tend to run between $0.25 and $0.45, making it a reasonable price bump from the Small Square Photo Book.
Standard Landscape (10×8″) matches the Standard Portrait price and can be as low as $21.99, although can go as high as $52.99. Additional pages for these also mirror the Standard Portrait pricing guide, between $0.25 and $0.45.
Large Square (12×12″) will cost anything from $55.99 to $84.99. While this may seem like a price jump, it's important to note that this size is not available in a soft cover (which is the cheapest option and results in a lower price for other sizes). Additional pages are between $0.50 and $0.70 per page.
Large Landscape (13×11″) can cost between $58.99 and $87.99. Once again, this larger size is not available in softcover format, which results in a more expensive base price. Additional pages for this size mirror the pricing for the Large Square size and fall between $0.50 and $0.70 per page.
It's important to note that a huge benefit to ordering through Blurb is their quantity discount. Those ordering between 10-19 books will receive 10% off; if you're ordering between 20-49 books, you'll be eligible for 20% off. For those who are planning for more, anyone ordering over 50 books will receive 25% off.
Blurb Reviews
An important step in any major purchase is taking a glance through customer reviews. For the purposes of simplicity, we've narrowed our search down to three of the most reliable sources: the Better Business Bureau, Top Ten Reviews, and Cnet.com.
Better Business Bureau: A+. Earning a 4.12 average from 9 reviews left on the site, Blurb has a solid rating from the BBB. For the majority of the negative comments left, it does seem as though Blurb has left some feedback and offered an apology when necessary. Whether it's a good sign or bad, most of their complaints are not about the product and are actually related to the chat-based customer service. Overall, reviews from the BBB indicate the product received is high quality.
Top Ten Reviews: 5.8/10. While the score left by TopTenReviews.com leaves something to be desired, it's important to note that the two major factors leading to the poor score are the less than intuitive user interface and the lack of size options available. For those who are looking for the option to upload via PDF or Adobe InDesign, this still may be a viable option for you to look into. Reviewers still loved the quality and amount of customization offered, although they were disappointed with the few templates offered.
Cnet. While the Cnet.com review does not offer a number or letter grade, the review is overall pretty positive and in line with what other review companies have said. The quality is great, the paper is phenomenal, but it can be difficult for a beginner to use. The reviewers at Cnet do agree that the flexibility offered by Blurb, for those who are comfortable using it, makes it worthwhile.
"Blurb was the most flexible of the bunch in terms of large swaths of text. It also turned out to be the most frustrating to use." – Cnet.com
Related Post: Blurb Review
Blurb: Our Overall Impression
Blurb is a fantastic company. While their prices for high-quality paper may intimidate some, you get what you pay for. Their Mohawk brand paper is top-of-the-line; however, this may not be the best option for those who are looking for a quick drag-and-drop book creation. Blurb seems to better fit those who are comfortable with technology or have used programs like this in the past.
Mixbook

Based in California, Mixbook is an online photo service center. Offering a high level of customization, this company has exploded in popularity since it was founded over a decade ago. Interestingly enough, Mixbook was designed by Andrew Laffoon and Aryk Grosz as a way for high school students to design their own yearbooks, making it clear why this company has built a cult following for its photo books.
Earning praise as "one of the best photo book-making sites" by CNET and being featured on The Today Show for their gorgeous canvas prints, it doesn't look like Mixbook plans on slowing its expansion anytime soon.
Mixbook: Services Offered
While best known for its photo books, Mixbook actually offers a pretty comprehensive line of services.
Photo books. Mixbook has been renowned for its quality photo book prints, offering a high level of customization for even the pickiest of photographers. Their books are offered in a variety of covers and papers, and can be designed to fit most budgets. For the professional, keep an eye out for the premium flat-lay option. Hobbyists, take a browse through their extensive theme library.
Cards and Magnets. Available in a variety of papers and styles, Mixbook is a fantastic option for those looking to create cards. With themes for everything from party invitations to save-the-dates, you're pretty well guaranteed to find a theme to suit your needs. Uniquely, cards can be made with a cotton-like finish, ultra-thick cardstock, and even made with foil highlights to add dimension. Custom photo magnets are also a viable option as an alternative to traditional cards and remember to check out their custom address labels and stationery to match your theme.
Calendars. For those looking to start their year off right, the calendars offered by Mixbook are a great option. Fully customizable, their calendars offer an assortment of sizes and formats. You'll be able to choose from their theme library or, for those who want more control, design it from scratch yourself.
Wall Prints. While these are categorized on their website as "home décor," they're best explained as wall prints. For those looking to put their photos on display, or make your latest family portrait the center of attention in your sitting room, Mixbook offers several options: canvas prints, metal prints, acrylic prints, acrylic blocks, and even poster prints.
Photo Prints. Finally, Mixbook offers simple photo prints for those looking for a professional print. With their online photo editor, Mixbook boasts that you'll no longer have to deal with the local copy store accidentally cropping your heads out of your Christmas cards. After uploading your photos, you can choose from a variety of sizes. While the most common is 4×6″, 5×5″, 5×7″, and 8×10″, they also offer larger 36×24″ prints.
Related Post: Best Photo Book Printing Services (Top 11 Amazing Picks)
Mixbook Prices
Part of what has made Mixbook such a popular option is its amount of customization. This had led to the company offering an option for every type of photographer and for any price point you may have in mind. While it can be hard to give exact prices, we've collected some average price ranges for their products below:
Photo books can be tricky to price out, considering there are so many different options for cover, size, and varying page numbers. A softcover will be priced anywhere from $15.99 to $24.99, making them the cheapest option. Meanwhile, if you're looking for a premium lay-flat hardcover, they'll be priced anywhere from $59.99 to $124.99. Keep in mind, anything over 20 pages will cost you extra. Be sure to check the per-page cost before ordering on their website so you know what to expect.
Photo Prints are pretty reasonably priced for Mixbook. Their 4×6″ shots are priced starting at $0.15 a piece, going up to $3.99 for each 8×10″.
Cards by Mixbook vary in price, largely due to their high levels of customization. If you're looking for a simple satin finish, the price can be as low as $0.69. If you're looking for a luxurious ultra-thick card stock, they'll start at $1.99. Their Premium Matte and Pearl Finish are both available from $1.09, while the Cotton Texture will start at $1.59.
Calendars are priced pretty affordable. A typical square calendar at 12×12″ will start at $29.99, while landscape calendars will start at $24.99.
Wall art can vary in price for the site. Their Acrylic prints range from $49.99 for a 6×6″ to $199.99 for a 30×20″. Their canvas prints will cost anything from $49.99 for a 10×8″ to $164.99 for a sizable 36×24″, while their metal prints run anywhere from $19.99 for a 6×4″ to $249.99 for a 36×24″. Lastly, their posters seem to be the most affordable option, ranging from $7.99 for an 11×14″ to $31.99 for a 36×24″.
Mixbook Reviews
In order to keep our reviews as fair as possible, we've gathered the reviews for Mixbook from the same professionals we listed for Blurb. Take a look at some of the fantastic ratings this company has garnered:
Better Business Bureau: A+. Currently, Mixbook has a 4.1, based on 6 customer reviews in their system. Of the few negative reviews left on the BBB website, it does seem as though Mixbook has been pretty prompt in contacting the customer to rectify the issue, something that tends to reflect a decent level of customer support. As with all BBB ratings, there's no way to verify many of the complaints, but it's a good sign that none of them are regarding the same issue.
Top Ten Reviews: 9.73/10. In a review, members of Top Ten Reviews compared a series of photo printing services.

Of these companies compared, Mixbook has come out as the top company, earning an impressive 9.73.
The largest complaint is that there's no option for in-store pickup, something that may impact your decision if you're looking for the quickest delivery time.
Other than that, reviewers were impressed with the quality, customer service, and the variety of themes offered by Mixbook.
Related Post: Best Pro Online Printing Service Providers
"Mixbook offers a vast selection of design elements and makes everything really easy…" TopTenReviews.com
Cnet published an impressive review of Mixbook, comparing it to other industry leaders. After raving about the ease of use when accessing their website and design process, reviewers voted Mixbook the superior company, topping even names like Shutterfly.
Related Post: Mixbook vs Shutterfly
Mixbook: Our Overall Impression
Honestly, one of the things that makes Mixbook such a major brand has been its level of customization. The themes offered by the company are top quality and there's something in their library for everyone.
For those who are looking to venture away from themes and really create their own unique design, there is also an option to start from scratch. All of their products come in a variety of finishes, and there is sure to be something that will fit your budget and that you'll love.
Blurb vs Mixbook: A Side-by-Side Comparison
Looking to get a better understanding of these two companies from a distance? Take a look at our chart below to learn which features are offered by which company.
| | | |
| --- | --- | --- |
| | Mixbook | Blurb |
| International Shipping | Yes | Yes |
| Money-Back Guarantee | Yes | No |
| Live Chat | Yes | No |
| Online Album Sharing | Yes | Yes |
| Import from Social Media | Yes | Yes |
| Processing Time | 1-2 days | 4-5 days |
| Available Photo Book Sizes | 7 | 6 |
| Website | Mixbook | Blurb |
While both of these online printers are fantastic, they do cater to two different audiences. Those who want total control over what they're getting may feel more comfortable with the capabilities of Blurb.
For those who are just starting out you may want to take a closer look at Mixbook.
Overall, it's fantastic to see two great options available to photographers at any experience level. Be sure to let us know which one you prefer!