Acrylic and metal prints look incredible in homes, offices, and so much more. Both print types are sleek and professional-looking, and it's tough to go wrong with either product. However, if you're struggling to pick between the two, there are some key differences to understand before buying.
As an experienced photographer, I've done my fair share of printing and have tried both of these print types. Below, I discuss the key differences and similarities between acrylic and metal, and explain why you might want to pick acrylic over metal (or vice versa)!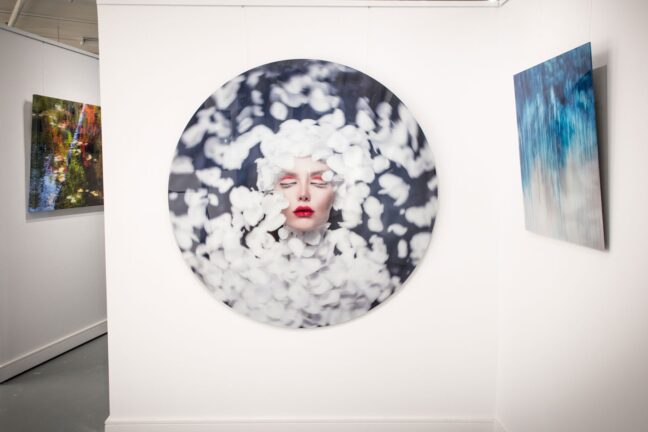 Acrylic Prints vs Metal Prints:
When you buy through links on our site, we may earn a commission at no cost to you. We evaluate products independently. Commissions do not affect our evaluations.
Acrylic Prints vs Metal Prints: Overview
Acrylic and metal prints have become popular in recent years, thanks to their versatility, durability, and just all-around stunning aesthetic.
While there are different methods of creating acrylic prints, companies usually start with a top-quality (paper) photo print, which is then mounted to the back of a sheet of plexiglass. The result is modern and vibrant: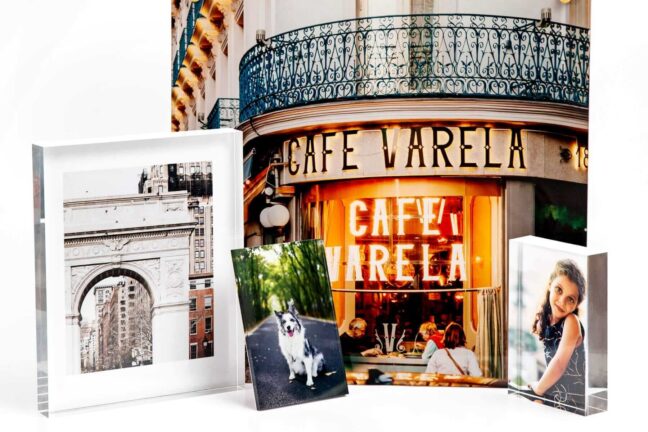 Metal prints also come in several forms. The highest-quality version of metal printing involves transferring inks from paper to metal for a gorgeous-looking piece of decor: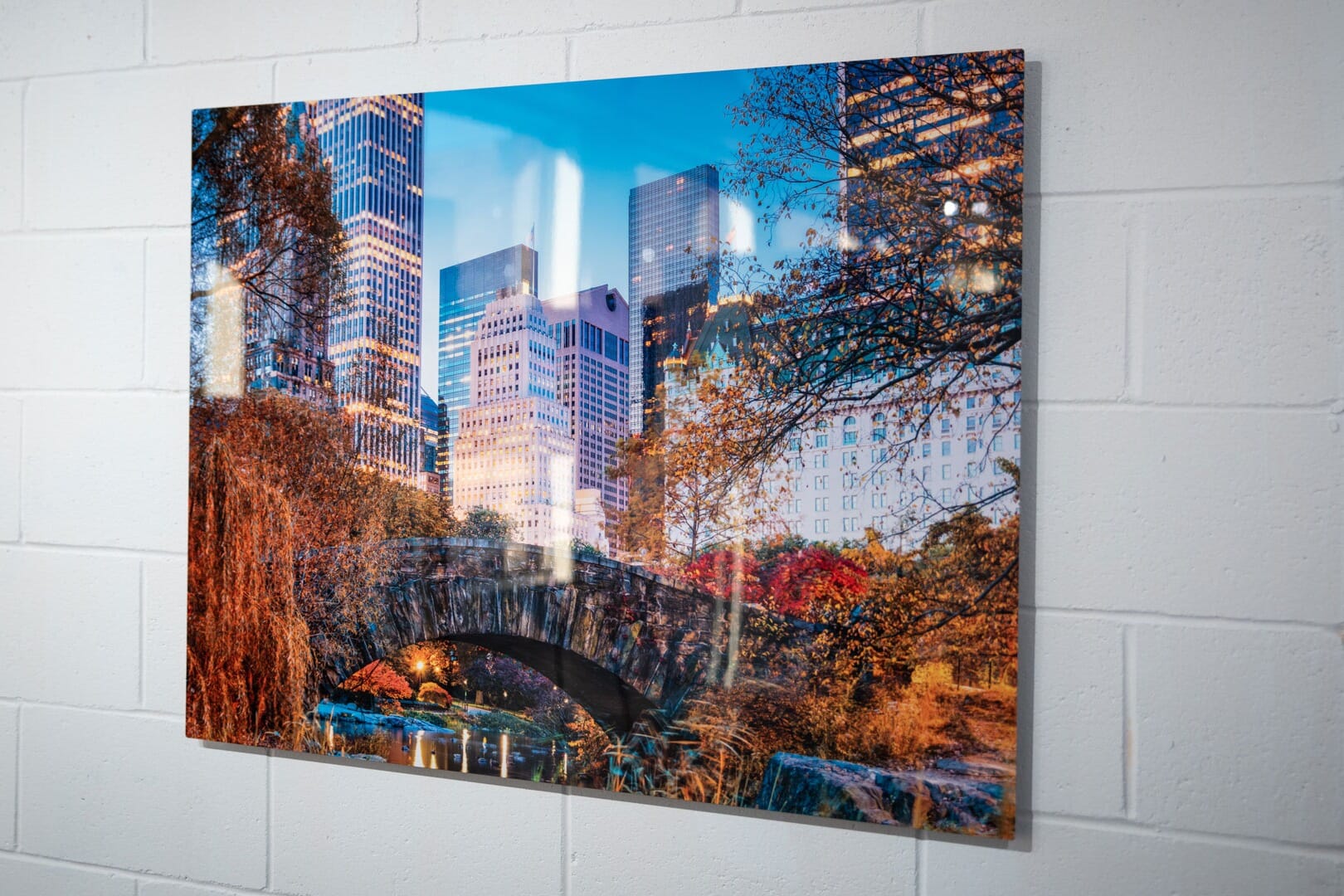 In fact, out of all the popular print products, metal and acrylic are the most similar, and they both make for beautiful prints that are bound to impress.
But there are also some key differences between the two print types, especially in terms of durability, quality, and price – so as we go through this article, I'm going to give you a thorough rundown of metal and acrylic products and why you might want to choose one over the other.
Note: There are dozens of acrylic and metal print manufacturers. Many of them do a great job, but others produce poor products – so even once you've chosen between acrylic and metal, you'll need to carefully select a professional printing company. Otherwise, you won't experience the benefits of either acrylic or metal prints; the products won't look great, they won't last for long, and you'll end up dissatisfied.
Durability
Acrylic and metal prints are designed for durability, and in general, both perform very well.
Acrylic products are covered with a plexiglass sheet, which provides UV resistance and makes the prints waterproof. This is perfect for a number of reasons; first, you can display your acrylic prints in high-humidity environments such as bathrooms and basements.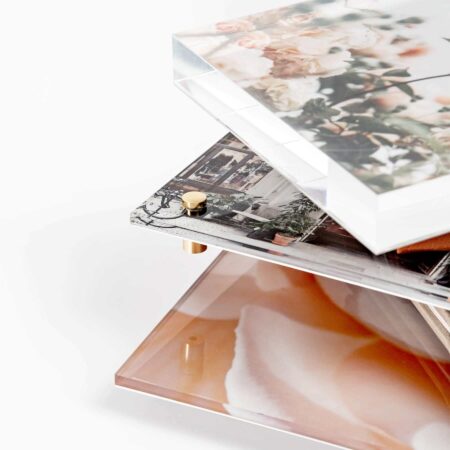 Second, you can easily clean your acrylic print. Did a child get mucky fingerprints all over the front? No worries – just whip out a cloth and rub away the dirt. Has dust begun to accumulate on the surface of your print? You can towel it off without issue.
As you can imagine, acrylic prints are also rip-proof and tear-proof, which makes them ideal for homes with young children or rambunctious pets. Compared to, say, canvas prints, acrylic prints offer major peace of mind; when an image is covered by plexiglass, damage isn't a huge issue.
But while acrylic products can handle lots of damage, metal prints take this a step further. Like acrylic prints, metal prints resist fading. Also like acrylic prints, metal prints are waterproof, which makes them suitable for bathrooms and basements. (In fact, I've heard it argued that metal prints are slightly more waterproof than acrylic prints, because they're pure metal, whereas acrylic prints do include photo paper in the package.) They're also rip-proof and tear-proof and pretty much everything-proof because they're highly durable metal.
Unlike acrylic prints, metal prints are scratch-resistant, so you can worry less about accidental damage during a move or a trip. And thanks to metal prints' uniquely durable construction, if you're planning on hanging a photo outdoors, I'd definitely recommend metal over acrylic.
Ultimately, while both acrylic prints and metal prints are durable enough for most purposes, metal has a slight edge.
Versatility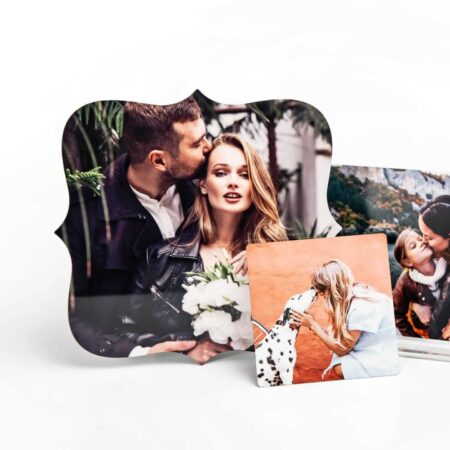 Both acrylic and metal prints are pretty customizable. For instance, acrylic and metal manufacturers offer a handful of different mount options, so you get various levels of sturdiness depending on where you're planning on hanging your print. And there's a huge array of sizes, from tiny 4x6s all the way up to 3×2'' and beyond.
Though if you're planning to print big – here, I'm talking four-foot-by-five-foot big – metal print manufacturers do tend to have more options, so that's certainly worth keeping in mind (though it'll really depend on the printing company you use).
On the other hand, acrylic products add a bit of versatility on the small end, thanks to the invention of acrylic blocks; these are thick acrylic prints that stand on their own.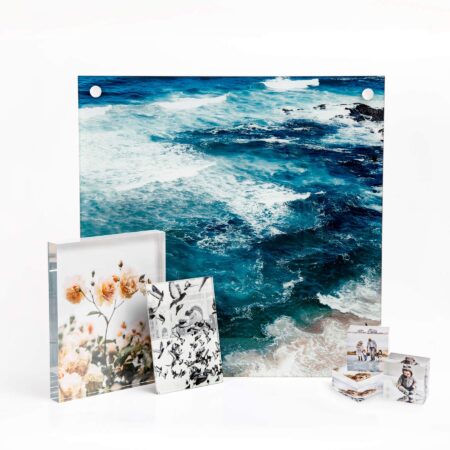 As I'll discuss in a moment, I do think that metal prints are slightly more universal in their appeal. They work with most surroundings – that is, they go with most interior design styles – whereas acrylic prints require a more modern look.
Metal prints are also far lighter than their acrylic counterparts. While the specifics depend on the manufacturer, an acrylic print is often quite hefty; this limits your ability to take acrylic prints of your work to art shows and gallery displays. Whereas a metal print (or two, three, or more) can be transported more easily.
Quality
If you're trying to decide on the perfect print type for your needs, I'm betting that quality (and overall look) is a huge deal. After all, you're likely after a print that's sharp, vibrant, and jaw-droppingly beautiful, so which print type, metal or acrylic, offers better quality?
Assuming you pay for a good manufacturer, both metal prints and acrylic prints will turn out great. But metal does feature a more refined look, which is why it works well pretty much anywhere, from homes and offices to coffee shops and galleries. Plus, colors are nice, details look sharp, and the entire print displays a beautiful, metallic sheen.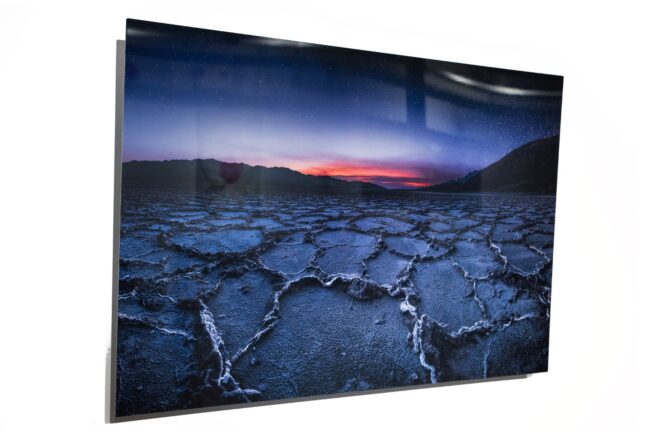 That said, there's something truly special about acrylic prints, thanks to the classic acrylic look. You see, because acrylic prints feature an unusual amount of material in front of the print, they seem weirdly deep, almost 3D. It's enough to draw the eye of any viewer, and it's certainly a great feature if you're aiming to impress friends or clients.
Also, acrylic prints are known for their incredible vibrancy; they take standard colors and make them pop like crazy, which is why acrylic products are superb for colorful outdoor shots, such as sunsets, fields of flowers, and more.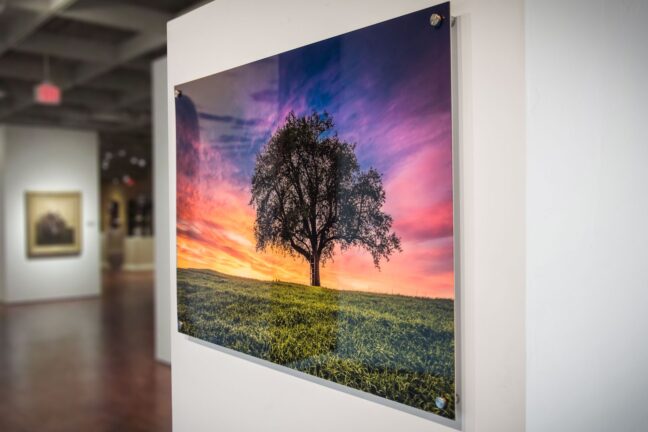 Yes, acrylic prints tend to look better in a business than in the average home. But if you're a fan of the sleek, modern look, or if you have unusually vibrant photos that could use a little extra spice, acrylic is the way to go.
One last point: Acrylic prints do suffer from glare. While this can be a problem with metal prints, it's much less common, whereas acrylic prints, when placed near a light source, reflect it in every direction. This can be minimized by careful placement, but it's certainly an annoyance!
Price
Acrylic prints and metal prints are both on the pricier side. Canvas prints are cheaper than both of the above options, and paper prints are even more of a money-saver, though you'll end up paying a lot if you decide to have them matted and/or framed.
But of the two options, which is better priced? While acrylic prints aren't majorly expensive compared to metal prints, there is a noticeable difference, and acrylic prints do cost more than metal prints on average. So if you're focused on your budget and you like both options, just go with metal to keep the costs down.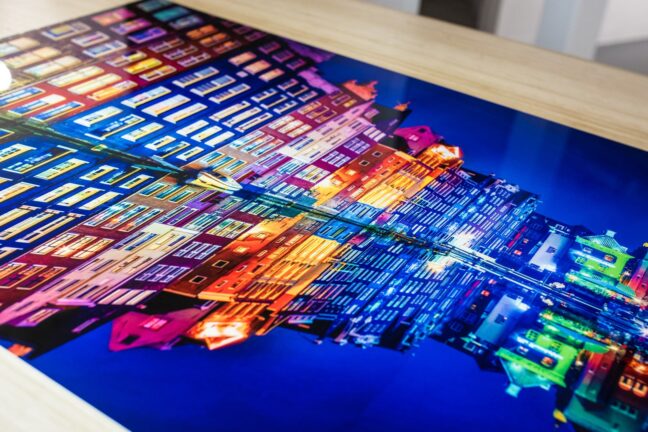 Which Is Best, Acrylic or Metal?
Now you know all about acrylic and metal prints and that each product is great for a different type of customer. In general, I'd recommend acrylic prints for those who:
Prefer a modern, sleek style
Take colorful, detailed photos
Love the 3D acrylic effect
Want a print that looks like quality
Whereas I'd recommend metal prints for those who:
Are after a one-size-fits-all style (that still provides a modern effect)
Require a durable print for outdoor or high-humidity environments
Are aiming to keep the price down
So pick your print type. And go ahead and order your prints!
Acrylic vs Metal Prints FAQ
Are acrylic or metal prints better?
That depends on the scenario and on your personal preferences. Acrylic prints are stunningly vibrant and offer a lovely 3D effect. But metal prints are more durable, they look great, and they're cheaper, too.
Are acrylic prints any good?
Absolutely! Acrylic prints, when done right, look incredible. They feature a 3D effect, plus mouthwatering colors.
Are metal prints worth it?
That depends on what you plan to do with your metal print. Metal prints offer several advantages over more traditional prints, such as the durable material, the display-anywhere flexibility, the beautiful final look, and more. Whether any of these reasons compel you to pay extra money is based on your own needs. 
Do metal prints fade?
Unfortunately, metal prints do fade. Fortunately, this takes an exceedingly long time.