If you have a photograph that you really love, why go small? Instead, you can turn your beloved image into a massive piece of wall art! But where's the best place to print large photos?
Unfortunately, not all labs can handle larger prints well – so you'll probably be better off finding an online service to order them. Here is our list of the 10 best places to print large photos, so that your favorite photographs are done right.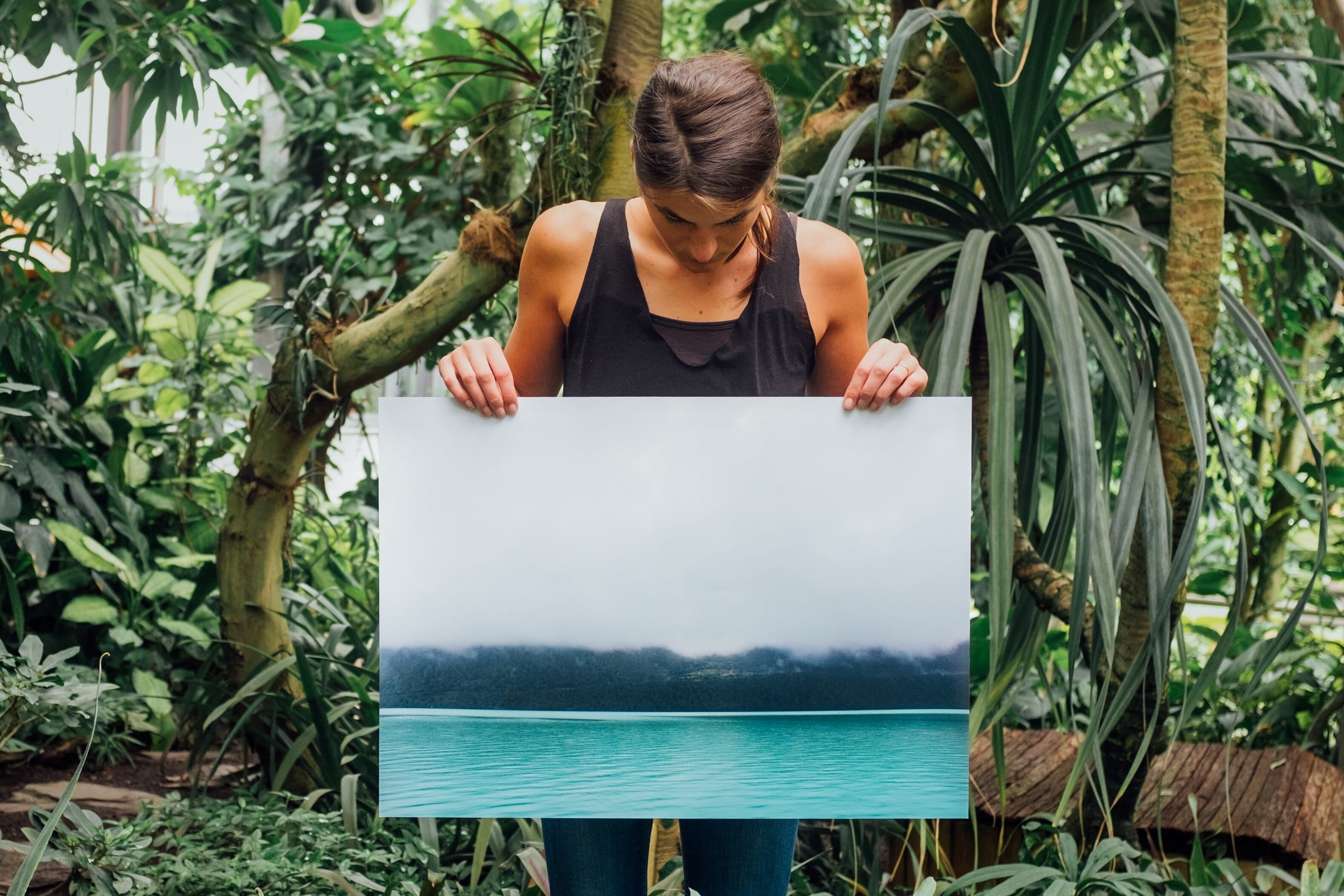 Best Companies Offering Large Prints:
When you buy through links on our site, we may earn a commission at no cost to you. We evaluate products independently. Commissions do not affect our evaluations.
Maximum Print Sizes Per Print Lab
| | |
| --- | --- |
| Nations Photo Lab | 30″ x 45″ |
| Bay Photo Lab | 50″ x 90″ |
| WHCC | 30″ x 45″ |
| ProDPI | 30″ x 50″ |
| Snapfish | 20″ x 30″ |
| Pictorem | Up to 96″ |
| Mpix | 24″ x 36″ |
| Social Print Studio | 30″ x 45″ |
| CanvasChamp | Custom Sizes Up to 54″ |
| Gloss Metal Prints | 40″ x 60″ |
1. Nations Photo Lab
Our Pick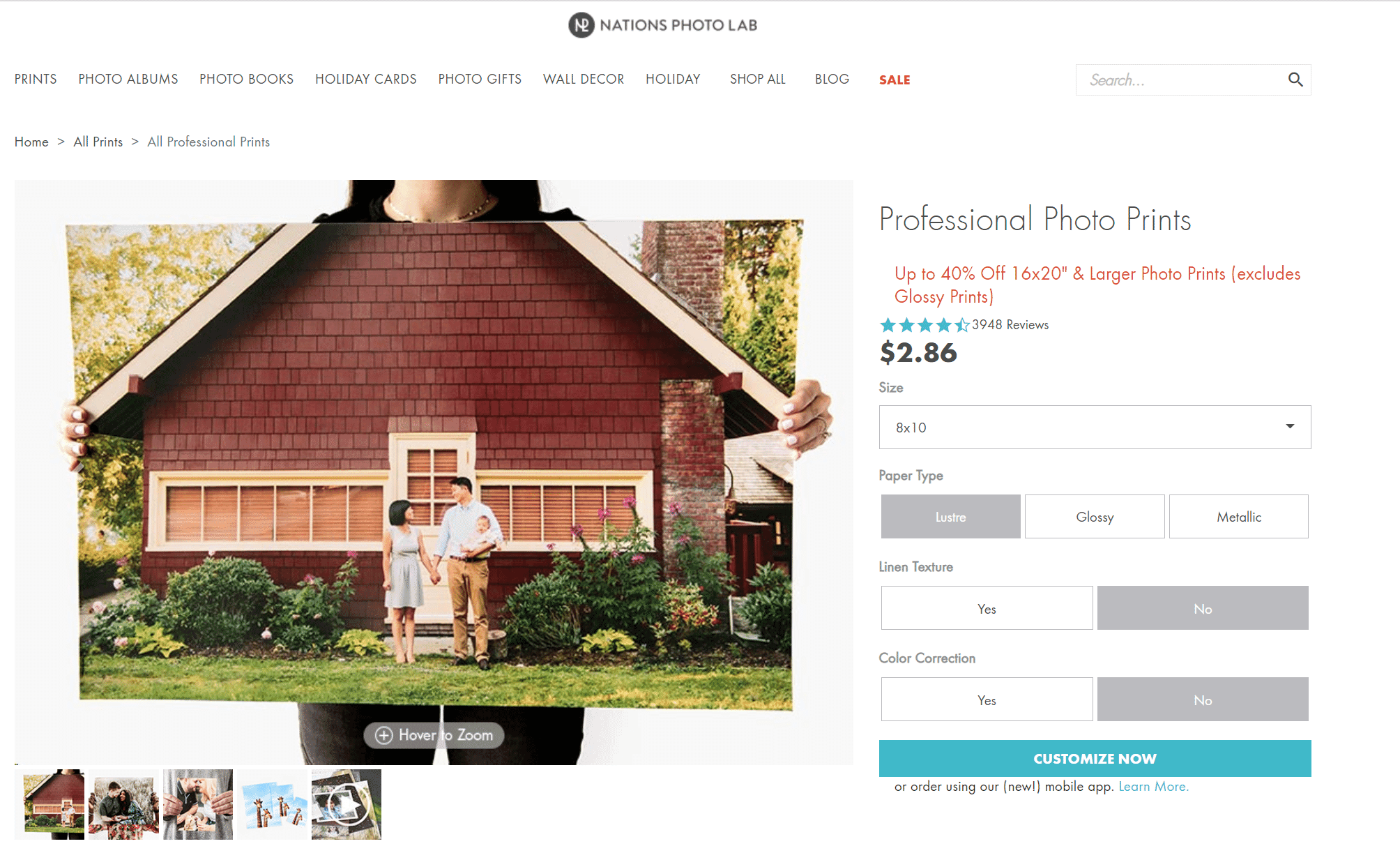 Our Overall Favorite
With a perfect combination of quality and price, this lab takes the cake when it concerns large format prints for everyday people.
Pros
Superb quality prints that are accessible to all
Great price
Can print up to 30″ x 45″
Cons
Custom sizes not available
Nations Photo Lab was once an option that not many people considered – but has quickly grown to be a beloved go-to lab for everyone! This lab's quality is quite superb, so you can certainly expect beautiful images for a very reasonable price. In fact, there are a number of independent testimonials and reviews that sing praises of the quality work offered by Nations.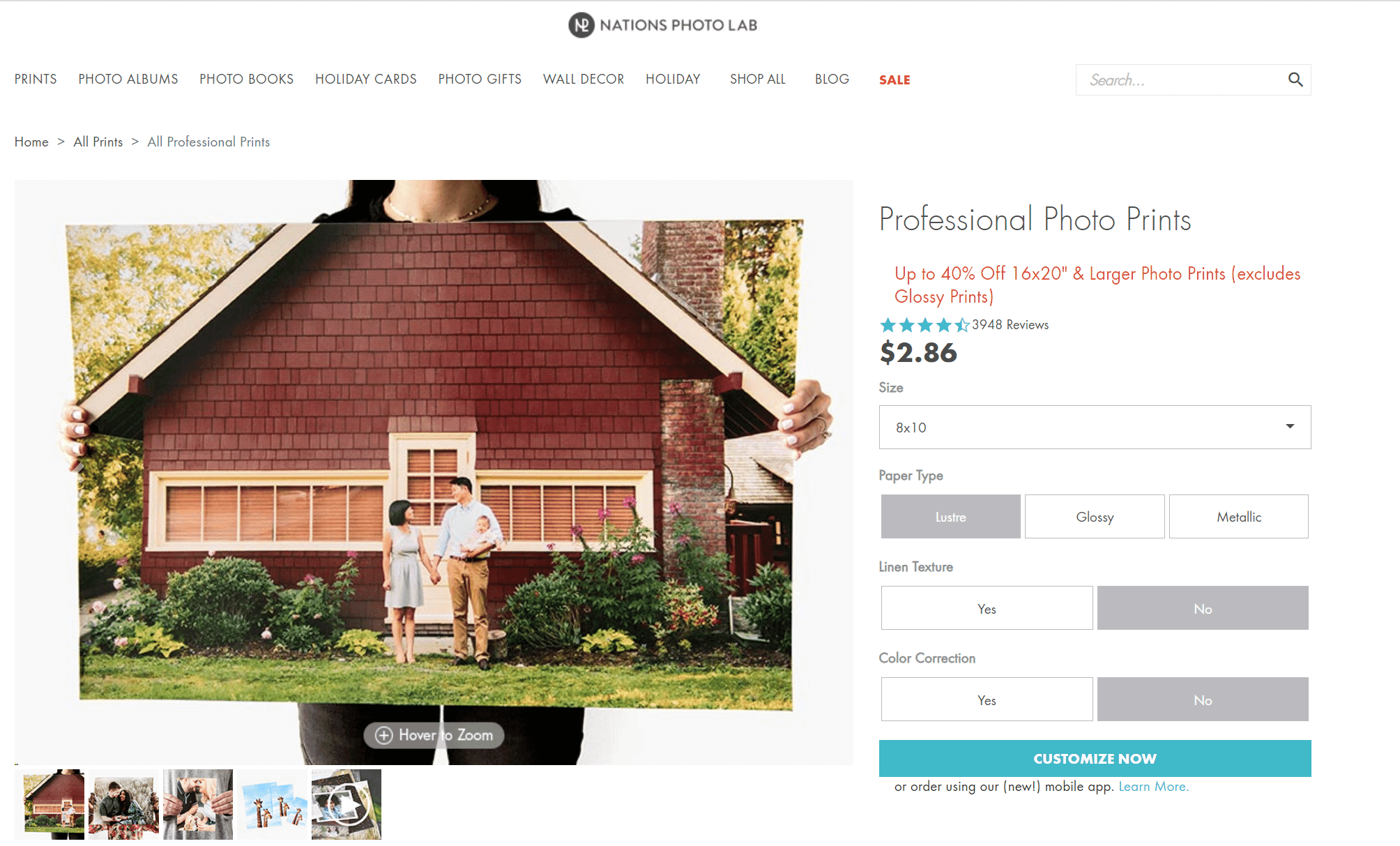 For those wanting some larger sizes, you can print up to 30" x 45" at Nations Photo Lab, and they'll be sure to treat you well. If you're worried about fuzziness or pixelation in large prints, you don't need to be! Nations will handle it and make sure your print is up to snuff.
Related Post: Nations Photo Lab Metal Print Review
Nations Photo Lab also has a nifty blog to help you figure out where to place your newly ordered print or how to incorporate wall art into your current home decor.
2. Bay Photo Lab
Also Great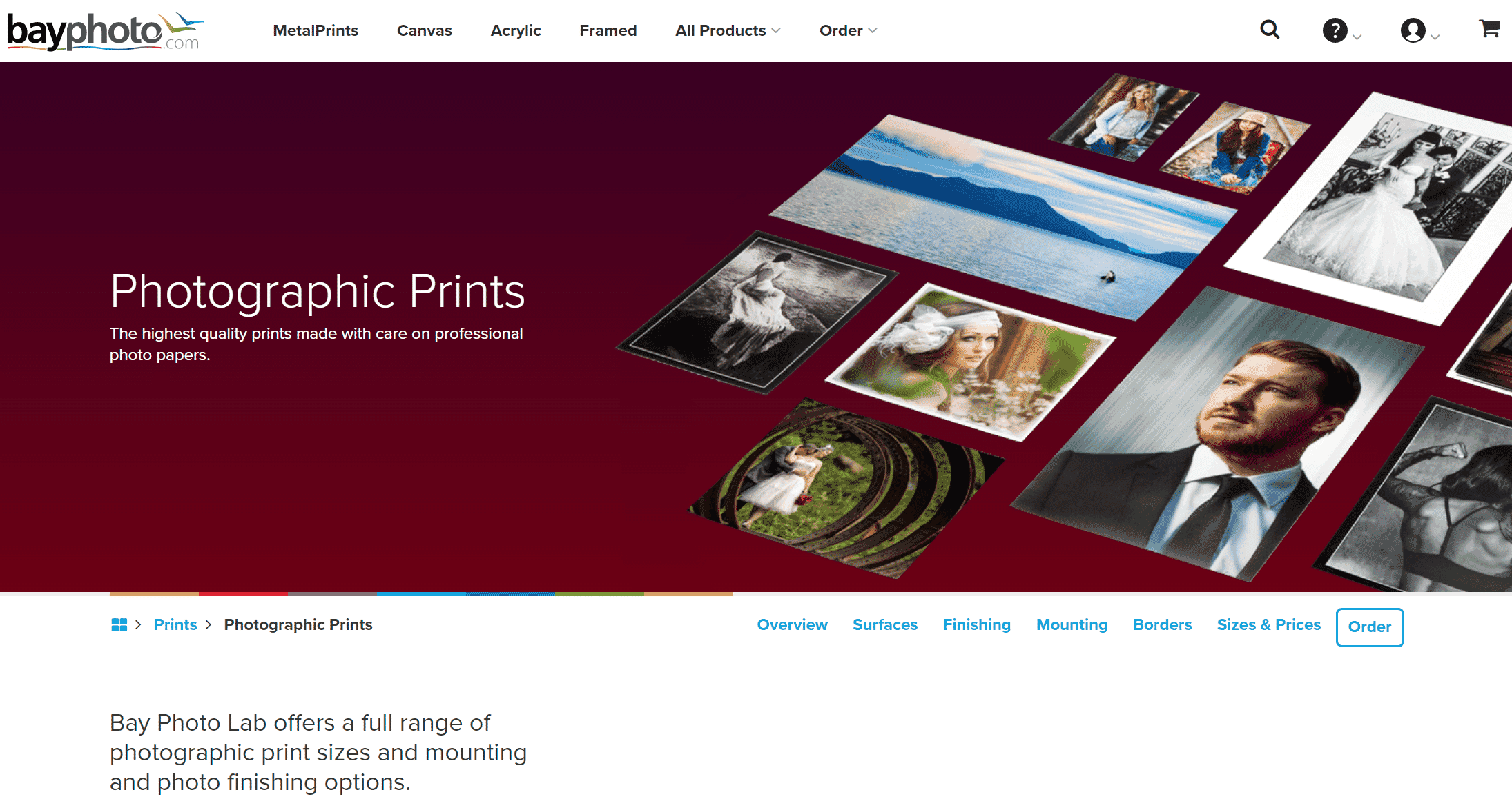 The Bay Area Lab of Choice
Another great option, this lab also fuses professional grade images that are still able to be purchased by everyday consumers.
Pros
Superb quality images
Lots of paper, finish, and texture options
Can print up to 50″ x 90″
Cons
Customer service can be a pain to get a hold of
A photographer favorite, Bay Photo Lab is a perfect combination of professional quality with consumer-friendliness. Anyone from any walk of life can order prints from Bay Photo, as it is not exclusive to photography business owners.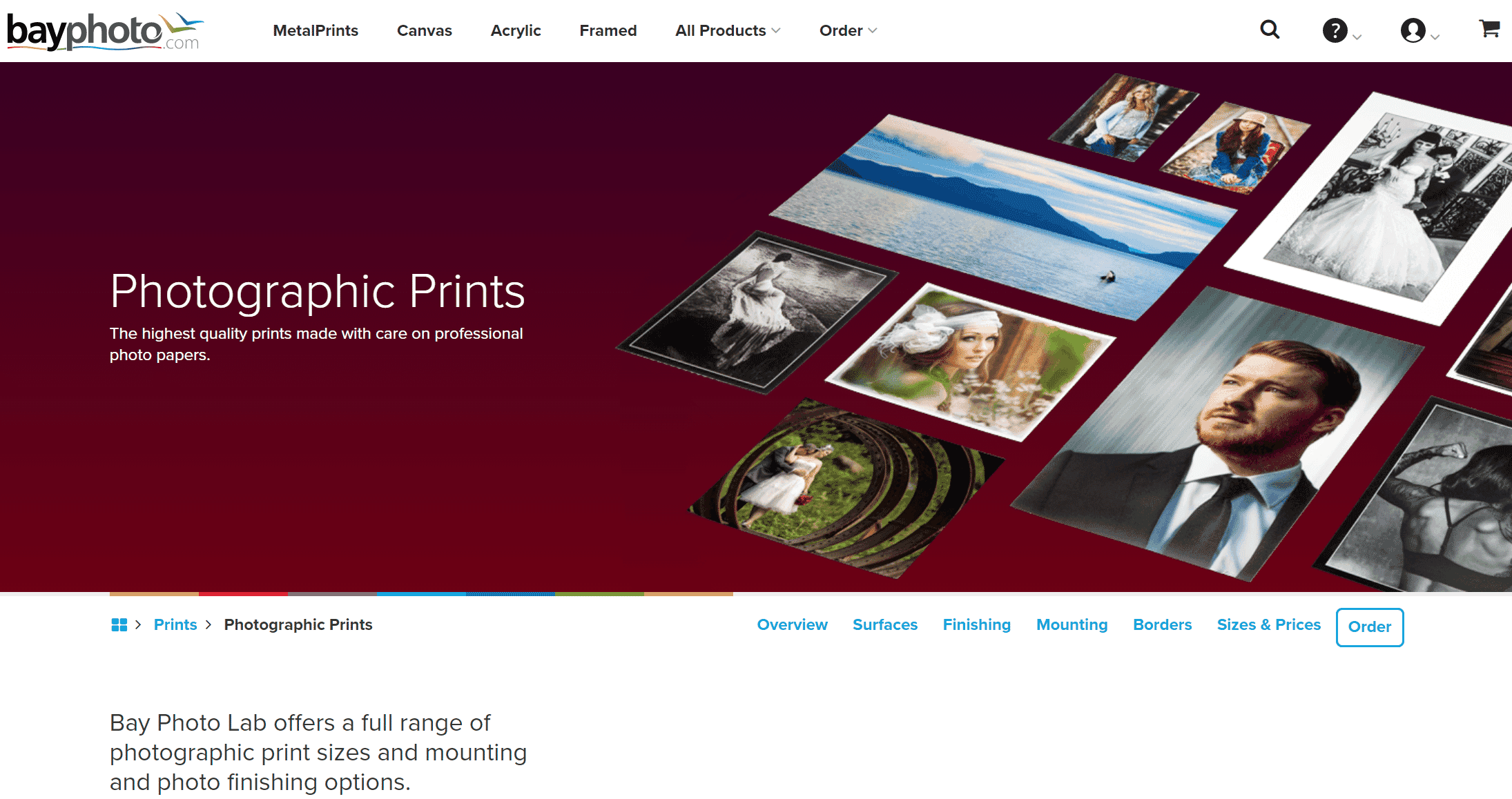 Bay Photo only uses professional-grade paper and offers countless options. From ten different paper types to four coatings and three textures, you can customize your large print in any way that you wish! The maximum printing size is 50" x 90", which should be more than enough for those wanting to go large.
3. WHCC
The Professional Pick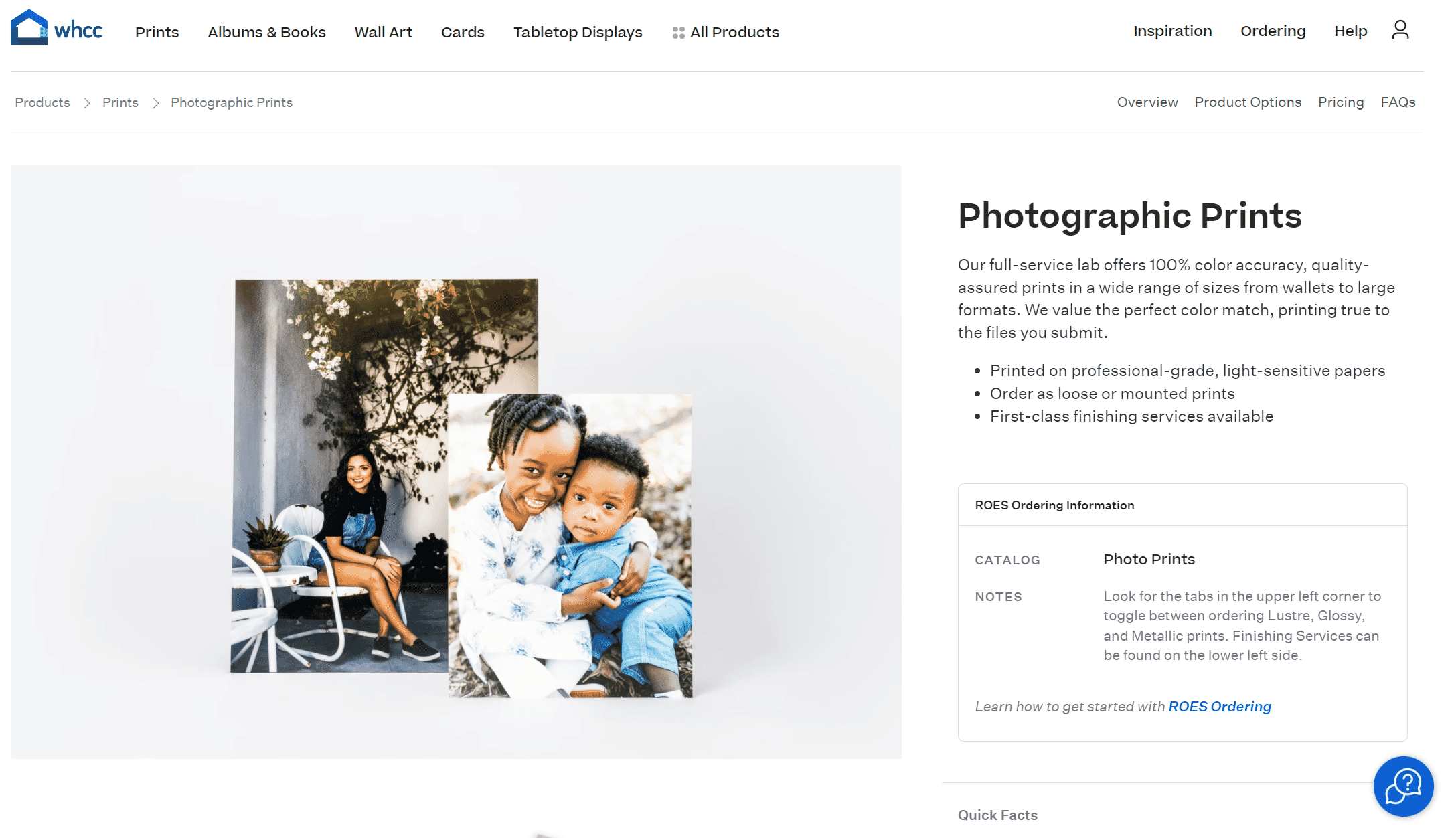 The Professional Lab of Choice
For the professional photographer and studio out there, this lab provides exceptional results with large format prints.
Pros
Outstanding quality at very large format sizes
Great professional services such as two day shipping, color correction, retouching, and more
Cons
Expensive
Must be a professional photographer
WHCC is a lab that prides itself on its print quality. In their own words, their works are "printed on professional-grade, light-sensitive papers". This lab has been meeting professional photographers' printing needs for many years. This top-tie lab can make almost any photographic dream come true for a photographer and their client(s).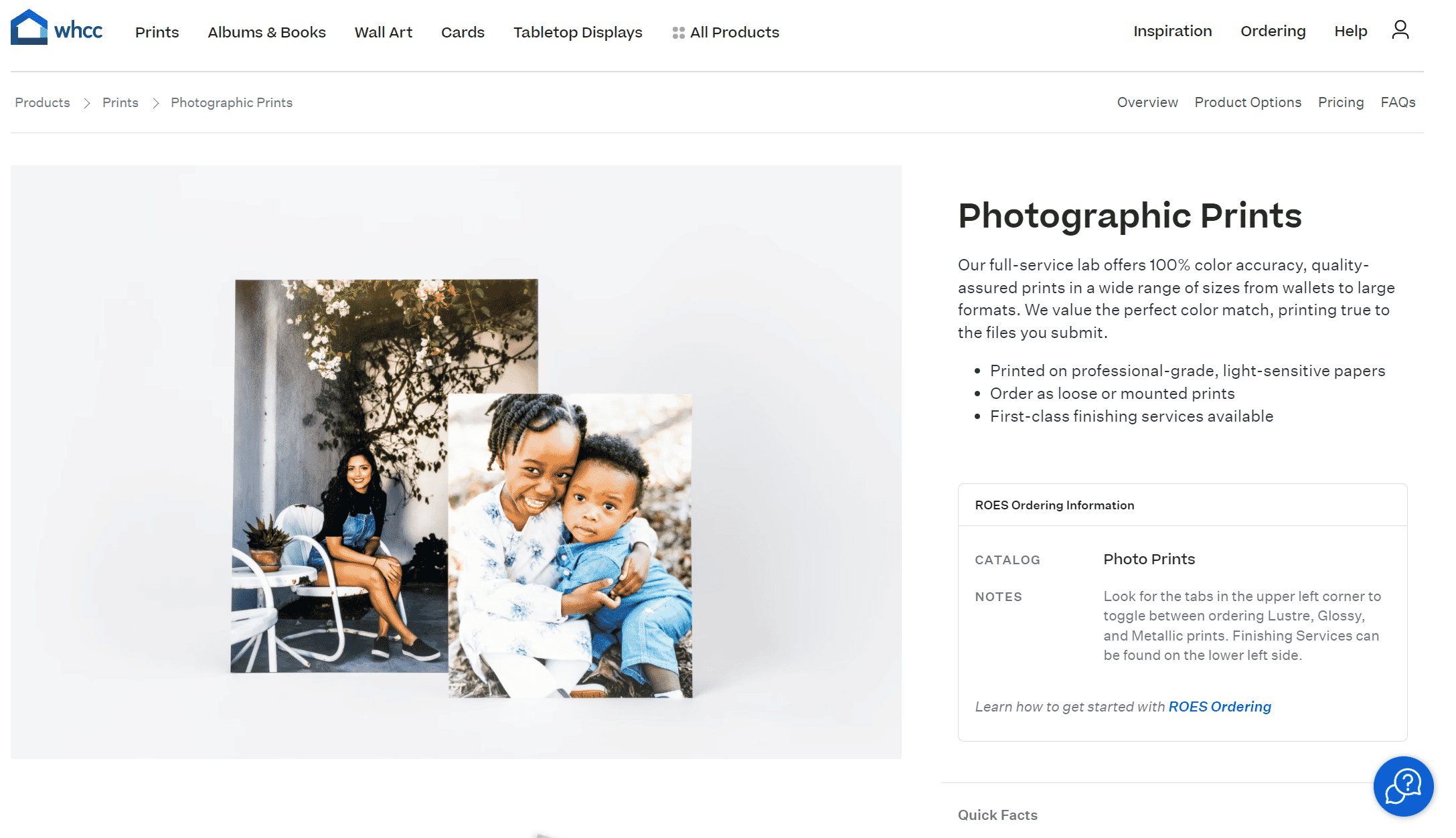 In terms of their size offerings, you can select prints from 2.5" × 3.5" to 30" × 45″ and all are priced reasonably for the exceptional quality you will receive.
You can certainly expect the best of the best here because WHCC is geared toward the professional photographer. When placing an order, you receive additional options such as fast two-day shipping and boutique packaging for all of your prints big or small!
That being said, there is a minimum order that must be placed if you want the images shipped to the studio, but this doesn't apply to prints drop shipped to your client's door.
WHCC even offers color correction and retouching services, helping your large format prints look even more gorgeous!
4. ProDPI
Also Great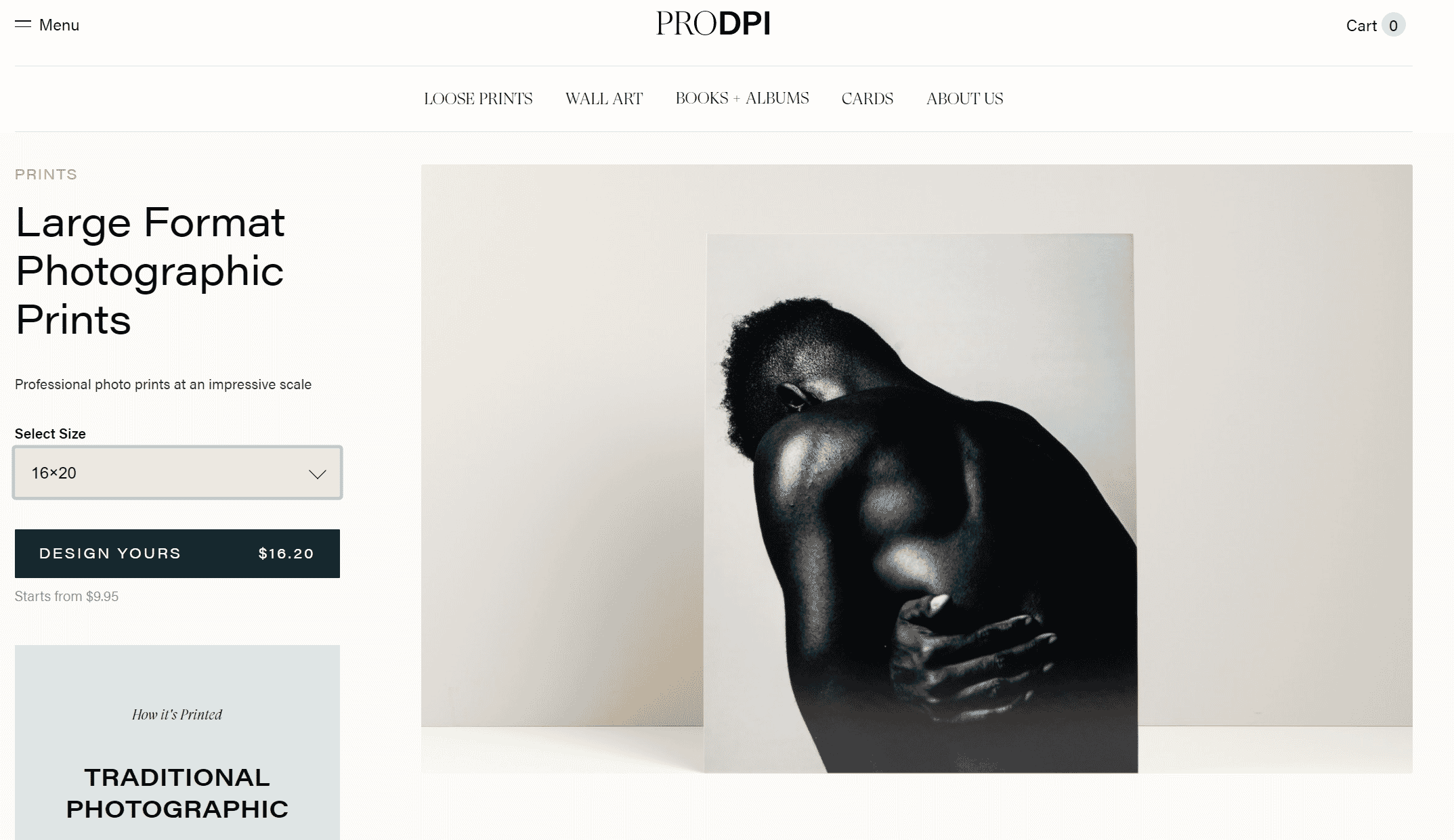 Handcrafted Quality
Carefully inspected for perfection, this professional lab prides itself on quality results.
Pros
Jaw-dropping quality results
Prints are done in-house and hand-checked
Fantastic customer service
Cons
Expensive
Must be a professional photographer
Not the fastest turn around time
Like WHCC, ProDPI is another industry lab for professional photographers. Printed in-house in Minnesota, these prints are hand-checked by trusted professionals to ensure that you get the best quality piece. ProDPI prides itself on incredibly high-quality results, so you can certainly feel as confident in what you receive as they do in what they make!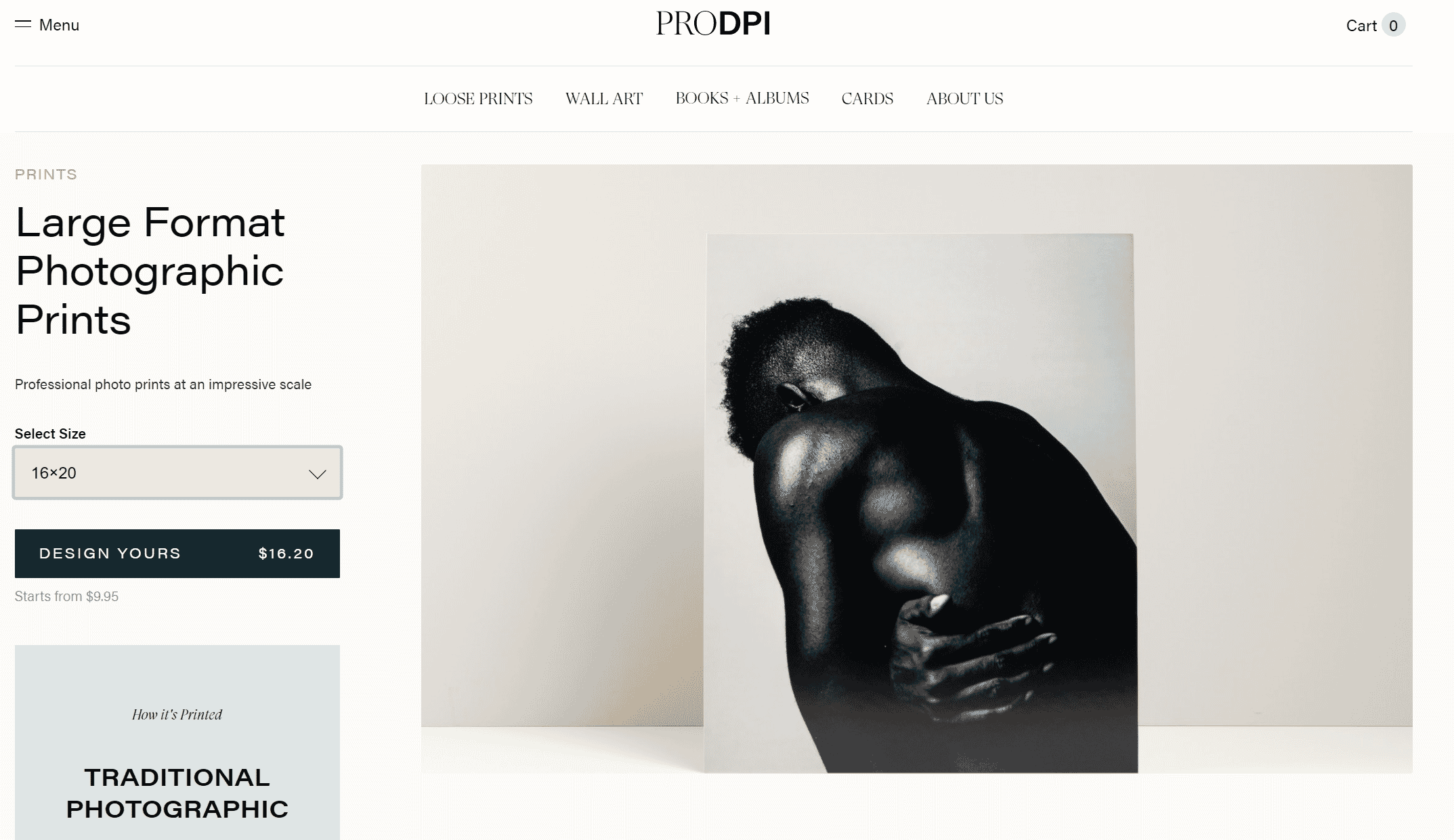 The lab's large format prints go up to a size of 30" x 50", with a slew of sizes in between (including more unique offerings such as a 30" x 30" square that you don't see everywhere).
Their turnaround time isn't the fastest out there, but truth be told, you don't want overly fast output with such fine craftsmanship.
For people who want adequate support, their customer service is wonderful and will help you with all of your questions and concerns.
5. Snapfish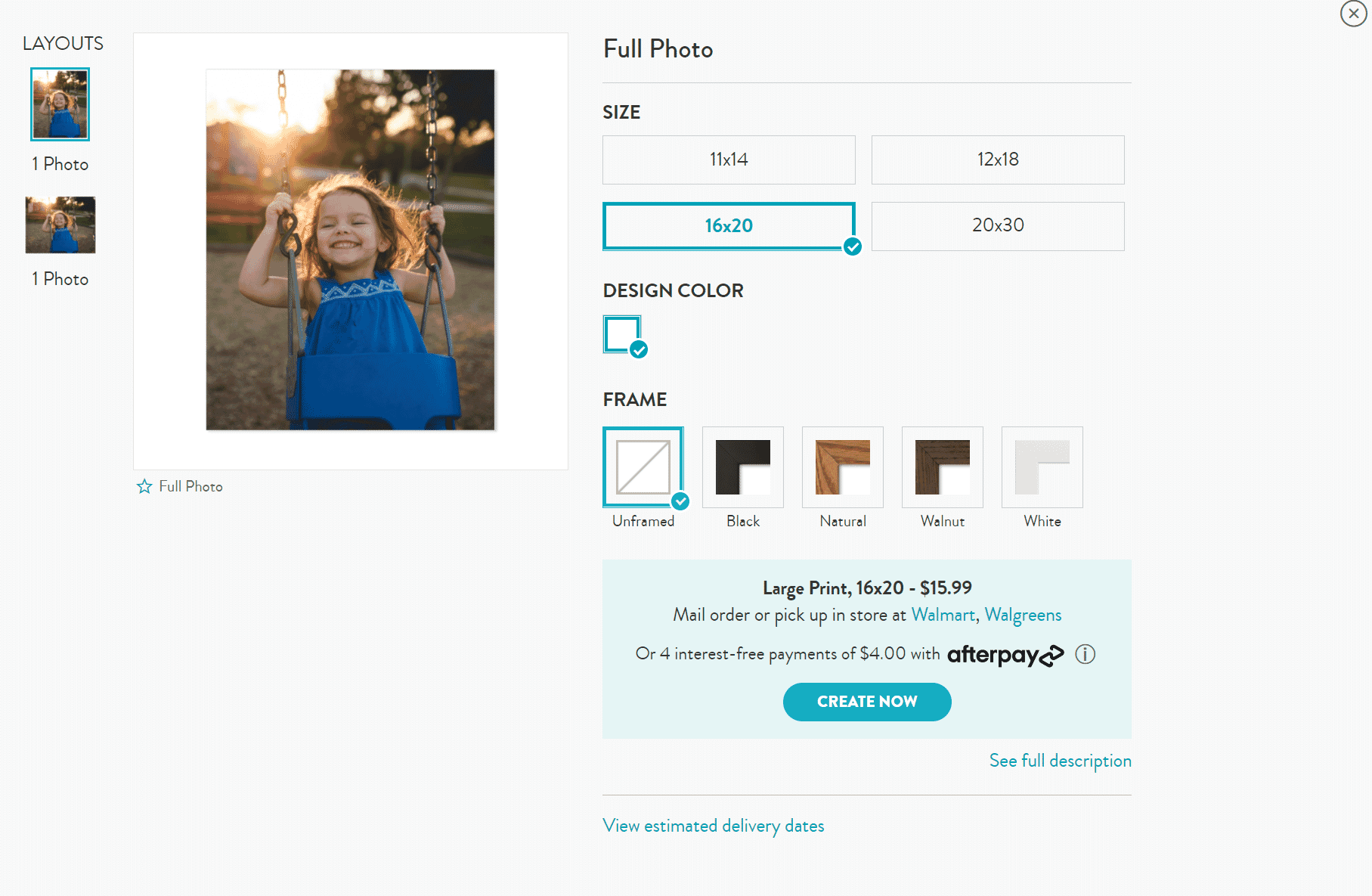 The Jack of All Trades
If you need a one-stop-shop for gifts and printing needs, this lab offers a lot of products.
Pros
Inexpensive
Offers four standard large format print sizes
Quick shipping
Cons
Not professional quality, but good enough for consumers
Only four sizes available
Hey look, Snapfish is back on the list! This jack-of-all-trades lab provides a slew of photo products for decent rates. Although the quality of the images is not as sharp or vibrant as other labs, the inexpensive cost and ability to print social media images can make up for it. After all, not everyone is a huge pixel peeper!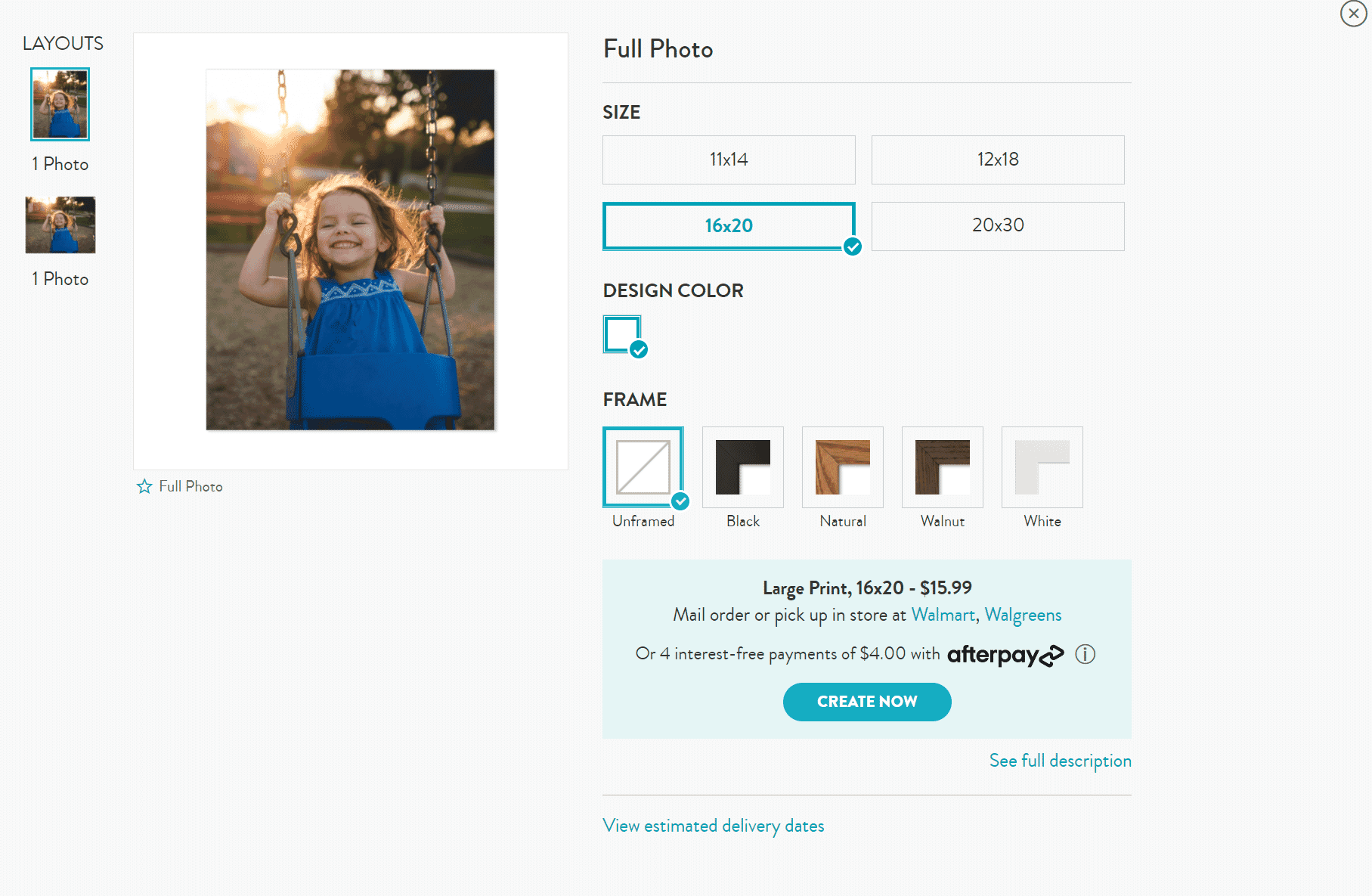 Snapfish has a pretty limited offering as far as large format prints go. But the sizes they do have aren't terrible. You can choose from prints sized at 11" x 14", 12" x 18", 16" x 20", and 20" x 30"! With their 20" x 30" coming in at $20, you can't really get less expensive than that.
6. Pictorem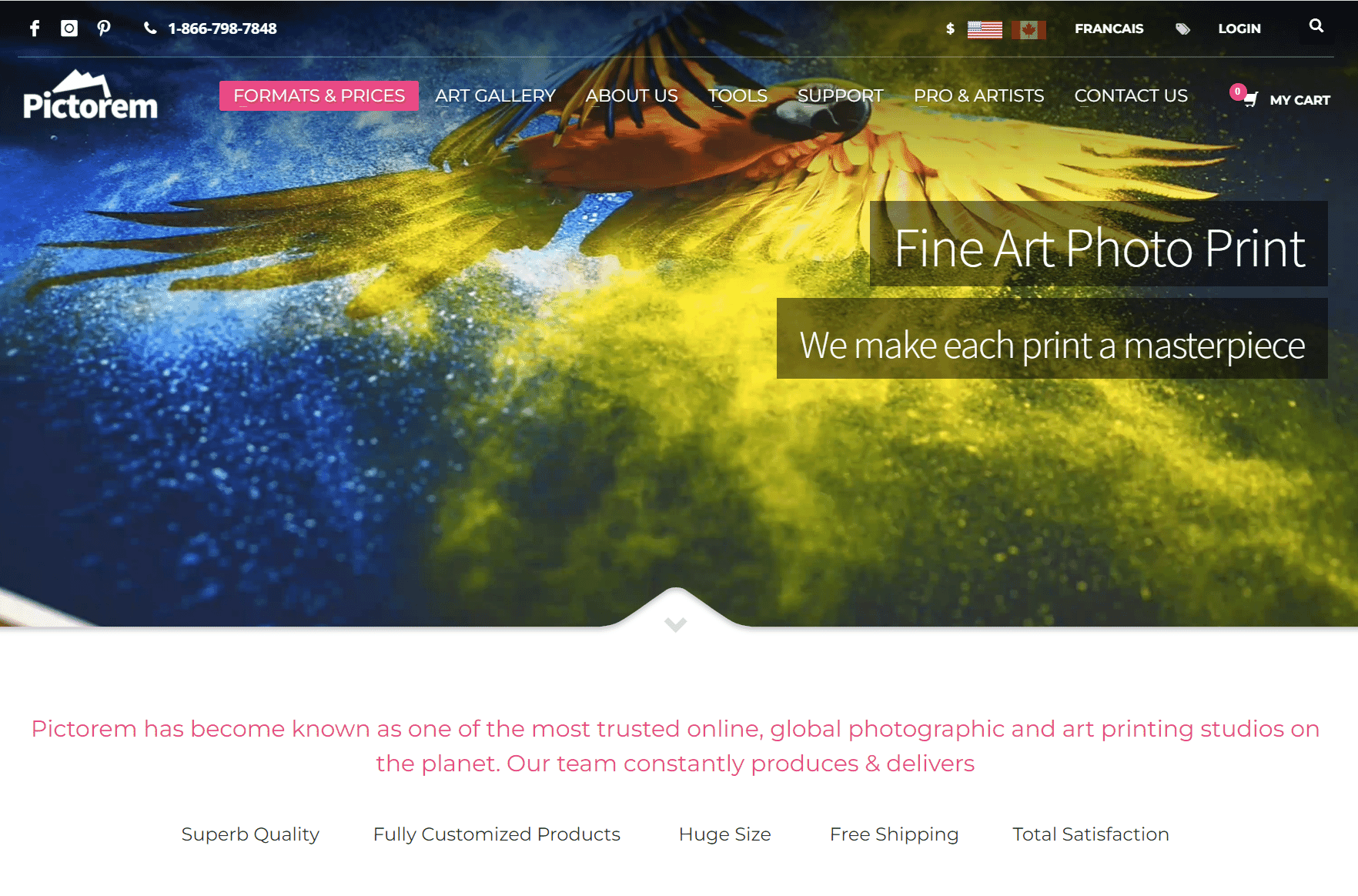 A Specialty Lab
Doing only photographic prints, this lab produces nice results for large photo prints (and even has custom size options!).
Pros
Beautiful quality
Ability to print custom large format sizes up to 96″
Reasonable price
Cons
Not as many paper or finish options as other labs
Pictorem is a photo lab where prints are all that they sell. That being said, the range is impressive, going all the way from standard paper to more unique print mediums like wood.
The quality and creation process is well regarded among peers, appealing to both consumers and businesses looking for great quality printed material. Regarding their photographic offerings, the print reproduction is quite superb!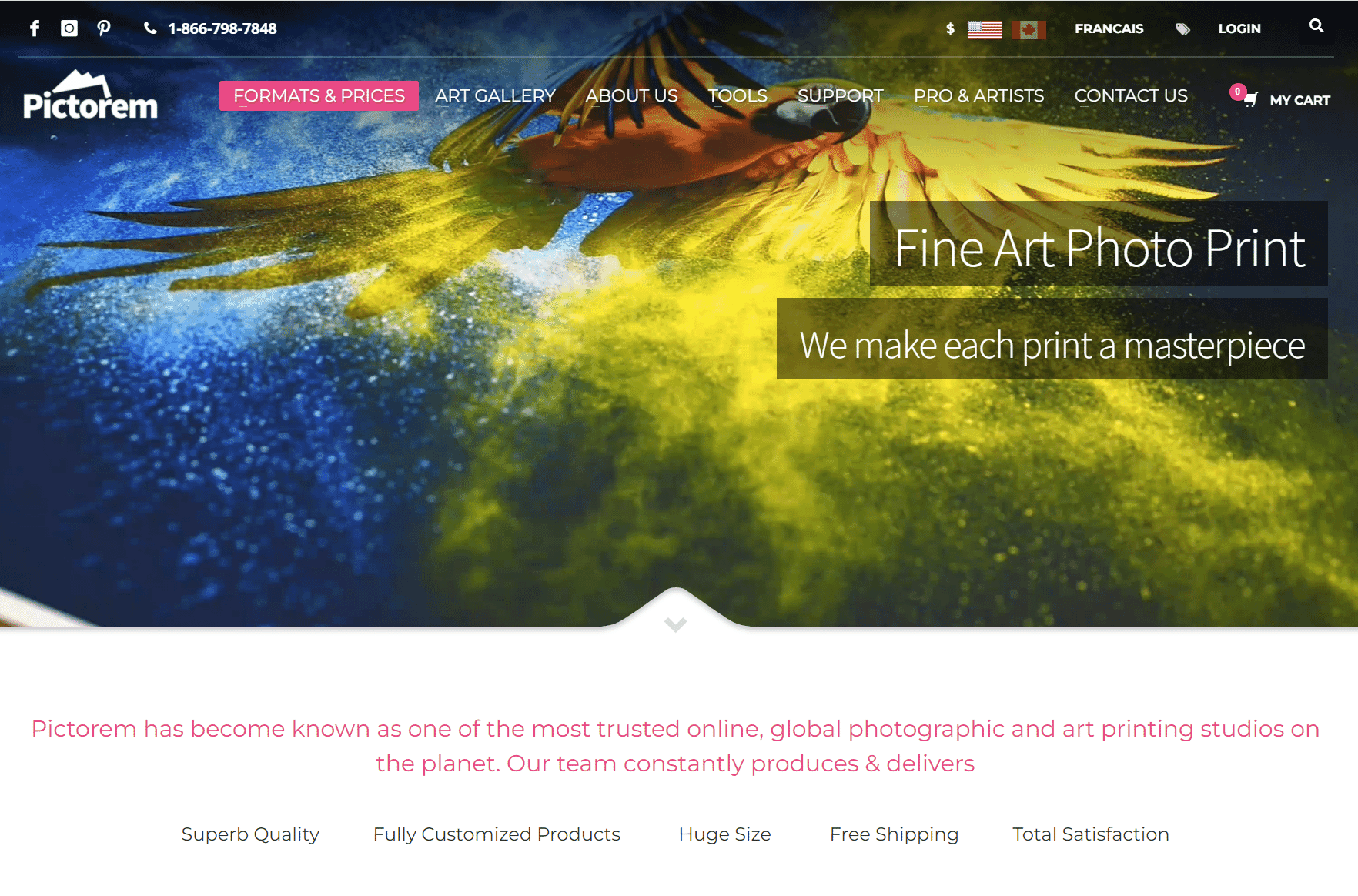 Pictorem's largest default size is 48" x 36", but the company has the option of making custom-sized prints, which allow you to select sizes of up to a whopping 96"! That's an eight-foot print! The price for their largest offering is also surprisingly inexpensive for what it is, coming in at approximately $244.
7. Mpix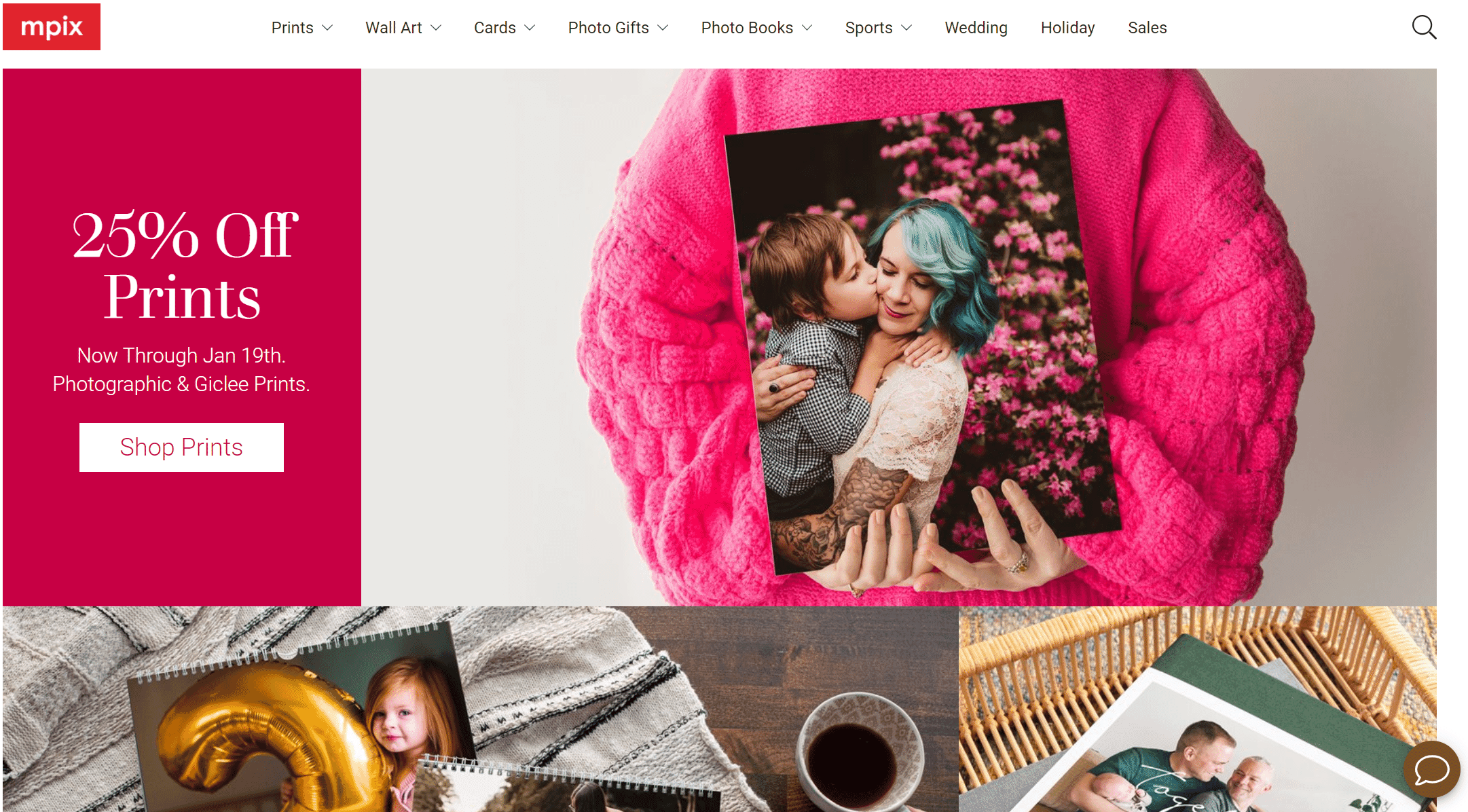 The Consumer Version of Miller's
This lab's parent company is a very well-known professional lab, with ths consumer division allowing everyday people to have access to superb papers and options.
Pros
Lots of large sizes available
Nice quality results at decent prices
Very fast turn over and shipping
Cons
There have been some color cast issues reported
Flat shipping fee is expensive for few items
Mpix is the consumer division of Millers Lab, the largest photo print lab in the United States. Mpix was born out of the desire to provide high-quality printing services to the everyday person. If you want to place an order through Millers, you have to send in an application as a photography business – Mpix doesn't require such a process.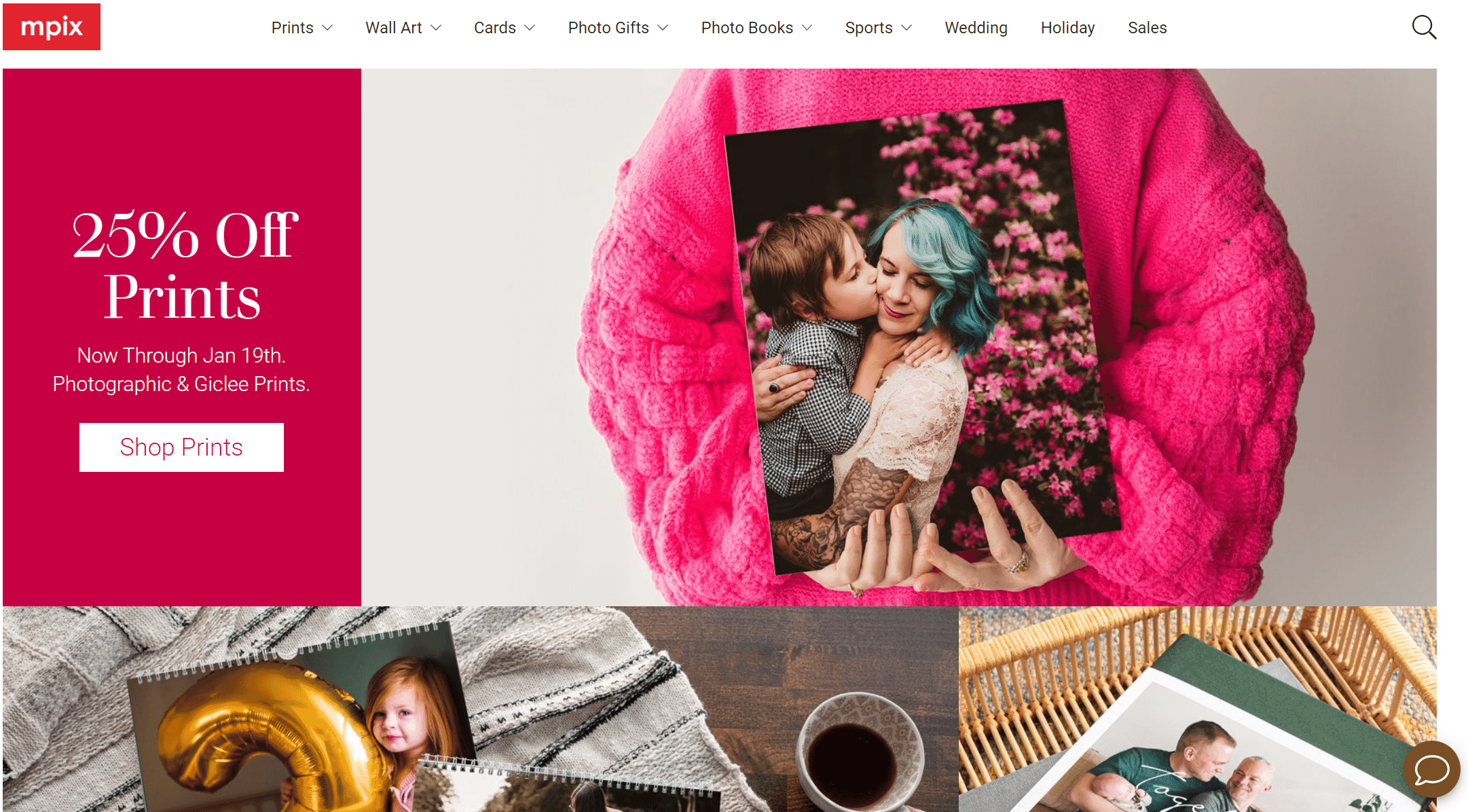 Mpix is a well-rounded photo print and product store with offerings like blankets, pillows, mugs, books, and more.
With regard to their photo prints, Mpix does have a few large format options at a very affordable price! Shipping is always quick and easy, albeit at a flat rate (so it really only makes sense if you order several prints). The largest size available is 24" x 36", which is not the largest on our list but is large enough for most people.
8. Social Print Studio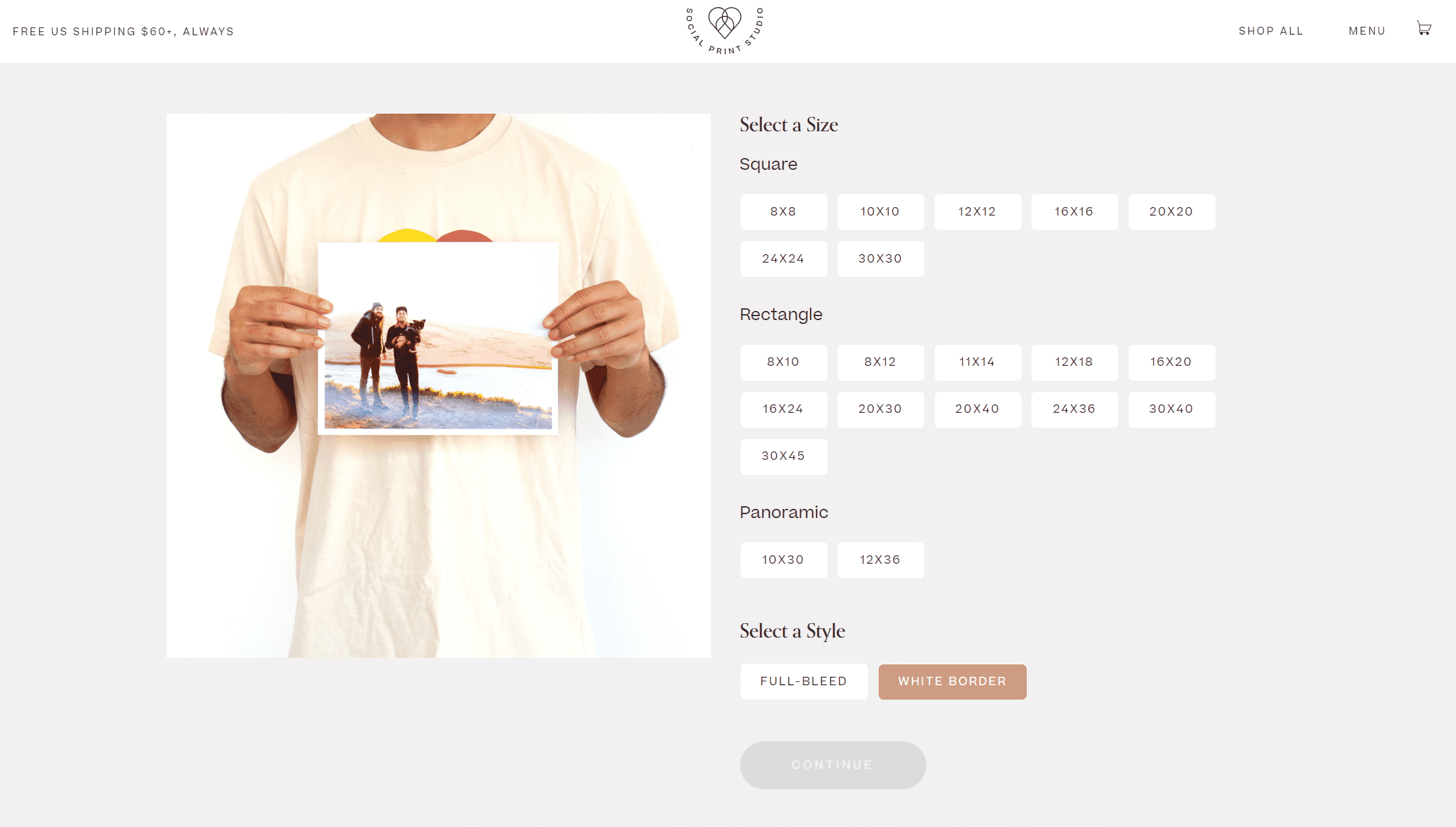 The Mobile and Web Friendly Lab
If you have some photographs on your social media or cell phone that you love, this lab can help turn them into professional quality prints.
Pros
Great array of sizes, from mini prints to large 30″ x 45″ prints
The quality is rich, vibrant, and cute
Mobile and web friendly
Cons
No custom sizing available
Next on our list is Social Print Studio, a cute print lab that specializes in wonderful printed products to enjoy for years to come. You can order your prints from the convenience of your phone or PC, which makes ordering prints as easy as can be!
Prints from this studio are vibrant, rich, and wonderful and have made thousands of customers happy.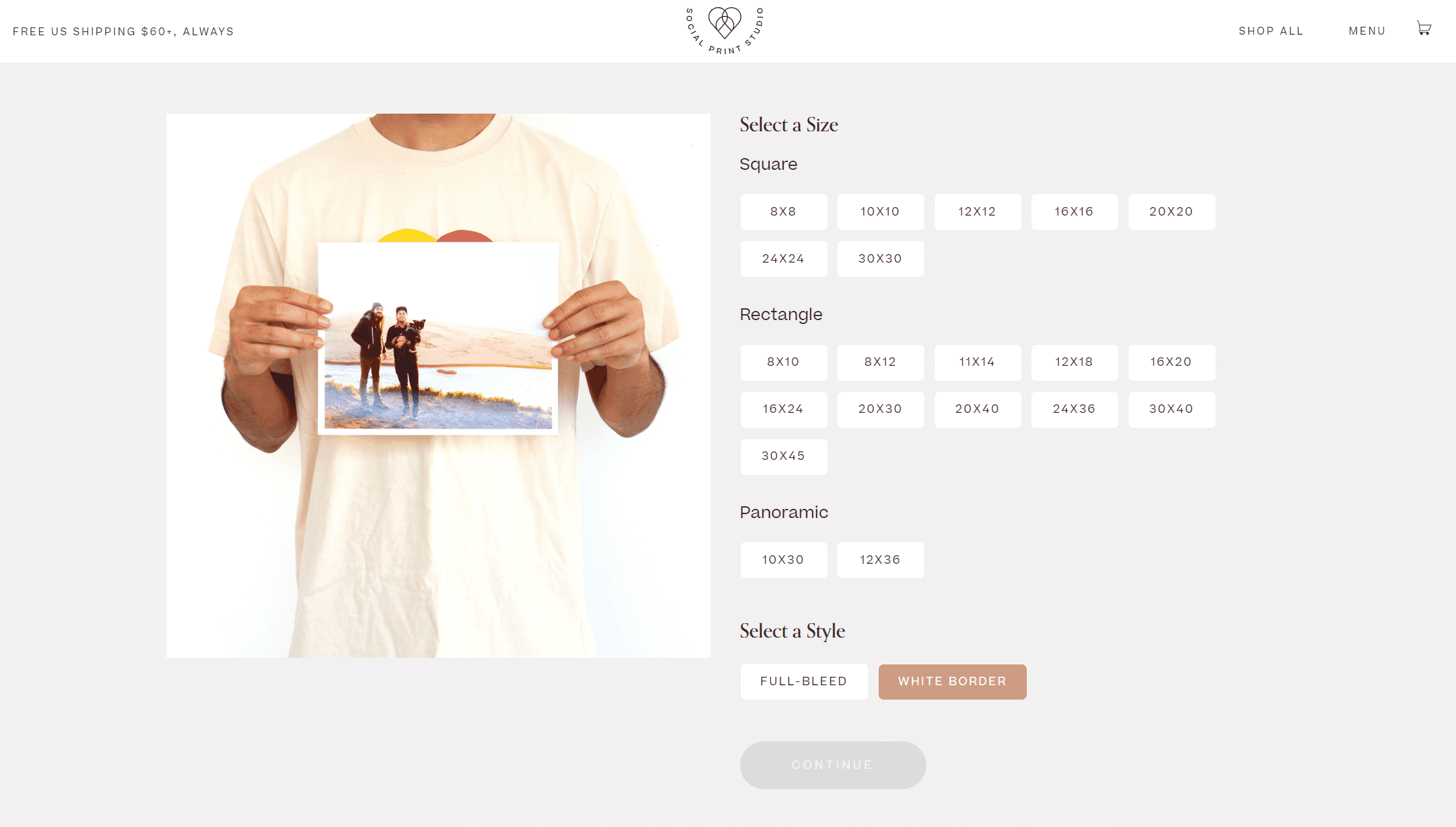 Social Print Studio has a good range of sizes, from adorable mini and micro sizes to large prints. Their largest offering is sized at 30" x 45", with their smallest being 2.4" x 2.4" – quite the contrast! You can choose to have a full bleed or a white border, and all orders come in cute packaging.
9. CanvasChamp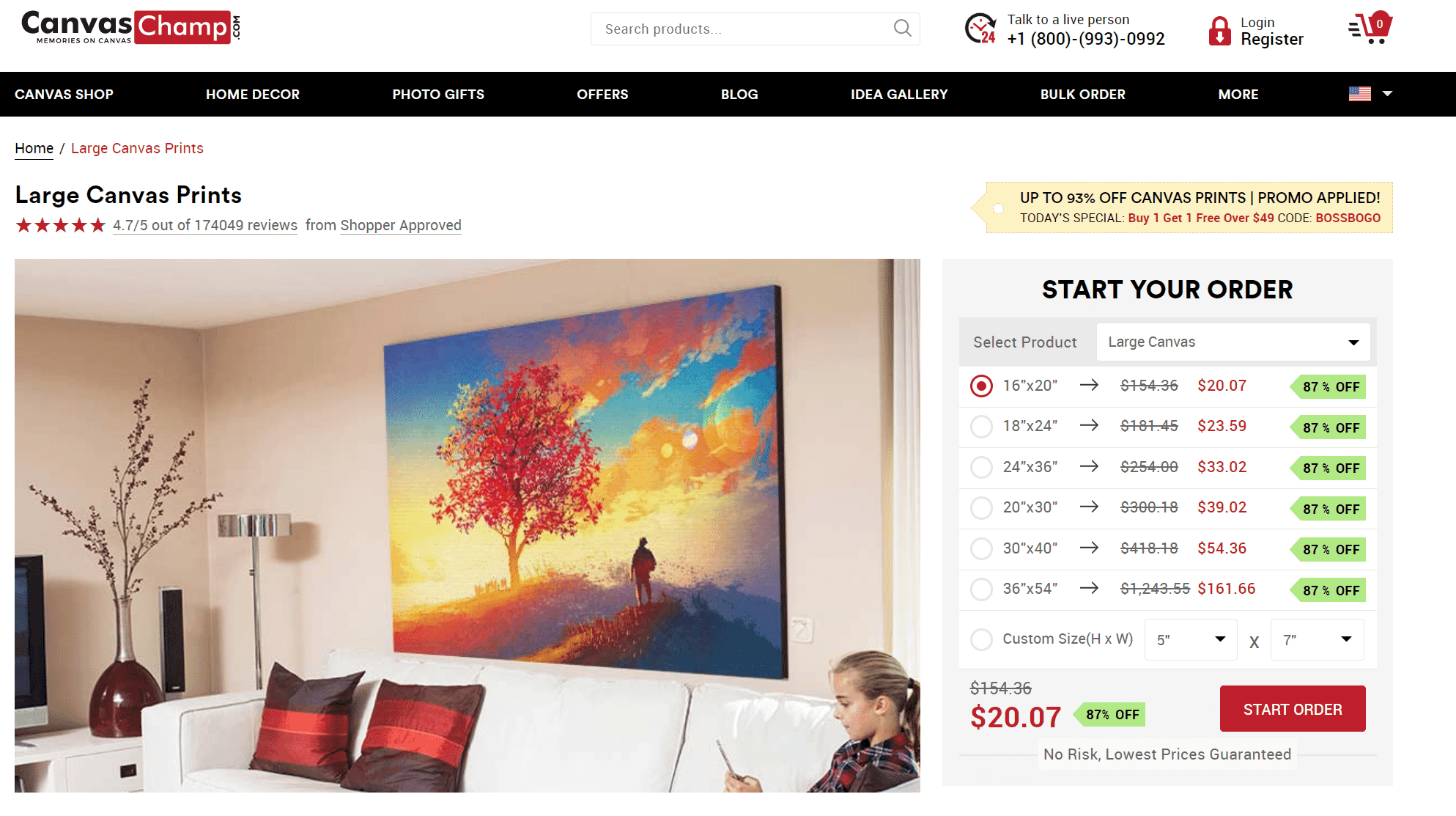 For the Large Canvas Lovers
If you're looking to have a massive canvas done, this lab should be your go-to!
Pros
Great quality at very large canvas size formats
A good product rendering to see where the edges fold in
Custom size of up to 54″ available
Cons
Does best with canvas, other types of prints can be found better in comparable labs
If canvas prints are more to your liking than paper prints, CanvasChamp is a great option. They provide very large-sized canvas prints at decent prices!
With pre-set canvas sizes of up to 36" x 54" and the option of doing a maximum custom size of 54" x 54", you have a lot of large-format options to choose from! As a lab that specializes in canvas, you know you're going to get a good quality canvas print no matter the size.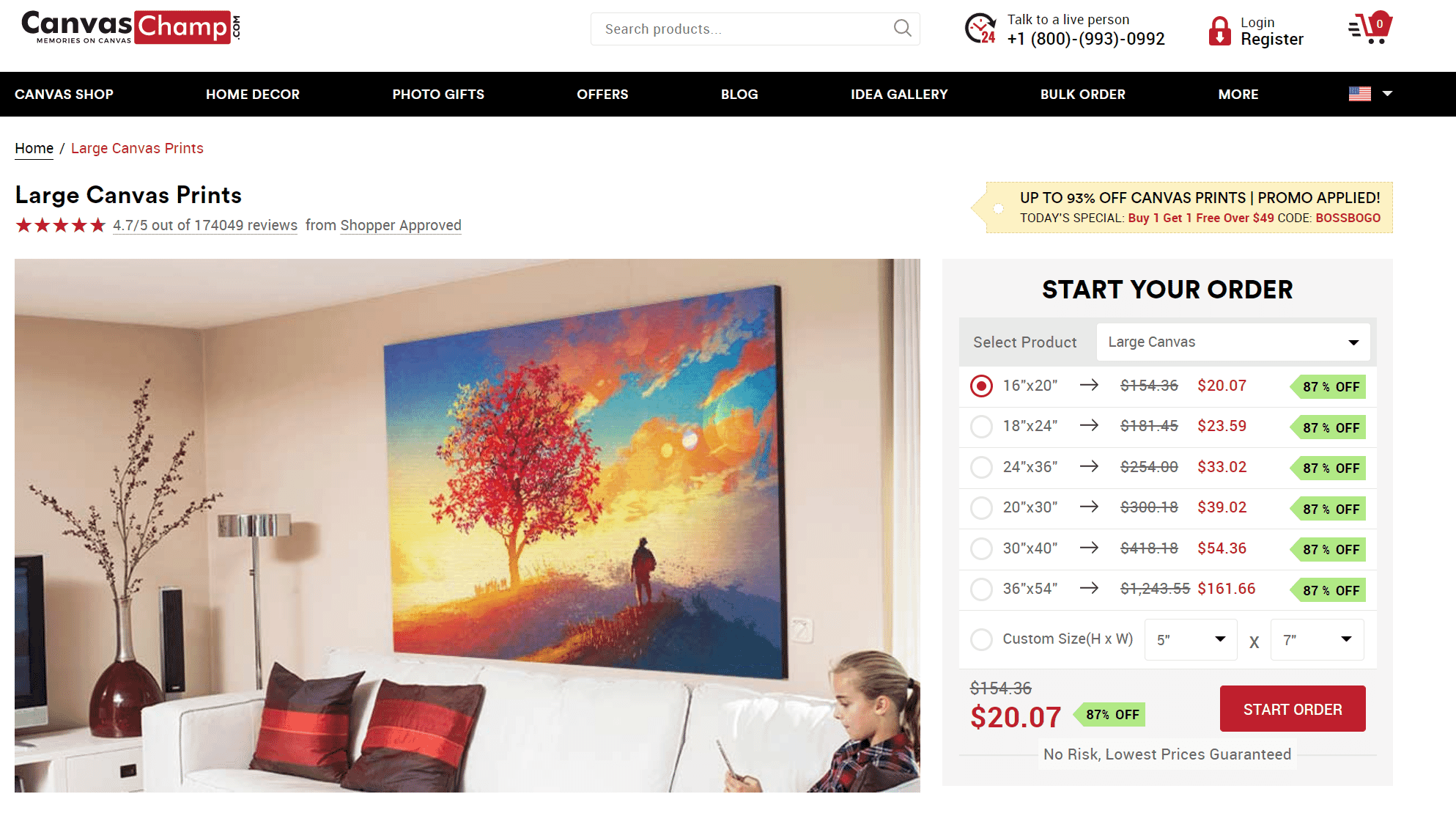 The ordering process is simple and you get an accurate rendering of how the edges of your image will fold – helping place the subjects in the correct spot to minimize detail loss. Canvas isn't the heaviest print out there, so even the large format sizes will be light enough for most walls.
10. Gloss Metal Prints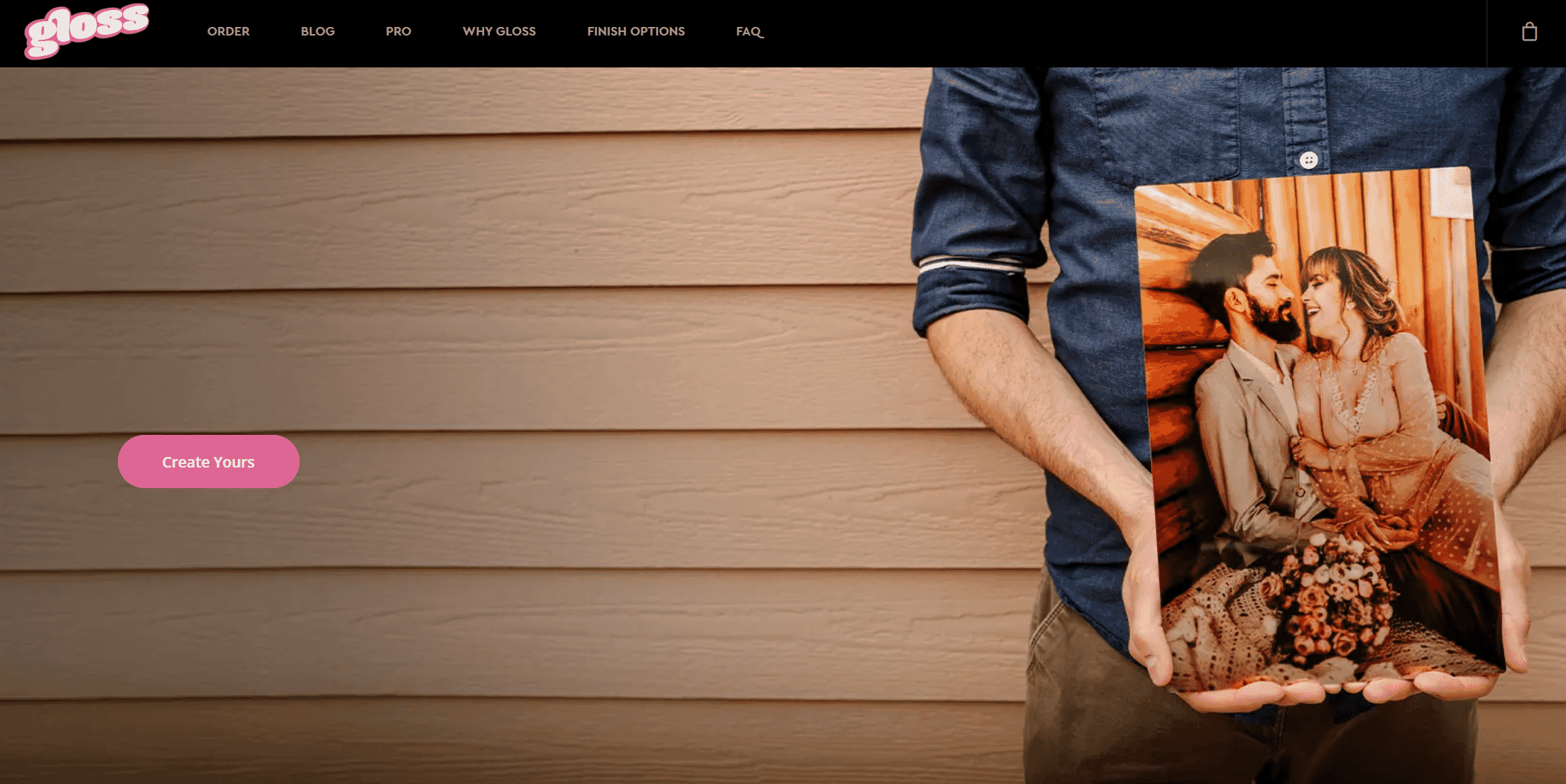 Metal Prints Galore!
If you thought you couldn't print images large on metal, you are quite mistaken! This lab lets you print up to 40″ x 60″.
Pros
Gorgeous quality metal prints
Large metal print sizes available
Large format circle available
Cons
On the pricey side
Metal prints can be heavy in larger sizes
Another print alternative is a metal print! If this is more up your street, Gloss Metal Prints is a great choice!
Metal prints are a newer type of photo printing offering, producing really striking results that don't need a frame. They're especially great for black and white shots and offer a gorgeous sheen that will fit any industrial or modern design aesthetic! Plus, you get the bonus that they're also quite durable.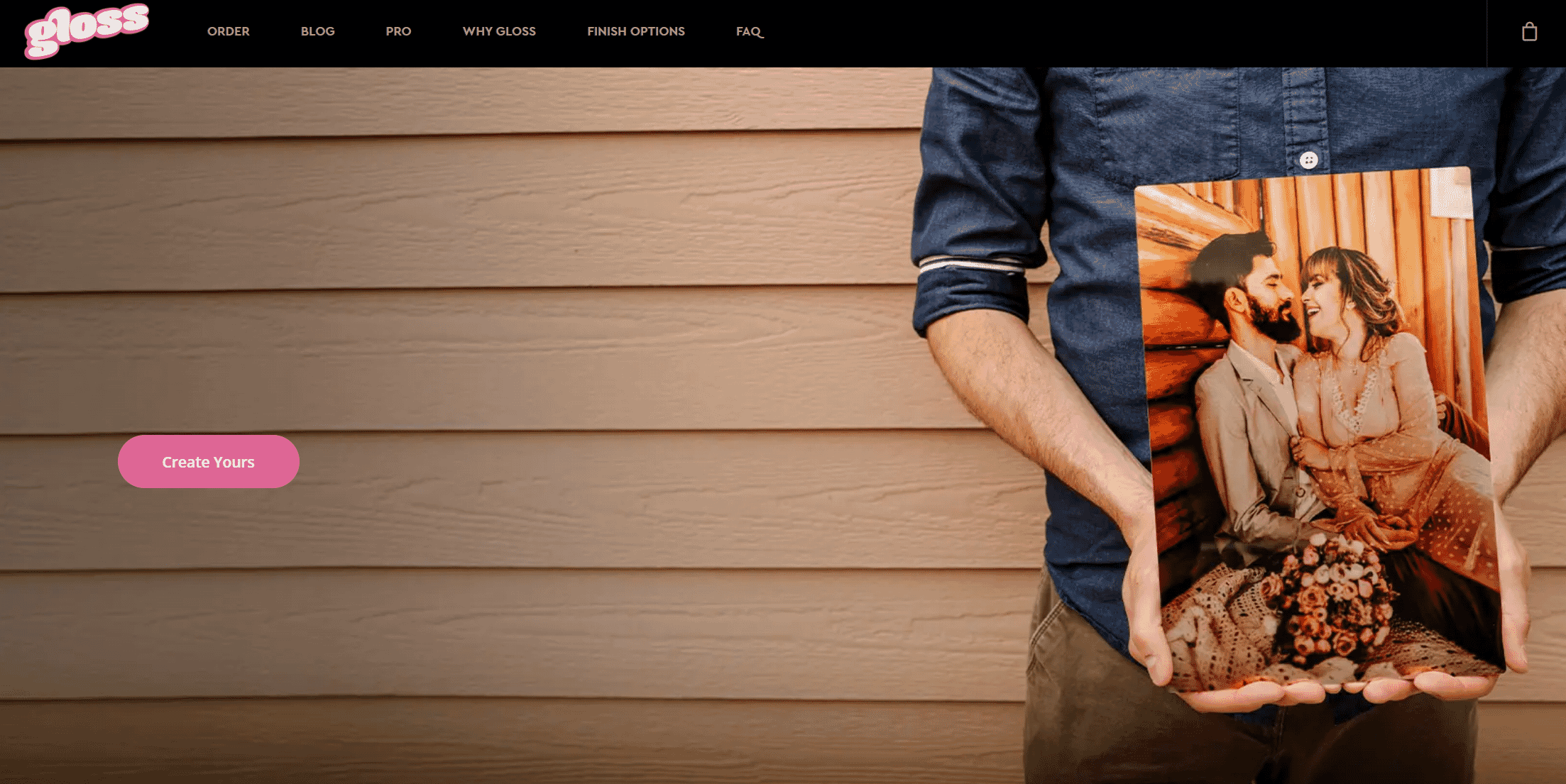 Gloss offers larger sizes than most other metal print labs do, allowing you to print up to 40" x 60" for rectangle prints and 36" x 36" for square or circle prints! That's right, Gloss lets you make circle prints, which creates quite the accent piece in a home. For the large format images, you have the option of having Gloss add a floating mount to your image to help you hang it.
Keep in mind that metal prints do get heavier the larger you go, so be sure your wall can handle the weight before committing to a large metal print purchase.
Where Should You Print Your Photos?
When it concerns where to order a print from, it really depends on a combination of your budget and the lab's ability to print the size that you need!
As a general sentiment, our favorite is Nations Photo Lab, with a great price and lovely quality. Plenty of independent reviewers have unanimously agreed that their prints are quite beautiful at a large size! Bay Photo Lab is also great, albeit a bit more expensive.
For the professional photographer, industry labs WHCC and ProDPI are fantastic options to offer your clients, but do come with a professional price tag.
Frequently Asked Questions
What is considered a large print?
Large prints tend to be those over 20 inches (50.8 cm).
What resolution do you need for large prints?
Although you can technically submit images at 75 DPI, the best for professional-looking prints would be 300 DPI. To calculate the resolution requirement for any size print, just multiply the inches by the DPI.
What's the best material to get large prints done on?
For large prints, you have to consider where the print will hang. The larger the print on a material other than paper, the heavier it will be – some walls can certainly handle the weight, while others (like in an apartment complex with little filler) may not.
Paper or canvas is always a safe bet thanks to their lighter size. Prints on metal and acrylic can be quite heavy in larger sizes.