If you're even remotely familiar with the world of stock photography, you've no doubt heard of Shutterstock. As one of the largest microstock sources around, they sell vector illustrations, video clips, and photographs.
Currently, the database houses more than 40 million clips, files, graphics, and images. Each week, about 100,000 uploads are added to the collection. So, it should come as no surprise that Shutterstock is a tempting source of income for artists around the world. Likewise, anyone in need of imagery can rely on Shutterstock to act as a one-stop-shop.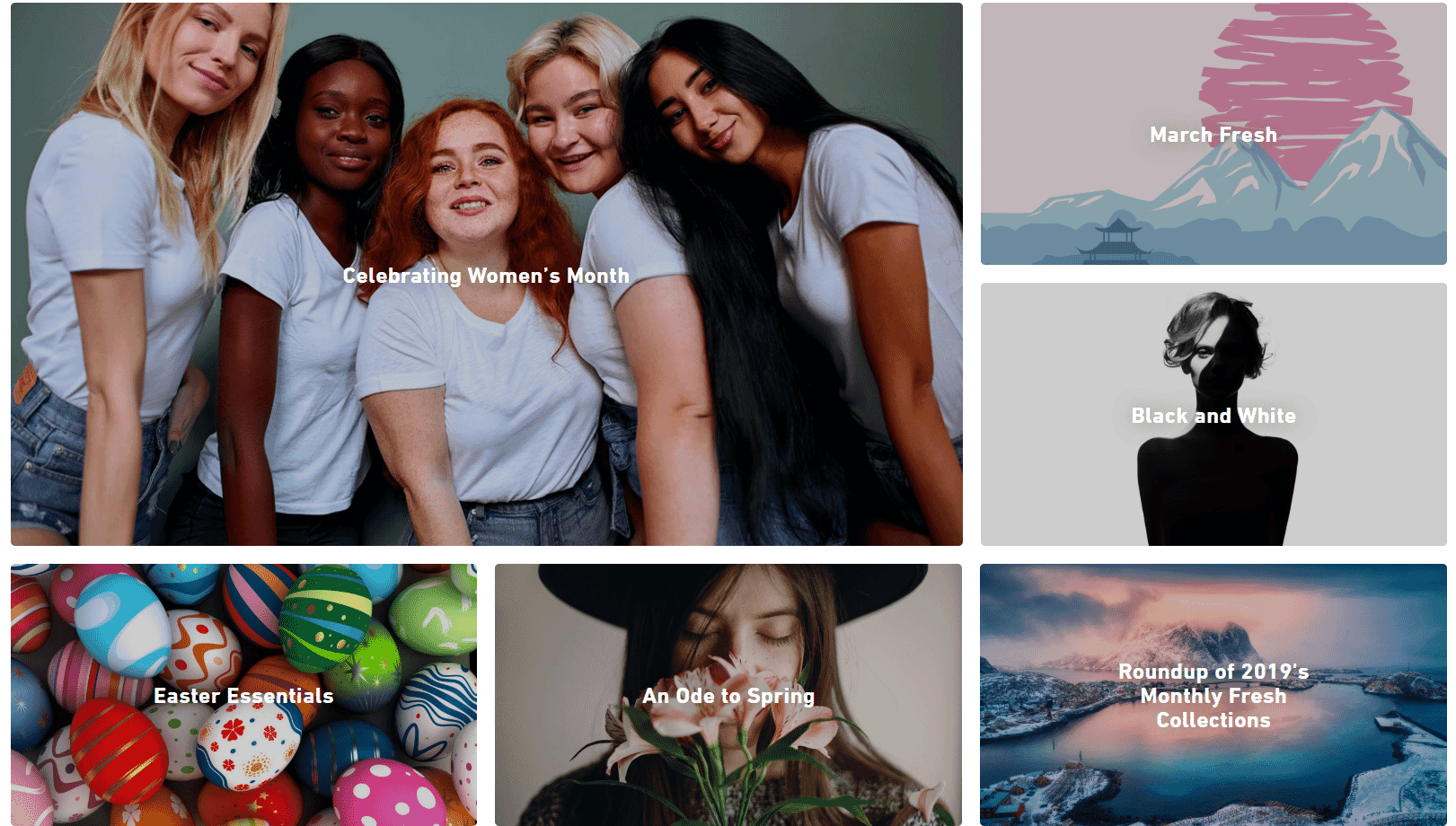 But is Shutterstock actually worth your time? We're taking a look at the stock photography giant from the perspectives of both buyer and seller.
Related Post: How to Increase your Stock Photography Sales
Shutterstock for Buyers
Shutterstock offers an incredible, ready source of images and videos that add value to your productions and projects. The service eliminates the need to assign or commission specific photographers. It also does away with wait times for shooting and processing. All you need to do is make a query, scan your options, and download whichever result speaks to you.
As far as the selection available goes, Shutterstock is practically unrivaled. For one, they offer significantly more results to choose between, especially in the case of more specific subjects. Just about any stock photography source is going to have a result for the query "dog". However, you may not have much luck with finding a "German Shorthaired Pointer" or "Samoyed" unless you are using a source like Shutterstock.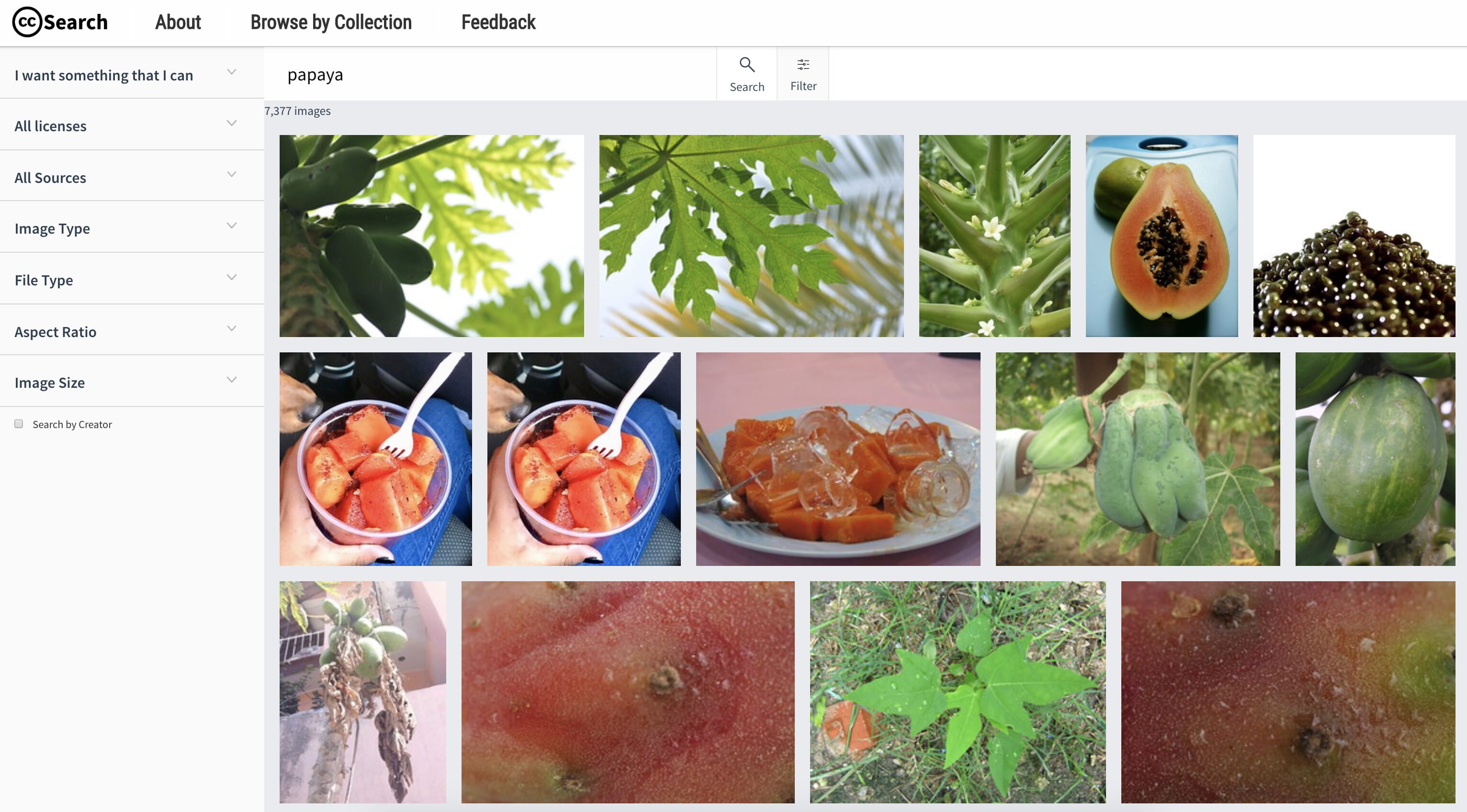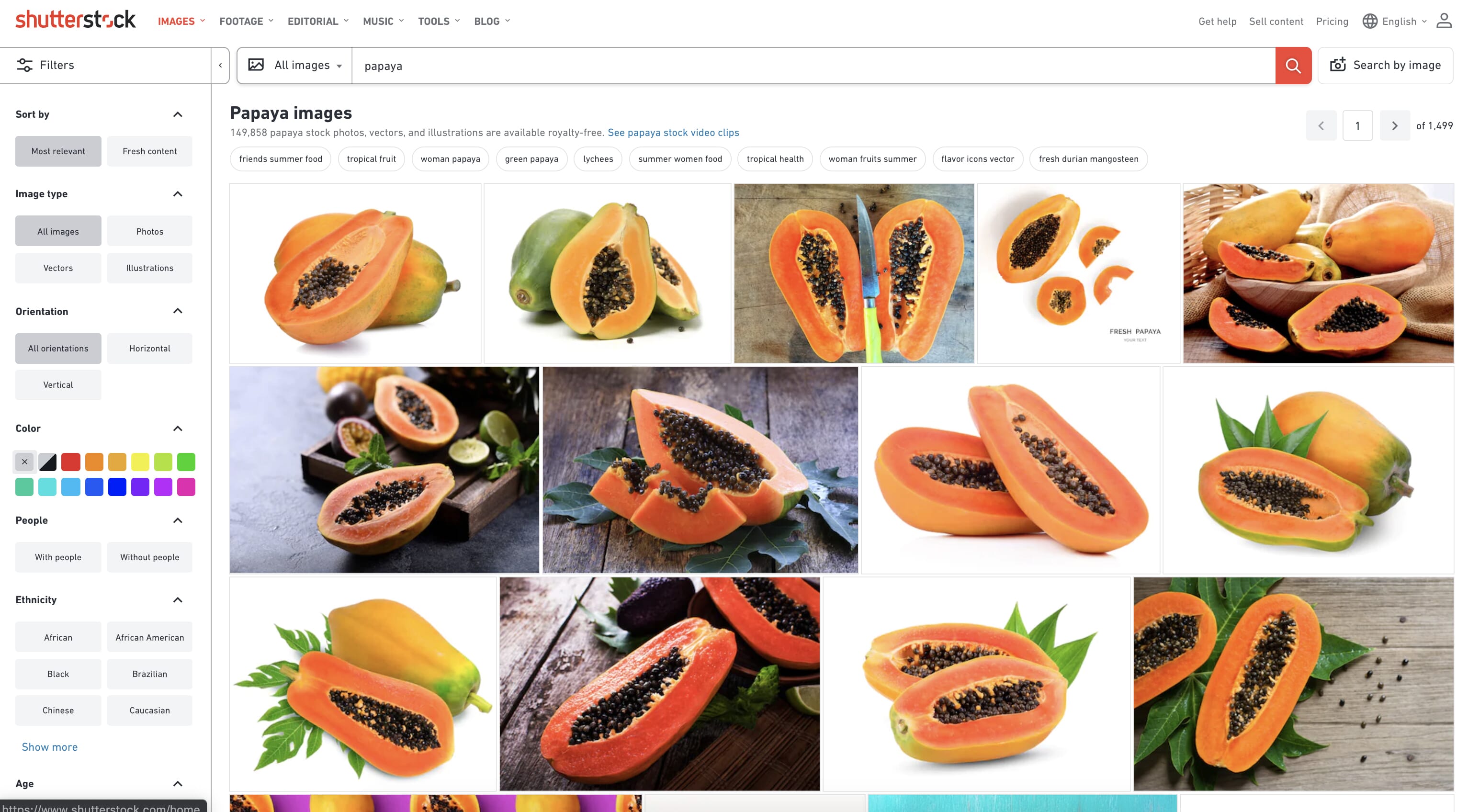 What's more, Shutterstock images have a great balance of variety and quality. You can always count on Shutterstock to provide in-focus, well exposed, color-corrected shots. That being said, the photographs don't look like carbon copies of one another. There are enough stylistic differences that it's easy to find something that fits your own unique "look".
So, what's the cost? Here's a quick look at the details and numbers behind each option:
Subscriptions
There are two ways to pay for Shutterstock's services – via subscription or by making a one-time on-demand payment. If you foresee a need for royalty-free imagery long term, a monthly or yearly subscription plan is likely the route you'll want to take. With single and multi-user options to choose between, subscriptions provide flexibility in how much, and how often you pay.
Single User Packages
In short, Shutterstock's subscription prices are based on three factors.
The number of images you are allowed to use per month
How often you're willing to pay for your images
Whether you're willing to sign a binding contract
Depending on your unique preferences, here's what you can expect to pay for your subscription: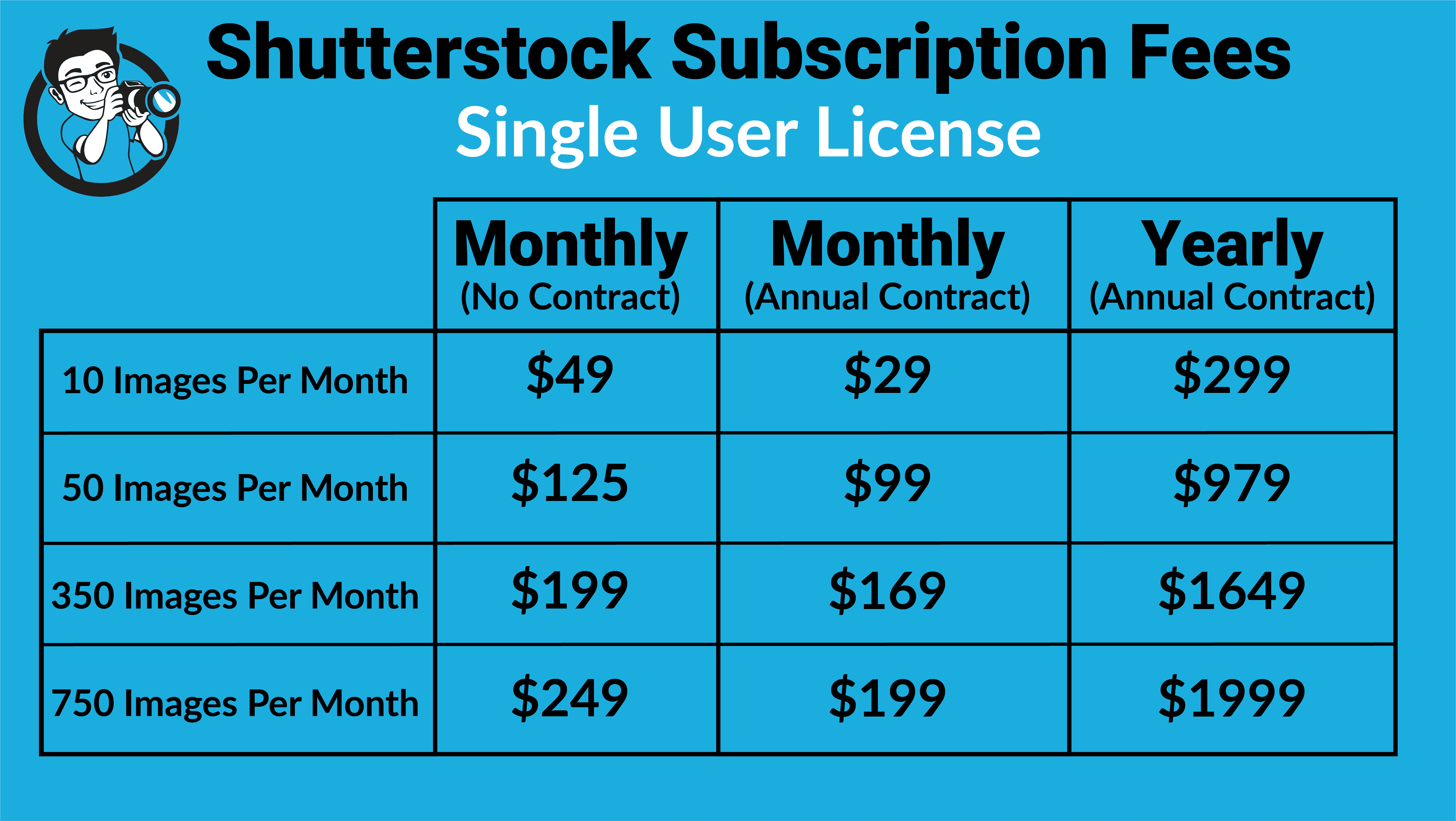 While not committing to a contract allows you the freedom to walk away from your subscription, it's by far the costliest option long term. Take a look at our per-image breakdown below: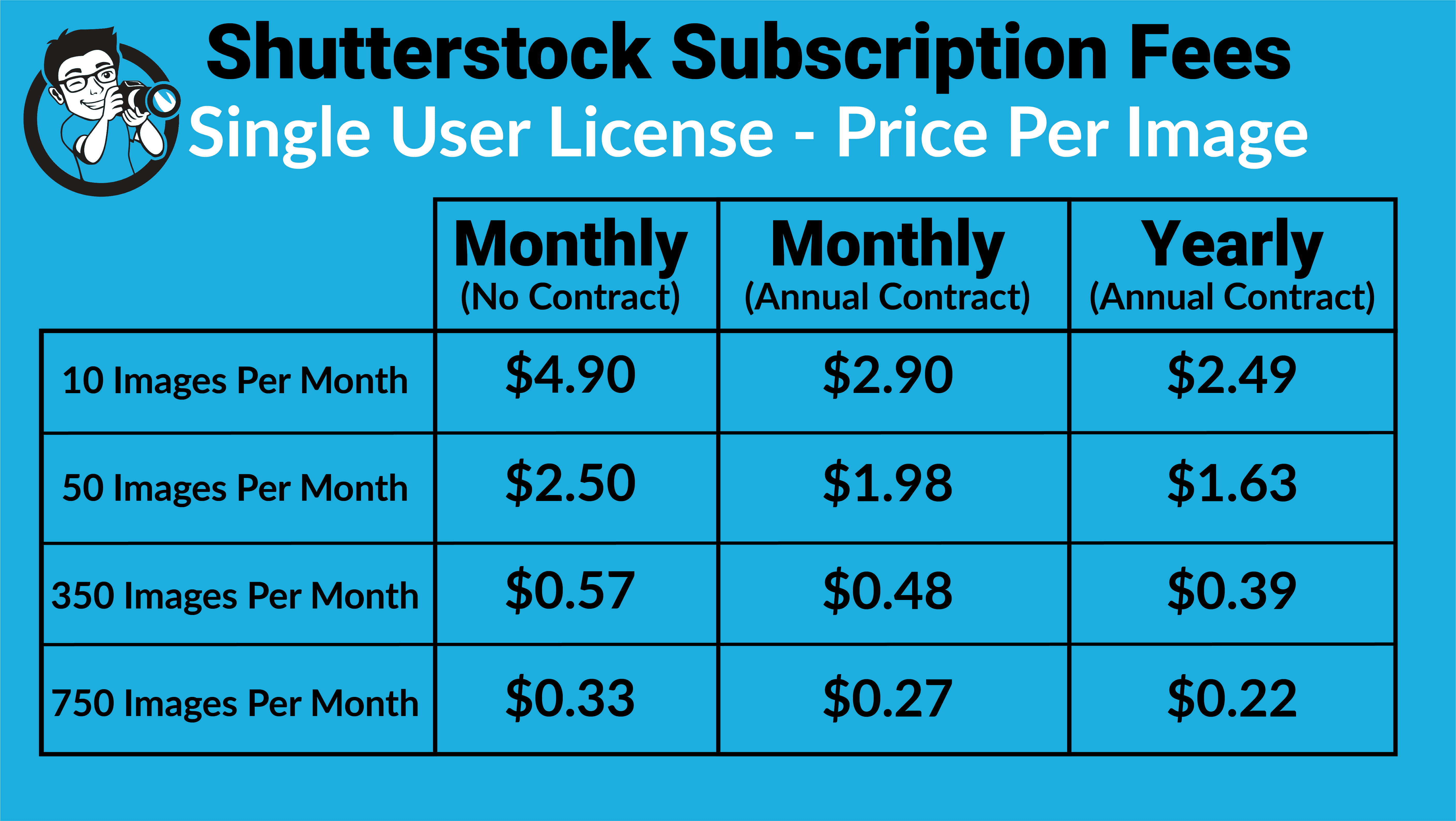 If you're serious about the Shutterstock photography collection, purchasing a subscription is the way to go. From there, you're able to choose between one large upfront charge or smaller monthly installments. While on paper, the monthly cost is a bit less intimidating, you'll be saving more if you opt for the lump annual payment. In fact, according to our calculations, you can expect a 40% price increase annually if you choose to pay month to month.
Team Packages
If you're working with a team, a single user subscription isn't going to cover all of your needs. Luckily, Shutterstock has plans to cover any collaborative projects you may be working on.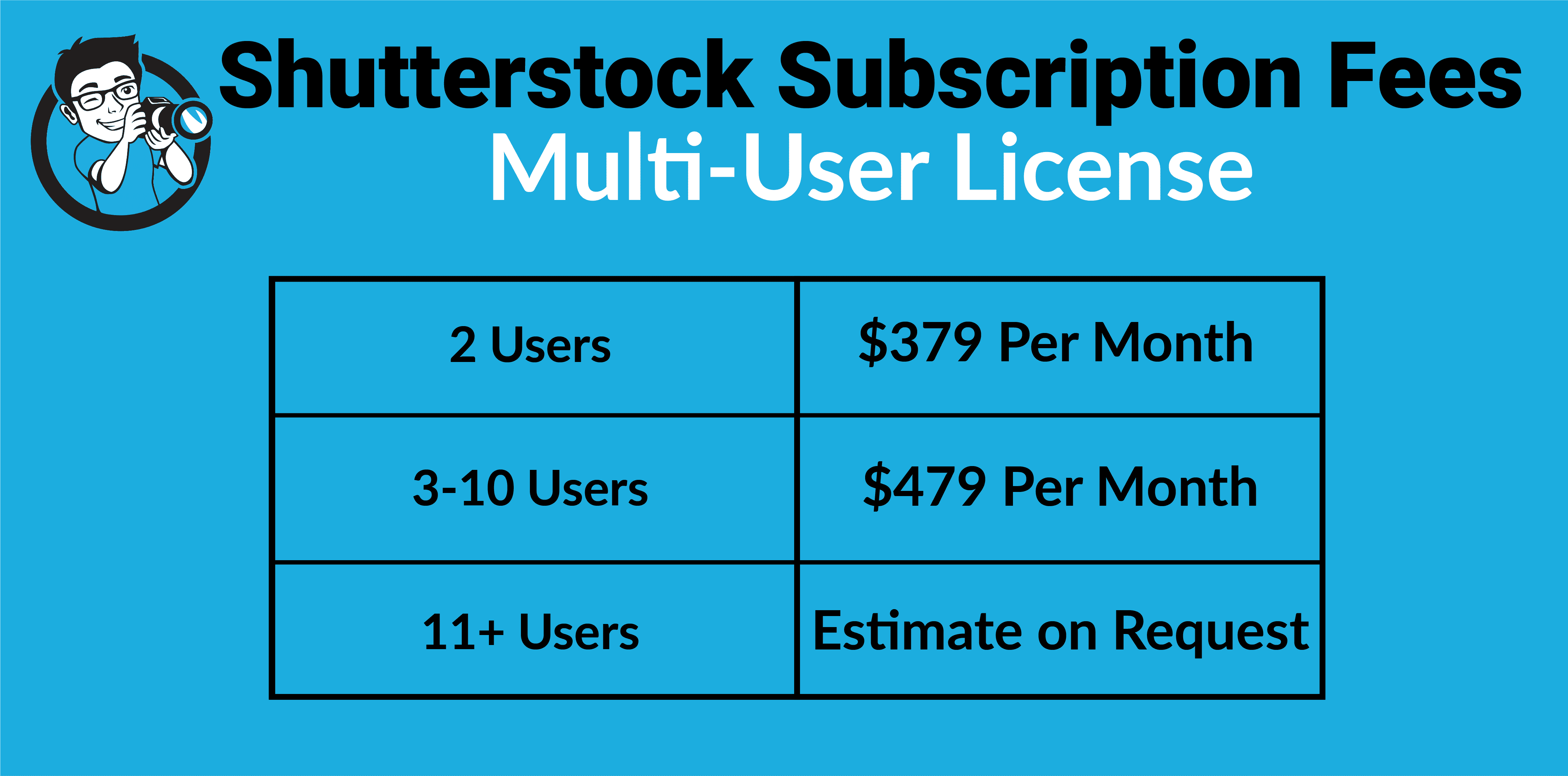 All team packages are charged on a monthly basis and include 750 image downloads per month. On the one hand, this makes choosing a subscription less complicated and offers access to a great deal of content. On the other hand, there's not a whole lot of wiggle room with how much you'll be expected to pay.
If you're considering the 2-user plan, we recommend just going ahead and upping to the 3-11 user plan. This allows more team members access for a relatively little price difference. Beyond 11 users, you'll have to contact Shutterstock directly for a price estimate.
On-Demand
Feeling apprehensive about signing up for a subscription? If you just need a few images on an irregular basis, purchasing files on-demand might make more sense. There's no obligation to use Shutterstock photography services after purchase, and you can choose a license to fit your needs. Here's the licensing breakdown: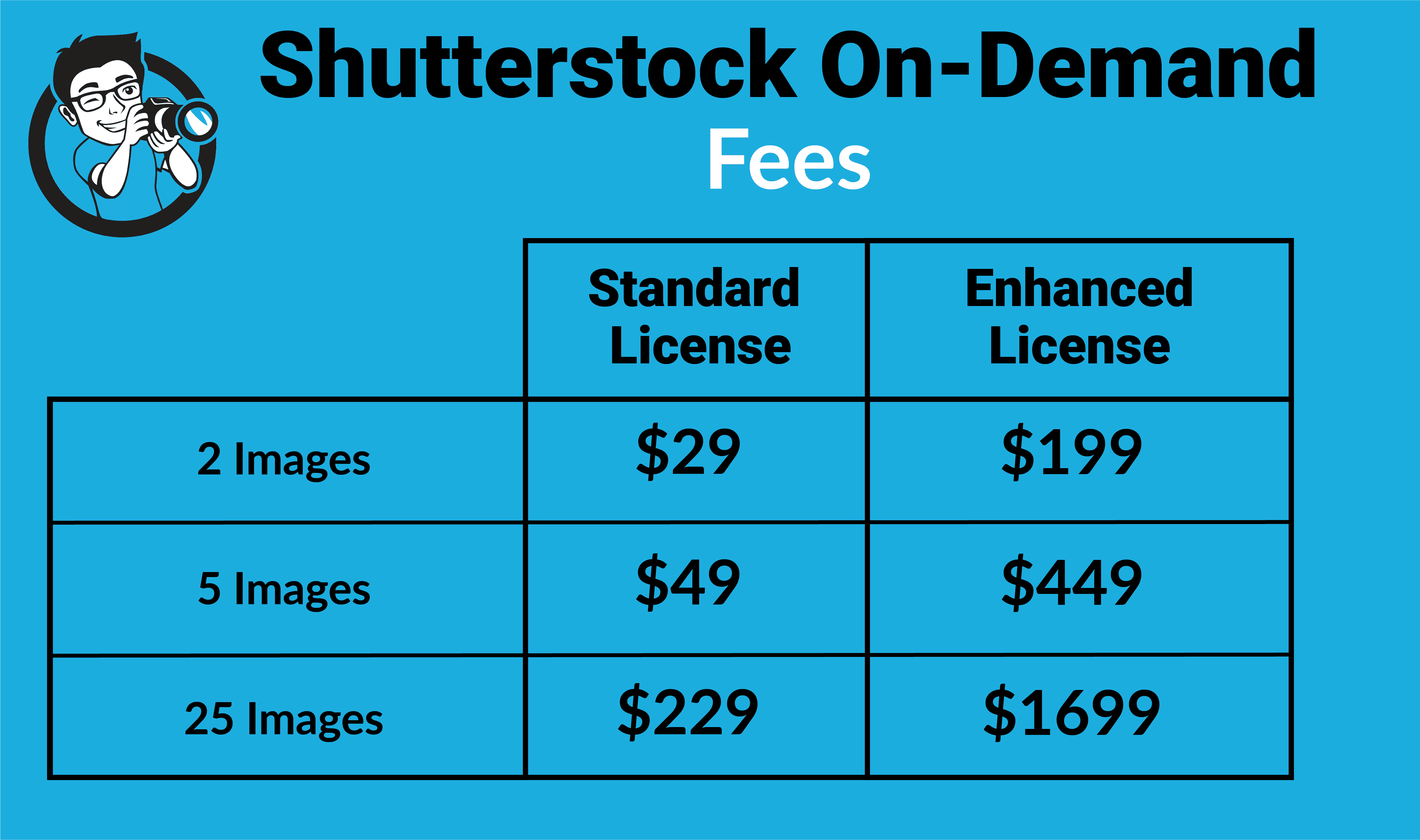 We've also got the breakdown of how much you'll be paying per image: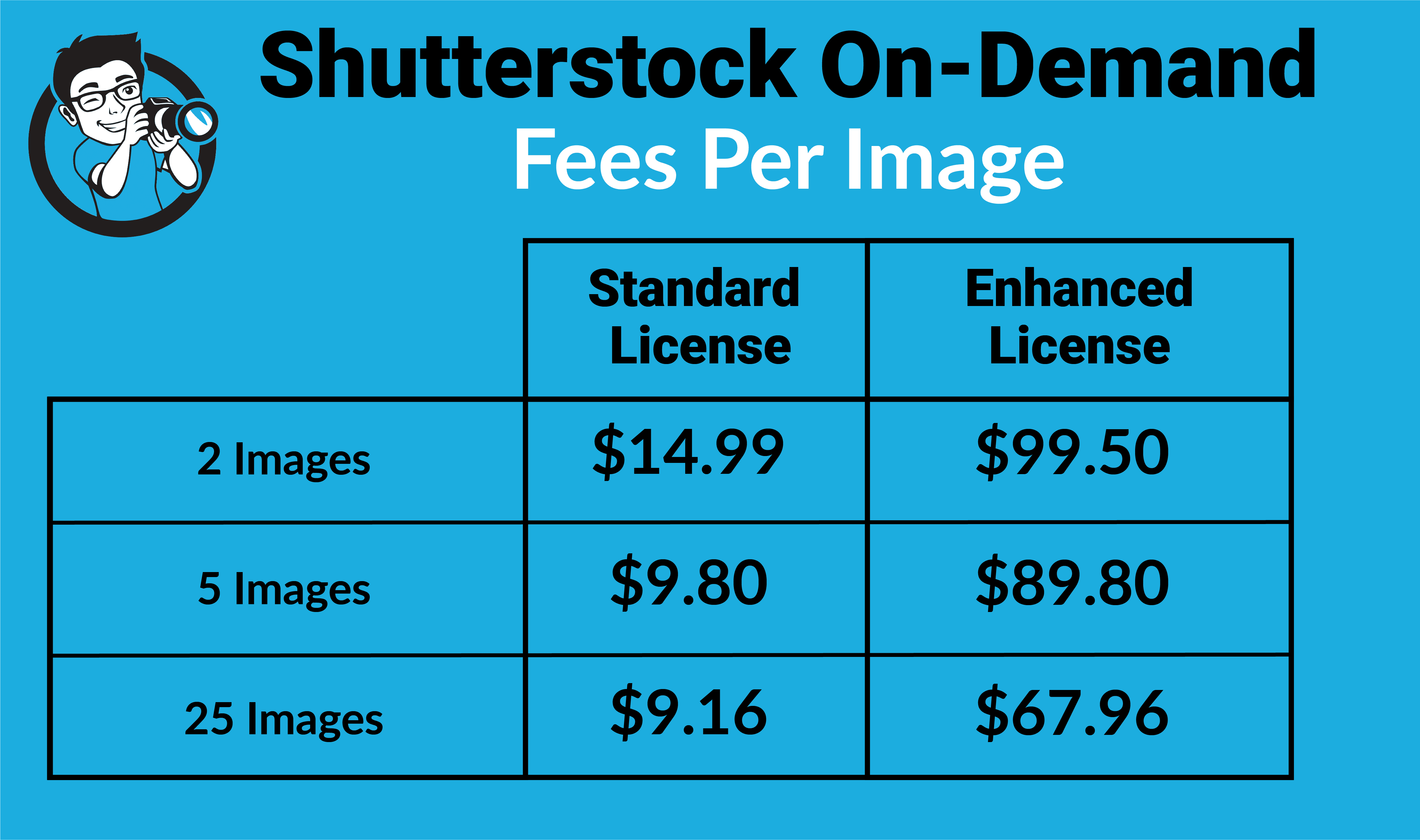 Of course, this means that you'll be paying much more per image than you would on a subscription. After all, a two-image standard license costs the same amount as the annual subscription rate's monthly charge. However, if you need just a few stock images for a one-off project, it may make the most sense, fiscally, to bite your tongue and pay the inflated price.
Standard vs. Enhanced Licenses
You may be wondering what differentiates Shutterstock's standard and enhanced licenses. As the table above illustrates, there's a pretty significant price disparity. However, there's a good reason for this. Take a look at the perks that come with the higher price tag: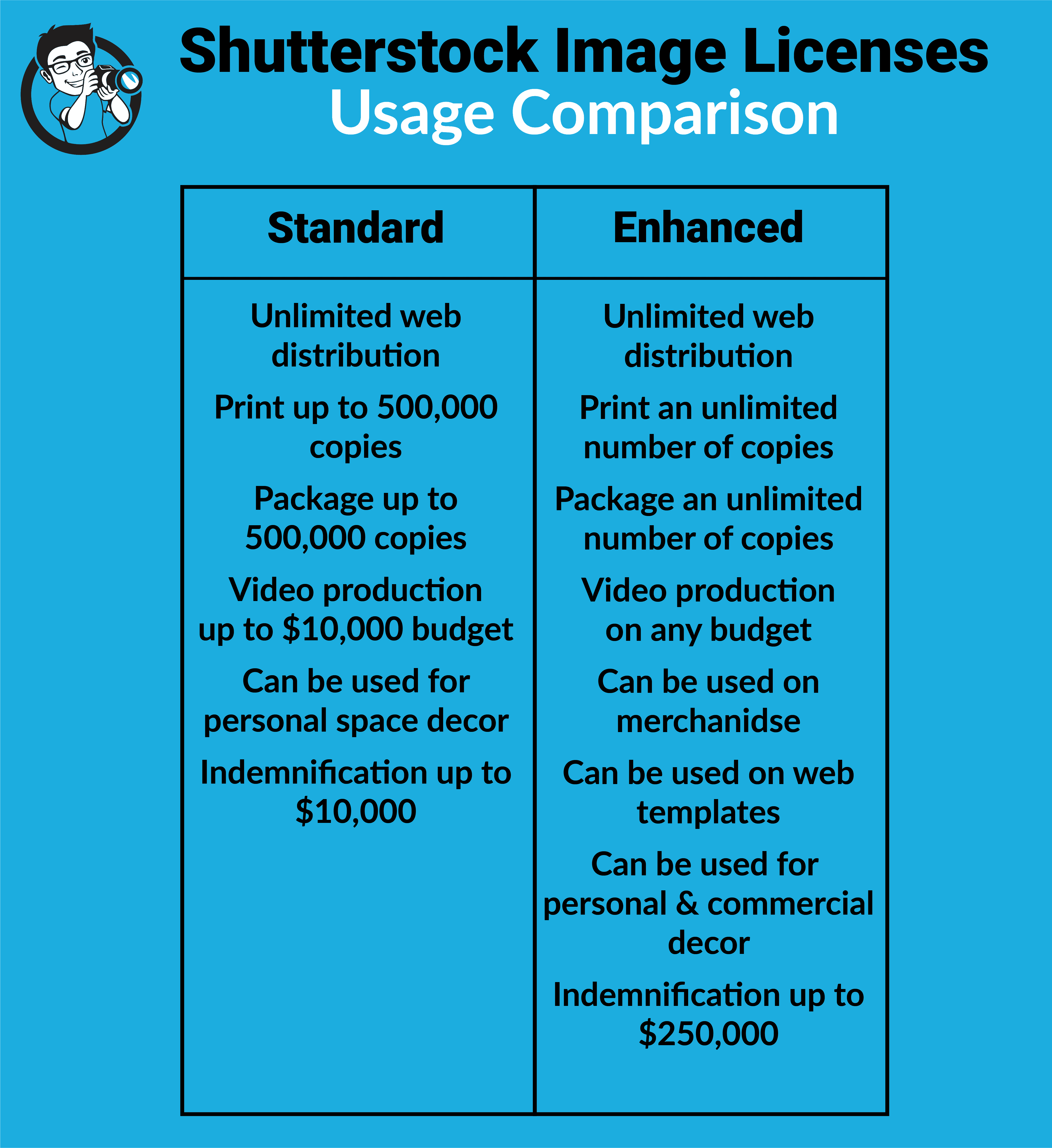 In short, the standard license covers just about anything you'd need for personal use or small business operations. For most users, it offers more than enough protection. But, if you're working in a large commercial setting, the security and coverage of the enhanced license are worth considering.
Related Post: Stock Photo Legal FAQ
Which Plan is Right for You?
There are pros and cons to all of Shutterstock's payment options. To make a decision that makes sense for you, there are a few points to consider:
What's your budget? As the tables above clearly illustrate, there's a huge range of how much a single image from the Shutterstock photography library can cost.
How much content do you need? Not all plans offer the same amount of content, so it's important to pick one that provides all of the materials you need.
Do you plan to use Shutterstock in the future? This plays a big factor in whether you should consider a subscription or an on-demand purchase.
What do you plan to use Shutterstock's content for? Be sure to pick a license that covers all of your needs.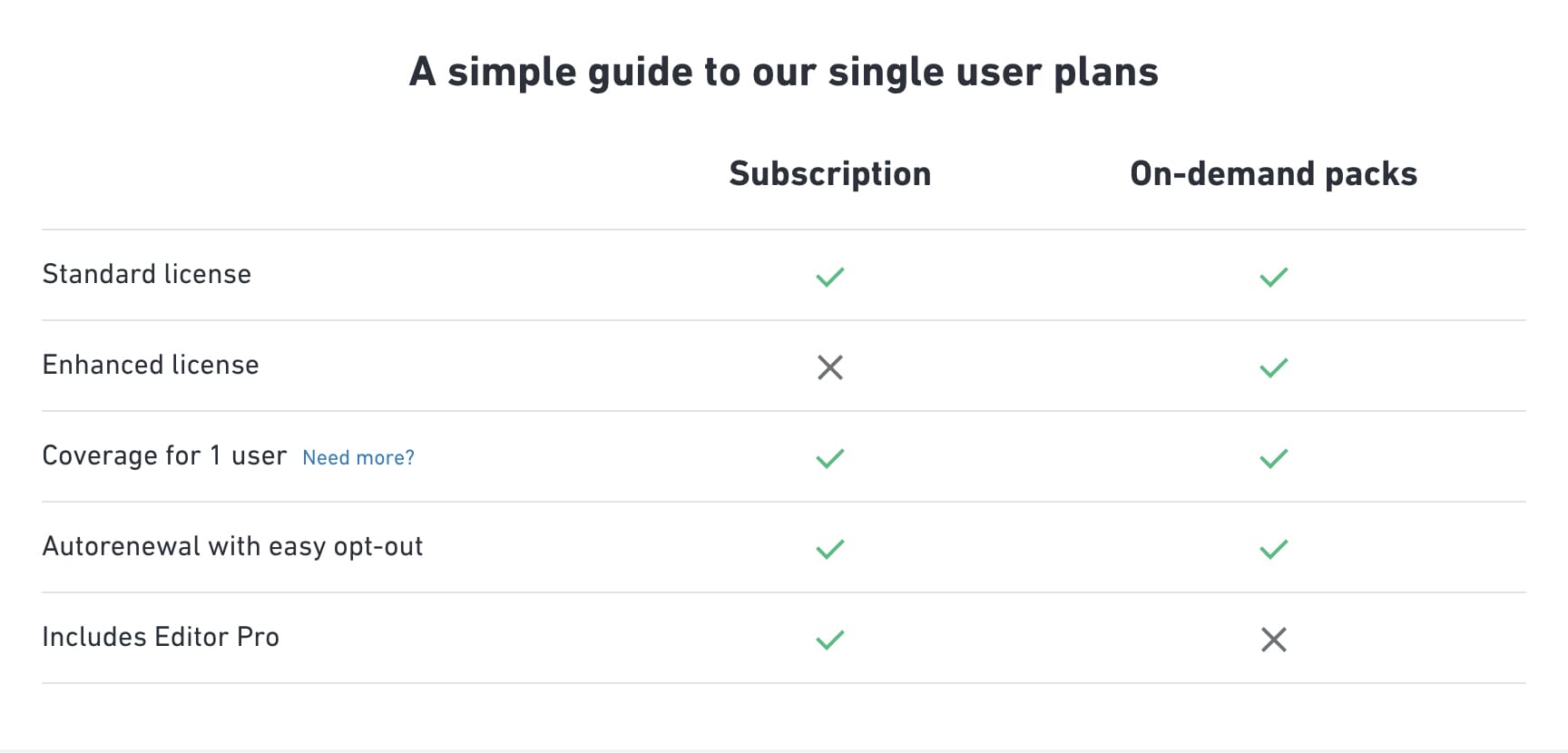 So, a prolific graphic designer would likely benefit from a 750-image subscription paid annually. Or, perhaps, a team package if they want to bring collaborators into their work. However, for a firm in need of one image plastered on an advertisement reaching thousands, an enhanced license makes more sense.
That's the beauty of Shutterstock – there's a little something for everyone, and no one is left out of their equation.
Shutterstock for Contributors
Of course, Shutterstock photography is an excellent resource for anyone in need of royalty-free images. But did you know that it's also a great side-gig for photographers? You can sell your videos, photos, even audio files to Shutterstock and make a little bit of profit with every download. In fact, the company has paid its contributors nearly $1 billion over the years.
Today, we'll be focusing on what you need to know to start submitting imagery – and whether it's worth your time and effort to do so.
Related Post: Elephant Stock Review (Print Stock Photos on Canvas)
Getting Started
Technical Requirements
As you'd expect, Shutterstock doesn't accept just any old image into their database. Otherwise, the library would become cluttered with unusable files. Each submission is tagged, reviewed, and approved before it ends up in another user's search results.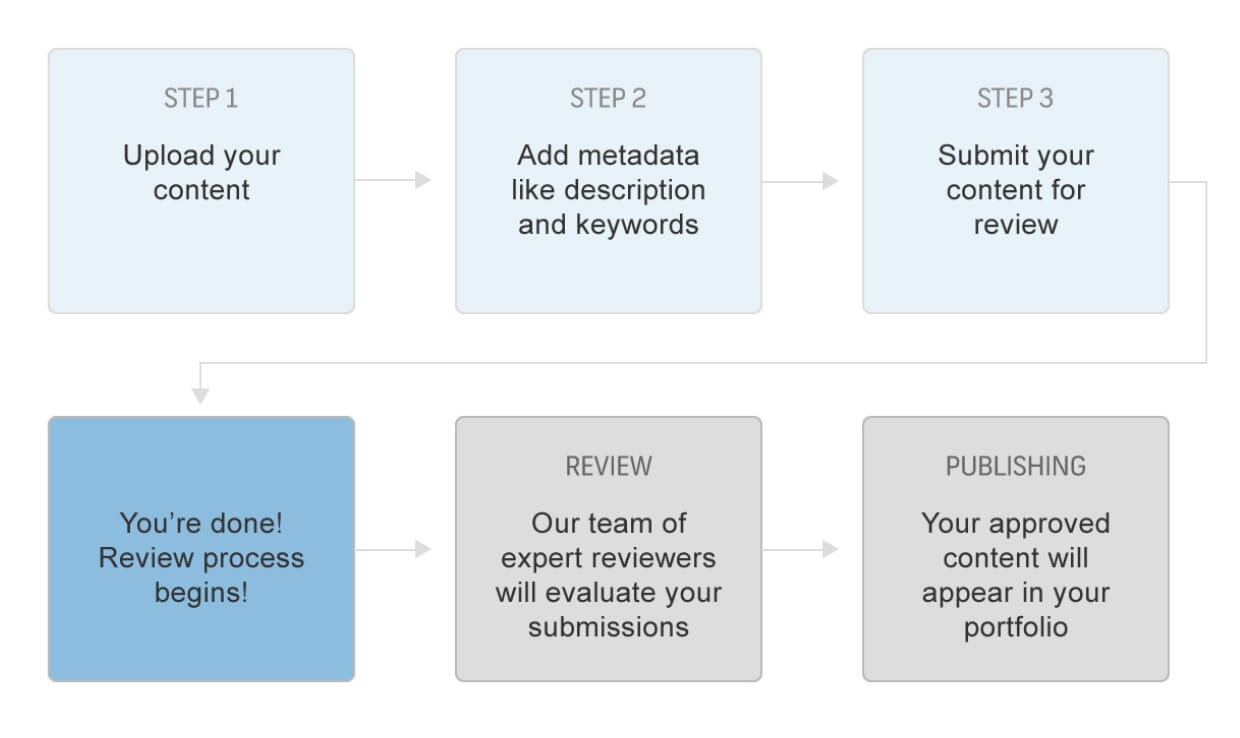 To get started, you'll have to abide by a few basic file requirements, detailed below.
Image Guidelines
Shutterstock only accepts JPEG or unlayered TIFF photographs. If you submit under any other file format, expect your images to be turned down.
Images must utilize an sRGB color profile.
All photographs must have at least 4MP of resolution.
The maximum accepted JPEG file size is 50MB.
The maximum accepted TIFF file size is 4GB.
Keep in mind that images may also be rejected for aesthetic reasons, such as improper focus or uneven exposure. But, so long as you are using a relatively up-to-date camera and not tampering too much with files, these guidelines are pretty easy to fulfill. Just be sure to check your file size, settings, and to always put your best foot forward before submitting!
Related Article: Stock Photography Trends
Footage Guidelines
Shutterstock's footage guidelines are a bit more strict when stacked against their images. However, they don't ask for anything too outrageous. So long as you know the basics of an editor like Adobe Premiere or Final Cut Pro, making necessary adjustments should only take a minute or two.
Video clips must be between 5-60 seconds in length.
No files larger than 4GB are accepted.
Shutterstock accepts .MOV or .MP4 files. Be sure to submit in the correct format!
While not a requirement, Shutterstock prefers and prioritizes HD and 4K footage.
Video clips should not include audio.
Taking a video undoubtedly takes more time and effort. However, if you're working with a camera capable of capturing high-definition footage, it's worth giving a shot. As you'll learn in the next segment, the sale of just a few video clips can yield a pretty decent profit.
Payment
The amount you'll be paid per image is dependent on two factors:
Your lifetime Shutterstock earnings
The client's method of payment
The more the person on the other end of the transaction ends up paying, the bigger the profit you'll receive. In addition, the more you've earned through Shutterstock photography, the more you'll be paid per image.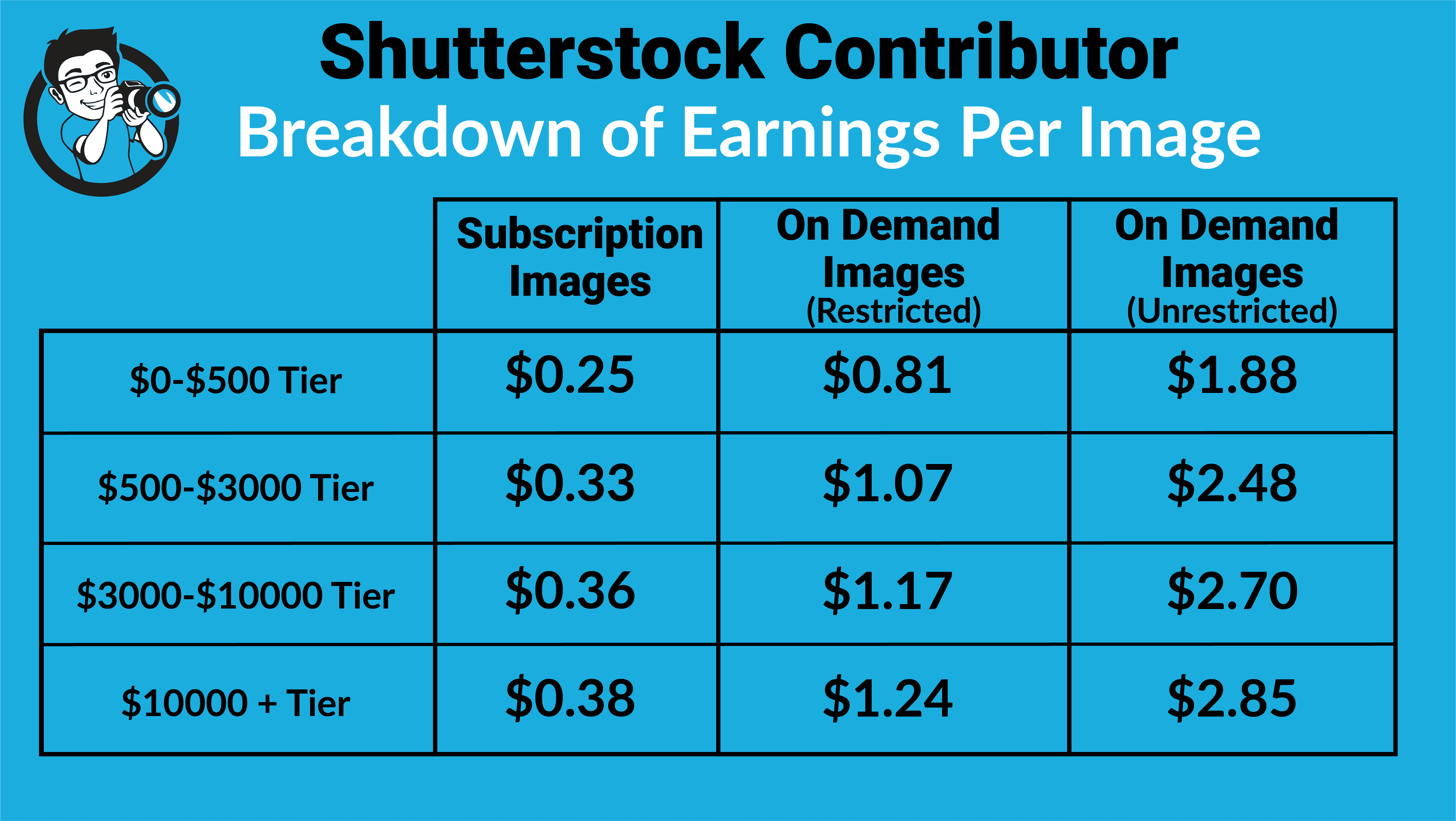 Each time one of your images is downloaded, you'll receive royalties. So, even if you're in the lowest-earning bracket, you'll get $10 for every 40 subscription image downloads. The more you upload, the more you're likely to get back from the site.
We should note that there are a few exceptions to this payment system. For footage, you'll receive a flat rate of 30% of the download price, regardless of your earning tier. If someone purchases an enhanced license, you'll get between 20-30% of the sales price, dependent on your lifetime earnings.
Referral Bonus
Want to earn even more? Refer a contributor, and for their first two years, you'll earn $0.04 each time one of their images is downloaded. For the first year, you'll also earn 10% of any profits made on the sale of video clips.
It doesn't end there – you can also receive a bonus for referring buyers to Shutterstock. You'll receive 20% of their first payment (up to $200). For instance, if they purchase a $249 monthly membership, you will receive $49. Not a bad deal!
Related Post: How to set up a Home Photo Studio on a Budget
Is Shutterstock Worth It?
Well, that depends on your specific needs and expectations. But, for many potential customers and contributors, the answer is a resounding yes.
For those in need of stock photography, there are sources that offer royalty-free images at lower prices. Nevertheless, Shutterstock is worth considering because it has a larger, more diverse database. Submissions are reviewed and approved by professionals, ensuring entries meet certain quality standards. What's more, Shutterstock clearly lays out what you can or cannot do with purchased images.
Related: Stock Photography Success Stories
From the photographer's perspective, there's not much to lose by submitting those shots that are collecting dust on your hard drive. Signing up to become a contributor is absolutely free, and it takes just a few minutes to set up an account. While it's likely not going to bring in enough money for you to quit your day job, it's a very real way to pull in some extra income.
Our take? Check it out and give it a try. Their clean-cut images won't work for every project. Some photographers are better suited for the hustle of stock photography than others. But, for a large percentage on both sides of the equation, Shutterstock is a promising site with plenty to offer.