Most Famous Photographers
The keyword "most famous photographers" can have different parameters. What does "famous" mean?
Does it mean someone who is well-known because of his standing in the industry, the one to which he is a part of?
Or does it refer to a single piece of work that stands out from the rest of his portfolio? Something that sets him head and shoulders above of that of his peers? Does a successful photographer have to be a professional?
Though I have deliberately kept the title open in all that regard, I have taken just one specific parameter for coming up with this list – the work that they have done, even if it is just one photo, should have had a major impact. It should be something that has transgressed the boundaries of the industry and had a profound impact on the psyche of the general viewing audience. Ok, and since we are talking about most famous photographers still alive, that's the other parameter.
Related Post: Most Subscribed YouTubers & the Cameras They Use
Photography isn't just a way to capture breathtaking vistas and images of immense nothingness. It can never be a successful medium of expression if it remains unbiased and fails to capture all facets of humanity; including its shadows and its highlights. It is the job of the photographer to capture what moves him. His images are his words. He expresses what he feels about what he sees, through his work.
Sometimes a photographer is presented with a scene which is much too disturbing to stay aloof, click and walk away. It is hard not to get involved, though that is exactly what is required in order for the picture to reach a larger audience and make the impact that the photographer intends to. A picture is, after all, worth a thousand words.
Thus, there will be a certain tone to this babble. Images that have made a profound impact will definitely find a place. Images that have stood apart from the millions and billions of captures over the last several decades. I will try to be as impartial and unbiased as I can in the interest of keeping this list a fair representation of images and photographers from a wide variety of other genres as well.
1. Nick Ut
Speaking of visual impacts the first image that I am going to write about is "The Terror of War" and the photographer who made that image – Nick Ut is an LA-based photographer and he works for the Associated Press.
This photo, which he took during the Vietnam conflict, is a graphic representation of how innocence is cruelly crushed as a byproduct in all conflicts. The photo shows several children running away from a village that has just been napalmed by the South Vietnamese army. Seen in the image is a naked 9-year old Phan Thị Kim Phúc. The image has remained as a gruesome as well as an iconic reminder of the lives lost and displaced during the bitter Vietnam conflict making Ut an automatic first choice in this list for the most famous photographers still alive.
2. Steve McCurry
I consider Steve McCurry as somehow a modern reincarnation of Endre Friedmann – an astute photographer with a penchant for covering conflicts, regardless of which hemisphere it might be raging on. Having said that, McCurry also has an astute eye for the remarkable, the pristine and the innocent. He also has the rare talent of spotting them in some of the most unlikely places.
McCurry is a National Geographic editorial photographer who is also a member of Magnum Photos. He is the winner of the Robert Capa Gold Medal for Best Photographic Reporting from Abroad. A prize that is reserved for showing extreme courage while reporting from foreign locations. All that and I haven't yet properly introduced him to you.
McCurry made the image "Afghan Girl". The image appeared on the cover of the National Geographic magazine and is widely accepted as the most well-recognized image from the archives of that magazine.
The image stands for many things and has been used by a number of organizations over the years. For me, it is an image that calls for more empowerment of women in Asia. I somehow cannot take my mind off of those mysterious green eyes. They are forever burned into my brain.
Making images that are instantly recognizable as well as pass a message is probably the biggest legacy that a photographer can leave behind. If his images from the core of a larger human enterprise it is the ultimate reward.
In that regard, the breathtaking black and white captures of the American wilderness
by Ansel Adams also served a purpose. They lead to countless conservation programs and eventual survival of countless species of flora and fauna.
Steve McCurry can be considered as one of the most famous photographers alive. Recently, though, he got criticized by the press for having photoshopped some of his most famous pictures (including The Afghan Girl). He defended himself by saying he is more of an artist than a photojournalist.
3. Vincent Laforet
Creativity has many facets and even if you choose to be expressive in only a specific genre there are ways to explore your creativity. Vincent Laforet, on the other hand, has been everywhere and seemingly done it all. But if you ask him he will probably disagree that he has accomplished everything. The mind continuously pushes forward towards the next creative goal.
Laforet is a Swiss-born French-American photographer who has worked and shot for some of the biggest names in the industry. He has been recognized by countless organizations across the world and is the first ever to be a Times National contractor photographer. He was also awarded a Pulitzer Prize for his outstanding work covering the post 9/11 events abroad.
Apart from all that he has also been on the advisory panels of several of the top photo and technology companies of the world. Laforet's insatiable appetite for newer and better ways to challenge himself is something that should rub-off to every aspiring professional photographer.
Related Post: How to Sell Stock Photos & Make Money
4. Jay Maisel
Jay Maisel is a contemporary genius, someone who is a great source of inspiration for a budding photographer with limited gear but an astute eye for what makes a great photograph. Maisel's work echoed simplicity. There is no overabundance of lighting or complexity.
But he does capture shapes and forms and that becomes the focal point of his compositions. His images are a living testimony that using just pure compositional qualities and using the basic rules of photography one can elicit powerful images. Many of his images can be textbook examples of the Rule of Thirds and other rules of photography.
"I have been shooting New York for over 60 years now. And though I have achieved age, I can safely say I have never made my way to maturity so I have never been jaded or bored. I think all this is due to the grittiness and hectic quality of the city, you never capture it, it captures you." Jay Maisel
5. David Doubilet
In this world of digital cameras and instant gratification, more and more people are claiming to be photographers. It's hard to find a niche and stand out. But when you do something like David Doubilet does it is hard not to get noticed.
Doubilet is primarily an underwater photographer. His work embodies the beauty of the ocean and everything that it contains within. Underwater photography is a challenge in itself.
You have to forego many of the privileges that you would normally associate shooting above the surface. You don't have the luxury of too much natural light to play around with. Neither can you change lenses between shots. Even if you use to flash the effect is minimal and for subjects further away it is pretty much useless. Then there is the question of a good focus lock.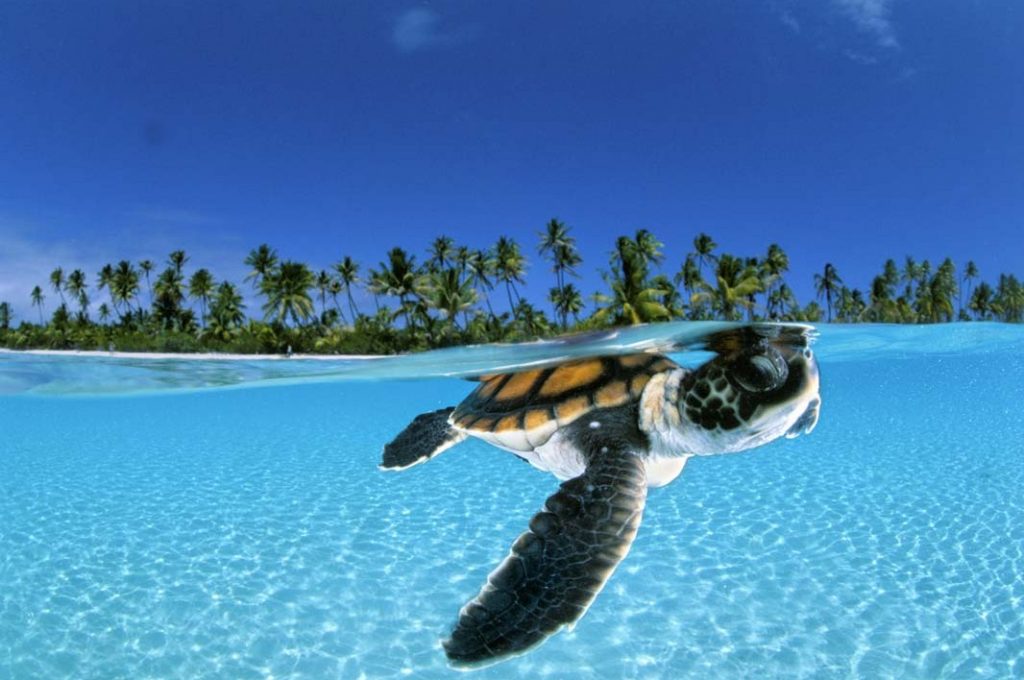 Doubilet used his ingenuity to create the "Split Lens Camera". This is a revolutionary system that allows him to have two separate points of focus – one for the top portion of the image and the other one at the lower portion.
His images are breathtaking captures of the beauty of the fathomless depths of our oceans and the many life forms that roam these depths. He has been published many times in National Geographic.
Doubilet's photography is a living breathing testimony that you can work really hard to make a genre your own.
Related Post: Natural Light Photography Tips (4 Easy to Implement Tips)
6. Jeff Widener
How does it feel to be told that your life's legacy will be a top ten image ever taken? I am sure if someone told Jeff Widener when he started his photography he would have been more than happy.
Sometimes great images take a lot of hard work and a knock on the head too! Widener would never have captured the image that made him famous had he simply quit following the events of the previous day. He stayed on and despite a blow to his head he came up with "The Tank Man" picture.
One of the easily recognized images of all times "The Tank Man" is a brilliant example of the power of the common man. Shot a day after the infamous Tiananmen Square incident where a popular Chinese protest was brutally crushed by the Chinese army. This man, whose identity has never been established stood in front of an approaching column of tanks forcing the column to stop. What Widener captured went on to become of the iconic images from the past century.
7. Elliot Erwitt
Erwitt mastered the art of "The Decisive Moment" and that way walked in the steps of the great Henri Cartier-Bresson. His images are shots from everyday life, but they captured not what we commonly see.
His images captured moments that are extremely strange almost to the point of being bizarre but seemingly captured from everyday life. One of his best-known images is that of a Chihuahua, the size of a woman's feet shot inches from the ground.
8. Benjamin Von Wong
The 21st century brings to reach a powerful medium for connecting and influencing popular opinion – the internet and social media. One of the best examples of how a budding photographer can take advantage of that growing social media is what Von Wong has done.
In just five years having ditched a full-time career in engineering and starting out in photography, Benjamin Von Wong has become a household name in the photography industry.
Thanks to his ever-growing social media presence. Von Wong acknowledges that. Very early he realized the power of social media and how it can be leveraged for marketing purposes.
He admits that a major part of his work as a photographer is to keep feeding that ever-growing fan following. He has more than a million views on his YouTube channel, more than 35,000 fans on his Facebook page and 10,000+ Twitterati followers.
Related Post: How to Make Absolutely Sharp Images
9. Steven Meisel
Photography has a strong commercial side to it and thus it would be a shame not to include at least one strong contender from this genre in the list of most famous photographers; and who better than Steven Meisel. Meisel was born to be a fashion photographer.
He showed a deep interest in fashion models and beauty in general from a very tender age. But his passion was not to photograph but rather to draw them. This natural interest in models transformed into a passion for photographing them later when he got his break with Oscar Reyes who encouraged Meisel to take pictures instead of making illustrations of models. Thus started a career that has flourished since.
10. David Bailey
Bailey is another entrant in the list of most famous photographers from the world of fashion photography. He started a humble life that overcame dyslexia and a motor skill disorder known as dyspraxia that meant he found it difficult a school. He found better interest in fleeting jobs and moved from one to the other in rapid succession.
Bailey served with the Royal Air Force and after that stint was over in 1958 he thought about pursuing photography. He had bought a camera during his service years and became an assistant to David Collins.
Things started to improve from hereon as he was roped in as a fashion photographer for the British Vogue magazine. He has enjoyed a life of a celebrity winning honors for his long and sustained contribution to the art of photography.