Off-Camera Flash Tips
Before you begin to read this article let me clear one thing. It is understood that you already own one or several external flash units because owning one is a prerequisite to making the most of the content in this article.
If you own more than one and are using them in tandem probably you are aware of the basics of using off camera flash.
You can still read this as a sort of refresher. This article is aimed at a beginner photographer who has an external flash but has been using it mounted on his camera thus far.
Related Post: Using Color Gels When Working With Flash
As a beginner photographer, you would probably be shooting with the flash mounted on your camera. It is the most logical of things to do and gives you 'complete' control over the light, or so you think.
It kind of gives you a flat illumination, resulting in images that are two-dimensional at best.
But as you grow as a photographer and begin comparing your work with others a realization will set in – that there is a much bigger world out there. You will soon understand the weakness of using a flash mounted on your camera.
You will realize the stifling effects a flash that cannot be fired the way you want can have on your creativity. Soon, you will be compelled to unmount the flash and set it up off-camera.
A. Wireless Off-Camera Flash set-up Options
1. The Slave Mode / Optical Sync Mode
Off-camera flash is just any flash that is setup away from the camera, physically and is triggered using either a cable or via a wireless trigger.
Most flashes do have a mechanism which allows it to be fired without the need for any extra tools. This is known as the slave mode and the trigger is an impulse of light.
Though any type of light will do, ideally another flash either mounted on the camera or elsewhere is used.
Related Post: Best on Camera Lights

You can also use the built-in flash on your camera to trigger. This mechanism is also known as optical-sync. To use the camera's built-in flash you will need to set it up in commander mode. Most semi-professional and professional cameras have this mode. But in anyways check your camera manual to be sure.
To set up your flash off-camera and in the slave mode, you need to dig into the menu and find a mode that says Slave or equivalent. Your brand of flash may have it named differently so check your flash guide. Most flashes will allow you to set them up in slave mode, even the ones that does not have TTL or E-TTL support.
These days most flash units come with TTL and e-TTL mode. If you are given a choice go for the ones with these options. It is worth the extra money.
Related Post: Review of Canon 430 XII Speedlight
With the optical sync mode, all of a sudden you have a bunch of creative options in your hand. You could set up two slave flash units, one to work as the key light and the other as the fill light.
Add a third light in the mix to illuminate the background and you have a nice professional standard lighting arrangement going for you. Inexpensive, highly portable and extremely flexible.
However in all situations limitations of the triggering mechanism, which is powered by infra-red, means you will need to have line of sight in order to trigger the flash units.
Related Post: What is a Speed Light?
2. Using Radio Triggers
One of the best wireless methods to trigger a flash is to use a radio trigger.
PocketWizard makes some of the best radio triggers in the business. They work as transceivers, meaning each of these can work either as a transmitter or a receiver depending on how you set them up.
You need two of these to produce an effective sync. One mounted on the camera and working as the transmitter and the other on the flash working as the receiver.
The idea is that when the camera shutter is pressed, a signal is then sent out by the transceiver on the camera to the transceiver on the flash to fire at that same instant. You would wonder why such an elaborate and expensive arrangement when you could simply use the optical sync mode.
The thing is there are some limitations to the optical sync mode. You cannot hope to get them to work if you are standing beyond say 10 or 15 feet. Essentially because these are infra-red powered. However PocketWizard type transceivers are radio triggered and have a larger range.
When working in an outdoor location, you would want the assurance that you can fire the flash remotely and reliably, even if you are 50 feet away. These are rated to fire even though you are a thousand feet away.
Related Post: Focusing In Dark Conditions Using A Flash
You would probably never need such an insane range but the reliability that these transceiver bring on to the table makes a huge difference.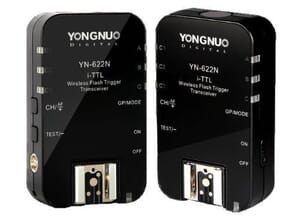 Another advantage is that you can use these transceivers to set up several individual flash units in an array.
Let's say you are photographing a wedding and you have 10 of these arranged at four different locations at the venue. You can set them on different channels.
These allow you to trigger the flash units at a specific location only.
Each time you set the master transceiver to fire a signal to a specific channel, let's say Channel A that controls the transceivers set on flashes at the dancing hall, you only trigger them and not the ones at the other locations.
B. Wire: Off-Camera Flash set-up Options
Using a PC Sync Chord
A PC sync chord is basically a connection between a camera and a flash unit. Most cameras have a PC sync port. It is a very basic way to control your flash if you want a hard wired solution or standing at a distance which makes it kind of unreliable for using the optical sync method.
Basically, one end of the PC sync cord plugs into the camera and the other one plugs into the flash unit. Now you are set. When you fire the shutter release the flash fires as well. That's how simple it is.
The PC sync chord allows cameras that don't have a built-in flash or don't have a hot-shoe or other methods to trigger a flash optically can also achieve effective syncing.
---
As an Amazon Associate we earn from qualifying purchases. Certain content that appears on PhotoWorkout.com comes from Amazon. This content is provided 'as is' and is subject to change or removal at any time.