Street photography has been a medium of capturing the human condition and experience for decades.
During its inception, street imagery was first captured on film cameras, in major cities such as New York and Chicago – showcasing the lifestyle and environment that existed within the metropolis.
As the genre expanded and evolved, street photography became a common practice of capturing people, places, and events – in an effective and visually stimulating documentary style.
In the boom of digital cameras, creating street images became a more accessible process, with the ability to continuously snap images without hesitation. Some street photographers can still be known to capture their subjects on film, but the majority of creatives have switched over to digital techniques for various reasons.
In this article, we will cover the principles of shooting street photography and the best cameras currently available at each budget level.
Jump to 👉 9 of the Best Street Photography Cameras:
Why You Should Shoot Street Photography
As we previously stated, street photography is about capturing the human experience. Unlike any other genre in the industry, street photography is a documentary style of photography that eliminates the concept of carefully curated posing and planning of your images.
Street photography is captured in real time and in the moment. It is the form of photography that calls for immediacy and urgency – as each second that passes is an opportunity to capture a provoking image.
Every photographer should test out the likings of street photography for various reasons. One being that street photography will test your photographic eye.
In street imagery, you will be forced to find the story, find the true magic within a scene that will result in a captivating photograph. The fact that you could truly shoot anything in terms of "street", leaves the process up to interpretation and allows for you to be objective in defining what street imagery means to you.
Additionally, if you are drawn toward photographing people and humanity, there is no better way to capture the organic and authentic nature of humans than being hidden in plain sight.
In the beginnings of this photographic movement, street photography was carried out by individuals who could afford to own cameras. With this, ordinary working class people did not have the luxury of owning such a machine and were therefore intrigued and fascinated by its capabilities. As a street photographer in such an era, people were willing to be photographed due to the sheer shock and excitement of what a camera could do.
Now, as we live in a society that is driven by the need to constantly share, we find ourselves within the state of mind of skepticism and craving privacy. Cameras are highly accessible, found within the confines of our cellular devices, therefore making the common man a potential photographer.
In this case, street photography has transformed into an art form that must be handled with increased sensitivity. This isn't to say that the medium is losing its appeal, but more so calls for photographers to approach their shooting process in more hidden ways or even openly asking potential subjects for permission to take their picture.
Although the medium of street photography has slightly shifted, it will continue to adjust and grow based on the expectations of society and the willingness to share within our social space.
How to Choose a Street Photography Camera
Choosing a street photography camera involves a few specific factors that must be considered including:
The compactness of the camera
How discreet you can be with the camera
The weight of the body
Focusing features, aperture range, and sharpness of detail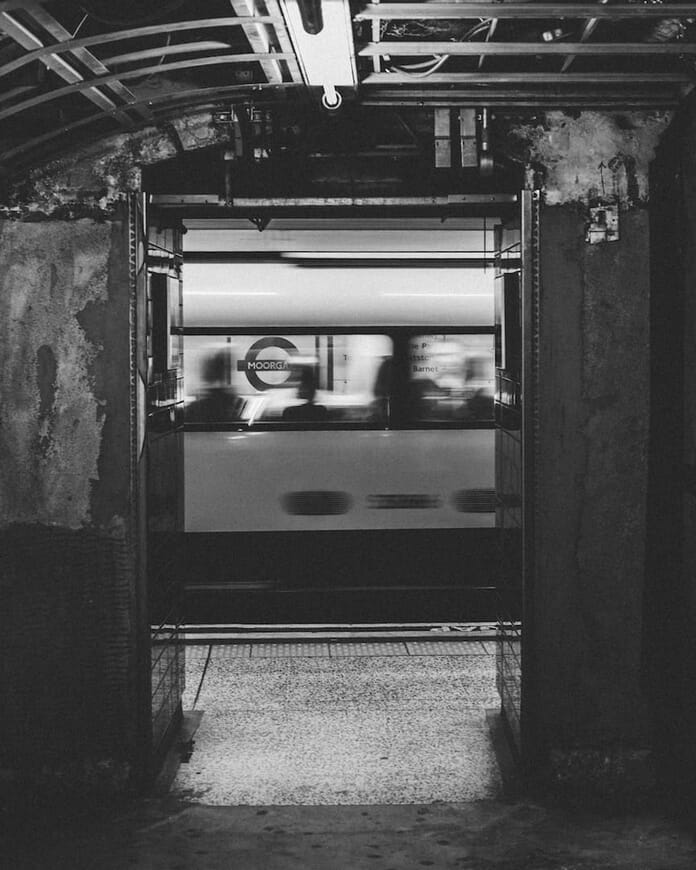 Many photographers believe that the technical aspect of a camera is the main concern when shooting images. With talk of jargon such as megapixels, focus points, and dynamic range, these are often noted to be must-have necessities to create your best imagery.
While the digital era has shifted our focus to the true capabilities of our cameras, we must not forget that the camera's technical makeup is only one factor to photography.
In the case for street photography, you will want to focus more on qualities such as compactness, discretion, weight, focusing and sharpness for your camera of choice.
In street photography, it is best to avoid using large camera bodies that are found on standard DSLRs. This is due to the fact that these cameras can come with lens and features that will be too cumbersome with your movement through the city.
The camera's camouflage factor should be high when shooting street photography. You will want your subjects to be unaware that you are photographing them, therefore using a camera that is discreet and potentially unrecognizable by the human eye. You can do this by finding a camera that is sleek and black in color to decrease the chance of it being discovered by passing people as you shoot.
Another factor to consider is the weight of your camera. As with a large body, a heavy camera will become a hassle and pain for you to carry around with your during the day. The ideal street photography camera is one that you can easily place in your bag without taking up too much space or weighing you down while shooting.
Related Post: Best Mirrorless Camera Lenses for Street Photography
Lastly, you should aim to find a street photography camera that has solid focusing features, ability to shoot both wide and narrow apertures for various photographic compositions and sharpness of detail.
Since life moves fast in the streets, you will want a camera that does not lag in its focusing. Consider a camera with a back button shutter focus and multiple focus points for best accuracy. Also, you will want a camera that creates sharp and clear images at any f-stop, as you will be adjusting your settings based on the environment and want to aim for cohesiveness across every photograph.
Now that we have covered the bases for what makes a quality street photography camera, here are our list of best street photography cameras based on your budget from affordable to mid-level to more expensive options.
Affordable Photography Cameras
1. Canon PowerShot S95
2. Sony DSCWX220/B 18.2 MP Digital Camera with 2.7-Inch LCD (Black)
3. Panasonic DC-ZS70S Lumix
Mid-Level Street Photography Cameras
4. Sony Alpha a6000 Mirrorless
5. Ricoh GR II 
6. Olympus OM-D E-M10 Mark II
More Expensive Street Photography Cameras
7. Fujifilm X-E3
8. Fujifilm X100F
9. Leica M Rangefinder
Conclusion: Which is the Best Camera for Street Photography?
From our list, there are quality cameras for street photography at each budget level. If you're starting off in street imagery, keep costs low and use the quick, adaptability of a point and shoot such as the Canon Powershot S95. Or if you're a professional looking for a powerhouse with impeccable dynamic range, choose the Leica M Rangefinder.
Whichever gear you use, remember that street photography is about capturing the moments and movements of life before you. Do you have a preferred street photography camera that is not on our list? Share with us your recommendations in the comments below.
Comparing Reviews, Ratings, and Prices
| # | Camera | Price on Amazon | Ratings on Amazon | Reviews on Amazon |
| --- | --- | --- | --- | --- |
| 1 | Canon PowerShot S95 | $525.00 | | 717 Amazon Reviews |
| 2 | Sony DSCWX220/B | from $196.90 | | 281 Amazon Reviews |
| 3 | Panasonic DC-ZS70S Lumix | from $399.99 | | 21 Amazon Reviews |
| 4 | Sony Alpha a6000 Mirrorless | from $448.00 | | 1,468 Amazon Reviews |
| 5 | Ricoh GR II | $546.95 | | 101 Amazon Reviews |
| 6 | Olympus OM-D E-M10 Mark II | from $449.00 | | 182 Amazon Reviews |
| 7 | Fujifilm X-E3 | $699.00 | | 49 Amazon Reviews |
| 8 | Fujifilm X100F | from $1,199.00 | | 144 Amazon Reviews |
| 9 | Leica M Rangefinder | $3,999.99 | | 4 Amazon Reviews |
---
Note: Amazon.com prices, reviews, and ratings were updated on 2019-07-21 - Product prices and availability are accurate as of the date indicated and are subject to change. Some product prices may refer to used/refurbished items. Any price and availability information displayed on Amazon sites at the time of purchase will apply to the purchase of the product. As an Amazon Associate we earn from qualifying purchases. Certain content that appears on PhotoWorkout.com comes from Amazon.com. This content is provided "as is" and is subject to change or removal at any time. For more information refer to our Affiliate Disclosure and Disclaimer.