With the highly competitive market in today's camera world, it can be hard to filter through all the options and make a choice on what camera to pick that will offer everything you need and more.
In this article, we look at the best APS-C cameras on the market.
What is an APS-C camera?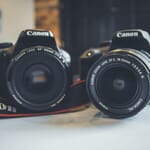 An APS-C camera uses an Advanced Photo System type-C sensor, which is smaller than a full-frame 35mm sensor but larger than those in compact cameras.
These cameras are generally more affordable and compact than full-frame models but may offer lower performance in low-light conditions and a more limited field of view due to a crop factor ranging from 1.5x to 1.6x.
Despite these trade-offs, APS-C cameras are popular for their portability and are well-suited for various types of photography, including landscapes, portraits, and wildlife.
When you buy through links on our site, we may earn a commission at no cost to you. We evaluate products independently. Commissions do not affect our evaluations.
1. Nikon D500
Best Nikon Pick
Best option for wildlife, sports and action photographers
Great image quality. Exceptional autofocusing. Weather sealed.
You cannot have a discussion of the best APS-C cameras without the D500 somewhere in that mix. We decided we might as well start with it. The D500 is an exceptional camera. It is powerful and probably is the kind of camera that wildlife and landscape photographers would love to take with them on their trips.
The arrival of the D500 infused some life back into Nikon's APS-C camera segment. True, it already had the formidable D7500, which is a fine shooter in every sense, but the D500 takes things to a completely new level.
For example, the 10 fps continuous shooting speed of the D500 makes it suitable for wildlife and sports photography. Moreover, you add the Multi-CAM 20K 153-point AF system with 99 cross-type AF points, and you have a beast in your hands. Incidentally, the D500 shares this feature with the pro-grade D850.
Both the D7500 and the D500 have the same 20.9 megapixel CMOS sensor. That means at least resolution-wise both these cameras are the same. And when it comes to image processing both these APS-C cameras use the same image processor: EXPEED 5.
The D500 easily makes the top three best APS-C cameras 2021 has to offer with its 4K/UHD video recording (29.97p), extended dynamic range, and superb weather-sealed construction.
Perfect for: Sports, wildlife, low light, landscape, and everyday photography.
Also read: Best Mirrorless APS-C Cameras on a Budget
2. Nikon D7500
Great for a wide range of photography genres
Good autofocusing, good image quality, weather sealing.
When you pick the D500 for some comparison, how can you leave out the other powerhouse from the Nikon DX line-up? It carries forward the rich legacy of this series started by the original D7000 and adds so much more to it.
In many ways, the D7500 and the (discussed above) are close competitors in their own ranks. They each have their strong points.
The D7500, for example, offers 4:2:2 uncompressed 8-bit UHD/4K recording option when recording to an external recording device. Plus, the D7500 has digital image stabilization. Digital image stabilization is useful when you are shooting hand-held when doing video work.
Overall, the features on the D7500 make it the better DSLR between the two in terms of video work. However, that doesn't imply in any way that the D7500 is the overall best APS-C DSLR for movie shooting. It still does not offer things like focus peaking and Zebra Highlights.
But there are other major selling points. The D7500 has a weather-sealed body, just like the D500. Additionally, the design means it comes with a decent amount of durability and is capable of being used in every kind of environment and can survive some amount of rough handling, too.
But when it comes to auto-focusing prowess, the D500 surely beats the D7500, hands down. With its 51-point Multi-CAM 3500FX II auto-focusing system and with 15 cross-type AF points, the D7500 is a force to reckon with but loses out to the D500 because of its class-leading auto-focusing mechanism.
Great for: Sports, videography, landscape, and everyday photography.
3. Canon EOS 7D Mark II
Best Canon Pick
Best option if you are interested in Canon
Great overall pick for wildlife, sports, landscapes, and most other genres.
The EOS 7D Mark II is another powerful shooter.
The camera shoots at an effective resolution of 20.2 megapixels. This is comparable with the Nikon D500 and the D7500, so if you're struggling to pick between the sides, you know you're not losing out by picking this Canon camera over the D500 or D7500.
But where this camera really comes into its own is around continuous shooting. At a frame rate of 10 per second, the EOS 7D Mark II makes it easy to capture fleeting subjects and fast action. With this continuous shooting speed, the camera is capable of capturing fast-action sports, wildlife, birds and other types of subjects without much fuss.
Auto-focusing is by far one of the most important aspects of modern digital photography. And in this regard, the mid-range Nikon and Canon DSLRs don't disappoint. The EOS 7D Mark II has a 65-point all cross-type auto-focusing mechanism. The overall auto-focusing performance is boosted by the fact that the camera incorporates Canon's Dual-pixel CMOS AF technology. So both live view and through-the-viewfinder focusing performance are brilliant.
Not to mention that the biggest advantage of improved auto-focusing in live-view shooting is in the area of video shooting.
With one of Canon's STM lenses, you can achieve a smooth focus racking. This is impossible with older ring-type USM lenses.
And just to add to the overall performance metrics, the 7D Mark II has a weather-sealed body. You can take it pretty much anywhere you want to without issues, and shoot in inclement weather. However, you need to ensure that your lenses are weather-sealed too, and use lens filters for added security.
Great for: Landscapes, wildlife, sports, low light, and portraits.
Can't decide between the Nikon D500 and the Canon 7D Mark II? This comparison video featuring the two flagship cameras might help you to make up your mind.
Nikon D500 vs Canon 7D Mark ii – Head to Head Shootout!
Best DSLR Cameras Under $1200: Nikon D500
4. Canon EOS 90D
Great for budget shooters looking for Canon
Good for high-resolution stills. Good for shooting videos as well.
We love the EOS 90D. It is the latest in a long line of budget DSLRs. The EOS 90D continues the rich legacy of the previous models that came in this line-up.
The EOS 90D offers a 32.5 megapixel (effective) sensor. The highest of all the cameras that we have listed here. It means if you are looking for detail in your images the EOS 90D would be the best candidate to give you that.
The 90D can shoot 4K/UHD videos as well. And at 30p. It is also capable of shooting an full-HD at a higher frame rate of 120p.
The EOS 90D has only 45 autofocus points. However, the one aspect that keeps the EOS 90D ahead of its competition is that all the autofocus points on this camera are cross-type. And that means greater accuracy and faster focus lock when compared to the rival D7500. The D500, however, still leads the overall race for the maximum number of cross-type AF points.
Notwithstanding, the single most important feature of the 90D is the dual-pixel CMOS auto-focusing mechanism. And that is what makes video shooting as well as live-view shooting with this camera so much more exciting.
Great for: Landscapes, videography, portraits, weddings, fashion, and product photos.
5. Canon Rebel T8i
Best Budget
A great camera at a fair price
The T8i will not disappoint. It offers excellent functionality for photographers and videographers alike.
For a significantly less amount of money compared to what you would spend for the Canon EOS 90D or the EOS 7D Mark II, you could get the latest Canon Rebel. The Rebel T8i.
The T8i does lose out to some of the more accomplished and feature-laden options that we have listed here but it is no pushover. It is a fantastic camera that will produce great images when wielded by the right hands. And in the process, you will also save a lot of money which you can then invest in quality glass.
To start off the T8i has a 24.1 megapixel CMOS APS-C sensor.
Auto-focusing is powered by a 45-point all cross-type AF system. That and the quick 7 fps continuous shooting speed means the EOS Rebel T8i is suitable for a wide range of photography requirements. You can use it for shooting sports, wildlife, weddings, landscapes and everything else.
It records 4K/UHD videos internally, with stereo sound recorded via the built-in stereo mic. You can also use an external stereo mic and record better quality sound. The highest frame rate you can achieve with the T8i when recording in 4K/UHD is 23.97p.
One of the interesting things about this camera is the presence of electronic image stabilization. This is available when you are shooting videos and will help you to capture shake-free, smooth videos.
The feature that lets down the T8i is the viewfinder. Looking through it and then looking through the rear LCD screen you will notice there is a difference. The viewfinder of the T8i only offers 95% of the view that the lens captures.
But on the bright side, the rear LCD screen is articulating. That certainly helps when shooting in live-view mode. And also the rear LCD screen comes with touch functionality. That gives you features like touch to focus and a selection of a wide variety of shooting functions right at your fingertips.
Great for: Sports, wildlife, landscape, portraits, weddings, and videography.
An excellent Pentax APS-C camera
Great built-in image stabilization mechanism. Excellent weather sealing.
The Pentax KP is a classic Pentax interchangeable lens camera designed for people who want to have a weather-sealed unit for outdoor photography. The Pentax KP and K70 are close competitors making this a tough call.
Both the Pentax KP and the Pentax K70 benefits from the absence of the Anti-aliasing filter. But they come with a Selectable Anti-aliasing Filter option that takes away those false colors and moiré patterns.
Pentax uses a sensor-shift type image stabilization system. The sensor is shaken using a micro motor inside the camera to compensate for any unintended movement of the hands while an image is being made.
The sensor can compensate for your hand movement in 5-axes. Totaling up to five stops of image stabilization. The biggest advantage of this body-based image stabilization system is that all compatible lenses are automatically stabilized. Plus, it is really handy when you are shooting in low light.
The 7 fps continuous shooting speed is ideally suited for everyday photography. But if you time your shutter releases well and make sure to do short bursts you can also do a bit of wildlife, birding, and sports photography. 7 fps is decent though not the best that you can get. Some of the other options in this article will offer much better frame rates, at a price.
Auto-focusing is a major aspect of any DSLR and in this regard the Pentax KP comes with a SAFOX 11 27-point AF sensor which is fast and accurate.
Great for: Wildlife, birding, sports, portraits, wedding, fashion, and product photography.
Best Pentax Pick.
Best Sony pick
Great all-purpose camera
Fast continuous shooting speed. Great for sports, wildlife, and birding. Great for videos as well.
The Sony Alpha a77 II is the successor to the original a77. Sony's A-mount camera systems use translucent mirror technology. The mirror inside these cameras doesn't flip out to expose the sensor. Instead, they are always present in front of the sensor. And because they are translucent, light always passes through them.
The Sony a77 II is an old camera, It was launched some 5 years ago. But the reason we have selected it to be a part of this list of the best APS-C cameras is because of a few of its features that are still useful today.
The resolution of the camera is 24.3 effective megapixels. The sensor is an Exmor CMOS unit featuring a gapless on-chip lens design. This technology brought out a significant improvement in the low light shooting capabilities of digital cameras.
Fast action, sports and birding enthusiasts will find the camera useful for their requirements. One of the many advantages of a translucent mirror technology is a fast continuous shooting speed of 12 fps. But at that speed, you can capture a maximum of 26 RAW frames before the buffer overruns. So, every time you do push the shutter release, you have to make sure that it is a short and measured burst. Allow more time so that the buffer is cleared.
Auto-focusing on the camera is powered by a 79-point AF system. 15 out of which are cross-type. Thanks to the fact that the AF sensor is always switched on, even when the image sensor is recording images, the camera is super responsive when focusing.
Two additional features add to the already impressive feature list of the a77 II. First, it has a three-way tilting rear LCD screen. Which comes in handy when you are shooting videos or trying any angle other than the standard eye-level one.
The second stand out feature is the build quality. A lot of first time DSLR buyers don't realize this but build quality is an essential aspect of buying decision making. You don't want a camera that is flimsily built or features a lot of cost-cutting. Because, every now and then, you are bound to knock your camera against a wall, or something inside your bag, or someone on the street as you navigate a crowded place. It helps if the camera is built to withstand some rough and tumble.
Another factor that is important for those who are looking to shoot videos is that the Sony a77 II comes with both Focus Peaking as well as zebra exposure highlights. Focus Peaking helps in manual focusing accuracy when shooting videos and zebra highlights lets you know when you are starting to clip the highlights.
Also important is weather sealing. In this department, the A77 II is well sealed and is well protected from the elements of nature. All this makes the Sony a77 II still one of the best APS-C cameras 2021 has to offer.
Great for: Landscape, wildlife, sports, birding, portrait, videography, and weddings.
---
Disclosure/Disclaimer: As an Amazon Associate, we earn from qualifying purchases. Certain content was provided "as is" from Amazon and is subject to change or removal at any time.