What are the best landscape photography courses out there?
In this article, I'm going to answer that question. I'll take you through the best courses for budding landscape photographers – courses that will teach you how to shoot absolutely gorgeous landscape images. I'll explain exactly who each course is for and what it offers.
Are you ready to discover the best landscape photography courses available?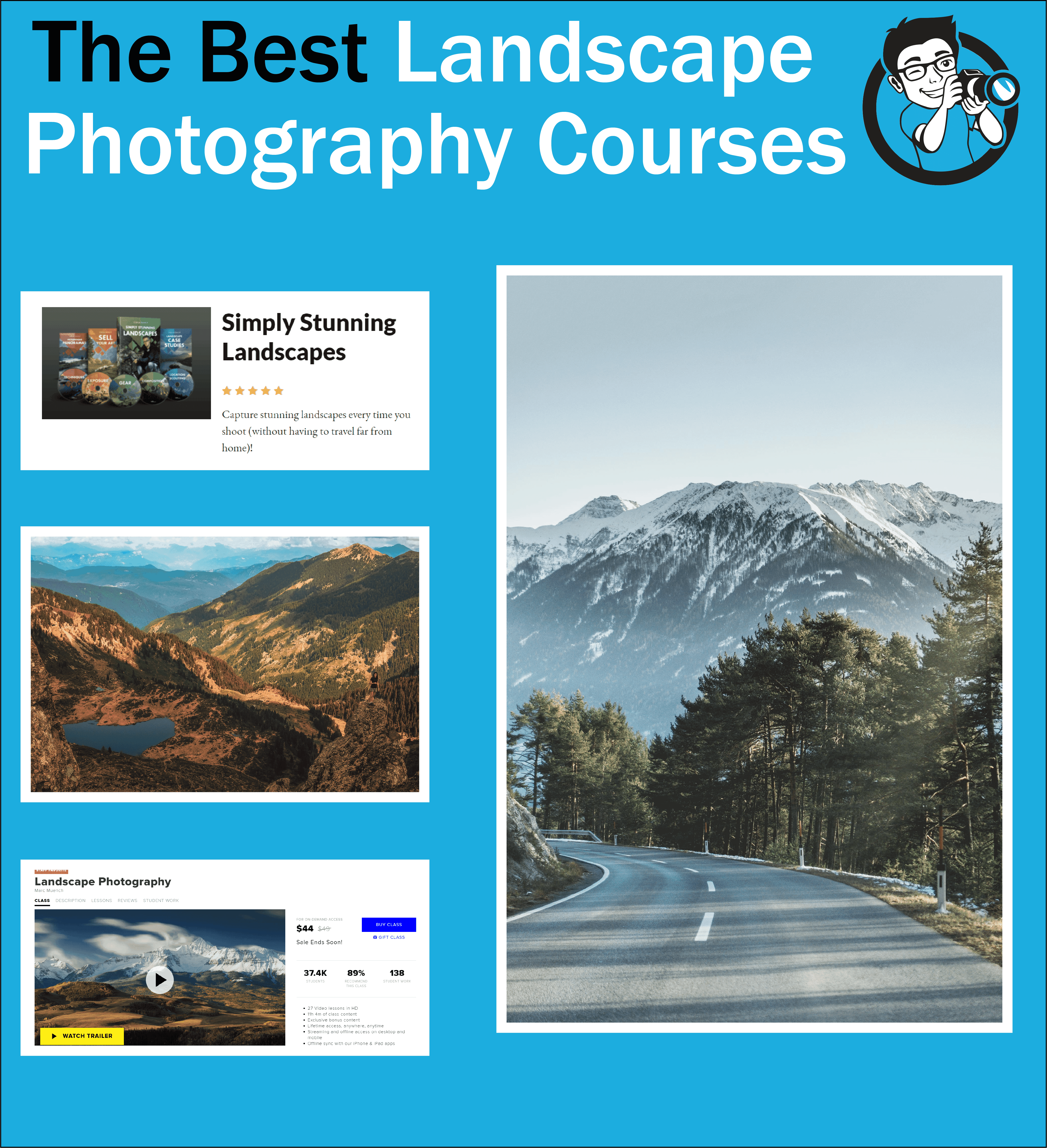 When you buy through links on our site, we may earn a commission at no cost to you. We evaluate products independently. Commissions do not affect our evaluations.
How to Choose a Landscape Photography Course
When it comes to picking a landscape photography course, you want to be careful.
There are a few factors that you should consider before bringing out your wallet so that you can ensure you're getting the best course for your needs.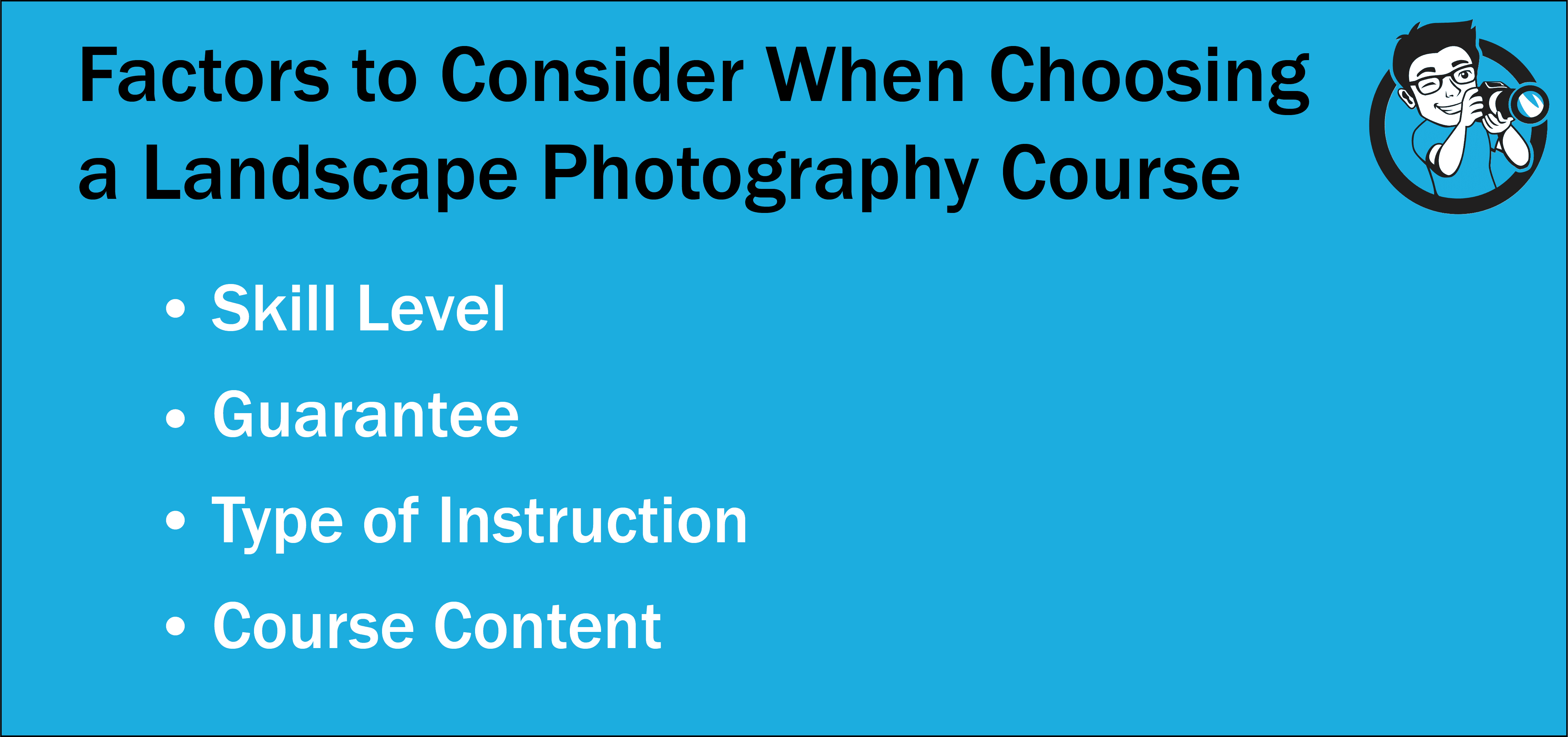 Starting with:
Skill Level
Before you purchase any course at all, you should ask yourself:
How would I describe my landscape photography skills?
Are you a beginner? An enthusiast? Are you advanced? A professional?
And you should make sure to pick the course that matches your level of skill.
Related Post: Best Online Photography Courses
Because it's very easy to pick a course that doesn't fit with your level of skill. If you're just getting started with landscape photography, you don't want to purchase a landscape photography course, only to find that it's aimed at experts.


Guarantee
Most of the most reputable course businesses offer a money-back guarantee. You can usually get your money back, for any reason, within a certain period of time (often one, three, or six months).
You should always check to make sure a money-back guarantee exists before buying. Because if you accidentally buy a course that starts using terms like "hyperfocal distance" like they're child's play, but you're a beginner, then you're going to want to return that course.
That's why the guarantee is so valuable.
Of course, this is less important if the course costs $10. But if you're purchasing a $300 course, you need to be able to make a return, just in case it doesn't fit your needs.


Type of Instruction
In landscape photography courses, there tend to be two modes of instruction:
Either the instructor talks from behind the desk, while showing you relevant landscape photos or they take you into the field and let you watch as they take landscape photos in real-time.
In general, the second type of instruction works a lot better than the first, because it's a lot more hands-on. But if you're more of a theoretical learner, the first type of instruction can work well, too. And many courses mix the two, for a nice balance of armchair instruction with real-life landscape photography.
Ultimately, it's up to you to decide which works best, depending on your own style of learning.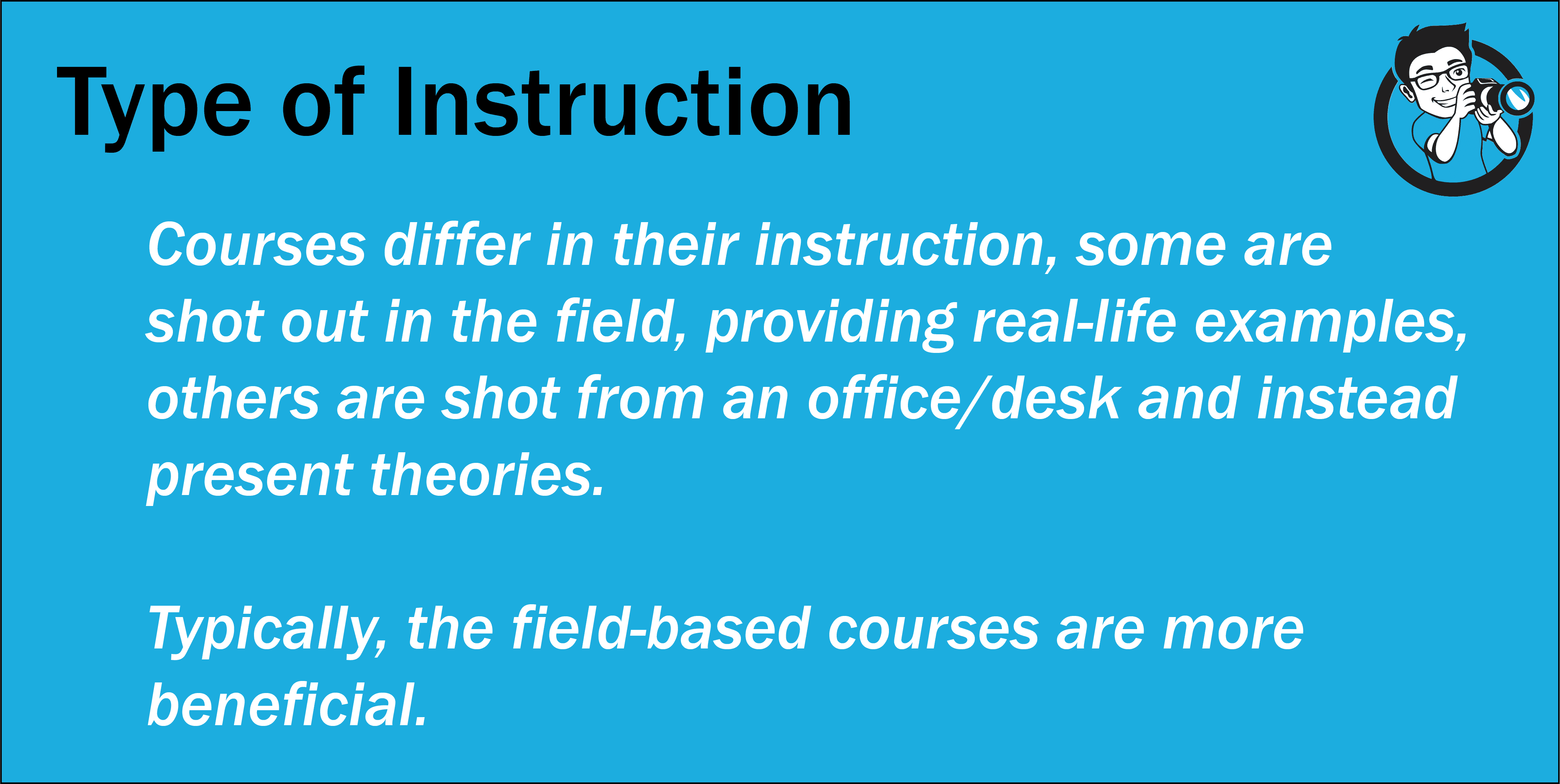 Course Content
Landscape photography spans dozens of subgenres and involves hundreds of techniques.
So you want to make sure that any landscape photography course you buy fits your photographic interests.
Check the table of contents carefully before purchasing. If the course is about HDR landscapes and you're looking to discover the secrets to impressionistic landscape photos, you're going to want to look for a different course. If the course is about landscape post-processing and you want to know how to choose camera settings in the field, you're going to need to choose something different.
Here's the bottom line:
Choose a course that aligns with your passion. Don't get stuck with a course that doesn't fit your needs!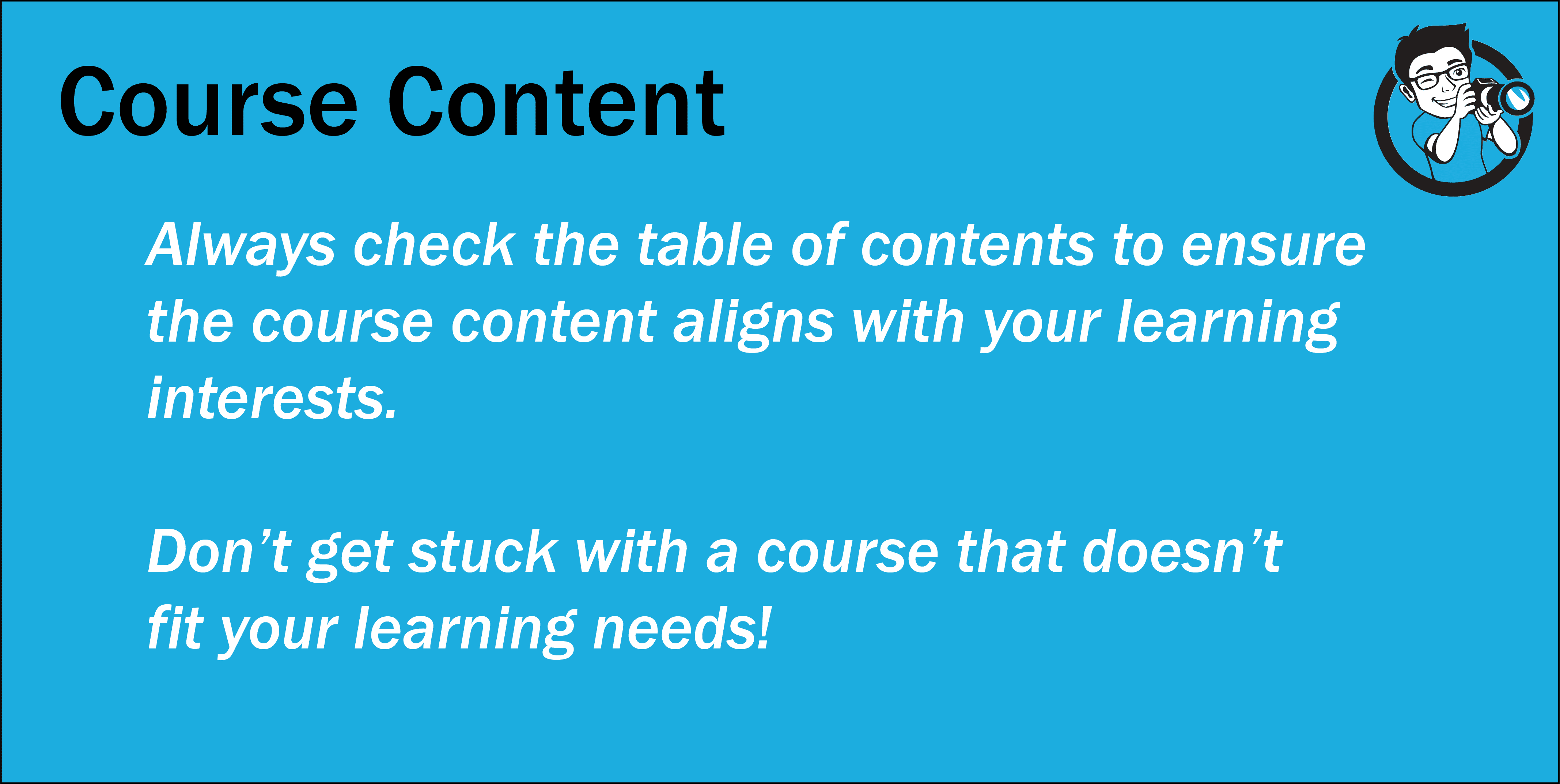 The Best Landscape Photography Courses: Our Picks, Ranked
Now it's time to get down to the big question:
What are the best landscape photography courses out there?
Read on to find out.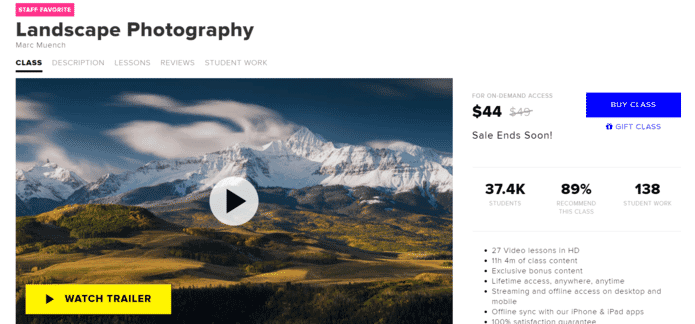 Landscape Photography is taught by Marc Muench, a renowned landscape photographer who has been published in too many magazines to count (including National Geographic). That alone should get you excited about this course because Marc knows how to capture some of the best landscape photos out there.
Plus, the course is pretty cheap, at just $49 for online access.
The course itself includes 27 lectures, averaging around 30 minutes each. The first lessons are aimed at beginners and cover basic settings and gear concepts. But the course soon pushes forward, moving toward more intermediate and advanced landscape photography techniques that even seasoned landscape photographers will find interesting, such as tilt-shift lenses and long exposure photography.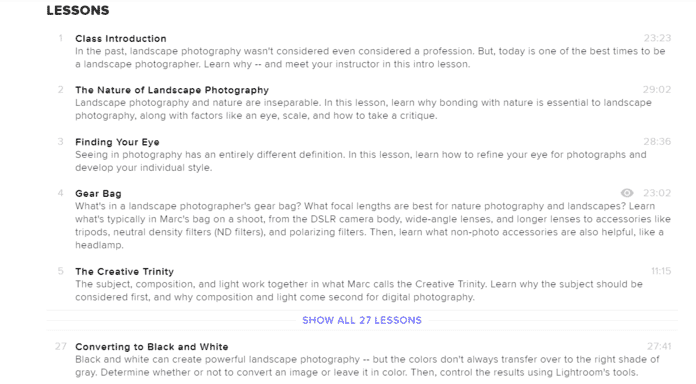 Highlights from the course include:
Marc's discussion of light, where Marc discusses his favorite types of light and how to use them for beautiful photos
Marc's discussion of focus, where Marc explains how to ensure your entire landscape photo is sharp
Marc's discussion of landscape photography composition, which goes far deeper than the basic 'rule of thirds' talk, and instead dives into some of the more sophisticated aspects of composition. This section is split into back-to-back 30-minute videos, for over an hour of high-level talk about composition.
Related Post: Easy Landscape Photography Tips
The course includes a mix of theoretical instruction and in-the-field tutorials; this is especially useful for beginners, who need the theory, but also need to see it applied in real-life situations. The course also spends a third of its time covering post-processing techniques.
While Marc is generally helpful and clearly knows his stuff, he does spend a lot of time telling stories. So if you don't enjoy that sort of thing, I'd suggest looking into other options.

Photographing the World is produced by Fstoppers and taught by Elia Locardi. Elia is an absolutely incredible landscape photographer, and it shows throughout the course, as he takes you through his thought process and settings.
The course itself is aimed at beginner and intermediate landscape photographers. It covers the fundamentals of landscape photography, such as aperture, shutter speed, and gear choices. Then the course gets into some of the trickier aspects of landscape shooting: focus stacking, long exposure photography, and neutral density filters (both graduated and solid!).

The course closes with lessons on landscape post-processing techniques, which range from simple (e.g., RAW processing) to more advanced (e.g., time blending, multiple exposure blending).
Photographing the World is a nice mix of in-studio and in-the-field instruction. Elia does a good job of talking you through his approach to landscape photography, and you'll pick up a lot of useful tips just from watching him do his thing, even if you're an experienced landscape photographer.
The course is somewhat expensive, however.
The biggest downside to this course is its price: You pay $299 for a digital download. Bear in mind that this includes the full course, with over 12 hours of instruction, as well as the RAW files Elia uses in the course (so you can follow his post-processing instruction carefully). You also get eight behind-the-scenes episodes of the course, as well as access to a private Facebook group where you can ask Elia and fellow course members for help.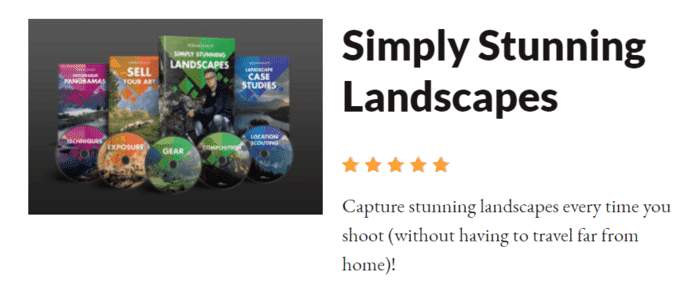 Simply Stunning Landscapes is an ExpertPhotography course, taught by EP founder Josh Dunlop. The course covers landscape photography for both beginners and intermediate photographers.
Related Post: ExpertPhotography Review: Courses and eBooks
Simply Stunning Landscapes begins with a discussion of gear, before moving on to the settings that will ensure great landscape photos. This is followed up by some useful techniques, such as shooting reflections, long exposures, and even working with a drone. A particular highlight is the discussion of composition, which is stuffed full of tips such as using golden triangles, incorporating leading lines, and adding foreground interest.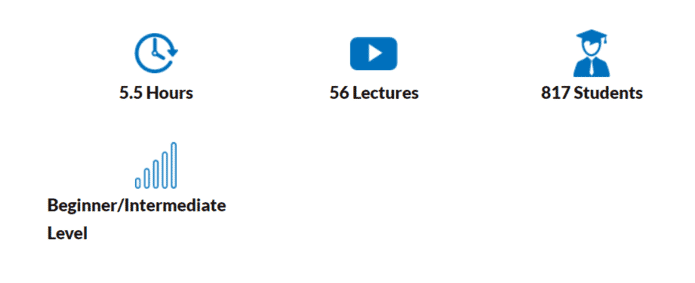 The course closes with a few case studies, where you see lessons applied in real life, as well as a discussion of panorama photography.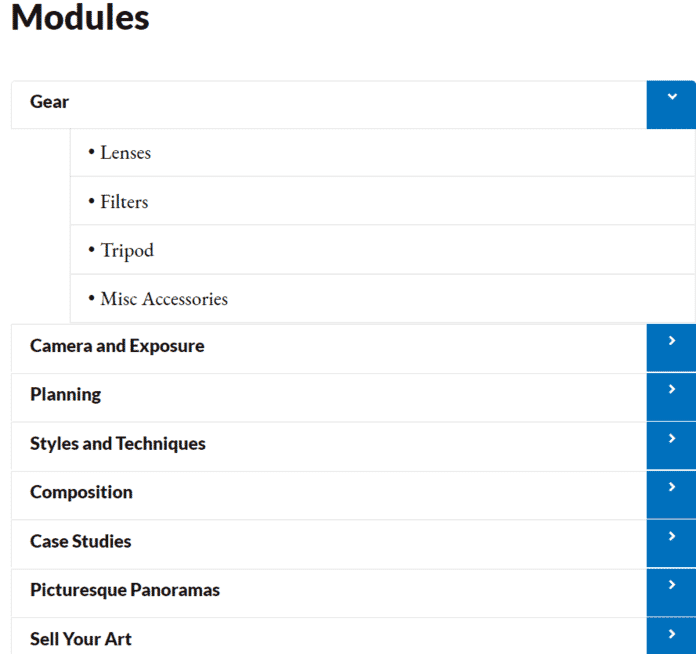 My main gripe about the course content is that it's low on post-processing techniques. There's no dedicated processing module, with most of the processing instruction following under the panorama section (which is more specialized than most will like).
The course itself includes 56 lectures, spanning 5.5 hours. That puts Simply Stunning Landscapes on the lower end when it comes to content volume. And at $297, the course isn't cheap.
But, for those beginner photographers interested in simple, clear instruction and willing to pay for it, Simply Stunning Landscapes is worth a look.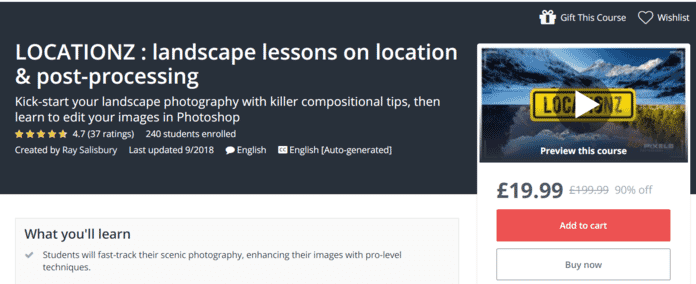 LOCATIONZ comes from Udemy, which can be a bit hit-and-miss with its courses. However, Ray Salisbury does a great job of teaching intermediate-level landscape photography; you'll leave having learned some valuable tips, guaranteed.
While beginners will get a lot from LOCATIONZ, the course is aimed at intermediate-level photographers. A chunk of time is spent covering scouting, as well as more advanced composition techniques, such as the rule of odds and color theory. But Ray makes sure to hit on the basics, as well: aperture, shutter speed, exposure compensation, and more. Ray teaches this while out shooting; this is a practical course, one that will suit the more hands-on shooter.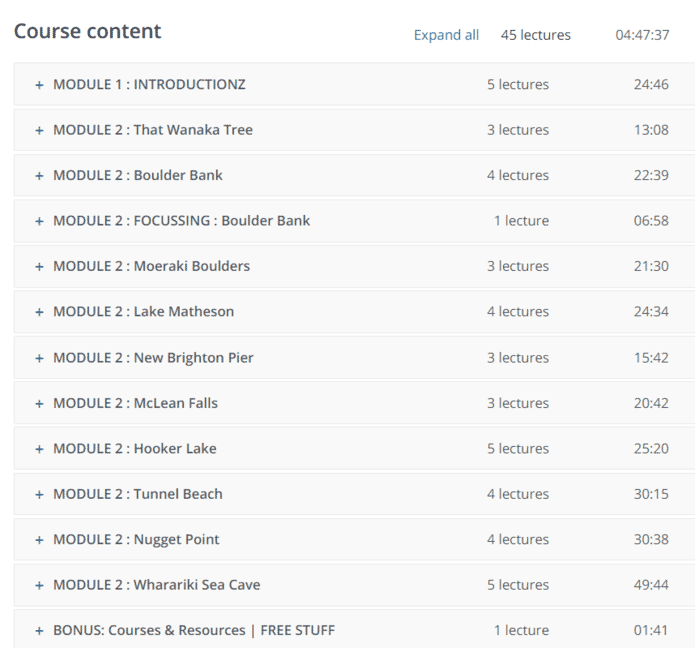 Also, if you're looking to learn some landscape photography post-processing, you won't be disappointed. Ray does a great job of including editing instruction, from RAW processing to dodging and burning, all the way to adjustment layers.
The course itself comes with five hours of instruction, plus a dozen behind-the-scenes videos and RAW files of the course photos. And it's dirt cheap, coming in around the sub-$20 range (which makes it the lowest-priced course on this list).
Plus, Udemy offers a 30-day money-back guarantee, so you can feel confident that you've made a safe purchase.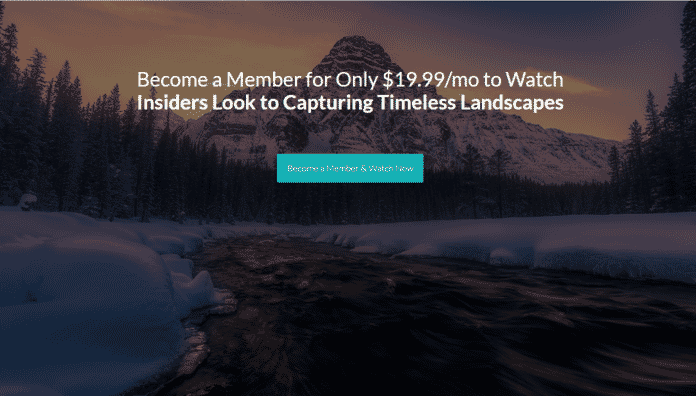 Insiders Look to Capturing Timeless Landscapes is the most recent landscape photography course on this list (it was published in March 2019), which means that it features the latest landscape photography equipment and techniques. It also features an incredible landscape photographer as its instructor: Ramtin Kazemi, who was recently given the Canadian Geographic Landscape Photo of the Year award.
The course is aimed at intermediate to advanced photographers. This isn't for those who are still struggling to use Manual mode, and definitely not for photographers who haven't mastered concepts like aperture, shutter speed, and ISO. Ramtin assumes you have a strong understanding of these concepts, as he takes you through more complex topics such as focus stacking and perspective stacking.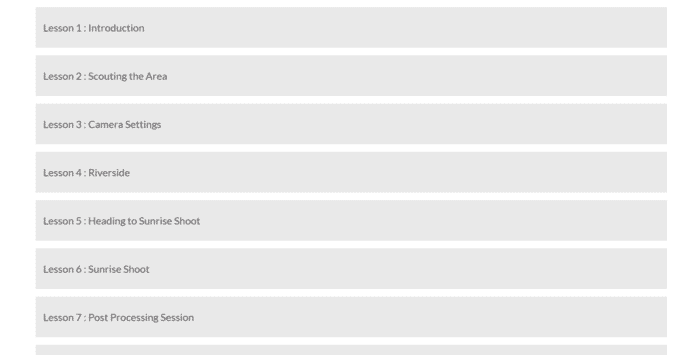 Unlike the other courses on this list, Insiders Look to Capturing Timeless Landscapes is less of an instructional course, and more of a look at how Ramtin captures landscapes, with a number of useful tips thrown in.
You'll follow Ramtin as he shoots the Canadian Rockies, and this means that you get to see his triumphs, but his failures as well. While these failures do reflect the reality of landscape photography, you might find yourself a bit frustrated by the lack of structure – one of his shoots was a complete bust, and the shot that he promised viewers never materialized.
Does this mean that parts of the course are worthless?
Absolutely not. Even when Ramtin fails to capture a final shot, you still learn a lot. And his passion shines through the entire course, so you'll never feel like the material drags.
Unfortunately, the course is only one hour and eleven minutes long. And a big chunk of that time is taken up by a post-processing session which, while fascinating, assumes a deep knowledge of Photoshop.
A perk of this course is that it's offered by KelbyOne – and a (very reasonably priced) KelbyOne Pro membership doesn't just get you access to this course, but to every course in the KelbyOne library, which exceeds 700 full-video courses in total. A number of other KelbyOne courses discuss landscape photography, including several courses by the venerated Moose Peterson.
Which Landscape Photography Course Is Best for You?
Now that you've discovered five amazing landscape photography courses, you should have a sense of the one that fits your needs.
For the beginner to intermediate landscape photographer with a large budget, Photographing the World is our ultimate choice.
For beginners looking to keep costs down, check out Landscape Photography (With Marc Muench), or LOCATIONZ on Udemy.
Finally, for the more advanced photographers, Insiders Look to Capturing Timeless Landscapes is the way to go.
What is the best landscape photography course for beginners?
I recommend CreativeLive's Landscape Photography (with Marc Muench). The course is great for beginners, and it's full of practical information for mastering landscape photography. Plus, it's quite cheap relative to other courses out there.
What is the best landscape photography course for advanced landscape photographers?
I suggest KelbyOne's Insider's Look to Capturing Timeless Landscapes. This course follows professional landscape photographer Ramtin Kazemi as he attempts to photograph the Canadian Rockies. Even the most advanced landscape photographer should pick up a few tricks!