 When it comes to landscape photography, there are a number of factors that come into play. If you want to capture stunning images, you'll need to have strong photographic skills, post-processing skills, and the right gear. A key player in the gear department is your lens. But what exactly is the best lens for landscape photography?
In this article, we'll give you a rundown of the best lenses for landscape photography. We'll touch bases with all the major camera companies and even offer you some excellent third-party options.
When picking a lens for landscape photography, you'll need to consider the following:
Focal length
Sharpness
Weather sealing
Image stabilization capabilities
To read more you can jump down to the things to consider when buying a landscape lens.
Best Nikon Landscape Lens
Now for the actual lens suggestions. First, we will take a quick recap at some of our earlier articles where we had recommended lenses made by the two leading brands – Nikon and Canon. This is the list of the best Nikon landscape lenses. If you are looking for Nikon optics only you may check out this link which lists the best Nikon landscape lenses. Out of that complete list of lenses, here are top picks:
Best Canon Landscape Lens
Similarly, for Canon, we have previously made a similar list. You can check that list of the best Canon lenses for landscape photography. And these are the best lens for landscape photography from that larger list:
Best Sigma Landscape Lens
Now for some other brands. First up, Sigma.
This Sigma 35mm is the current top 35mm variant that DxOMark has tested and rated. Which is a big thing. The 35mm prime is widely considered to be a standard prime, along with the 50mm prime lens. A standard prime is a lens that gives roughly the same field of view as the human eye.
The Sigma 35mm f/1.4 is definitely a lens that would put a smile on your face with its sharpness and performance. The fact it is an Art series lens means this is a well-built lens. The 35mm is aimed to be an alternative for photographers looking for something that's cheaper than OEM units and yet, optically, very sharp. The Sigma 35mm f/1.4 Art does not disappoint.
Sigma's Art series lenses have opened up a lot of closed doors for photographers having the courage to look beyond OEM lenses. They have been introducing one good lens after another over the last few years.
The Sigma 20mm is not a new lens. It was launched in the October of 2015. But it is one of the fastest ultra-wide angle lenses that you could lay your hands on. Thanks to the f/1.4 aperture. The fast aperture would not be suitable when shooting landscapes as you need a large depth of field for such images. But you would be able to get stunning landscapes when you stop down the aperture. The lens construction includes a total of 15 elements arranged in 11 groups. It includes two 'F' low dispersion elements.
Sigma 20mm F1.4 Art DG HSM Lens for Nikon
Optical designs is highly resistant to strong incidental light sources such as backlight
Minimized Chromatic aberration, distortion, and ghosting
This lens delivers excellent brightness and bokeh and is ideal high speed lens for snapshots.
The Sigma 20mm F1.4 DG HSM can be considered as the culmination of the Art line in relation with F1.4 series
The thing that we like about the Sigma 24-70mm is that apart from being exceptionally fast it is weather sealed. This makes it a serious contender for the title of the best lens for landscapes. It is definitely a feature that most landscape photographers would welcome.
As we discussed at the very beginning, unpredictable weather is a major problem for photographers. A weather-sealed lens makes ample sense in that regard. The construction of the lens includes a total of 19 elements arranged in 14 groups. This includes a total of three special low dispersion elements and four aspherical elements. The lens also features super multi-layer coating.
Sigma 24-70mm f/2.8 DG OS HSM Art Lens for Canon
OS functionality and newly designed HSM for success on any shoot
Lens barrel designed for high rigidity
This all-new 24-70mm F2.8 lens from SIGMA delivers the performance and functionality that help pros succeed in news, nature,...
Best Tamron Landscape Lens
If you're a fan of Tamron lenses, this up and coming lens may be right up your street. Currently available in Canon and Nikon mounts, the Tamron SP 35mm lens marks the 40th anniversary of the SP series of lenses made by Tamron. The f/1.4 fast aperture shall make short work of low light situations. But when you are shooting landscapes f/1.4 will be hardly used. You're much more likely to use smaller and slower apertures around the f/11 region. And in these areas, the lens does not disappoint either.
As this is a new lens its actual performance from a production unit is still pending. But the construction details are promising. The lens has 14 elements arranged in 10 groups. It includes 4 LD elements and 3 GM (glass-molded aspherical) elements. The lens also incorporates something that Tamron calls BBAR-G2 (Broad-band Anti-reflection Generation 2). Tamron claims this is their best lens till date, incorporating the sum total of their lens technology.
Tamron SP 35mm f/1.4 Di USD Lens for Nikon F
Consummate image quality across the entire frame from edge-to-edge
Exceptionally reliable, fast and accurate AF
Next-generation BBAR-G2 Coating
Vastly improved highly durable Fluorine Coating
Moisture-Resistant Construction
Best Samyang Landscape Lens
Now, a manual focusing lens wouldn't necessarily be the top choice when it comes to shooting landscape photography. But in this particular case, we can make an exception. Because this is the Samyang 35mm f/1.4 AS UMC. There are several versions of the same. One that is right for Nikon cameras, one for Canon, Pentax, for the micro four-thirds system cameras as well as one that is for the Samsung NX cameras. But the one that we have considered for this discussion is the AE version that comes with electronic coupling for transferring exposure information back and forth.
The biggest bane of using manual focusing lenses for shooting landscapes is unless your camera has some sort of focus assist function for manual focusing, like focus peaking, it is difficult to know exactly if you have locked focus where you intended it to be. And by the time you realize that you are off, it may be too late. But there is a way around, with your camera in live view mode, you can zoom in the picture to its maximum, then manually adjust focus. Finally, zoom out and then switch to viewfinder mode before finally pressing the shutter release.
Speaking of manual focusing the focusing ring on the Samyang 35mm f/1.4 AS UMC is very smooth. And thanks to the fast wide aperture you will be able to take advantage of the shallow depth of field. The lens will produce great images in low light and is also excellent for environmental portraits. Provided of course you have a sharp eye.
Samyang SYAE35M-C 35mm F1.4 Aspherical Lens with Chip for Canon AE/EF-S Cameras
Focal Length Matched Bayonet Lens Hood That's Reversible for Storage Included
Ultra Multi Coating (UMC) For Increased Light Transmission and Reduced Internal Reflections
Excellent Bokeh at F1.4 Aided by an 8 Bladed Diaphragm Remains Super Smooth at All Apertures
CPU (AE) Auto Exposure Chip + Aperture Control Motor Provides Operation in All Exposure Modes and Aperture Control from the...
Utilizes 12 High Precision Glass Lens Elements Including 1 High Refractive Index (HR) + 1 Aspherical (AS) For Superior Image...
Best Sony Landscape Lens
The Sony FE 16-35mm f/2.8 is a part of sony's Grand Master series of lenses. Evident from the GM acronym on the lens. The focal length of the lens puts it right in the sweet spot, so to say, for landscape photography purposes. The construction of the lens includes a total of 16 elements arranged in 13 groups. These include two extra-low dispersion elements, two XA elements and three aspherical elements. Plus, the lens also comes with a Nano AR coating.
Sony - FE 16-35mm F2.8 GM Wide-Angle Zoom Lens (SEL1635GM), Black
Designed to achieve 50 Line pairs/mm resolving power
Two XA (extreme aspherical) elements w/ high surface precision. Minimum focus distance - 0.28 m (0.92 ft). Maximum...
Constant F2.8 max aperture maintains exposure and Depth of field. Hood Type : Petal shape, bayonet type; APERTURE BLADES: 11
Uncompromising G Master design for smooth bokeh and high resolution. Angle of View (35 mm): 107°–63°
In-the-box: hood, lens front cap, lens rear cap, case, Mount: Sony E-mount
Important Aspects to Consider when Buying a Landscape Lens
Focal length
When it comes to landscape photography, you're probably going to want a wide-angle lens. Wide-angle lenses are lenses which have short focal lengths, usually from around 10mm-50mm. Now, you can shoot great landscapes with a telephoto lens too. But we have picked wide-angle primes and zooms in this review. We feel that wide-angle lenses are the best when it comes to capturing a wide-sweeping vista or a breathtaking landscape scene.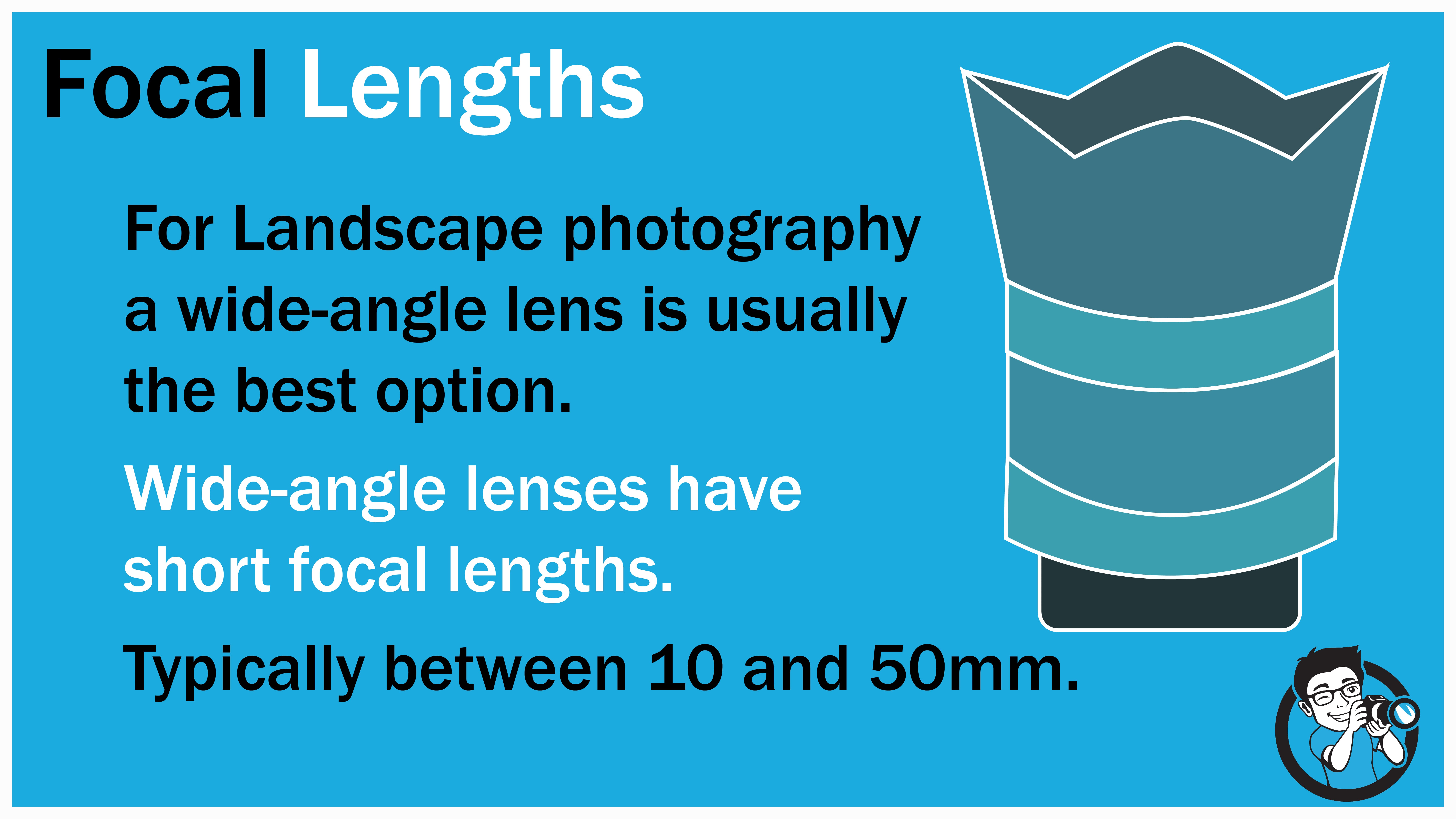 Sharpness
Lens sharpness is often misunderstood. There are a number of things that determine whether a lens is sharp of not. And it involves not only the underlying technology that drives the particular lens but also other external factors.
Typically, a prime lens will offer sharper images than a zoom lens. As will those lenses with built-in image stabilization.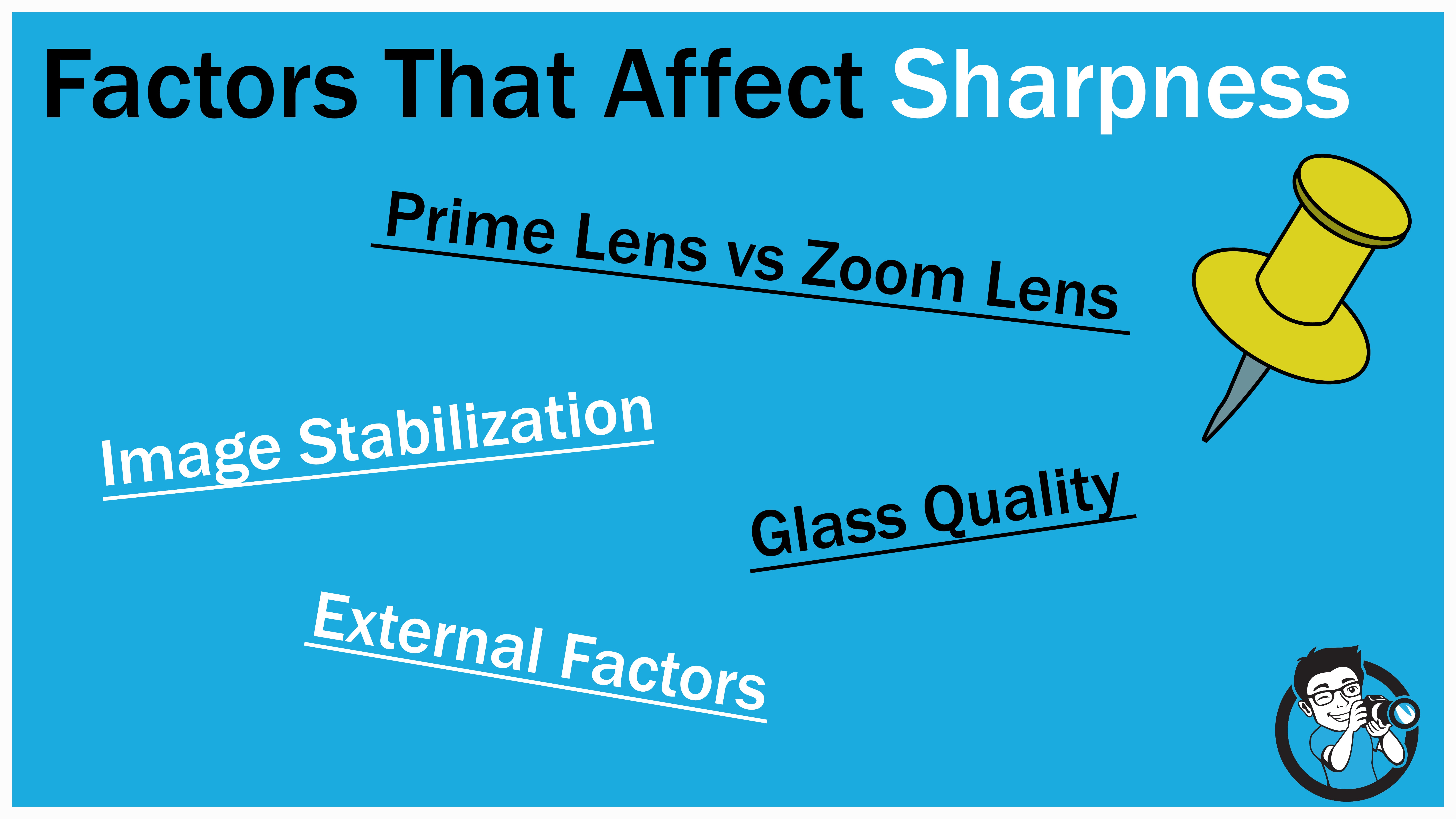 It's important that you pick a lens that doesn't have issues with softening images or causing significant vignettes as these will drastically reduce the quality of your images.
Weather Sealing
According to Murphy's Law, whatever could go wrong usually does go wrong. And when shooting landscape photography there are a hundred different things that can actually go wrong.
One of the main opportunities for things to go wrong is in bad weather. To ensure your gear has a long life and doesn't get damaged by the elements, you need to choose equipment that is weather-proof, to some extent. So if you can, go for weather-sealed lenses.
Image Stabilization
When it comes to landscapes, image stabilization is not always a necessary requirement. This is because landscape photography is almost always shot from a tripod. And when shooting from a tripod you don't really need image stabilization. Usually, you have to switch it off or else it will do more harm than good.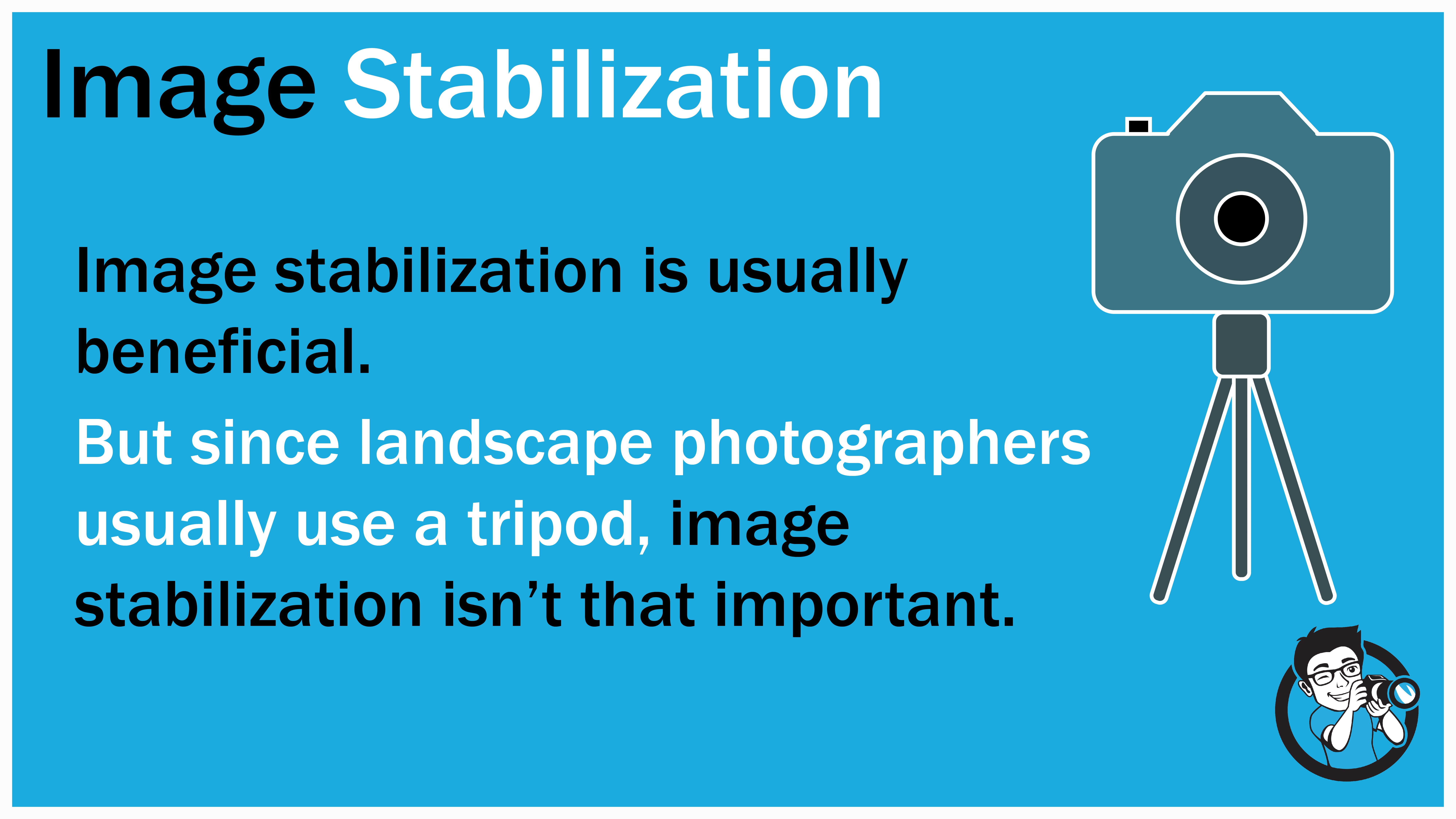 ---
As an Amazon Associate we earn from qualifying purchases. Certain content that appears on PhotoWorkout.com comes from Amazon. This content is provided 'as is' and is subject to change or removal at any time.