If you are looking for the best Minolta lenses, the chances are that you are using one of Sony's A-mount or E-mount camera systems. The A-mount is directly compatible with many of the older Minolta lenses and the E-mount can use these lenses with an adapter.
We've searched through Minolta's classic lens line-up to find you some excellent second-hand options for your Sony camera or even a retro Minolta.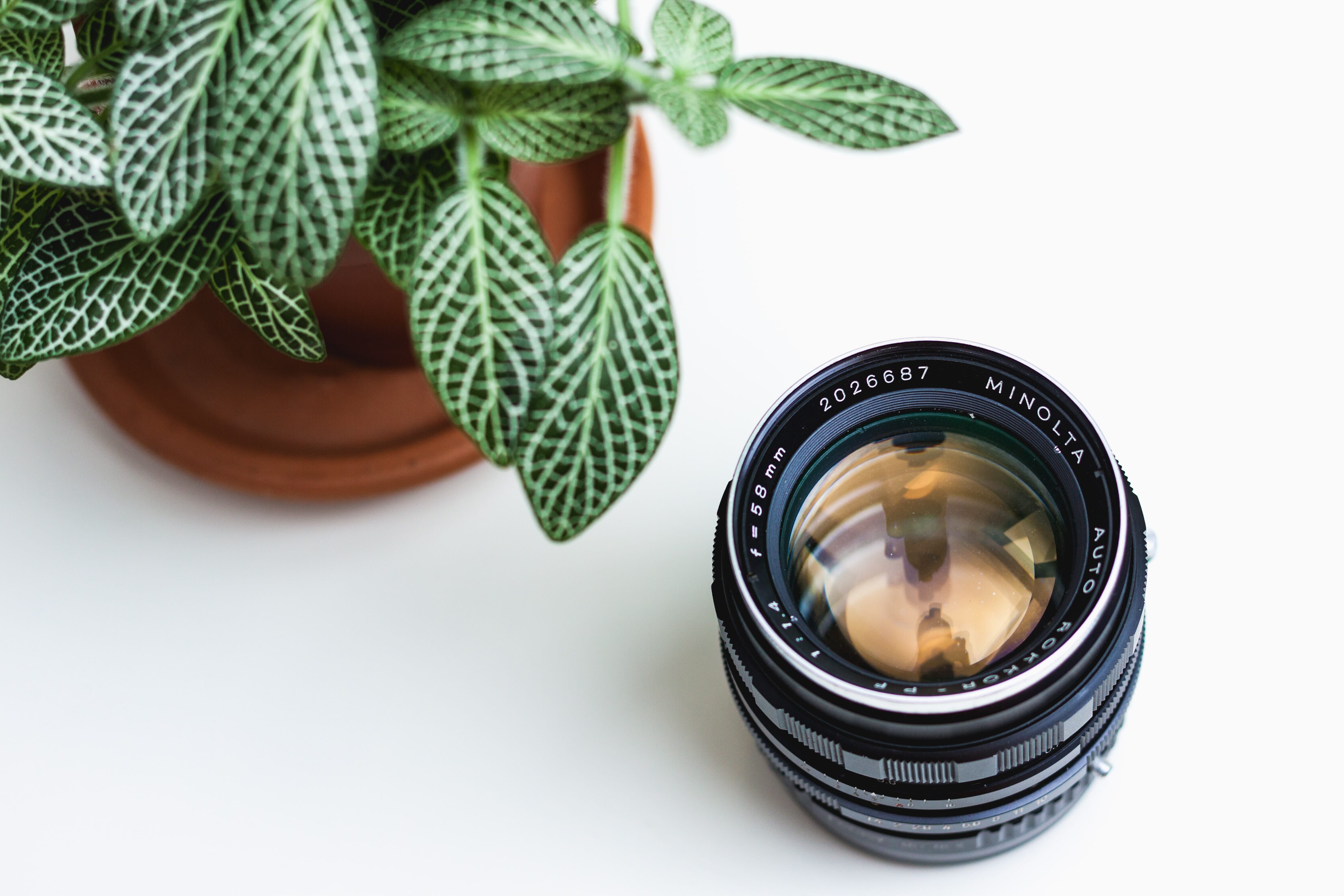 Best Minolta Lenses to Buy in 2023:
When you buy through links on our site, we may earn a commission at no cost to you. We evaluate products independently. Commissions do not affect our evaluations.
1. Minolta 85mm F/1.4 (Our Pick as the Best Minolta Lens)
Our Pick
The best Minolta preowned lens for existing Minolta users
Exquisite portrait photography lens. Superb fast aperture of f/1.4
Pros
Perfect portrait lens design
Impressive build quality
Built-in focus hold button
Cons
On the heavier side
Slightly noisy autofocusing system
Minolta 85mm F/1.4 is a portrait lens designed for Minolta A-mount cameras. It is compatible with Sony A-mount camera systems as well. The fast f/1.4 aperture promises beautiful bokeh. The focusing ring does not rotate in AF mode. Plus, there is a focus hold button to hold focus and fire the shutter release.
The beautiful circular aperture design along with the floating focusing system ensures a nice, defocused background and foreground. That said, the lens is very sharp and captures a lot of detail on the main subject. The overall performance of this lens is very good. Comparable to the likes of the Zeiss ZA 85mm f/1.4. The Minolta 85mm f/1.4 remains one of the most sought-after lenses in the pre-owned market.
2. Minolta MC Rokkor 58mm f/1.2
Also Great
One of the fastest lenses you will have your hands on. Brilliant low light performance.
A fixed focal length lens that you can use for everyday photography. Exceptional low light performance. beautiful bokeh.
Pros
Fast, wide aperture of f/1.2
Decent bokeh
Incredibly durable construction
Cons
f/1.2 can be a challenging aperture to work with
No autofocusing option
One of the fastest aperture lenses you will ever come across. The Minolta MC Rokkor 58mm f/1.2 has a beast of a maximum aperture. With that aperture, you can handle low-light situations with ease, never needing a tripod unless you are shooting with moonlight.
The wide f/1.2 aperture is two and a third stops faster than an f/2.8 portrait lens. This offers an incredible advantage. But beyond the f/1.2 aperture, the lens is well-built. Made almost entirely out of metal. The aperture diaphragm is composed of 8 blades. The quality of the background blur is also very good.
3. Minolta 100-300mm f/4.5-5.6 APO D
A decent lens for birding and landscape photography
This is a decent all-purpose telephoto lens for the Minolta / Sony A-mount lens. Useful for portraits, birding, and other genres.
Pros
Focus hold button allows you to lock focus
Long focal length range
Cons
Smaller maximum aperture
No products found. is a telephoto lens designed for the Maxxum SLR camera system. This lens will not directly mount on any other camera mount, apart from the Minolta Maxxum AF SLR system, without an adapter.
The focal length range of the camera starts from 100mm all the way to 300mm. That means the lens is suitable for portraits, a bit of wildlife, as well as birding.
The maximum aperture range is on the lower side. Offering only f/4.5 and going down further to f/5.6. This means the lens will struggle in low-light conditions. One of the features that we like on this lens is the Focus Hold button. This is a standard found on a number of other Minolta lenses that we have listed here. This feature allows you to hold focus by stopping the focusing drive. It also releases the shutter button to ensure that an exposure can be made.
4. Minolta 35-105mm f/3.5-4.5
A decent walk-around lens for everyday photography purposes.
An everyday walkaround lens. One lens that you can use in almost all kinds of situations. Sharp and good build quality.
Pros
Sharp across the aperture range
Versatile focal length
Lightweight design
Cons
Has issues with flare and ghosting
Designed for the Maxxum 3000, 5000, 7000 and 9000 series SLR cameras, the Minolta 35-105mm f/3.5-4.5 is a standard zoom lens. The focal length range of the lens covers the essential everyday photography range, 35mm all the way to 105mm.
That means this lens will be suitable for landscape work, and with it, street photography and portrait photography. The maximum aperture of the lens is f/3.5 going down to f/4.5. This is not a low-light champion by any stretch of the imagination. That said, at a throw-away price you can use this lens in bright conditions for all sorts of photography.
5. Minolta 70-210mm f/4
A beautiful lens for shooting portraits and landscapes.
Very well crafted zoom lens for the purpose of shooting sharp photos in every kind of lighting. Fast f/4 constant aperture.
Pros
Long focal length range
Fixed f/4 aperture
Compatible with APS-C cameras
Cons
Slow autofocusing
Many lens distortion issues
Designed for full-frame Minolta SLRs, the No products found. is an interesting lens. The focal length ranges from 70mm to 210mm. The aperture remains fixed at f/4. However, this means your exposures are predictable across the focal length. Interestingly, zooming is internal. That means the barrel length of the lens remains the same across the focal length.
These lenses usually have huge color fringing issues. They also suffer from ghosting and flares. That being said, don't let these issues be deal-breakers. You can easily adjust chromatic aberrations in post-processing. Flares and ghosting are difficult to remove in post-processing, but you can eliminate them in-camera by carefully avoiding the source of light in the shot.
6. Minolta 28-85mm f/3.5-4.5
A short focal length lens for landscapes, portraits and group shots.
A standard to medium focal length zoom lens for shooting wide-angle to portrait. Great everyday photography lens.
Pros
Offers autofocus technology compatible with Sony lenses
Excellent construction
Offers macro mode
Cons
Hood is not very durable due to plastic design
The No products found. is a full-frame design for the Minolta Maxxum mount. This lens will autofocus on compatible Minolta bodies. It also works on a range of APS-C cameras a well, but with the associated crop factor. This lens covers the essential portrait focal length of 85mm. That said, the lens covers a wide-angle field of view too.
Because of the 28mm wide-angle coverage, you will be able to shoot landscape, architecture, group shots quite easily with this lens. The aperture range changes across the focal length. At f/4.5 it is not bad. However, low light performance when fully zoomed in will be a little less than par. One hidden feature of the Minolta 28-85mm is the built-in macro mode. However, this will only work fully zoomed out at 28mm.
7. Minolta 100mm f/2.8 Macro
Beautiful macro lens for shooting close up photos
A beautiful macro lens with a fast aperture of f/2.8. Makes great buying sense for any camera and mount system as long as you are using this on manual focusing mode.
Pros
Fast f/2.8 maximum aperture
1:1 magnification
Can be used for portrait photos
Cons
Poor color fringe suppression
Vignetting can be seen
Minolta 100mm f/2.8 Macro is designed for the Minolta/Sony mount. Macro lenses have always had a special place in our hearts. Everyone loves a good macro lens. This Minolta D series macro lens produces a maximum magnification of 1:1. I.e., this is a true macro lens. It has a fast maximum aperture of f/2.8. This aperture is good enough for a range of lighting conditions.
The lens is also suitable for portrait photography. Autofocusing will only work on Sony A-mount and native Minolta Maxxum mount camera systems. But this is a macro lens and when shooting macro, you'll often find yourself using manual focusing anyway. So, if your camera supports Focus Assist, then by all means get an adapter and you can use this lens in manual mode to easily nail focus. You will never miss autofocusing at all.
8. Minolta 50mm f/1.7
A fast standard prime for shooting diverse varieties of everyday photos including street photos
A fast 50mm prime lens. F/1.7 is one-third stop faster than a normal f/1.8 prime. That is a decent advantage especially when shooting in low-light situations.
Pros
Well-made lens
Compact design ideal for traveling
Fast f/1.7 aperture
Cons
Has some issues with distortion and artefacts
This compact Minolta 50mm f/1.7 was originally made in Japan. Thanks to aggressive cost-cutting by the brands, very few lenses, let alone prime lenses, get made in Japan. At least not the ones that are sold in the Asia-Pacific.
There is something about a 50mm prime that always draws a photographer towards it. The 50mm prime will suit a hard-working photographer, more than someone who prefers to shoot from a distance. If you are not inclined to walk to be able to make images, then the 50mm prime (and for that matter the 35mm prime) is not for you. The Minolta 50mm f/1.7 is a decent design. A 50mm prime with an f/1.7 fast, wide aperture.
9. Minolta 28mm f/2.8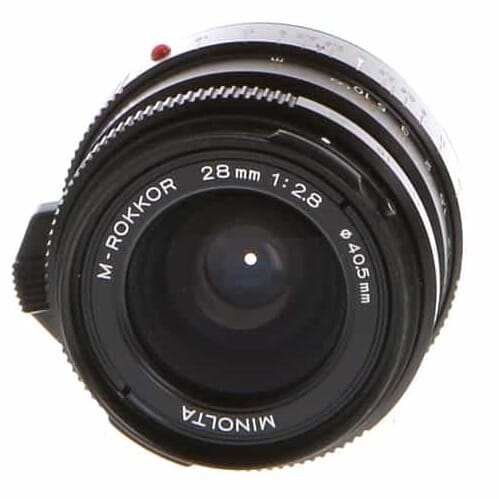 A wide angle lens for shooting landscapes, architecture, interiors and group shots
A fast wide-angle lens. This lens is ideal for landscape photography. But beyond that, you can also use it for shooting architecture, group shots, and interiors.
Pros
Offers a wide angle view
Minimal distortion
Very well-built
Cons
Significant chromatic aberration can be seen
Another short focal length prime lens designed for the Maxxum Minolta mount camera. The Minolta 28mm f/2.8 is also compatible with Sony's A-mount camera systems. The lens has a fast wide aperture of f/2.8. It should handle any kind of lighting well. Like many of the other prime Minolta lenses that we have discussed here, the Minolta 28mm f/1.4 comes with a built-in lens hood. So, transporting this lens is easy.
Conclusion
Minolta's old-tech lenses from the Maxxum line-up are bargain pieces of glass. Provided, of course, you have a great camera to pair them with. Many of these lenses offer full autofocusing and metering compatibility with cameras that use the old A-mount. These include Sony's existing line of A-mount cameras and of course the old Minolta cameras.
There are a number of pros and cons to using these lenses which we have highlighted above.
Minolta A-mount lenses are a great way to achieve sharp images using glass that is no longer in-demand but is still very much capable. The best thing about these lenses is the bargain prices you can get them for. You can easily build an interesting collection of these lenses depending on their availability and condition.
FAQ
Will my Minolta 28mm f/2.8 work on my Sony A-mount camera?
Yes. Sony's A-mount systems are compatible with the Minolta Maxxum line of lenses. You will be able to use the lens and even autofocus with it without issues. The problem is in finding a working Minolta Maxxum mount camera system.
Will my Sony E-mount system work with Minolta Maxxum series lenses?
No. You will need an adapter to make Minolta Maxxum series lenses work with your Sony E-mount camera. Adapters are easy to find and will probably cost you a few bucks at most. Sony makes several of these adapters which retain aperture and auto-exposure controls. There are third-party adapters too, however, not all of them offer the full functionality of the lens on your E-mount camera.
Can I use Minolta Maxxum Lenses on my Canon/Nikon camera?
The mounts are different and incompatible. So, you wouldn't be able to use a Maxxum lens on its own on your Canon/Nikon camera. That said, there are adapters available that allow a Minolta Maxxum lens to be mounted on a Canon/Nikon body. Just like there are adapters that allow you to mount other lenses onto normally incompatible mounts.
Are Maxxum and Dynax the same mount system?
Yes, they are. When they were first launched the Minolta A-mount system was first labeled as Maxxum in North America. They were known as Dynax when they were launched in Europe. Interestingly, they were known by something else, an alphanumeric combination before that got changed into Dynax later on.
Is the Minolta A-mount and the Sony A-mount the same?
Yes. Sony had acquired Minolta (Konica Minolta) in 2006. They decided to continue using the A-mount and the name and incorporated it into their fold. The result was the new Sony Alpha or Amount that was used with the digital SLT (Single Lens Translucent) cameras. It uses a single fixed mirror technology. That mount is still being used in many of Sony's DSLT cameras including the popular Sony Alpha a99 II.
---
Disclosure/Disclaimer: As an Amazon Associate, we earn from qualifying purchases. Certain content was provided "as is" from Amazon and is subject to change or removal at any time. Product prices and availability: Amazon prices are updated daily or are accurate as of the date/time indicated and are subject to change. Any price and availability information displayed on Amazon.com at the time of purchase will apply to the purchase of this product.