Concert photography is one of the few photographic genres in which your equipment really does dictate your imaging success.
Here is our guide to some of the best lenses for concert photographing, helping you piece together the puzzle to creating incredible live music photos.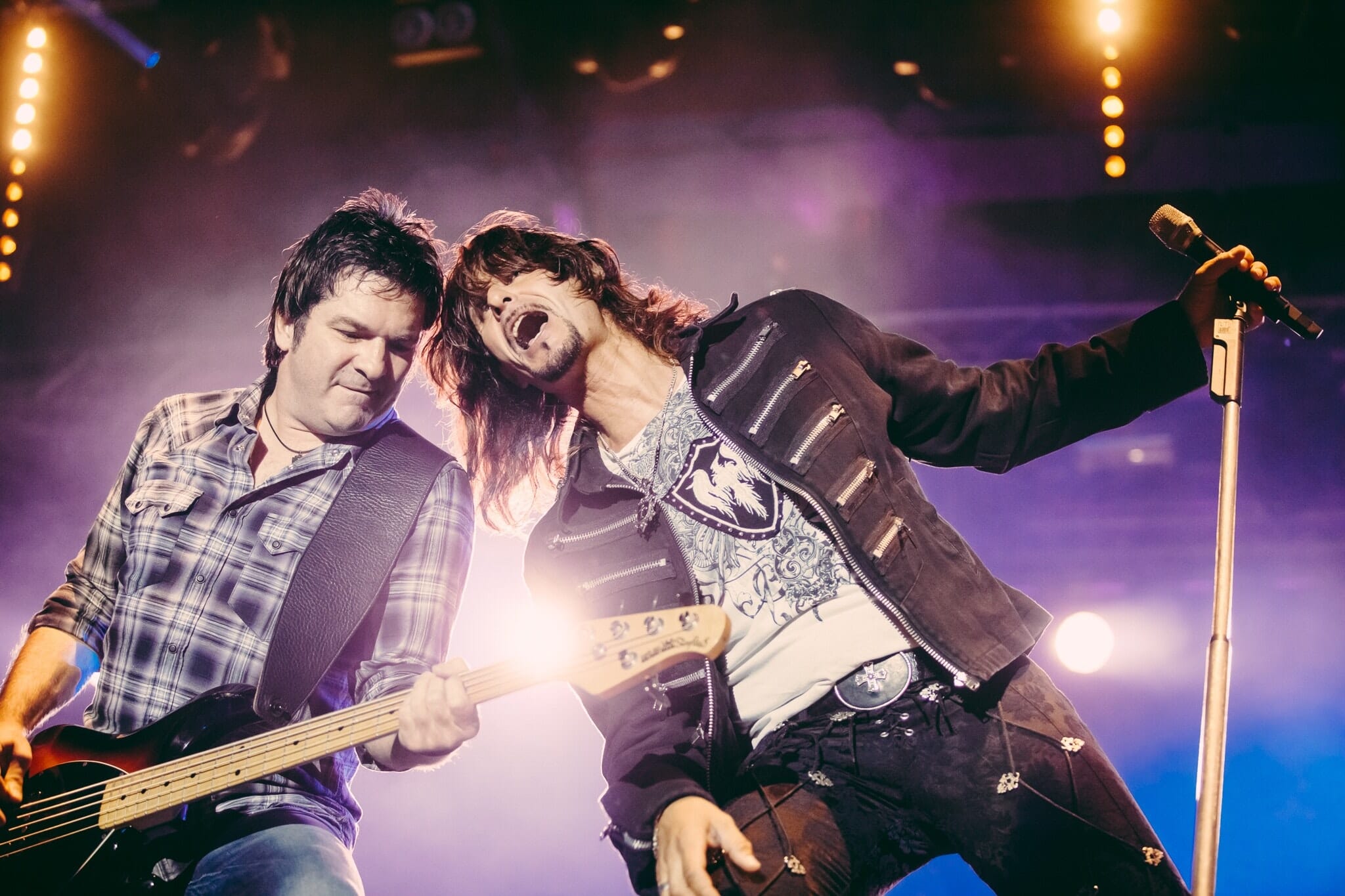 Best Lenses for Concerts in 2023:
When you buy through links on our site, we may earn a commission at no cost to you. We evaluate products independently. Commissions do not affect our evaluations.
What to Look For in a Concert Photography Lens
We all know that lenses are directly related to the end-result of a photograph. How an image appears is thanks to a lens's focal length, aperture blades, and glass clarity. As such, your lenses of choice really express your visual style as a photographer. But, in concert photography, lenses are even more than just that.
Before we get to our list, the best way for you to sort out what lens(es) you should invest in is to first understand what challenges you are looking to overcome.
Concerts are a unique shooting situation in which the conditions are fairly contradictory to how a camera is supposed to function.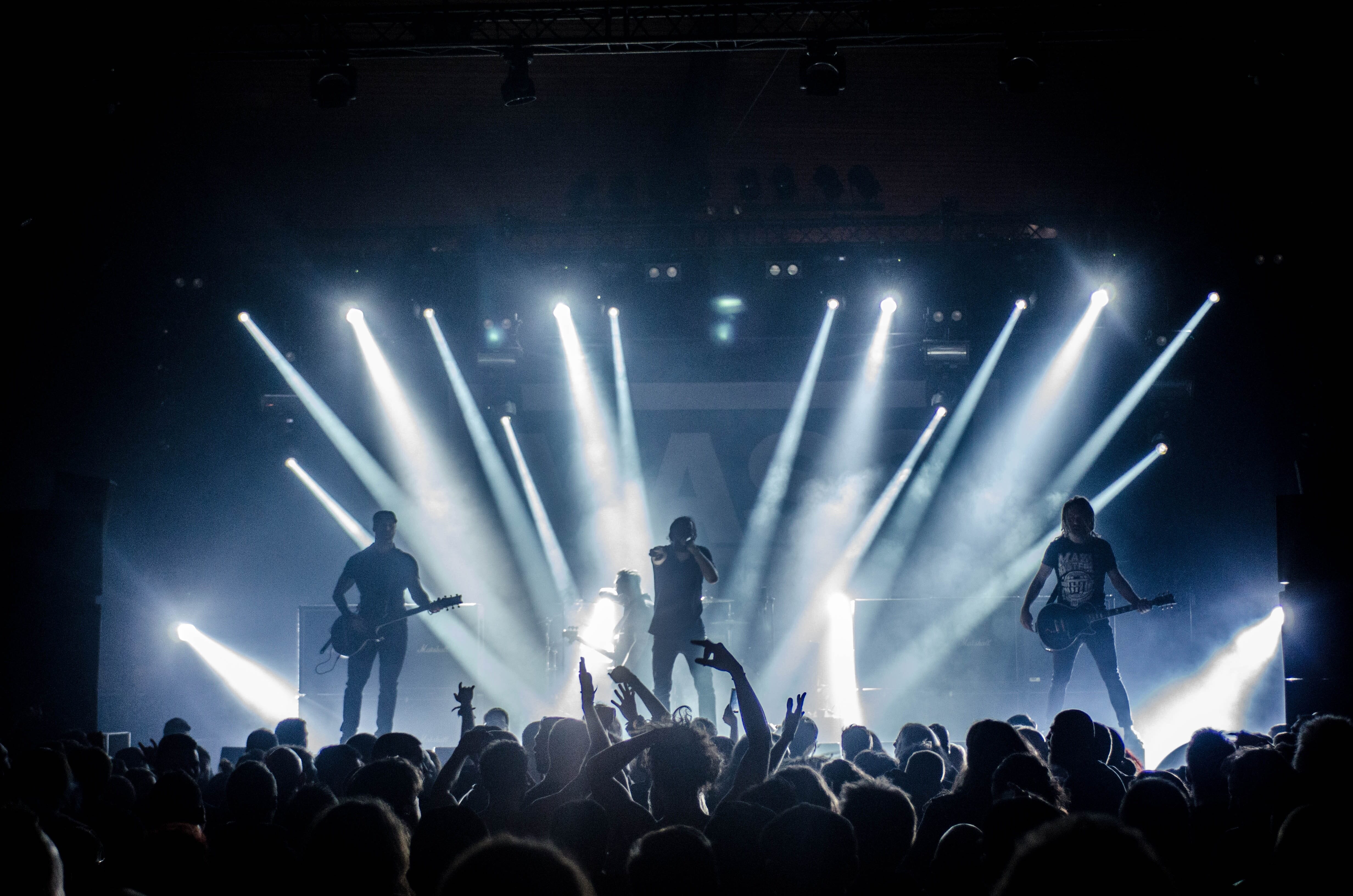 Concerts are full of action and movement, and as us photographers are aware, such conditions require a good amount of light to hit the sensor.
Unfortunately, concerts are not conducive to this, as they are quite limited and tumultuous in their illumination. With the lens being the direct window between the outside world and the sensor itself, the optic plays a big role in photography.
Here are three things you should really look for in your live music photography lens endeavors:
Wide Aperture
Because most concerts (unless you're in an arena or at a music festival during the daytime) lack the necessary amount of light needed to freeze action effectively. To mitigate this problem, you need a lens that has a wide aperture (the wider, the better!). The wide aperture opens up larger access to the sensor, which fills it with as much light as possible, allowing your equipment to maximize the available light.
As an added bonus, the wider the aperture, the more shallow the depth of field. This is fantastic for concert photography because stages can be quite messy with plenty of band members, cables, gear, and personnel running around.
By shooting at a shallow depth of field, you're able to blur out the distraction and just focus on the musician in front of you.
Image Stabilization
The next step is finding a lens with (ideally) some image stabilization in it.
Nowadays, with modern mirrorless systems, a good chunk of the stabilization lives inside the camera itself – so some new mirrorless lenses don't have stabilization in them. However, if you have the choice, you should pick the stabilized one.
What image stabilization does is that it allows you to shoot at a bit of a lower shutter speed than you otherwise would have because the mechanism inside the lens will stabilize your shot.
Sturdy Construction
Outside of getting lenses that are more in line with the lack of light, you also need your optic to be built really well. A sturdy construction is a big must-have in music photography, especially at a concert! This is because concert crowds can be quite rowdy, and as much fun as this is for a concert goer, this is a recipe for disaster if you're a photographer.
Lenses and cameras will get hit, kicked, dropped, and slammed into at some point (it's not a matter of if, it's a matter of when) and you need equipment that can tolerate some rougher abuse. Seek out lenses with metal construction or those that have been proven durable under considerable stress.
Best Lenses for Concert Photography
24-70mm Lenses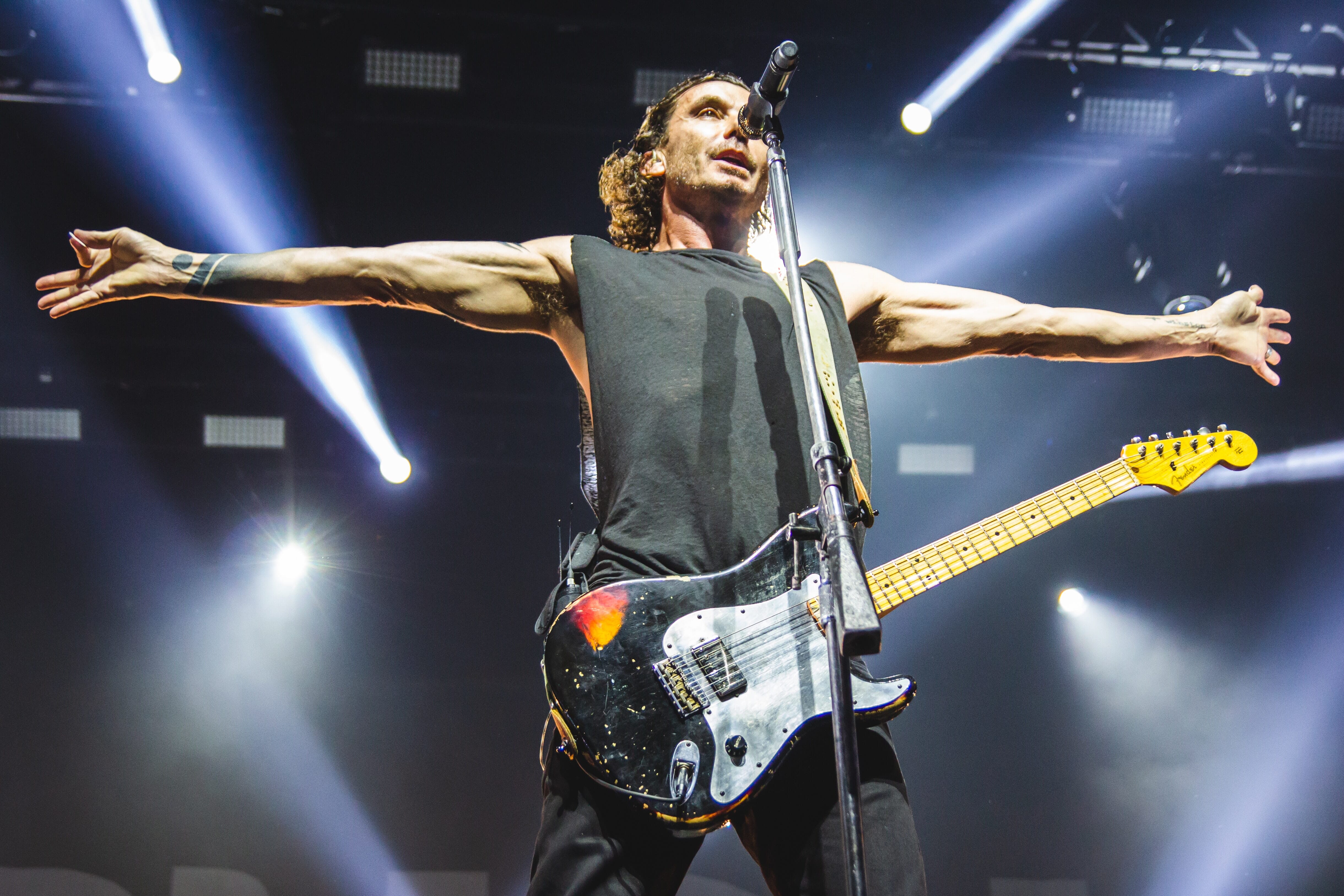 A popular walk-around focal length, the 24-70mm lenses offer a slew of adaptability to music photographers. From a wide angle to a tighter zoom, whatever the concert throws at you – you'll be able to capture it!
That being said, as a zoom lens, the aperture is not as wide as fixed lenses, so there is a bit of a sacrifice in terms of light intake. However, these focal lengths offer the opportunity to capture spontaneous moments without kicking yourself for lacking the right focal length.
1. Sony 24-70mm F/2.8 G-Master
The Master of Mirrorless Adaptability
Sony's high end G-Master series returns with a big fan favorite in this masterful version of the 24-70mm lens.
Pros
Extremely durable with great gasket sealing
Sharpness is out of this world
Quick and accurate to focus
Cons
Expensive
Has chromatic aberration
Has some optic distortion
No stabilization system
Sony's G-Master lenses are their top of the line offerings for the Alpha mirrorless systems, aiming to combine quality, style, and durability all in one. So, when the Sony 24-70mm F/2.8 G-Master was announced and subsequently released, a lot of buzz came about in the music photography community.
Sony's version of this beloved focal length is ultra-sharp and crisp, delivering accurate autofocusing results that almost make one feel like they can shoot with their own eyes closed!
The construction is durable and sound, a bump here and there won't hurt a thing. The lens has a programmable button to quickly jump to specific settings, allowing this particular 24-70mm to be optimized for how you work. As a native brand lens, you can expect functions to be flawless.
However, this lens does omit image stabilization, which can be a bit of a downer for the fact that it is an F/2.8 aperture. There is noticeable chromatic aberration and optic distortion in heavily contrasting situations, but this can be fixed in post processing in most cases.
2. Nikon Nikkor Z 24-70mm F/2.8 S
An Improvement on the Beloved DSLR Version
Everything that was loved from the DSLR version is back with even additional refinements!
Pros
A familiar feel to the DSLR version
No optic distortion
Macro magnification allows for closer focusing distances
Ultra-sharp results
Cons
Expensive
The control ring can be too sensitive
The Nikon Nikkor Z 24-70mm F/2.8 S is an incredible workhorse in and of itself, delivering utmost quality results in a recognizable package. Similar in function and style to the DSLR version of this lens, this particular 24-70mm improves upon the original version tremendously.
Durable, heavily weather sealed, and comfortable to hold – the construction is top notch. The Nikkor Z 24-70mm F/2.8 S does not feature any optic distortion and the images come out sharp and clear! The macro magnification allows the lens to hold a great close focusing distance, very useful when capturing shots from the photo pit of a venue!
70-200mm Lenses

A great companion to the 24-70mm is the 70-200mm telephoto range, helping pull whatever is having on the fireside of the stage close to you!
For drummer shots, this lens is a must-have, as these musicians tend to be placed to the back of the stage (making for close-up shots difficult).
3. Sigma 70-200mm F/2.8 Sport
The Ultimate 70-200mm Workhorse
A lens that can take a beating, this telephoto beauty will survive even the rowdiest metal concerts.
Pros
Durability is synonymous with this lens
Incredible and sharp optical performance
Features image stabilization
Has an internal zoom, so it does not expand upon zooming
Cons
Heavy and bulky
Tripod collar is not removable
DSLR only, not available for mirrorless
Sigma's Sport line is well known for its nearly indestructible nature, a great asset in concert settings (especially for those that photograph metal music, the mosh pits can be a wild ride!).
The Sigma 70-200mm F/2.8 Sport is their latest Sport line release, another powerful workhorse companion to the serious photographer.
Albeit being a bit heavier than other 70-200mm versions, this lens can take the ultimate beating and be totally content. The sharpness is undeniable, and the zoom is internal – so the barrel will not extend as you work.
Aside from a great construction, the body itself features a slew of buttons and features to help ensure focus is tack sharp.
This lens is exclusive to DSLR mounts, which is a bummer, but converters allow it to be used on Canon RF mount, Nikon Z mount, and Sony E-mount. However, this lens does feature image stabilization, which helps tremendously with the F/2.8 aperture.
4. Canon RF 70-200mm F/2.8 L
The Smallest 70-200 in the World
You won't find smaller anywhere else, this is truly a pocket-sized telephoto lens (relatively speaking)!
Pros
The smallest of its kind, while still remaining durable
Absolutely brilliant optical performance and optical stabilization
Has macro focus which allows for a closer focusing distance
Fluoride coating to prevent lens glare
On the other hand, Canon has decided to 'go small or go home'! The smallest 70-200mm telephoto lens to date is the Canon RF 70-200mm F/2.8 L for the brand's mirrorless line of cameras.
Compact, portable, and not heavy, this option is a no-brainer choice for concert photography.
With built-in image stabilization, fluoride coating to prevent flaring, and incredible macro focus, this lens is a beast. The macro focus also makes this the closest focusing distance of the 70-200mm lenses, which can make plenty of shots much easier to accomplish if you're looking for a nice closeup of the guitar strings!
However, this luxury comes at a mighty price, so be aware.
14-24mm Lenses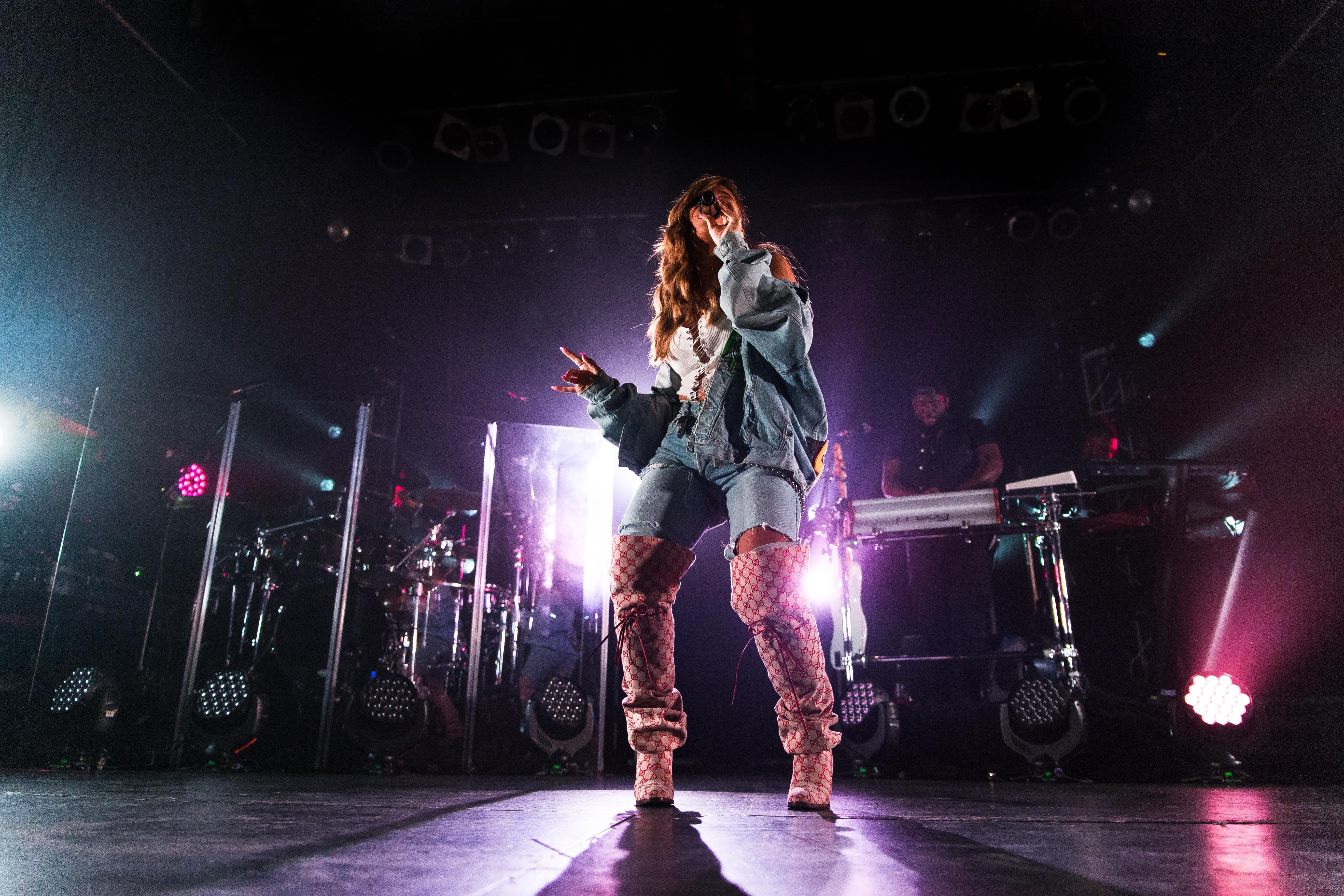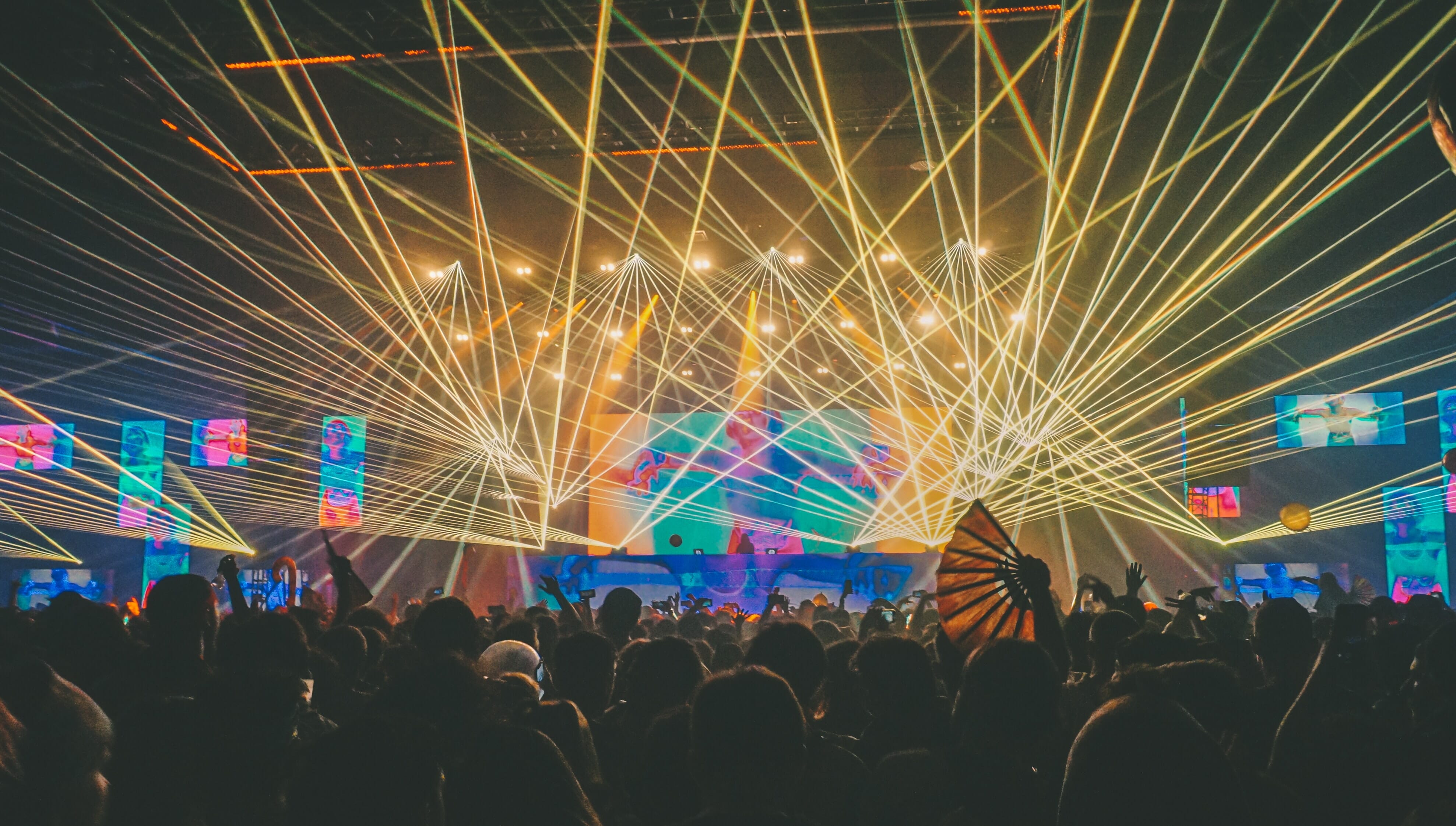 The last of our zoom lens recommendations, this focal length will help capture the stage in its full glory. From an edge to edge view of the stage to capturing an entire sold-out crowd, a wide angle is a monumental optic to have for concert photography (even for just one mind-boggling shot!).
Plus, the optic distortion from the curved glass can make for a really funky fishbowl-effect shot of a musician leaning into your lens from the stage.
5. Sigma 14-24mm F/2.8 Art
A Wide-Angle Supreme
This lens is a perfect optic to capture an entire venue and offer some funky optic effects for the stage!
Pros
Ultra-wide at 14mm all the way to 24mm
Manageable size with a sturdy build
Available for both DSLR and mirrorless systems
Cons
On the pricey side
Available in both DSLR and revamped mirrorless versions, the Sigma 14-24mm F/2.8 Art is a glorious wide angle for concerts. Although the aperture still sits at F/2.8, the versatility of zooming in and out from 14mm – 24mm is still very much worth it.
Sturdy construction, manageable size and weight, anti-glare coating, and an exquisite optical performance is all wrapped into this neat little package.
The mirrorless version offers even additional refinements upon the DSLR one, as it is fully redesigned to act as a native lens to Sony's E-mount and Leica's L-mount (pretty neat). All focusing ability will be well maintained.
35mm Lenses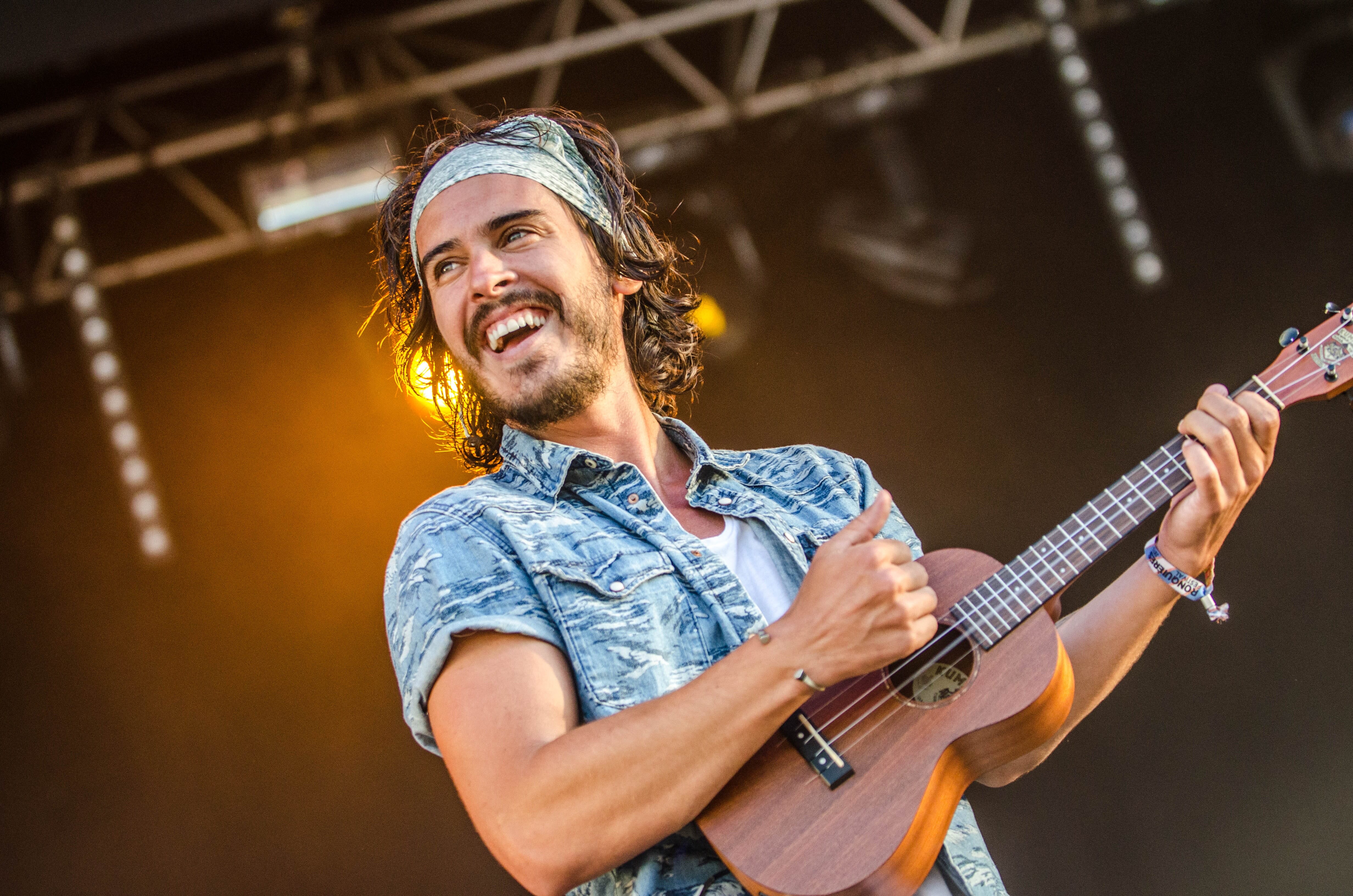 Over on the prime side, we have the 35mm lens, the widest standard lens you can buy! This lens features no wide-angle distortion, so proportions are wonderfully saved despite the wider angle of view.
This focal length is exquisite for capturing shots of musicians interacting with the crowd below them, and the wide apertures really allow for a glorious subject separation without cutting any part of the body off.
6. Sigma 35mm F/1.2 DG DN Art
The Widest Aperture 35mm Out There
Pair a wide standard focal length with an ultra wide aperture and you have the recipe for a great concert shoot.
Pros
The F/1.2 aperture is out of this world
Ultra-sharp, even at F/1.2
Acts like a native mirrorless lens, in both Sony E-mount and Leica L-mount
Adjust the aperture directly on the lens barrel
Cons
Mirrorless exclusive
Heavy and bulky
Expensive
Exclusively for mirrorless systems, the Sigma 35mm F/1.2 DG DN Art is, as its namesake, a true work of art. The widest aperture 35mm existing (in autofocus), you cannot get brighter than the glorious F/1.2 – letting you shoot in even the darkest and dingiest of venues.
The extremely bright aperture also aids in isolating your subject even if they're standing close to their fellow bandmate, giving each member time in the spotlight.
Despite being larger than other 35mm before it, this particular version is perfectly synonymous with "sharpness" because you won't find a lens sharper at F/1.2. It's also incredibly durable, with numerous customizable features on the barrel itself, such as de-clicker and custom functions. You can control the aperture directly on the lens itself, alleviating the accidental button bump on the camera body.
7. Nikon DX NIKKOR 35mm F/1.8
A No-Risk Introduction to Prime Lenses
For those wanting to dip their toes into prime lenses for concert photography, this budget-friendly option is a great choice.
Pros
Inexpensive
Great quality for the price point
Tiny and portable
Cons
No fancy features
No stabilization
For the budget-conscious photographer, the DSLR Nikon DX NIKKOR 35mm F/1.8 is a lovely choice. At a mere fraction of the price of other 35mm lenses, this is a great introduction to the world of prime lenses without much risk at all.
The bright F/1.8 aperture helps let in a lot of light, and it's teeny tiny size makes adding this lens in as a secondary to your bag a breeze.
The images are very crisp and surprisingly high quality for such an inexpensive piece of equipment, so you truly have nothing to lose. It doesn't feature any sort of fancy anything, but simplicity is best sometimes.
8. Sony 35mm F/1.4 G-Master
An Autofocus Beast
This lens has lightning sharp autofocus to help focus on musicians even in the toughest of circumstances.
Pros
Absolutely outstanding autofocus performance
Very sharp and crisp results
A rather close focusing distance
For those seeking a more premium option, the Sony 35mm F/1.4 G-Master is a beauty. With a fast autofocus, this lens can help photographers lock onto their rock star subjects with ease even in the most tumultuous or dimly lit lighting scenario! Focus is so important in concert photography, and any product that makes this easier is a winner.
This lens features a rather close focusing magnification, so you can really play with funky vantage points of getting rather close to your musical subjects. The bright F/1.4 aperture lets in a grand amount of light, and the on-lens function button helps add extra customization to your optic.
85mm Lenses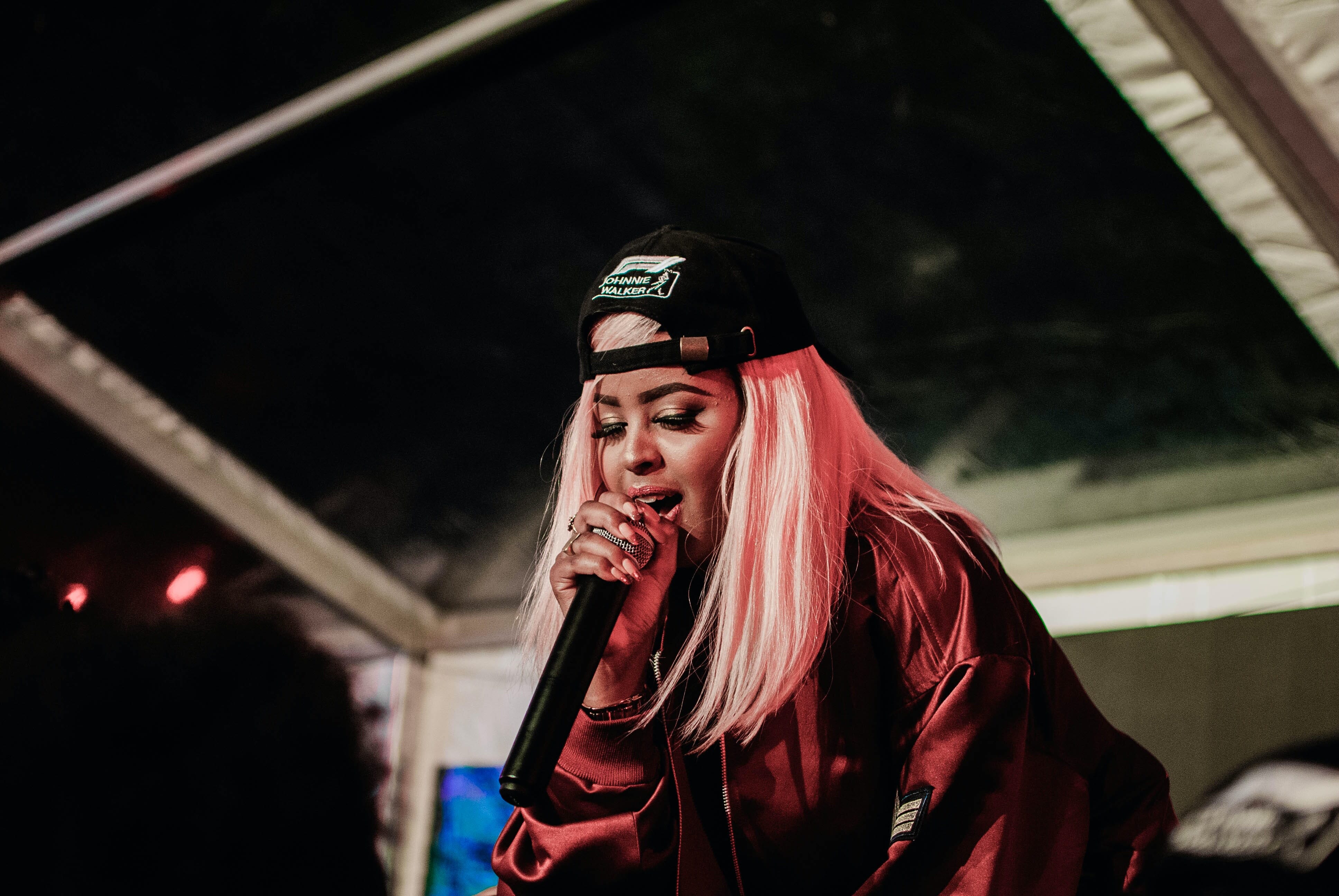 This quintessential portrait focal length is just as tremendous for concert photography! As the shortest telephoto lens, the optic compression makes for very flattering proportions on your musician subjects and allows you to capture shots from a bit further away. In some cases, even drummers can be well shot with this lens.
9. Canon RF 85mm F1.2 L USM DS
The Widest 85mm Aperture You Can Have
Canon does it again with a lens that sounds impossible!
Pros
Absolutely outstanding F/1.2 aperture on a telephoto 85mm lens
Adds in a defocus filter for even better bokeh
Outstandingly sharp
Cons
Very expensive
Bulky and heavy
The first and only of its kind, the Canon RF 85mm F1.2 L USM DS is the widest aperture you will ever find on an 85mm (kind of like the Sigma 35mm above!). Bright with great depth of field, this lens is truly a legend. Canon's version even has a Defocus Smoothing filter that improves bokeh, something you will rarely see in other products!
There is a control ring directly on the barrel of the lens with a focus limiter, something also often missing from 85mm lenses. But you have to remember, the 85mm is still a telephoto, and the focus limiter can help you capture shots of the musicians in the back of the stage while avoiding the camera accidentally locking focus on a musician in the front. The image quality is so sharp you won't believe your own eyes.
10. Sigma 85mm F1.4 DG DN Art
A Mirrorless King
A completely re-done 85mm exclusively for mirrorless systems
Pros
A completely redesigned classic that works natively with E-mount and L-mount mirrorless cameras
Small, lightweight, and compact
Incredible sharp and quick to focus
Aperture is controlled on the lens
Cons
Premium price point, but still inexpensive for a quality product in relation to other brands
Last on our list is the Sigma 85mm F1.4 DG DN Art, a brand-new design exclusively for mirrorless systems. Revamped to be smaller, lighter, and faster, this lens is a fond companion for E-mount and L-mount mirrorless systems. The smaller weight and more compact size compliments mirrorless cameras greatly, as you won't find much top-heaviness in this version.
The optics are razor sharp, if they were a knife, they could cut through steel! Like other DG DN lenses from Sigma, the aperture can be controlled on the lens itself and the glass is always coated with anti-glare fluoride.
Conclusion
The consensus is: one lens just isn't going to do it for you, have a few very different ones! We hope this list helps you find the photography kit you're looking for to capture the exciting world of live music.
---
Disclosure/Disclaimer: As an Amazon Associate, we earn from qualifying purchases. Certain content was provided "as is" from Amazon and is subject to change or removal at any time.