Got a Fuji camera? Love shooting on the streets? Not sure which is the best Fuji lens for street photography? You're in luck – we're aiming to answer that burning question in this article.
Street photography is often best and easiest with a small camera body and a light lens. It's less strain on your body, and catching those brilliant candid shots is far simpler when you don't stand out with a huge DSLR and a bulky telephoto lens.
Below, we'll give you our picks for the best Fuji lenses to help you become a street photography ninja!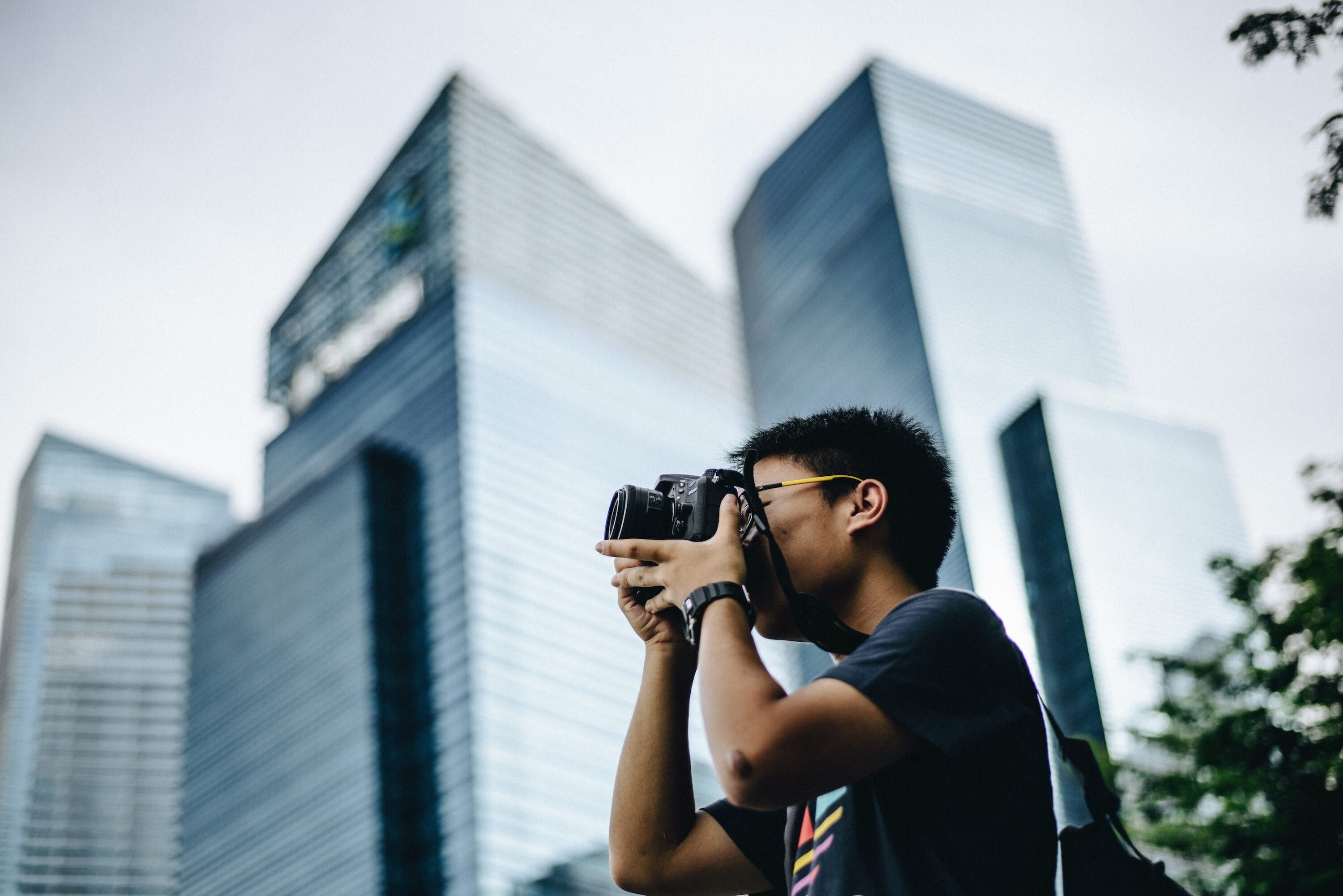 Best Fuji Lenses for Street Photography:
When you buy through links on our site, we may earn a commission at no cost to you. We evaluate products independently. Commissions do not affect our evaluations.
1. Fujifilm XF 35mm f/1.4 R
Our Pick
Best generalist street photography lens
The XF 35mm f/1.4 provides almost unbeatable image quality. It also boasts a fast f/1.4 maximum aperture for low-light shooting.
Pros
Outstanding sharpness and image quality
Lovely bokeh
f/1.4 maximum aperture
Relatively inexpensive
Cons
Autofocus can be slow in low light
Not weather sealed
The Fujifilm XF 35mm f/1.4 R was released ten years ago in 2012, but it's able to compete with more modern Fuji lenses.
It's a 35mm lens but will give you an equivalent focal length of around 50mm on an ASP-C sensor. This is an excellent general-purpose focal length, and it lends itself very well to street photography. In fact, Henri Cartier Bresson (one of the most talented street photographers ever) preferred using a 50mm lens on his Leica rangefinder camera.
The Fuji 35mm f/1.4 is razor-sharp even at its widest apertures. This lens is so versatile that you can use it in bright sunlight at f/16 or in a dimly lit room at f/1.4. The overall picture quality is stunning, with rich color rendition and a smooth, creamy bokeh. The bokeh also stays smooth even when you have a busy background (like foliage).
While the Fuji 35mm f/1.4 is not the cheapest lens, it's well priced for a high-quality flagship product. If you don't care about having the most up-to-date, technologically advanced lenses, then the 35mm f/1.4 is an outstanding buy.
2. Fujifilm XF 23mm f/1.4 R
Also Great
Best for wide-angle street shooting
This lens combines outstanding sharpness and good low light performance into a compact, wide-angle package.
Pros
Fast f/1.4 maximum aperture
Fast and accurate autofocusing
Outstanding sharpness and image quality
Good wide-angle field of view
Cons
No image stabilization
Fairly expensive
The Fujifilm XF 23mm f/1.4 R is perhaps one of Fuji's best prime lenses for street photography. While it's not weather sealed, the build quality is fantastic. The barrel is all-metal, which makes the lens capable of handling the rigors of constant traveling and shooting.
For those who like using manual focus, all you need to do is pull the focusing ring toward you to switch from AF to MF – in other words, it's nice and simple, and there's no messing around with switches. While the f/2 version of this lens (below) is cheaper, the ultra-wide aperture is very useful; it means you can shoot use a fast shutter speed in low-light conditions, which is important considering that this lens doesn't come with image stabilization.
The Fuji 23mm f/1.4 offers an effective 35mm focal length, which is ideal for street photography. The lens also boasts outstanding sharpness and image quality. Colors are rendered beautifully, and the bokeh between f/1.4 and f/2.8 is gorgeous.
Autofocus is fast on this lens, which makes it good for capturing movement in your street photos. Overall, the Fuji 23mm f/1.4 is an outstanding lens, but it's not weather sealed, which might be a deal-breaker if you like to shoot in the rain or snow. It's not the cheapest Fujifilm lens, either, but it is excellent for street shooting.
3. Fujifilm XF 50mm f/2 R WR
Best for telephoto street photography
Do you prefer to shoot from a distance? This lens is a great choice for street photographers who don't like getting up in people's faces.
Pros
Very sharp
Weather sealed
Lightweight and compact
Extremely fast autofocus
Cons
No manual focus during AF operation
You may be thinking that the Fujifilm XF 50mm f/2 R WR is here by mistake; after all, it has an equivalent focal length of 76mm, which isn't commonly used for street photos.
Bear with me, though. A 76mm focal length lets you get up close without having to get in anyone's face. That's a bonus for the shy street shooter and for those who love capturing candid images of everyday life. Wider lenses require you to get closer to the action, and this longer focal length lets you capture a different perspective.
The Fuji 50mm f/2 is an outstanding little lens, and it comes with a bargain price tag. Autofocus is insanely fast, which makes the lens great for capturing movement. The manual focusing ring doesn't offer manual focusing during AF operation, but that won't be much of an issue for many street photographers.
This lightweight and compact lens offers weather and dust resistance, so as long as your camera is weather resistant, you can shoot in rain, snow, and more.
Bokeh is lovely and smooth, and image quality is excellent. Sharpness is good across the aperture range, and central sharpness is outstanding from f/2 to f/4. All in all, this is a fantastic lens at a very good price.
4. Fujifilm XF 16mm f/2.8 R WR
Best for ultra-wide street photography
This lens is great for shooting in tight spaces, plus it can capture stunning wide views of buildings.
Pros
Light and compact
Weather sealed
Fast autofocus
Cons
No image stabilization
If you want a wider street photography lens, the Fujifilm XF 16mm f/2.8 R WR is a good choice. The 24mm equivalent focal length will give more context and narrative to a street scene, and if you find yourself shooting in a tight space, you'll love the expansive field of view.
Despite its small and lightweight design, this little lens is built like a tank. It has an all-metal body and lens mount, and it comes with weather sealing, too. You can carry this lens around comfortably all day without worrying about the knocks and bumps that can happen when shooting on the streets.
The Fuji 16mm has super-fast autofocus, and the AF is extremely accurate, even in difficult light conditions. It doesn't have any image stabilization, though, which would have been handy, but isn't likely to be a deal-breaker. This is a superb lens for telling the stories of the streets, and you can grab it for a great price.
5. Fujifilm XF 56mm f/1.2 R
The best Fuji lens for night street photography
If you love taking street images at night, this lens offers great low-light capabilities.
Pros
Very sharp
Excellent in low light
Beautiful bokeh
Great image quality
Cons
Slow to focus
Not weather sealed
Thanks to its monstrous f/1.2 maximum aperture, the Fujifilm XF 56mm f/1.2 R is probably the best Fuji lens for night street photography. This allows you to make the most of low-light conditions and still get sharp images (even though the lens lacks image stabilization).
Its focal length is an effective 85mm, which may baffle some street photographers – but I personally like shooting street photos at longer focal lengths; it shakes things up and allows for some highly creative images. It also means you can shoot your subjects discreetly from a distance without getting in their way. It's a perfect focal length for street portraiture, too.
This lens does a superb job of shooting street scenes at night. The colors are rich, and the sharpness is impressive. The bokeh is superb, especially at f/1.2, and this lens renders what may be the best backgrounds out of all the Fuji lenses.
While this lens is well built, it does lack weather sealing. Another downside is that it can be painfully slow to focus, which means it's not ideal for fast-moving subjects. However, even with these problems, there's a lot to love about the 56mm f/1.2, and its low-light image quality is simply incredible.
6. Fujifilm XF 23mm f/2 R WR
Best for travel street photography
This compact lens is affordable, sturdy, and weather resistant. It's ideal for traveling and walkaround street photos.
Pros
Around half the price of the 23mm f/1.4 version
Fast and silent autofocus
Compact and lightweight
Weather sealed
Cons
No image stabilization
Not ideal in low-light situations
The Fujifilm XF 23mm f/2 R WR isn't the flashiest lens around, and it doesn't offer the wide maximum aperture of its 23mm f/1.4 sibling (discussed above), but this f/2 lens has a few things going for it that the f/1.4 version can't match.
For starters, it's much, much cheaper than the f/1.4 version. It's also weather resistant. And because this lens is so small and light, it's the ideal travel companion and won't weigh you down during long days in the streets. Plus, the fast and silent autofocus is especially suited to street photography, especially when shooting action in quiet places.
Bokeh is very nice at wider apertures, although you don't get the extremely shallow depth of field you can achieve with the f/1.4 lens. The f/2 version is sharp, and some professional lens tests show that it is actually a bit sharper than the 23mm f/1.4.
The f/2 lens doesn't have image stabilization, which – combined with the narrower maximum aperture – makes it less ideal for low-light shooting, but overall, it's a great little lens. If you don't need that extra stop of light, you might consider buying the (much-cheaper) f/2 version over the f/1.4.
7. Fujifilm XF 16-55mm f/2.8 R LM WR
Best Fuji zoom lens for street photography
This wide-to-telephoto zoom is highly versatile, and it couples great build quality with outstanding optics, too.
Pros
Superb image quality and sharpness
Fast and accurate autofocus
Wide focal length range
Weather sealed
Cons
Big and heavy
No image stabilization
Who says the best Fuji lens for street photography has to have a fixed focal length? The Fujifilm XF 16-55mm f/2.8 R LM WR is a superb-quality (although expensive!) zoom lens with an effective 24-84mm focal length.
This range gives you the chance to shoot wide-angle street scenes or zoom in close without having to be physically near your subject. Having one lens for all situations also saves you from having to buy and carry around several prime lenses.
The Fuji 16-55mm f/2.8 is well-built, and it comes with weather sealing. Optically, it's amazing; most other Fuji lenses look average in comparison. In fact, it's sharper than many of the Fuji prime lenses out there!
Unfortunately, you pay for this optical superiority in weight: the lens is bulky, heavy, and can make some camera bodies feel unbalanced. It's also pretty darn expensive, but it's sold as a professional-spec lens and will last for many years.
Autofocus on the Fuji 16-55mm f/2.8 is tremendously fast. It's also good in all kinds of light conditions and does very little focus hunting even in low light. If you're looking for a versatile, high-class Fuji zoom lens, then this might be the one for you.
Grab a Fuji Lens and Start Shooting!
Street photography is a rich and varied genre, so it makes sense that no one focal length fits all. We hope we've helped you choose the best Fuji lens for your street photography; hit that "Buy" button and enjoy yourself on the streets!
---
Disclosure/Disclaimer: As an Amazon Associate, we earn from qualifying purchases. Certain content was provided "as is" from Amazon and is subject to change or removal at any time. Product prices and availability: Amazon prices are updated daily or are accurate as of the date/time indicated and are subject to change. Any price and availability information displayed on Amazon.com at the time of purchase will apply to the purchase of this product.